This Ultimate Greek Meze Platter will for sure impress your guests! By adding some traditional Greek spreads, veggies, and lots of pita bread, you can easily re-create this platter at home for YOUR next party! Check out more finger food appetizers here!
Being Greek, I have had plenty different types of meze in my life. Some have been better than others but as long as there is lots of pita bread, feta cheese and tzatziki I am a happy girl.
A meze platter can be small or large depending how many people you are having. This post is the ULTIMATE meze platter so it should serve anywhere from 15-20 people.
Jump to:
Don't forget about serving a Greek Orzo Salad!
What Is Meze?
Meze or "mezze" are simply known as small dishes. These small dishes or small plates are typically served as appetizers before your meal in many parts of the world especially the Mediterranean. Some are hot, some cold, some spicy all finger food friendly!
A meze "platter" is a bunch of " mezethes" or Greek appetizers, dips and/or spreads all laid out on a large serving platter or cutting board. Think of it as being a Greek antipasti platter or a Greek tapas spread!
Serve this at your next blind wine tasting party with Greek wines!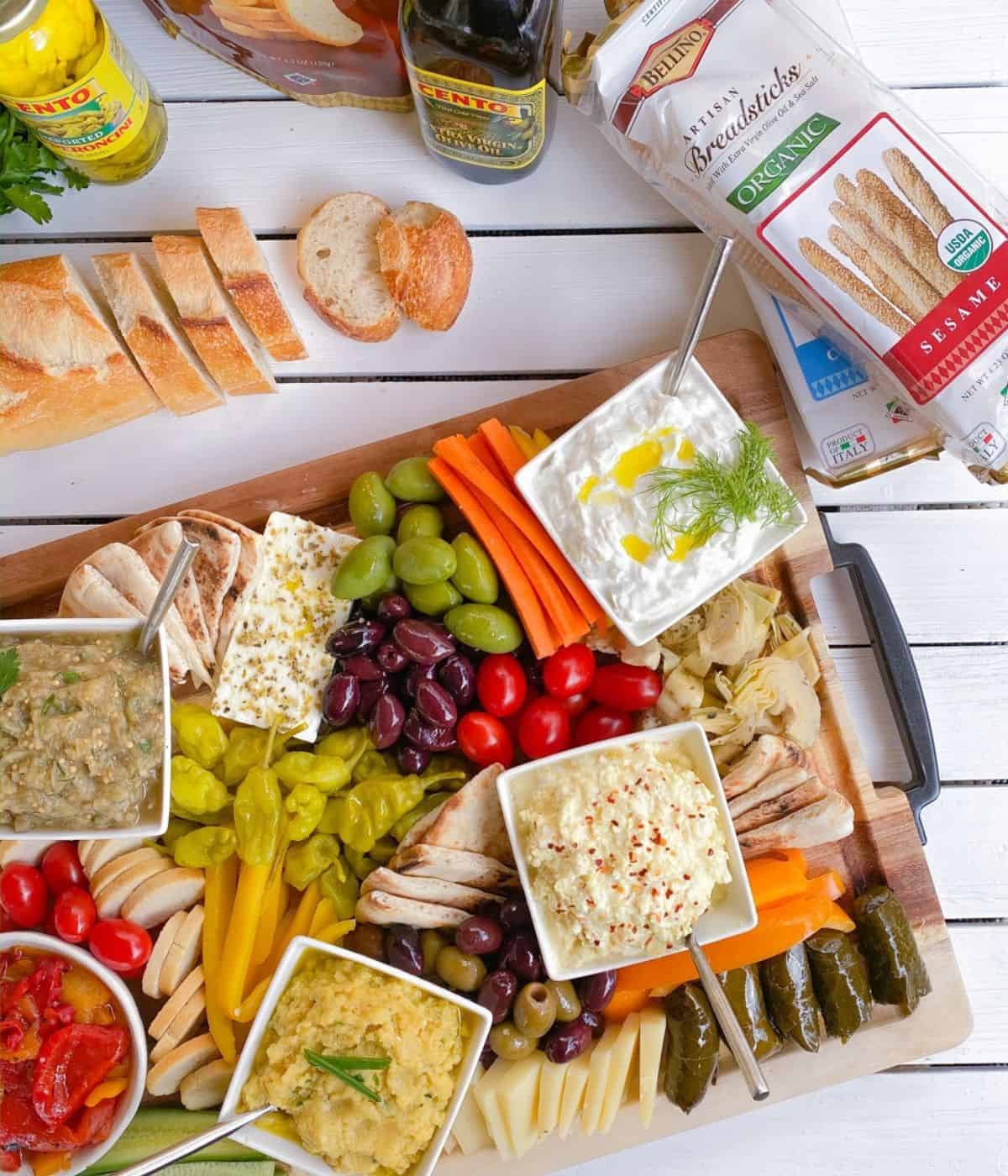 How To Make A Meze Board
In this post, I used many store-bought jars and canned food to make it EASY!
All you need is a few small bowls, mini spoons, forks, toothpicks, and LARGE charcuterie board, and lots of good fresh food!
What I love about a meze or "mezzah" board, is that there is not ONE way to put one together. That's why I'm obsessed with making appetizer boards.
You can put anything on a cutting board or even a large plate, and with minimal design skills (and some classy cheese knives) create a beautiful spread that can easily turn into a meal itself.
Meze Spread Ideas
Dip and Spread Ideas
Tirokafteri (traditional Greek spicy feta dip)
Melitzanosalata (traditional Greek roasted eggplant spread)
Hummus (any hummus works)
Skordalia (traditional Greek potato garlic spread)
Olive Tapenade (Olive spread)
Tarama (Traditional Greek Fish roe spread)
Fava Dip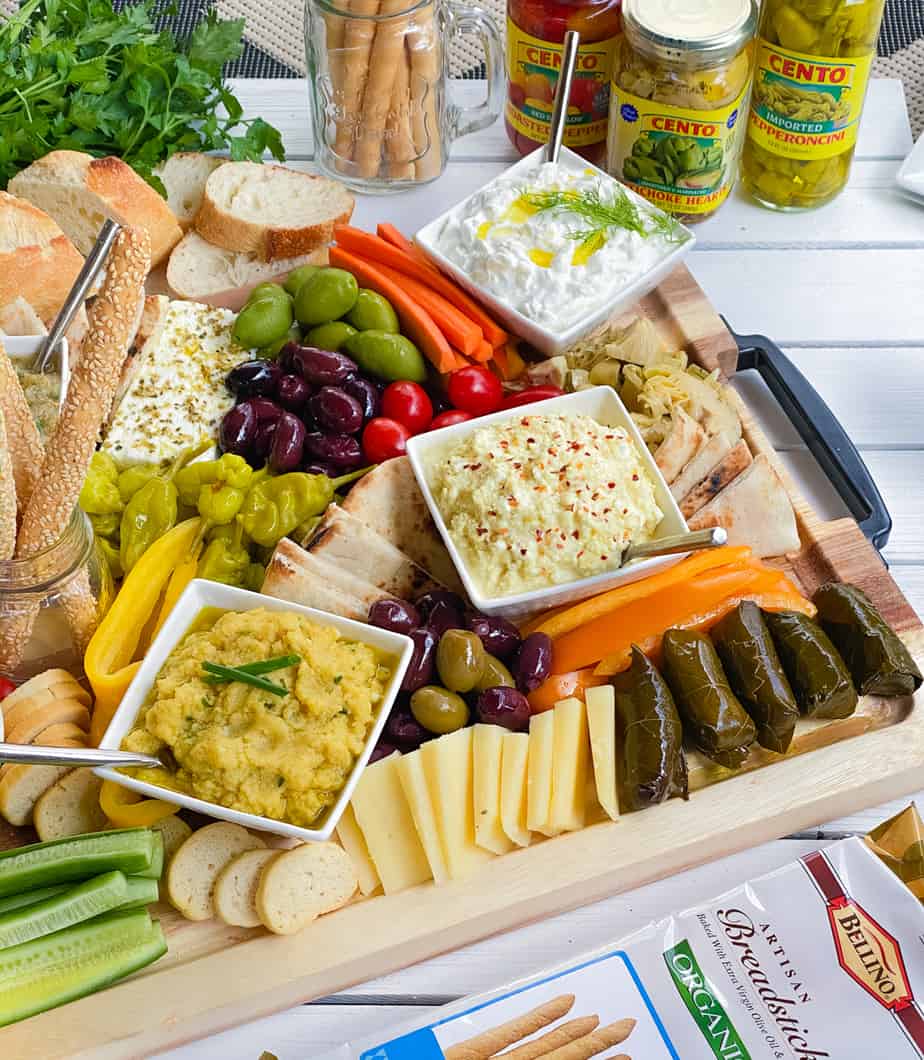 🥕Veggie and Fruit Ideas
Cucumbers (use the English ones or mini ones)
Peppers (make it pretty with green, red, yellow and orange)
Grape tomatoes
Lemon slices
Hot peppers
🥜Nut Ideas
Walnuts
Almonds
Cashews
Chestnuts
Pistachios
Hazelnuts
Feta cheese- a MUST!
Kefalotiri- this is great fried like they use for saganaki!
Kasseri
Mizithra
Other Mezze Board Add-Ins
Dolmathakia (traditional mini Greek stuffed grape leaves)
Keftedes (traditional Greek meatballs)
Cocktail Shrimp
Grilled Octopus
Breadsticks (plain or sesame)
A drizzle of extra virgin olive oil
...and most importantly, LOTS and LOTS of fresh PITA bread...which is known as the "Greek spoon".
Have you checked out these 14 Quick and Easy Appetizers?
Serving Tips
How you assemble and what you assemble your meze platter ON is important!
Placing everything on their own separate dishes or in separate bowls is NOT ideal. You want the platter to look like one uniformly artistic spread of colorful food. A food masterpiece if you will.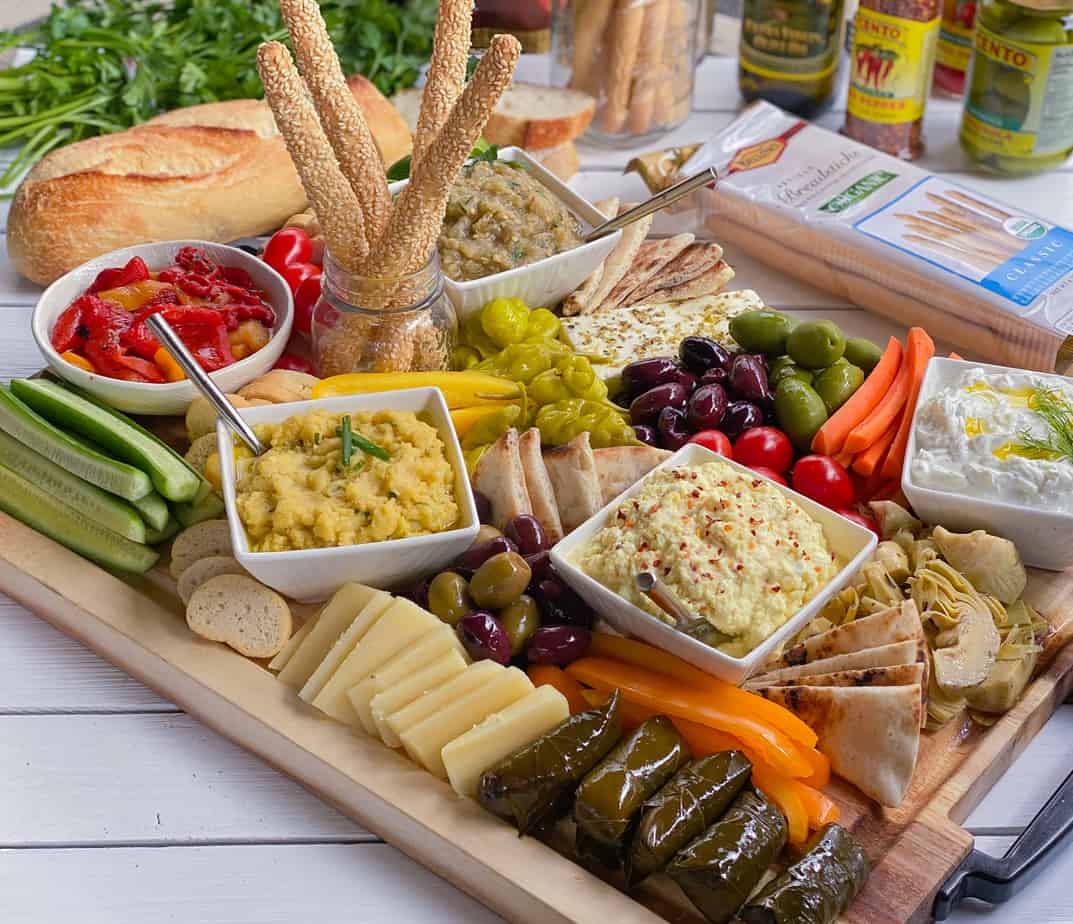 With that said, don't worry about not doing it the "right" way. There is no right or wrong way. But to help you with your masterpiece, here are some assembling tips:
Use as many colors as possible and spread the colors throughout the platter! For example, if your red color is coming from your tomatoes, portion your tomatoes out and place them around the platter in a few different spots. Also, don't place them directly next to other red veggies.
Use multiple types of dippers and breads. Add pita wedges, slices of a crusty baguette, breadsticks, crostini and/or bruschette rounds.
Cut your veggies in fun and unique ways that are great for dipping! For example, long thin strips are always easy to dip!
Other Items To Add
You might want to add other Mediterranean appetizers onto your board if you want! Here are some other foods you can add onto your board that aren't Greek but still great for dipping!
Fried Halloumi cheese
Dried Fruits
Roasted or Spiced Nuts
Za'atar spiced yogurt dip
Chicken, lamb or vegetable kabobs
Grilled Eggplant or Zucchini
And finally, don't forget to make your meze spread even MORE Greek by serving it with some Greek desserts like my Baklava Rolls (much easier than the traditional version) and some Greek spirits like tsipouro or ouzo. You usually drink these by sipping on them in a small shot glass! Just don't forget to say OPA!!
Serving Tips
I recommend serving it with some good wine and your guests will be very happy.
I like to serve this spread at holiday parties. It can serve a ton of people if you double or triple the ingredients. You can even make this gluten free by substituting the bread for GF bread or use GF crackers!
I like to keep a stash of my favorite products in our pantry in case unexpected guests show up at our door. And since we all know I like to keep a large chunk of good feta in the fridge at ALL times, I am always snack-ready!
Another bonus is since most meze platters are served cold, you can assemble everything the day before and then just pull it out of the fridge the day of your party. Opa!
Greek spreads to serve on your meze platter: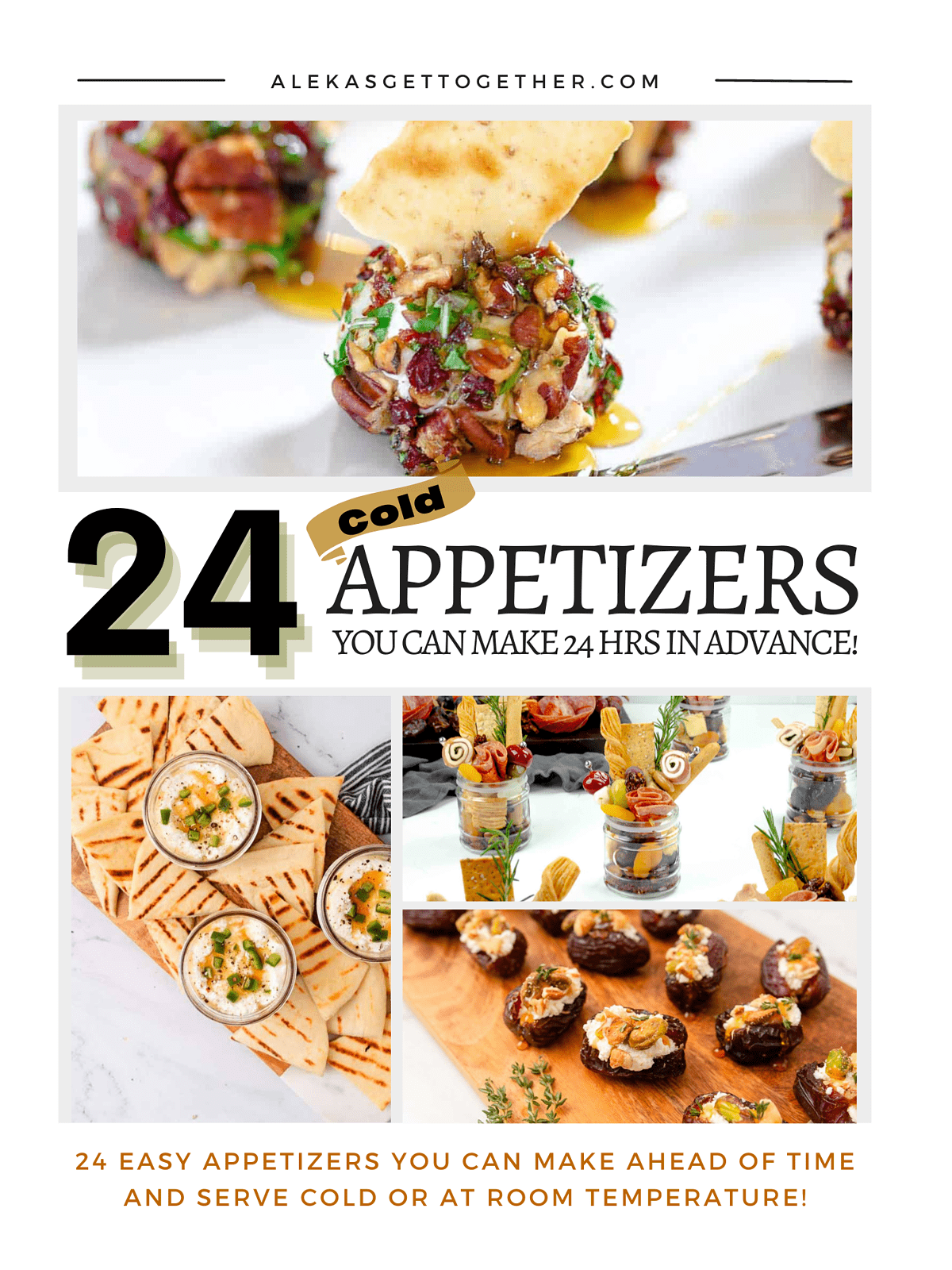 Love Make Appetizers in Advance?
I have an Ebook I created with my top make-ahead appetizers you'll LOVE! Get it here!
📖 Recipe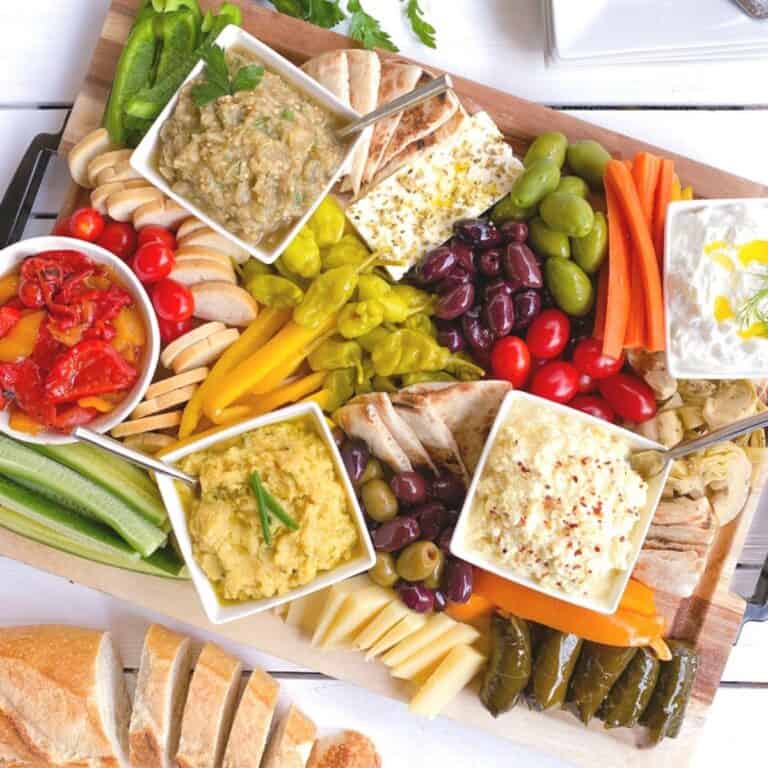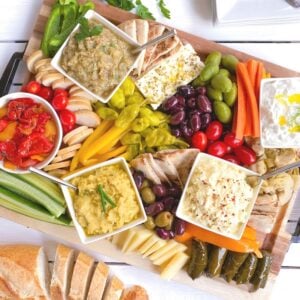 The Ultimate Greek Meze Platter
This Greek Meze Platter has all of the popular Greek spreads! It will for sure impress your guests! By adding some traditional Greek dips, veggies, and lots of pita bread, you can easily re-create this platter at home for YOUR next party!
Print
Pin
Rate
Ingredients
Meze Spreads and Dips
Instructions
Grab a large cutting board or platter. Add the tzatziki, melitzanosalata (eggplant spread), potato spread (skordalia) and spicy feta spread to small bowls, plates OR just scoop directly onto your board.

Arrange all of the other ingredients around the spreads so the colors are nicely distributed. There is no right or wrong way to do this. Just try not to put all of your green veggies next to each other. Same for the red. Add mini spoons to each dip so your guests can spread each dip easily.

Save your breads (pita, sliced bread, bruschetta and breadsticks) for last so they don't go stale. I like to warm my pita bread and sliced bread just before serving!
Recipe Notes
This meze board is traditional but can be adjusted however you please. I suggest not leaving off the tzatziki dip, olives and feta cheese as they are Greek appetizer staples!
Nutrition
Calories:
379
kcal
|
Carbohydrates:
39.8
g
|
Fat:
18.8
g
|
Saturated Fat:
6.1
g
|
Cholesterol:
27
mg
|
Sodium:
937
mg
|
Fiber:
4.4
g
|
Sugar:
4
g