Do you love the idea of making beautiful charcuterie boards but have no idea where to start or what you'll need? Don't worry, I've got you covered! I'm sharing all my favorite charcuterie board accessories so you can make the most eye-catching appetizer! 
Charcuterie boards have become extremely popular in the past couple of years. Like my Greek Appetizer Platter or even this Kids Charcuterie Board!
Many home cooks are opting to make these for parties instead of serving multiple appetizers, and even celebrities are hopping on the bandwagon!
Are you interested in making one, but don't know quite where to start? You have visions of this beautiful, abundant, Pinterest worthy charcuterie spreads, but you're not sure how to make your vision a reality?
If that sounds like you, then stick around because I'm sharing all my MUST HAVE charcuterie board accessories that will help YOU to tap into your imagination and create the best board ever.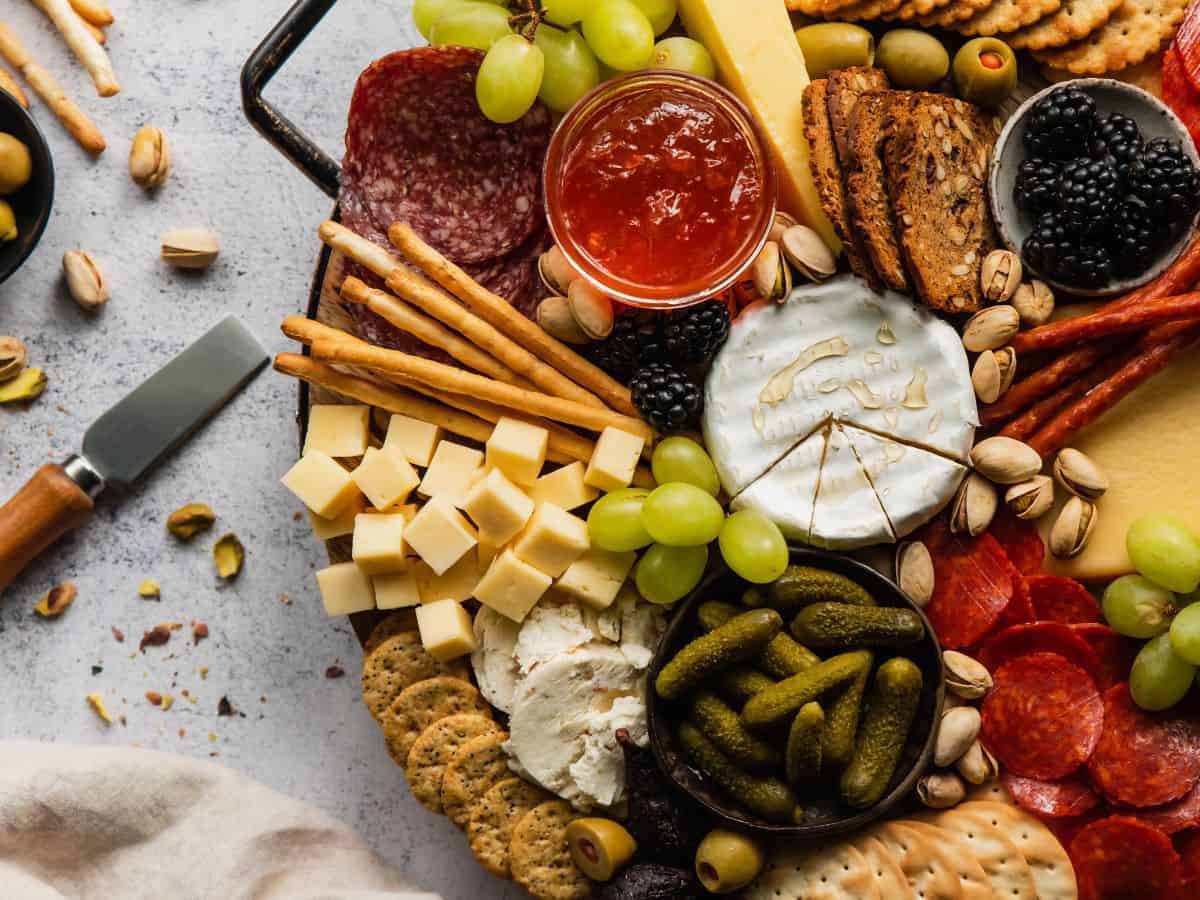 Large Circular Platter
A large, sturdy platter is essential when it comes to the art of charcuterie. I like to use a big wooden one so it can fit all the cheeses, crackers, veggies, and dips I love to serve at a party.
Small Platter
If you're hosting a smaller get-together, this little platter is a great choice. You can still fit a good amount of food on it, without having to worry about any extra going to waste.
Board Oil
This food grade mineral oil is an essential if you want to keep your boards and wooden platters looking new and beautiful.
The oil helps prevent the wood from becoming dry and cracked and also keeps any liquids from penetrating the wood so there's less chance of germs and bacteria being able to grow.
Dip Bowls
I always love serving simple dips on a charcuterie board because they're quick, delicious, and everyone loves them!
These little dip bowls are a MUST have item. You can divide one dip between them, or make more than one if you're feeling ambitious!
Cocktail Plates
Cocktail plates are an easy way to add a layer of sophistication to any party. Rather than setting out paper plates, these sleek white ones are an affordable, yet quality set that go with any style.
Plus, your guests will appreciate not having to worry about flimsy paper products.
Linen Napkins
Linen napkins are another charcuterie board accessory that will make you stand out among your peers. They have a fancy feel to them that will make any average party feel like a sophisticated soiree.
Additionally, you can use themed linen napkins as an easy way to turn a basic charcuterie board into a holiday themed spread.
Cheese Knives
A beautiful cheese knife set can take your board from ordinary to elegant. This set has a beautiful Acacia wood handle and stainless steel blades for a truly chic look.
Each cheese knife has it's own purpose and is made for certain cheeses. Check out this guide to cheese knives to learn which ones to set out!
Cheese Slicer
If you want to make your life easier, then you absolutely MUST buy a cheese slicer. This one comes with a stainless steel body, replacement wires, and grid scale line so you can cut your cheese into even slices. 
It even works beautifully on softer cheeses like mozzarella which are typically harder to cut.
Mini Serving Tongs
Mini serving tongs are another charcuterie board accessory that many people tend to overlook, but they're much more helpful than you'd think! You can use them to help serve anything from veggies to crackers. Plus, your guests will thank you for the extra effort to keep their food germ free.
Mini Skewers
Another one of my favorite charcuterie board accessories are these toothpick skewers! They may seem simple, but they're a fantastic way to keep guests from putting their fingers on everything. 
I usually stick them in cubes of cheese or these bacon wrapped pork cubes, Mini Cubano Skewers or my Melon Proscuitto Skewers.
Crinkle Cut Knife
Instead of serving your guests plain vegetables, add a little bit of pizzazz and give them a wavy design!
This crinkle cut knife is an extremely easy way to take your veggies from basic to beautiful without spending any extra time in the kitchen. 
Brie Baker
If you LOVE brie cheese and need an impressive centerpiece for your charcuterie board then you absolutely have to try a brie baker!
In just 15 minutes you can have perfectly gooey, melted brie to pair with your favorite crusty bread or crackers.
Also make sure to check out this awesome list of Brie Appetizers!
Chalkboard Signs
Mini chalkboard signs are a cute idea to add a personal touch to your boards. These signs you can actually stick IN the cheese! You can use them to handwrite tags for each dish, but they're also helpful for labeling any items that are gluten free, dairy free, or follow another type of diet.
Kraft Paper
If you're looking for a way to elevate the average charcuterie board, try making a charcuterie table! Lay Kraft Paper flat on your table and present the charcuterie directly on the paper.
Use a Sharpie marker to creatively write out signs and labels for each item and really wow your guests!
Napkins
Most people don't think about napkins but why not? Everyone grabs them and needs them when snacking. These cheese cocktail napkins are THE perfect thing to set around your board! They're fun and will get lots of questions!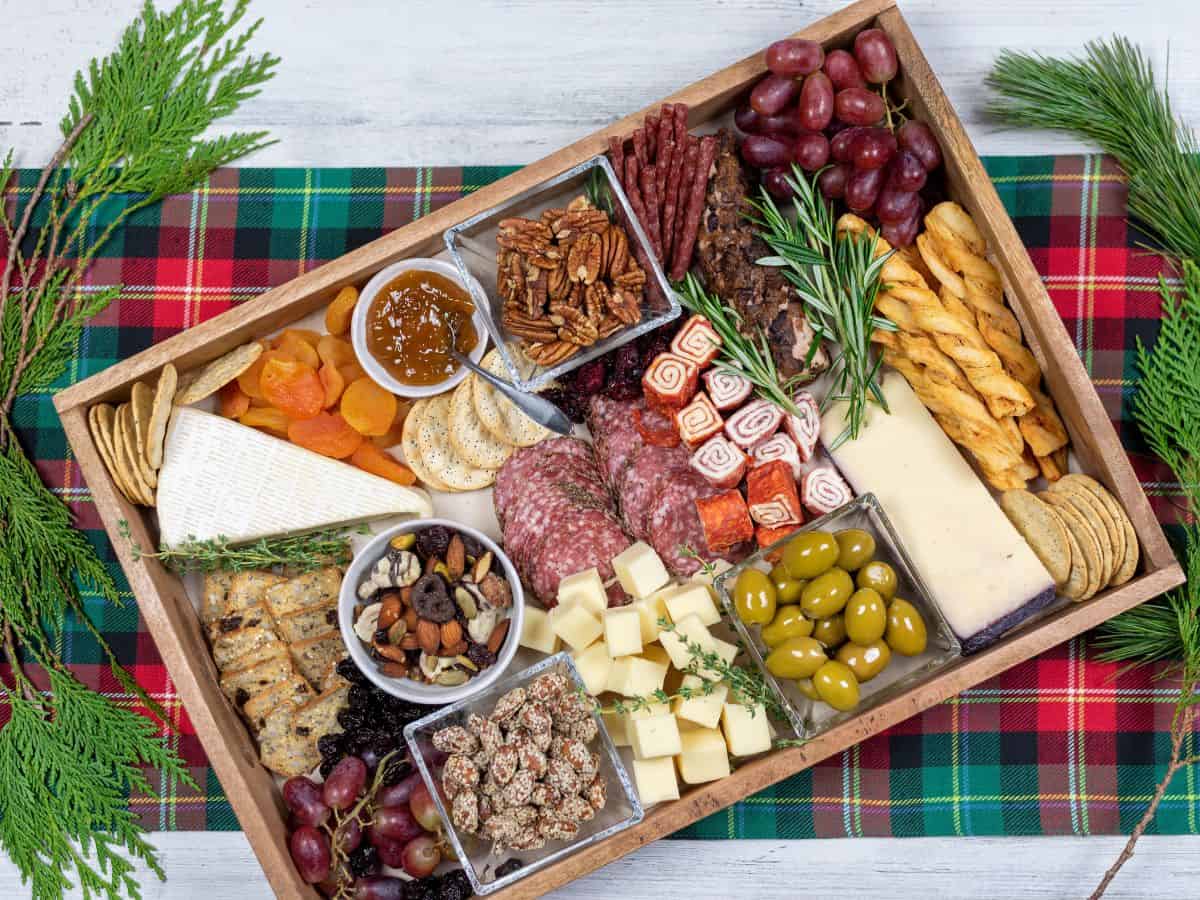 Edible Accessories
Don't forget about EDIBLE accessories! Things like:
rosemary sprigs
fresh basil
leaves
parsley
and pops of color and go a long way. Plus they are BEAUTIFUL!
Arrangement Ideas
Looking for more beautiful charcuterie board arrangement ideas? This book is all about charcuterie pairings and arrangements.