Large charcuterie boards are my FAVORITE thing to serve at parties but often the kids get left out! So here is a super EASY kid friendly charcuterie board that would be perfect for sleepovers or kids birthday parties!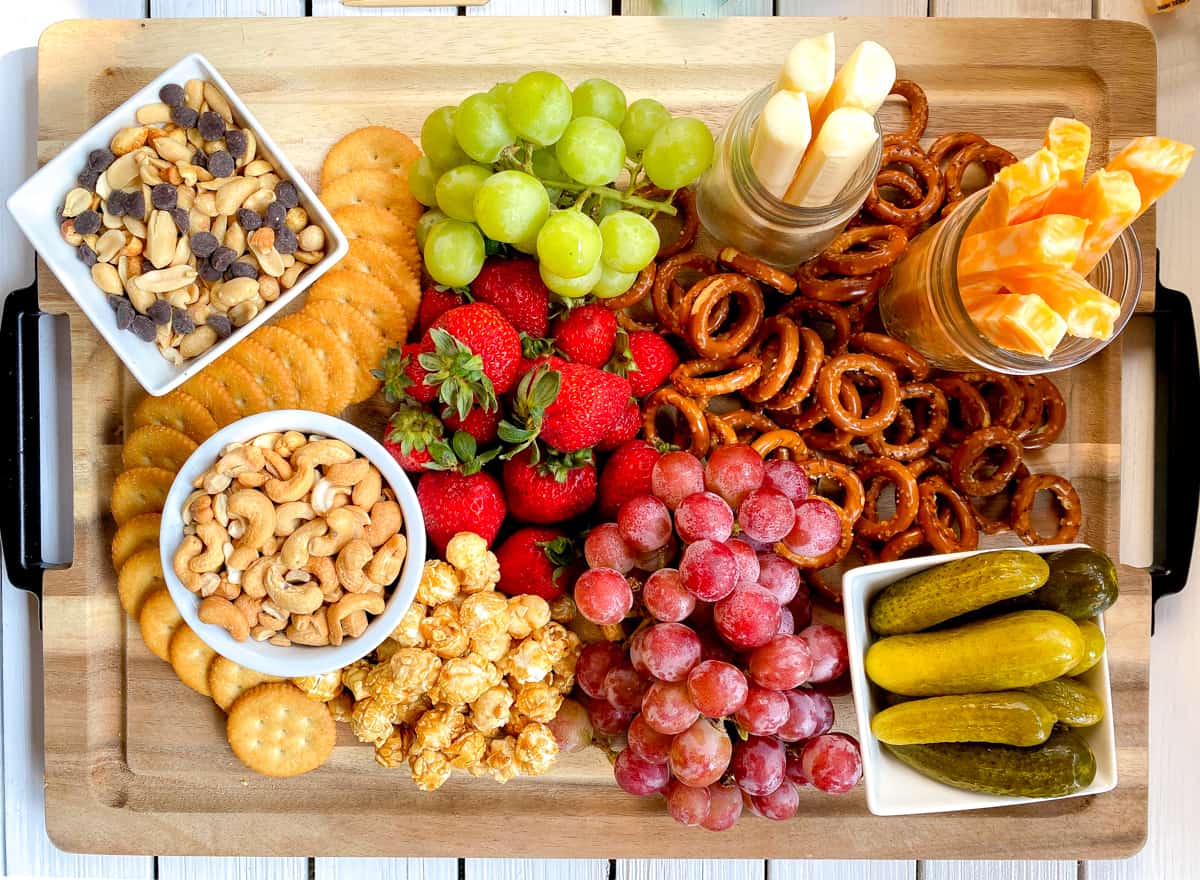 How to make a kid friendly charcuterie board
Knowing how to make a charcuterie board for kids is not tough. You just need to have the right ingredients, or should I say, SNACKS, on hand.
I recommend they all be finger food friendly and definitely not too messy!
Once you have a list of kid friendly snacks, pull out your largest cutting board like this one here, and you're ready to assemble your spread!
Ingredients for your kids charcuterie board:
The possibilities are ENDLESS guys. Seriously. The only thing holding you back from going overboard on your charcuterie platter is your kids DISLIKES.
My boys dislike nuts and most raw veggies but they are still toddlers so I am optimistic!
If you're looking for easy, healthy snacks to make for kids without those 'much hated' vegetables, the board I created here is pretty well-rounded.
The unhealthiest snack on this board is the caramel popcorn which I added because my kids LOVE it. (But that recipe is made without corn syrup!)
But everything else is overall preservative free and healthy! My kids are super picky but they enjoyed everything on this board.
Here is a list of kid friendly charcuterie board snacks you might want to include. They are all popular with most kids but just keep in mind the likes/dislikes of the children who will be snacking!
Other Charcuterie Board Add-Ons
Cold Cuts

Pepperoni
Salami
Proscuitto
Ham

Cheeses (Most kids love string cheese!)
Nuts

Peanuts (Roasted/Honey)
Almonds
Cashews

Savory Snacks
Sweet Snacks

Dark chocolate
M&M's (Trail mix)

Fruit

Berries (Strawberries, Blueberries, etc.)
Slices peaches/apples/pears
Grapes (red and green)
Orange slices
Or these fun Melon Fries!

Veggies
Other

Mini dill pickles
Pepperoni slices
Pita bread triangles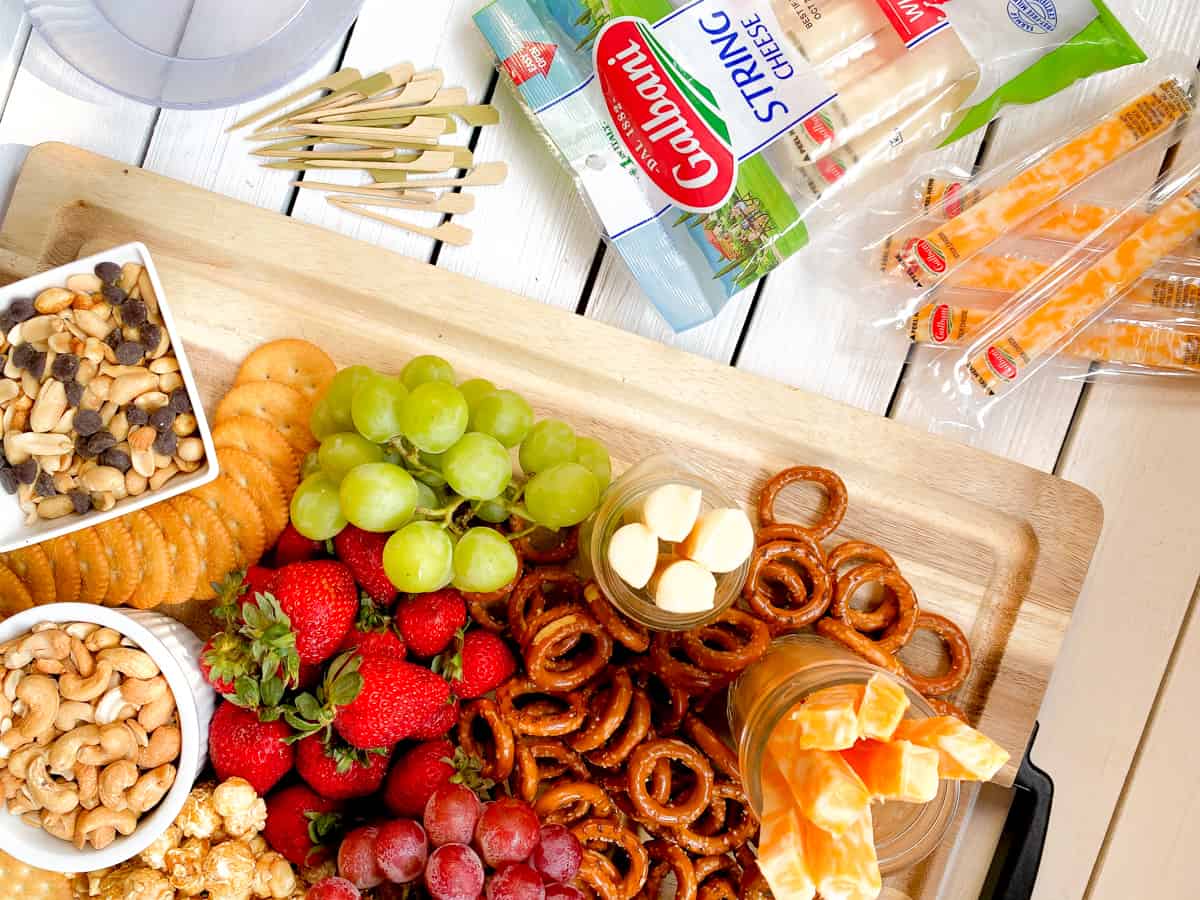 How to assemble your charcuterie board
There is no right or wrong way to assemble your charcuterie board however, I do have a few creative tips and "styling" tricks that will make your board stand out and hopefully get a few "ooo's and ahhs" from the kiddos!
Spread out the food's colors! Don't put red next to red, white next to white, etc. The best boards have an array of colors!
Create piles with your larger snacks and place the smaller items in mini bowls like these!
Add some height to your board with taller snacks like cheese sticks or pretzel rods.
Serve your charcuterie board with mini toothpick skewers on the side! Kids love them! Other things like mini signs are fun too!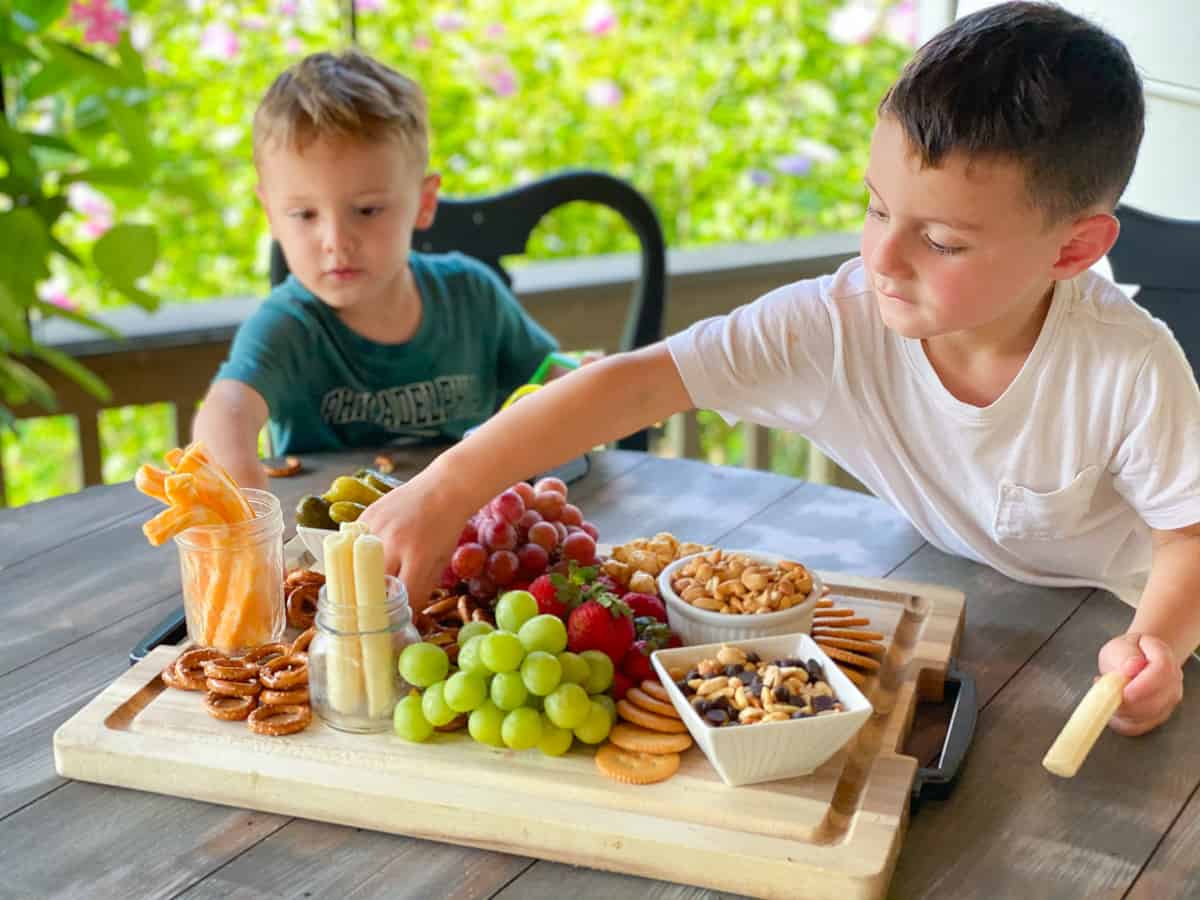 Where to purchase a large charcuterie board
Invest in a large (shatter-proof) plate or sturdy cutting board with handles. You can look in your local Target, HomeGoods or even Walmart for one but if you're like me, you will order using Amazon Prime. Lol! (all those boxes, smh...)
Here is a list of charcuterie board MUST HAVES!
Here are some other large charcuterie boards popular on Amazon now!
Tips For Your Kids Charcuterie Board
Kids get super excited over food especially snacks! If you are hosting a birthday party or a sleepover and want to pull out a kid friendly homemade charcuterie board like this one, make sure you keep in mind the ALLERGIES at your party.
Many kids are allergic to nuts, especially peanuts so ask parents before assembling your charcuterie snack tray.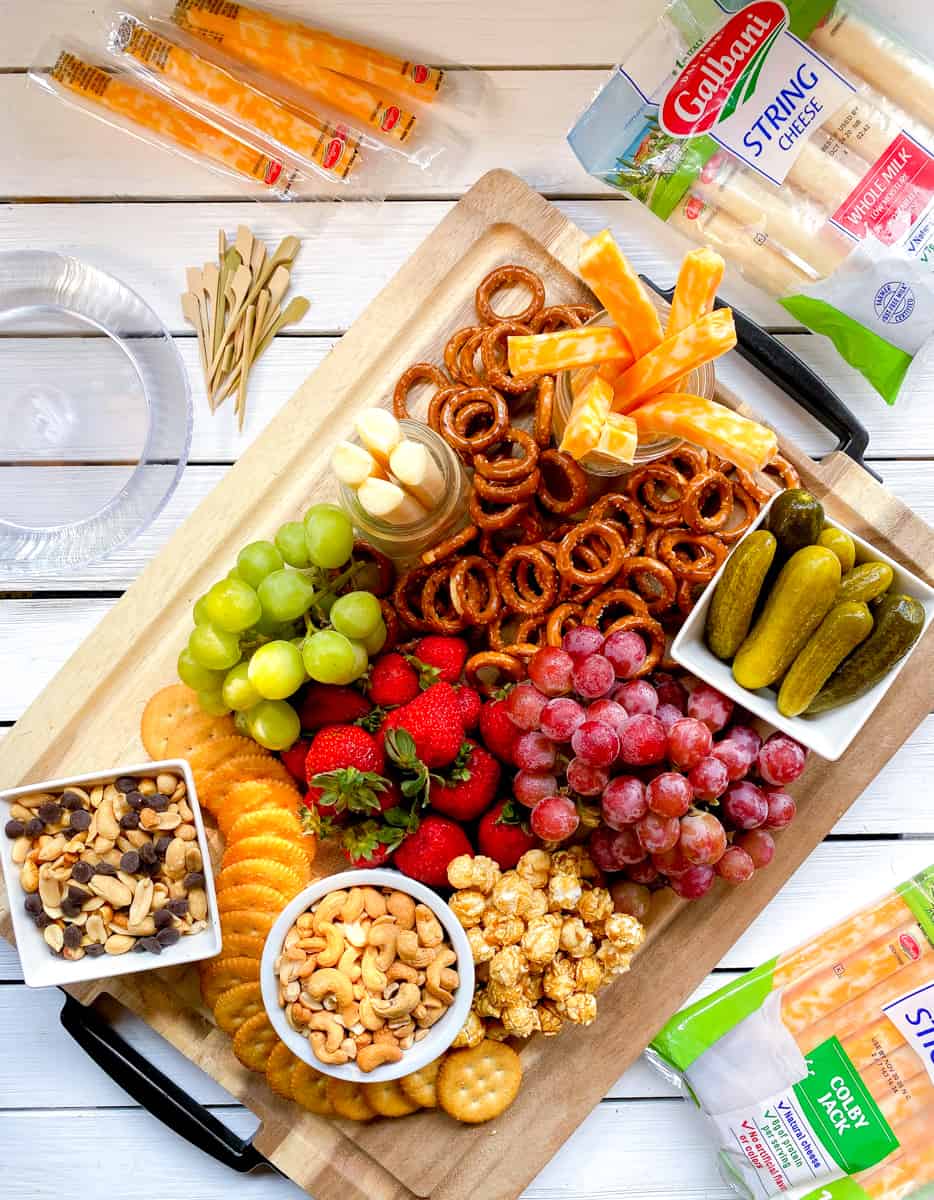 Another tip is to set guidelines before you place out the board. "Only grab what you'll eat and don't touch what you wont". This will prevent your board from getting too messy!
Think about a GF, Dairy free, board options
Always add protein to your board
Mix up your snack colors
Keep it as nutritious as possible so the kids will stay full (and so parents don't hate you.) 🙂
Add one sweet item (dark chocolate is great and healthy)
Create TWO boards, a savory snack board and a sweet dessert board!
Lay out pillows and blankets to create a "picnic" vibe (kids love picnics)
Take out all your snacks ahead of time and lay them out so you can quickly throw your board together when kids arrive. (assemble too early and some items may go stale)
Keep it as sugar free or low in sugar as possible. Otherwise kids will go JUST for the sugary snacks. (and we don't want sugar-highs) 🙂
Don't spend too much money! Cheap and inexpensive snacks are easy to find. (Look for those generic versions. I bet kids won't notice the difference.)
If your hosting a slumber party, have all the kids help assemble the board!
If you have leftovers, add them into your child's lunchbox the next day!
Kids will enjoy ANY snacks that you put out for them so keep it simple and don't stress out about it. Happy snacking! (And good luck! LOL!)
Other fun kids charcuterie boards to check out:
But what about the adults?
If there are other adults at the party, you HAVE to serve this Greek Charcuterie Board...with some wine to keep everyone sane while the kids run around! 🙂