This classic homemade Buttery Caramel Corn recipe is quick and easy and made with NO corn syrup. It is a delicious summer time or holiday treat everyone will go crazy over!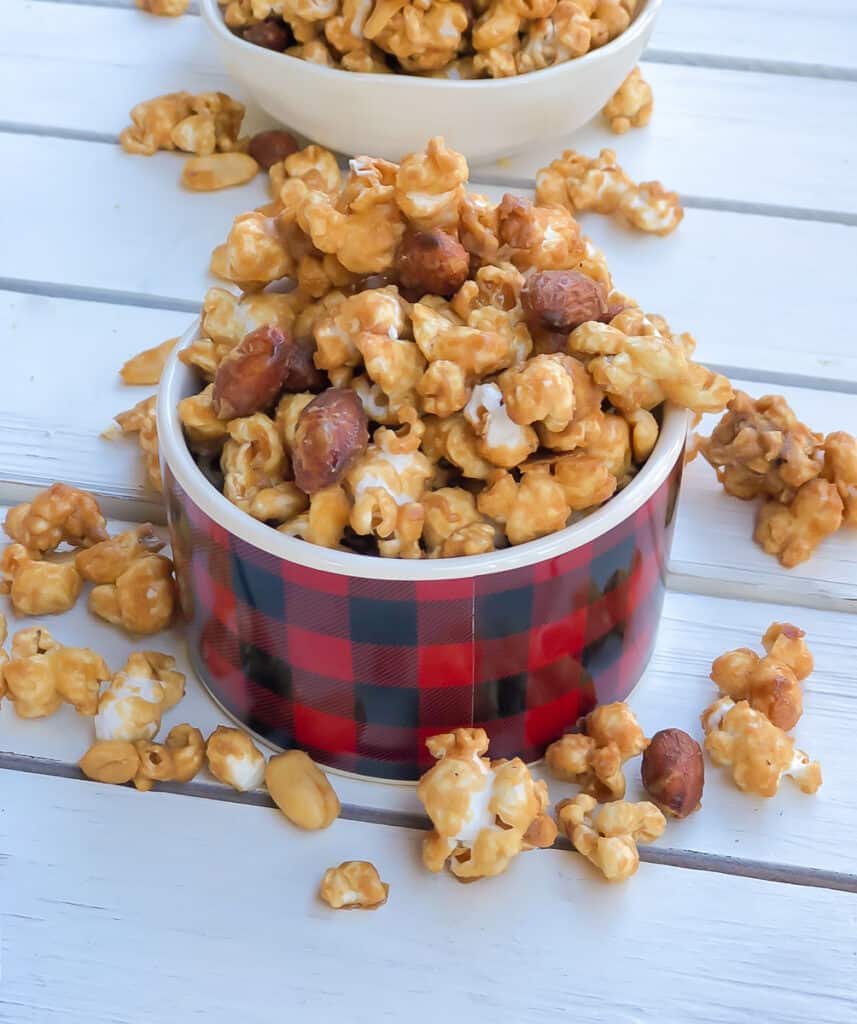 Freshly popped popcorn, almonds and peanuts drizzled with a caramelized buttery sauce, this sweet snack is hands down, one of the most irresistible treats you will make. It's perfectly crunchy and has a richer more buttery flavor than cracker jacks.
It reminds me more of that gourmet style popcorn you can only find in upscale stores packed in those fancy cylindrical tubs. But it's much less expensive! Christmas gifts anyone??
Don't forget to check out my other sweet party snacks!
How To Make Caramel Popcorn
This recipe is one I have tested over and over...and over...again. Caramel is not easy to make but don't be intimidated by it! I wanted to get the flavor justtt right. The sweet caramel glaze comes together quickly. All you need is a sauce pot and a nonstick baking sheet!
Making Your Glaze
This glaze is everything. To get that right texture, you need to let your sauce reach the right temperature for a certain period of time so the sugars harden when cooled.
If your sugar doesn't reach the right temperature, it will be too soft and sticky resulting in chewy caramel popcorn, kind of 'toffee-like'. On the other hand, if you heat your sugar too high for too long, you'll have some real tooth-cracking popcorn. No bueno.
So to make your caramel, you will need to add your brown sugar, butter, salt, and vanilla to a sauce pan and heat it over high on your stove-top while mixing consistently. At the 5 minute mark, add in your baking soda and vinegar.
Tip* Brown sugar gives your caramel a deeper flavor so use that as opposed to white sugar.
Why baking soda? Using baking soda will create tiny carbon dioxide air bubbles and help to create a softer texture in your caramel and one that will melt in your mouth rather than stick to your teeth.
Why vinegar? The vinegar is meant to help prevent a grainy, sugary texture since this recipe does not use any corn syrup.
Make Your OWN Homemade Popcorn!
When I was younger, my mother would always make homemade popcorn on the stove. She would pull out the Orville Redenbacher and within 5 minutes, we had yummy buttery, salty popcorn ready to go for our movie!
Making your own popcorn is SO easy and also saves you A LOT of money. Plus, for this recipe, you don't want to use store-bought popcorn. You want plain, unsalted sugar-free popcorn so you have a fresh canvas to work with.
Homemade popcorn takes less than 3 minutes to make and is a LOT cheaper!
To make your own homemade popcorn, all you need to do is add some oil and kernels to a pot set over medium-high heat. Cover with a lid or poke holes in some aluminum foil for a make-shift lid.
Then wait for all of the popping to stop. The popping is like a bell curve. It will start slow, then speed up, then slow down again. When it slows down, you'll want to turn off the heat so you do not burn your popcorn. The tricky part is making sure you pop as many kernels as possible without burning it!
Lay your homemade popcorn out onto a baking sheet and pour your luscious caramel sauce all over the plain popcorn. Toss the popcorn a bit until it is coated nicely. Then bake in the oven for 20 minutes.
Popcorn Tips:
This recipe is not difficult but it does require your full attention to make sure it comes out perfectly. Here are some tips to ensure your caramel popcorn comes out delicious every time.
Do not leave your caramel alone on the stove. Use a flat wooden spoon and stir, stir, stir!
Brown sugar is the only sugar I recommend for this recipe.
Have all of your ingredients ready to go! This will ensure you work quickly and leave no room for error.
Make sure your popcorn is not burnt! Burnt popcorn will ruin the entire recipe.
Watch your heat when making your caramel. You cannot salvage burnt sugar!
Feel free to add other nuts you like into your popcorn.
Make sure to pick out any un-popped kernels. They are NOT fun to bite on.
---
Other sweet snacks you'll love:
Dark Chocolate Sweet and Salty Bark
Ridiculously Moist Christmas Cake Balls (without a stick)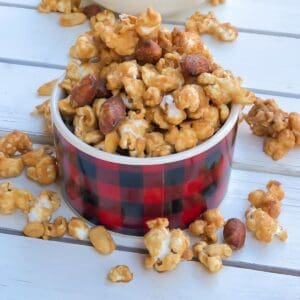 Easy Buttery Caramel Corn (Without Corn Syrup)
This classic homemade Buttery Caramel Corn recipe is quick and easy and made with NO corn syrup. It is a delicious summer time or holiday treat everyone will go crazy over!
Print
Pin
Rate
Ingredients
Popcorn Mix
¼

cup

popcorn kernels

(makes about 6 cups popped)

2

tbsp

oil or butter

½

cup

peanuts

½

cup

almonds
Caramel Sauce
6

tbsp

melted butter

⅓

cup

brown sugar

½

tsp

salt

2

tsp

vanilla extract

1

tsp

vinegar

1

tsp

baking soda
Instructions
To make the popcorn:

Add 2 tbsp oil, or butter, and ¼ cup popcorn kernels to a large pot. (Make sure your pot has a heavy bottom to prevent burning.) Cover your pot with a lid or tin foil. Turn the heat to high and wait for the kernels to start popping.

Once the popping starts, wait about ONE minute and turn off heat. The popcorn should be done popping at this point and should be ready! Pour your popcorn onto a sheet pan or baking sheet. (Make sure to pick out any unpopped kernels!)

Add your peanuts and almonds to the sheet pan and set baking sheet aside but keep it close by.

This step is important. If you heat your sugar too much, it might burn in the oven but if you don't heat it enough, it will not harden.Add your brown sugar, butter, vanilla extract and salt to a sauce pan set over MEDIUM-LOW heat. Stir once so its mixed but then allow it to simmer for 5 minutes without touching it. If you start seeing/smelling smoke, your heat it too high and you may need to start over. If it does not simmer, turn up your heat a TOUCH.

In the mean time, have your baking soda and vinegar ready to go!

Turn off the heat and add in your baking soda and vinegar and mix together. Quickly pour the sauce over the popcorn and give it a few tosses with a wooden spoon so it coats as much of the popcorn as possible. It's okay if all of it is not fully coated.

Bake for approximately 10-15 minutes.

Remove from the oven and toss popcorn again until fully coated. Allow it to cool completely and store in a sealed plastic container for 5-7 days.
Recipe Notes
I recommend making your own homemade popcorn first. If you can't, use plain unsalted popcorn.
Nutrition
Calories:
241
kcal
|
Carbohydrates:
14
g
|
Protein:
4.4
g
|
Fat:
19.8
g
|
Cholesterol:
23
mg
|
Sodium:
213
mg
|
Sugar:
6.7
g