The holidays are going to sneak up on you so your cookie game better be on point! A large batch cookie recipe is exactly what you need to bring to your holiday themed party. After all, there's no better way to spread holiday cheer than to bake some homemade cookies for all of your friends and family. So check out this list of large batch cookie recipes that will feed a large crowd! 
Oh!! And make sure to check out this fun kid-friendly hot chocolate for the holidays and serve with a batch of warm cookies!
What Cookies Are Great To Make In Large Batches?
In my opinion, it's:
✔ Cookies that do not require a ton of fuss or attention to detail.
✔ Cookies that are relatively inexpensive.
✔ Cookies that do not have odd ingredients people may not like.
✔ Cookies that one can easily scoop and bake!
Large Batch Cookie Tips
Most cookies can be made in advance but too far in advance and they will either get hard or too soft. I recommend making them no more than 3 days in advance. If more than that, freeze them by laying your cookies out on a sheet pan and par-freeze them. This will allow you to stack your cookies together WITHOUT them sticking to one another!
Use parchment paper so you can keep your sheetpans clean and prevent cookies from sticking.
Set timers so we don't forget about our cookies! There's nothing worse than a cookie with a burnt bottom.
Use cooling racks to quickly transfer warm cookies on so you can shuffle out baking sheets quickly.
Run your baking sheets under cold water for a minute to cool them off before adding the next batch. Adding dough to hot sheets will affect their shape.
Use a mini ice cream scooper to make sure your cookies are all the same size. This will help them bake evenly.
Add chocolate chips or sprinkles on top of your cookies last to give the a professional finish. Yes, this may mean adding chips by hand one-by-one but it makes a difference aesthetically.
Think about nut allergies when baking cookies for a crowd.
Large Batch Cookie Must Haves!
Before you start on your baking frenzy, check out these items to make baking and transporting a festive breeze!
Large Batch Cookies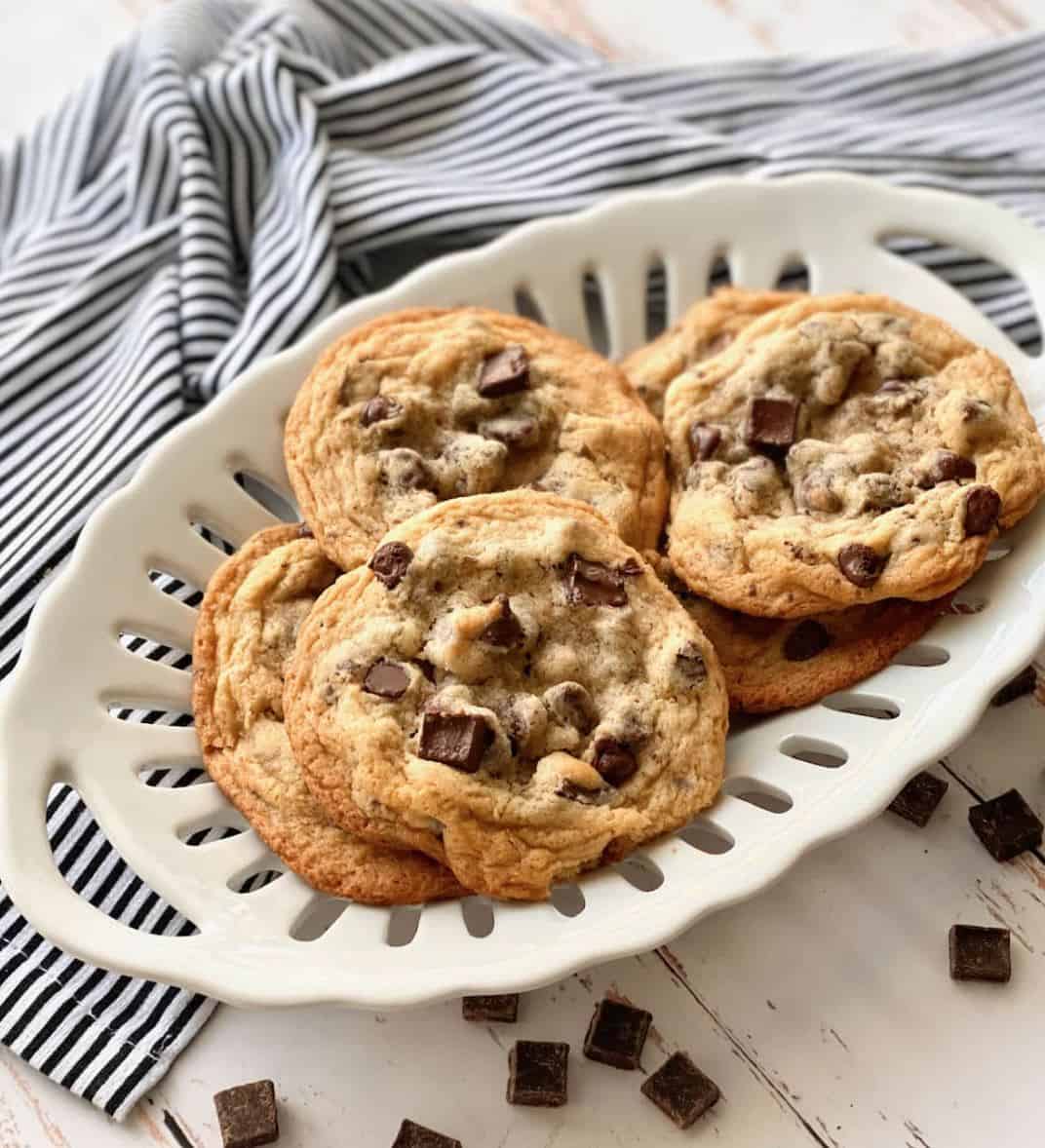 Bakery Style Chocolate Chip Cookies
A cookie classic! Everyone loves chocolate chip cookies. You know the huge and crispy kind with a melted chocolate center? Well, now you can make them at home anytime you want!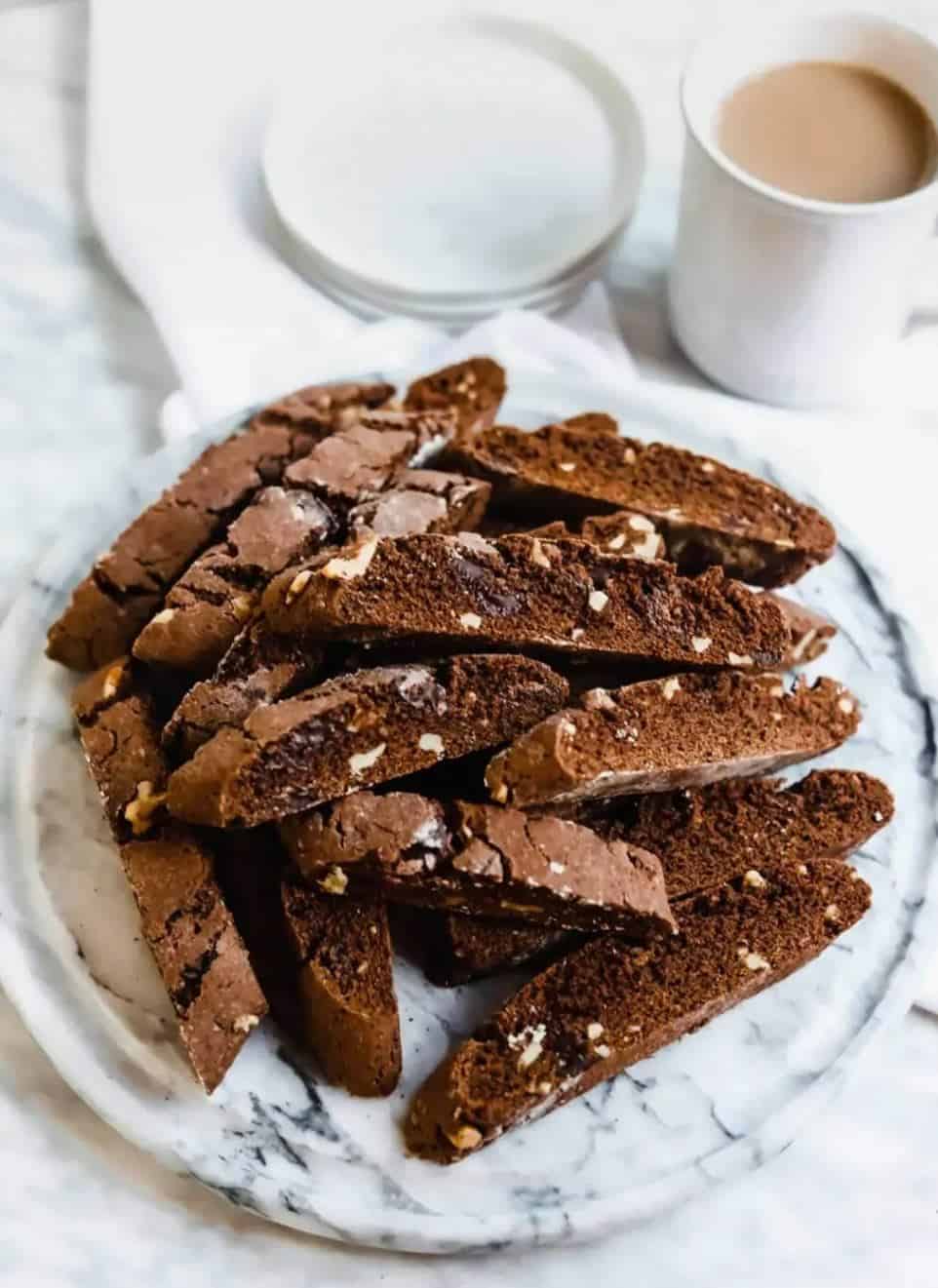 You can't beat the match made in heaven that is chocolate and coffee. This cookie is perfect for hoilday gifting because the recipe makes two dozen cookies! Making them perfect for holiday gifting and sharing.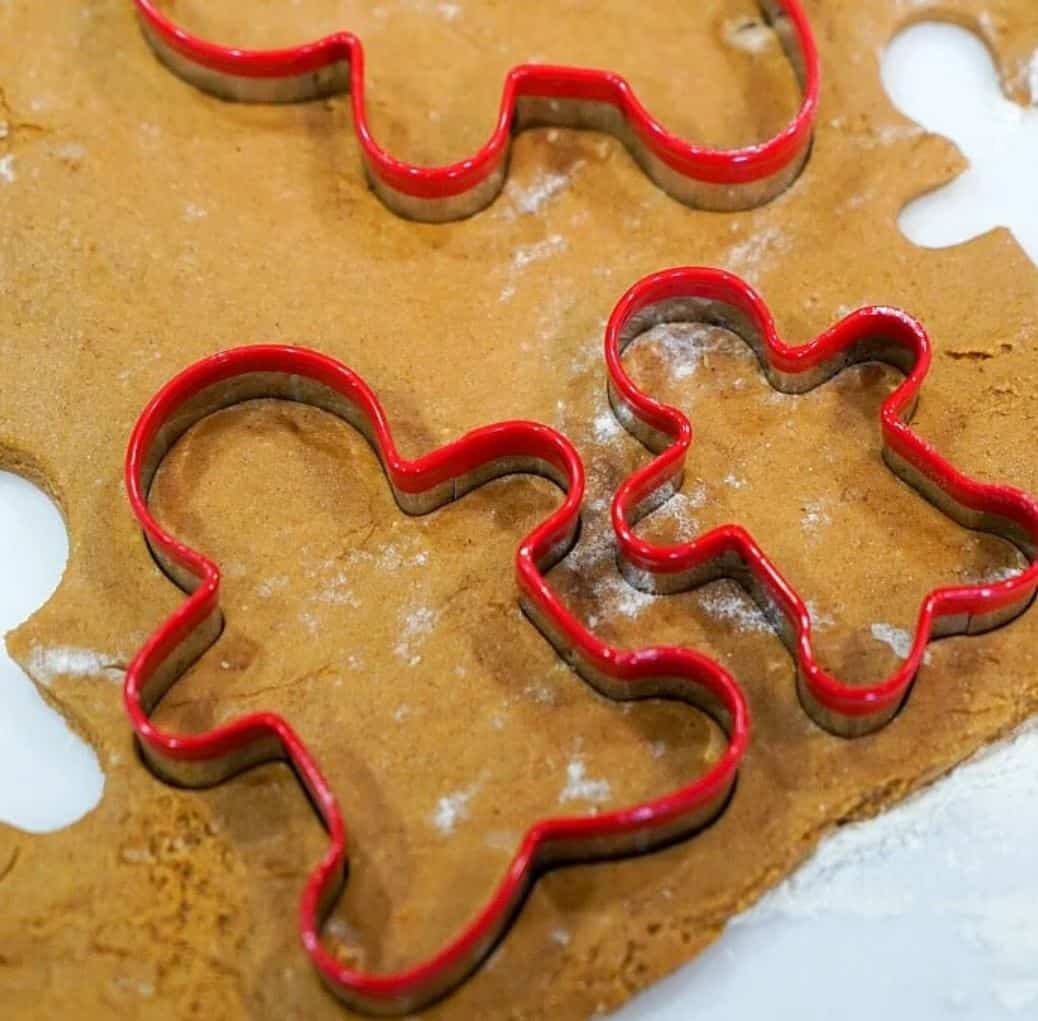 Gingerbread cookies are a holiday signature as they are a great way to get the entire family involved. This recipe uses cake mix to create the dough, making it an easy and inexpensive alternative to the Christmas treat.
These Butter Balls, also known as Russian Tea Cakes, are so easy, but so delicious and perfect little snowball bites for the holidays!
If you want to make some special Christmas cookies for your family, these are beautiful! They take a little more time and effort than the other cookie recipes, but the results are worth it. And they are Santa's favorite too!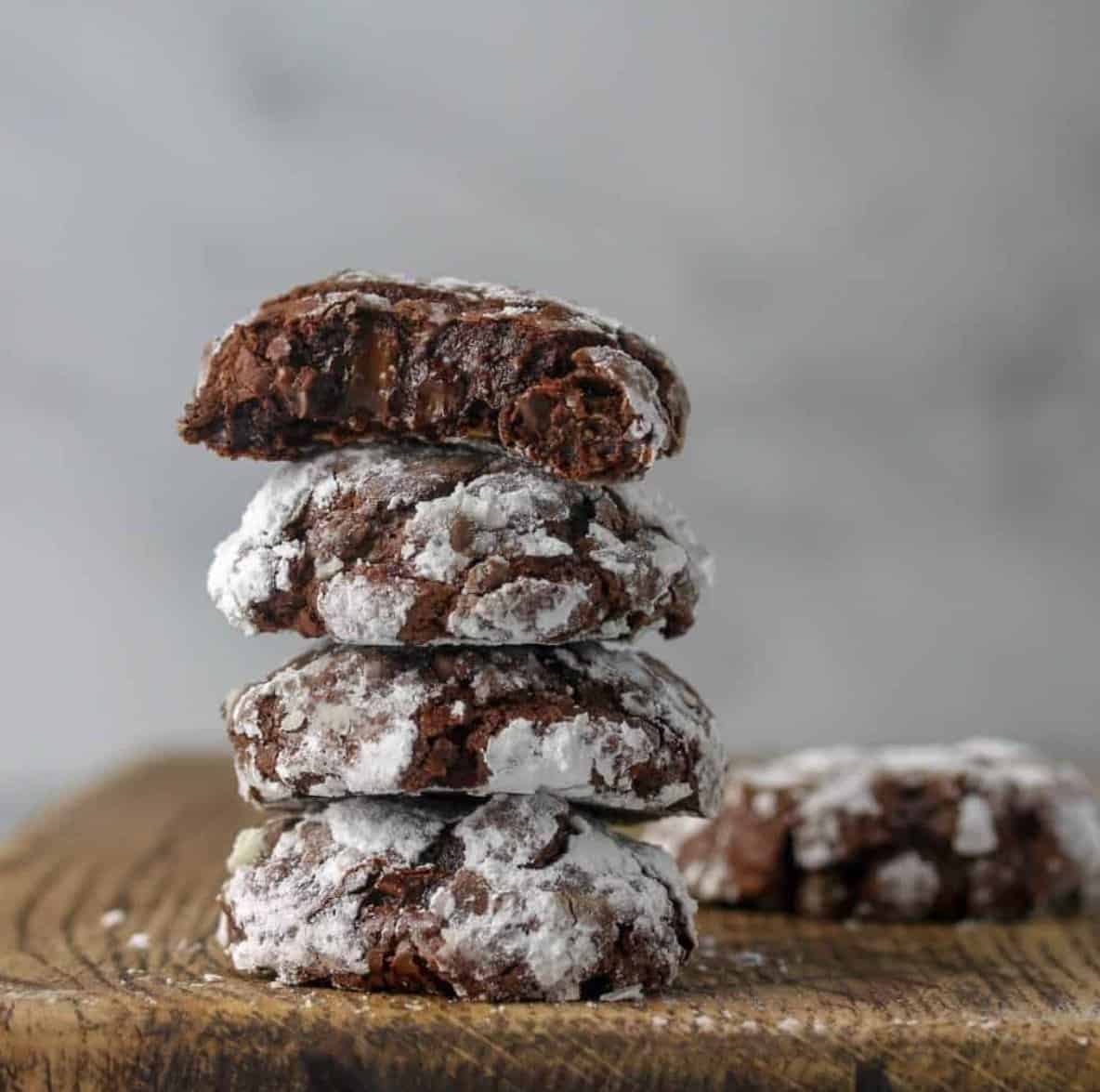 These fudgy and rich flourless chocolate cookies are dusted with powdered sugar to make them look like they were left out in the the snow.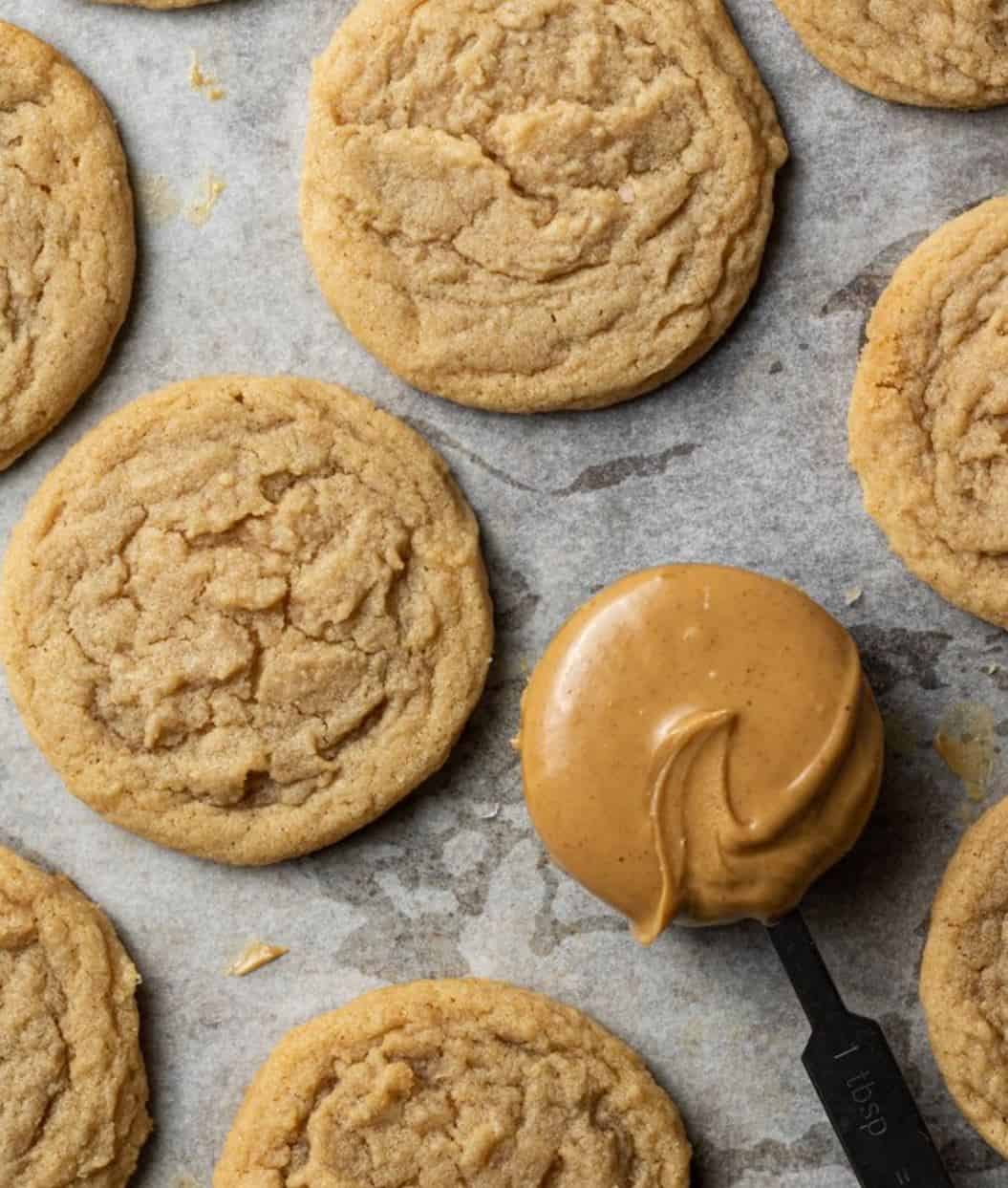 Soft & Chewy Peanut Butter Cookies
These quick and easy peanut butter cookies bring out the nostalgia of the traditional cookie, but are so soft and chewy. They are sure to be a new favorite!
These Grinch themed cookies are the perfect shade of green with a cute heart sprinkle. You will love these cookies so much, that your heart will grow three sizes!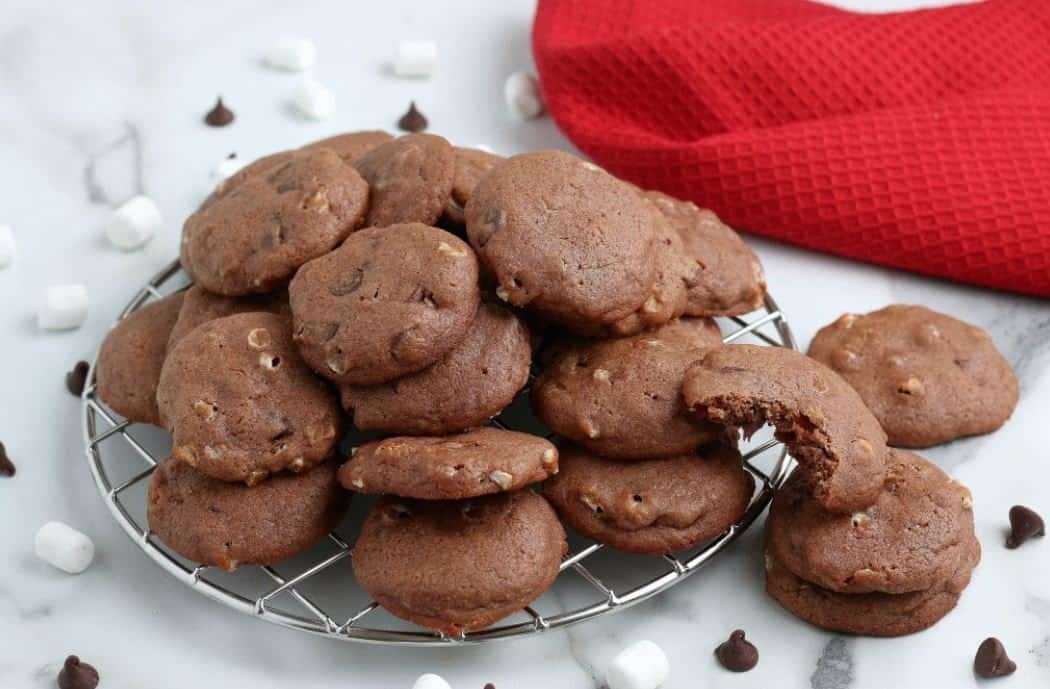 These cookies are perfect for the chilly winter days. They are a great way to enjoy the winter favorite, marshmellows included!
This recipe yeilds approximately 66 cookies, making them perfect for sharing. A little goes a long way with these deliciously addictive cookies!
Holiday Chocolate Cake Mix Cookies with M&Ms
Full of rich chocolate flavor and crunchy holiday-themed M&Ms candies, these 4-ingredient cookies are just as good for gifting as they are for eating!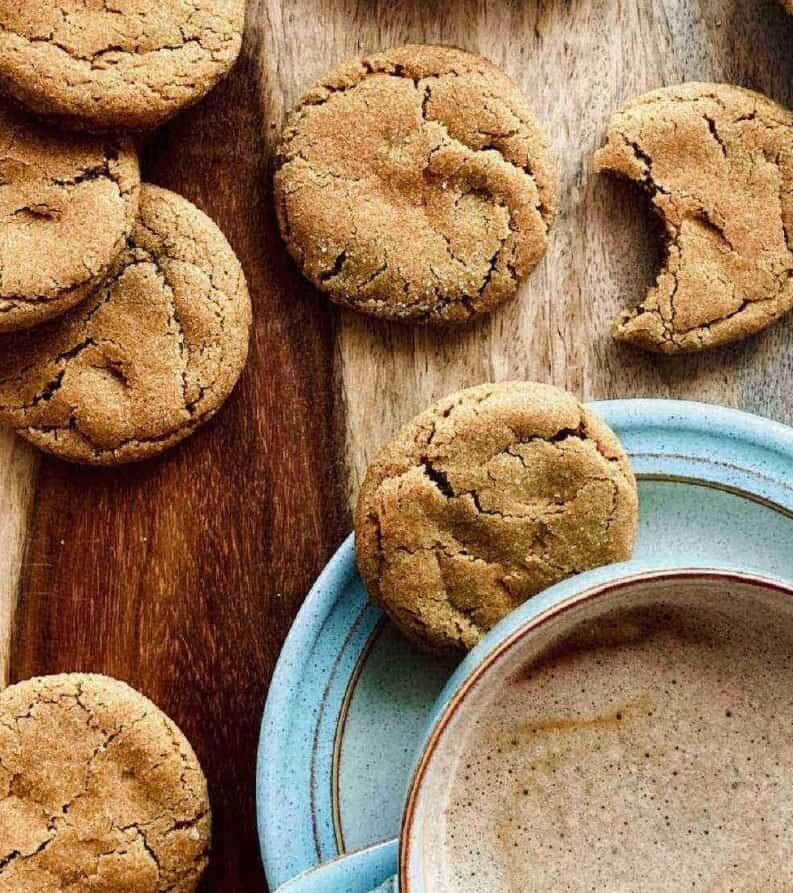 Soft & Chewy Gingerbread Cookies
A delicious new take on a holiday classic! These gingerbread cookies pack a spicy gingerbread flavor with a delicious sweetness from the brown sugar and molasses. You won't be able to stop eating them!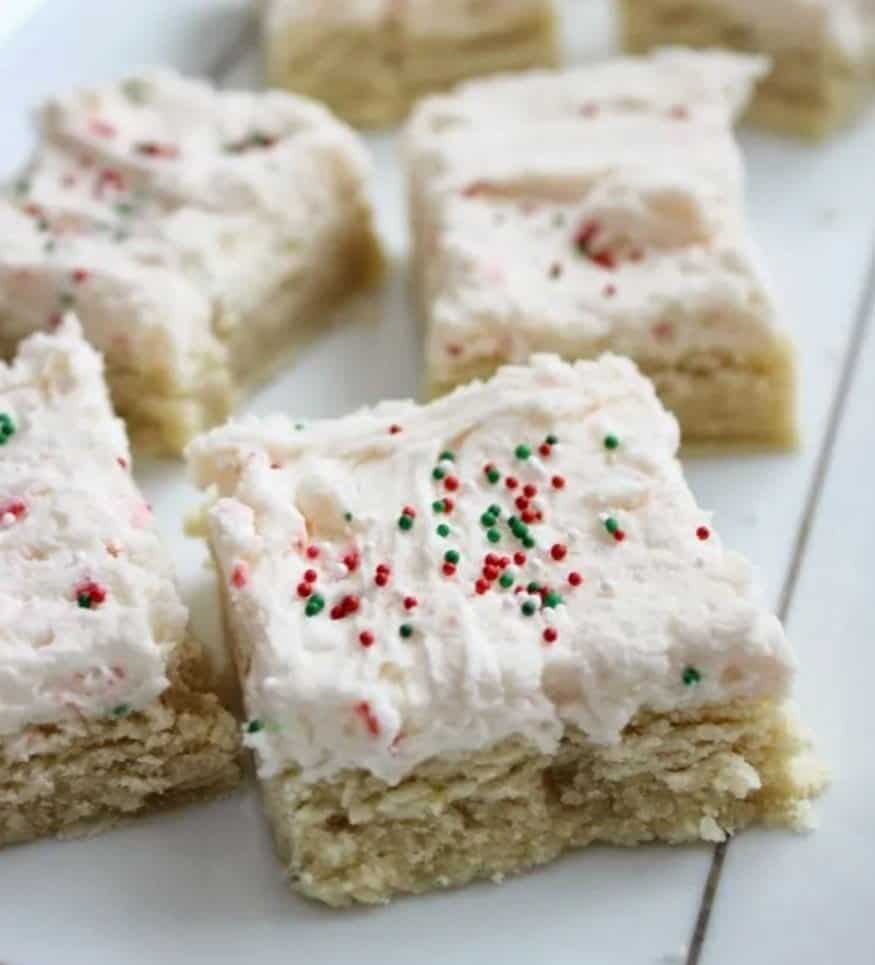 Sugar Cookie Bars with White Chocolate Peppermint Frosting
These cookie bars give all the same deliciousness as regular sugar cookies, without all the work! Plus they will remind you of candy canes because of the white chocolate peppermint frosting!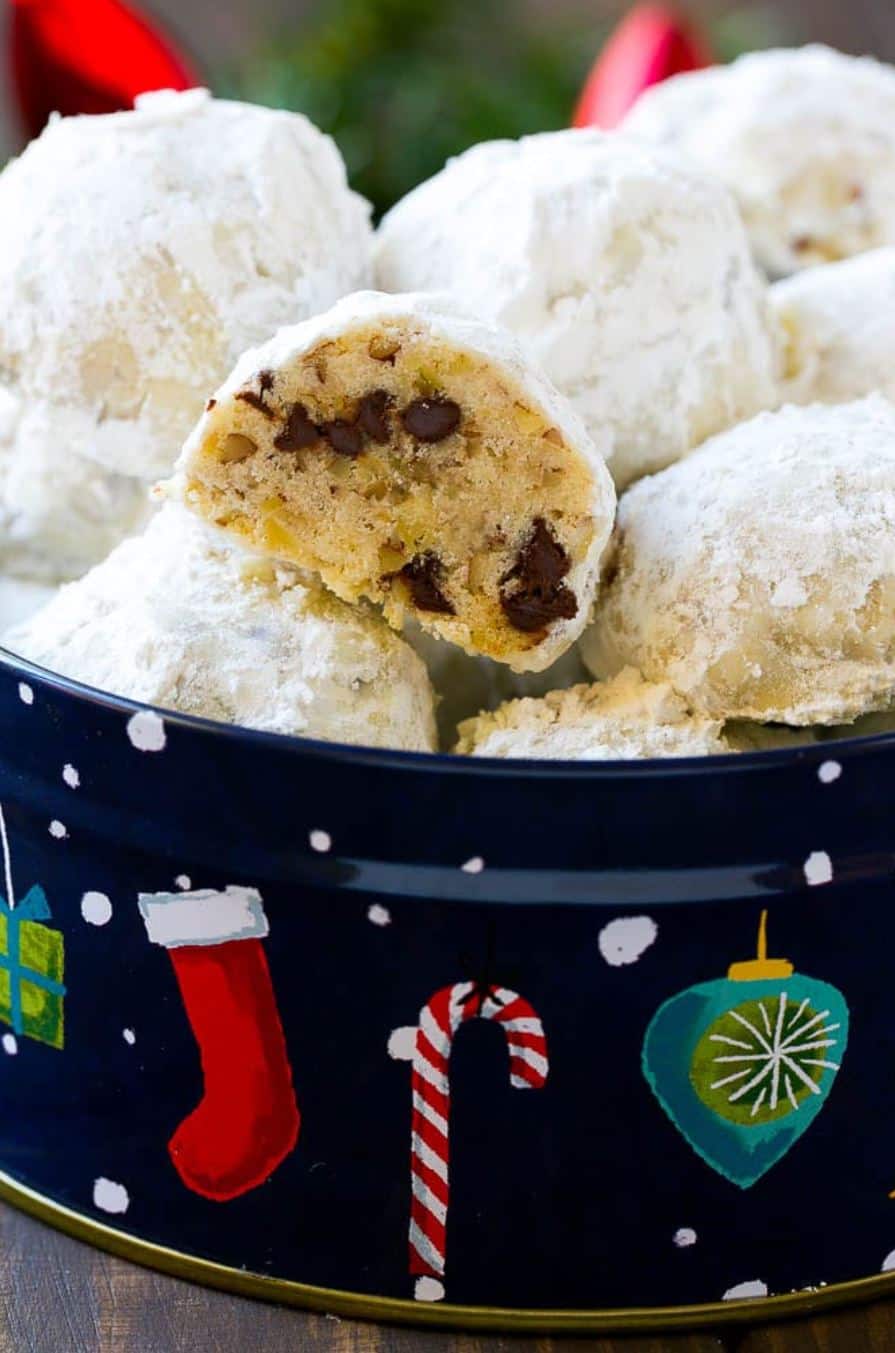 These snowball cookies are light and tender cookies studded with pecans and chocolate chips, then rolled in powdered sugar. A melt in your mouth treat that's perfect for the holidays!
Cranberry Orange White Chocolate Shortbread Cookies
The white chocolate, orange and cranberry combination is so festive! Plus the dough makes a lot of cookies, making them perfect for cookie exchanges.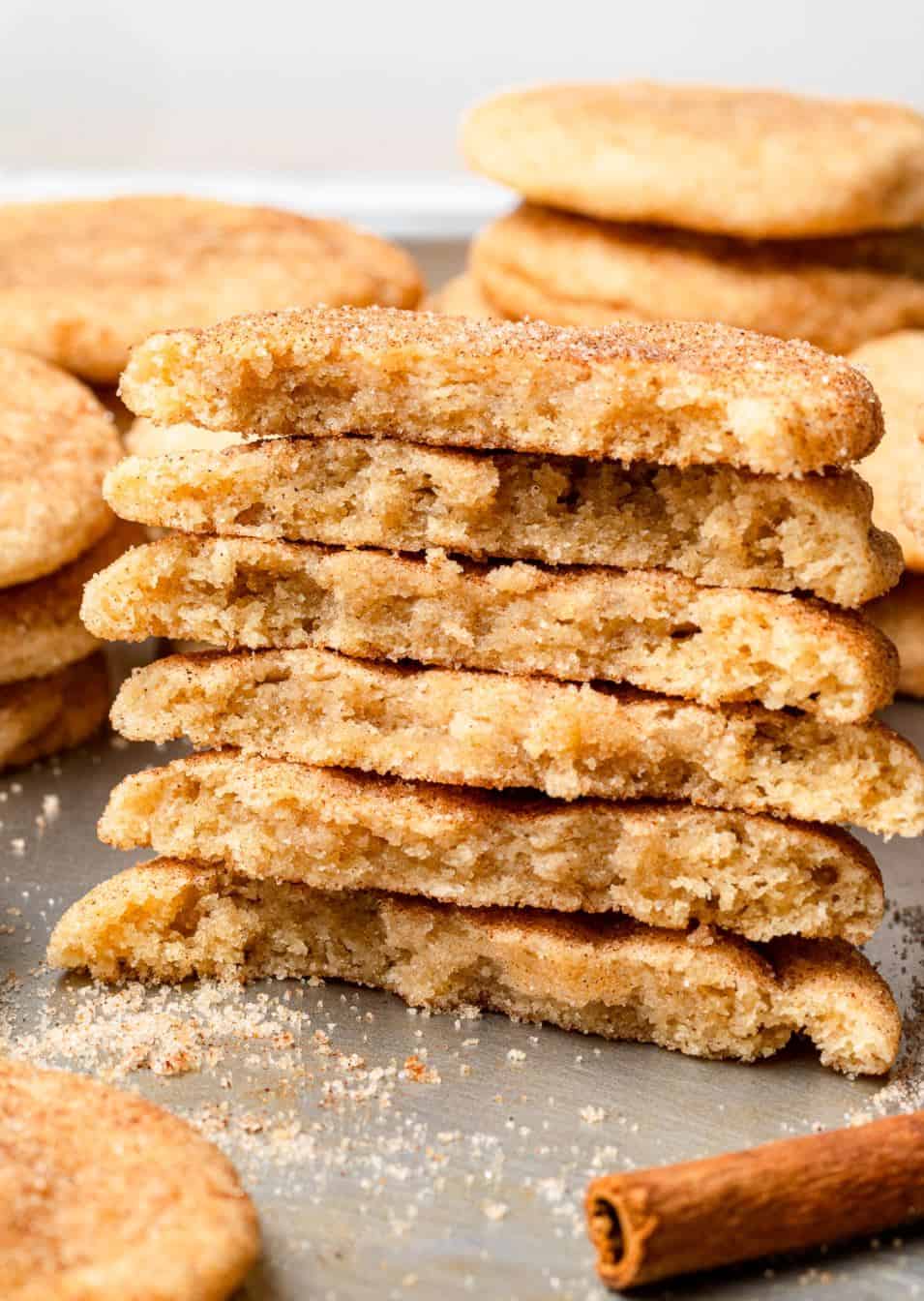 Snickerdoodles Without Cream of Tartar
No cream of tartar? No problem! These snickerdoodles without cream of tartar taste just as good as the traditional ones! They are soft, chewy, rolled in cinnamon sugar, and ready in just 25 minutes!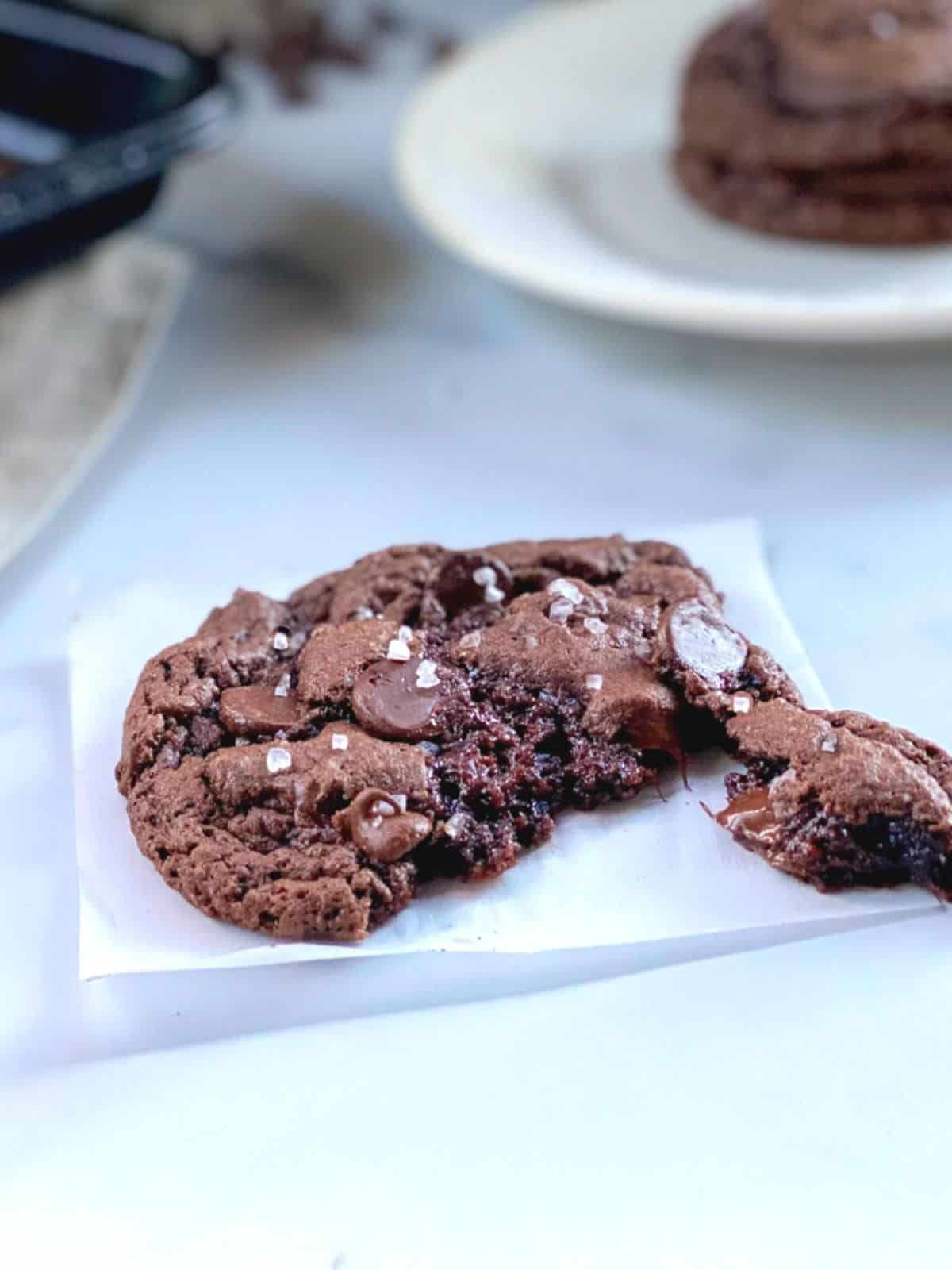 Chocolate Boxed Cake Mix Cookies
If you've never made cookies using boxed cake mix, where have you been? It is SUCH an easy way to make cookie in bulk fast and foolproof!! These are super gooey and chocolately too! You don't need to share the recipe if you don't want to.
This is the BEST chocolate chip cookie recipe I've ever had. Trust me. If you love soft cookies, these are definitely what you need to make! They made with pudding mix which makes them incredibly moist. Perfect for larger batches too!
Pecan Tassie Nut Cups
These cookies are a classic recipe that has been passed down for generations in the Shunk family. They are easy to make and actually recommended to make in larger batches. They freeze well and store great so you can make a few days ahead of time if needed!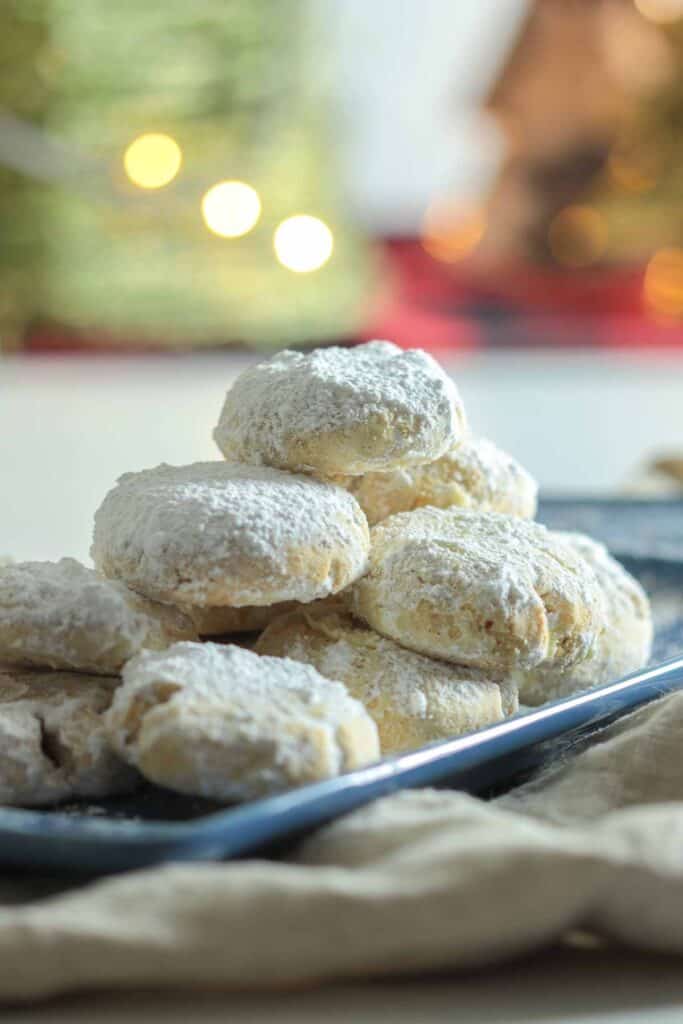 These Greek cookies are a delicious way to make cookies in large batches! The dough can be made days in advance or weeks if frozen. They are soft, buttery and perfectly delicate with a hint of orange and almond. Like my Christmas Cake Balls and Nut Cups they're ideal for cookie exchanges or gifting!
Large Batch Cookie Conclusion
To wrap it up, this cookie round-up has been a rollercoaster of sweet goodness! We've covered all the bases – from classic chocolate chip faves and cozy oatmeal raisin classics to some wild creations like matcha white chocolate and salted caramel pretzel wonders. It's basically a cookie carnival in here!
Whether you're a baking pro in need of new inspo or a rookie ready to dive into the cookie-making world, these recipes have you covered. So, fire up those ovens, grab your ingredients, and let the smell of freshly baked cookies take over your kitchen. Get ready for a tasty adventure in homemade treats – happy baking, folks!
Other Desserts For A Crowd