These 5 (or 4) ingredient Chocolate Cake Mix Cookies come out gooey, moist, fudgy and are the perfect texture! I always get rave reviews over how delicious they are and guess what? They could not be easier to make. Just grab your favorite box of chocolate cake mix and the rest is a piece of...dare I say it...CAKE! 🙂
Jump to:
This cake mix cookie recipe is one of my favorites along with my Soft Pudding Cookies and my Espresso Cookies!
They taste just like gooey brownies!!
They are one of my favorite chocolate party desserts or large batch holiday cookies for less money.
This time of year around the holidays, cookies tend to get somewhat...monotonous. But not when it comes to cake mix cookies! They are the perfect cookie recipe for that cookie exchange or office party because of how moist they stay.
They taste like a mix between a fudgy brownie and a chocolate cake batter. Yes. I know...
If you love sweet and salty foods, you have to try my Sea Salt Chocolate Covered Potato Chips recipe!
Even if you don't know your way around the kitchen, I promise these chocolate cake mix cookies will turn out perfect EVERY time! (well for my own sake...let's say 99% of the time!) The result is the most perfectly gooey, soft, chewy cookie that's PACKED with chocolate!
How To Make Chocolate Cookies Using Boxed Cake Mix
It's SO simple guys! Boxed cake mix requires water. Water is what makes it super smooth and runny. But to make cookies, no water is needed!
First, you need to beat your eggs, butter, espresso powder (optional but recommended) and a 15.25 ounce size box of cake mix together.
Then mix in your chocolate chips. You can choose milk chocolate, semi-sweet or dark chocolate.
Form your cookie balls using a cookie scoop. This is super helpful because of how stick the batter is.
Then place about 2 inches apart on a parchment paper lined cookie sheet, and bake.
Not adding water keeps the consistency thick and stiff enough to scoop without the mix spreading everywhere.
When they come out of the oven, I like to sprinkle my cookies with a little sea salt! This is optional but recommended!
Have you tried my Deep Fried Oreos yet?
Choose Devil's Food Cake Mix!
I want to say it doesn't matter what type of boxed cake you choose but I think it does. For these chocolate cake mix cookies, I use a box of Duncan Hines Devil's Food Cake because of how chocolatey, rich and fudgy these guys turn out.
I should rename this recipe, devil's food cookies because that's what I am reminded of when I gobble these up. But in my opinion, they are BETTER than cake. Is that even possible?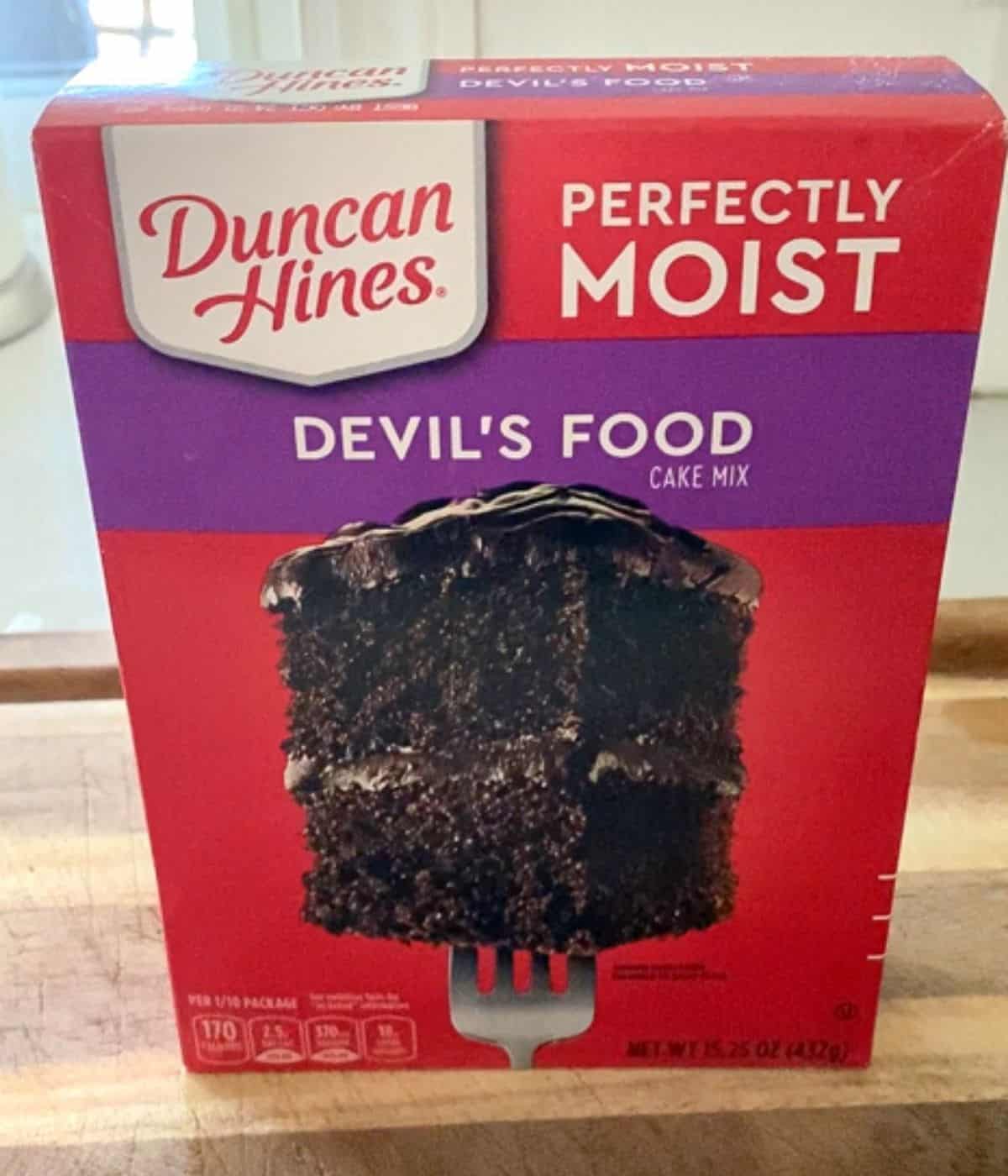 1 (15.25) ounce box chocolate cake mix
Eggs
Butter (or oil)
But I changed it up a bit by adding TWO secret ingredients! (See below.) Those two ingredients I add in a lot of my cookies like these The BEST Mocha Vanilla Pudding Cookies. They take the flavor to another level.
To be honest, I love most cake mixes out there especially if the words 'SUPER MOIST' are on the box because that usually guarantees that your cake, or cookies in this case, will come out super soft and fudgy.
If you do not have a boxed Devil's Food cake mix on hand, you can try one of these chocolate cake mixes instead:
Betty Crocker Chocolate Cake Mix
Pillsbury Chocolate Cake Mix
Ghirardelli Dark Chocolate Cake Mix
My TWO Secret Cookie Ingredients
To make these chocolate cake mix cookies taste MORE chocolatey, I added a secret ingredient that I am not sure many people know about.
What IS this secret ingredient I speak of??
COFFEE!!
If you don't know, coffee is actually a common ingredient in a lot of chocolate recipes like chocolate cake and devil's food cake. I always keep a can of instant coffee mix in my pantry since it does not require any brewing. It instantly upgrades the flavor! Trust me on this one.
To read more about WHY you should add coffee to any chocolate dessert, check out this article!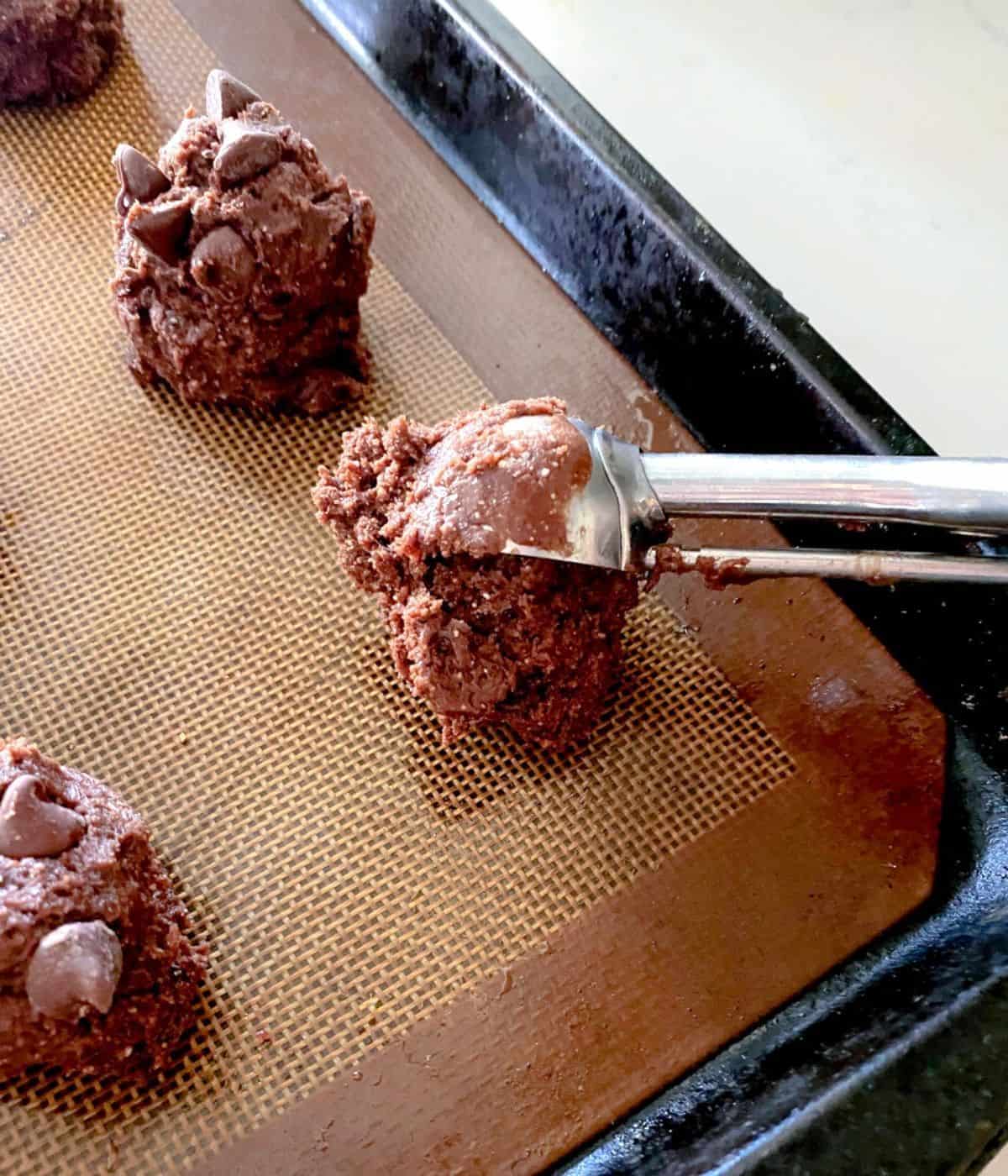 The other ingredient I recently added to these cake mix cookies is...
Sea SALT!!
If you love the combination of salty and sweet, you have to try my Salted Caramel Dark Chocolate Bark. It is amazing. The salt balances out the sweetness and richness of the cookies incredibly well. If using salt, make sure to use course sea salt. It matters.
Adding Chocolate Chips
To recipe, I also added CHOCOLATE CHIPS....because why not? We go big or we go home here at BSK . The chocolate chips do two things. They create a super melty cookie that adds to the texture and gooey-ness. I used semi-sweet chocolate chips so they add a touch of sweetness and a touch of bitterness to balance out the richness of the cake.
Any of these will work! Just make sure the ounces on the box are the same. If you're using a larger cake mix box, you may need to use more butter.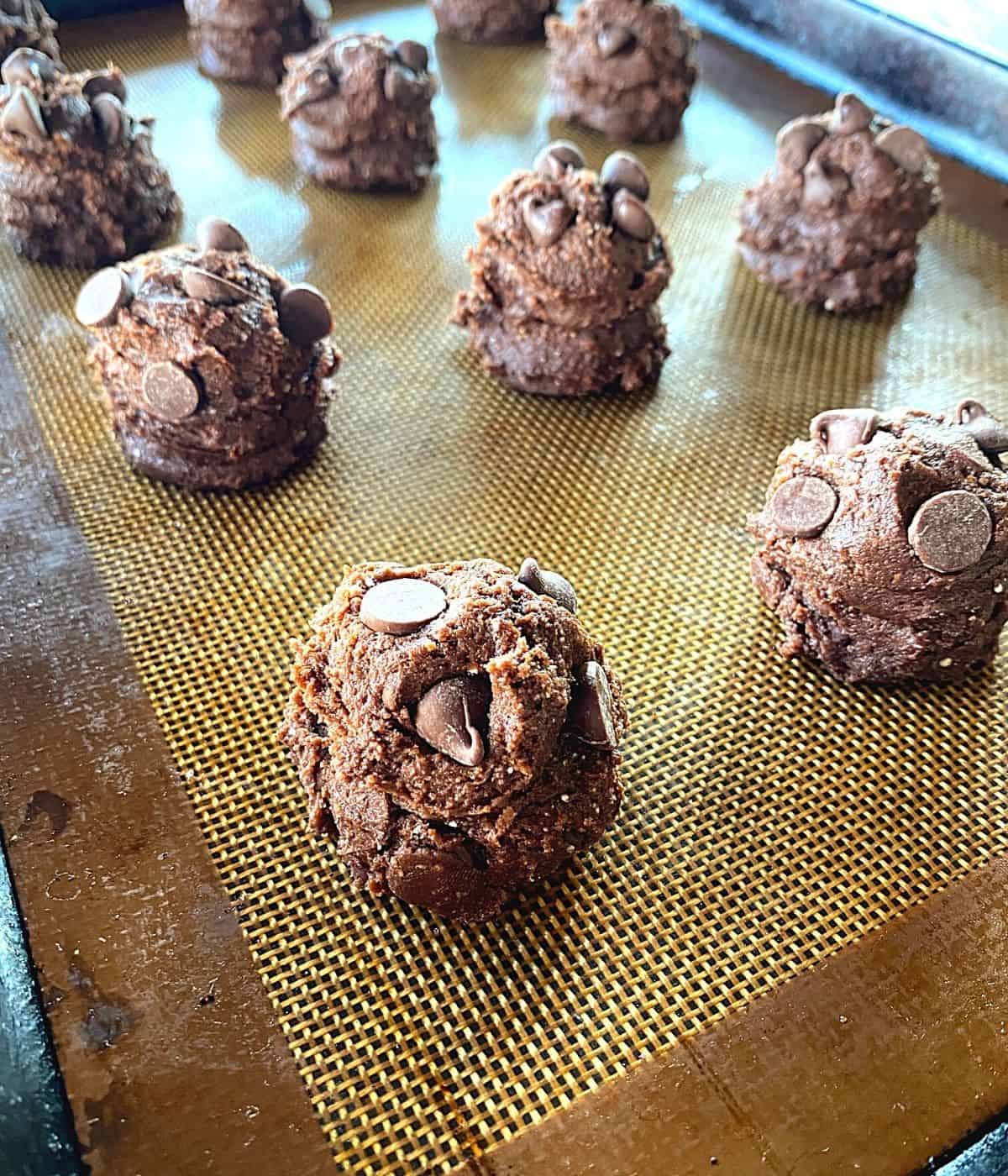 Try Adding Other Ingredients To Your Boxed Cake Mix
This recipe is great because it is SO versatile! You can add in other ingredients to kick up the flavor! Here are some ideas on how you can change up your chocolate cake mix cookies:
White chocolate chips or peanut butter chips instead!
Coconut Flakes
M&M's
Walnuts or other nuts
Different extracts like vanilla, coffee, almond, orange, mint, etc.
Red food coloring to make these RED VELVET CAKE COOKIES
Peanut Butter
Sprinkles (make it holiday festive!)
Roll your raw cookies in powdered sugar to get crinkle cookies .
Use your thumb to make an indent and add a teaspoon of raspberry jam to the center.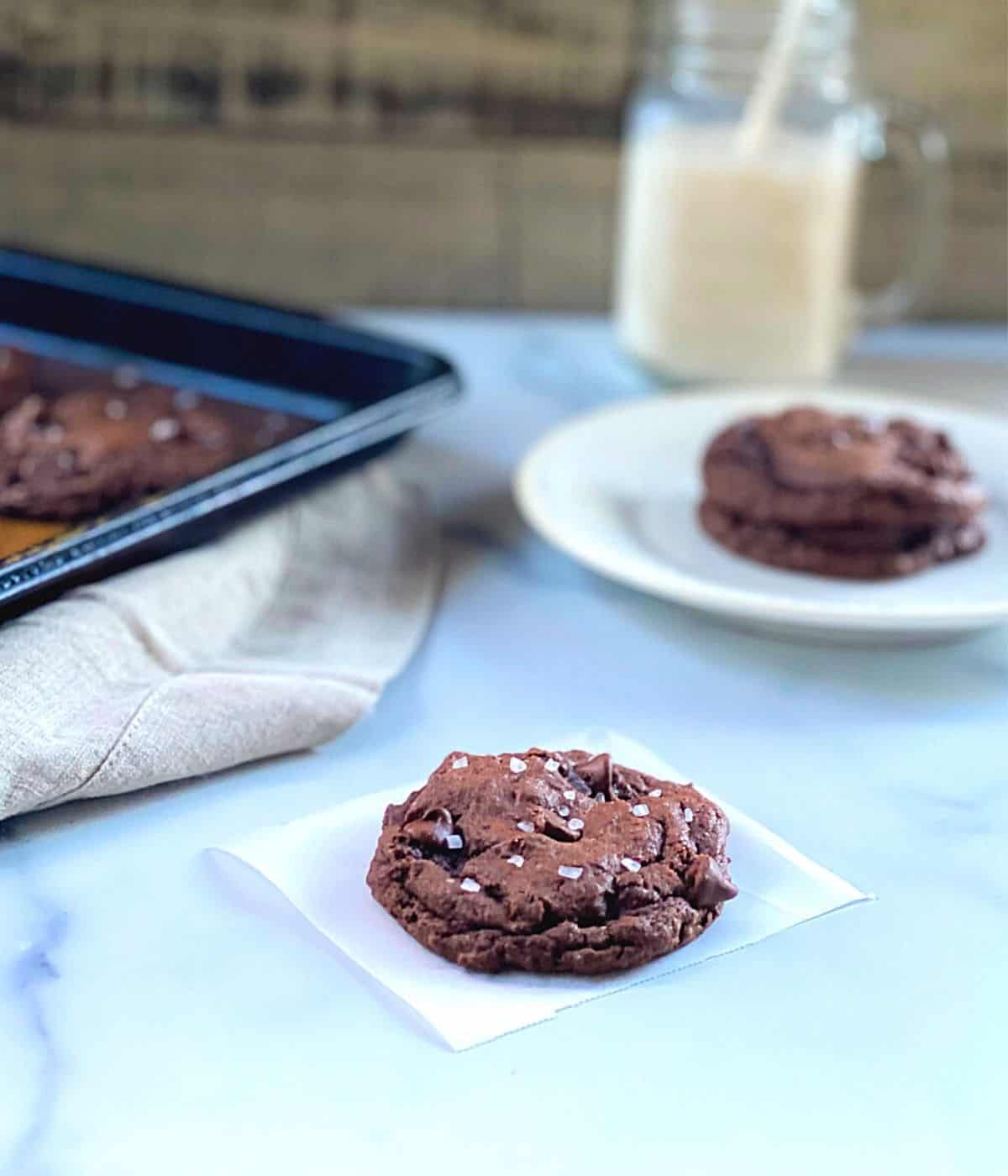 How To Store Your Cookies and Keep Them Fresh
Homemade cookies are best the first few days (2-3). After that, they will start to change taste and texture. Storing them in the fridge will help them last longer but it's not necessary.
How can I prevent my cookies from sticking together
Use parchment paper between your layers!!
How do I make my cookies look like yours?
First off, spread your cooking out. This will keep them perfectly round. Next, do not squash your cookies. Finally, a secret step a lot of people don't bother doing is add a few chocolate chips to the TOP of your cookies before you bake them. This makes them look so professional and delicious.
Can you freeze these cookies?
Yes! Seal them in plastic wrap or a Tupperware container and freeze them! They should last 3-4 weeks frozen.
How can I keep my cookies REALLY moist for more than 3 days?
Add a tortilla round to the bottom of your container, under some parchment paper. This is great for packaging cookies to send friends and family especially around the holidays! Here is a great article that explains how to do this in further detail how to keep your cookies fresh!
Can I make these "crinkle" cookies?
Yes! Just roll the raw cookie balls in powdered sugar before baking!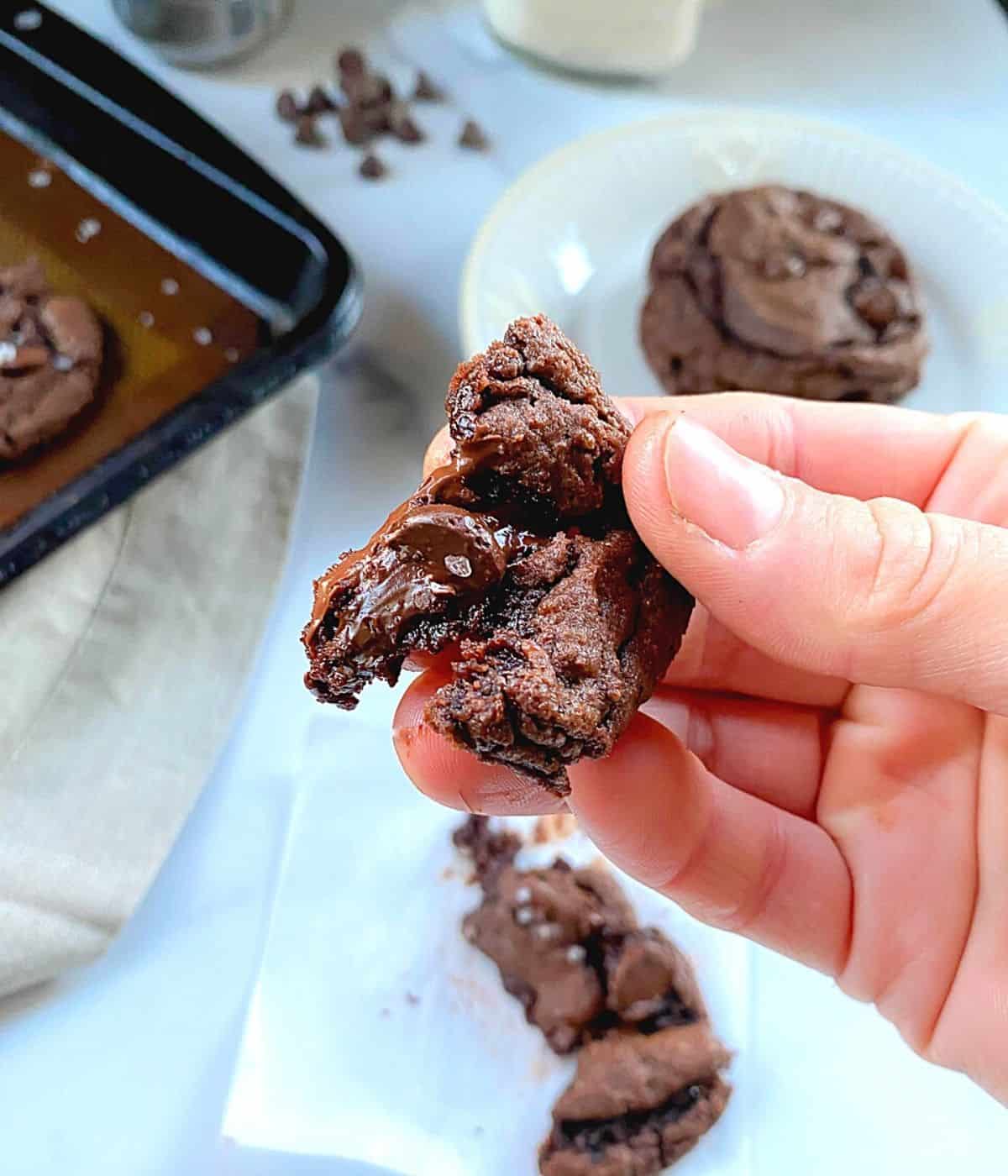 Other cookie recipes you may like:
The Best Kourabiedes (Greek Almond Cookies)
Best Chocolate Chip Mocha Cookies
Easy Pecan Tassie Cookies (Nut Cups)
📲 FOLLOW Aleka on social!! 👋 Follow me on facebook, instagram, pinterest, youtube or tiktok for more recipes and entertaining tips!
📖 Recipe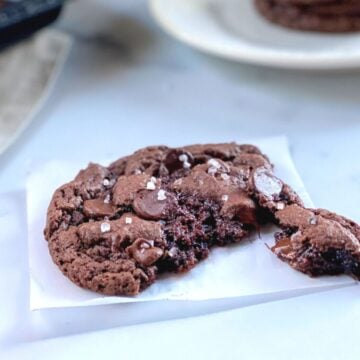 Chocolate Boxed Cake Mix Cookies
These Chocolate Cake Boxed Mix Cookies come out gooey, super moist and are the perfect texture! I always get rave reviews over how delicious they are and guess what? They could not be easier to make. Just grab your favorite chocolate cake mix and the rest is a piece of...dare I say it...CAKE! 🙂
Print
Pin
Rate
Ingredients
1-15.25 oz.

Box

Chocolate Cake Mix

2

Large

Eggs

½

Cup

Unsalted Butter, softened

1

Cup

Chocolate Chips

2

Tsp.

Instant Coffee

(*Optional)

1

Tbsp.

Course Sea Salt
Instructions
(Reserve ¼ chocolate chips for later.) In a large mixing bowl, add your cake mix, butter, instant coffee (if using) and eggs and mix until combined. Stir in ¾ of your chocolate chips last.

Using a mini cookie scoop, scoop 1 oz. of batter onto a nonstick baking sheet followed by another scoop on top. You want 2 stacked scoops on top of each other. They might look tall but they will flatten out. Resist the urge to press them down.

The batter will be a little sticky so use an ice cream scoop to make the process clean and your cookies consistent in size.

Add a few chocolate chips (4-5) to the top of each cookie mound.

Bake for 10 minutes for super soft/gooey cookies. They will firm up as they cool. WAIT to remove them from the pan. While waiting, sprinkle some sea salt on the top of each cookie.

*If you like your cookies a little more firm, bake for another minute or two.

When fully cooled, store in an airtight container for up to 2 weeks. Freeze up to 4 weeks.
Recipe Notes
*Most cake box mixes call for 3 eggs but 2 will work just fine.
Nutrition
Calories:
143
kcal
|
Carbohydrates:
19
g
|
Protein:
2
g
|
Fat:
7.3
g
|
Saturated Fat:
1.9
g
|
Potassium:
70
mg
|
Sugar:
11.4
g