Looking for a large batch cookie recicpe this holiday season? These Easy Pecan Tassies aka nut cups are one of my all-time favorite holiday cookies! They're like mini individual pecan pies but in cookie form, kinda like pecan tarts. They're made with a homemade flakey, cream cheese crust which is much easier to work with than pie dough.
These nut cups, aka pecan tassies, have turned into my TOP 5 favorite cookie recipes of all time! My other top two are my Gooey Chocolate Chip Cake Mix Cookies and my Mocha Vanilla Pudding Cookies.
They are surprisingly so easy to make considering they require making your OWN cream cheese dough (from scratch)! You don't even need a mixer for the dough, just your two hands.
They are the perfect cookie to make around Christmas time because they are so unique, unlike sugar cookies, which we see everywhere this time of year. They're more buttery and rich in my opionion. I can guarantee this one will stay in your recipe book for a loong time!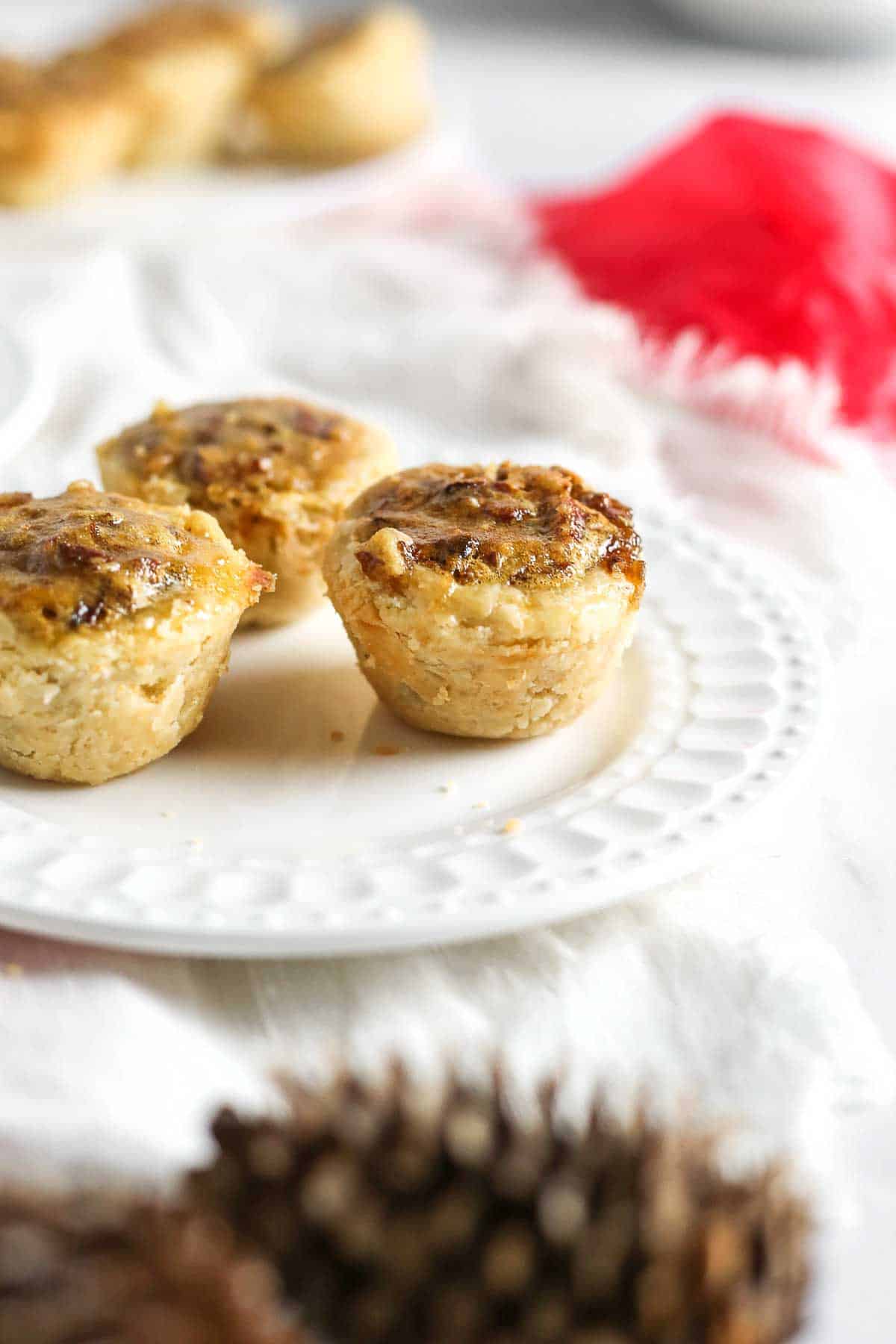 I couldn't be happier to share this nut cup recipe with you all! I HAVE to give recipe credit to my husband's grandma, or "Gram", as we called her.
After her passing, I was graciously given one of her cookbooks in which I discovered this nut cup recipe. Apparently they were a family favorite for over 30 years, and were, according to her family, "the best nut cups ever!".
So I immediately tested them out, and later that day understood why everyone loved them so much.
This nut cup filling is a simple combination of eggs, brown sugar, vanilla, butter and pecans. That's it.
I also love that this recipe is made WITHOUT corn syrup because frankly..the stuff is just nasty. Thanks Gram. 🙂
So grab two bowls, your best mini muffin tin and perhaps a cup of coffee and let's get baking!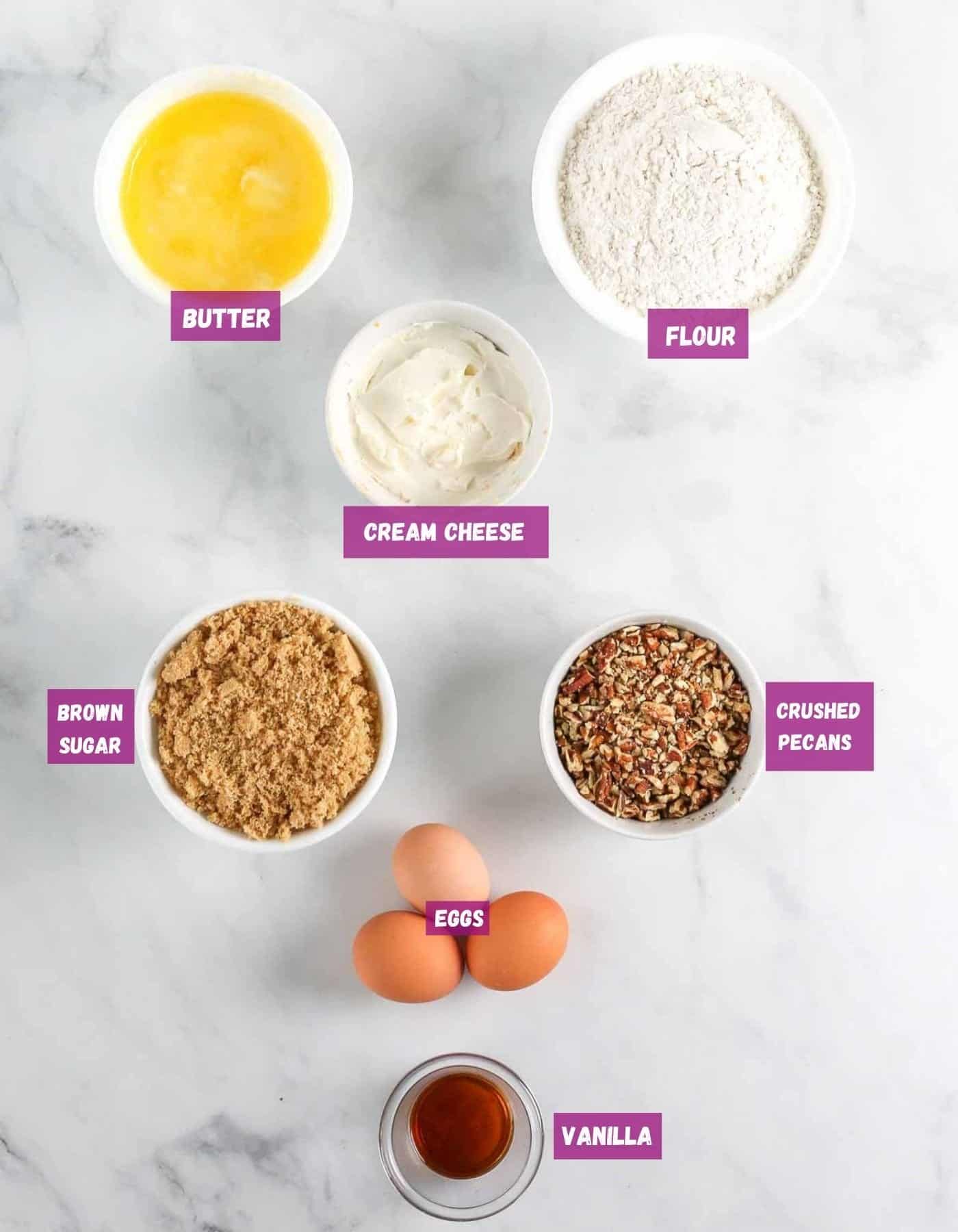 Pecan Tassie Ingredients
Cream Cheese Crust
Flour- all purpose is best but others can be used.
Salted butter- We won't be adding salt so salted is used. If you're using unsalted, add a pinch of salt to your dough.
Cream cheese- This is what gives the crust a cookie-like texture. It is slightly sweet too. You can use Neufchatel cheese instead if you wish.
Pecan Filling
Brown sugar- This gives your tassies a deep, rich molasses flavor that cannot be replicated with granulated sugar.
Eggs- Help to bind the filling so it doesn't seep out of the cups.
Pecans- Purchase pre-cruched pecans or crush them using a plastic bag and meat mallet.
Vanilla extract- Adds a yummy flavor to your filling.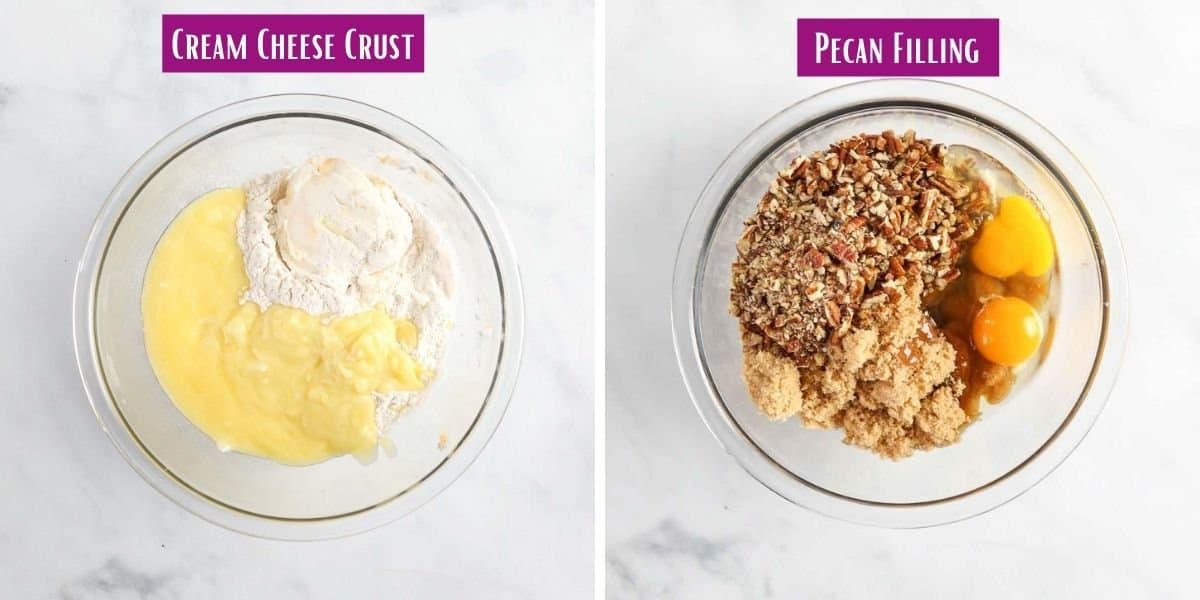 Instructions
Step 1: Preheat oven to 350°F.
Step 2: Reserving one egg, combine your brown sugar, 2 eggs, chopped pecans and vanilla extract in a bowl and mix until just combined. Overmixing will lead to a foamy filling. Refrigerate until ready to use.
Step 3: Combine flour, melted butter and cream cheese in a bowl and mix thoroughly. You can use your hands or a mixer.
Step 4: You have two options for filling your muffin tins.
Option 1: Using your fingers, press dough into small muffin tins. Make sure the dough is even on the bottom and sides of the tin. Use more dough if you like a thicker crust.
Option 2: Use a rolling pin to roll out your dough to no more than a ¼" thick. Use a round cookie cutter to cut each cup out. Aim for rounds about 3" in diameter. Then press pre-cut rounds into muffin tins.
Step 5: Fill each tin with your filling all the way up to the rim.
Step 6: Scramble your fourth, reserved, egg in a bowl and brush over top of each filled cup. Concentrate on brushing the crust.
Step 7: Bake for about 20 minutes or until the crust is golden brown. Use a thin metal spatula or knife to scrape along the outside edges. This will help to loosen your cups. Do this while warm to help them slide out easily.
📃 NOTE: You can print the FULL recipe with all ingredients & detailed instructions below!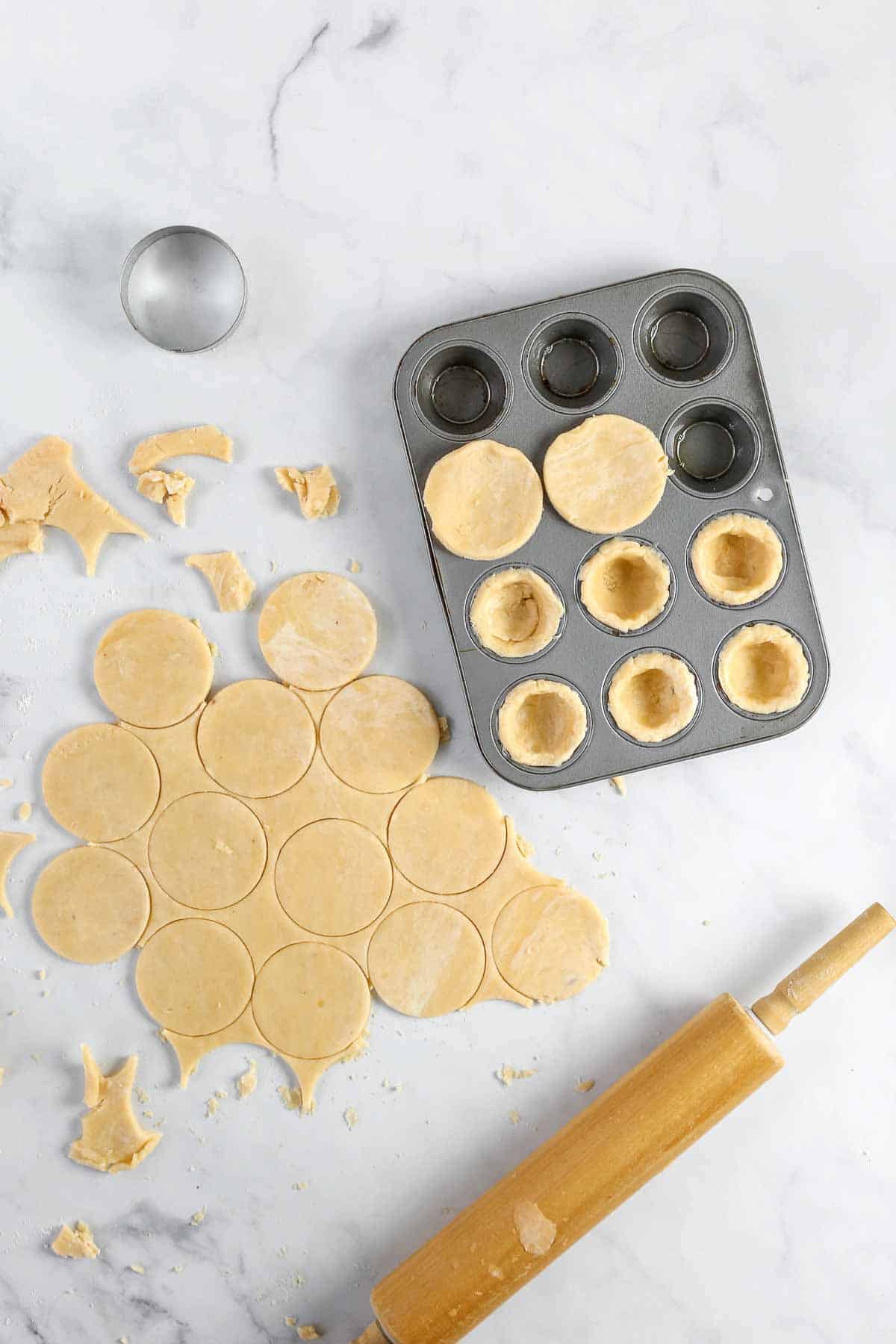 Tips For The Cream Cheese Crust
This "crust" is not your typical pie crust. You do not need COLD butter! This is something I love because mixing in cold butter is always a pain to do especially if you don't want to use a pastry cutter or food processor!
So the temperature of your butter does not matter when we make this nut cup dough. Just keep it at room temperature NOT melted.
This pecan Tassie recipe uses butter, cream cheese and flour. That's it. You have the option to mix your dough by hand or with a mixer. You also don't need to worry about over-mixing. The only thing you want to make sure of is that your dough sticks together. I like using Philadelphia cream cheese for my dough because it is creamy and rich in flavor.
Pressing Your Dough
Once your dough is ready, you'll want to press your cookie dough into your mini muffin tins. HOW to do this is up to you.
Here are two options:
Roll your dough until it's about ⅛" thick. Then use cookie cutter or rounds to cut out circles that are a little larger than your muffin cups (about 3" in diameter). This will ensure the thickness of your crust is even.
Pinch off a piece of dough and press it into each muffin pan until it reached the rim. You will need to be the judge with how much to use. I recommend using a mini ice cream scoop to keep your cups consistent.
The good thing about a tassie crust is, you can't have too much! Since they are more like a cookie than a pie, the crust should be thicker, in my opinion.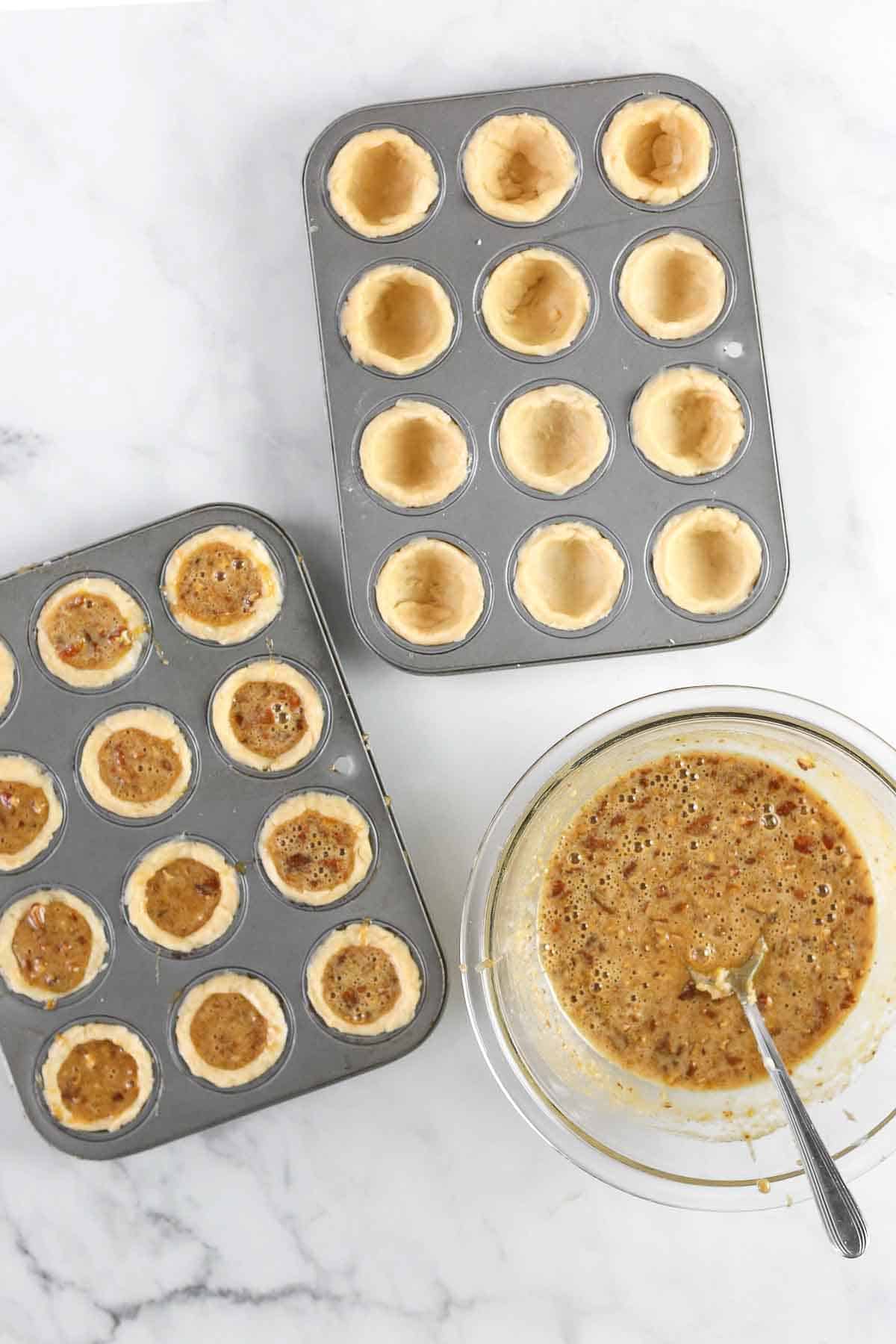 Substitutions
Although making is pretty straight forward, you can change or tweak it many ways! Here are some ideas or substitutions you can make:
add 1-2 oz. bourbon to your filling
add spices such as cinnamon, nutmeg or clove
use roasted pecans for another layer of flavor
use walnuts, almonds or another nut instead
add maple syrup to your filling
add bacon bits for a salty, smoky bite
to remove Tassies from the pan easily, use cookie spray and remove them immediately while they're still hot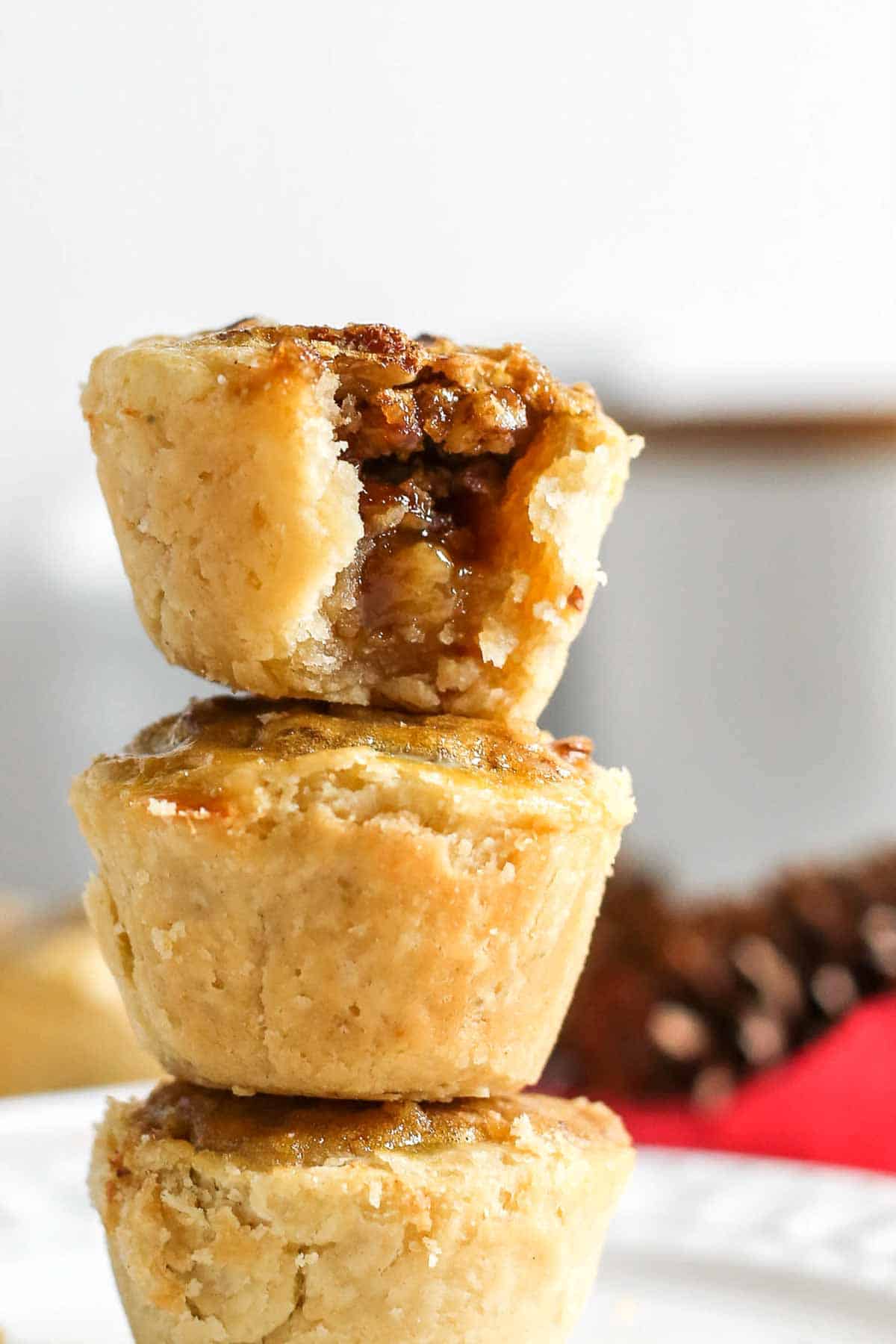 Expert Tips
Pecan tassies are very simple to make. They came out perfectly on my first try! (Well almost perfect...) Here are some cookie tips:
If your pecans are whole, give them a rough chop so you have small pieces throughout your filling or purchase the pre-chopped pecans to make it easier.
Use your hands or a silicone spatula to mix your filling. A mixer may crush the pecans.
You need a mini muffin/cupcake tin to make these so grab yourself one today. This one from Amazon is a nonstick one that holds 24 cups.
The cookie crust does not need to be perfectly shaped. Your hands will be the best tools for this.
The filling with expand a bit in the oven from the eggs so make sure to not overfill your cups.
Brush some honey over top for an added sheen and sweet bite.
Grease your muffin pan so they don't stick.
Use cupcake liners to help your tassies come out easier.
Add a splash of bourbon to increase the flavor. I also use bourbon in my Greek Almond Cookies. OR you can top your tassies with a dollop of bourbon whipped cream!
Storing Tip
Store your baked pecan tassies in the fridge for up to 10 days in an airtight container or in the freezer for up to 6 weeks in a sealed bag or container. Thaw at room temperature or in the fridge overnight.
FAQ's
Do I need to refrigerate my nut cups?
If you want to help extend their shelf-life, yes.
Can I make these using a large muffin tin?
Yes but the yield will be different. Also make sure to bake a bit longer and make sure your crust doesn't burn.
Why is my filling grainy?
Overbaking can result in a grainy texture.
Why is my filling foamy?
You may have overmixed the filling. If this happens, skim off the foam.
Why is my crust soggy?
It might have been too thick. Make sure to roll it out thinner next time.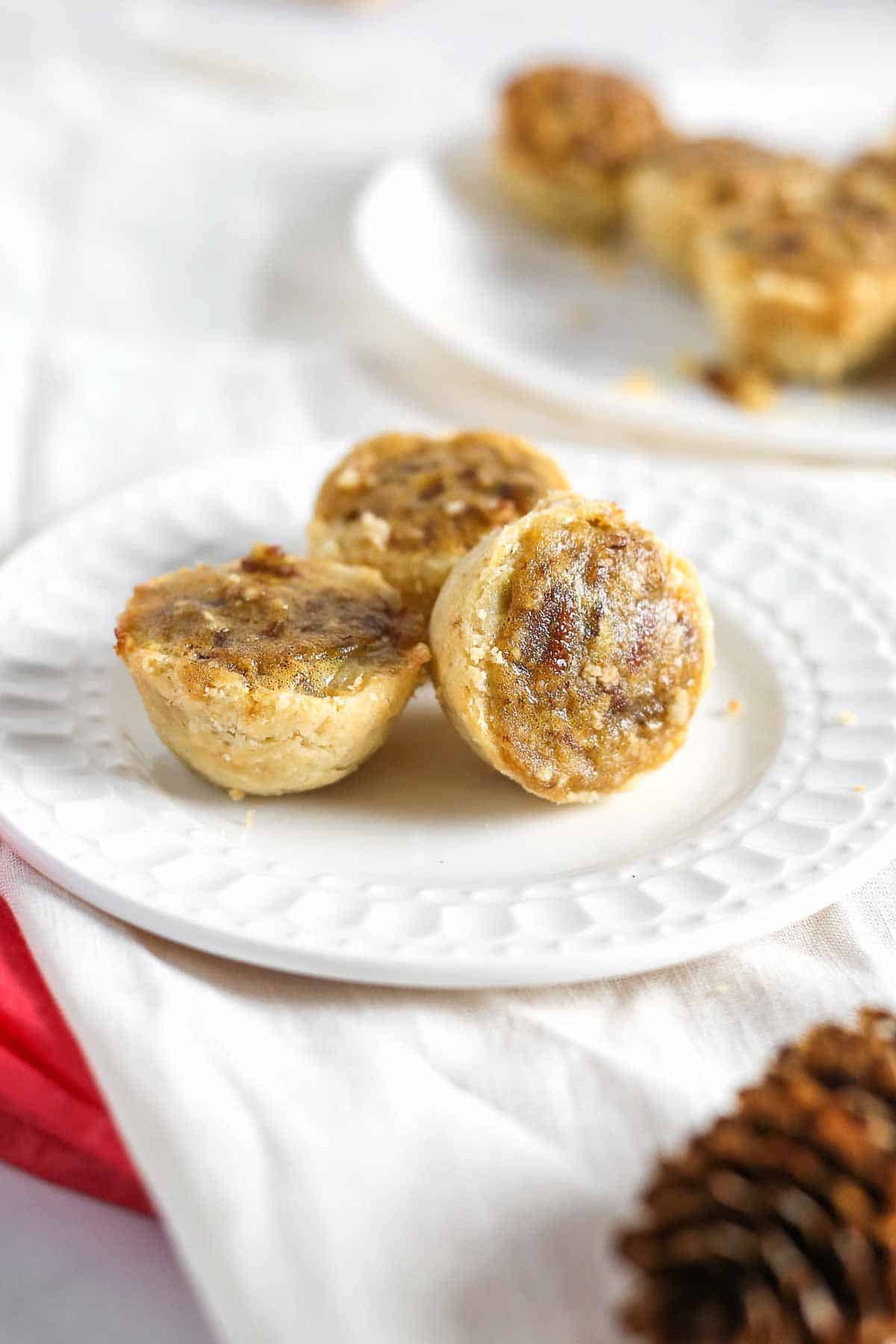 Other holiday desserts you may like:
The Best Kourabiedes (Greek Almond Cookies)
The BEST Muddy Buddies (Puppy Chow)
Ridiculously Moist Christmas Cake Balls
📲 Say hi on social!! 👋 Follow me on facebook, instagram, pinterest, youtube or tiktok for more recipes and entertaining tips!