This recipe for Cake Balls is one of my most requested every Christmas. But they can be made for ANY holiday including birthdays! They are so moist and the one sweet treat that everyone goes crazy for every year. Make sure to check out my cake ball tips below!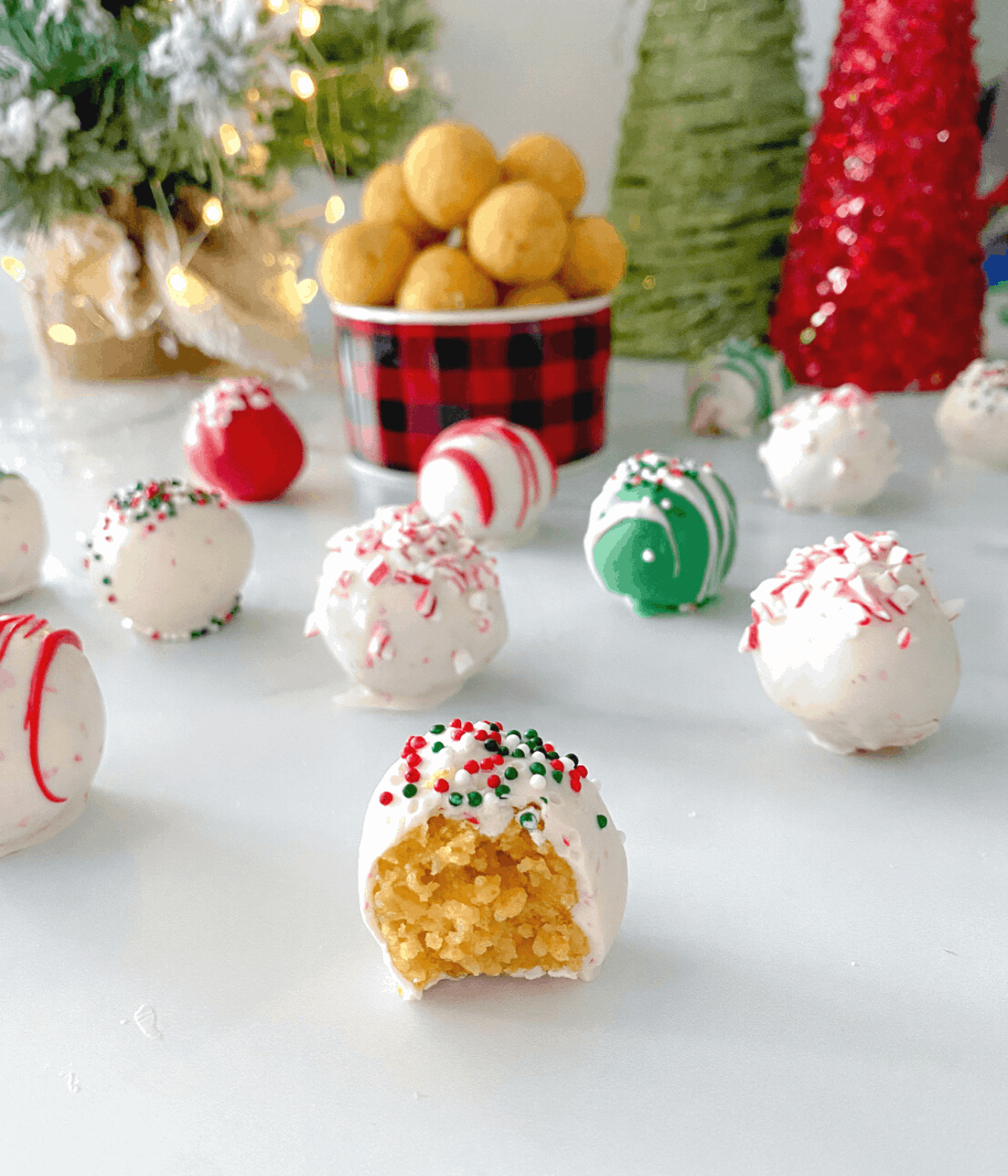 A Family Tradition
These cake balls have become a family tradition that I started about 6 years ago. Now that my boys are a bit older, they are starting to help me make these to continue that tradition.
What are cake balls?
Image taking an entire cake, frosting and all, and throwing it to a food processor. Boom, cake balls!
They are delicious...if you make them right. Some people like to call them a cake "truffle" but they are made without chocolate and without the stick like cake pops have. I love cake pops but they are inconvenient and take some extra steps that I often don't like to do. With cake BALLS, there's no more worrying about whether they'll fall off the stick.
8 Expert Tips
I have been making cake balls for over 6 years now. I have even made a cake pop TOWER for a friends wedding which I had so much fun doing. Over the years I have learned what works and what doesn't. Here are my tips for you:
Do NOT coat super cold cake balls in your melted chocolate. The chocolate will crack with the temperature change which is not pretty.
Use Candy Melts (which I always order off Amazon) or look in your grocery store for Ghirardelli melting wafers. I cannot stress how helpful these are. They are MADE to melt easily. For years I tried using regular store-bought chocolate and it is unforgiving.
Add EZ Thin Melting Crystals to your chocolate to help smooth it out. THIS IS SO HELPFUL! Your candy melts will be smooth as butta' and so will your cake balls. (Adding shortening can be a good substitute to thin your chocolate.)
Use a food processor to "crumb" your cake! This is a trick that many people don't know about which helps to break up the harder edges of cake. It is an extra step that is worth it.
Wash your hands between rolls. When your using your hands to roll out your cake balls, cake will stick to your palms which we don't want.
Use a toothpick or mini skewer to dip your cake balls into your candy melts.
Add your candy melts to a mini crock pot so you don't have to reheat your chocolate 1000 times.
Do not overheat your chocolate. Doing this will scorch it causing it to thicken and harden up. It is hard to fix once it is scorched. This pot is great for this.
Leave the oil out! Adding the oil a boxed mix requires will cause your cake balls to be extra oily which may cause the oil to seep out later on. Not very attractive.
Chill your cake balls. This is important and makes them easier to work with.
The most important tip is to make sure you let the excess chocolate drip off your cake ball before placing it down to cool. I see too many times, cake balls sitting in a pool of chocolate. We don't want "melted snowballs"!
Ingredient Swaps
Moist Yellow Cake Mix: This type is my go-to every time. You can use ANY boxed cake mix including white, red velvet or chocolate.
Candy Melts: Candy melts comes in EVERY color. They even come in peppermint flavor which I used in some of the photos here. You can use any kind you wish!
Sprinkles: You do not have to ONLY make these at Christmas time. You can add any colored sprinkles to make them festive for any holiday. Add rainbow confetti sprinkles for kid's birthday-themed cake balls!
Cream Cheese Frosting: I like the flavor of cream cheese frosting the best. If you do not have this on hand, you can use any vanilla-flavored frosting. Steer clear of chocolate frosting unless you use chocolate cake mix as well.
Dipping Tips and Tricks
"How do I dip cake balls?". This is the most common question I get and by far, the trickiest part of making cake balls.
Since you do not have an actual stick to hold while dipping, coating your balls without them diving right into the chocolate can be a challenge.
The BEST way to dip a cake ball, is to use a toothpick, skewer or small fork as a dipping tool. The smaller, the better. I like to use mini wooden skewers because they are thick enough to hold the cake ball but not so thick where it will destroy my cake ball.
Then, after you dip your cake ball into the candy melts, let the excess drip off and set onto some parchment paper. You will have a tiny hole that you will need to PATCH using a small dab of chocolate over top. No one will be able to notice the hole after it dries.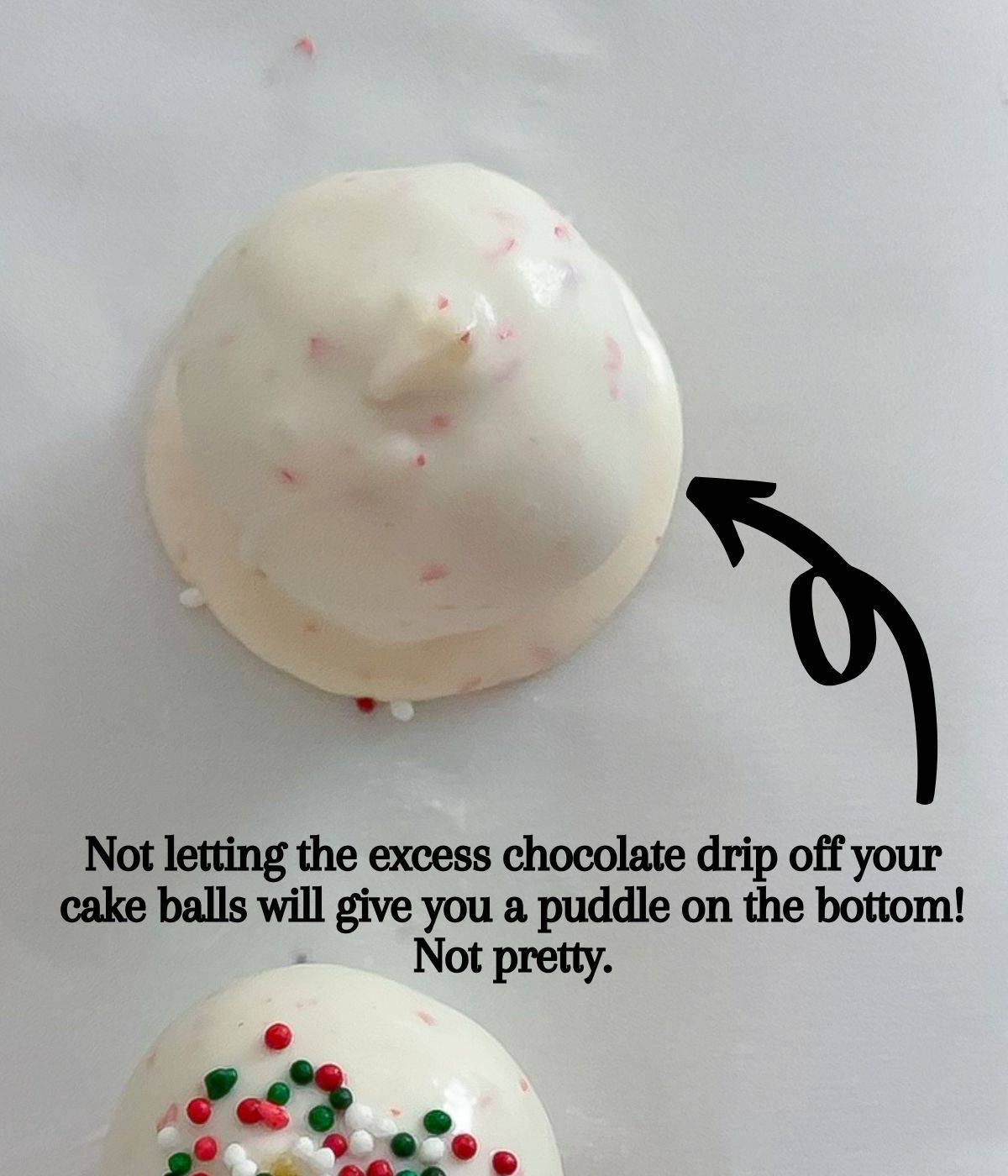 Other Flavor Combinations
The reason I LOVE cake balls so much is because of how versatile they are. You can use any boxed cake mix and any store-bought frosting! You can even use your own homemade frosting if you want. Here are some other delicious cake ball flavors you can try out!
Lemon cake mix with a citrus frosting
Chocolate cake mix with chocolate frosting
Red velvet cake mix with cream cheese frosting
Funfetti cake mix with vanilla/cream cheese frosting
Butter pecan cake mix with cream cheese frosting
Strawberry cake mix with vanilla frosting
How Long Will These Keep?
Cake balls will be good for 5-7 days at room temperature if they are sealed properly. If you place them in a sealed container in the fridge, they can last up to 10 days.
You can freeze the "naked" cake balls (balls without chocolate) for months but once you coat them in the chocolate, you have to keep them in the fridge or on the counter.
Helpful Cake Ball Supplies/Tools
Here are some useful tools and supplies you may want to grab to make your cake pops turn out flawless and professional looking! The EZ Thin is a must!!
Here are some other holiday desserts you might

like!
Quick Gingerbread Cannoli Mini Phyllo Shells
Easy Cookie Dough Bites (Raw without egg)
Moist and Thick Mocha Vanilla Pudding Cookies
The BEST Puppy Chow Recipe NO Peanut Butter
Easy Pecan Tassie Cookies (Nut Cups)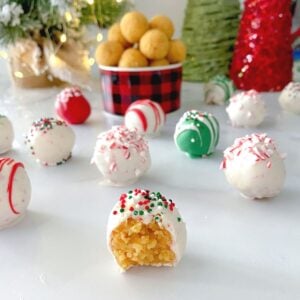 Ridiculously Moist Christmas Cake Balls
These cake balls are my most requested sweet treat I make around Christmas time. They can be made any time of year using any colored sprinkles!
Print
Pin
Rate
Equipment
Toothpicks or Mini Skewers (for dipping)
Ingredients
16.5 oz.

Betty Crocker Super Moist Yellow Cake Mix

(Or any cake mix)

Water

(According to cake mix)

Eggs

(According to cake mix)

2

tablespoons

Butter

(Not the entire amount*)

12 oz.

Cream Cheese Frosting

(The best you can find!)

12 oz.

Candy Melts or Chocolate Chips

(White or Milk/Dark)

¼

cup

Sprinkles of Choice

*EZ Thin

(*Optional but recommended!)
Instructions
Bake cake mix according to instructions using just 2 tablespoons of butter. (Too much butter/oil will cause it took seep out of your cake balls later.)

Allow cake to cool and break up cake using your hands.

Tip: To make it easier and give you super smooth cake balls, puree cake in a food processor!

Add cake crumbs to a large bowl along with your cream cheese icing and mix well. Your hands work best for this.

Use a mini ice cream scoop to scoop cake into uniform size balls. Roll balls between the palms of your hands until smooth and round. Place cake balls on parchment paper on a flat baking sheet or dish and place in the fridge for 20-30 minutes to harden.

*Don't stack them without parchment paper or they will stick to each other.

In the meantime, melt your chocolate/candy melts in the microwave in 30 second intervals mixing in between until thin and smooth. Use a mini crock pot if you have to make it easier.

Now is when you want to add in your EZ Thin if using.

*Make sure not to overheat or your chocolate will scorch!

Using a toothpick, poke one ball and dip it into the chocolate so it is fully coated. Dip on an angle so the cake ball does not fall off the skewer.

While holding the cake ball UPRIGHT, swirl and tap the toothpick gently against the side of the bowl to allow excess chocolate to drip off for 10-20 seconds.

Use another toothpick to help release the cake ball onto parchment paper and then use the toothpick to "patch up the hole" with a bit more chocolate.

While your chocolate is still wet, add sprinkles. Repeat with remaining cake balls.

Allow your cake balls about an hour to cool and then store in a sealed container for about a week.
Recipe Notes
Yield: About 30 cake balls*
Tips:
Skip the generic brands for this recipe! Using brands like Duncan Hines or Betty Crocker make a huge difference in flavor.
A mini crock pot is great for keeping your chocolate warm without having to reheat it over and over again.
Using candy melts or any melting wafer will give you thin chocolate which will make dipping your cake balls much easier.
You can freeze your naked cake balls (before coating) for 2-3 weeks until your ready to dip them.
If your cake balls fall off the toothpick, they are too soft and need to be refrigerated a bit longer.
Nutrition
Calories:
195
kcal
|
Protein:
1.8
g
|
Fat:
10.3
g
|
Saturated Fat:
4.6
g
|
Cholesterol:
25
mg
|
Sodium:
83
mg
|
Fiber:
0
g
|
Sugar:
22.3
g
Make sure to comment and rate the recipe below!