This Puppy Chow Recipe is just 3 ingredients and takes just under FIVE minutes to whip up, no baking necessary! My version is made without peanut butter and powdered sugar! I know. And it's delicious. Instead, I use a SECRET INGREDIENT that makes these muddy buddies incredibly irresistible! Find out what it is below!
*This recipe works with Chex or Crispix cereal.
Whether you call it puppy chow, muddy buddies, reindeer much or muddy munch, this sweet holiday treat is hands-down one of the most irresistible snacks I have ever eaten. My Glazed Holiday Pecans With Cinnamon and Brown Sugar are a close runner up.
Before making this recipe, I had only tried puppy chow once prior. That was all I needed. It was love at first bite.
BUT I was not crazy about how sweet is was. The powdered sugar that most traditional puppy chow recipes contains is so very sweet, I substituted it...with something 10x BETTER! (Pun intended.)
OH and I also removed the peanut butter entirely in case you were wondering. Peanut butter is delicious don't get me wrong. But I am a teacher and I like to make these for my students. But many of them have a peanut allergy so I left it out. And I don't miss it one bit!
Check out my other no-bake desserts.
Why is it called puppy chow?
It is named after the way this treat LOOKS.
I mean, it does kinnddaaa look like dog food...
But the phrase, "You eat with your eyes first" is totally overrated right?! So dig in! You won't regret it! 😉
Read more about the history of puppy chow!
It is an American snack that has been around for a long time. The origin in unknown...but honestly, who cares?! Whoever created the original recipe idea is genius!
It is such a fun, easy AND irresistible snack made using either Chex or Crispix cereal. And BEST OF ALL? It only takes 5 minutes to whip up!!!
The 'classic' Muddy Buddy recipe uses melted chocolate with peanut butter, butter, and vanilla extract. This drool-worth mixture is then poured all over the cereal and finally tossed in powdered sugar until it forms a nice soft shell.
I mean, how can you go wrong?
BUT because there are thousands of the same recipe out there, I wanted to try a fun twist on the famous puppy chow and substitute the powdered sugar with vanilla instant pudding mix and use NO peanut butter!
You won't be able to stop snacking on these! I promise.
Make sure to check out my other holiday inspired desserts!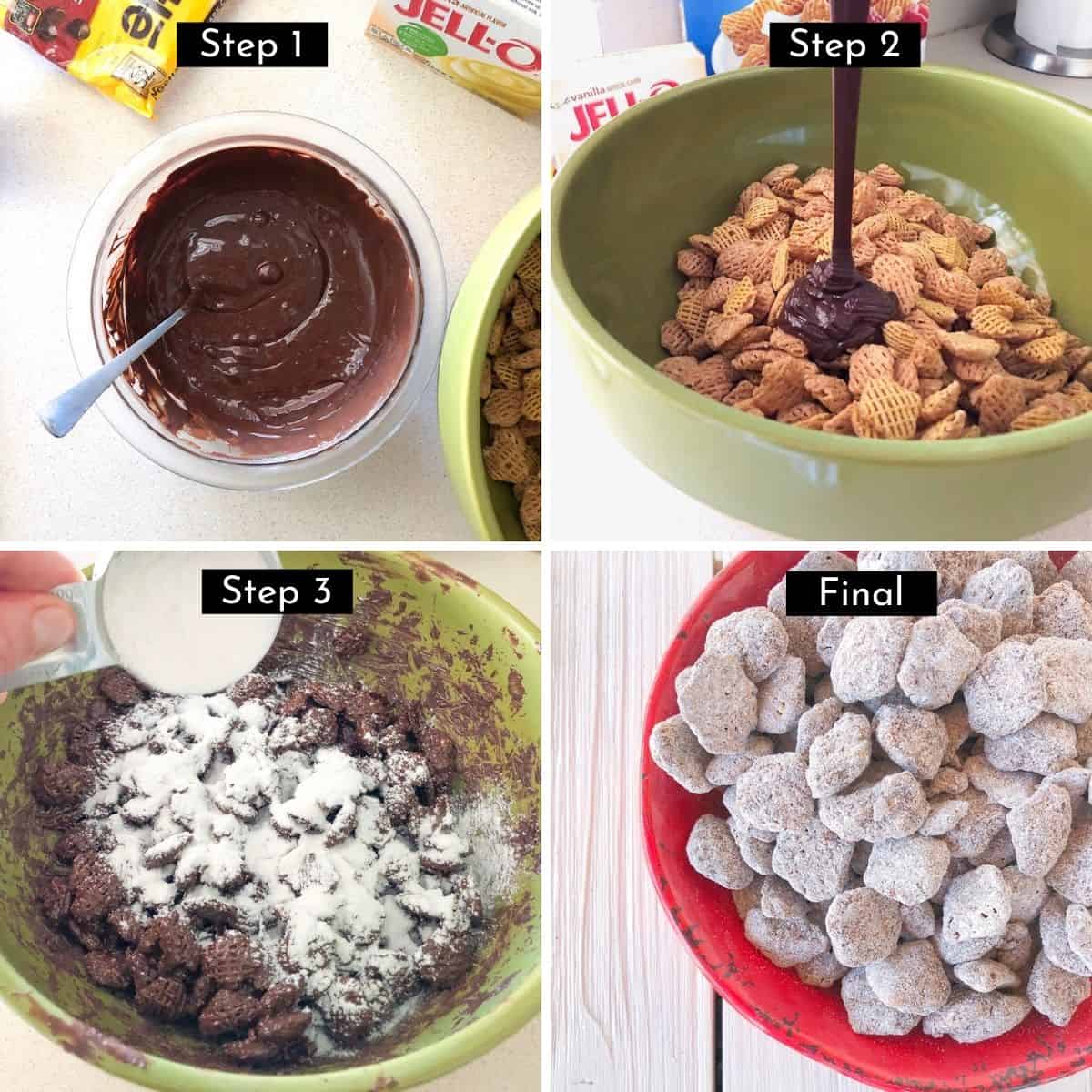 Variations and Substitutions
Your average muddy buddy recipes consists of the same ingredients however there are definitely a few substitutions you can make like I did.
First, substitute the typically used powdered sugar for instant pudding!! The flavor is spot on. Sweet but not TOO sweet.
2. Next, feel free to swap out any pudding mixes. You can use vanilla, chocolate, banana or coconut!
3. You can use any type of chocolate. Dark is less sweet. Semi-sweet is the next level up. Milk chocolate is the sweetest. White chocolate would work too but is also very sweet.
Check out my other quick desserts which take less than 15 minutes to whip up!
Secret Ingredient
My secret ingredient that I use to replace the confectioners sugar (powdered sugar) is VANILLA PUDDING MIX!
Guys, it is AMAZING. The fine texture makes the the perfect substitution
If you love pudding as much as me:
Try my Mocha Pudding Cookies or my Individual Banana Pudding Monkey Bread and thank me later!
Expert Tips
Make sure you do not scorch your chocolate! Melt your chips in the microwave in short 15 second intervals stirring well in between. It will melt! Just be patient.
Once your chocolate is melted and smooth, work quickly! Waiting too long will cause the chocolate to harden making it difficult to mix.
Be GENTLE while mixing! The biggest mistake I see when people make muddy buddies is crushing it up. You want to keep the cereal squares whole if possible. Use your hands if you can. They are the best tools.
Recipe FAQ's
Can I use milk chocolate or white chocolate
Yes! But it will be sweeter so keep that in mind!
Can I double the recipe?
Yes or triple for a large party!
Can I use Chex OR Crispix?
I tried using both and they come out identical so use whichever you have on hand!
Can I use a different flavor of pudding?
Yes! Cheesecake, banana or chocolate would be AH-mazing!!
My chocolate is not melting properly. What happened?
Other party desserts you may like:
Cannoli Gingerbread Cream Filled Phyllo Bites
4 Ingredient Gooey Chocolate Cake Cookies
Vanilla Pudding Puppy Chow Recipe (without peanut butter)
This Vanilla Pudding Puppy Chow Recipe (without peanut butter) is the BEST puppy chow recipe I have tried! Made with only 3 ingredients not including peanut butter OR powdered sugar, friends and family will love munching on this irresistible snack!
Print
Pin
Rate
Ingredients
8-10

oz

Dark or Semi-Sweet Chocolate

((dark if you want these less sweet))

5

Cups

Crispix, Chex or Any Rice Squares Cereal

2

4.6 oz Packages

Instant Vanilla Pudding
Instructions
Add cereal of choice into the largest bowl you have and set aside.

Place chocolate in another large bowl and heat in the microwave for 30 seconds on high. Remove and stir well. The chocolate should just begin to melt. Be patient.

Heat for 15 more seconds and stir again well. Repeat for 15 second intervals until fully melted mixing well in between. (This should not take more than 2 minutes!)

Drizzle your melted chocolate all over the cereal and work quickly!

Mix it CAREFULLY trying not to break up the cereal. I like to use my hands for this. The cereal might clump together but that's okay, it will separate once the pudding mix is in.

Finally, add in your pudding mix and toss again lightly until your cereal is not sticky anymore and everything is fully coated in the pudding mix. (You might need to add more mix.)

**You do NOT want to make pudding! You are simply adding the pudding POWDER straight from the bag, NO MILK!

Enjoy right away or store in Tupperware for up to 2 weeks! Refrigeration is not needed.
Recipe Notes
Tip* If your chocolate does not melt properly. You have either made it too hot or got water in your chocolate. Read above for how to fix it!
Nutrition
Calories:
286
kcal
|
Carbohydrates:
53.4
g
|
Protein:
2.4
g
|
Fat:
9.6
g
|
Saturated Fat:
6.1
g
|
Cholesterol:
0
mg
|
Sugar:
48.6
g