These no bake, edible Raw Cookie Dough Bites are the perfect bite sized treat to satisfy your sweet tooth! They take less than 5 minutes, are eggless and will last in the freezer for months!
Raw cookie dough? Come onnnn! I think we all remember eating it when we were younger, even when our parent's told us not to. It's too good to pass up.
These edible cookie balls are the best way to get in your cookie dough fix without having to worry about getting salmonella poisoning since there are NO eggs in this recipe!
I love to stash a bunch away in the freezer for a rainy day or when my sweet-craving monster comes out of it's cage. Frozen cookie dough? Heck yes!
How To Make Edible Cookie Dough Balls
Making cookie dough edible is pretty simple having just 5 ingredients. Those standard ingredients are:
Flour
Sugar (white or brown, but brown sugar gives the best flavor)
Vanilla Extract
Butter
Mini Chocolate Chips (milk, semi-sweet or dark)
Ingredient Swaps/Substitutions
You can always add in or swap out other ingredients like nuts, I love adding walnuts to my dough! Or you can substitute the butter with a vegan butter or a nut butter if you wish.
Sugar-wise, you can use coconut sugar or another sugar replacement if your health conscious or wish to make these a bit healthier.
Flour substitutes are pretty simple. If you want to make these gluten free, use GF flour or almond flour. Coconut flour substitution is a little different but can be used. The normal conversion is for every 1 cup flour, you can use ¼ cup coconut flour. Or you can just add a little bit of coconut flour at a time until the dough is solid enough to shape into balls. Just remember that a little bit of coconut flour goes a long way.
Is RAW Cookie Dough Safe To Eat?
Yes! It is not bad for you like everyone says it is just as long as it is safe to eat! How to make it SAFE requires one quick step! Keep reading!
Leave Out The Eggs!
Salmonella bacteria can live in raw eggs. So making these egg-free take away that risk. There is no need for them anyway since we are not baking them.
Bake Your Flour!
Most people don't know that flour is indeed RAW. It has not been treated to kill bacteria so you should not eat it straight out of the bag. If you do, you may get E. coli poisoning. Eeek!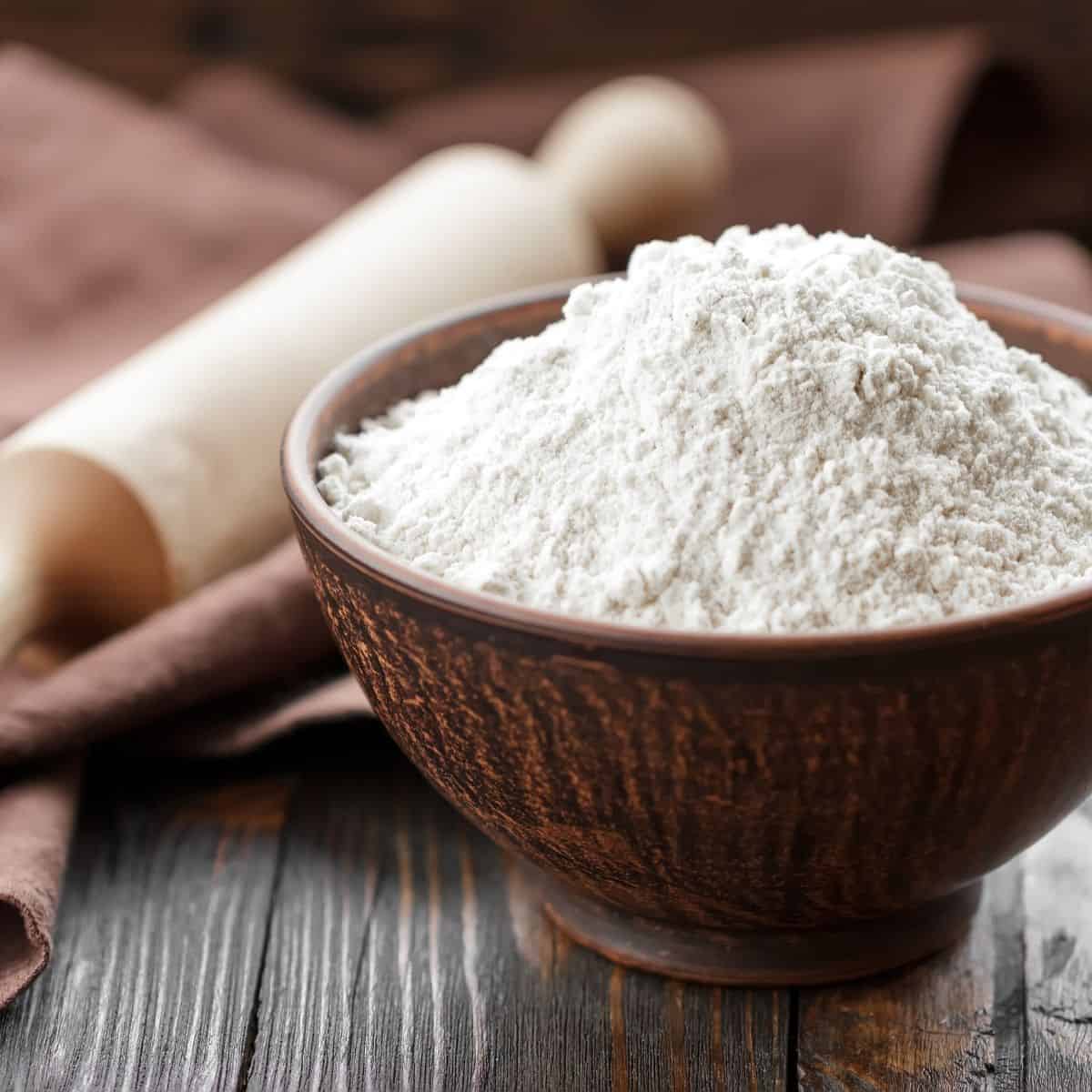 To make raw flour edible, you need to cook it completely. The only way to do this here is to PRE-BAKE it!
Baking your flour before adding it to your dough will keep these bites 100% safe to eat!
How To Bake Raw Flour
Just measure out the necessary amount needed for the recipe and lay it onto a baking sheet or in a heat-proof dish. Bake at 350 degrees F for 5 minutes to kill any bacteria. Then continue with the recipe as normal! That's it!
Here is a great article that talks about minimizing your risks of eating raw flour and eggs.
How To Store Raw Cookie Dough
Store your cookie dough balls in a sealed container in the fridge for up to 1 week. You can also, freeze your dough balls for up to 3 months in a sealed container or freezer bag! I like to eat them straight out of the freezer! 🙂
These bites are one of my favorite chocolate party desserts.
---
Are you looking for other easy sweet bites? Check these out!
Soft and thick Mocha Pudding Cookies
Mini Cornbread Muffins With Maple Syrup
Easy Chocolate Bark With Potato Chips, Pretzels and Nuts
Join my mailing list to receive entertaining tips and NEW recipes!
Planning on making this recipe? Don't forget to rate it below by clicking on a star and tag me on social media @BiteSizedKitchen so I can share it! 🙂
Raw Edible Cookie Dough Bites
These easy, no bake Raw Cookie Dough Bites are the perfect bite-sized treat to satisfy your sweet tooth! They take less than 5 minutes to whip up, are completely edible and safe to eat and will last in the freezer for weeks!
Print
Pin
Rate
Ingredients
1

Stick

Salted Butter, room temperature

½

Cup

Brown Sugar

1

Tsp.

Vanilla Extract

1

Cup

All Purpose Flour

((or wheat))

½

Cup

Mini Chocolate Chips

((I like semi-sweet))
Instructions
Bake your flour on a baking sheet at 350°F for 5 minutes to kill any bacteria.

While your waiting, mix the butter and sugar together for 2 minutes on high. It is important to use a mixer so the butter and sugar become fluffy.

Mix in vanilla and then add in your flour (once it is cooled). *If dough is too sticky to roll into a ball, add a little more flour. (Be careful not to add too much!)

Finally, mix in your mini chocolate chips. Mini works best for bite size balls!

Use a mini ice cream scoop to get evenly sized balls. Then roll your balls using the palms of your hands until they are nice and smooth.

You can choose to cut the balls in half before you roll them for mini versions! (That is what I did.)

Place your bites on a flat plate or baking sheet and put them in the refrigerator to allow them to harden a bit before stashing them away together. This will keep them from sticking together!
Recipe Notes
Store in the fridge for up to one week or in the freezer for up to 3 months!
Nutrition
Calories:
409
kcal
|
Protein:
4.5
g
|
Fat:
23.8
g
|
Saturated Fat:
15.5
g
|
Cholesterol:
47
mg
|
Sodium:
134
mg
|
Potassium:
148
mg
|
Fiber:
1.5
g
|
Sugar:
26.3
g