These Deep Fried Oreos are made without boxed pancake mix. Instead, I dunk these delicious chocolate sandwich cookies in an easy homemade pancake mix and deep fry them until crispy and golden brown. Douse them in a coating of sweet powdered sugar and get your fingers ready!
Fried Oreos are a sinfully indulgent sweet treat that your guests will be dying to try! Leave the guilt at the door and grab a glass of cold milk. Life is too short!
If you love Oreo's try my Dirt Pudding Trifle!
Deep fried Oreo cookies IS a thing and I'm not apologizing. Just like deep fried bacon AND...dare I say it...fried Twinkies. (A little too far perhaps?)
If you are familiar with the Jersey shore, you probably already know that every boardwalk on the coast has a fried Oreo stand. You can smell the sweet decadence from a mile away.
But lately, deep fried Oreos are showing up everywhere! At fairs, carnivals amusement parks and even weddings!
They are the epitome of summer and are a serious indulgence that's totally worth the calories.
Is deep frying a cream filled chocolate cookie necessary? Nope. But is it amazing? Hell yes! So get ready to wow your guests with this easy party dessert!
As the kids say these days...YOLO! (You only live once.)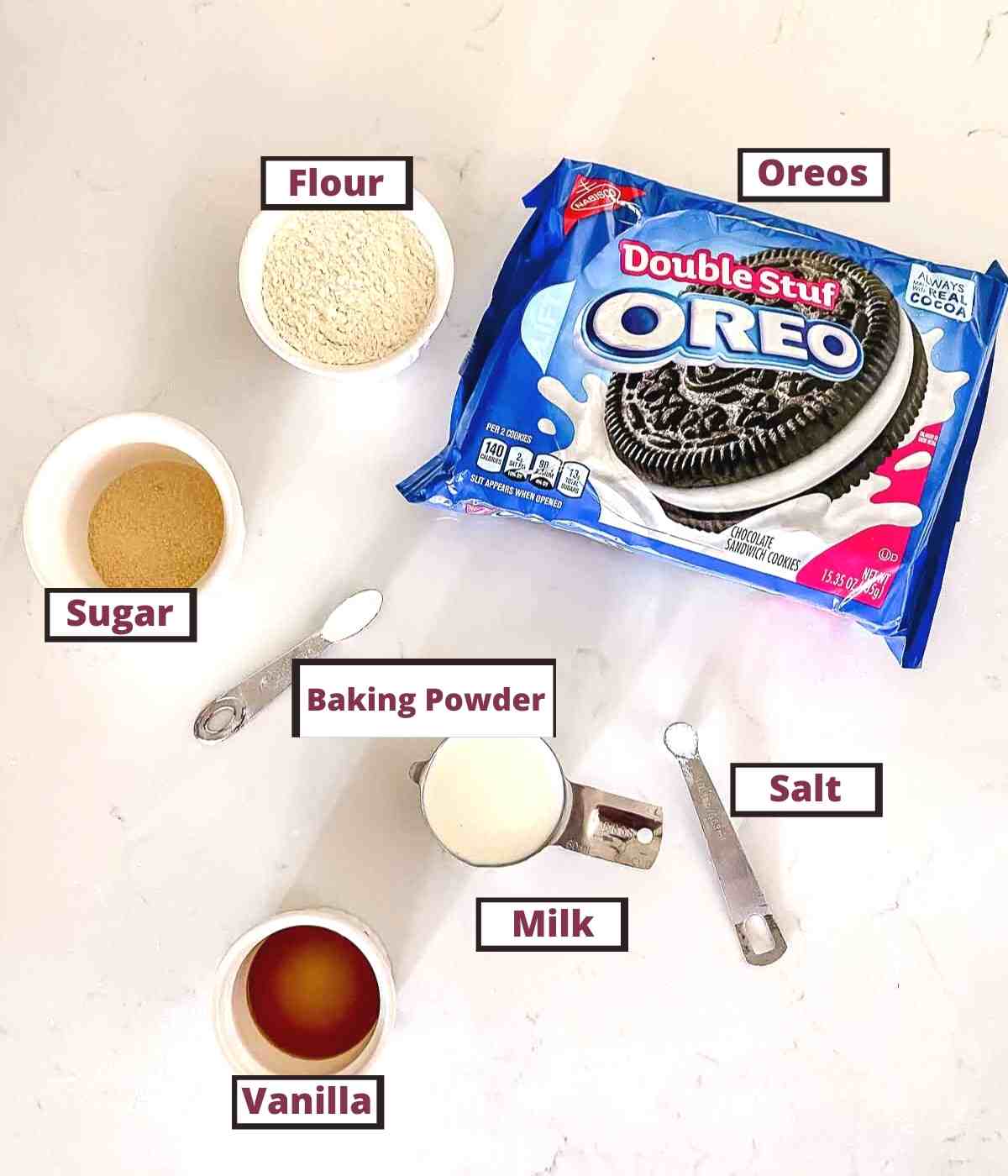 🛒Ingredient Tips
Oreos of choice- You can use any flavor you like!
Flour- I have not used any substitutes but comment below if you test it out.
Sugar- Pancake batter is always made with sugar. Add more or less depending on how sweet you want your cookies.
Milk- You can use regular or a milk substitute like coconut or almond milk
Baking powder- Helps to make your cookies fluffy.
Vanilla extract- Adds flavor.
Salt- Balances out the sweetness.
🍪How To Make Deep Fried Oreos
This recipe is made without Bisquick pancake mix. Instead, all you need is a few staple ingredients. I like that you can control the amount of sugar you add to your pancake batter too!
Prepare you pancake Oreo batter by adding all your ingredients to a large bowl. Whisk just until combined. Lumps are okay.
Add oil to a saucepan until its about 2-3" high. Heat to 375 degrees F.
When ready, dunk 2-3 Oreos into the batter. Coat well and allow excess batter to drip off before adding to hot oil.
Fry on one side until golden brown. Flip to fry the other side.
Let oil drain on wire rack. Repeat with remaining Oreos.
Transfer to plate and sift powdered sugar over top. Enjoy!
TIP! Deep fried Oreos take less than 10 minutes to whip up! I prefer to eat them warm so try to wait until the last minute to mix up your pancake batter.
❓What is fried Oreo batter made of?
The batter I use is a standard pancake batter. It is very similar to the pancake batter I use to make my popular Thick and Fluffy Silver Dollar Pancakes.
I left out the butter that is in a lot of pancake batters and I also used LESS milk so the batter is thicker. This batter is great for deep frying anything like Twinkies or even bacon.
Do you have to freeze Oreos before frying?
Nope! There is no need to freeze them before frying. Room temperature Oreos will do the trick. You do not need to worry about the inside cream melting.
📝Tips
Use vegetable or canola oil for frying since they are inexpensive "neutral" oils that have a higher smoke point.
Use a frying thermometer to make sure your oil is nice and hot. If it's too cool (less than 350 degrees F) you're Oreos could be oily.
The ideal temperature to fry your Oreo's at is 375-390 degrees F. You do not need your cookies to cook internally. You JUST want the batter to fry up and turn golden brown.
I prefer to use double stuffed Oreo' as opposed to regular. I think the ratio of Oreo to exterior is more on a 1:1 rather than a 2:1.
Do NOT let your Oreo cookies sit in the batter while frying. The cookie will break down, become soggy and fall apart before frying.
Finish your fried Oreos with a generous dusting of powdered sugar! A sieve works well for sifting.
📃Recipe Variations
Deep fried Oreos are super versatile! Instead of your standard chocolate with vanilla cream filled cookie, you can use one of the other following flavors:
birthday cake
mint
golden
pumpkin
red velvet
smores
cookies n' cream
peanut butter
And these are just a few of the many Oreo flavors released each year!
✔️Instead of using powdering sugar, you can use one of the following to sprinkle over your fried Oreos:
cinnamon and sugar (I use this outside my churros and apple fritters)
cocoa powder (either as a dusting or inside the batter)
icing (mix together powdered sugar and a touch of milk for a glazed donut-type icing)
melting chocolate
🔥How To Reheat Fried Oreos
Although Oreos themselves have what seems like, an endless shelf life, deep fried Oreos wont last forever. They are BEST eaten within an hour of frying like any deep fried food is.
But if you want to make them in advance for a party, I would store them in a container at room temperature or in your fridge for approximately 2-3 days.
Re-crisp Your Oreos!
If they got soggy in a container or fridge, you can re-crisp them two different ways:
Deep fry them again. This is a great trick they do in restaurants. They will "par-fry" foods for half the time then re-fry them a second time right before serving. Make sure your oil is super hot when doing this because you only will be frying them for about 20 seconds to warm and crisp them up.
Toss them in your air fryer AFTER they were already fried once. Air frying deep fried Oreos gets super messy since the batter is runny.
Air Frying
If you want to air fry your Oreo's I recommend wrapping them in crescent roll dough rather than using gloopy pancake batter that will just make a mess in your air fryer.
Just pop open a can of Pillsbury's crescent roll dough and wrap the dough around the Oreo. Pinch it closed. You can brush butter, milk or an egg wash on the outside to help with browning and shine.
They wont taste EXACTLY like deep fried Oreos but they will be a delicious second!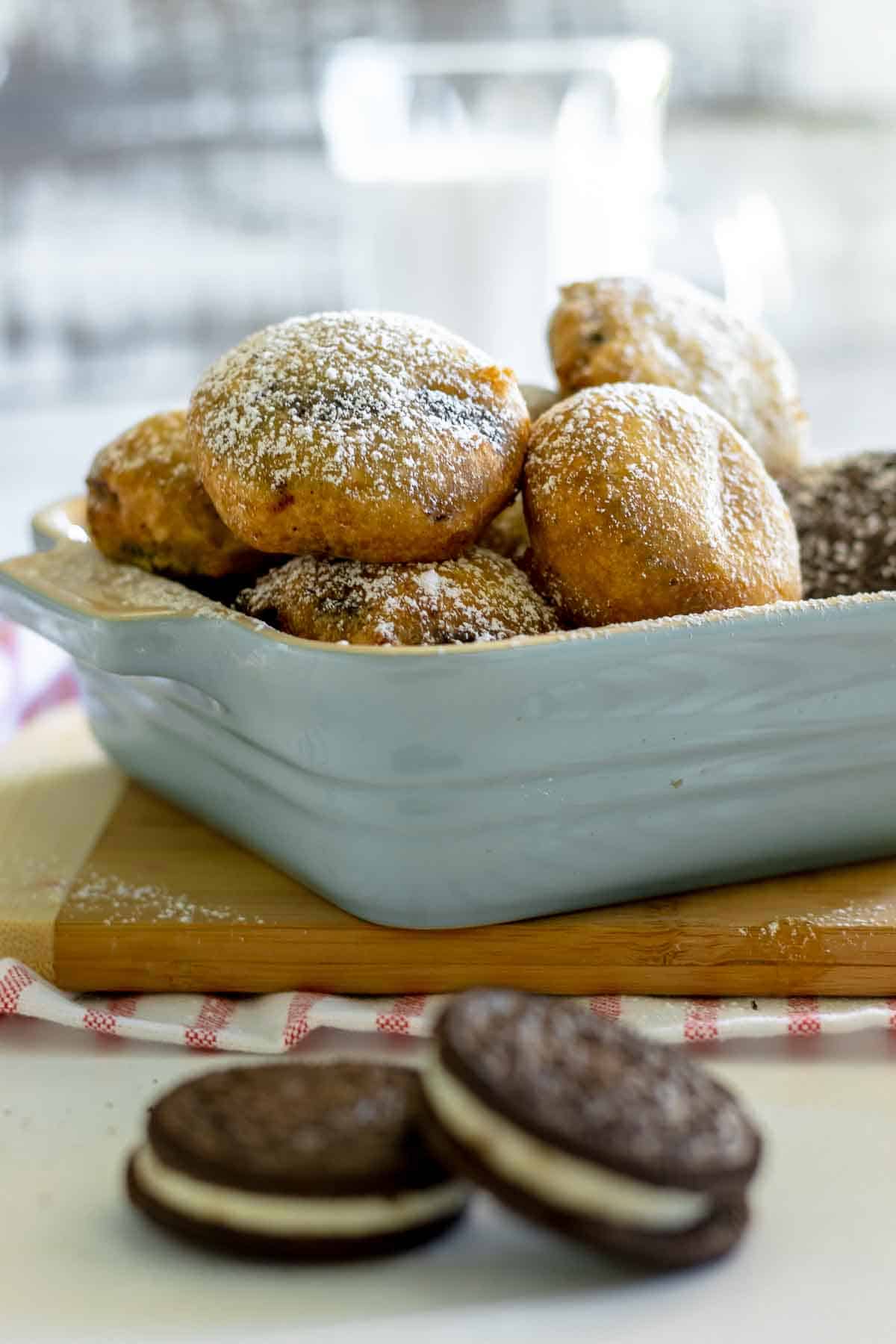 🙋‍♀️FAQ's
Are fried Oreo's vegan?
Technically YES! however Oreo's are made in a facility with milk so there MAY be traces of milk as they claim. But the batter used in this recipe can be made 100% vegan so you make the decision if the trace of milk bothers you. 🙂
Can I use almond or coconut milk in the batter?
Yes!
Can I use different Oreo flavors?
Yes! Try mint, birthday cake, or golden Oreos! Single or double stuf is a personal preference.
My Oreos are not getting a golden brown color, why?
Use a deep frying thermometer and make sure your temperature is at least 360 degrees F. Ideally, 375-390.
Why is my batter too thin?
Pancake batter is very temperamental. If this happens, add a tablespoon of flour at a time until it is thick enough to coat your cookies.
Cook I use boxed pancake mix instead?
Yes! Just prepare according to the directions and fry normally.
Can I make these dairy free?
Yes! Oreos are naturally dairy free so simply omit the milk in the batter with your choice of almond, coconut or other milk substitute.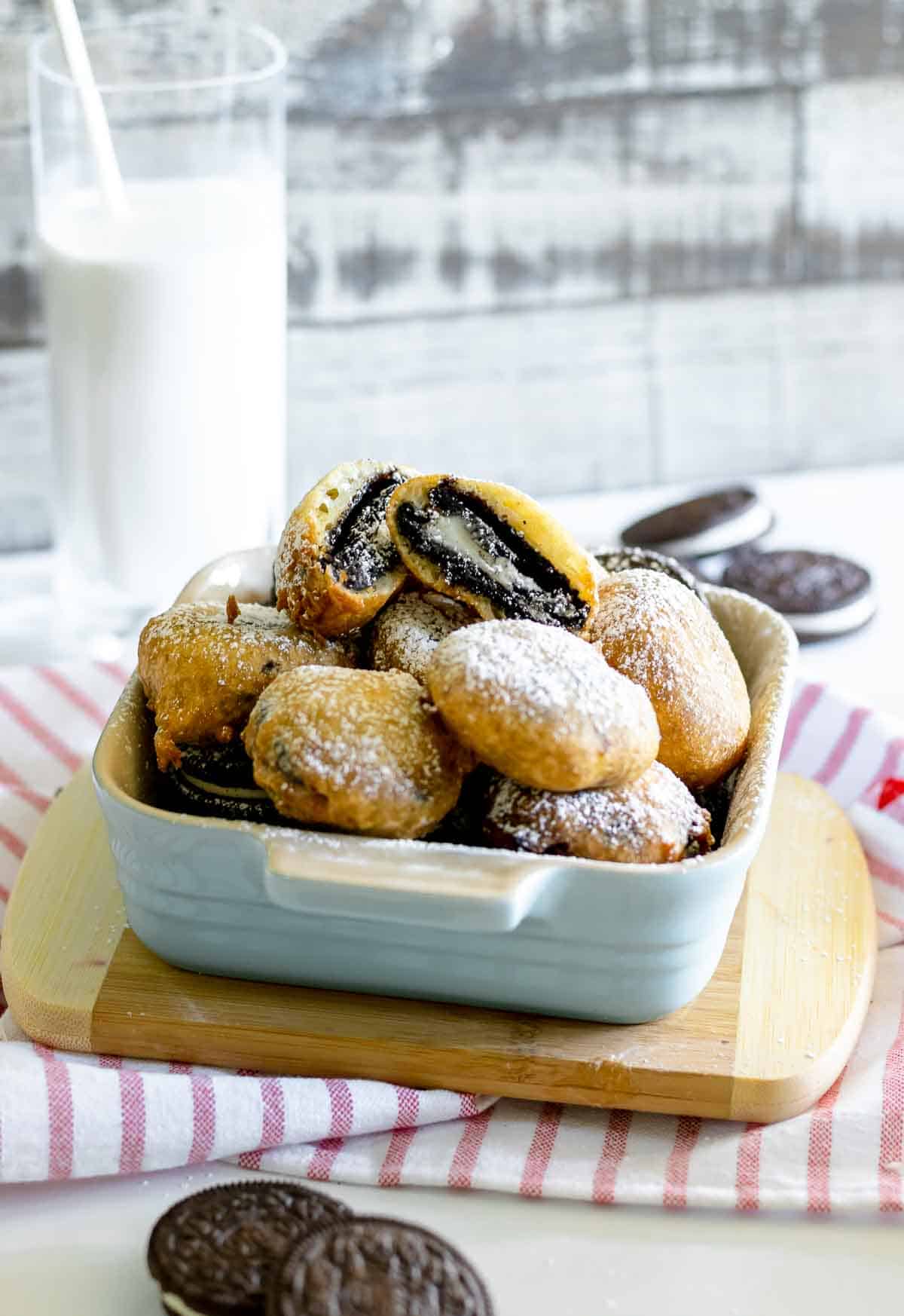 I hope you enjoy this indulgent sweet treat as much as my family did! Another idea is to serve your deep fried Oreos with a sweet chocolate dipping sauce like hot fudge or raspberry sauce. Yummy!!
Other chocolate desserts you will love!
Gooey Chocolate Pudding Cookies
Sweet n Salty Dark Chocolate Bark
Double Chocolate Cake Mix Cookies
How To Make Chocolate Dipped Potato Chips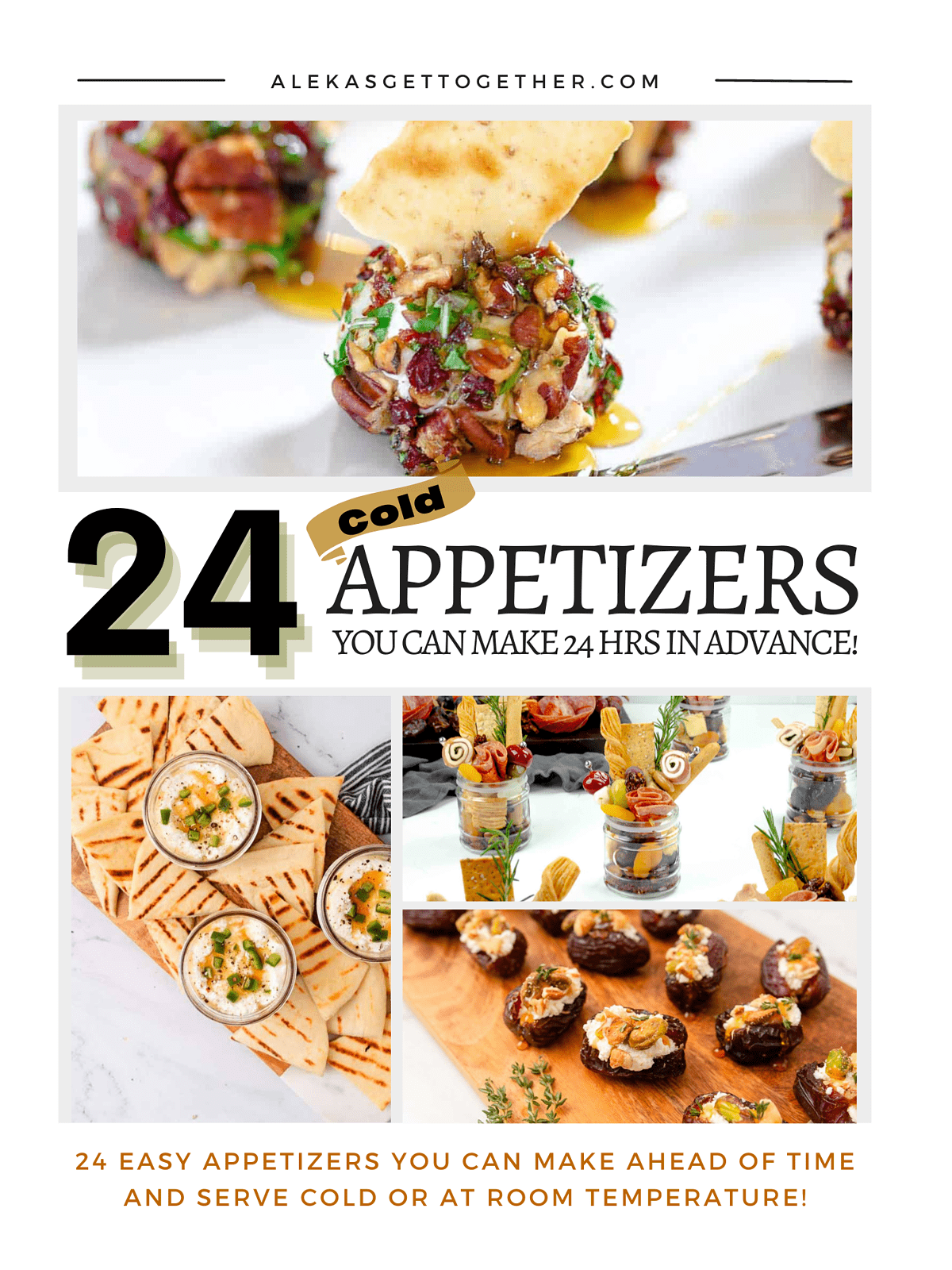 Love Make Appetizers in Advance?
I have an Ebook I created with my top make-ahead appetizers you'll LOVE! Get it here!
📽 If you love entertaining at home, subscribe to my YouTube channel!!
📖 Recipe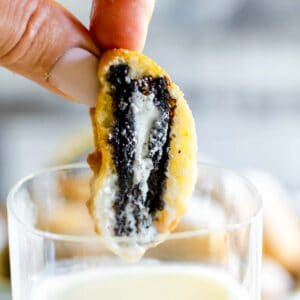 Deep Fried Oreos Without Pancake Mix
The easiest Deep Fried Oreos recipe made without boxed pancake mix! This sinfully indulgent sweet treat is something your guests will never forget. Leave the guilt at the door and grab a glass of cold milk. Life is too short.
Print
Pin
Rate
Ingredients
12

Oreo Cookies

1

cup

Flour

¼

cup

Sugar

½

teaspoon

Salt

1

teaspoon

baking powder

1½

teaspoon

Vanilla Extract

1

egg

yolk

⅔

cup

Milk

(*or milk substitute)

oil for frying
Instructions
Add about 3 inches of oil into a saucepan and heat to 375°F. (Use a thermometer to help.)

Add your pancake batter ingredients to a bowl and mix until JUST incorporated. Lumps are okay.

When your oil is hot and ready, use a fork to coat Oreo cookies fully in the batter one at a time and drop each carefully into the hot oil. Separate them if they stick to each other.*Don't toss all your Oreos into the batter at once. They will get soggy and fall apart before frying.

Fry cookies in batches of 3-5. Don't overcrowd your pan! You are simply looking for the exterior to turn golden brown to tell you when they're ready. (About 30-60 seconds)

Cool fried Oreos on paper towels or a wire rack and sift with powdered sugar if desired. Serve immediately.°
Recipe Notes
*You can use double or single stuffed Oreos or any flavors you prefer.
*Canola, vegetable or peanut oil is best for frying.
Store your fried Oreos in a Tupperware container. They will get soggy but can be re-crisped in an air fryer or the oven at 375 if needed.
Nutrition
Calories:
331
kcal
|
Carbohydrates:
40.9
g
|
Protein:
4.6
g
|
Fat:
16.3
g
|
Saturated Fat:
4.1
g
|
Cholesterol:
42
mg
|
Sodium:
320
mg
|
Potassium:
168
mg
|
Fiber:
1.2
g
|
Sugar:
18.3
g
|
Calcium:
80
mg
|
Iron:
2
mg