This recipe for Sausage Balls is made without Bisquick pancake mix. Instead, I used my own pancake mix ingredients plus cream cheese to make them a bit creamier. They are the perfect breakfast, brunch or Christmas appetizer that is guaranteed to be a hit at your next party!
If you love meatballs, check out these 11 creative ways to use frozen meatballs!
Jump to:
If you have never had sausage and cream cheese balls, they are SO delicious!!
They really are the perfect finger food ANY time of day and ANY time of year but many people make them around the holidays, especially on Christmas morning like my Sweet Bread French Toast.
They taste like a cheesy biscuit with sausage inside.
They go so well with breakfast like eggs or pancakes and french toast or they can be served as a skewered holiday appetizer or for next Sunday's football game or tailgate party!
Either way, they are a cheesy appetizer, moist and packed with flavor!
How These Cream Cheese Sausage Balls Are Different
No this recipe is not your typical 4 ingredient Bisquick sausage ball recipe.
It is not "SIMPLER" than the others but it IS tastier and healthier if you prefer not to use all those ingredients they put in the boxed mix.
I never carry Biquick because I prefer to make my own pancakes, so if you are like me, this recipe is meant for you!
This recipe ALSO includes cream cheese! I believe using cream cheese prevents your sausage balls from drying out, becoming dense.
Plus, I use maple syrup! It is a huge flavor enhancer and just makes these balls 100x more breakfast-worthy in my opinion.
🛒Ingredient Tips
ground pork/sausage - you can choose spicy sausage if you really like heat or mild.
flour - flour helps to hold the balls together. You can swap with gluten free flour, wheat, self-rising or almond flour. If using almond flour, the texture will be a bit different.
baking powder- this helps the sausage balls expand a bit and keeps them light.
cream cheese - this makes the balls creamy, moist and tender.
maple syrup - this adds sweetness and pairs perfectly with sausage.
milk - to add moisture,
garlic/onion/cayenne/salt - to season your meat. You can add any seasoning you prefer.
No Pancake Bisquick Mix Needed!
The old fashioned, or traditional, version of this recipe uses a box of good ol' Bisquick mix!
But the thing is, many of us do not have that on hand OR many of us are not a fan of the mystery ingredients in those pancake mixes. So this recipe is a delicious alternative to using a boxed pancake mix.
Most pancake mixes, including Bisquick, are made with the following ingredients:
flour
milk
leavening agent (baking powder/soda)
sugar
shortening
So for my sausage balls, I started with all of the above ingredients (except for the shortening) all of which work just as well as a boxed mix. Since sausage is greasy on it's own, not adding any additional fat will help cut down on the greasiness.
In addition to those, I used uncooked sausage. You can use spicy/hot sausage if you like that better. Jimmy Dean has a great sausage selection.
To make these super creamy, I also added cream cheese and cheddar cheese to my mix which helps your balls stay moist and juicy.
Lastly, I added MAPLE SYRUP! I am a sucker for sweet and savory especially when the savory ingredient is spicy.
And I think we all can agree that sausage goes VERY well with maple syrup. Hellooo pancakes with sausage! So that ingredient alone makes these the best sausage balls...in my humble opinion.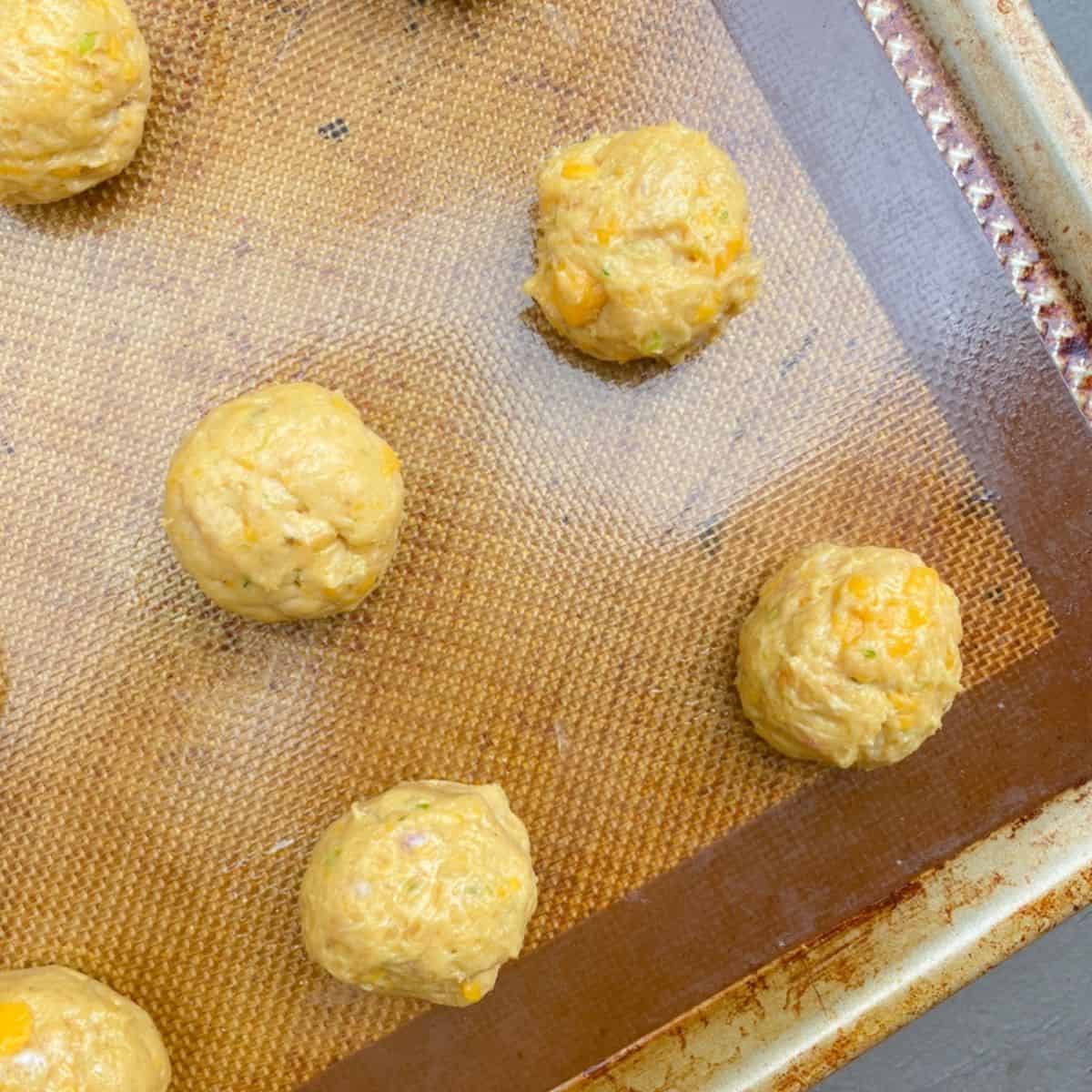 Dipping Sauce Ideas
Sausage goes well with so many different ingredients, both savory AND sweet. My go-to sauce is simple. Ketchup!
Warmed maple syrup would be a delicious option for breakfast!
If you want other dipping sauce options that would go well with sausage balls, any of these would be delicious:
Expert Tips
Use a mini ice cream scooper to scoop out your sausage mix so that each ball is uniform in size and perfectly bite-sized. This also helps them to cook evenly.
Use a food processor to easily mix your dough otherwise it will be tough to mix everything together. If you don't have a food processor, get one!! They are amazing and save lots of time. Here is a mini one I love!
You should not be using pre-cooked sausage. The results will not be the same and your balls wont hold together.
To prevent your sausage balls from being flat on one side, I recommend popping them in the freezer for 10 minutes before baking. Then rotate them so they come out round.
Use a sweet sausage for ever more sweetness.
Add more cayenne pepper if you like heat.
Use can use a stand mixer if you need with a hook attachment to help mix easier!
Make-Ahead/Storage Tips
Store your sausage balls in a sealed tupperware container for up to 3-4 days. You can freeze your sausage balls and reheat them later in the oven until heated through. I recommend defrosting them first.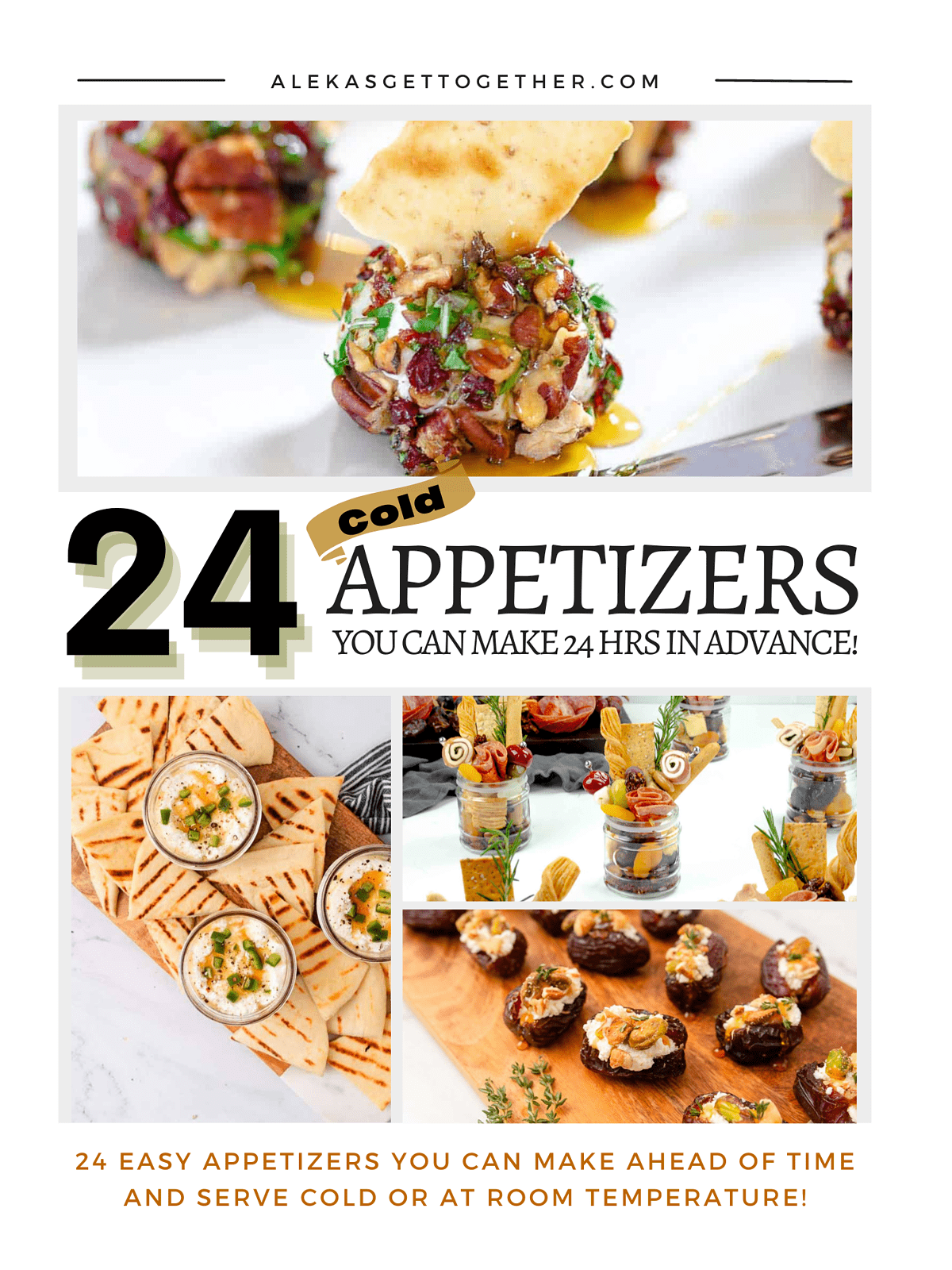 Love Make Appetizers in Advance?
I have an Ebook I created with my top make-ahead appetizers you'll LOVE! Get it here!
FAQ's
What sausage so you recommend?
Jimmy Dean is a popular brand. You can use sweet, spicy or smoked turkey or pork sausage!
Can I use almond flour instead of regular flour?
Yes! Just know that the texture will be a little different.
Should I brown my sausage first?
No need to! You want them to stick together and pre-cooking your sausage will not allow for that.
Can I use self-rising flour instead of the flour + baking soda?
Yes.
Do I NEED to use a food processor?
No but it helps. You can use a stand mixer with a hook attachment or your hands if you want a workout!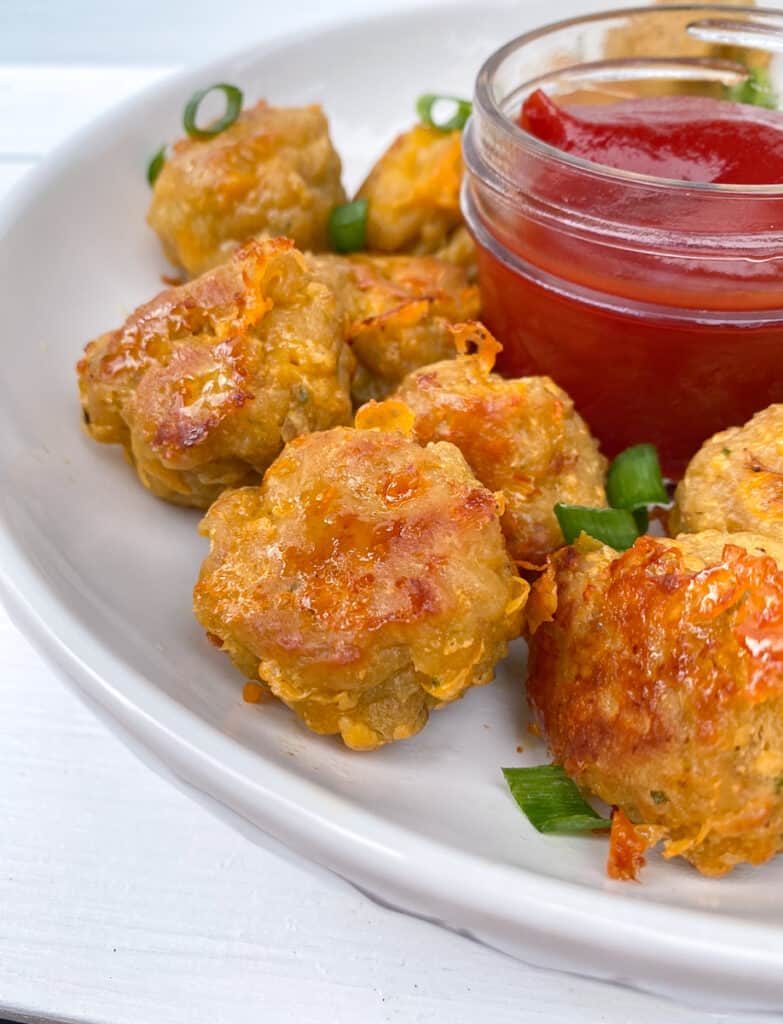 Other sausage appetizers you will love:
Puff Pastry Pigs In A Blanket with Creamy Dijon Sauce
Cheesy Sausage Stuffed Pillsbury Biscuits (with jalapenos)
Easy Crock Pot Appetizers For Your Next Party
📲 FOLLOW Aleka on social!! 👋 Follow me on facebook, instagram, pinterest, youtube or tiktok for more recipes and entertaining tips!
📖 Recipe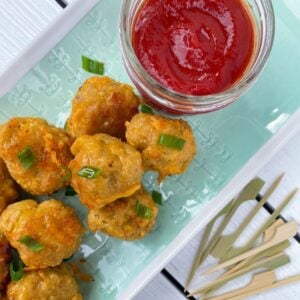 Sausage Balls Without Bisquick Mix
This recipe for Sausage Balls is made without bisquick. Instead, they are made with cream cheese, flour and baking powder.
These are the perfect breakfast, brunch or holiday appetizer that is guaranteed to be a hit at your next party! *Substitute almond flour for a keto or GF option!
Print
Pin
Rate
Ingredients
½

lb.

uncooked ground sausage (spicy or mild)

(*you can also use plain ground pork)

⅓

cup

flour

2

teaspoon

baking powder

4

ounces

cream cheese

2

tablespoon

maple syrup

1½

tablespoon

milk

¼

teaspoon

garlic powder

¼

teaspoon

onion powder

¼

teaspoon

cayenne pepper

(*more if you like heat)

½

teaspoon

salt

1-2

scallions, finely chopped

(*reserve some for garnishing)
Instructions
Add all your ingredients to a food processor and puree until well blended. Add your scallions last and pulse 1-2 times to incorporate.

*If you don't grate your cheese ahead of time, it will be difficult to blend.*If you don't have a strong food processor, you can mix by hand!

The bottom of your sausage balls will bake flatter so if this bothers you, place them in the freezer for about 10 minutes to firm them up a bit. Then remove and re-roll them in between the palms of your hands to round them out again.

Bake for 6-8 minutes or until the internal temperature reaches 160°F. Do not overbake!

Serve hot with scallions as a garnish and ketchup or maple syrup for dipping!
Recipe Notes
Yield* 15-17  (½ ounce) balls
This recipe does not use as much flour as other traditional sausage ball recipes. I believe they turn out more moist this way.
Add ⅓ cup shredded cheddar cheese if you prefer a cheesier sausage ball.
If the size of your balls are larger than ½ ounce. the bake time will increase and the yield will decrease.
If you want to make these in advance and freeze them, roll them out and lay them FLAT on a baking sheet. Then flash freeze them for about an hour. This will allow you to add them together in a container or bag without sticking together! Freeze for 6-8 weeks.
*Read the post above for more tips and frequently answered questions!
Nutrition
Calories:
405
kcal
|
Carbohydrates:
16.2
g
|
Protein:
21.4
g
|
Fat:
28.1
g
|
Saturated Fat:
12.8
g
|
Cholesterol:
85
mg
|
Sodium:
798
mg
|
Fiber:
0.5
g
|
Sugar:
5.1
g