These Easy Sweet n' Sour Meatballs are made by throwing a sauce and meatballs straight into a crock pot so they could not be easier! I use frozen cocktail meatballs making this appetizer recipe ideal for any party or tailgate!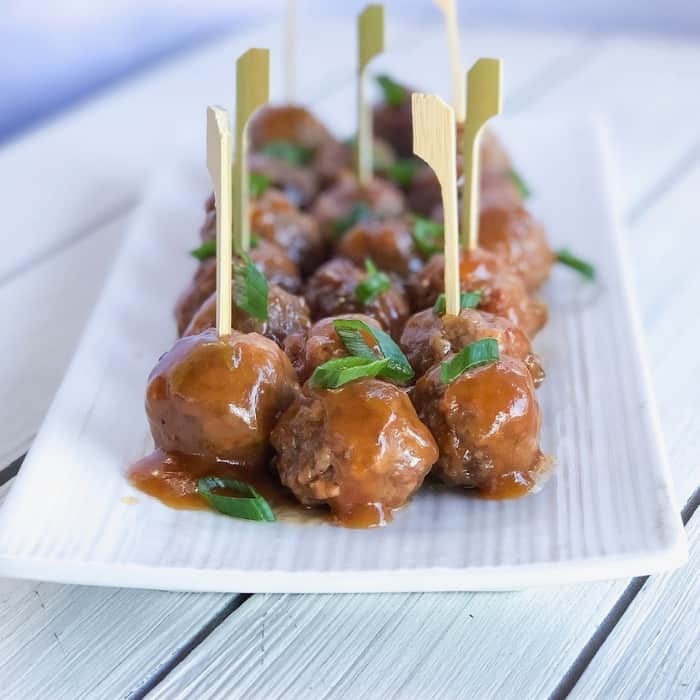 This crock pot (or slow cooker) cocktail meatball recipe is a delicious party appetizer! I love how quick they are to whip up and easy to make in larger batches for a party or crowd.
I love the tangy, sweet and sour sauce that pairs so well with a meaty, beefy meatball. This one is definitely a keeper for entertaining!
Sweet & Sour Meatball Ingredients
Frozen appetizer meatballs- There are many brands out there. Find one that you like best and stick with it! Make sure they're mini sized!
Apricot or peach preserves- This adds a delicious sweetness to the sauce!
Soy Sauce- Adds a salty umami flavor I love in sauces.
Beef Stock- Helps to build a delicious sauce.
Ketchup- Add a sweet, tangy bite that you will love!
Cornstarch- Thickens the sauce to make it nice and sticky!
How To Make Them Using A Crock Pot
To make your sweet and sour crock meatballs using your crock pot or slow cooker, you will first need to start with cocktail style meatballs. They are simply, meatballs that are smaller in size or bite sized. Ideally, you want to serve them with mini skewers or toothpicks.
You don't want your guests struggling to pick up a ginormous meatball with a tiny toothpick. They should be able to easily pop them in their mouths one at a time!
They are also great because they make for a good sauce-to-meatball ratio.
---
If you love using your crock pot, check out these Easy Crock Pot Appetizers to serve at your party!
Homemade or Frozen Meatballs?
You can choose between the store-bought frozen meatballs OR you can make your own mini meatballs.
If making homemade meatballs, it is important that you cook, bake or fry your meatballs BEFORE you add them to the slow cooker otherwise they will stick together.
Tip* Stacking raw meatballs in your slow cooker will cause them all to stick together.
I use store-bought meatballs when I make this appetizer because it is super quick and could not be easier. I found a brand that is so tasty so I've stuck with them.
How To Make The Sweet & Sour Sauce
This homemade sweet and sour sauce has the perfect balance of sweetness with sour notes. I used apricot preserves to add the sweet component instead of the typically used pineapple. Then used ketchup and soy sauce for some added tang and some savory flavor.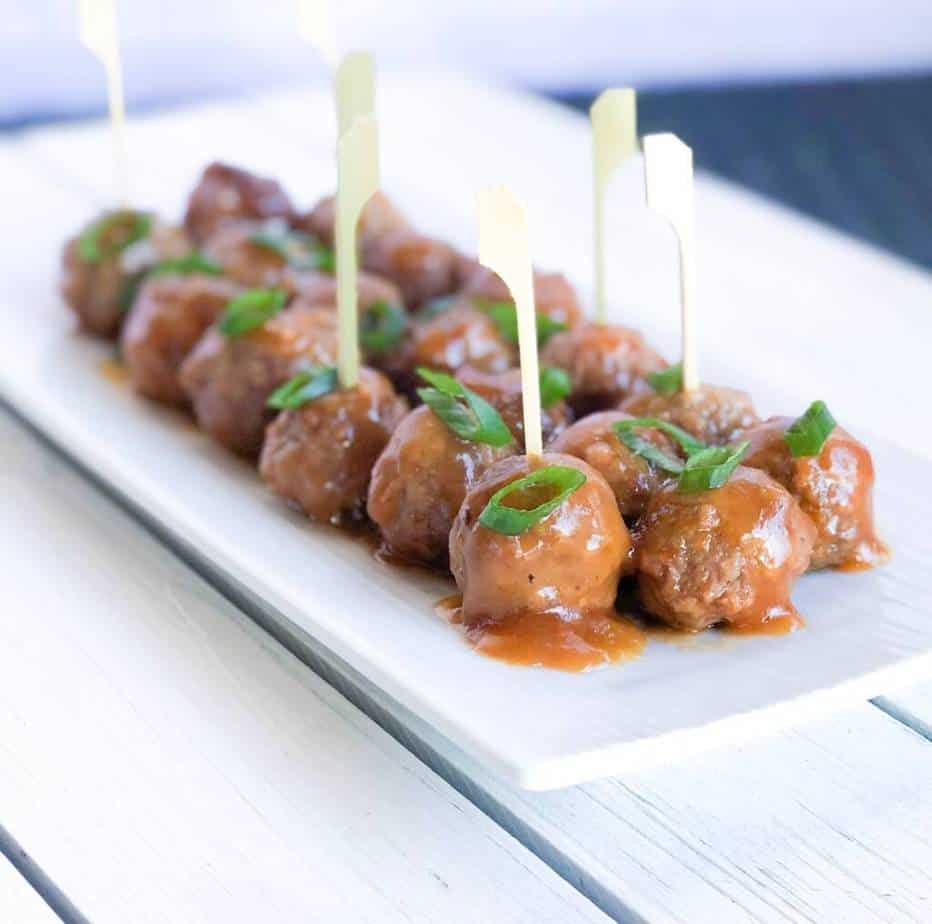 Thickening your sauce
The most important thing when it comes to making a sauce in the crock pot is THICKENING the sauce and making enough! The worst thing you can do is make dry cocktail meatballs. The sauce is what makes these so make sure they have enough sauce!
To thicken this sweet n' sour sauce, I use a cornstarch and water mixture. This will help thicken the sauce as it heats up in your slow cooker. The result is a sweet, sour, sticky sauce packed with flavor!
Make sure you serve with mini toothpick skewers!
Love MEATBALLS? Check out this round up of appetizer meatballs!
How long will meatballs take in the crock pot?
Unfrozen, cooked meatballs should take about an hour or so to warm up. Frozen meatballs will take about two hours to thaw and heat.
---
Reminder* I do not recommend adding uncooked meatballs to your slow cooker because they will stick together as they cook. Bake or fry them up before! Then add them to your crock pot, toss in the sauce and your set.
---
Check out my other popular appetizers!
5 Ingredient Puffed Chili Bites
Pulled Pork Slow Cooker Nachos
Sausage Balls Without Bisquick Pancake Mix
---
📖 Recipe
Sweet and Sour Meatballs (Crock Pot)
These Sweet and Sour Meatballs are made using the crock pot so they could not be easier! I use frozen cocktail meatballs making this appetizer ideal for any party or tailgate!
Print
Pin
Rate
Ingredients
1

lb. Bag

Beef Meatballs (Cocktail Size)
Sweet and Sour Sauce
1

Cup

Apricot Preserves

((or peach))

2

Tbsp.

Ketchup

1

Tbsp.

Soy Sauce

¼

Cup

Beef Stock

1

tablespoon

Corn Starch

½

Tsp.

Salt
Instructions
Add sweet and sour sauce ingredients in a crock pot and whisk until fully combined.

Add meatballs and turn on crock pot to HIGH. Two hours later, they will be warmed through and the sauce will be nice and thick.
Recipe Notes
Purchase frozen cocktail meatballs to make this recipe super fast and easy!
Nutrition
Calories:
294
kcal
|
Carbohydrates:
34.8
g
|
Protein:
12.8
g
|
Fat:
11.9
g
|
Saturated Fat:
5
g
|
Cholesterol:
38
mg
|
Sodium:
1157
mg
|
Potassium:
78
mg
|
Fiber:
1
g
|
Sugar:
19.5
g
|
Calcium:
50
mg
|
Iron:
2
mg