Frozen meatballs are a hostess' best friend! They are a classic, easy to make appetizer, perfect for your next game day, party or potluck.
Since they are already made for you, they are an easy way to make a lot of food, with little effort. Most recipes that use frozen meatball have a set it and forget it method.
But it is time to get creative with our meatball appetizers! Check out the delicious recipes below that use meatballs in all kinds of creative ways!
If you love easy slow cooker finger foods, you need to check out this list of Crock Pot Friendly Appetizers that are meant for any party!
Meatballs are one of my favorite thing to make because of how versatile they are! You can make them with ground beef, pork, turkey, lamb or chicken! And the flavor combinations are endless! Oh, and don't get me started with the sauce. Oh the SAUCE!
We can use a tomato sauce or "gravy" as most people call it, a cream sauce, sweet and sour, buffalo sauce, bar-b-que sauce or something else!
Just remember to serve your meatballs with small forks or toothpicks if you're serving them as an appetizer or hors d'oeuvres.
How To Cook Frozen Meatballs
You can cook your frozen meatballs a few different ways. In this instance, we are assuming the frozen meatballs are PRE-COOKED.
Toss them in a sauce and wait for them to thaw or defrost. Since they are already cooked, all you are looking to do is reheat them.
Add them to a large bowl and microwave them on the defrost setting. The size of your meatballs will determine the time.
Add some oil to a skillet and pan fry your meatballs until they are golden brown on the outside and warmed through on the inside.
Add your meatballs to a slow cooker with some liquid or sauce (to keep them from drying out) and set over low heat until hot in the center.
Bake your frozen meatballs in the oven at 300-350 degrees F for 20-30 minutes depending on the size of your meatballs. I suggest covering your meatballs with foil so they do not dry out or get too brown on the outside.
"Do I need to defrost my meatballs before cooking?"
No! You don't! You just need them to thaw out and reheat internally. The water, or in this case ICE, will evaporate as they warm up.
"How long does it take to heat up frozen meatballs?"
The time depends on the size of your meatballs and what source of heat you're using. The time can take anywhere from 15-30 minutes. Longer if they are uncooked.
"What if my meatballs are uncooked?"
If you have frozen meatballs that are RAW, they will take a lot longer to cook. If adding them to a sauce or gravy, this can take anywhere from 2-3 hours over low to medium heat. If adding them to the oven, this can take about 40 minutes depending on their size. If frying them in a skillet, they should take 15 minutes or so. The goal is to obtain an internal temperature of 165 degrees F.
Meatball Recipes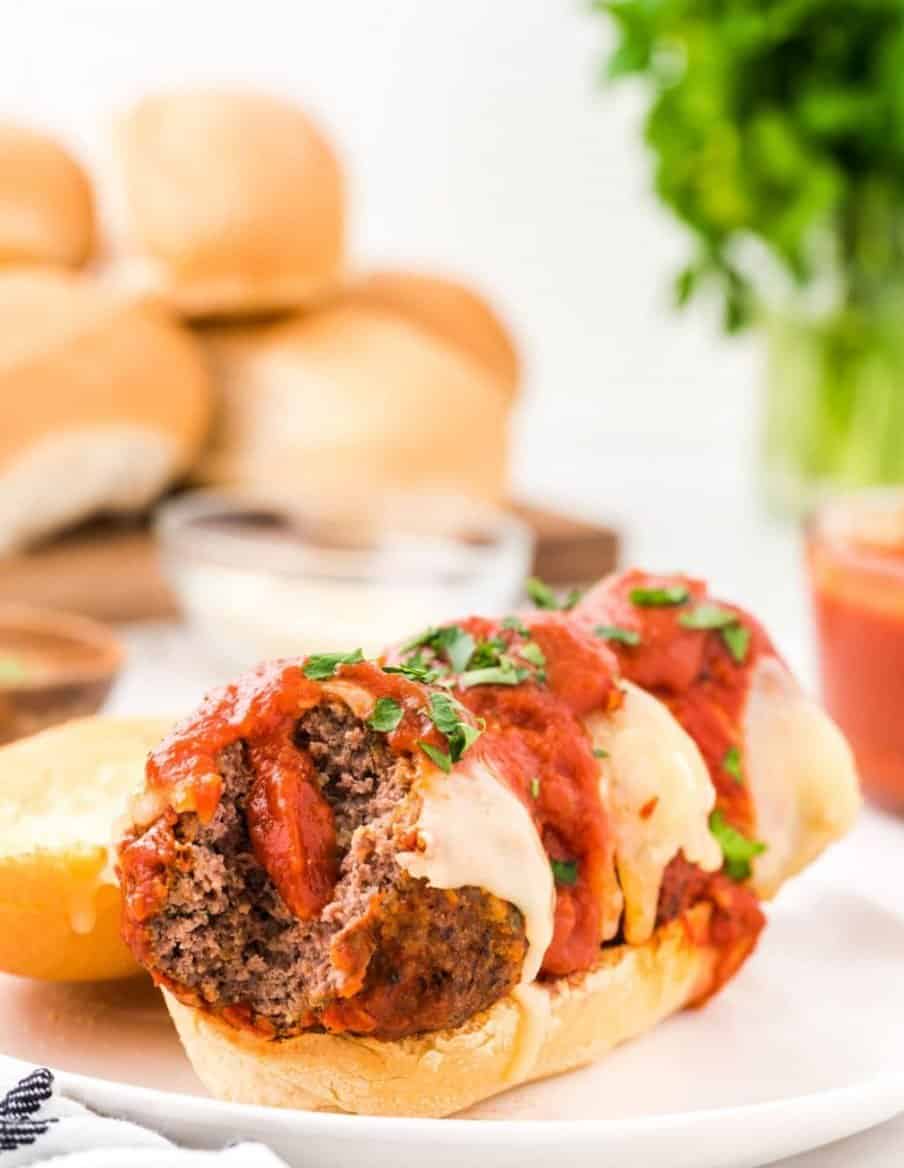 These homemade meatball subs are a hearty, hot sub sandwich that's meaty, saucy, and cheesy! Serve these on small slider buns or rolls to make them appetizer friendly!
The perfect burger-inspired appetizer! Meatballs stacked with all of the ingredients for a deluxe bacon cheeseburger! Such a fun appetizer/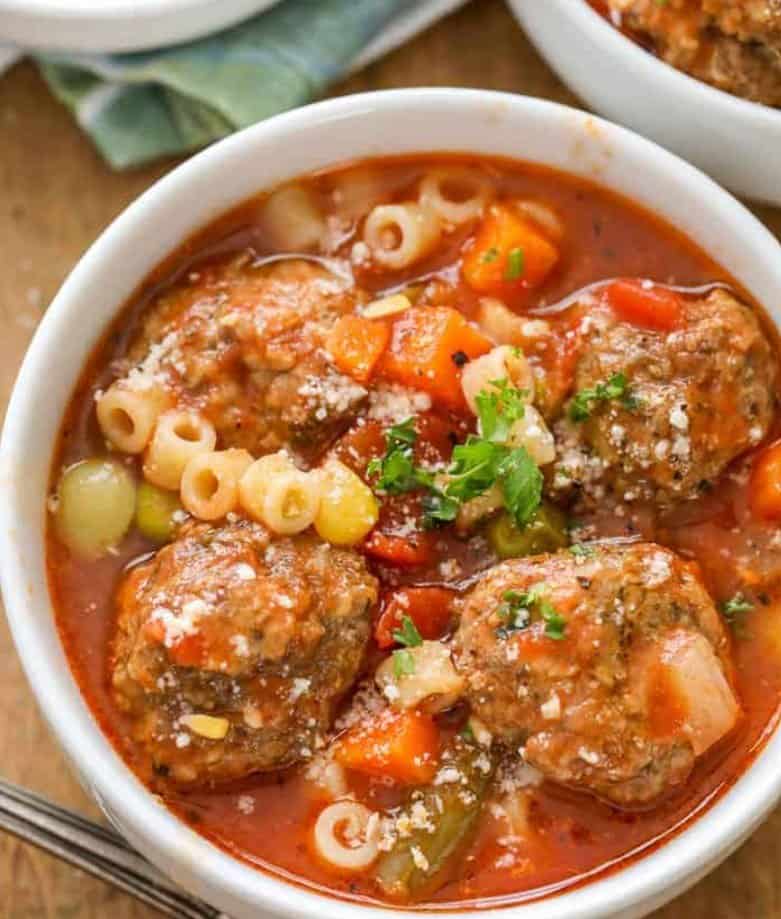 I LOVE serving soup as an appetizer. Just purchase small heat-proof mugs from the store (even the dollar store) and keep the pot or slow cooker warm throughout the party so guests can help themselves! Meatball Soup is a hearty and satisfying soup that is perfect during the colder months.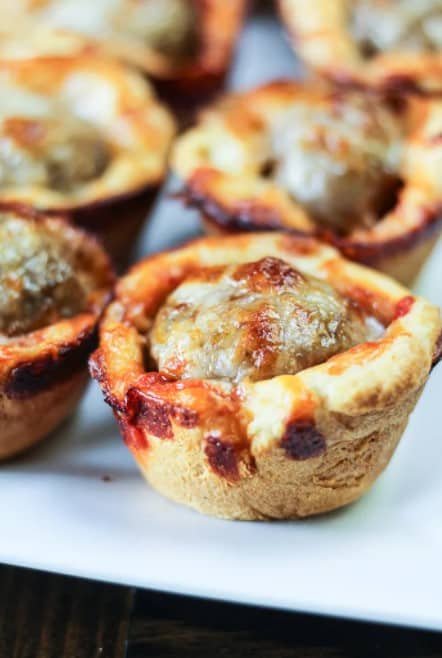 These super cheesy bites are baked in a cupcake tin creating the perfect pocket of goodness filled with marinara sauce, yummy meatballs, and then topped with freshly grated mozzarella cheese. Such a fun bite-sized appetizer everyone will LOVE.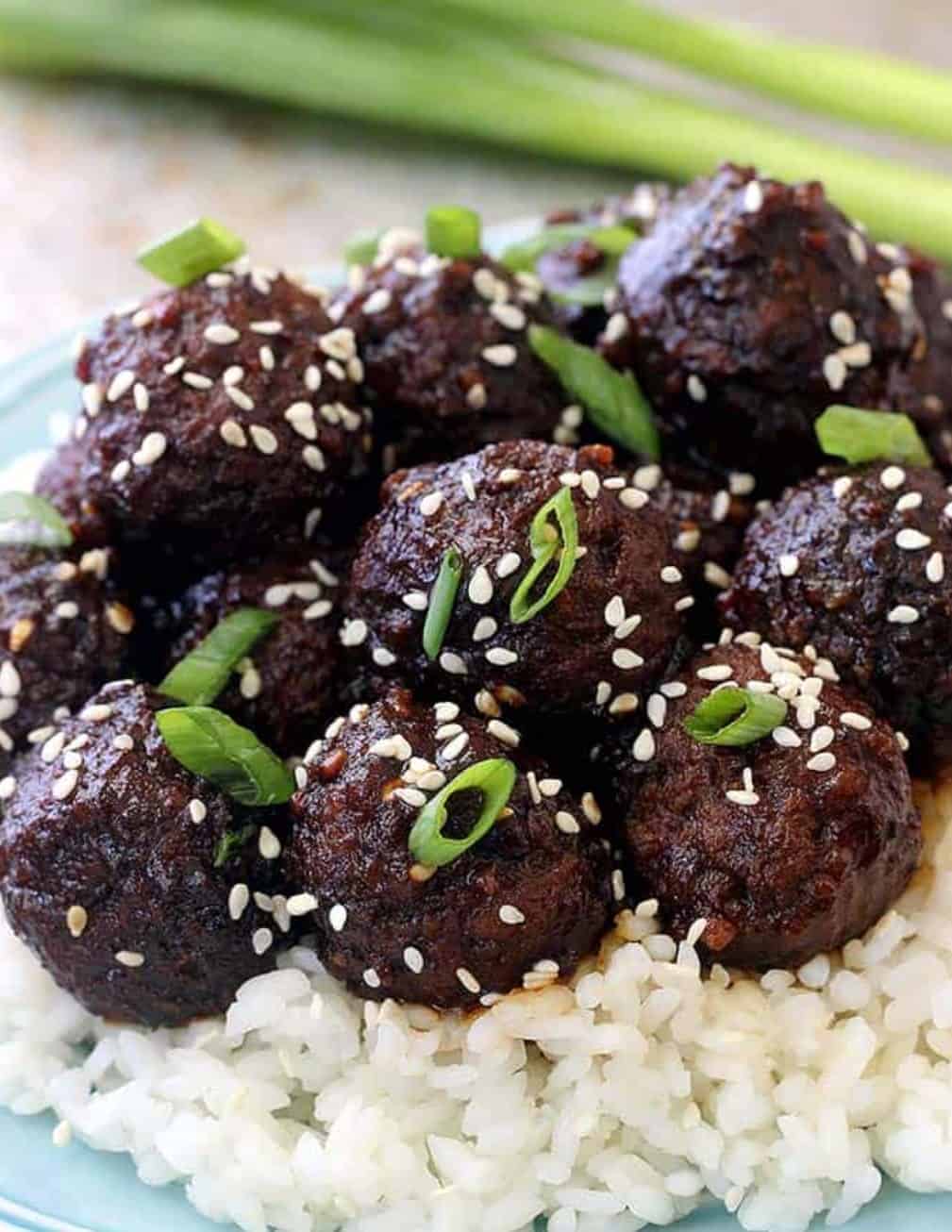 Honey Sriracha Crockpot Meatballs
These yummy meatballs are cooked in the crockpot in a tangy sauce with a kick of Sriracha. These make for an easy appetizer or a main dish served over rice!
Saucy barbecue meatballs in crispy little waffle sliders with melty cheese, tomato, and Arugula aioli for easy party finger food.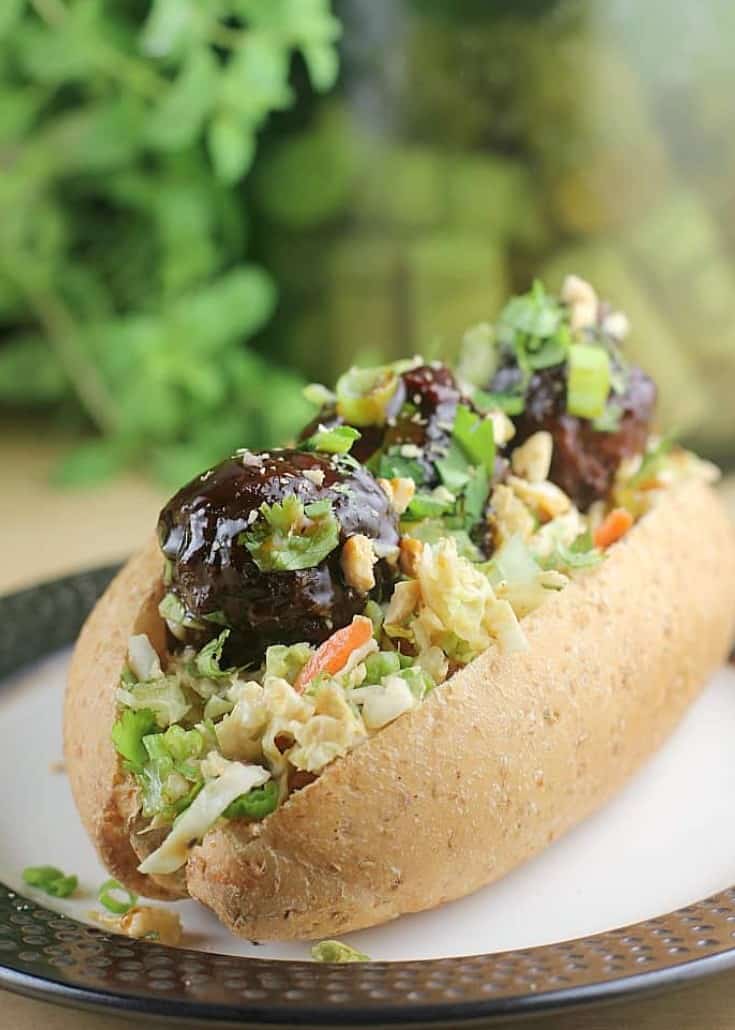 Thai Chili Meatball Sliders with Peanut Slaw
Sticky sweet, amazingly fragrant meatballs in Thai chili sauce, served in fluffy buns over a killer easy peanut butter Asian coleslaw. So many foodie roads collide in this recipe that is ridiculously easy to prepare.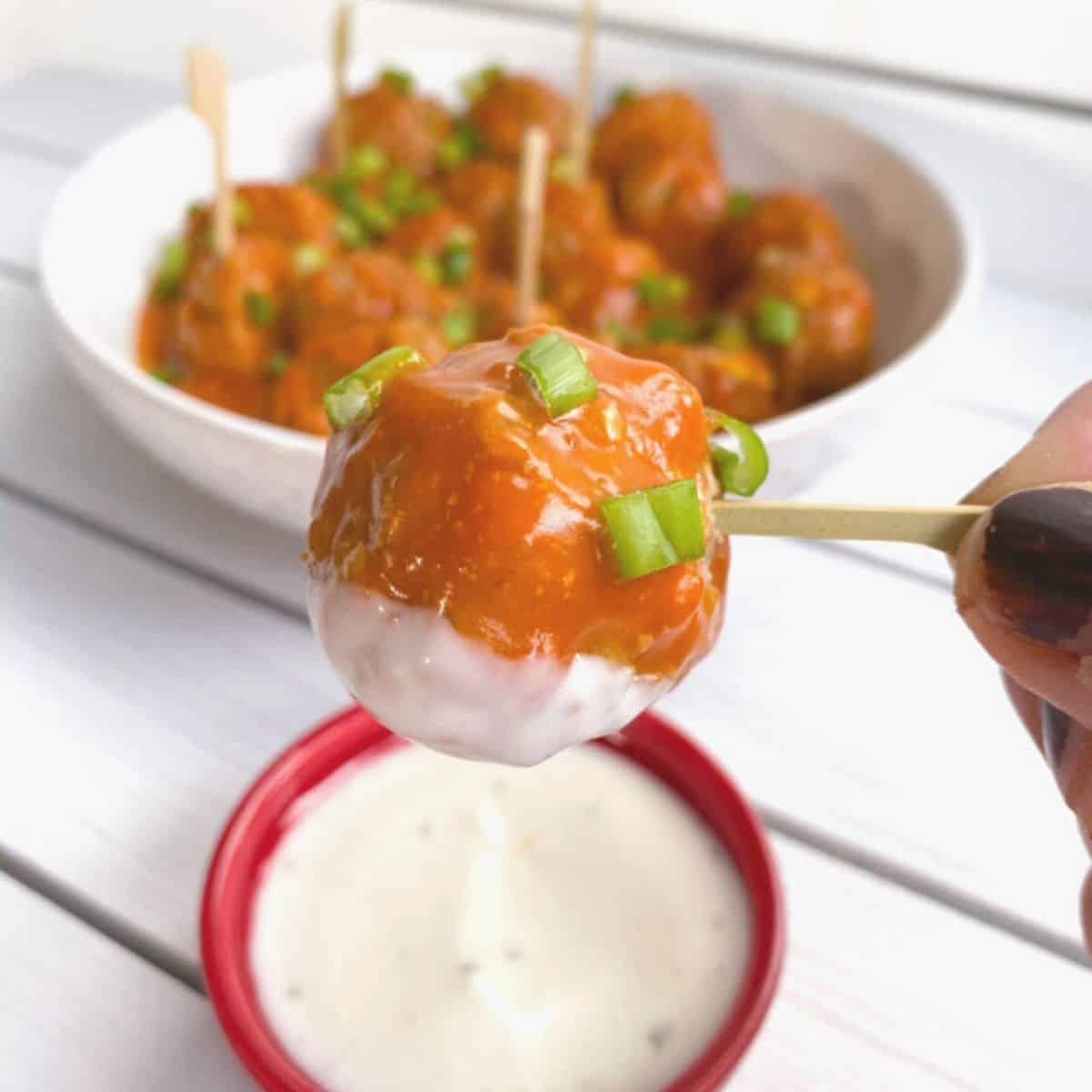 These meatballs aren't your average buffalo chicken meatballs. They're made with hot sauce AND brown sugar so you get a spicy sweet flavor combination that's out of this world good. All you need to do is purchase chicken or turkey meatballs and coat them in this delicious sauce!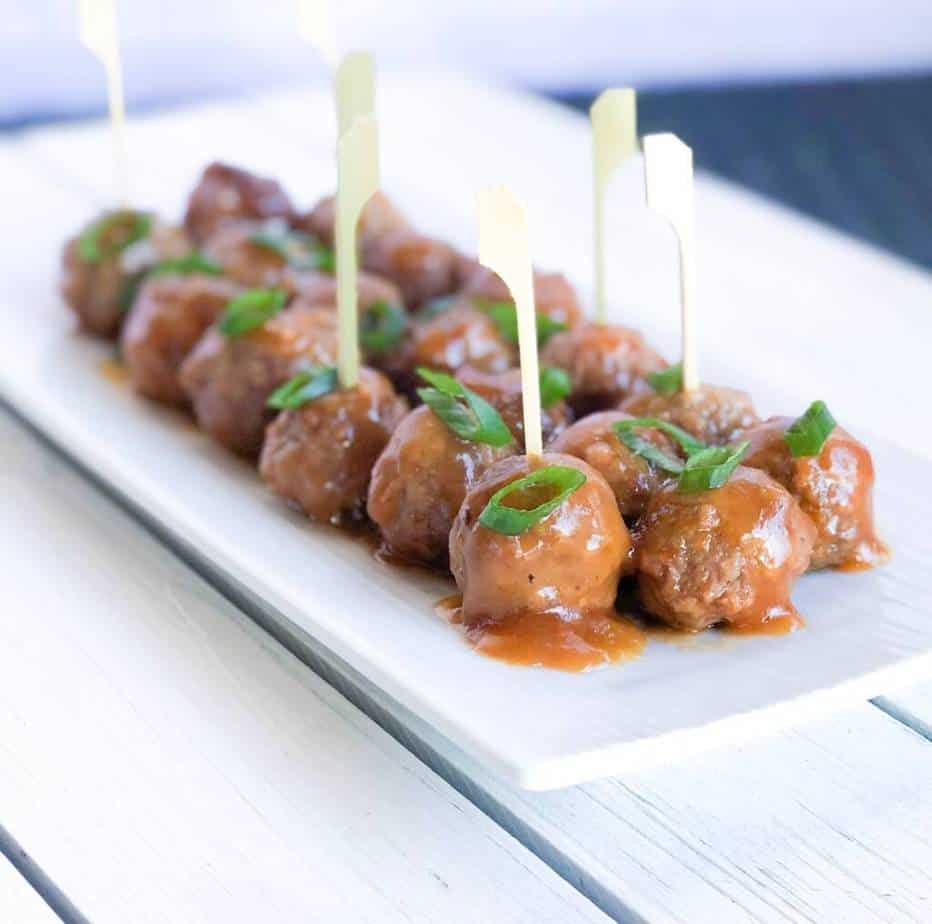 Sweet n' Sour Crock Pot Meatballs
These slow cooker meatballs are so perfect for a large crowd or party because they can be kept warm for hours! Plus, I use frozen cocktail meatballs and a quick sauce making these meatballs one of the easiest appetizers on my blog!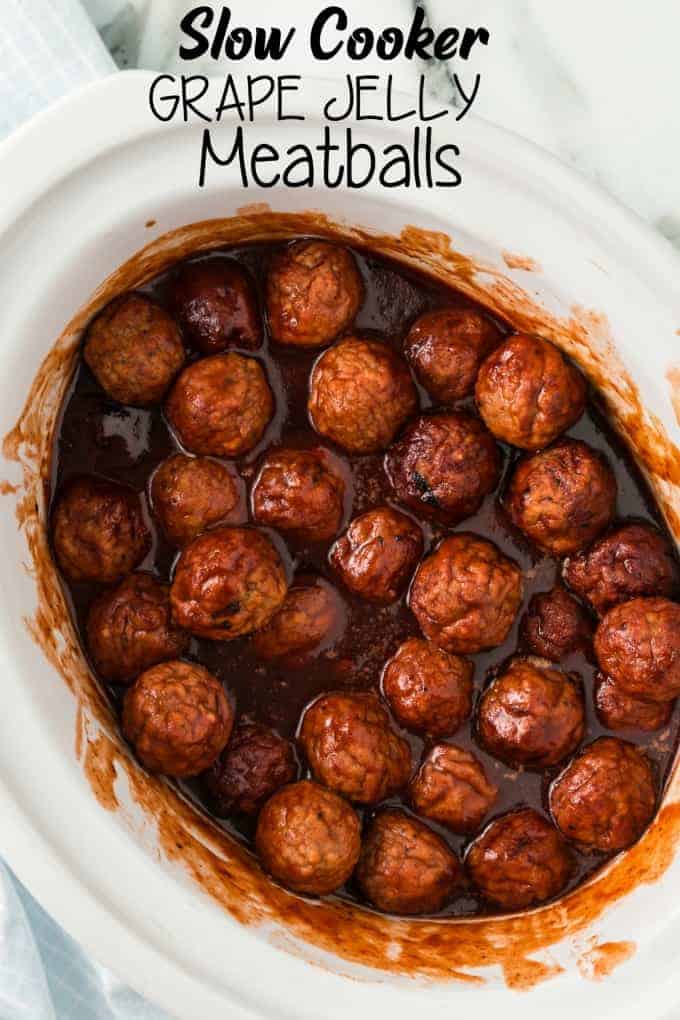 These Meatballs made in the slow cooker are a quick and easy appetizer that will be perfect for the next game day gathering! All you need are 3 simple ingredients and you are about to have your new favorite appetizer recipe!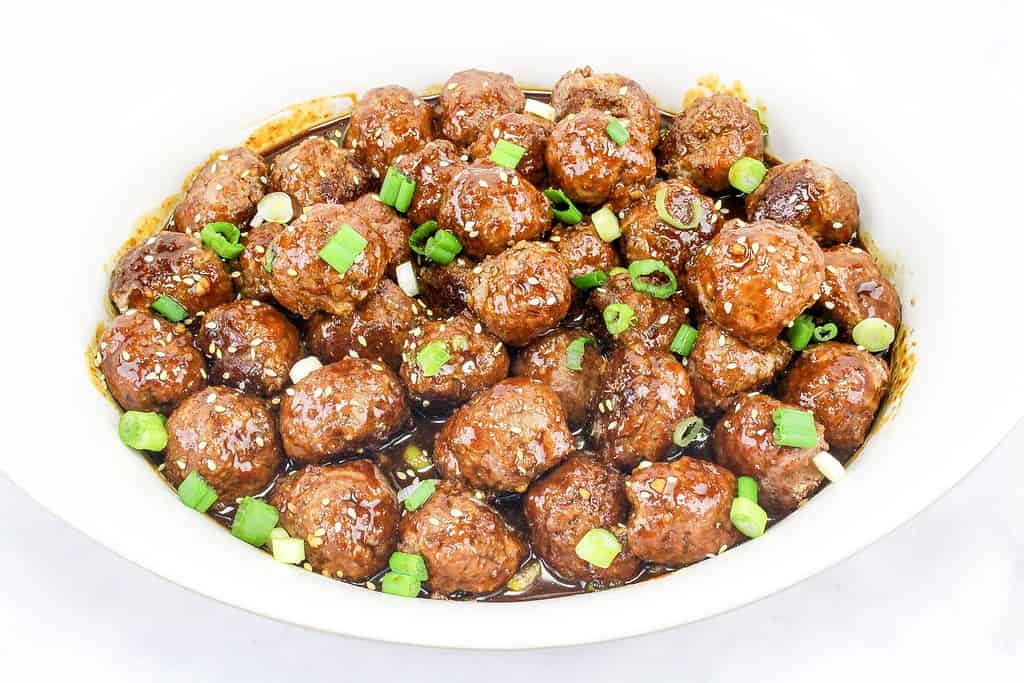 These juicy, tender meatballs have a sweet and tangy sauce coating them that is SO addictive! If you have never had Asian meatballs, you don't know what you are missing. The sauce is the best, you're going to want to put it on everything! They are perfect to serve with toothpick skewers as an appetizer!
Things To Keep In Mind!
Remember that the meatball is the MAIN focus here so if you are purchashing store-bought frozen meatballs, it's important that they are QUALITY. I wouldn't opt for a generic brand just because they're cheaper unless you know of a brand you have tried and love.
If you purchase flavored or pre-seasoned Italian meatballs, keep in mind the sauce you are adding to your meatballs so it does not clash with the seasonings. For example, you may not want to purchase Italian seasoned meatballs if making buffalo meatballs.
Also, keep in mind the SIZE of your meatballs you purchase from the store. For appetizers, you want smaller bite-sized cocktail style meatballs. If you're serving them for dinner or in a sandwich, you may want to opt for larger meatballs.
If you're making your OWN homemade meatballs and freezing them, use a kitchen scale or ice cream scoop to help form your balls evenly. Consistency in size will ensure ALL of your meatballs cook at the same time!
Unsure of how many appetizers to serve? Check out my appetizer serving recommendations here!
Other Easy Appetizer You Will Love:
16 Of The BEST Brie Appetizers
27 Easy Phyllo Cup Appetizer Ideas
59 EASY Finger Foods For Any Party