These Greek lamb meatballs are one of my favorite party appetizers! They are moist, juicy and packed with Greek seasonings. Serve them with mini toothpicks and a creamy tzatziki sauce, and your guests will be raving!
If you prefer using FROZEN meatballs, check out this list of meatball appetizers that use frozen meatballs to make entertaining a bit easier!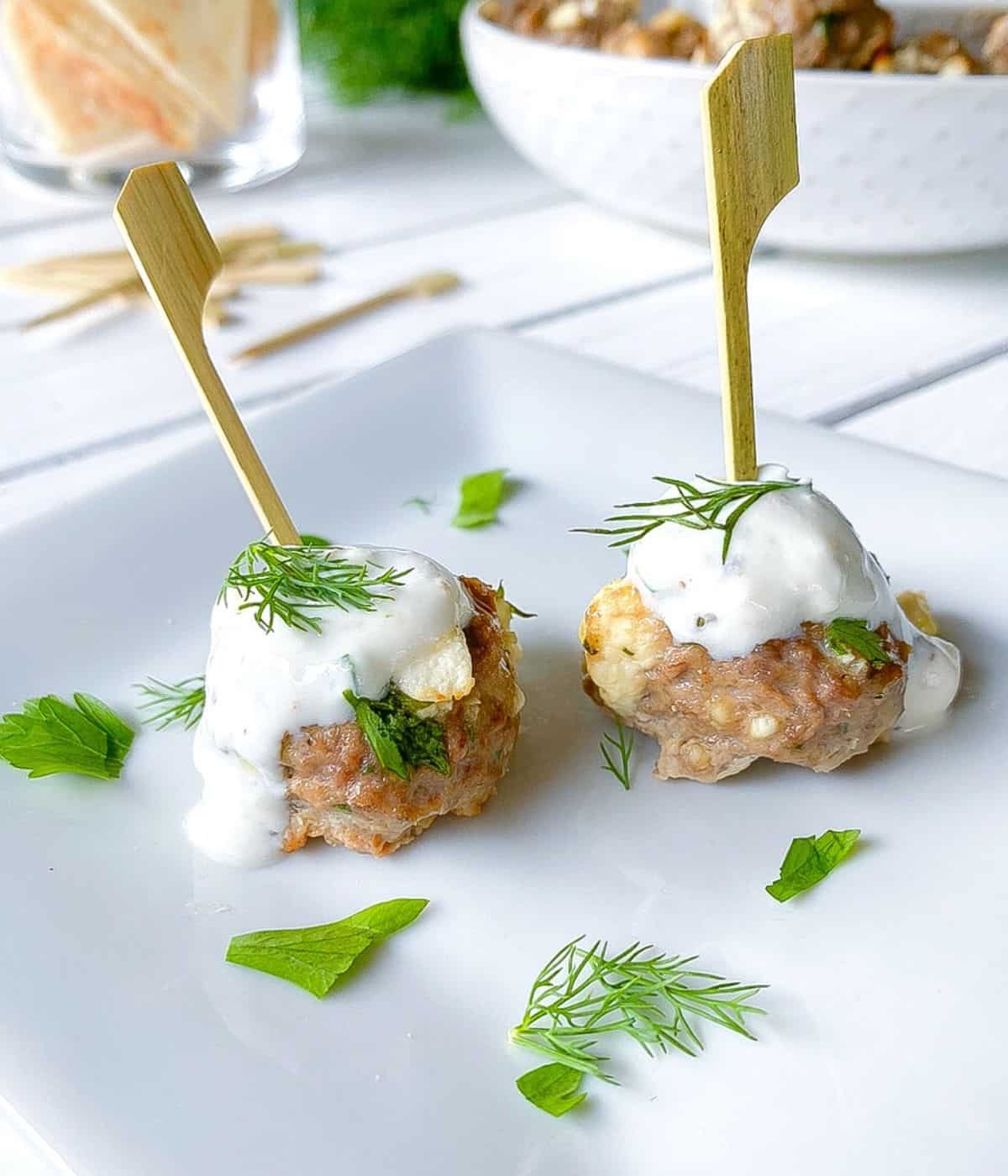 I am SO excited to share this lamb meatball recipe with you all! They always turn out super moist and juicy which is why I love lamb so much. Plus, they made for the perfect hors d'oeuvre.
They remind me of growing up. We would always have "keftedes", which are small Greek meatballs at every family gathering. Keftedes are typically made using ground beef instead of lamb and they are pan fried and served as an appetizer or a meze platter.
But THESE are not your average keftedes. They are better. Why? Because they aren't as dry. It's simple as that. NO ONE wants to bite into a dry meatball. No one.
You want the kind of meatballs where the juices are dripping down your mouth. "Hand me a napkin please?", "My pleasure!"
Along with plenty of napkins, I love serving these meatballs with my homemade tzatziki sauce and Greek orzo salad on the side for dipping, or drizzling on top.
Lamb and the tangy yogurt from the sauce just go so well together and is a classic Greek pairing. Plus, serving them this way turns them into a fancy hors d'oeuvres.
These meatballs would go so well with my crispy potato wedges!
How To Make Greek Lamb Meatballs
To make your lamb meatballs, you need to start with some ground lamb. I do not use any breadcrumbs since I think they tend to dry out the lamb.
To hold my meatballs together and bind them, I use an egg. From there, all you need to do is add your Greek herbs!
Lemon is used a lot in Greek cooking and goes well in this recipe. Garlic is a must. Onion is something I add to every savory dish because it is just to versatile and also adds so much flavor to meatballs.
📃 NOTE: You can print the FULL recipe with all ingredients & detailed instructions below!
Greek Tzatziki Sauce
You can serve your meatballs with or without tzatziki sauce. I always love serving my guests with skewers and a dipping sauce because it makes for more of a fun party!
Plus, lamb goes SO well with yogurt so it's a win-win! Check out my tzatziki sauce recipe!
Meatball Variations & Substitutions
Lamb pairs well with so many different herbs and spices. If you want to stick with a Greek style meatball, use herbs like oregano, basil, parsley, lots of lemon and garlic.
I love adding dill to many Greek recipes so I added that as well. You can also add these herbs to your tzatziki sauce for more fresh, vibrant flavor.
To make your lamb meatballs more 'Moroccan style', you can add in other spices and herbs that are known to go well with meat like lamb. Some are:
cumin
coriander
cinnamon (this is used in Greek cooking as well)
mint leaves
Serve your meatballs plain straight out of the oven if you want. They don't NEED a sauce. But they are SO good with the tzatziki. Another sauce option could be to serve these with your best tomato or marinara sauce (aka gravy.) Either way, the lamb will pair well.
If serving as a skewered appetizer, place them on the side with a few skewers already inserted in a few meatballs.
FAQ's
"Can I substitute ground beef or turkey in place of the ground lamb?"
You can but I promise you, they will not turn out as tasty or juicy.
"Can I fry these in a skillet?"
Yes of course. The advantage to frying creates a deliciously crispy, tasty crust. You just will need to do this in batches and make sure the inside is cooked through
"How do I serve lamb meatballs?"
I love to serve these an an appetizer or light dinner with the tzatziki sauce on the side as well as PLENTY of freshly cut pita bread on the side. Bonus if you grill the pita!
"Do I have to grate my onion?"
No BUT I highly suggest you do. The onion will not cook all the way through and instead you will get 'chunks of onion in each meatball. Not appetizing.
Other Greek appetizers you might like:
Baked Greek Shrimp Saganaki with Feta and Ouzo
Easy Spanakopita Triangles (Mini Greek Spinach Pies)
Greek Spicy Feta Cheese Dip (Tirokafteri)
Melitzanosalata (Greek Roasted Eggplant Dip)
Greek Potato and Garlic Dip (Skordalia)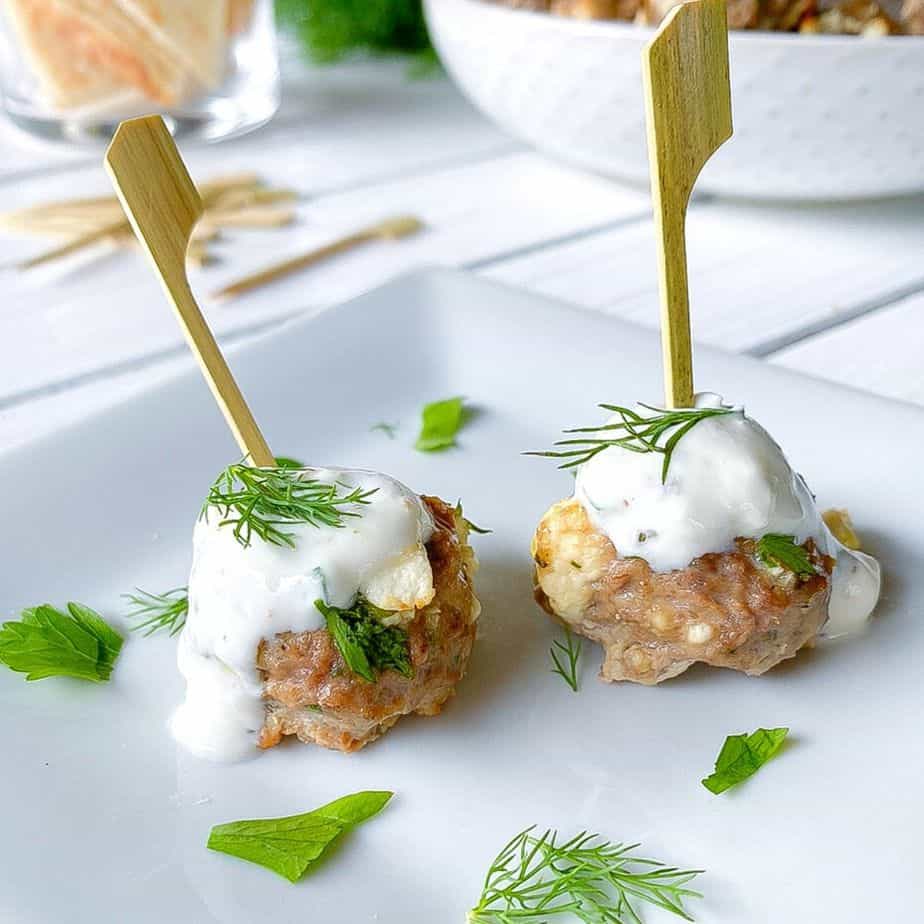 Greek Lamb Meatballs (with Feta Cheese)
These authentic Greek lamb meatballs are one of my favorite party appetizers! They are moist, juicy and packed with Greek seasonings and creamy chunks of feta. Serve them with mini toothpicks and a creamy tzatziki sauce, and your guests will be raving.
Print
Pin
Rate
Ingredients
1

lb.

ground lamb

1

egg

2

medium

garlic cloves

1

small

yellow onion, grated*

1

tablespoon

freshly grated dill

1

tablespoon

freshly grated parsley

1

teaspoon

dried oregano

1

tablespoon

freshly squeezed lemon juice

¾

teaspoon

salt

½

teaspoon

black pepper

3-4

oz.

feta cheese, crumbled
Instructions
Preheat your oven to 425°F.

Combine all of your ingredients EXCEPT for your feta in a large bowl.

Once combined, add your crumbled feta cheese and mix it until it is combined. (Try to keep your feta chunky!)

Use a mini ice cream scoop to scoop out about 1 oz of lamb onto a greased baking sheet. They do not have to be too spaced apart as they will not change size.

Bake for 11-12 minutes or until the internal temperaure reaches 145°F.

Serve warm with mini skewers and tzatziki sauce on the side. (Recipe link is above.)
Recipe Notes
Yield*
20-22 (1 oz.) meatballs
If you do not have a grater for your onion, you can use a food processor. You want the onion in a "mash" not chunky.
Nutrition
Calories:
389
kcal
|
Carbohydrates:
4
g
|
Protein:
22
g
|
Fat:
31
g
|
Saturated Fat:
14
g
|
Polyunsaturated Fat:
2
g
|
Monounsaturated Fat:
12
g
|
Cholesterol:
102
mg
|
Sodium:
747
mg
|
Potassium:
317
mg
|
Fiber:
1
g
|
Sugar:
1
g
|
Vitamin A:
193
IU
|
Vitamin C:
5
mg
|
Calcium:
141
mg
|
Iron:
2
mg