These lamb meatballs are one of my favorite party appetizers! Using ground lamb makes these meatballs super moist and juicy. Serve them over mini pita or naan bread and a drizzle of creamy tzatziki sauce, and your guests will be raving!
If you prefer using FROZEN meatballs, check out this list of meatball appetizers that use frozen meatballs to make entertaining a bit easier!
I am SO excited to share this lamb meatball recipe with you all! They always turn out super moist and juicy which is why I love lamb so much. Plus, they made for the perfect hors d'oeuvre.
They remind me of growing up. We would always have "keftedes", which are small Greek meatballs at every family gathering. They are typically are pan fried and served as an appetizer or a meze platter.
But THESE are not your average lamb meatballs. They are better. Why? Because they aren't as dry. It's simple as that. NO ONE wants to bite into a dry meatball. No one.
I love serving these meatballs with my homemade tzatziki sauce and Greek orzo salad on the side for dipping, or drizzling on top.
Ingredient Tips
Lamb: Choose ground lamb with about a 18-20% fat content is best.
Grated onion: Grating your onion allows it to cook quicker preventing guests from biting chunks of raw onion.
Spices: The combination of cumin, coriander, cinnamon and mint bring a ton of flavor and are mediterranean inspired. Feel free to add other spices like oregano, thyme, parsley, etc. if you prefer.
Bread: Adding bread actually helps to keep the meatballs moist. It won't dry them out. I suggest using plain breadcrumbs so we don't go overboard on the spices.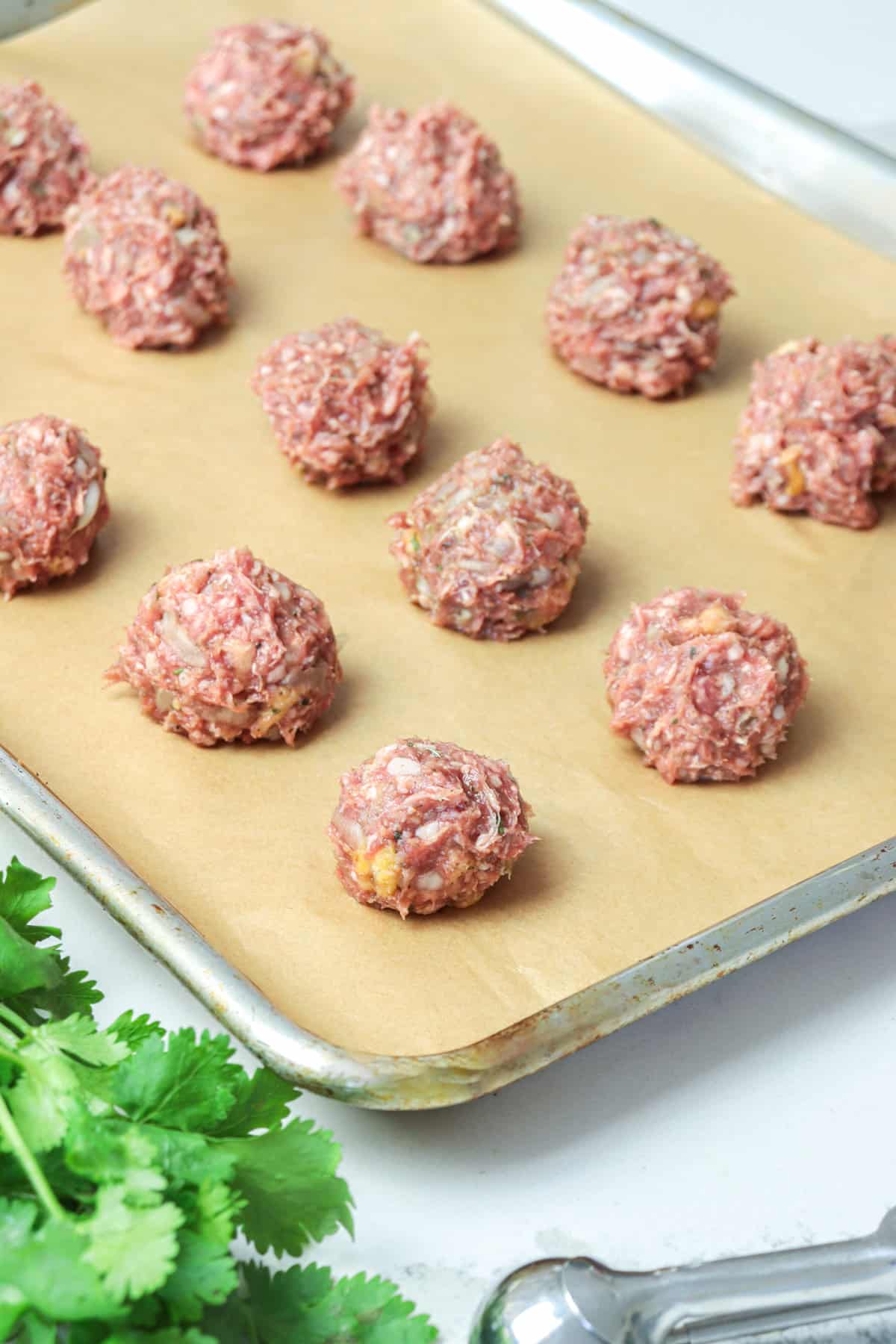 How To Make Lamb Meatballs
Add ALL of your ingredients to a bowl and mix well. I suggest using your hands. It's so much easier.
Roll them in between the palm of your hands until smooth and round.
Sear meatballs in a skillet with a good amount of oil until golden brown on all sides and cooked to about 160 F.
Let drain on wire rack or paper towels and serve!
Tip! Wetting your hands ensures the meat does not stick to your palms! It also gives a super smooth surface.
📃 NOTE: You can print the FULL recipe with all ingredients & detailed instructions below!
Is it better to pan fry or bake meatballs?
I have always been on the pan fry train. There's nothing better than that crunchy brown exterior you get from frying in oil. Brown food always tastes AND looks better.
That's not to say you can't brown your meatballs in the oven. You will still be able to get color by baking them, it just wont be a full 360 degree golden brown crust.
Three pros to baking meatballs are:
1. Less mess! No grease stovetop to wipe down.
2. Even cooking! The fact that they will cook more evenly in the oven will keep your meatballs moist.
3. Great for larger batches! It's less hassle to pop in the oven and forget them vs. babysitting them on the stove.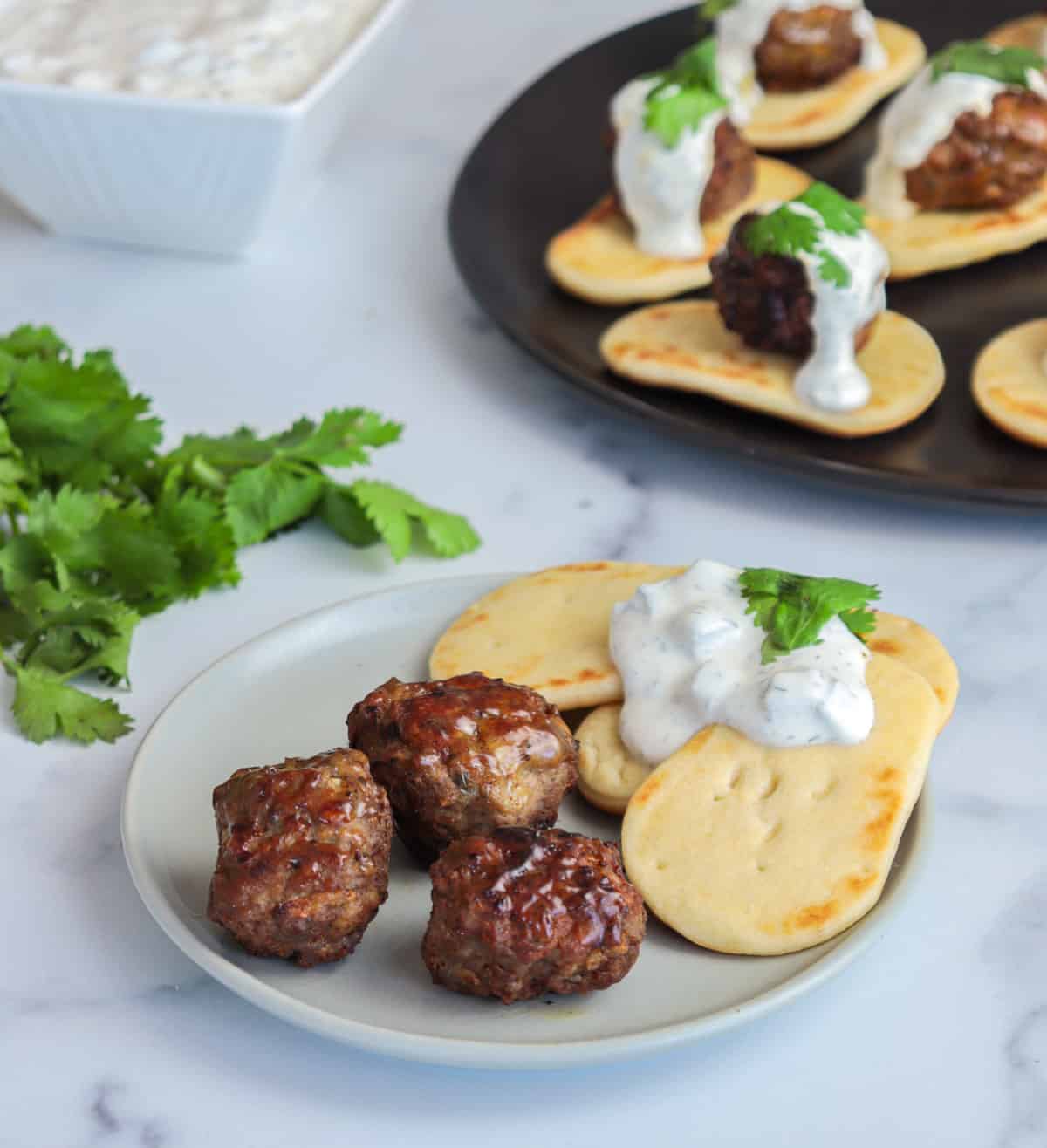 Lamb Tzatziki Sauce
You can serve your meatballs with or without tzatziki sauce but I highly recommend serving WITH it. I always love serving these meatballs with skewers and tzatziki on the side because it makes for more of a fun party!
Plus, lamb goes SO well with yogurt so it's a win-win! Check out my tzatziki sauce recipe!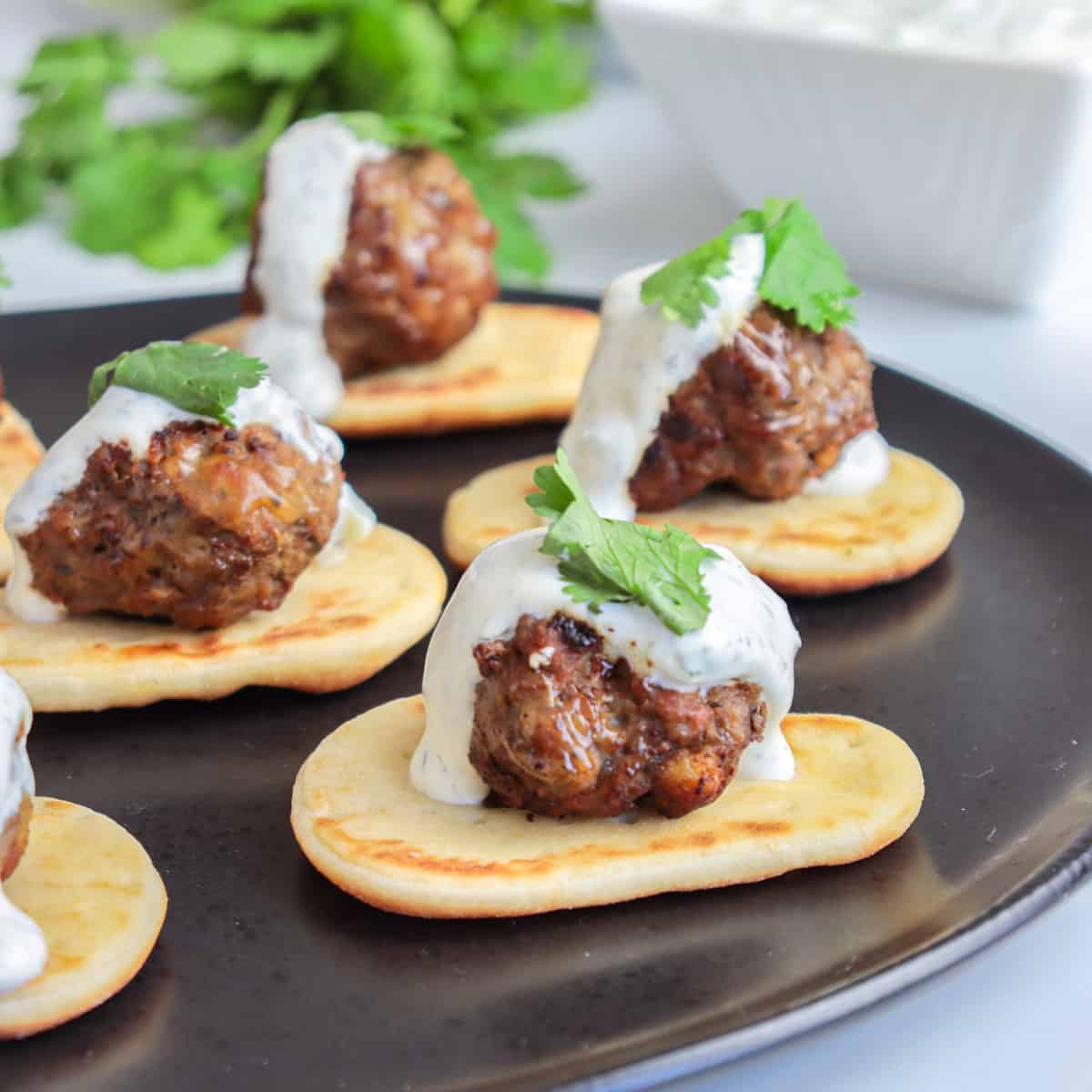 Meatball Variations & Substitutions
Lamb pairs well with so many different herbs and spices. If you want to stick with a Greek style meatball, use herbs like oregano, basil, parsley, lots of lemon and garlic.
I love adding dill to many Greek recipes so I added that as well. You can also add these herbs to your tzatziki sauce for more fresh, vibrant flavor.
To make your lamb meatballs more 'Moroccan style', you can add in other spices and herbs that are known to go well with meat like lamb. Some are:
ginger
turmeric
nutmeg
parsley leaves
oregano for a Greek twist
How To Serve Lamb Meatballs
Serve your meatballs plain straight out of the oven if you want along with some toothpick skewers. Skewered appetizers are best!
These meatballs don't NEED a sauce...but they are SO good with this creamy tzatziki sauce. Another sauce option could be to serve these with your best tomato or marinara sauce (aka gravy) a chimichurri sauce, an Indian-inspired curry sauce or a Moroccan mint yogurt sauce.
FAQ's
Can I Freeze Lamb Meatballs?
Yes! In a sealed freezer bag for up to 8 weeks. I suggest under-cooking them just a tad so that when you reheat them weeks later, they will finish cooking without drying out.
Other Mediterranean inspired recipes to serve with your meatballs:
📖 Recipe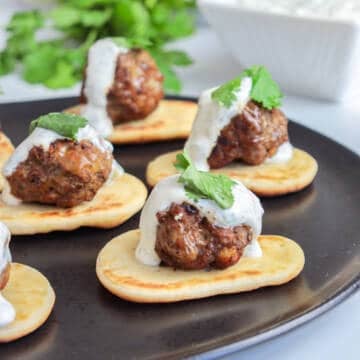 Lamb Meatballs
These lamb meatballs are one of my favorite party appetizers! They are moist, juicy and packed with delicious mediterranean seasonings. Serve them with mini toothpicks and a creamy tzatziki sauce, and your guests will be raving.
Print
Pin
Rate
Ingredients
1

lb.

ground lamb

1

egg

½

cup

breadcrumbs

1

large

garlic clove, minced

1

small

yellow onion, grated*

2

teaspoon

dried mint

1

teaspoon

cumin

1

teaspoon

coriander

½

teaspoon

cinnamon

¾

teaspoon

salt

½

teaspoon

black pepper
Instructions
Combine all of the meatball ingredients in a large bowl until combined.

Use a mini ice cream scoop to scoop out about 1 oz of lamb into the palms of your hands and roll into smooth balls. Wet your hands to prevent the meat from sticking onto your hands.

Heat about ¼-½" oil in a frying pan set over medium-high heat.

Add your meatballs and cook until the interior reaches about 145℉. Roll the balls around after 2-3 minutes to ensure all sides get nicely browned.

Do not overcook or they will be dry. Remove and strain excess oil on a wire rack or paper towels.

Serve with pita bread, tzatziki sauce, or any sauce you prefer for drizzling.
Recipe Notes
Yield* about 20 (1 oz.) meatballs
If you do not have a grater for your onion, you can use a food processor. You want the onion in a "mash" not chunky.
Use unseasoned breadcrumbs.
Add fresh dill or mint if you prefer!
Nutrition
Calories:
389
kcal
|
Carbohydrates:
4
g
|
Protein:
22
g
|
Fat:
31
g
|
Saturated Fat:
14
g
|
Polyunsaturated Fat:
2
g
|
Monounsaturated Fat:
12
g
|
Cholesterol:
102
mg
|
Sodium:
747
mg
|
Potassium:
317
mg
|
Fiber:
1
g
|
Sugar:
1
g
|
Vitamin A:
193
IU
|
Vitamin C:
5
mg
|
Calcium:
141
mg
|
Iron:
2
mg