These Grilled Greek Lamb Chop Lollipops With Tzatziki Sauce are a flavor-packed appetizer perfect for any casual get-together OR even a classy cocktail party! Serve them with an easy homemade tzatziki sauce and my roasted potato wedges and people will LOVE you.
Serve with my Greek Feta Fries for the perfect meal!
Lollipop lambchops only LOOK like they took hours to make.
But in reality. They take minimal effort!
I love how they a fancy finger food that people just remember. My parents serve them VERY often at family parties because of how fool proof they are. Lambchops are a more "forgiving" meat because of how tender they are.
Did you know? This dish is sometimes referred to as scottadito which means "burned fingers" in Italian. It refers to eating them how off the grill! That's how delicious they are!
Yes, they are a wee bit more expensive than grilling chicken, but they are totally worth it! Plus, they are filling so you wont need to make a ton of other food for your guests.
I love serving lambchops different times of the year too.
Easter is a popular holiday to serve lamb but so is Christmas so they would be perfect for a holiday party! Grilling these make them the perfect grilled appetizer for summer cookouts or BBQ's!
How To French Your Chops
Lollipop lamb chops look like a lollipop because they are "frenched". This means, the meat is shaved off the bone creating a handle to hold when eating them, similar to a lollipop stick!
If you cannot find them frenched or do not feel like frenching them yourself, you can simply ask your butcher or whoever is behind the meat counter to french a rack of lamb for you!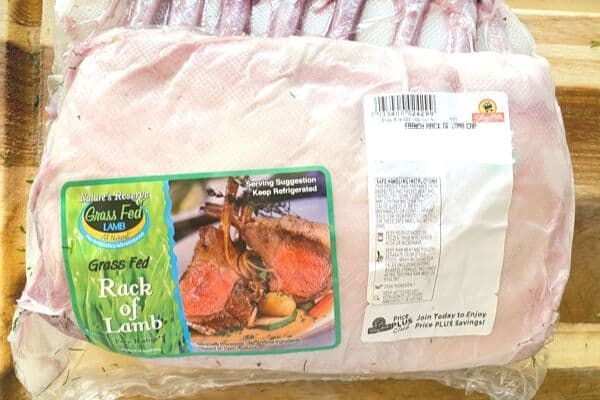 To do it yourself, you want to lay the rack with bones facing upwards and slice down in between each rib. Once they are sliced individually,
To do it yourself, you want to purchase a rack of lamb ribs from your local market or butcher. Trim off the fat cap from the top using a sharp knife. This is the thick white layer you see.
Then, lay the lamb rack down with bones facing upwards and slice in between each rib downwards.
Finally, using a boning knife, lay the knife flat against the bone of each individual chop, about ⅓ of the way up the bone, and shave off the meat and fat at a downward angle. The goal is to expose the bone.
Your Greek Marinade
Although lamb chops are perfectly delicious seasoned with salt and pepper, a good marinade can take your chops to the next level.
Marinating has a dual purpose. It infuses flavor into the lamb while slowly tenderizing it. The marinade I used is simple but flavorful.
Marinade Staples:
Oil
Acid (vinegar, wine or lemon)
Spices (salt, pepper, rosemary, mint, dill, thyme, garlic, etc.)
Fresh herbs (dried will work too)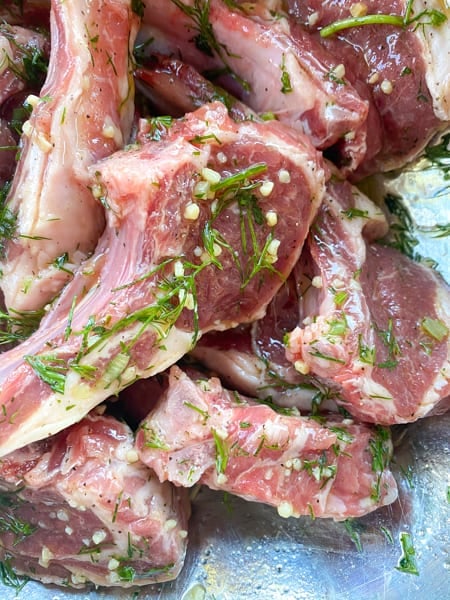 I used my own Greek marinade for this recipe which is simple. I did not want to take away from the flavor of the lamb. I just wanted to enhance it more. So I used classic Greek ingredients: olive oil, red wine vinegar, freshly minced garlic, freshly chopped parsley and salt & pepper! That's all the lamb needs. And I promise, it is delicious!
Marinating Time
You could marinate your lamb chops overnight if you want but at least one hour is best for all the flavors to infuse. I will add all my chops to a large bowl and rub the marinade all over. You could add your lamb to a large Ziploc bag too.
Cooking Tips
You want your grill, pan or skillet screaming hot when you add your lamb. You want that delicious charred flavor if possible.
Once you put your chops down, don't touch or move them. Let them sear and brown nicely. When they are ready to flip, they will release easily rather than sticking to the surface.
Start with a higher temperature and turn down the heat if you need.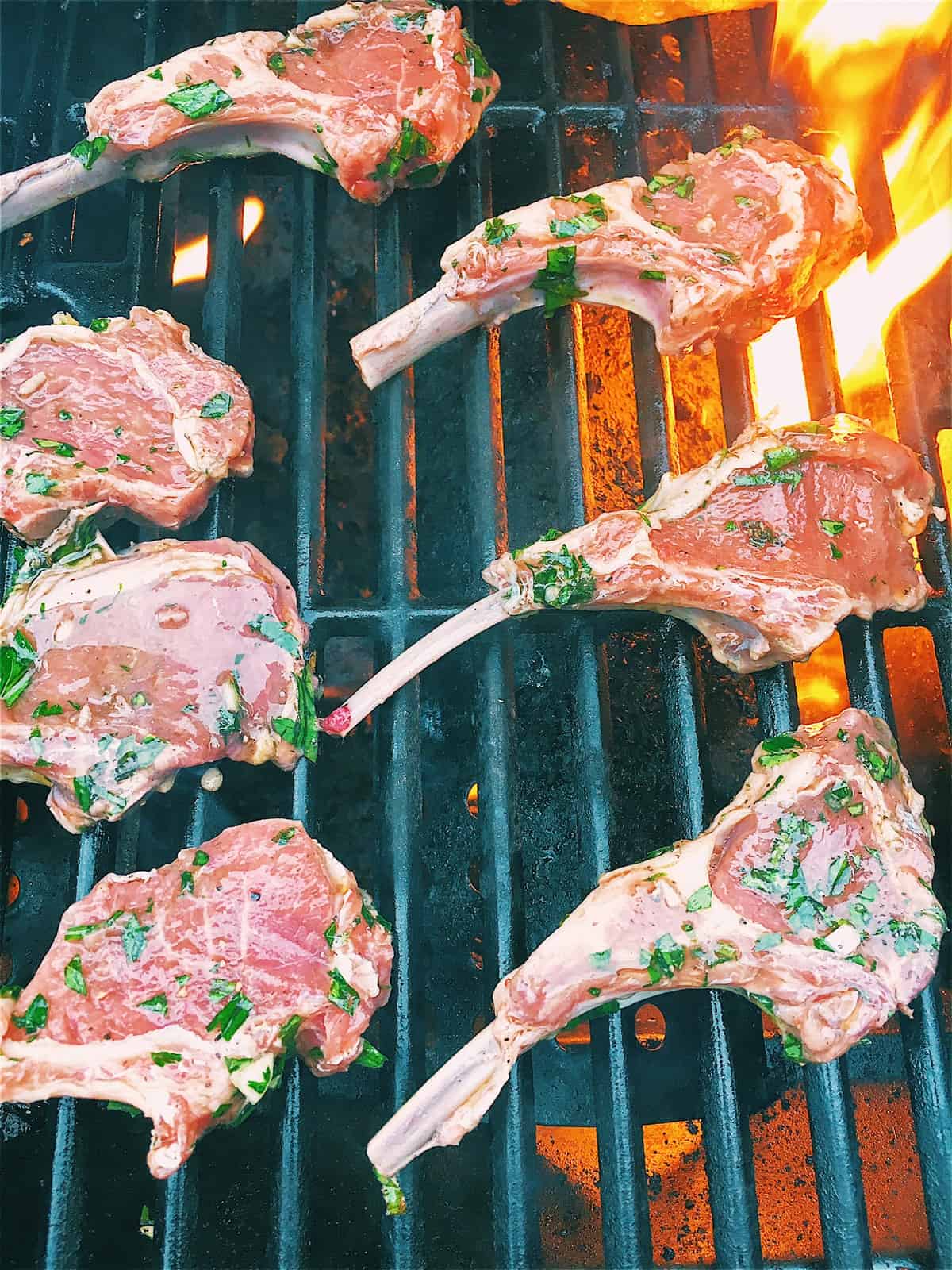 Best Temperature for Lamb
Don't be afraid of cooking lamb. It is actually very forgiving because of how fatty and tender it naturally is. It is hard to OVER cook it. With that said, you definitely do not want to do that because you'll ruin a good piece of meat.
Use an instant read thermometer to help you reach the temperature you want. Here is a guide!
Lamb chop internal temperature:
Rare (Very raw inside) is about 115°F - 120°F
Medium (Pink inside) is about 120°F -130°F
Medium-well (Slightly pink inside) is about 130°F - 145°F
Well done (No pink) is about 145°F - 150°F
Most professional chefs will cook their lamb no more than medium! Just like a steak. Overdo it and your meat will be dry and lose flavor.
PRO TIP: Do not cut into your meat to test if it's done! This will cause the juices to drip out, drying out those pricey lamb chops!
When your lamb chops are finished cooking, it is important to let your meat rest! Ideally, 5-10 minutes to allow the juices to redistribute.
Lamb & Yogurt
Since these are Greek inspired lamb chops, the dipping sauce I chose is a tzatziki sauce. If you have never tried it, you are seriously missing out. Check out my easy tzatziki recipe you can make at home. (That recipe is super thick!) The tang from the yogurt goes incredibly well with the lamb. Plus, you can add mint to your sauce if you love mint with your lamb.
I like to add a dollop on top of each chop. You could also serve your sauce on the side in a small bowl with a spoon for your guests to help themselves.
FAQ's
Can I cook my lamb chops in a cast iron skillet instead?
Yes! In fact, that is exactly what you will want to cook them in. It gets screaming hot which is perfect for searing.
Do I need a marinade?
No! Rub some salt, pepper and any other spice you like!
Can I make these in advance?
Yes! Just keep them warm in the oven. Do not reheat at 350 or they will dry out.
---
Here are some other fancy finger foods you may like!
Mini Peppers Stuffed w/ Herb Cream Cheese
Mini Canapé Toasts With Sweet Cheese
Filet Oscar Crostini Appetizer
Greek Shrimp Saganaki Appetizer
Baked Polenta Fries With Thyme Honey
Easy Spanakopita Triangles (Mini Greek Spinach Pies)
Grilled Greek Lamb Chop Lollipops With Tzatziki
These Grilled Greek Lamb Chop Lollipops With Tzatziki Sauce are a classy appetizer perfect for entertaining! Serve them with an easy homemade tzatziki sauce and your guests will be raving for weeks!
Print
Pin
Rate
Ingredients
12

½-3/4"

Lamb Chops

((about 2.25 lbs))
Lamb Chop Marinade
½

Cup

Extra Virgin Olive Oil

¼

Cup

Chopped Fresh Parsley

¼

Cup

Red Wine Vinegar

2

Tsp.

Minced Garlic

¾

Tsp.

Salt

½

Tsp.

Cracked Black Pepper
Tzatziki
¾

Cup

Greek Yogurt

((thick))

1

Tsp.

Minced Garlic

1

Tsp.

Sherry or Red Wine Vinegar

1

Tsp.

Olive Oil

1

Tsp.

Freshly Chopped Dill

(parsley or mint works too!)

¼

Tsp.

Salt

Cracked Black Pepper
Instructions
Cut rack of lamb into individual chops if not already cut. French the bones by taking a sharp knife and running it down the bone to remove any excess meat or fat.

Mix marinade ingredients in a large bowl and pour over chops massaging it into the meat. (You can put the meat in a large plastic bag or in a shallow dish while marinating.) Place in fridge for at least an hour.

In the meantime, make your tzatziki sauce by combining all of the ingredients in a small bowl. Store in fridge until ready to use.

After at least an hour, take lamb out and let come to room temperature. (This should take about 15-20 minutes.) Don't throw cold meat on the grill. It will cook unevenly.

Preheat your grill on high for about 10 minutes. Add your chops and cook until internal temperature is desired. See temp. chart below!

The exact time will depend on the thickness of your chop and grill heat. They should not take more than 10 minutes!

Top with tzatziki and fresh dill and serve hot!
Recipe Notes
Prep everything and let sit in fridge overnight if needed! Then toss on the grill 10 minutes before guests arrive!
Only use fresh herbs for this recipe!
Greek yogurt is the thickest and best choice for the tzatziki.
Lamb chop internal temperature guide:
Rare (Very raw inside) is about 130° F
Medium rare (Very pink inside) is about 130-140° F
Medium (Pink inside) is about 140-155° F
Medium-well (Slightly pink inside) is about 155- 165° F
Well done (No pink) is about 170+° F
Nutrition
Calories:
580
kcal
|
Carbohydrates:
8.7
g
|
Protein:
54.2
g
|
Fat:
35.6
g
|
Saturated Fat:
10.6
g
|
Cholesterol:
120
mg
|
Sodium:
476
mg
|
Potassium:
309
mg
|
Fiber:
0.2
g
|
Sugar:
8.1
g
|
Calcium:
238
mg
|
Iron:
3
mg