Making Spanakopita Triangles are a family tradition. They are traditionally served as a Greek appetizer or snack and are served at almost every family gathering! They are made with feta cheese, ricotta cheese (my secret ingredient) and spinach leaves wrapped in flaky, buttery phyllo dough. They are SO delicious!
Jump to:
Other than the fact that this spanakopita triangles recipe has been a staple Greek appetizer in our family for years and years, it is the filling that makes this recipe stand out amongst the others.
My secret ingredient is the RICOTTA CHEESE!
It's not traditional but it IS amazing.
A "traditional" Greek spanakopita filling simply uses spinach and feta cheese however I have found that incorporating ricotta cheese adds a much needed creaminess that I feel many, MANY spinach pies lack.
When you bake spanakopita, it tends to dry out, as does anything when it's heated. So adding something moist like ricotta will prevent this from happening leaving a deliciously cheesy and creamy interior even when it's cold.
I also add lemon juice which goes SO incredibly well with spinach, it is a must for these mini triangles!
These Spinach and Feta Phyllo Dough Cups are a delicious alternative to these triangles but even faster! Serve alongside my Greek pasta salad!
What Is Spanakopita?
Growing up Greek, I am no stranger to spanakopita. Greek spinach pie was always at family parties in some form or another. And I always ate multiples...with a huge dollop of tzatziki on the side of course! 🙂
A 'traditional' Greek spanakopita is a savory vegetarian pie made primarily with spinach, feta cheese and a pastry dough. It is a common Greek appetizer or side dish. Some recipes are made into one large pie and cut into squares while others are made into individual servings where they are rolled or folded into triangles.
Growing up, my mother would make these spanakopita triangles ALL the time! They were one of my favorite appetizers to snack on while waiting for family to arrive. They were the perfect make ahead finger food.
She always used phyllo dough instead of puff pastry dough because of how flaky and buttery it is. My preferred phyllo dough is Athens. It is available in almost every grocery store and always gives me delicious results!
Another delicious Greek side are these Greek French Fries!
How To Make Spanakopita Triangles
Folding spanakopita triangles are not hard I promise! I used to do it when I was younger and not at all skilled in the kitchen.
I always use frozen store-bought phyllo sheets. I do not think it is worth the trouble of making your own phyllo dough from scratch since the store-bought is awesome.
With that said, if you want to do that, here is a homemade phyllo dough recipe.
Regardless of how you get your pastry dough, it is pretty forgiving and will still bake to crispy perfection, even with holes.
Step 1: Defrost your phyllo dough in the refrigerator. Keep your dough covered with a towel to prevent it from drying out.
Step 2: Layer one sheet of phyllo dough and sprinkle or brush your dough with melted butter. Add a second layer and repeat.
Step 3: Cut your rectangle into 3 long strips (lengthwise).
Step 4: Add 1-2 tablespoons of spinach filling to the bottom of each strip.
Step 5: Fold your dough by taking the bottom corner and folding it upwards over the spinach and feta filling. The bottom of the dough should line up with the edge.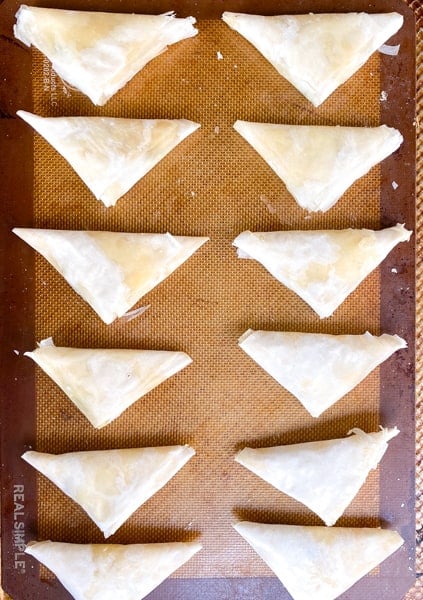 Step 6: Continue folding your mini pies upwards like in the photo until you use all the dough. Then finish with some more butter.
Step 7: Finish by brushing your spanakopita triangles with an egg wash and bake until golden brown.
Aleka's Tips
Brushing layers of phyllo dough with melted butter gives your dough extra crispiness.
Fill your spanakopita triangles as much as you can so the ratio of dough to filling is equal.
Seal the edges of your triangles with an egg wash so the filling does not spill out too much.
Frozen spinach can be used instead of fresh spinach if you wish. Just make sure to squeeze out as much of the water as possible so the filling is not watery.
📝Other Filling Variations:
If you want, you can tweak the filling ANY way you please although I like it just the way it is.
Here are some popular and delicious ways to change it up:
Add fresh parsley or dried oregano instead of dill
Use green onions (scallions) or chives for a unique onion flavor.
Add other spices like chili powder or paprika can add some heat or an added smoky flavor.
Worcestershire sauce would be a delicious savory addition.
Add freshly minced garlic instead of garlic powder.
Add onion powder for more onion flavor to your filling.
Add nutmeg! It is used in a lot of Greek cooking and goes very well with spinach!
Freezing Spanakopita
Spanakopita triangles are great to make in advance when expecting guests the next day or week because they freeze so well.
To freeze your triangles, you need to first make sure your spanakopita are fully cooled. (This prevents freezer burn.)
Then, to prevent sticking, flash-freeze them in a single layer. This step is CRUCIAL! Then after about 20 minutes, they should be hard enough to stack together so you can add them to a large freezer bag or Tupperware container and freeze for up to 8 weeks.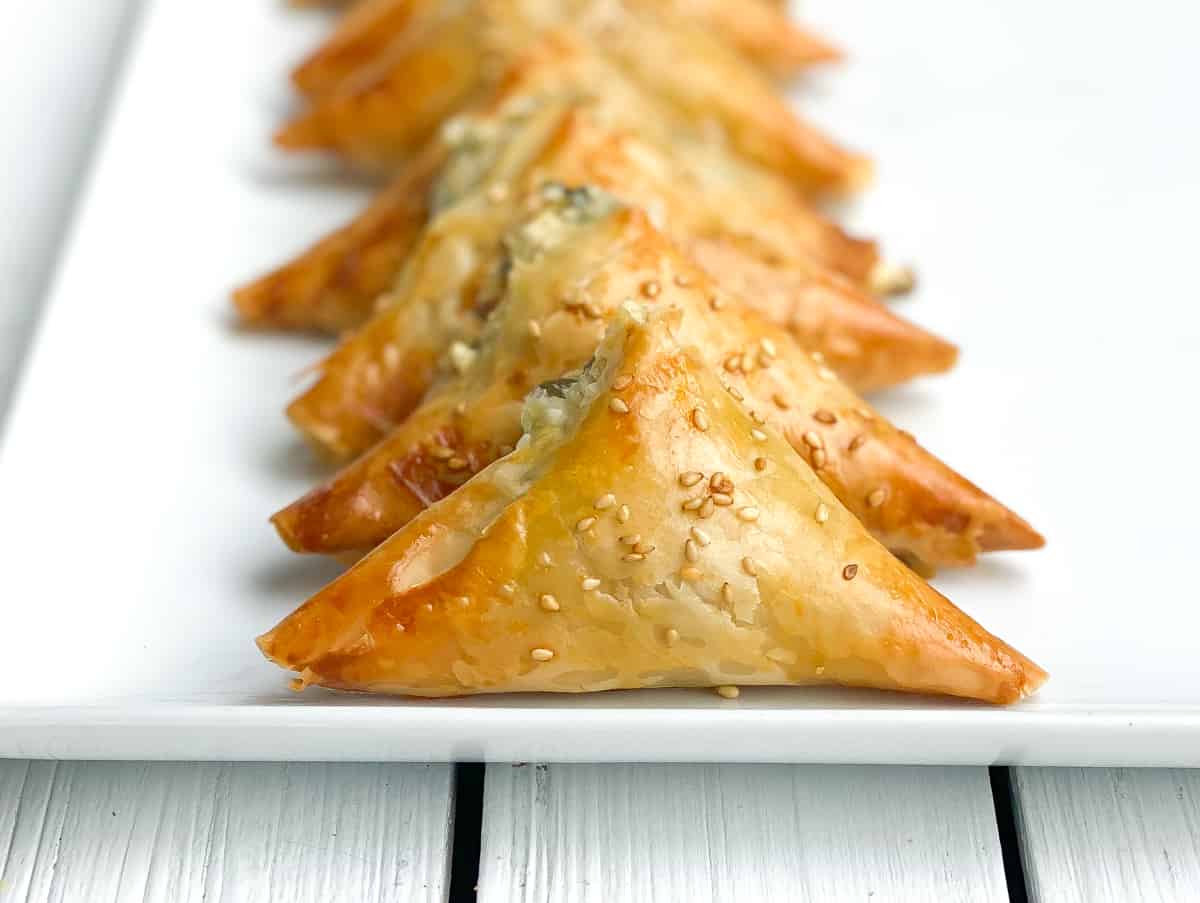 Reheating Spanakopita Triangles
Reheating your spanakopita triangles are easy! You do NOT want to microwave them. Instead, place them on a sheet pan in the oven at 350 degrees F for about 5-10 minutes or until they are warmed through.
Reheating them in the oven will ensure they stay flaky!
They are a great make ahead appetizer also!
Other Greek appetizers you will love!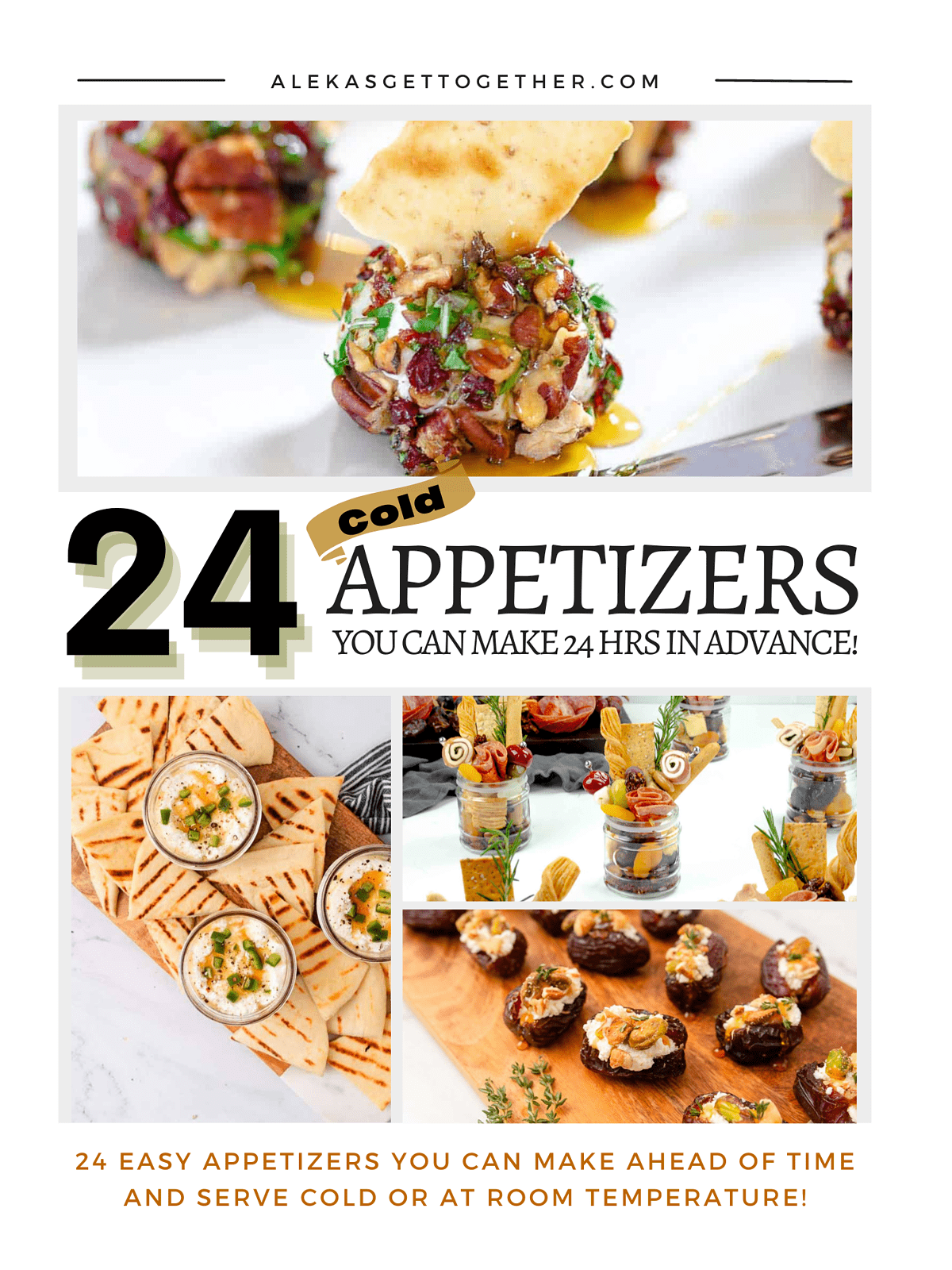 Love Make Appetizers in Advance?
I have an Ebook I created with my top make-ahead appetizers you'll LOVE! Get it here!
📲 FOLLOW Aleka on social!! 👋 Follow me on facebook, instagram, pinterest, youtube or tiktok for more recipes and entertaining tips!
📖 Recipe
Easy Spanakopita Triangles
These Easy Spanakopita Triangles are traditionally served as a Greek appetizer or snack. Mini spinach pies made with feta cheese, ricotta cheese and spinach leaves wrapped in flaky, buttery phyllo dough.
Print
Pin
Rate
Ingredients
½

cup

salted butter

⅔

cup

onions, large dice

3

oz.

fresh spinach leaves (about 3 cups fresh) ((2 ½ oz. frozen spinach))

1

8 oz. roll

phyllo dough (you need 16 sheets)

6

oz.

feta cheese, crumbled

⅓

cup

ricotta cheese

1

egg yolk

½

tablespoon

freshly squeeze lemon juice

1

teaspoon

freshly chopped dill

¼

teaspoon

garlic powder

½

teaspoon

salt

Sesame Seeds *Optional
Instructions
Preheat your oven to 375° F.

Saute your chopped onion in a skillet with 2 tablespoon of butter for about 10 minutes or until translucent.

If using fresh spinach, add it to your onions and saute for another 5 minutes or until the leaves are wilted down and water is fully evaporated. Take off heat.

If using frozen spinach, make sure it is fully thawed. (A microwave can help do this quickly.)*There is a lot of excess water in frozen spinach so make sure to drain it very well. Take a few paper towels or a dish cloth and squeeze out any excess water. You do not want a watery filling!

Add drained/cooled spinach, ricotta cheese, feta cheese, salt, onions, lemon juice, dill and garlic powder to a medium sized bowl and mix.

Melt your butter in a saucepan or in a small bowl using your microwave. Scramble your egg in another bowl.

Pull out your defrosted phyllo dough and lay one sheet down on the table.

Make sure to cover your phyllo dough with a slightly damp dishtowel so it does not dry out!

Carefully brush one sheet of phyllo dough lightly with butter. Add another layer of dough and brush again. You should have two buttered layers.

Cut your phyllo dough into thirds lengthwise. Add 1½ - 2 tablespoon of filling to the bottom of each strip of phyllo dough.

Begin folding from the bottom up. You will want to maintain a right triangle. Continue folding the triangle upward until you reach the top. (See photos.) You should end up with 24 triangles.Brush your egg wash generously over the top and sides of your triangles and place on a nonstick baking sheet. Repeat until finished. Sprinkle sesame seeds on top if you prefer.°

Bake in the center of your oven for 12-15 minutes or until your dough turns golden brown.
Recipe Notes
Yield: 24 triangles
You want to fill your triangles with as much filling as you can without having it spill out.
Make these ahead of time and store in the fridge. Then reheat in the oven at 350°F until just warmed through and crispy again.
To freeze your triangles, you need to first make sure your spanakopita are fully cooled. Then, to prevent sticking, flash-freeze them in a single layer. After about 20 minutes, they should be hard enough to combine and freeze together.
Nutrition
Calories:
72
kcal
|
Carbohydrates:
4.7
g
|
Protein:
2
g
|
Fat:
5.1
g
|
Saturated Fat:
3.1
g
|
Cholesterol:
20
mg
|
Sodium:
168
mg
|
Potassium:
36
mg
|
Fiber:
0.3
g
|
Sugar:
0.4
g
|
Calcium:
41
mg
|
Iron:
0
mg