A Thick Greek Tzatziki Dip is the best! It's made with one secret ingredient that many people don't know about! Plus, I show you how to strain your yogurt to get super duper THICK tzatziki, the way it's supposed to be!
Along with my bread dipping oil, this dip is always on my appetizer table.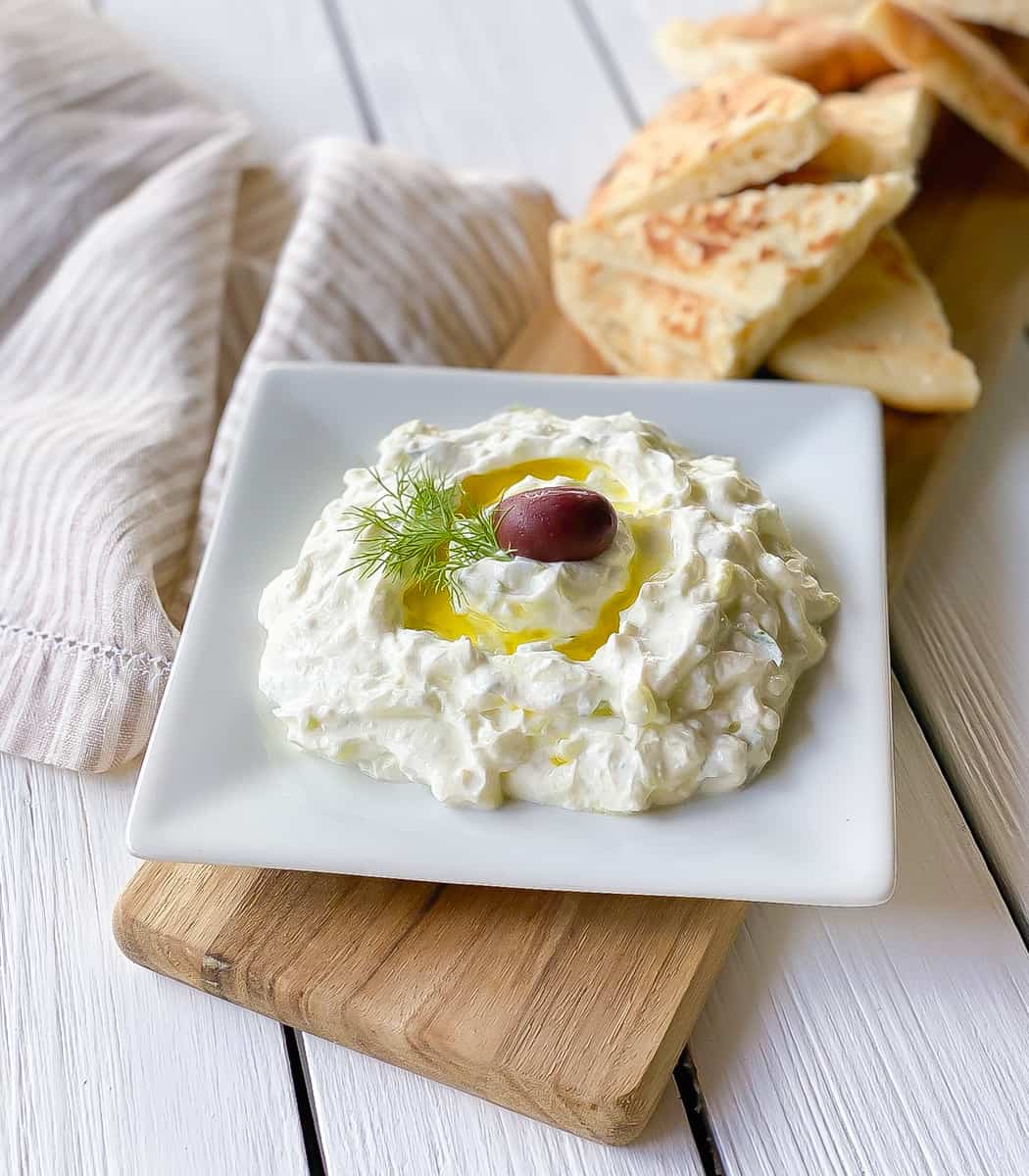 My yiayia makes THE BEST tzatziki dip in the entire world. Am I biased because she's my yiayia?
Sure...but when you make your own Greek yogurt from scratch, it's bound to be amazing! Plus, she adds a secret ingredient that I NEVER knew...until now.
This recipe is a quicker version of her tzatziki but tastes just as delicious.
If you love creamy dips that are served cold, try my Whipped Eggplant Dip!
🛒Ingredients
Plain Yogurt - Any inexpensive plain yogurt works because we will be straining it.
Sour Cream - Trust me on this one. Read more below.
Cucumber - A must in all tzatziki dips! I recommend removing seeds AND the skin.
Lemon Juice - Freshly squeezed is recommended.
Garlic - Fresh as opposed to powder is a must.
How To Make THICK Tzatzki Sauce
1. Strain your cucumbers!
You take the time to strain your yogurt and then you go ahead and add watery cucumbers to it! Nooo!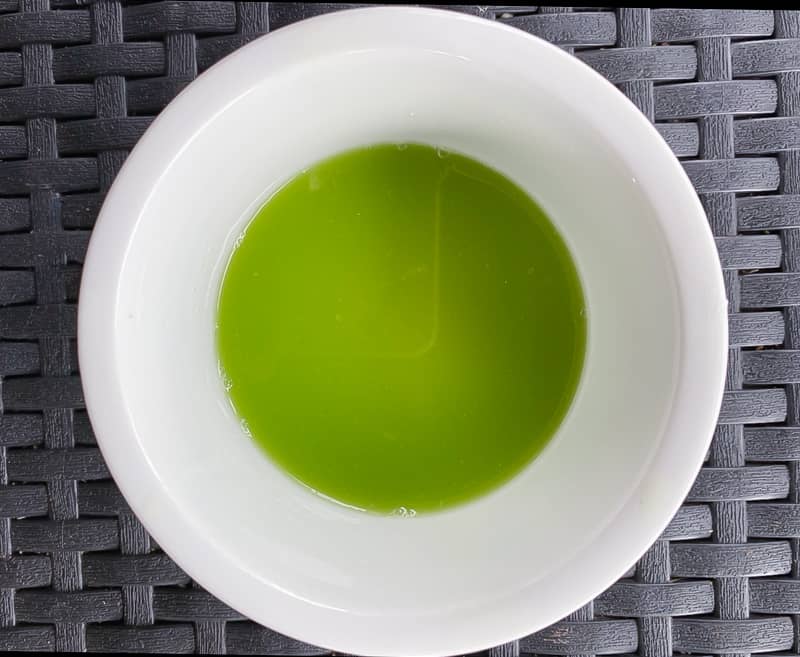 😋My Layered Taco Dip and my Cold Spinach Dip are both popular party dips people go crazy over!
Don't do it! Instead, make sure you thoroughly squeeze as much of the liquid out as you can. To do this, all you need is a thick paper towel too. *Tip* Save it for a salad or add to your water!
2. Grate your cucumbers!
Use a box grater to grate your cucumber easily. It makes the tzatziki easier to eat when you have small shreds of cucumber throughout. Plus, it is super easy to strain!
3. Let your sauce sit.
Your tzatziki will still taste awesome right after you mix it up, but if you wait a few hours or even better, let it chill in the fridge over night. This will allow the flavors of the garlic and cucumber to come out.
Also, the longer you allow the garlic to infuse, the more mild it will become so you wont get that sharp bite that raw garlic tends to give.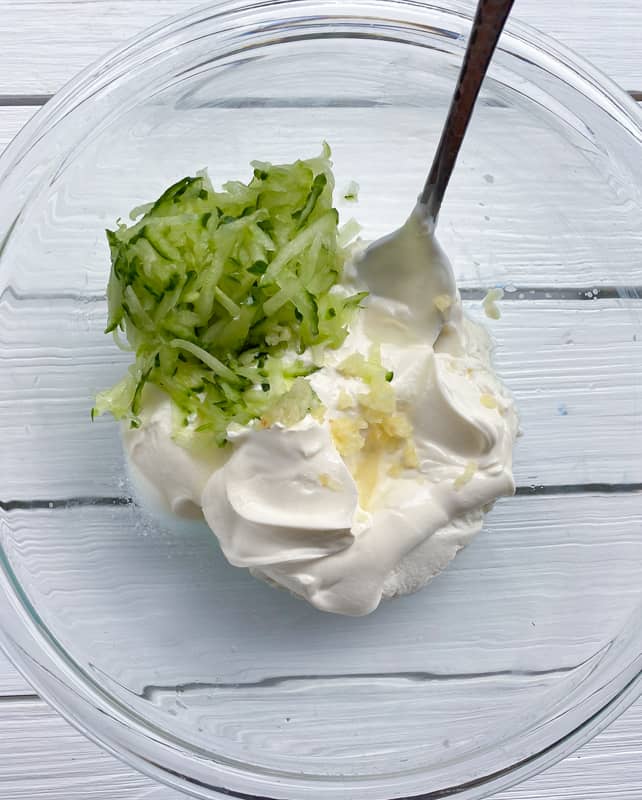 Straining Your Yogurt
Getting thick yogurt here is not as easy as you think. Yes, Greek yogurt from the store is thicker than regular plain yogurt...but it's still NOT super thick.
When making tzatziki, you add cucumbers and lemon juice (or vinegar). Both of which really water down your dip. Like a lot. Not what we want.
So to make sure your dip is not runny or watery, you have to start with a SUPER DUPER thick dip.
Enter...STRAINED YOGURT!
Straining your yogurt is SO easy. The first thing you need is a cheese cloth. It is cheap, will last you YEARS since you can reuse them. I ordered mine off of Amazon last year.
(Here it is if you want to get it!)
I will then purchase a large container of PLAIN yogurt from the store and add it to the center of my cheese cloth. Then I tie it up with some cooking twine and attached it to the top of my sink faucet with a large bowl underneath like this...
Do you see how much water comes out?! That is what we don't want in our tzatziki sauce.
Secret Ingredient: Sour Cream!
Yes. I said sour cream. The secrets out.
When my yiayia divulged her recipe to me years ago, I was shocked. SOUR CREAM?! In tzatziki?! Noo!
But yes. It. Is. Amazing. And believe it or not, there are SO many restaurants out there that add sour cream to their tzatziki sauces too! I wish I would have known about this years ago.
No it is not as "healthy" with sour cream, but it is so darn good you guys.
If you love dipping, try my Easy Bagna Cauda (Garlic and Anchovy Dip).
What To Serve Tzatziki With:
The best way to serve tzatziki is as part of a Greek meze platter. It is like a Greek charcuterie board with a large spread of vegetables, breads and spreads.
If you're looking for other creative ways, try smearing some onto a tortilla or pita wrap then add grilled chicken or pork for a delicious lunch option (like a souvlaki or gyro).
FAQ's
Why is my dip watery?
Making tzatziki that's too thin or "liquidy" is easy to avoid. All you need to do is STRAIN! Straining your yogurt for a few hours is the first step. Then you should strain your cucumbers since there is a ton of water in them as well.
Can I add herbs?
Yes! Please do! I usually add freshly chopped dill which is an authentic way to make it but I left it simple this time. Parsley or oregano would also be delicious additions!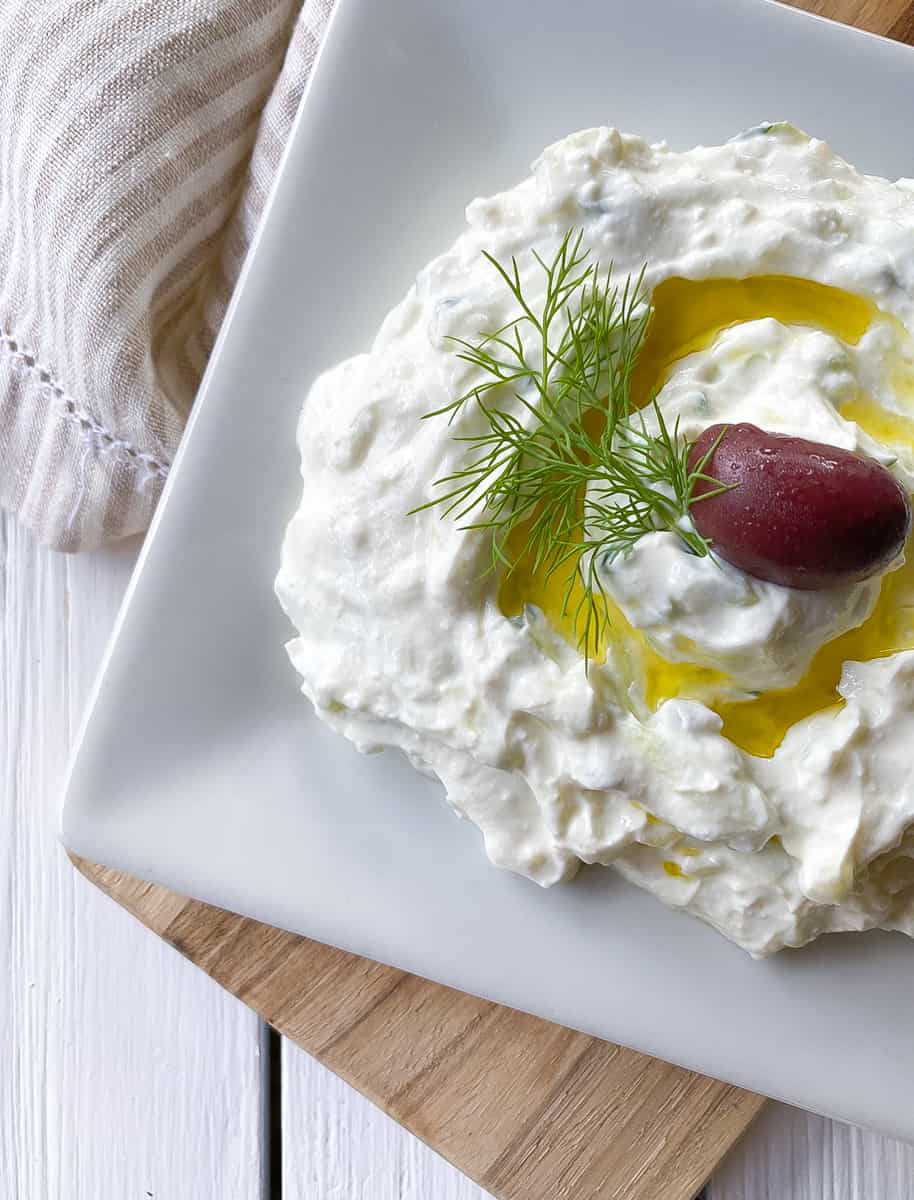 ---
Here are some other Greek dips you may also like!
Easy Spanakopita Triangles (Mini Greek Spinach Pies)
Tirokafteri (Greek Red Pepper Feta Dip)
Traditional Greek Skordalia (Garlic and Potato Spread)
Shrimp Saganaki With Feta and Cheese
📽 If you love entertaining at home, subscribe to my YouTube channel!!
📖 Recipe
Thick Greek Tzatziki Dip (with Sour Cream)
A Thick Greek Tzatziki Dip that's made with one secret ingredient! Plus, I show you how to strain your yogurt to get super duper THICK tzatziki! The way it's supposed to be.
Print
Pin
Rate
Ingredients
1

Cup

Plain Yogurt

½

Cup

Sour Cream

⅓

Cup

Grated Seedless Cucumber

1

Tbsp.

Freshly Squeezed Lemon Juice

1

Large

Clove of Garlic, minced

¼

Tsp.

Salt
Instructions
Add your plain yogurt to a large square of cheese cloth and tie it up with twine (like a large satchel). Tie the twine to your kitchen faucet and let it strain. Wait 2 hours. (See photos above.)

While waititng, grate your cucumber and use thick paper towels to squeeze out as much of the juice as possible.

Add your cucumbers, minced garlic, lemon juice, salt, and sour cream to another bowl and mix well. Store it in the fridge until your yogurt is ready,

When your yogurt is nice and thick, remove it from the cheese cloth and add it to your sour cream mixture and mix again. Allow to chill in the fridge until ready to eat.

Serve with pita triangles or veggies.
Recipe Notes
Straining your yogurt is the most important thing! Feel free to add freshly chopped dill or parsley, or dried oregano for more flavor! You can use red wine vinegar instead of lemon juice if you don't have it.
Nutrition
Serving:
0
g
|
Calories:
54
kcal
|
Carbohydrates:
3.1
g
|
Protein:
2.3
g
|
Fat:
3.4
g
|
Saturated Fat:
2.2
g
|
Polyunsaturated Fat:
0
g
|
Monounsaturated Fat:
0
g
|
Trans Fat:
0
g
|
Cholesterol:
8
mg
|
Sodium:
103
mg
|
Potassium:
0
mg
|
Fiber:
0
g
|
Sugar:
0
g
|
Vitamin A:
0
IU
|
Vitamin C:
0
mg
|
Calcium:
0
mg
|
Iron:
0
mg