These Baked Polenta Fries With Thyme Honey are so delicious! They are easy to make and are such a fun and unique finger food snack or appetizer to serve friends and family especially in the summer months! Everyone will love snacking on these sticks!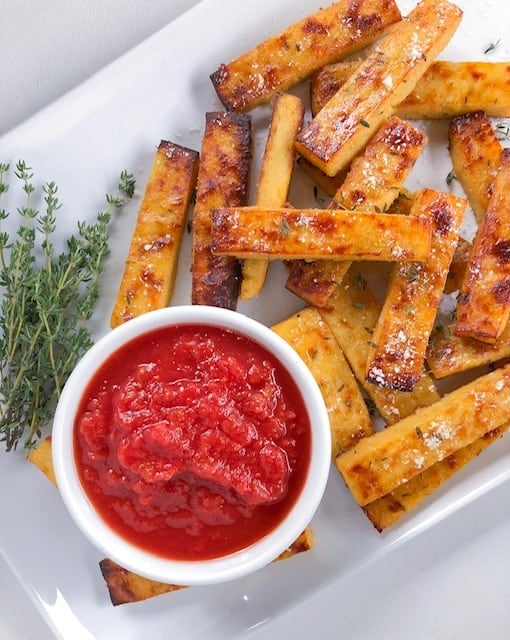 Fried polenta?! Yes please! Finger food friendly? Heck yes!
These polenta fries are (in MY opinion) the best because of how flavorful they are!
If you've never had polenta, you wouldn't know that it is very bland on its own. It CRAVES flavor!
So I took a few extra steps to infuse as much flavor as possible into these fries. You definitely don't want to skip out on these extra steps. It goes a long way!
I use chicken stock instead of water (more flavorful)
Added Parmesan cheese (more flavor)
Sauteed onion and garlic before adding it to the polenta (added levels of yum)
Added honey (for a sweet note which is delicious)
Used fresh thyme (this adds a delicious fresh flavor)
If you're wondering about the texture of polenta fries, know that they are not going to be as crispy as a normal french fry. If you fry them, they would definitely be crispier but then they are not as healthy. So baking them allows them to be slightly crispy on the outside especially around the edges and super creamy on the inside.
Polenta itself, is made from cornmeal and water.
Polenta FRIES could actually be made from the same two ingredients. That is, if you want a bland 'corn stick' instead of a flavorful fry.
To add some flavor, many recipes out there use stock or milk to make it creamier and more flavorful.
You get the FRY SHAPE by allowing the polenta to cool and solidify into a large block. Then cut into fries and bake!
Getting The "Right" Consistency
This is important! You don't want your polenta to be TOO think or TOO thick! If you cannot pour it, it is too thick! If it is soupy, it is too thin!
Know that your polenta will thicken as time goes on so keep this in mind! When you pour it into your casserole dish right, get ready to smooth it down right away before it starts to solidify.
Other Fun Appetizers:
Mini Baked Potatoes
Southern Deviled Eggs (with relish)
Loaded Irish Pub Waffle Fry Nachos
Crispy Oven Baked Eggplant Fries (with Parmesan)
Air Fryer Avocado French Fries With Sauce
Baked Polenta Fries With Thyme Honey
These baked polenta fries are a deliciously unique appetizer that everyone will go crazy over!
Print
Pin
Rate
Ingredients
4

tablespoon

Unsalted Butter

½

Cup

Minced Yellow Onions

4

Cups

Stock

((Chicken or Vegetable))

1

Cup

Yellow Cornmeal

((Polenta))

1 ¼

Tsp.

Salt

1

Tsp.

Onion Powder

¾

Tsp.

Garlic Powder

2

tablespoon

Honey

½

Cup

Parmesan Cheese
Instructions
To a large pot, add your butter and onions and allow to simmer over medium-low heat making sure not to burn the butter or onions.

After about 3-5 minutes, add your stock and bring to a boil. Once boiling, WHISK in polenta slowly until fully incorporated. Make sure all lumps are broken down.

Turn heat to medium-low and add in the onion powder, garlic powder, honey and salt. It will take some time to thicken so stir every 5 minutes or so. You do not want the polenta to stick to the bottom of the pan so use a flat wooden spoon to scrape the bottom every so often.

In the meantime, grease a casserole dish including the sides. You can spray it with oil or use butter.

After about 25-30 minutes, or when the polenta has thickened to a loose pudding consistency, turn off heat and add in your Parmesan cheese.

Quickly pour your polenta into your casserole dish smoothing with the spoon. Make sure your polenta is evenly distributed in the dish.

Allow to cool and set in the refrigerator for 2-3 hours (or overnight).

Preheat oven to 425°F.

Spray an area on your counter with cooking spray or lay down parchment paper. Then turn entire dish upside down onto the counter. It should slip right out.

Using a pizza cutter or large knife, cut your polenta rectangle in HALf lengthwise. Then cut into individual fries. (I was able to get 26 fries, 2 rows of 13, that are about ¾"wide.) See photo to get a better idea.

Bake on the middle rack for 20 minutes (or until golden brown on the bottom) then flip each fry over and bake another 5-7 minutes. I suggest using tongs to flip!!

When light browned on both sides, remove and grate some fresh Parmesan cheese over top and garnish with thyme leaves. Serve with warm marina sauce on the side for dipping.
Recipe Notes
I used a casserole dish that was 9" wide. You can cut your polenta fries as thick or thin as you want but too thin and they will be "floppy".
Nutrition
Calories:
231
kcal
|
Carbohydrates:
23.8
g
|
Protein:
7.5
g
|
Fat:
12.4
g
|
Saturated Fat:
7.4
g
|
Cholesterol:
30
mg
|
Sodium:
895
mg
|
Sugar:
7
g