Turn french fries into a healthy appetizer with these Crispy Oven Baked Eggplant Fries! They're baked in the oven until crispy on the outside and tender inside. Serve with a trio of sauces at your next party!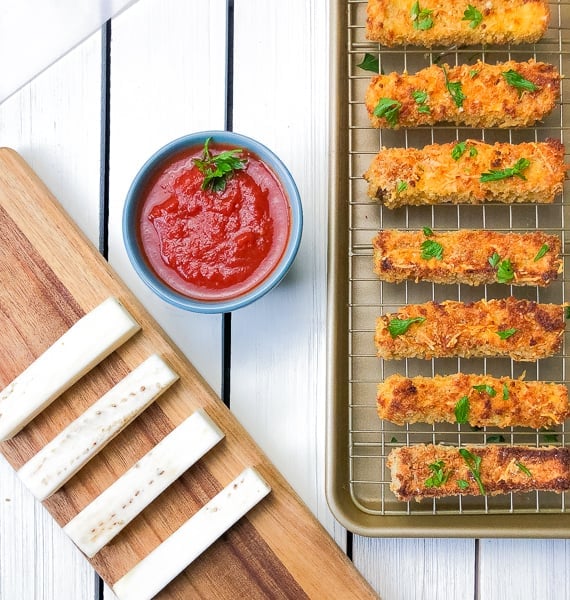 There's something about french fries that are SO fun! Take away the deep fried potato part and they're the best snack in the world! So why not make them healthier and still delicious?
These eggplant fries are a fun bite sized appetizer everyone will love dipping! I cut my eggplant into sticks, breaded each stick in a panko, Parmesan, herb coating and then baked them in the oven until golden brown and crispy. They are a fun party appetizer or snack that can even be made ahead of time!
If you love eggplant, try my Primo's Copycat Veggie Sandwich made with fried eggplant!
How To Cut Your "Fries"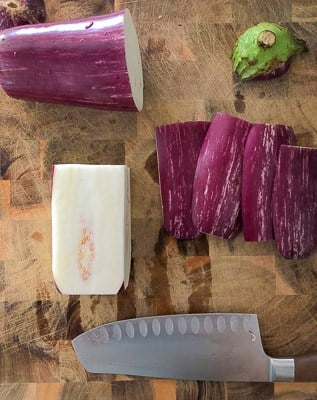 There is no right or wrong way to cut your eggplant. If you want short, fat fries, great! Long, skinny fries? No problem. Just remember to adjust your baking time accordingly. The thicker the fry, the longer they will need!
Batons
Cutting Option #1
The math teacher in me cut my eggplant fries into similar "rectangular prisms". The chef in me cut my eggplant fries into "batons". Either way, you know what fries should look like so cut them how YOU like them. I think the fries look better when they are all the same size and shape (See photo). You can see how I trimmed off the top and bottom of the eggplant first, then I shaved off the round 'belly' of the eggplant creating a more rectangular piece to work with giving me 6 flat sides.
Once you have a long brick-like shape, it's pretty easy to cut into sticks. Just keep cutting the eggplant in half until you have the size you want. The dimensions of my fries are 1" x 1" x 1". But who's measuring? *Just don't cut your fries TOO thin or the ratio of breading to eggplant will be off.
With that said, because eggplants are NOT rectangular, you will have some waste if you are looking for perfectly rectangular "batons". Keep reading if you want minimal waste.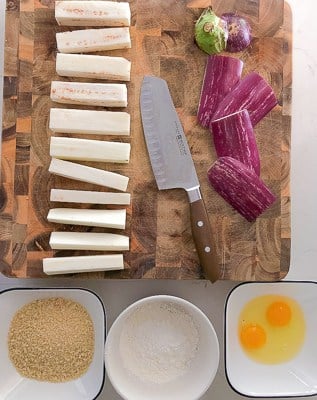 Cutting Option #2
If you want to use up as much of the eggplant as possible, first start by trimming off your ends.
Then cut your eggplant into round discs that are about 1" thick. Finally, cut each disc into long sticks. These will be your fries.
They will be all different sizes but that's okay. Just keep in mind that if some of your fries are TOO small, they will cook faster than the others so ditch the small ones or just take them out of the oven earlier.
Baking Tips
Eggplant cooks very easily so you have to be careful you don't overcook your fries otherwise you may end up with mushy fries. Eggplant also absorbs oil and fat like a sponge so don't add oil directly to your eggplant.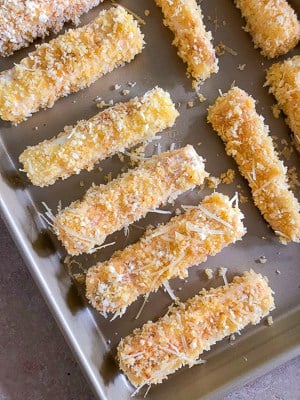 You need to coat your eggplant in a breadcrumb coating so it helps to hold the eggplant up while creating a crunchy exterior. I chose your standard breadcrumb, egg wash and flour coating because its a no-fail way to lock in moisture while maintaining crispiness.
Once your eggplant sticks are all coated thoroughly in breadcrumbs, you want to place them up on a baking sheet lined with parchment paper. Allow an inch or so between each stick.
Peeling Your Eggplant
You don't NEED to peel it but I DO recommend peeling! Not peeling it will affect the texture of your fries and make it tougher to chew.
Seasoning Tips
Eggplant is VERY bland so you definitely want to season your fries well! You can do this a few different ways. I recommend seasoning your breadcrumbs ahead of time OR purchasing the seasoned breadcrumbs at your food store to save time. With that said, if you DO like using seasoned breadcrumbs, you will need to add a bit more salt!
Also make sure to check out my Air Fried Avocado Wedge recipe!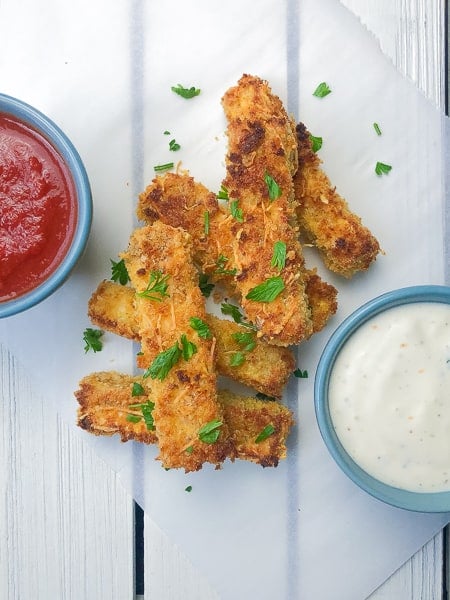 Dipping Sauces Options
There are a few different dipping sauce options you can choose from. I prefer to have at least two different sauce options for my guests to have fun experimenting with!
Tzatziki sauce is one of my favorites. It's healthy, fresh and goes very well with eggplant.
Marinara sauce is always a hit and is the most commonly used sauce. If you have a favorite or delicious marinara recipe, now is the time to pull it out!
An aioli of some sort is always a winner when it comes to dipping! Here are some fun aioli recipes you can choose from.
Honey mustard sauce. I can dip anything into this.
Sriracha mayo is easy to make and popular these days.
Honey BBQ sauce. (If you can find a good one!)
Buttermilk ranch dressing is always a fan favorite and easy to pull out.
Plain ole ketchup! Kids and adults love it.
How To Make These Ahead of Time
Warm appetizers are NOT easy to prepare in advance because they either get soggy or dried out. The best way to make these ahead of time without losing the crispness on the outside and the tenderness on the inside is to bake them 75% of the way through!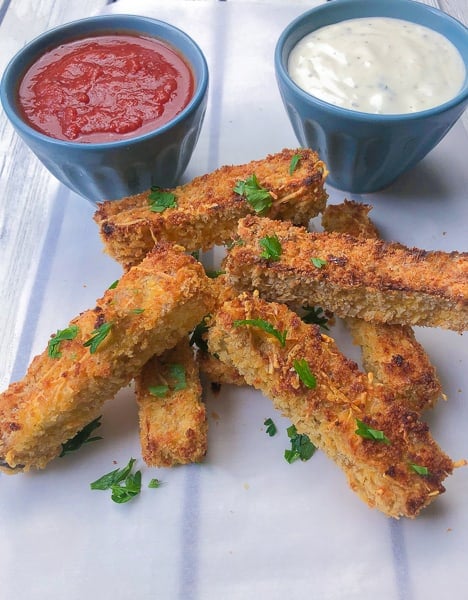 Then place in the refrigerator on another cool baking sheet and cover with foil. When your guests arrive, pop the whole sheet pan in the oven and finish baking them the other 25% of the way! They will crisp right back up!
Tips For Baking Your Eggplant Fries
Make sure your coating sticks to each fry nicely. This means coating each stick thoroughly in the flour and egg. If these two steps are done carefully, your breadcrumbs will stick well without having "bald" spots!
Adding the oil to your breadcrumbs will helps them brown nicely.
Use parchment paper to prevent them from sticking! In my experience, it will also help brown your fries more evenly.
BROIL THEM! If your eggplant fries do not have the color you want after time is up, turn your broiler on and let the broiler do the browning for you!! You may want to turn your eggplant a few times but it works well.
Sprinkle some salt onto your eggplant fries while your preparing your dredging station. This will help take away the bitterness of the eggplant. Just make sure to wipe off the salt after so they are not overly salty!
Frequently Asked Questions
Is is better to bake or fry eggplant?
Personally, I prefer to bake my eggplant because it soaks up a lot less oil and is healthier.
Do you have to soak eggplant before baking it?
Some people do, but I don't find it necessary. Soaking helps to take out some of the bitterness, but I sprinkle salt on the cut eggplant and I've found that draws out a lot of the bitter flavor.
Here are some other appetizers you may like:
Baked Polenta Fries With Thyme Honey
Baked Potato Wedges
Greek Feta Cheese Fries (w/ Yogurt Sauce)
---
📖 Recipe
Crispy Oven Baked Eggplant Fries (with Parmesan)
Turn french fries into a healthy appetizer with these Crispy Oven Baked Eggplant Fries! They're baked in the oven until crispy on the outside and tender inside. Serve with your favorite marinara sauce at your next party!
Print
Pin
Rate
Ingredients
1

lb.

Eggplants

(short and fat)

1

Cup

Cornstarch

(or flour)

2

Large

Eggs + 1 tablespoon Water

1 ½

Cup

Panko Breadcrumbs

¼

Cup

Parmesan Cheese

3

tablespoon

Olive Oil

½

Tsp.

Garlic Powder

½

Tsp.

Onion Powder

¾

teaspoon

Salt

½

Tsp.

Pepper

2

Tbsp.

Freshly Chopped Parsley
Instructions
Cutting:

Peel and trim your eggplants. Cut slices that are ½"-¾" thick. Then cut those slices into 4-6" long sticks depending how long you want your fries. (See photos above.) You should be able to get about 10-12 eggplant sticks. The size of your eggplant will determine the total yield.

Seasoning your eggplant:Eggplant is VERY bland. If you do not season the eggplant itself before breading, it may not have much flavor. Make sure to season your sticks well with salt and pepper before breading. (You have to eyeball this since the amount of salt depends on the size of your sticks.)

Seasoning your breadcrumbs:

Add breadcrumbs, parsley, Parmesan cheese, onion powder, garlic powder, salt, pepper and olive oil to a LARGE bowl and mix thoroughly so the oil coats everything. The oil will help the fries to brown nicely. Set aside.

Now set up the your dredging station by pouring your cornstarch onto a shallow plate or dish. Then scramble your eggs in a wide dish or bowl (wide enough for the eggplant to fit) and place your breadcrumb mixture last onto another shallow dish.You should have one neat "assembly line". Have one large baking sheet ready to go with parchment paper. (or grease your baking sheet well)

Dredge each stick into the cornstarch. Then dip each stick into the egg wash making sure to cover all sides. Finally, coat each stick in the breadcrumb mixture until fully coated. Place sticks on your baking sheet when finished.

*Tip. It's faster if you do each stage all at once rather than sending one at a time through your assembly line.

Bake your fries on the middle rack for 15-18 minutes or until golden brown. Serve warm with any sauce you prefer.
Recipe Notes
*Serve with multiple sauces for dipping! These are my go-to and are easy! Try a jarred marinara sauce, a store-bought buttermilk ranch dressing and a quick homemade garlic aioli sauce.
Nutrition
Calories:
252
kcal
|
Carbohydrates:
31.4
g
|
Fat:
11.3
g
|
Saturated Fat:
3
g
|
Cholesterol:
69
mg
|
Sodium:
471
mg