These Disco Fries are smothered with a homemade brown gravy and topped with melty, gooey mozzarella cheese. They are an indulgent late night snack popular in many New Jersey diners and one that is sure to have you licking every finger clean. Friends and family will love this indulgent late-night snack!
Other fry recipes you will love are my Loaded Waffle Fries or my Greek Feta Cheese Fries.
What Are Disco Fries?
Disco fries (aka gravy fries) are a New Jersey diner staple that's very similar to the famous "poutine" from Canada. They are simply gravy and cheese fries typically smothered with a homemade brown gravy and topped with lots of shredded cheese. The result is a gooey, savory, rustic looking appetizer that never fails to disappoint.
These "Jersey Fries", typically use steak cut French fries since they're thicker. They are then topped with lots of gooey, melty mozzarella cheese and then smothered in a savory brown gravy!
A Jersey version of Canada's poutine. Really, how can you go wrong? The difference is that disco fries are made with mozzarella cheese instead of cheese curds. And since cheese curds are a little more expensive and sometime hard to find, mozzarella is the next best substitute!
Being from NJ, I just had to add this recipe to the blog! They are perfectly bite sized and best of all, can be eaten for lunch, dinner, an appetizer OR best of all, a late night snack...after "hittin' up" those disco clubs of course.
Have you checked out my Avocado Fry recipe yet?
Supposedly "disco fries" were a very popular late night snack for many disco goers back in the late 70's early 80's! They are also called "diner fries" around these parts.
I think they STILL are a very popular late night snack today! They should, in my opinion, change the term to "Club Fries", no? A bit more with the times. 🙂
How To Make Disco Fries
If you use frozen French fries and store-bought gravy, this recipe is just THREE ingredients and could not be easier! The best part is you can make a large batch for a crowd using a sheet pan.
Step 1: Choose your fries!
Frozen fries these days come in multiple cuts and forms. Here are some of my favorites! For gravy fries, I find steak cut or crinkle cut to be the best.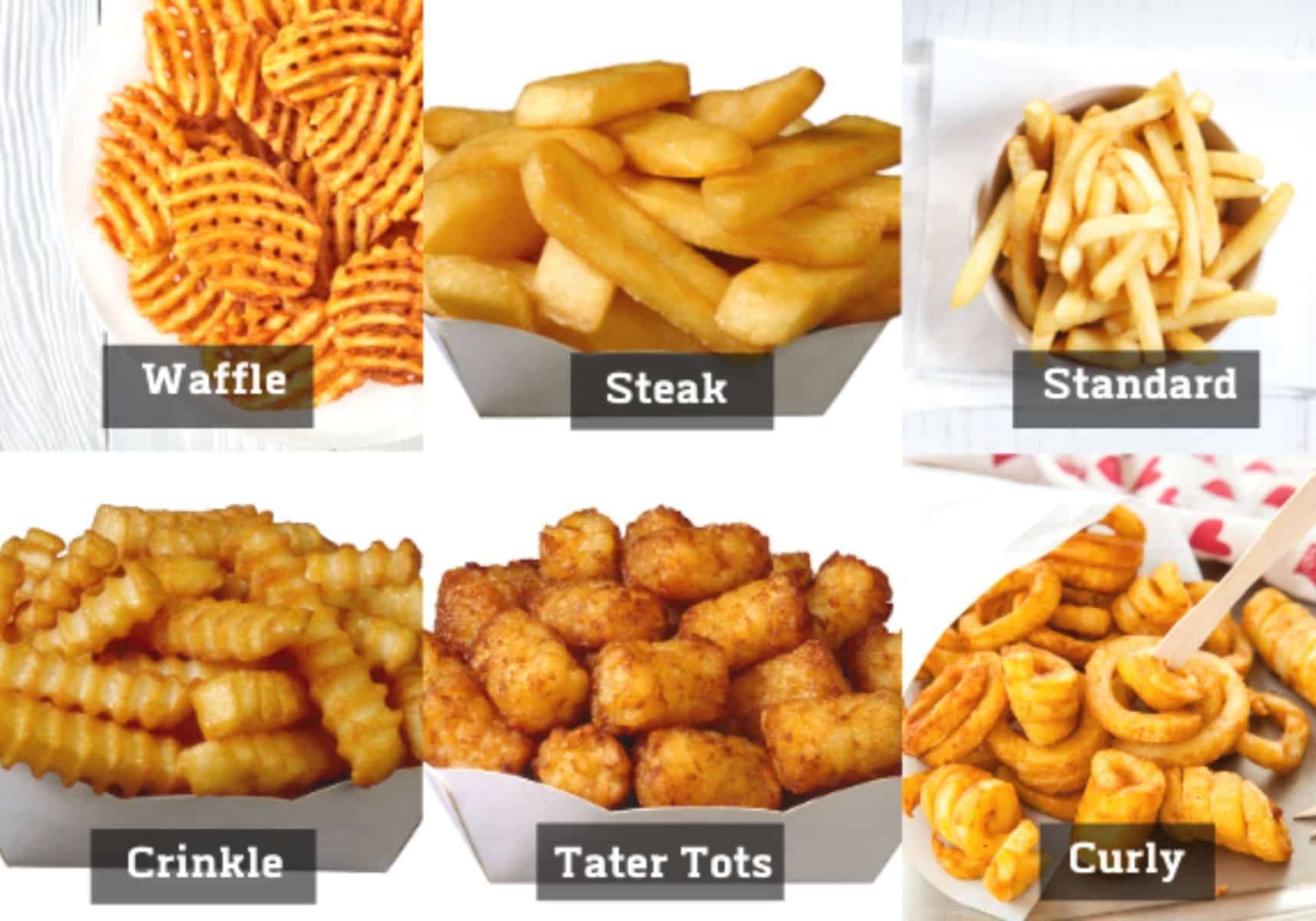 Once you choose your fry (the hardest decision in the world) just bake your fries in the oven at 425 degrees F until they are golden brown and crispy. This usually takes between 20-30 minutes.
If you do not want to spend money on frozen fries, you can make your own fries! Or use my easy potato wedges recipe here.
Step 2: Choose your gravy!
The gravy is where ALL the flavor comes from and for Disco fries, brown gravy or chicken gravy is where it's at. You have a few different options when it comes to gravy.
Store-bought. Using jarred gravy is convenient when you don't have time or feel like making your own. With that said, I don't recommend using store-bought. Homemade gravy is SO easy and doesn't take more than 10 minutes. Plus, you can control your salt, seasoning and thickness.
Vegetarian? Use vegetable stock to make a veggie gravy! Just substitute it out for the beef gravy I use here.
Gluten-free? Use a GF flour! You can follow the same recipe below.
The BEST kind of gravy is made with pan drippings from a roast. The flavor is something you just can't replicate. Tip* If you are using your own gravy from a homemade stew or pot roast, it is important to remember to strain your gravy.
Stock Choices:
Vegetarian broth
Beef broth
Chicken broth
Use what suits your dietary needs!
Step 3: Choose your cheese!
Canadians use cheese curds, which are made from cheddar cheese, and Jersey diners use mozzarella cheese. But really, you can use ANY cheese...just as long as it melts well!
These cheeses are some of the best melting cheeses that are perfect for gravy cheese fries.
You could also make your own cheese sauce if you prefer a cheese that will not thicken up as it cools. Cheez Whiz is not recommended. Here is a great cheese fry sauce!
Once you have your ingredients set, place your fries onto a baking sheet, sprinkle with shredded cheese. Broil until the cheese is fully melted. Then top with your gravy.
Make sure to check out this article on potato appetizer ideas!
How To Make Your Gravy
Making a gravy is easy! Don't be intimidated by it. The ingredients in a standard gravy is just beef broth, flour and butter.
Add equal parts butter to flour (1-2 tablespoons) and let it bubble up until it turns golden brown. Then whisk in your broth and let it simmer until it thickens up!
Amp up the flavor by adding sauteed onions, Worcestershire, mustard, fresh herbs, garlic, etc.
The Main Difference Between Disco Fries and Poutine
Disco fries are simply made with mozzarella cheese while poutine is made with cheese curds. One was originated in NJ and the other in Canada.
What are cheese curds you ask?
Cheese curds are actually made from cheddar cheese. They are the moist pieces of the curdled cheddar that are meant to be enjoyed right away rather than waiting months for the cheese to age.
They have a chewier consistency and do not melt easily. This is why they are so great for gravy fries. You get chunks of cheese in every bite.
Could you technically use white cheddar cheese too? Of course! Any cheese would be delicious! I actually used a combination of yellow cheddar and white mozzarella in this recipe. The colors are just so appetizing!
More EASY potato appetizers you'll like!
Baked Yukon Gold Potato Wedges
Roasted and Stuffed Baby Potatoes
Polenta Fries Baked in the Oven
Roasted Eggplant Fries with Panko
Feta Fries (with Greek Yogurt Sauce)
📲 FOLLOW Aleka on social!! 👋 Follow me on facebook, instagram, pinterest, youtube or tiktok for more recipes and entertaining tips!
📖 Recipe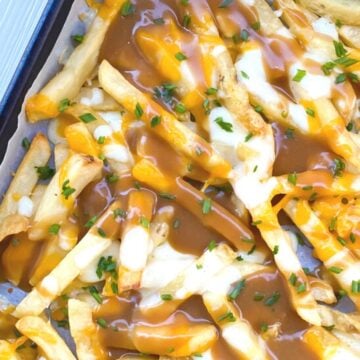 Disco Fries (Gravy Mozzarella Cheese Fries)
These Disco Fries are smothered with a homemade brown gravy and topped with melty, gooey mozzarella cheese. They are an indulgent late night snack that will have you licking every finger.
Print
Pin
Rate
Ingredients
1

32 oz

Bag Frozen French Fries

((I like traditional cut or steak cut))

8

Oz.

Shredded Mozzarella (or cheddar) Cheese

((I actually used half of each))
Gravy
3

tablespoon

Flour

3

Tbsp.

Butter

2

Cups

Beef Broth or Stock

((you can also use vegetable or chicken))

¼

teaspoon

Salt

¼

teaspoon

Garlic Powder

¼

teaspoon

Onion Powder

¼

teaspoon

Mustard Powder (or Dijon)
Instructions
Bake your french fries according to the package directions. Make sure you lay your fries out evenly on your baking sheet so they crispy up nicely.If using homemade fries, bake them at 425°F or until your fries turn golden brown.

To make your gravy, add butter to a small sauce pan and melt over medium heat. When fully melted, add in your flour and whisk it together. Allow the flour to bubble up for a minute or so and then add in your broth. Whisk until all lumps are dissolved! Bring to a boil then turn down heat and allow to simmer until it thickens into a gravy. This should take about 5 minutes or so.

Once you have achieved your desired gravy consistency, mix in your garlic and onion powder, salt and mustard (you can add pepper if you like too) and remove from heat.

When fries are ready, remove from the oven and sprinkle your cheese(s) evenly over top. Place back in the oven until cheese is fully melted. Remove and pour as much gravy over top as you wish! Top with green onions and serve hot!
Recipe Notes
You can choose any cut of fries for this recipe. Just keep the fry thicker.
You can use a store-bought gravy to make these quicker! (it just won't taste as delish!)
Nutrition
Calories:
665
kcal
|
Carbohydrates:
40
g
|
Protein:
22.3
g
|
Fat:
32.7
g
|
Saturated Fat:
10.8
g
|
Cholesterol:
43
mg
|
Sodium:
1540
mg
|
Potassium:
1102
mg
|
Sugar:
2
g
|
Calcium:
79
mg
|
Iron:
3
mg