The 1980's were a colorful, energetic decade that left an indelible mark on popular culture. So if you're planning to throw an 80's theme party, you've come to the right spot! I have gathered below some tips and ideas on how to throw the best most hip 1980's party that will transport your guests back in time!
I love a good themed party. They are just so fun and encourage guests to come out of their shells a bit.
Decade parties are even better because they are nostalgic and bring us back to the good ole days when there was less stress and less worry.
When planning a 90's or 80's party, following some simple entertaining tips are highly recommended to keep things stress-free.
Hip Invitations
Design your invitations with 80s fonts and graphics, such as cassette tapes, Rubik's cubes, or neon colors. Make sure to "highly encourage" guests to come dressed in 80s attire!
Maybe add a separate note on suggestions like neon colors, leg warmers, acid-washed jeans (high waisted of course) and large shoulder pads too!
Here are some fun 80's invitations from Zazzle!
Decorations
Neon colors

: The 80s were all about bright neon colors, so make sure to incorporate them into your color scheme. Use neon tablecloths, streamers, balloons, and paper lanterns in pink, green, orange, and yellow.

80s posters:

Posters were all the rage in the 80s! Hang up posters of popular 80s bands, movies, TV shows, and fashion icons. Another option is to print out and frame images of iconic 80s toys at your local print shop!

Rubik's cubes:

Rubik's cubes were a popular toy in the 80s, so use them as a decoration OR hand them out as a fun party favor. Many kids don't know about them these days. You can create a Rubik's cube centerpiece or use mini Rubik's cubes as table confetti.

Record covers:

Display old record covers from popular 80s bands like Madonna, Prince, and Michael Jackson. You can also use them to create a wall hanging or as a table runner.

Boomboxes:

Use boomboxes as a decoration or as part of an activity. You can set them up around the party area or create a boombox centerpiece. On Amazon they have many blow up boomboxes you can order!

Fun Prints: The 80's were ALL About the fun prints! Geometric prints like triangles, squares, and diamonds in bright neon colors. Animal prints and abstract prints were super popular. Checkered prints were popular from head to toe in both black and white and colored. Polka dots were an 80's must! Floral and paisley prints were also in!
Pac-Man:

Pac-Man was a popular video game in the 80s, so use it as a decoration. You can print out and hang up Pac-Man characters or create a Pac-Man maze on a wall.

Cassette tapes:

Display old cassette tapes and use them as table centerpieces or as part of a backdrop.
Check out these fun 80's party decorations on Amazon!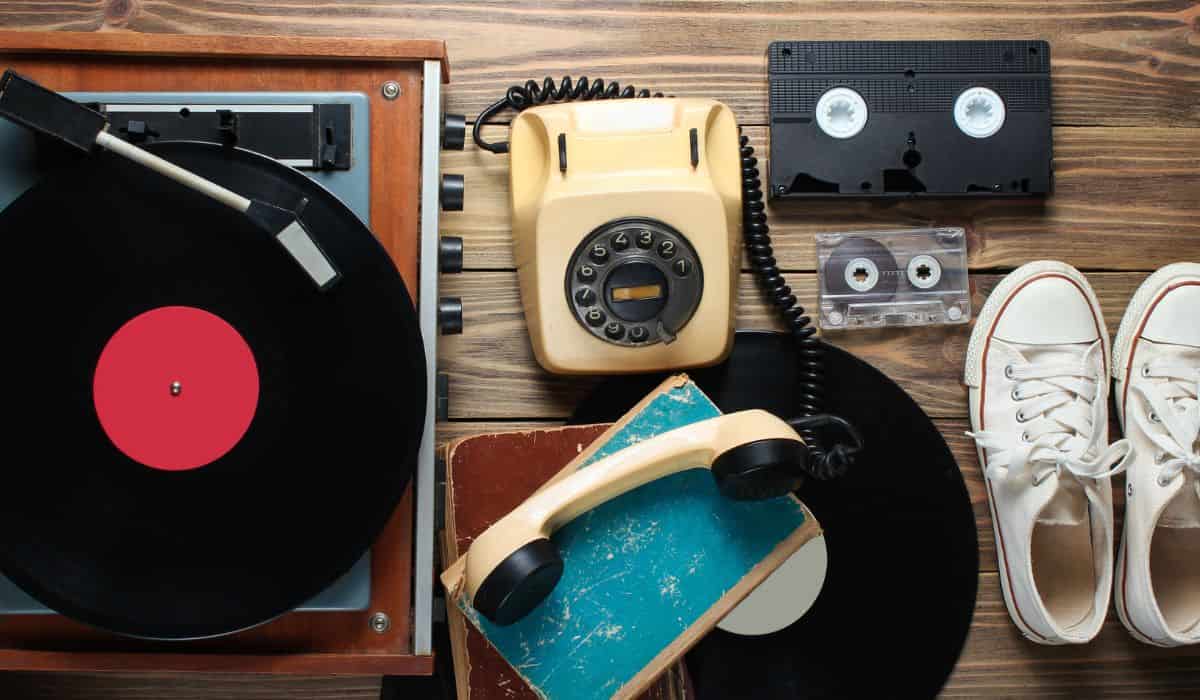 Serve 80's Food & Drinks
Popcorn: Popcorn was a popular snack in the 80s, and you can serve it in colorful paper bags or boxes.
Twinkies: Twinkies were a popular snack cake in the 80s, and you can find them at most grocery stores.
Tang: Tang was a popular powdered drink mix in the 80s, and you can still find it at some stores.
Jell-O: Jell-O was a popular dessert in the 80s, and you can make it in various colors and flavors to match your party theme.
Pigs in a Blanket: These bite-sized hot dogs wrapped in crescent roll dough were a popular party snack in the 80s.
Cheese Balls: Cheese balls were a popular party snack in the 80s, and you can serve them with crackers or chips.
Soda: Serve classic 80s soda brands like Tab, Coca-Cola, Pepsi, and Fanta.
Punch: Mix up a colorful punch with fruit juices, soda, and sherbet.
Pizza: Pizza was a popular food in the 80s, and you can serve it with classic toppings like pepperoni, sausage, and mushrooms.
Chips and Dip: Serve up classic 80s chips like Doritos and Pringles with dips like onion dip or ranch dressing.
Candy: 80's candy like pop rocks, runts and nerds.
Play 80's music
Create a playlist of 80's hits and play them throughout the party. You can also hire a DJ who specializes in 80's music to get the party started. Here are some of the top songs from the 80's:
"Billie Jean" - Michael Jackson
"Like a Virgin" - Madonna
"Thriller" - Michael Jackson
"Sweet Child O' Mine" - Guns N' Roses
"Livin' on a Prayer" - Bon Jovi
"Take on Me" - A-ha
"Girls Just Want to Have Fun" - Cyndi Lauper
"Don't You (Forget About Me)" - Simple Minds
"I Wanna Dance With Somebody" - Whitney Houston
"Every Breath You Take" - The Police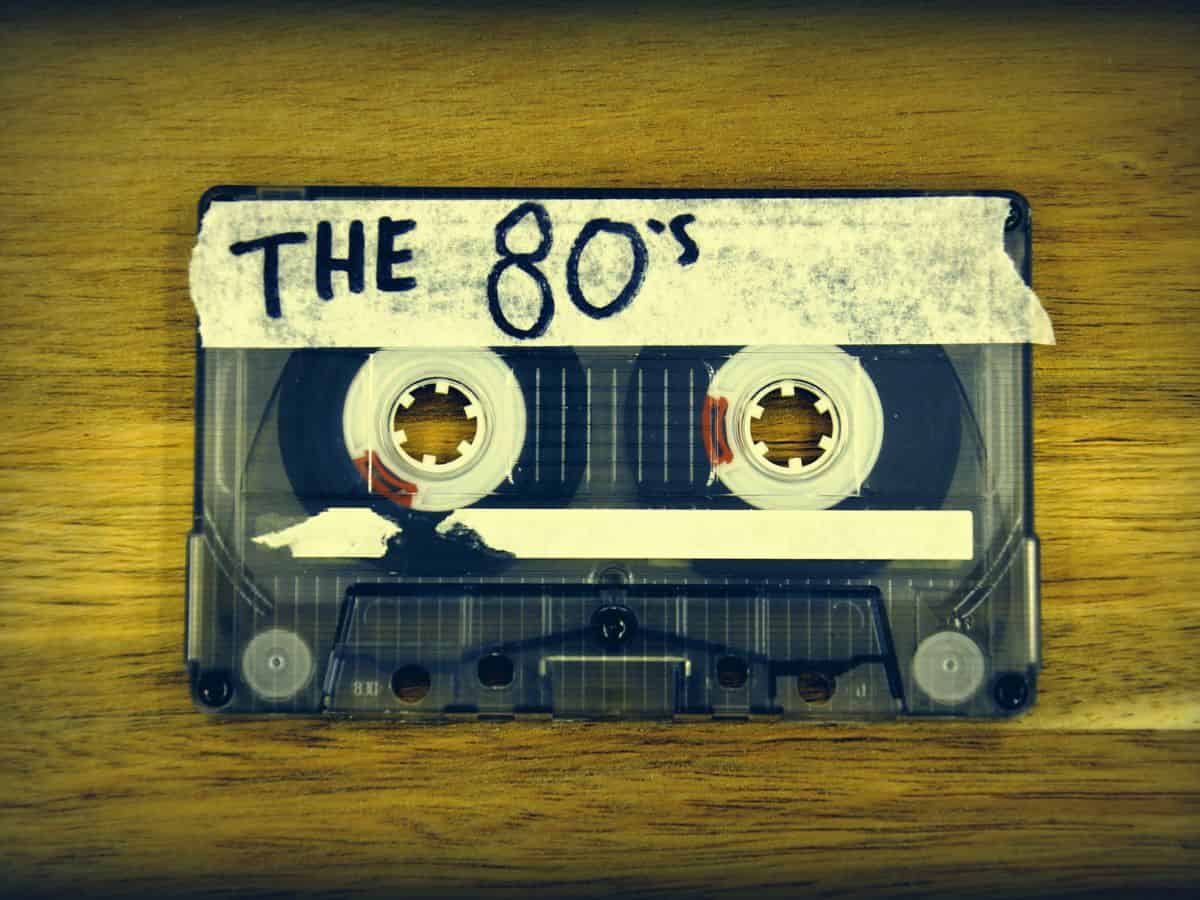 Have 80s-themed activities
Photo Booth
This can be both a decorative thing AND activity for guests to use! Photo booths have been popular for years. And with your guests all dressed up, you know they will want to capture those memories!
Board Games
Set up an area for guests to play classic 80s board games like Trivial Pursuit or Connect Four. You can also have an 80s trivia game set up to test your 80's knowledge! These board games are ideal for larger group of 8 people or more. Or you can play one of these Easy Adult Party Games instead!
Karaoke contest
Set up a station with a karaoke machine where guests can sing along to their favorite 80s hits. (Popular music listed above!)
80's Movie Screening
Show classic 80's movies like The Breakfast Club, Pretty in Pink, or Ferris Bueller's Day Off. Make sure to add popcorn and some fun drinks!
Arcade Corner
Rent or buy classic arcade games like Pac-Man, Donkey Kong, or Space Invaders to play during the party. You can easily throw on your Nintendo if you have one and play Mario Kart or Donkey Kong!
Costume Contest
Encourage guests to dress up in their best 80s outfits and host a costume contest. You can award prizes for the best dressed, best hair, or best overall 80s look.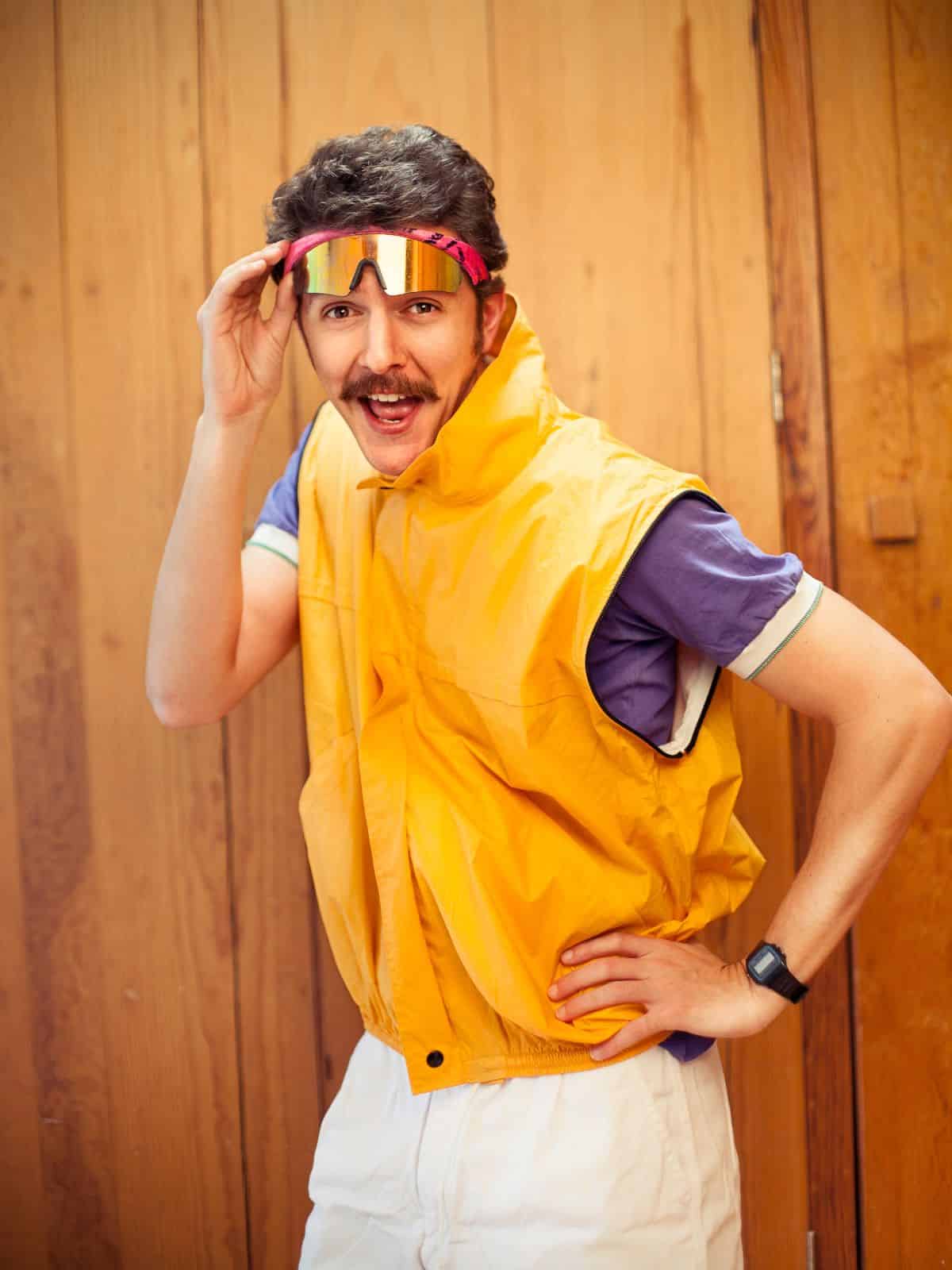 Party Favors
I'm a HUGE fan of party favors. It makes the guests feel special and ensure they will not forget that party you spent time throwing together!
Favors do not have to be expensive. Here are some ideas your guests will love:
Neon Sunglasses

: Hand out neon-colored sunglasses in fun shapes like hearts, stars, or lightning bolts.

Mini Rubik's Cubes

: Give guests miniature versions of the popular 80s puzzle toy.

Jelly Bracelets

: These colorful bracelets were popular in the 80s, and you can find them in bulk online.

Cassette Tape Notepads:

Hand out notepads that look like cassette tapes, a popular music format of the 80s.

Lip Gloss or Lip Balm

: Give out lip gloss or lip balm in bright, bold colors reminiscent of 80s makeup trends.

Pop Rocks

: These fizzy candy rocks were popular in the 80s and make a fun and nostalgic party favor.

Mixtape USB Drive

: Create a modern version of the mixtape by giving guests a USB drive loaded with 80s music.

80s Stickers or Tattoos

: Hand out stickers featuring popular 80s pop culture references, like cassette tapes, boomboxes, and Rubik's cubes.

Pac-Man Keychains:

Give guests keychains featuring the iconic 80s video game character.

Boombox Favor Boxes

: Fill favor boxes shaped like boomboxes with small toys or candy.
Remember, the key to throwing an 80's themed party is to embrace the bold, bright, and colorful style of the decade. Have fun with it and encourage your guests to let loose and party like it's 1985!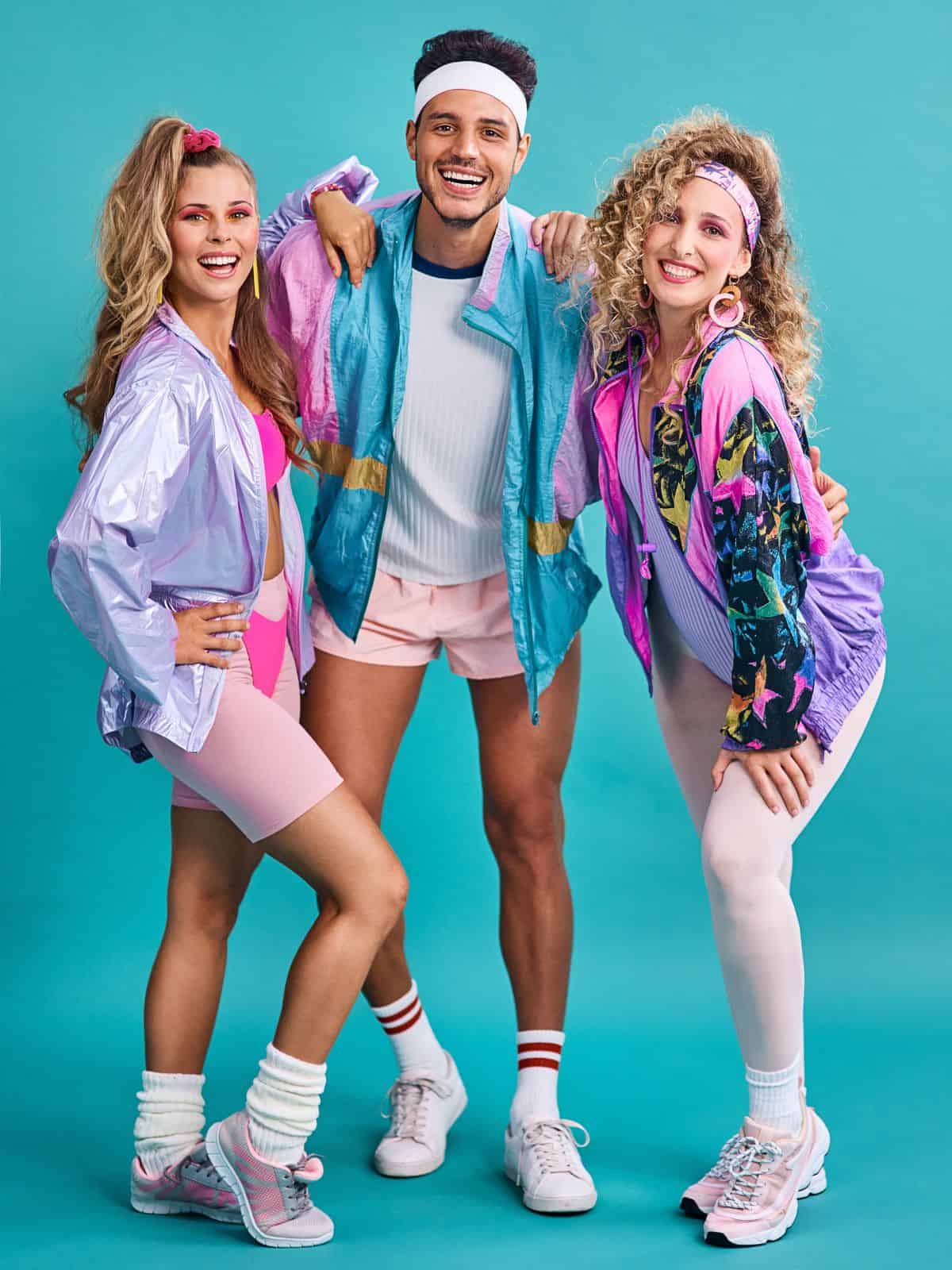 Final Party Tips
Think about serving food in chafing dishes and using these buffet table tips to serve food without worry! Here are more recipes to check out for your party.
This Ugly Cake is VERY 1980's and serves a crowd! Use the right Cocktail Glass to serve your drinks in and make sure to offer the right drink mixers for guests to mix up delicious cocktails.
Other party theme ideas you'll love
23 Creative Party Theme Ideas For Adults
Fun Mexican Fiesta Party Ideas
19 Anything But A Cup Party Ideas
Recent entertaining posts and recipes!