Here are nine tips for setting up a buffet table at your next event or in your home! Regardless of the event you host, sometimes buffet lines make more sense than individually served plates. From the layout of the chafing dishes to the placement of the food and utensils, I got you covered!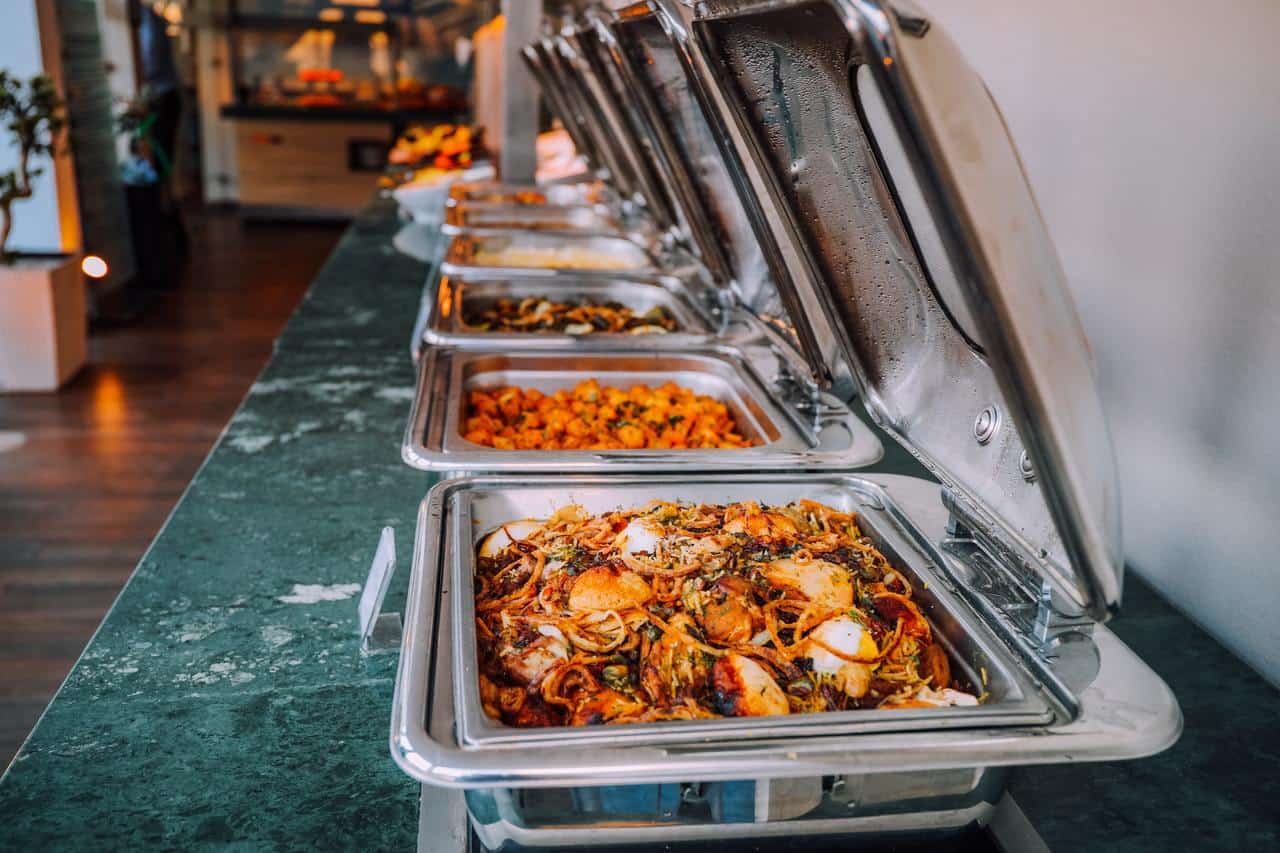 When planning meals for a party or special event, a buffet line may make more sense than serving guests individually. One of the benefits of having a buffet is that it provides guests with more variety and options. Another benefit is that they accommodate guests who may arrive at later times.
However, setting up a buffet table is much more than placing food on a table. If not done correctly, your event can quickly turn into a disaster!
Catering your party? Here is a list of appetizers perfect for catering!
These nine tips for setting up a buffet table will ensure your next event goes off without a hitch.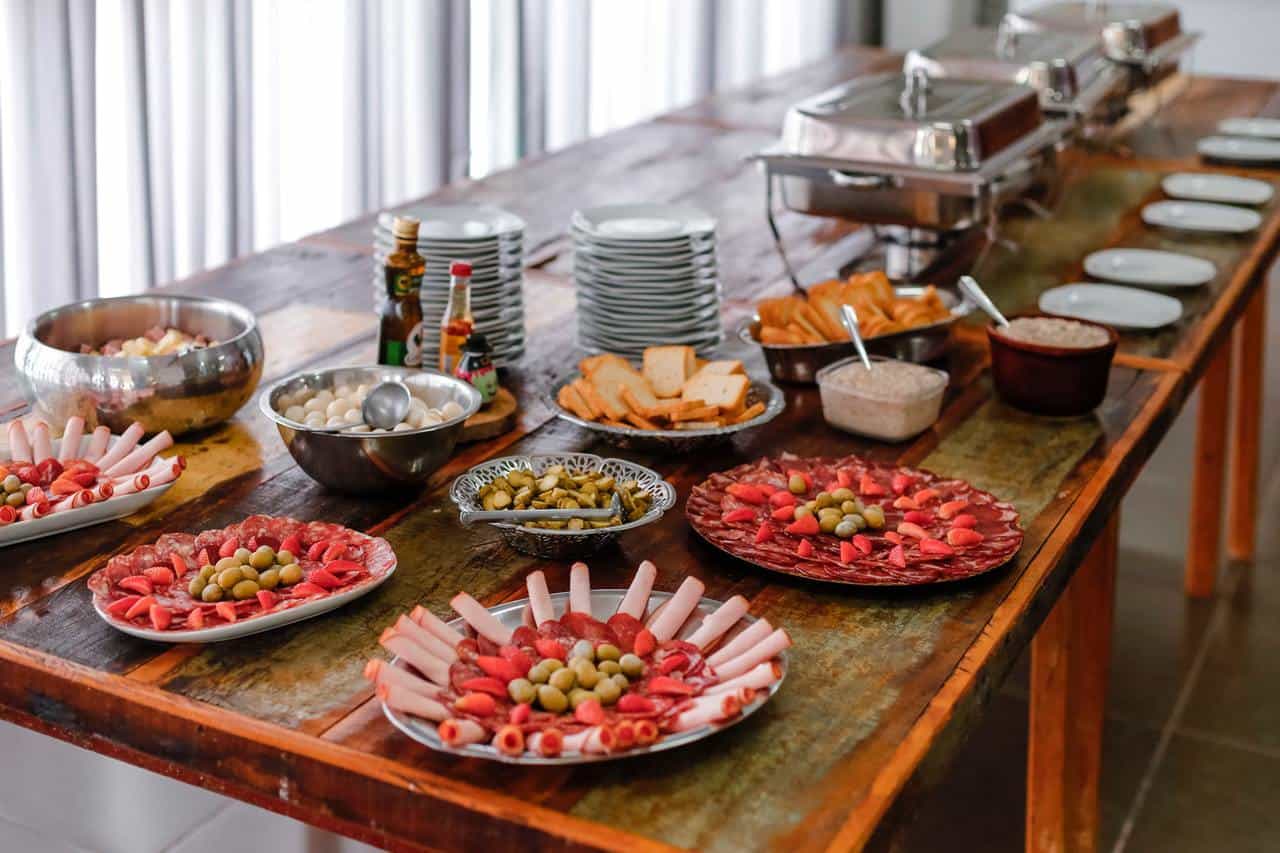 Are You Using Chafing Dishes vs. Cold Platters?
First you need to decide what kind of food it is you will be serving. How will you set up your table? Think catering style.
These long white serving platters are my favorite because they're classy and sleek. They are best for serving COLD food or food at room temperature.
If you want to keep food WARM, chafing dishes are the best way to go. So if you use them, you will need a sturdy table that is long enough to hold at least 2-3. Place them at the back of the table with enough room to open/place the lid down somewhere.
Then you can place the condiments, cold items, utencils, napkins, plates, etc. at the beginning of the table where you want the line to start. Read more about table layout below!
Next, Figure Out Your Layout
The best buffet lines help guests quickly move through smoothly like an assembly line. Whether hosting a party at home or an event hall, the first thing you should do is determine its location, layout, and traffic flow.
Depending on the space that you have available to you, you may wish to set up your buffet table in a number of ways.
You can set it up against one wall so that traffic flow wraps in a rectangular shape around the table edges or a straight line with two lanes. You can also set up the table in a U-shape so that the table traffic wraps in and wraps out.
Whatever layout you choose, the buffet line beginning and ending should be clear. You want your buffet location to be somewhere that does not obstruct foot traffic or cause guests to bump into one another.
You also want to make sure that the buffet table is an easy walk from the dining area so that guests don't need to walk far with a hot or heavy plate.
Use Decor to Spruce Up the Table
Many people neglect to spruce up their buffet tables. Choosing a few simple decorations can make a world of difference.
To help the table display appear more attractive, choose a nice tablecloth and theme-appropriate decorations such as faux foliage or flowers in vases to fill in the blank spots.
Consider adding different levels to your buffet table so that it looks pleasing to the eye.
While white tablecloths are better, colors that fit the event theme add a nice touch. Pinterest is an excellent resource for finding different ideas for buffet decor.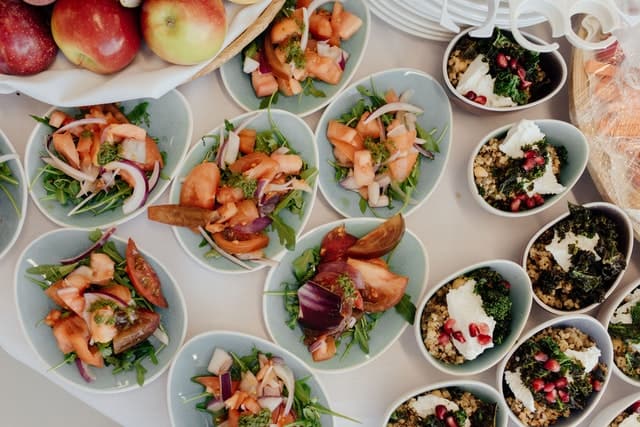 Strategically Arrange Food
When setting up a buffet table, the placement of each dish matters! Place the most plentiful and least expensive foods first and the scarce and most expensive food placed last.
Guests tend to fill up on what they see first, so when you place the most sought-after and higher-priced foods last in the line, they last longer.
Always set up your arrangement so that the cold food comes first and the hot food goes at the end. By doing so, guests will not need to hold on to a hot plate for the entirety of the buffet line.
Also, try to group similar foods and flavors together. The flavor matrix helps to understand this display strategy a little more.
Put Utensils and Napkins at the END of the Buffet Line
There is nothing worse than fumbling with utensils and napkins between your fingers while trying to serve yourself in a busy buffet line. Dropping one or both items can quickly turn into a disaster as you find yourself trying to bend down while balancing a full plate.
Instead, place utensils and napkins at the end of the line for guests to grab last as they head back to their table. The end of the line is also an ideal place to place condiments and dressings that compliment what you are serving.
Keep in mind that some guests may forget their utensils or condiments the first time around. Therefore, it may be helpful to set up a separate area with extras to grab without interrupting the buffet line.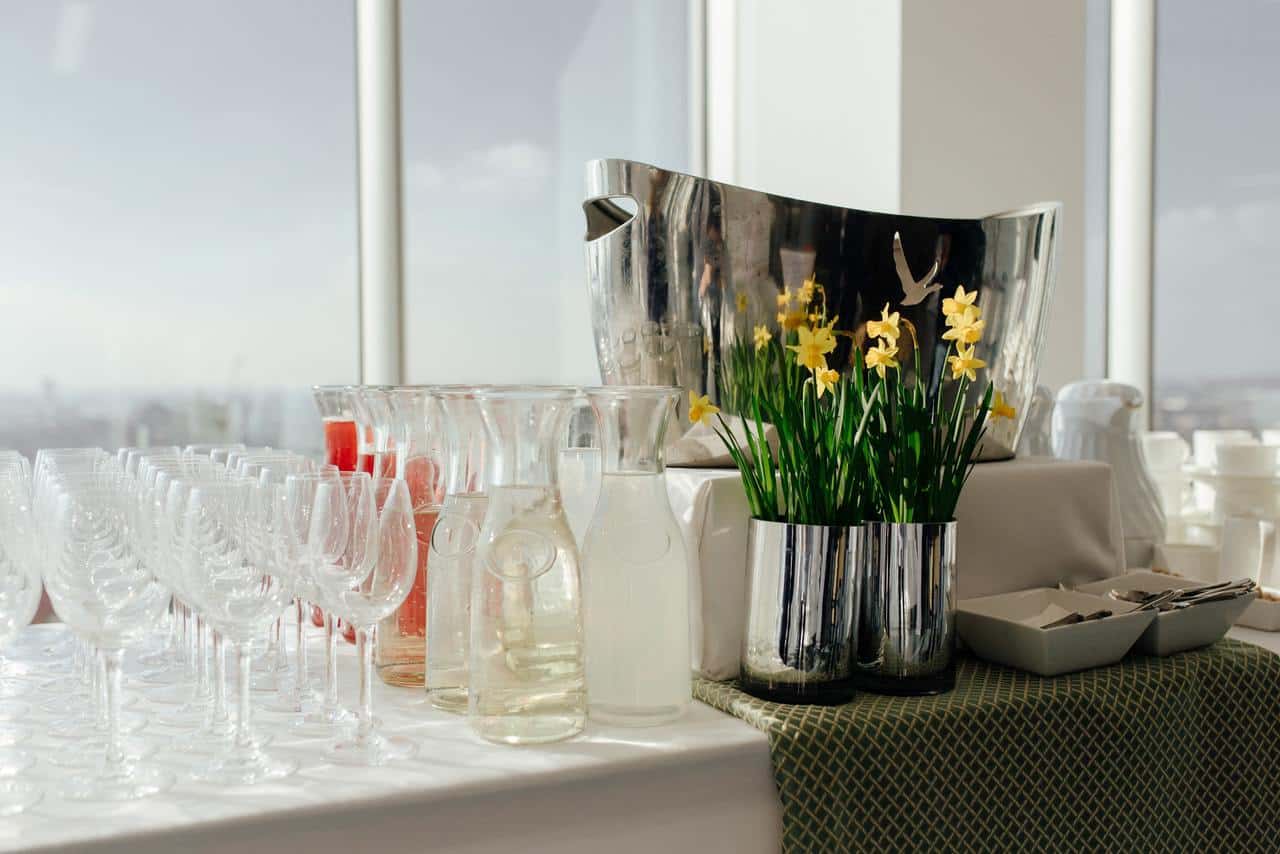 Add Separate Tables for Drinks and Desserts
Once your guests reach the end of the buffet line, both hands are likely to be occupied. Help them avoid the temptation to fumble yet another item in their hands by having them grab their drinks before or after serving their plate.
It is also unlikely that the guest will be thinking about dessert while eating their main meal, so they are best kept at a separate table to come back to later. If space allows, place drinks and dessert on a different table at a distance from the main buffet to prevent crowding and overindulging.
Make Sure All Dishes Have Serving Utensils
How many times have you gone through a buffet line and had to search for the serving utensil? Aside from cross-contamination concerns, not having the proper utensils in their place can hold up the line and cause foot traffic problems.
When setting up a buffet table, you want to ensure that all buffet dishes have their designated serving utensils. You may even want to consider having two serving utensils per dish to help speed things along.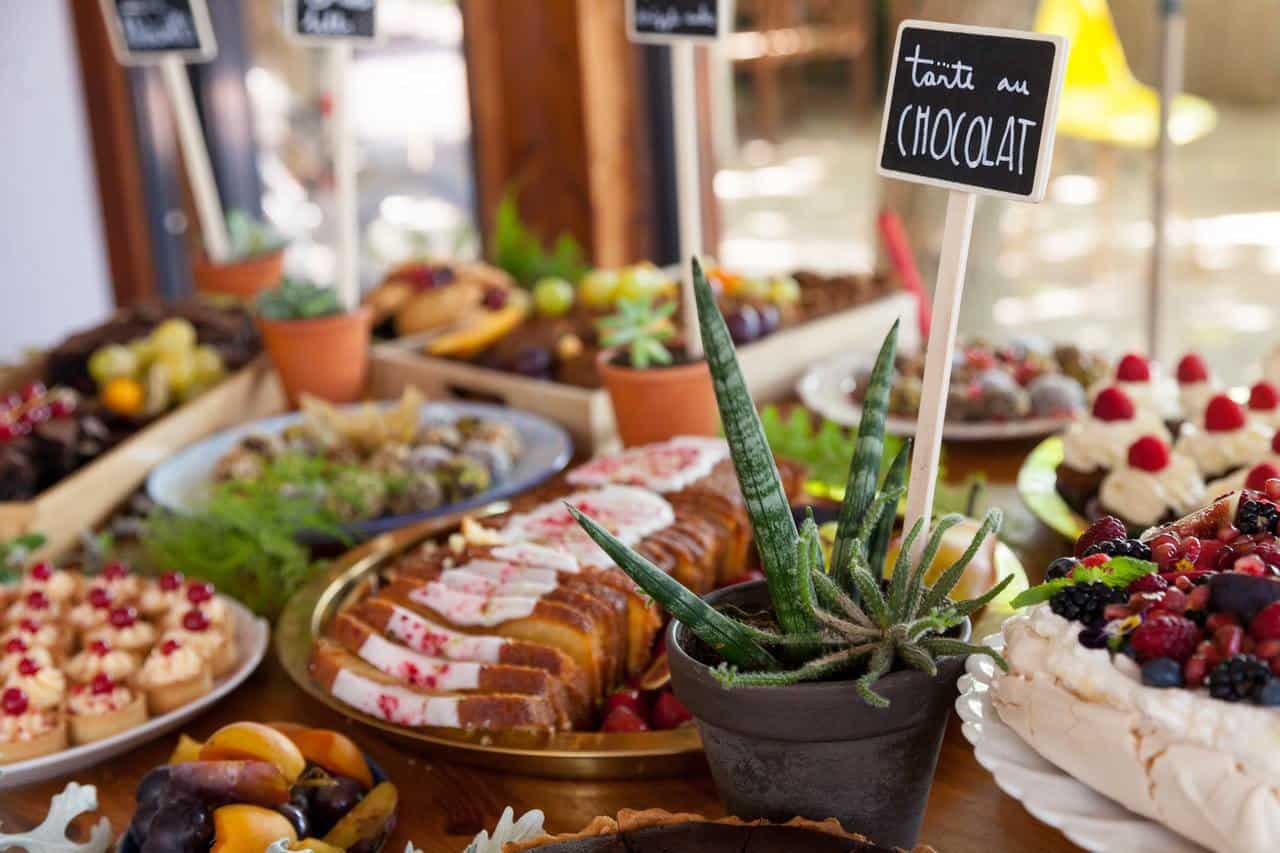 Use Labels to Identify Dishes
Whether handwritten or printed, having food labels is a must at a buffet. You do not want guests skipping over certain foods or holding up the line to ask questions because the food is unknown to them.
Also, it is critical to note if major allergens (i.e., peanuts, eggs, wheat, etc.) are present in those dishes. When catering your food, they will usually already have labels available. However, it never hurts to call to make sure.
Catering your party? Here is a list of appetizers perfect for catering!
Keep the Food at the Right Temperature
When you have a buffet table, the food is in the open for a longer time than if prepared on-demand. The food must remain at the right temperature to maintain its taste and avoid food-related illnesses.
The proper SAFE temperature is 165°F for hot food and 40°F or below for cold foods. Using a food thermometer is super helpful to quickly determine if everything is in the safe zone!
Plus, no one wants a cold dish that should be hot or a room-temperature dish that should be cold!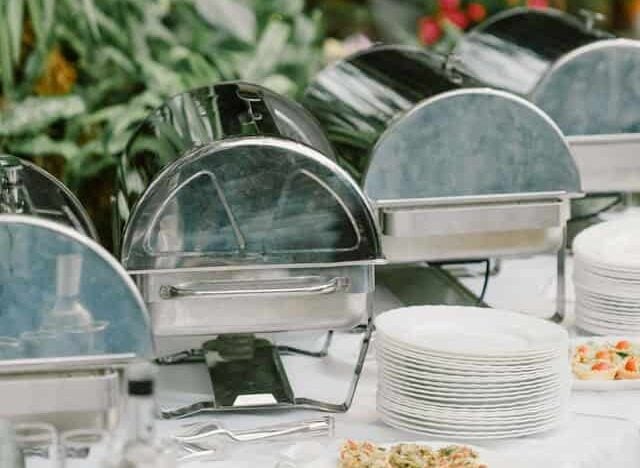 Use cold trays to keep cold foods cold and warming trays or chafing dishes to keep hot foods hot. If using electric warming trays, keep in mind that the buffet table will need to be close to a power outlet. Having a couple of power strips on hand helps plug in multiple warmers.
It is also important to remember that chafing dishes stay heated by fire and should be far enough away from anything flammable. Preferably, they should be on a heat-proof surface.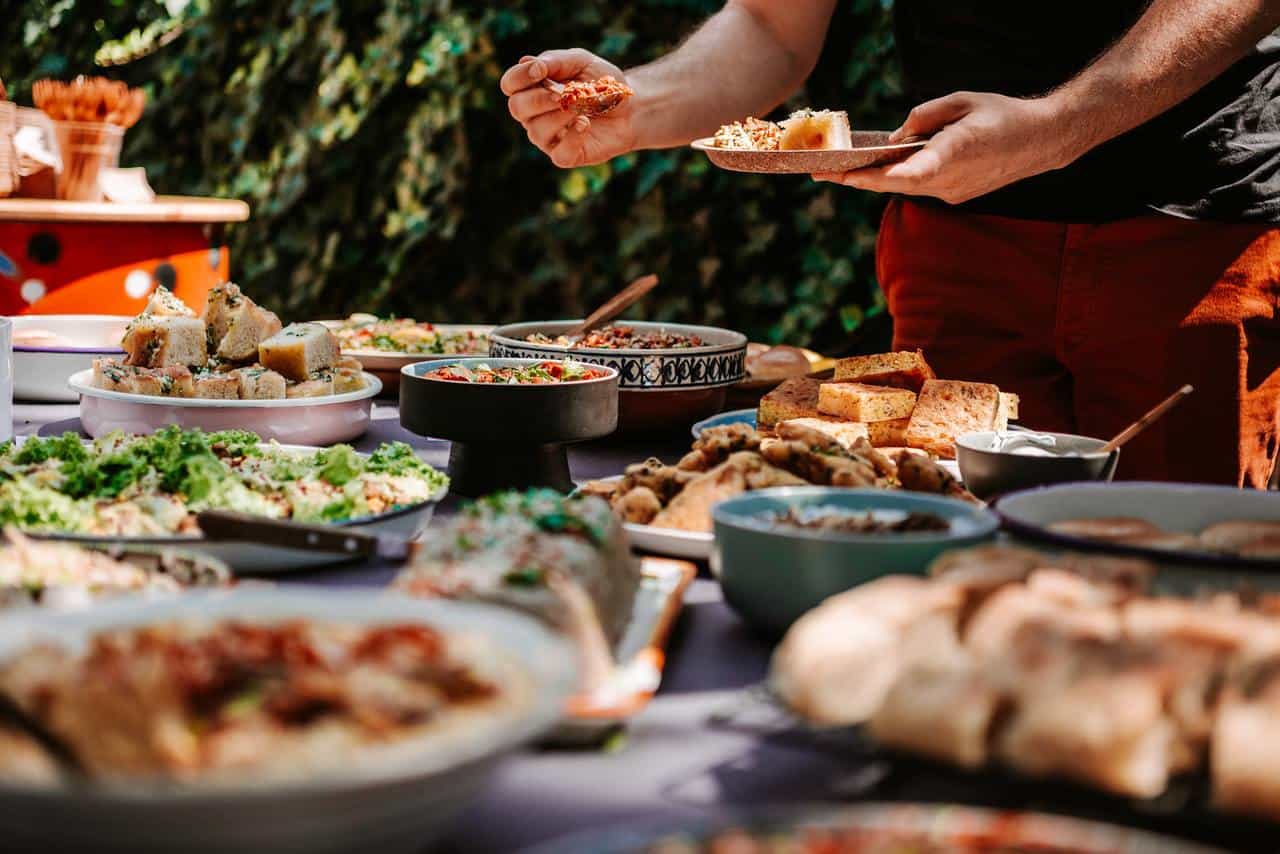 Keep Everything Clean and Restock As Needed
Check regularly to ensure no spills or leaks occur on or near the buffet table. Clean up any messes you see immediately to avoid any accidents. Having at least one trash can nearby will help prevent unwanted items from ending up in unwanted places.
Also, check often to make sure that there are a sufficient number of plates, napkins, and utensils available, and restock them as often as needed. Refill food dishes and beverages as soon they start to dwindle and remove empty trays as soon as there is no more to offer of that dish.
Do you have more ideas or tips for setting up a buffet table? Share in the comments below!
Catering your party? Here is a list of appetizers perfect for catering!
Finger Foods That Are Buffet Table Worthy!
Choosing which foods to add to your buffet table is tough but you have to consider a few things like texture, temperature and allergies.
Does the food need to be served crunchy? If so, maybe a steamy chafish dish isn't the best option. Can it be served at temperature? Are there a few different food options for guests who have allergies or dietary restrictions?
22 Mini Sandwich Ideas (Most can be kept cold or room temperature!)
Pinwheel Sandwiches For Parties (Great for making in advance!)
11 Meatball Appetizers Using FROZEN Meatballs (Easy to keep warm using crock pots!)
16 Of The BEST Brie Appetizers (Perfect for serving room temperature!)
33 Crostini Appetizers (Filling and versatile for vegans and meat eaters alike!)
More articles that you will love: