Chafing dishes are the BEST invention to date...well, at least when it comes to parties! They allow us to keep massive amounts of food warm for extended periods of time with minimal set-up. Check out the best chafing dishes below for your next party!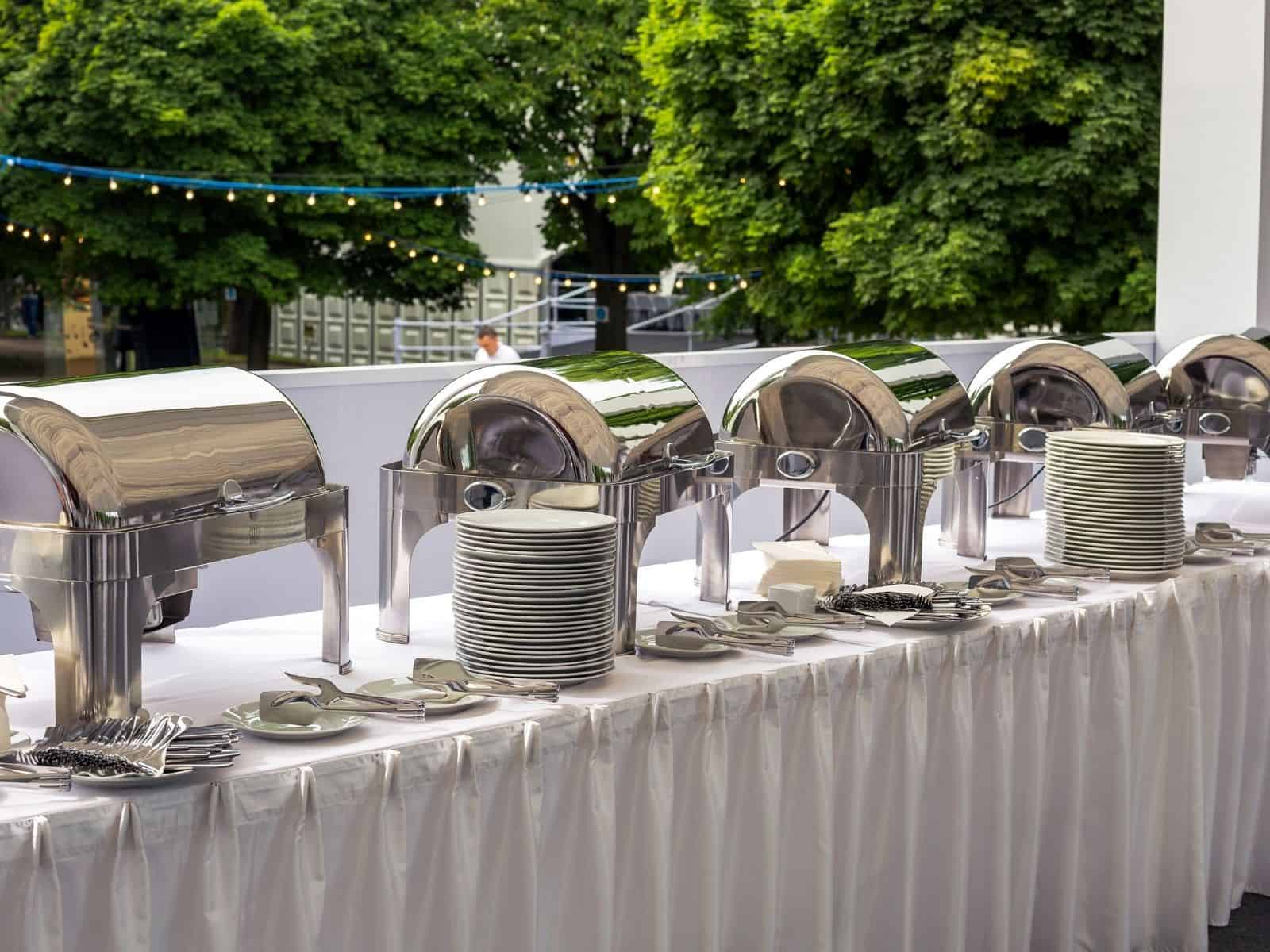 This post contains affiliate links. Click on my disclosure to find out more!
In another post, I talk about the best ways to keep food warm, in addition to chafing dishes. But to be honest, chafing dishes are truly the best way. They look beautiful, don't require electricity and are relatively inexpensive. Instead, they use liquid gel as a flame to heat the water underneath.
Here is an extensive list of chafing dishes from informal the the super high end ones. Whichever you choose to purchase, know that they can last a lifetime so invest in the best you can afford. I promise, they are worth every cent!
Planning a graduation party? Check out this post!
What Is A Chafing Dish?
A chaffing dish comes from the French word, chauffer, which means "to make warm". Chafing dishes, sometimes called steam pans, are metal pans that use hot water to keep large amounts of food warm at once. They are often used by caterers for large events like weddings when setting up a buffet-style dinner.
Chafing dishes are easy to assemble and are very durable. I have a set that has been passed down and is over 20 years old! My tip if to invest in at least two quality, durable dishes especially if you love entertaining!
When using chafing dishes, know that aluminum and stainless steel pans can be placed in the oven and then transferred to the frame when ready to serve. The food should be warm or hot when being placed inside the water pan.
Check out these 38 appetizers perfect for catering!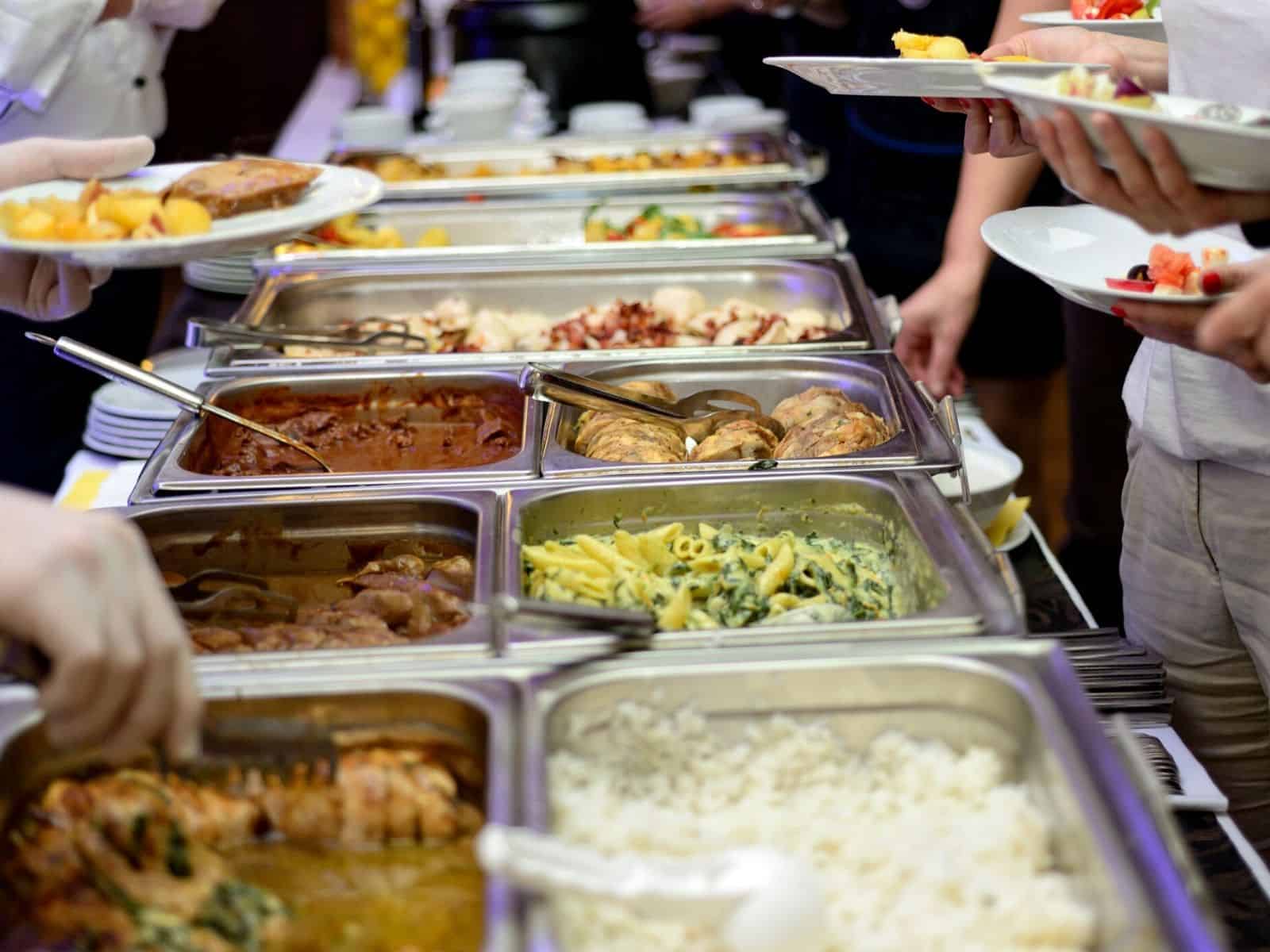 Parts Of A Chafing Dish Set
There are 5 parts to a chafing dish set.
The Chafing Pan Lid- Lids help to lock in the heat without drying out the food. They have clear lids, dome lids and even glass lids that allow guests to see what's inside.
The Food Pan- The food pan is the most important part. It needs to be large enough to hold your food so deciding which one to use can be tough. Food pans come in different sizes which makes it convenient to serve multiple foods in one pan.
The Water Pan- The water pan is slightly larger than the food pan since it fits underneath it. It's job is to hold water which will warm the pan with food above it.
The Stand/Frame- The frame holds the chafing dish upright and allows room for the fuel cans underneath. Some chafing dishes have collapsible stands which are super convenient for storage and transporting.
The Chafing Fuel- These are the heat source. Different fuel cans have different burn times so make sure to purchase ones that fit the length of your party.
Chafing Dish Covers (Optional)- These are ideal for holding heat in while allowing guests to still help themselves from both sides.
How To Properly Use One
Using a chafing dish is very simple. To set it up follow these steps:
Set up the stand (or rack) first. They will sometimes come pre-assembled.
Insert the larger pan first.
Add hot water into the pan. (About 2" high.)
Insert the second, slightly smaller, pan containing cooked food over the water and cover with lid. *The water should be touching the bottom of the pan without overflowing.
Add your heating elements underneath with Sterno fuel cans.
Light the fuel.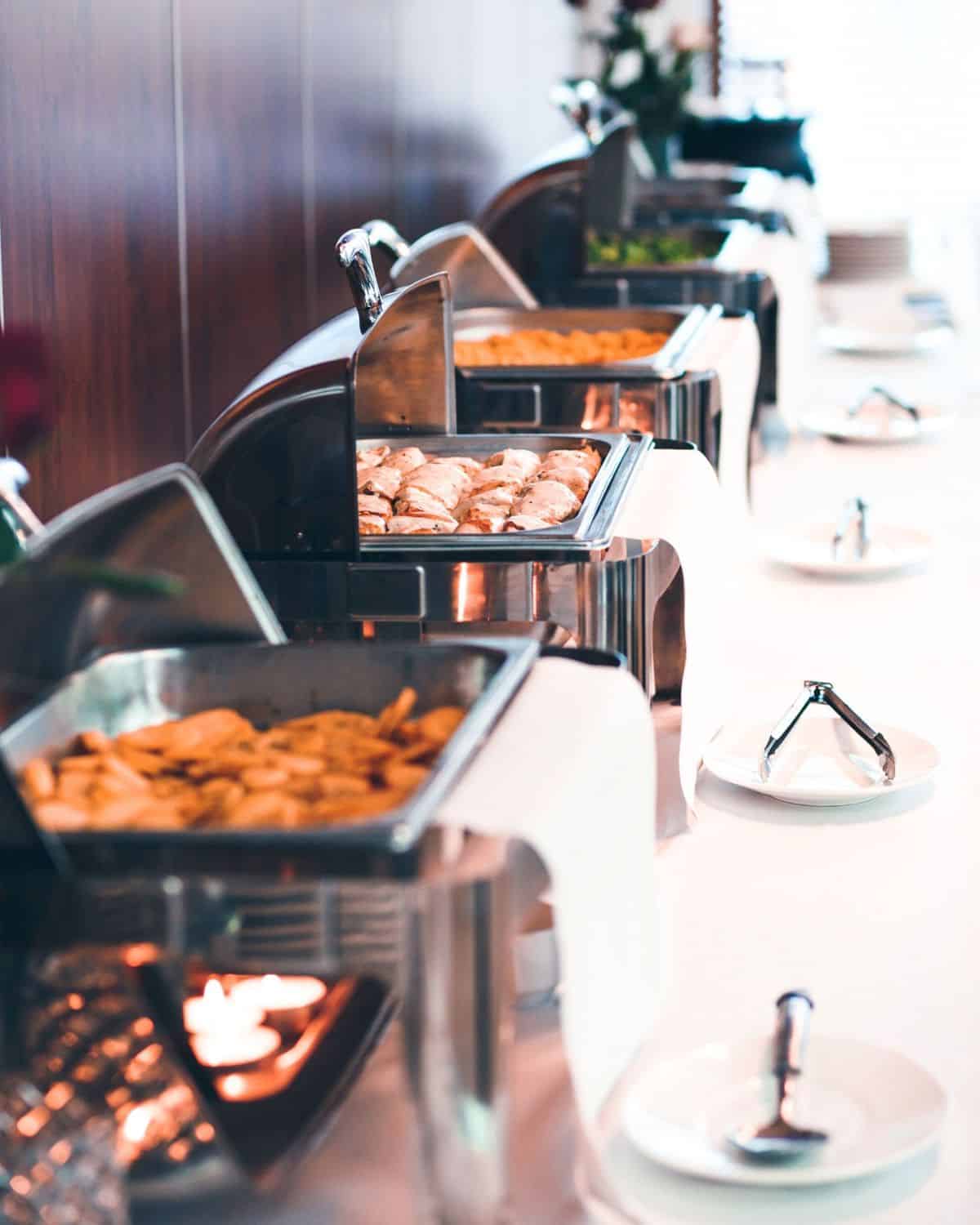 Types of Chafing Dishes
Chafing dishes come in all kinds of different sizes, forms and materials. The most common is stainless steel and the most popular size is an 8 qt. dish but they come in 4 and 6 quart as well.
Disposable
If you are throwing a large party or hosting an event that requires warming a lot of food at once, purchasing disposable chafing dish sets are a smart, efficient and inexpensive way to get the job done. They typically come with everything you need although the fuel cans are sometimes sold separately.
They are made of aluminum and are lightweight using a simple wire rack making them easy to transport.
Here are some cheap chafing dish sets that you can throw out when you are finished using them
Full Size Buffet Set of 6 Dishes - This set contains 3 large rectangular water pans each holding TWO half-size food pans. It also comes with lids and serving utensils.
33 Piece Party Serving Kit- This set is the whole kit and caboodle! It comes with everything you need including serving utensils AND the gel fuel cans.
Setting up a buffet table? Check out my best tips for setting up a beautiful buffet for your party!
Stainless Steel
These are the top three stainless steel chafing dishes I found on Amazon. They each offer something unique but all are quality and durable.
High End
If you are hosting a super formal party or event like a wedding or shower, these chafing dishes would be perfect. They are classy and beautiful at the same time!
4 qt Chafing Dish with Gold Accents- This comes in round OR square and is beautiful with the gold accents.
8 qt. Rectangular Chafing Dish with Gold Accents- This one is similar to the one above but is double the size.
6 qt. Elegant Round Chafer- This one is so pretty and has decorative wooden handles.
Electric
Electric chafing dishes are my FAVORITE. Why? Well because you can easily control the temperature with a simple dial as opposed to a flame. I have two of these and ALWAYS use them! The only negative is the short cord so make sure to get yourself a 3 prong extension also.
Betty Crocker Electric Warming Dish- This is the exact one I have at home. It gets pretty hot and is the perfect size for smaller parties.
Betty Crocker Buffet Server- This one is similar but has three warming trays which hold 2.5 qts each.
Glass
These chafing dishes are made with glass. Why would you want one that is breakable? Well...there are pros and cons to any chafing dish. Having one with a GLASS pan allows you to do one thing. Bake in it. Simply use the inside pan as a standard casserole or baking dish like you normally would use in your oven. Then transfer to the warming dock when it comes out of the oven! Genius
Roll Top
Roll top are my second favorite because I HATE big bulky lids. If a guest has a plate full of food, trying to balance a bulky lid is not very fun. Plus, finding a place to put the lids are never easy. So these chafing dishes have an easy roll top that allows guests to open and close with one swift roll.
6 qt. Roll Top Stainless Steel- This chafing dish is simple and effective but still classy.
8 qt. Full Size Roll Top Chafing Dish- This one is like your standard 8 qt. rectangle but has a roll top!! It is definitely my favorite 8 qt. chafing dish here.
8 qt. Stainless Steel Roll Top (w/ Gold Accents)- This one is a step above the previous one with pretty gold accents.
Copper
Copper chafing dishes are BEAUTIFUL! These are the most expensive you will see but the most unique by far. I can guarantee people will compliment these within minutes of seeing them. They are a show-stopper and ideal for upscale entertaining.
Other Food Warming Ideas
If you are looking for ways to warm soups or gravy, here are some options you might like:
Triple Mini Slow Cookers
Lids and Covers
If you have a chafing dish that does not have a see-through or glass lid, it is often an inconvenience. Guests will want to take a peak at what's inside which holds up lines. It is also hard to do while juggling a plate and/or a drink. These plastic covers are so great for placing on top and can be opened from BOTH sides!
Chafing Dish Fuel
There are a few different kinds of fuel burner cans. Sterno brand is a popular one but there are many out there. These last for up to 6 hours. Also make sure you have a pair of stainless steel can holders. They are great for controlling the amount of heat and can allow you to easily and safely put out the fire.
How To Set Up Your Buffet Table
Setting up your buffet table doesn't need to be complicated. It should be clean, free of clutter and practical.
The first thing you want is a large sturdy table to place your chafing dishes on. Placing a white tablecloth is best. If you want to add color over top of this, you can to match your event or party. Decide which direction you want the buffet line to go in. Do you want guests helping themselves from both sides of the table or just one? Does direction even matter?
Placing plates on one side will help guests know where to start the line. Don't forget to add the proper serving utensils like tongs, forks or spoons on a plate near each chafing dish is a must.
Check out my best tips for setting up a rockin' buffet table!
Tips for Using Chafing Dishes
Make sure to add hot water to your water pan to speed up the heating process.
Use round chafing dishes for sauces, casseroles, vegetables or breads.
Light fuel cans 10-15 minutes prior to serving food.
Place stainless steel food pans in the oven to keep food warm prior to placing them in your water pans.
Light sterno 15 minutes before opening the buffet.
Stir the food if possible to prevent scorching and help distribute the heat.
Check the water level in your pan to ensure there is enough throughout the event.
Use lids to help to keep food moist.
If you want to keep foods cold, add ice water to the water pan without a flame.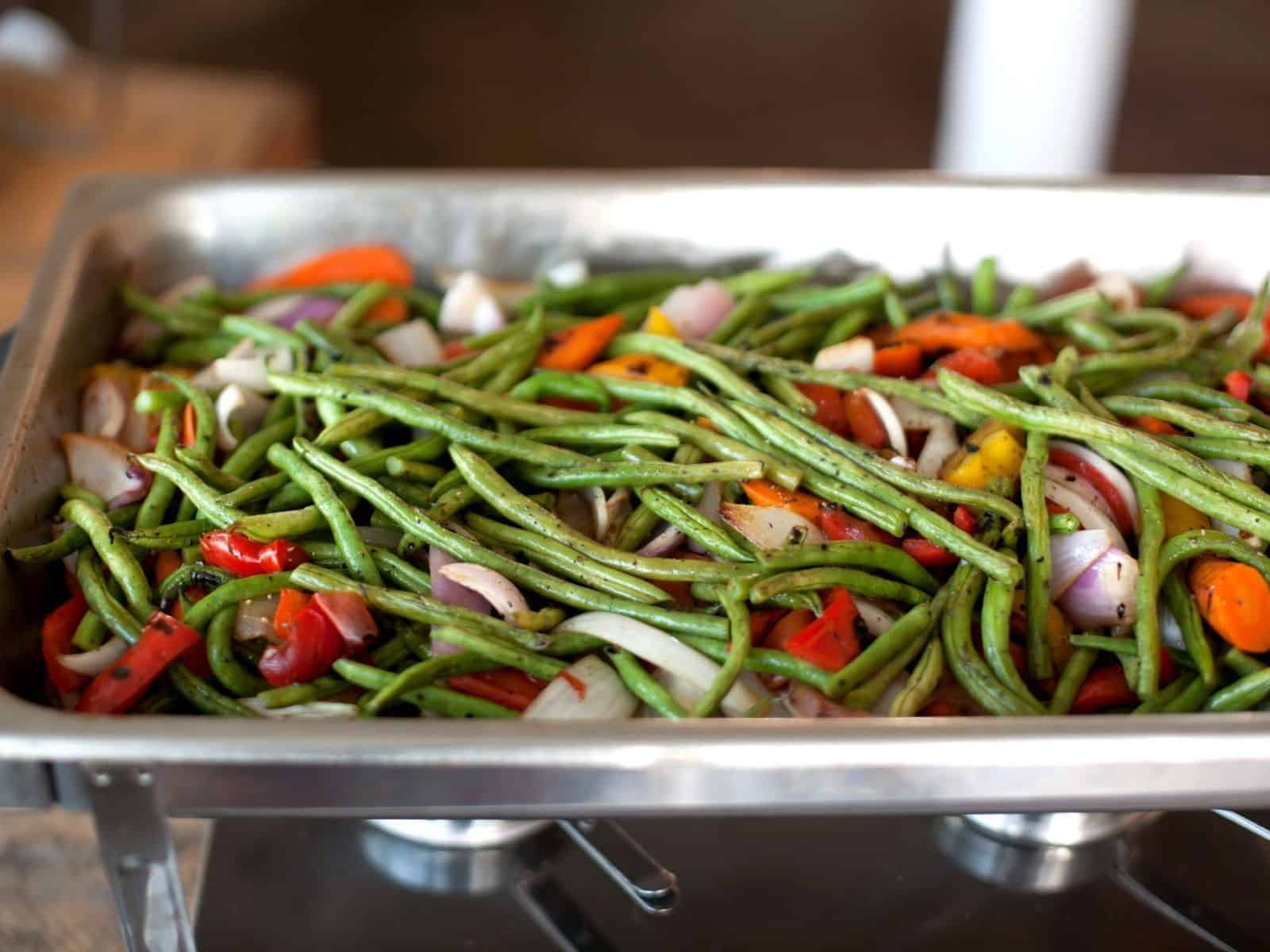 FAQ's
Can you cook in a chafing dish?
Yes! This is recommended as adding cold food to your tray is not ideal. Most stainless steel, aluminum or glass pans are oven safe.
How long can food stay in chafing dish?
Food should be able to stay in a chafing dish for 4-6 hours however the longer it is heated, the more dry the food will become.
At what temperature should my food be?
Food should be heated to 160 degree F to be safe.
How do you make chafing dishes look good?
Use a stainless steel cleaner if you have them. When setting up your serving station, add a fresh towel to the lid handle for a nice touch. Messy serving stations can be prevented by adding plates near by to place utensils on.
How do you keep food cold in a chafing dish?
Think of a cooler! Instead of adding hot water, add ice water and remove the flame!
How much water do you put in a chafing dish?
You should add anywhere from 1-3" of water depending on the size of your chafing dish.
Can you reheat food in a chafing dish?
No. Reheating food is not recommended. Food should be placed inside the chafing dish WARM as the metal pans are simply meant to maintain the food's temperature.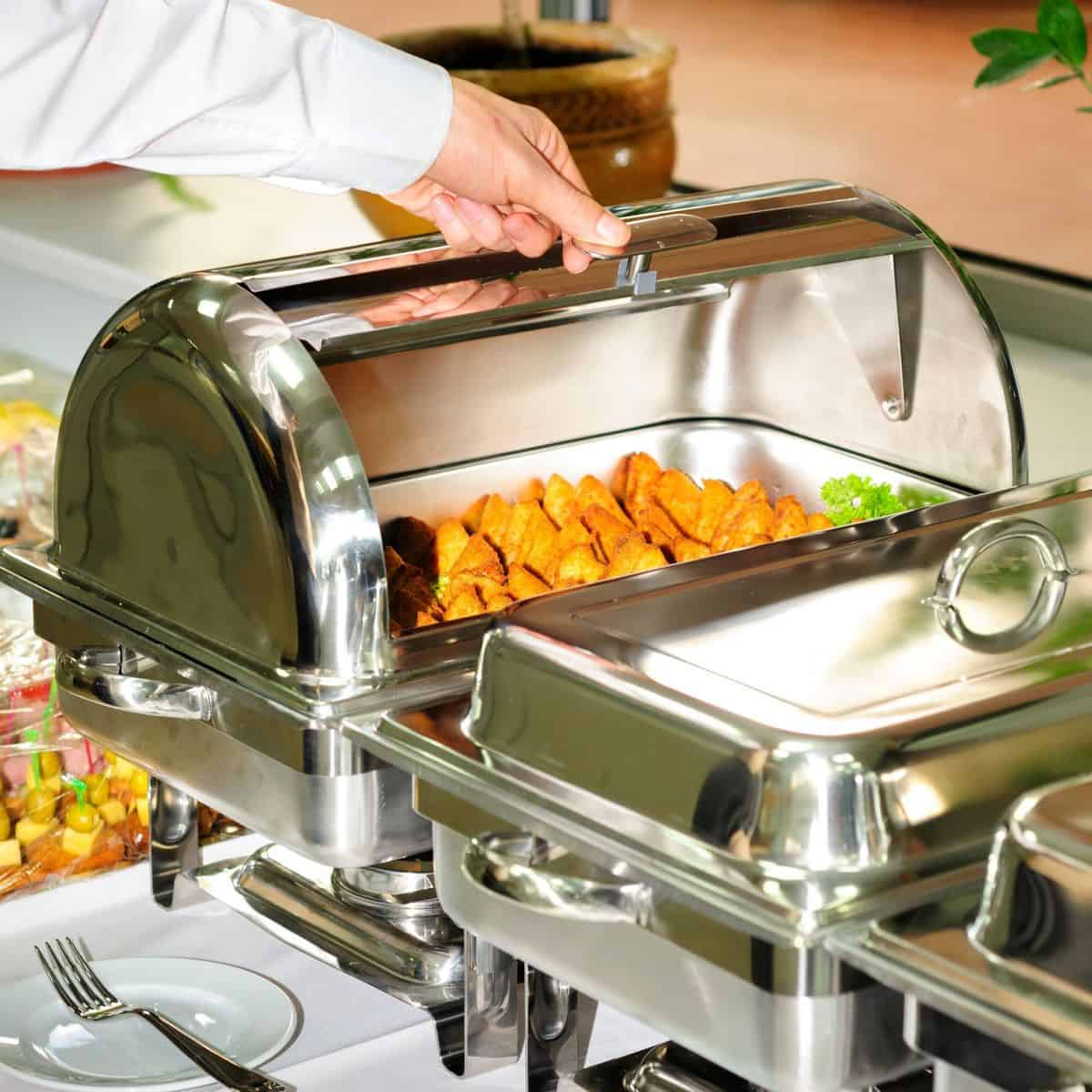 Final Thoughts
Investing in a good chafing dish is something you will thank your future self for 10 times over. It is important to get the best chafing dish you can afford so it will hold up a long time, through traveling, any kind of weather and hundreds of uses!
More entertaining tips:
97 of the Best Party Appetizer Ideas
Finger Food Ideas For Your Next Party
The BEST Tips For How To Keep Food Warm At Your Next Party
The Ultimate Guide To Serving Hors d'oeuvres