Planning food for a graduation party doesn't need to be expensive! Whether a throwing a high school or college graduation party, there are ways to serve a crowd on a budget.
With that said, party planning is not an easy task! Especially if your expecting a large crowd! But don't stress! I've got you!
Here I've included some inexpensive food bar ideas, buffet table menu inspiration and lots of finger food ideas that can be served at any graduation party.
It's graduation season and grad parties are in full effect so if you need some grad party ideas I got you!
Once you have these questions figured out, you need to start by determining WHERE you will be setting up your food. This will give you an idea of how much space you have to work with, if you have accessibility to an outlet if needed, if you need more tables, etc.
If throwing a party in the spring or summer, an outdoor space is best. This is ideal so that people can line up without feeling too confined.
The best way to serve food safely is to avoid people touching the same things. Think about serving finger foods, sandwiches or anything that can be taken easily to go.
Finally, you will need to determine how much food to prepare. If you are expecting a huge crowd of over 50 guests, maybe a buffet is your best bet or maybe you want to cater instead?
If the party is smaller, you may want to consider a food bar since they are often more personable and are not typically set up to feed a mass of people.
As for the amount of food to serve...I've included below a food formula to determine the approximate amount of food you should be serving.
Food Bar Ideas
Food bars are the new thing especially with the younger generations! They are creative, festive and give guests something fun to do! Plus, they can make sure they are choosing what they like and how they like it.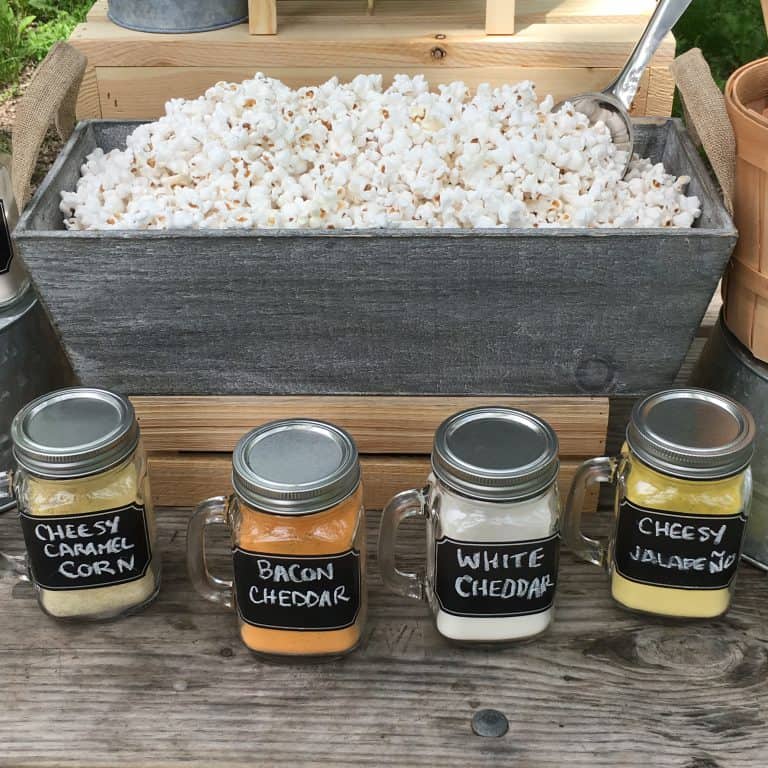 DIY Popcorn Bar
A popcorn bar is such a fun, easy and CHEAP way to feed guests! Kids and adults love popcorn so why not create this fun setup at your party? Different flavored powder cheeses can be found at most food stores.
---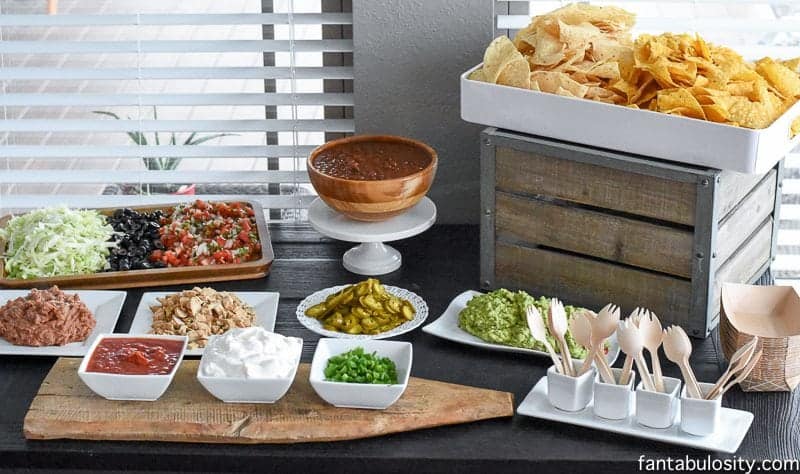 Nacho Bar
This nacho bar is indeed fabulous! Check out how Jessica from Fantabulosity created this amazing nacho bar. She even purchased a real nacho cheese dispenser! Such a fun idea your guests will never forget!
---
French Fry Bar
This french fry bar has so many possibilities! Go to the store and but a few different frozen fry varieties. Crinkle cut, curly fries, steak cut, etc. Then spread your toppings out so guests can create their own fry masterpiece!
Serve gravy and cheese curds on the side for a poutine gravy fry option!
Bonus is that this is a gluten-free option for guests!
---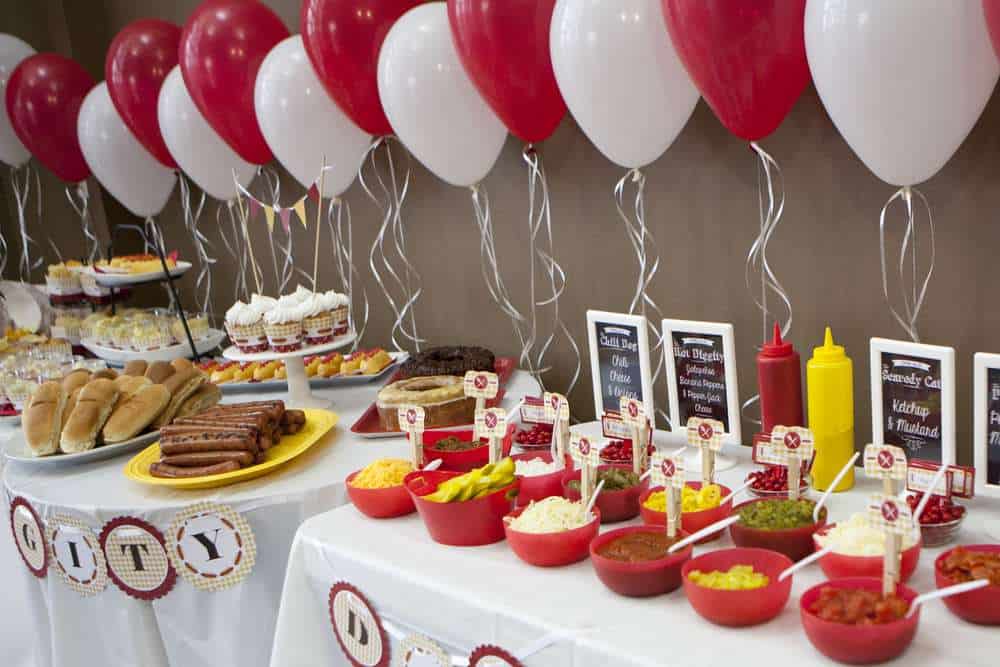 Hot Dog Bar
What could be more delicious! Everyone loves hot dogs! Plus, these days they have delicious veggie and vegan dog options too! Have a few different hot dog options and then set every delicious topping on the side you can imagine! From chili to cheese to beans! The toppings could be endless!
---
Donut Bar
I mean, who doesn't like donuts? This would be a fun and cheap dessert table to have at any celebration! A donut bar is surprisingly easy to put together and looks so grand! Make my strawberry cake donuts for a homemade touch!
Check out the post above to see how she made her own donut holders!
---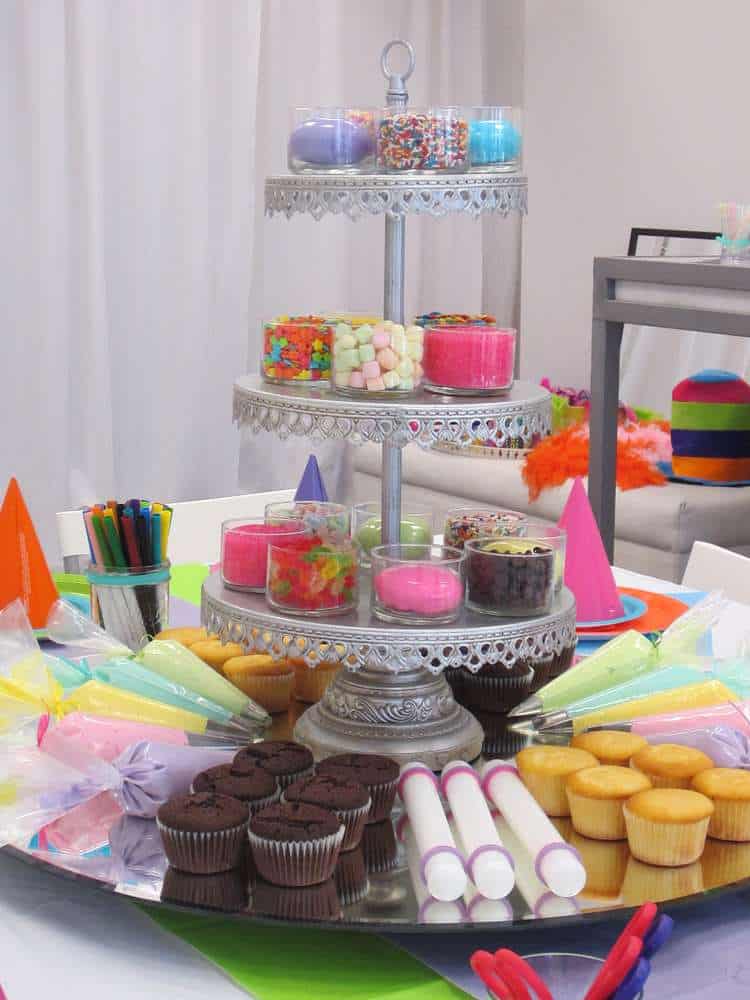 Cupcake Bar
Cupcake bars are probably the most fun dessert bar I can think of. For this idea, you want to choose your cake flavors, from chocolate, to vanilla to red velvet! The possibilities are endless! Then add in 2-3 different frostings and some fun sprinkles that match your school's graduation colors!
*Tips: Use boxed cake mix to make your own cupcakes. Make them a few days or even a week ahead of time and freeze them until the morning of!
Purchase store-bought icing tubs, or homemade, and add the icing to plastic piping bags (or large Ziploc bags with the corner snipped off.) This way, ALL the prep can be done a day or two early!
---
Buffet Station Ideas
Buffet stations are a great way to serve food at graduation parties especially when the party is outdoors. The advantage to having a buffet allow you to set up everything in advance before guests arrive so when the party starts, you won't need to worry about serving or cooking during the party.
Just make sure you keep the food warm using chafing dishes. Here are some inexpensive to fancy chafing dishes from Amazon you can order today.
Check out some of these awesome buffet station ideas below! Most of these are pretty versatile and can be changed as needed to suit your guests!
Pasta Buffet
How fun would a PASTA buffet be!? Everyone loves it plus they have GF options too which is great for guests who are gluten free. Make the pasta the night before!
Just make sure you add a touch of olive oil to keep it from sticking together and do not over cook it! Al dente is what you want. Then, on the day of the party, warm up some delicious sauces in crock pots and voila!
💡Tip* To make things even EASIER, purchase LARGE jars of premade tomato, alfredo and/or pesto sauce from your local wholesale distributor like Costco or BJ's and just pour into mini crock pots!
How to serve? Place the pasta in a few large chafing dishes to keep it warm and then set up your sauces in a triple crock pot. Serve with a few different ladles for guests to pour over and remember to always place mini dishes underneath to keep the table clean.
---
How will you keep all this food warm? Make sure you check out these easy Ideas For Keeping Food Warm!
---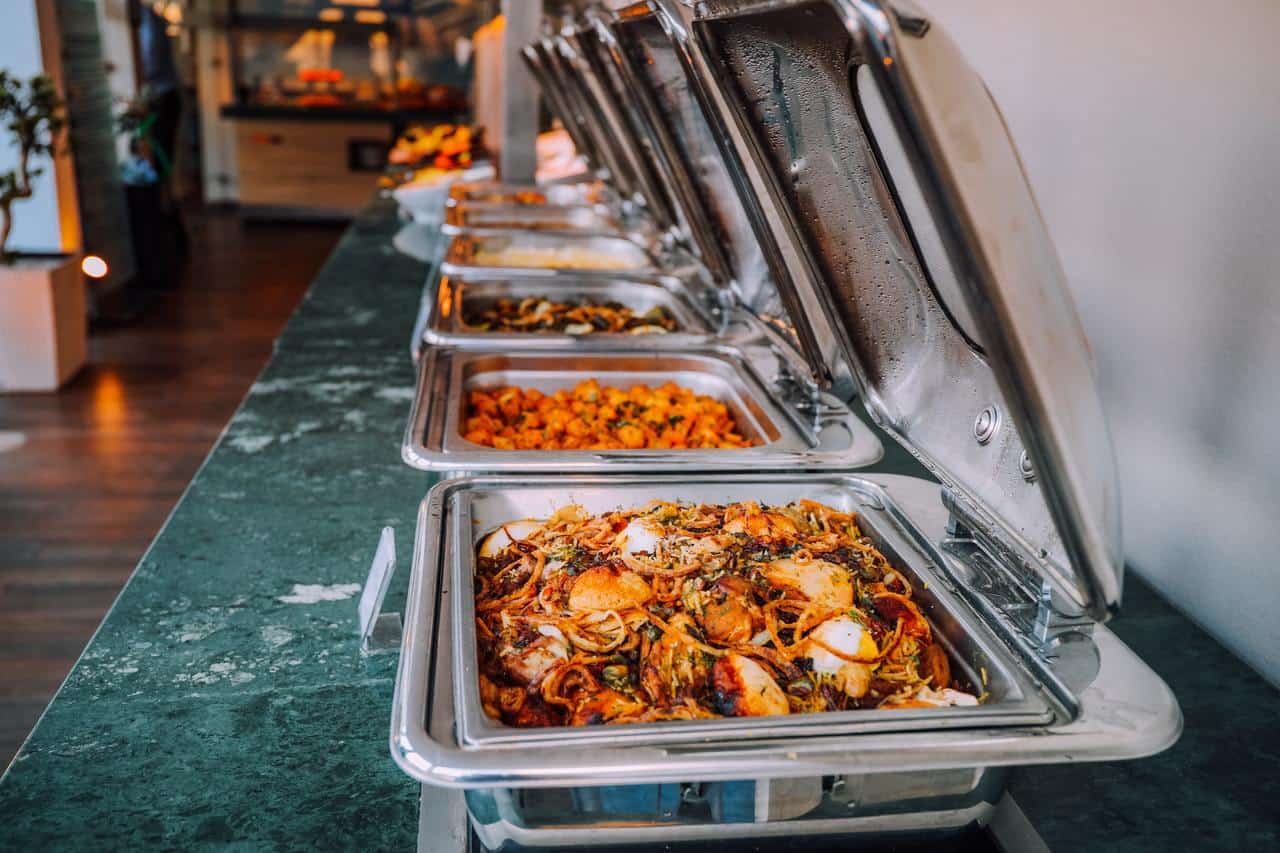 Jambalaya Buffet
This buffet is perfect for an outdoor graduation party especially because of the warmer weather! Jambalaya is typically served with rice, peppers, andouille sausage, shrimp, okra and many spices. Corn and potatoes are an added side dish that pairs well and are super cheap!
Here is a jambalaya recipe you can use to give you an idea of how to season your food. Cook the sausage, veggies and shrimp the night before and then warm them up in the oven the day of before you add them to chafing dishes.
Each food item will go in its separate chafing dish. The pot will still hold the flavors of everything as you cook each so when you're ready to cook the rice, it will simply soak up all of that flavor goodness!
The corn and potatoes can be steamed or roasted in the oven first before placing in the chafing dish.
---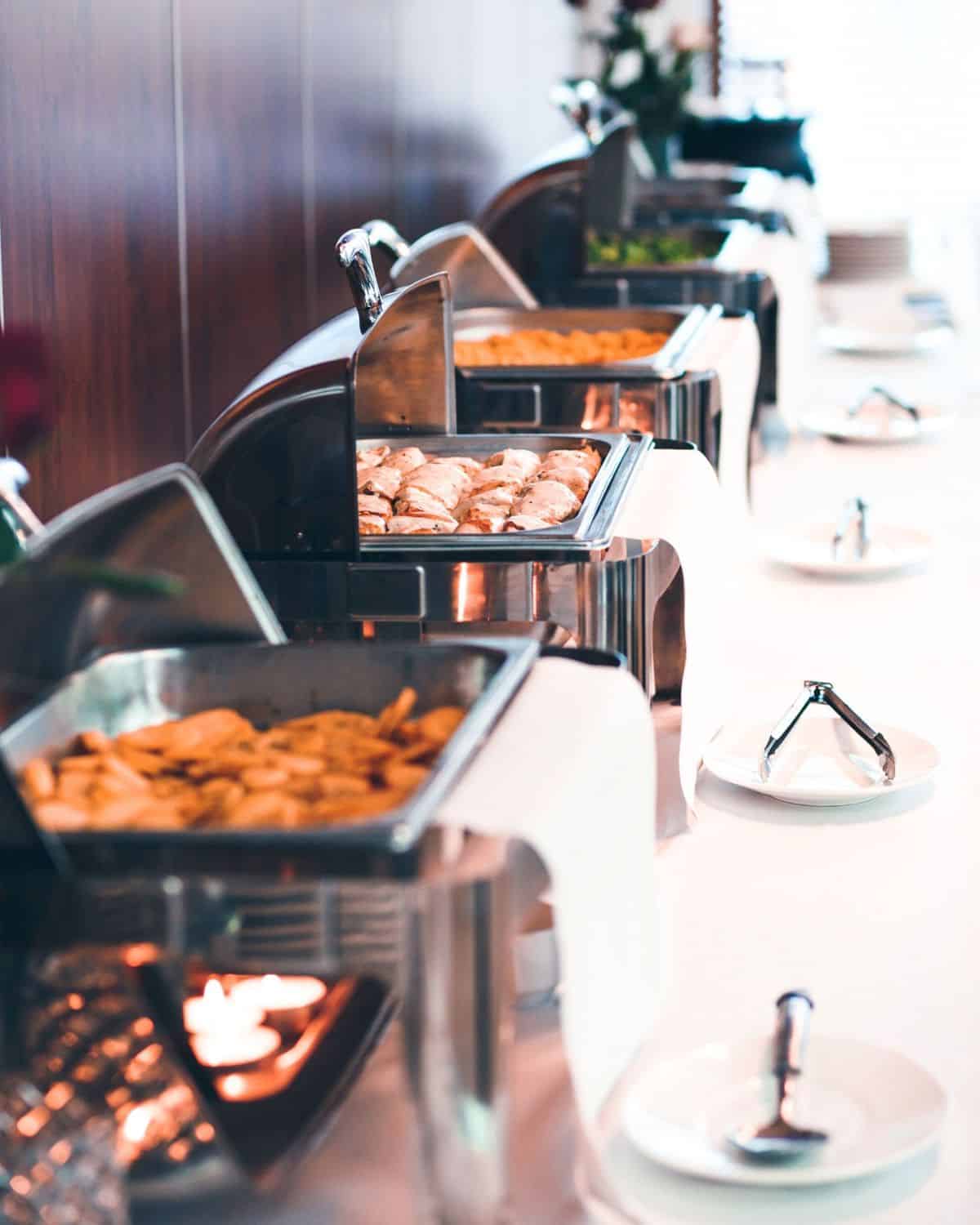 All American Buffet
This buffet is as simple as it gets and is pretty darn cheap to recreate! Ham and chicken are easy to keep warm and can stay moist if you don't overcook them.
Mashed potatoes go well with both of those meats and corn is a cheap easy side dish that every one loves. You can even serve corn on the cob instead. I would also include a green like green beans or a creamed spinach. Finally, finish off this buffet with some soft potato rolls and you're set!
*Tip: Make everything BUT the mashed potatoes the day before. Mashed potatoes do not reheat well since they can dry out easily.
---
Appetizer Ideas
Appetizers don't need to be difficult. Since guests will be coming and going all throughout the graduation party, it is best to stick with appetizers that can easily be kept warm without over cooking or drying out. Skewered appetizers are the best kind, ideal for outdoor parties. Plus, please LOVE eating things on a stick.
Here are some inexpensive but filling appetizers that people can grab with their fingers. Check out some of my favorites below!
Finger Food Ideas
---
Here are 59 good appetizers for a party!
---
How Much Food To Serve...
Knowing how much food to serve is the hardest part about throwing a party hands down!
This of course, depends how many guests your expecting. Some people don't like to RSVP and when it comes to graduation parties, sometimes, your child's friends might just stop by so it's important that you don't run out of food!
While there is no perfect formula, there is a general food rule that caterers like to follow...
What is the best way to calculate this?
I recommend creating a party food shopping list. This is the one I use. It just helps me calculate the amount of food I need while keeping cost into consideration.
Here is a real-life situation to give you a better idea:
(Warning: The math teacher in me is about to come out...)
If we follow the 1 lb. rule, converting lbs. to ounces helps a lot. Especially with corn since that is typically sold in ounces.
So if there are 16 oz. in a pound, we need 16 oz. of food per person.
When you calculate the amount of corn for example, make sure you think about the total number of guests your expecting. Lets say that's 20 guests. If we follow the 1 lb. per person rule, we need approximately 20 lbs. of food right? Multiple 20 lbs. x 16 oz. per pound and you have 320 total ounces of food. That total will need to be split amongst all the food you will be serving.
So if this is our party menu, we have 4 food items. (Remember, we need 20 lbs. of food which is 320 ounces.) This means you just need to divide the total ounces, 320 by 4. Which equals, 80 ounces of EACH dish. This is just an approximation. So that's 80 ounces of corn, 80 ounces of chicken, etc.) This should be more than enough food for your guests. You do NOT want to run out of food...EVER.
Okay, did I lose you?? If so, check out this party food calculator. It might be more helpful! 🙂
Also, don't forget to shop smart! Costco, BJ's or whatever local whole foods distributor you have near you is your best bet for getting large quantities of food for less money!
Catering your party? Here is a list of appetizers perfect for catering!
Grad Party Dessert Ideas
We can't forget about dessert! Chocolate fountains are a fun unexpected party idea. Who says, they have to JUST be for weddings? They are one of the best ways to add decor and flair to any dessert table.
Just center the table with your fountain and scatter with some treats. Check out these tips and tricks for serving a chocolate fountain table from The Good Hearted Woman.
Easy Chocolate Graduation Caps
These cute graduation hats are made using just two ingredients! People will love the simplicity and cuteness! Click here for instructions with photos!
Everyone thinks of a cap and gown when graduation times come around so why not incorporate the cap into a cupcake!? Click here for full instructions with photos!
---
But wait, how are you going to keep the food warm??
You don't want to give your guests food poising from serving food that is not properly stored. Here is a food safety temperature checklist that is nice to have at all times in your kitchen.
---
Graduation Party Decorations & Favors
When it comes to DIY decor and favors, I love cute but EASY favors and decorations. Here are some fun items that you might like that can be suited to fit your party's theme:
If you want to show how graduates shine bright, this DIY Tassel Lightbulb is perfect.
Shine Bright Supplies
Plastic screw off lightbulbs
Tassel keychains
Hot glue
Giant Balloon Graduation Tassel
Learn how to make a balloon tassel for an easy graduation party decoration. Tassels are a perfect design element to add to any graduation party, and who can resist a balloon at any age?
These cotton candy graduation favors are easy, clever and so fun! All kids love cotton candy so they would be a total party hit!
How cute are these straws? I think it would be a fun idea to pair these with a white marker so everyone can label their drinks. We all know how annoying it is when we lose our drink at a party so this would be a perfect solution that is also festive!
More Graduation Party Inspiration
I hope you were able to find some inspiration for the graduation party you are throwing! It is an exciting time and good reason to celebrate!
My last tip for you is to put most of your effort into ONE area of the party and make it worth it! The goal is to make that area or table the "talk" of the party. This is something that is unique and fun! If you need to spend money on one thing to make that area pop, do it. Ex: A popcorn machine or cotton candy machine go a long way presentation wise.
Also don't forget that there are plenty of party companies that will allow you to RENT equipment like cotton candy machines, frozen drink machines, drink tubs, coolers, etc.! Happy party planning! 🙂
📽 If you love entertaining at home, subscribe to my YouTube channel!!
Other party posts you might like:
59 Finger Food Ideas For Your Next Party
22 Mini Sandwich Ideas (Party Appetizer Sliders)
Easy Crock Pot Appetizers For Your Next Party
Chafing Dishes & Why You Need One (or Two!)