This Grilled Pineapple recipe is more than just grilling pineapple. The flavors are sweet, spicy and smokey. They are an easy and super healthy summer cookout idea that everyone will LOVE! Best of all, you can serve them as an appetizer, side dish OR as a dessert!
I love serving them with a Large Batch of Margarita Pitchers!
Grilling pineapple on the BBQ are a summer grilling favorite!
Along with my chocolate covered pineapple pops for dessert!
The exterior of the pineapple gets this beautiful caramelization that just adds a whole other layer of flavor.
Plus, the grill marks look AMAZING right!?
Serve them with these fun Watermelon Feta Stars and my orzo salad and you have two delicious appetizers people will go crazy over!
Common Questions
How do I prepare a pineapple for grilling? Start by removing the top, bottom, and outer skin of the pineapple. Slice it into rings or spears, removing the tough core from each piece.
Do I need to marinate the pineapple before grilling? Marinating is optional, but it can add flavor. You can marinate pineapple slices in a mixture of brown sugar, cinnamon, and a touch of lime juice for about 30 minutes before grilling.
Should I oil the grill grates before grilling pineapple? Yes, lightly oiling the grill grates helps prevent the pineapple from sticking. You can use a high-heat cooking oil or non-stick spray.
What's the best grilling temperature for pineapple? Preheat your grill to medium-high heat, around 350-400°F (175-200°C). This allows the pineapple to caramelize without burning.
How long do I grill pineapple slices? Grill the pineapple slices for about 2-3 minutes per side, or until grill marks appear and the pineapple starts to caramelize. Don't overcook, as the sugars can burn quickly.
Can I use canned pineapple for grilling? While fresh pineapple is often preferred for grilling due to its texture, canned pineapple can also be used. Just make sure to drain the canned pineapple well before grilling.
🍍Cutting Your Pineapple
It is not tricky to do as long as you have a sharp knife and a ripe pineapple! Using a pineapple corer is super helpful in making sure you are using as much of the pineapple as possible with minimal waste!
If you don't have a corer, that's okay!
Here are some tips on how to cut a pineapple: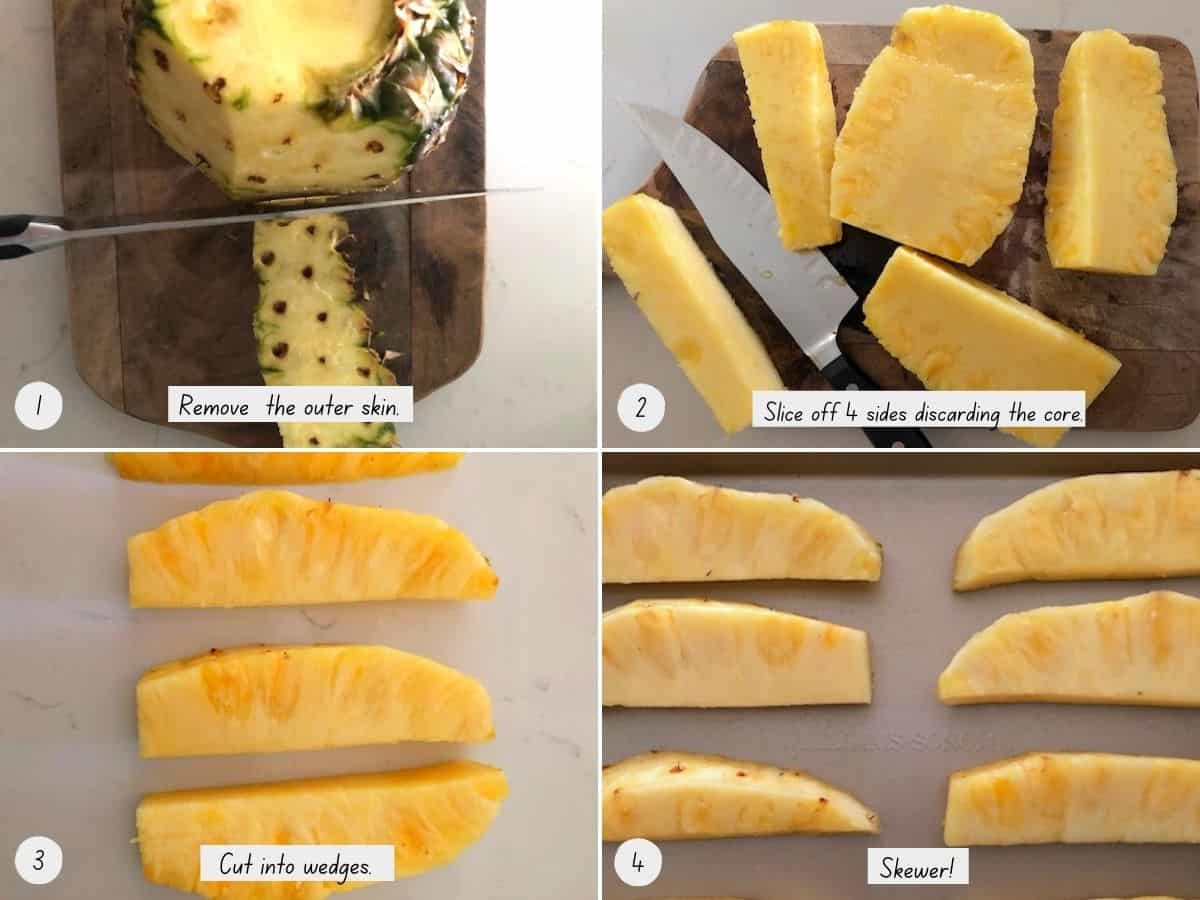 Don't trim off TOO much, seeing some of the 'eyes' are okay!
Cut your pineapple into any size you please.
Make sure your pineapple is RIPE! The leaves should easily pop out if you pull on them! Ripe pineapples are sweeter too!
Need more summer side dishes? My Greek Orzo Salad and Herbed Potato Salad are both delicious and can be served room temperature!
🔥How To Grill Pineapple
Now you have TWO options:
Grill your pineapple on a grill pan OR grill your pineapple an outdoor BBQ.
Whatever works for you at that time! Indoor grill pans are a great grilling alternative when the weather is poor or you just don't feel like firing up the grill. You just wont get a super smokey flavor.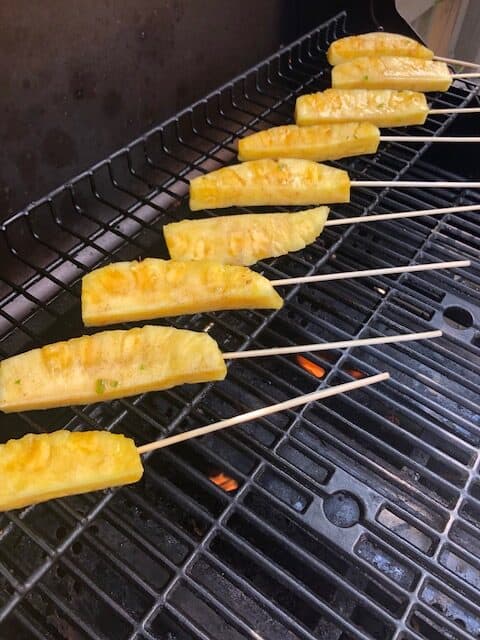 Grilling pineapple on the BBQ is super easy! You don't have to worry about cooking temperature or drying them out. So although it is pretty hard to mess up, I do have a few tips to make your spears turn out perfect every time!
Soak your skewers! Soak your wooden skewers for at least an hour. Overnight is best. You don't want them catching on fire!
Clean your grill! Clean your grill thoroughly before you start so your grates are free from past burn/blackened foods.
Dark, defined grill marks are key! To get the best grill marks, place them directly over the fire (on high), close the lid, and DON'T TOUCH THEM! If you keep moving them around, the grill marks will be all over the place.
How to get beautiful crosshatch marks! A crosshatch is like a tic-tac-toe board. Grilling experts know this term very well. There is a specific way to rotate your food to get these marks. Watch the video below to see how!
The Cinnamon Honey Glaze
This cinnamon honey pineapple glaze is SO tasty and can be used as a marinade, a glaze or even a sauce to dip your pineapple into!
It's very versatile so you can tweak it as needed.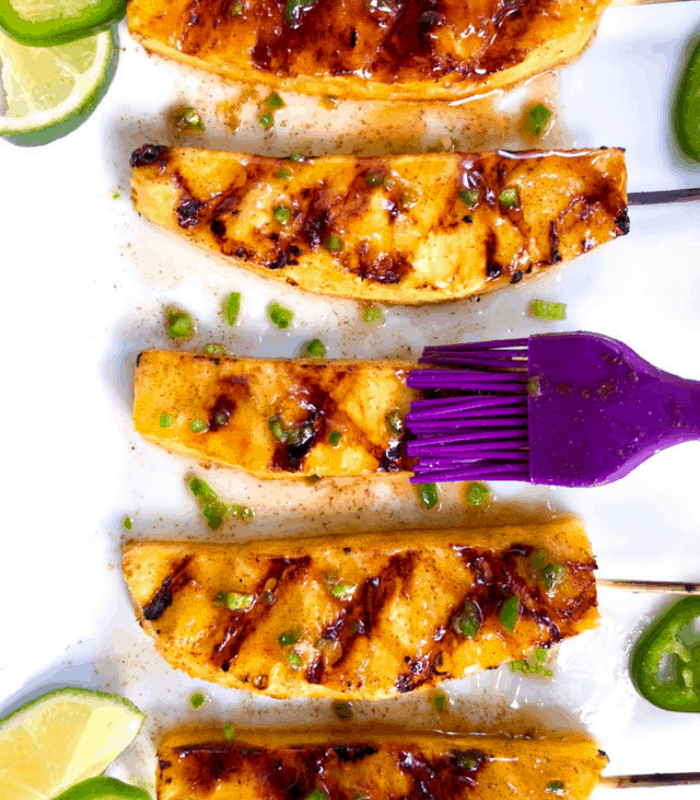 Adjust The Heat
Jalapenos are not very hot and are considered on the mild side when it comes to the pepper world. If you are not used to eating hot foods, you can tone down the heat by doing two things:
Add ½ of a jalapeno instead of 1 whole one
Remove all of the seeds! (this is where a lot of heat lies)
If you love hot peppers and want to kick up the heat, add more jalapenos or even some chili pepper if you feel up to it!
I used honey for this glaze because it is naturally thick and sweet! Plus it is better for you than refined sugar. Pineapple juice also has natural sugars in it so you don't want to overdo the sweet factor.
I also added cinnamon! Grilled pineapple with cinnamon is just delicious!!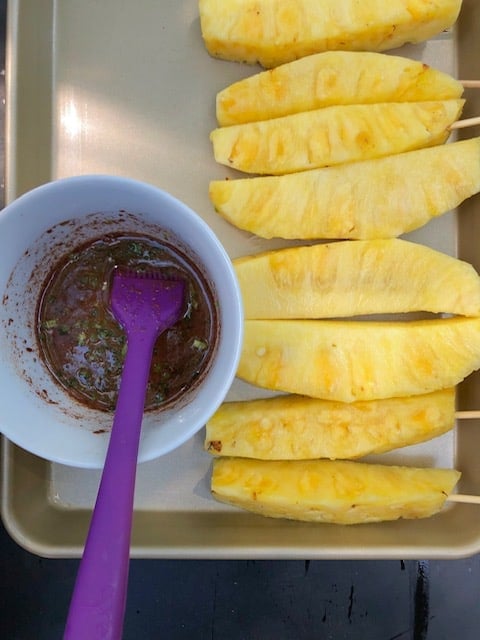 Serving Suggestions
I love to serve grilled pineapple as a sweet snack or a light dessert post dinner!
You could ALSO serve them as a SIDE DISH to your meal! There are no rules for this recipe!
✔️Tip* Make these ahead of time to allow the glaze to marinate the pineapple.
My suggestion is to grill them ahead of time and chill them in the fridge until you are ready to serve. They are not meant to be enjoyed HOT so it makes the most sense.
Either throw them on the grill right BEFORE you start cooking your other food, when it's nice and clean or do it hours before the party.
You, of course, could throw them on the grill right after you're done grilling dinner but the grill will be a mess AND you are going to have to wait for them to cool down before serving your pineapple.
Plus, everyone else will be enjoying dinner and you'll be stuck on the grill. Not fun.
No Skewers?
If you don't have skewers, you can always serve the pineapple as is and have people use a fork or just their fingers if it's a super casual party!
You could cut your wedges into small pineapple pieces and serve with mini toothpicks! This is definitely my second favorite way to eat this grilled pineapple dessert!
Another option is to cut your pineapple into round slices and grill your slices as is. If you do this, make sure you cut them thick enough so they don't fall apart.
Also, make sure you have a pineapple corer if you want to cut your pineapple into slices!! It will remove the core so easily and create perfectly round slices.
If you purchase fresh pineapple a lot, you should definitely get a pineapple corer!
✔️Final Tips
Don't try grilling canned pineapple!! It is way too soft and thin to grill and just does not taste the same!
Don't overcook your pineapple! As soon as you get some good grill marks, they are done!
Baste your pineapple slices a few times while they are on the grill! This will help the sugars caramelize!
Serve chilled with extra glaze drizzled on top!
Try serving with ice cream on the side! It pairs wonderfully!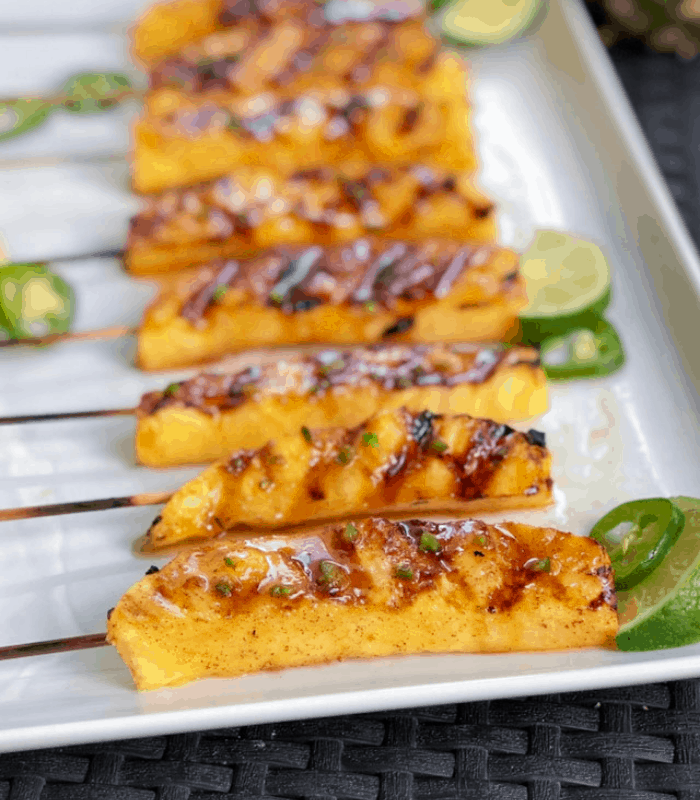 Here are some other fun summer snacks you may like!
Tempura Crab Stick Bites with Old Bay
Grilled Carne Asada Mulitas (Corn Tortilla Quesadillas)
Triple Melon Sticks With Yogurt Dip
📽 If you love entertaining at home, subscribe to my YouTube channel!!
📖 Recipe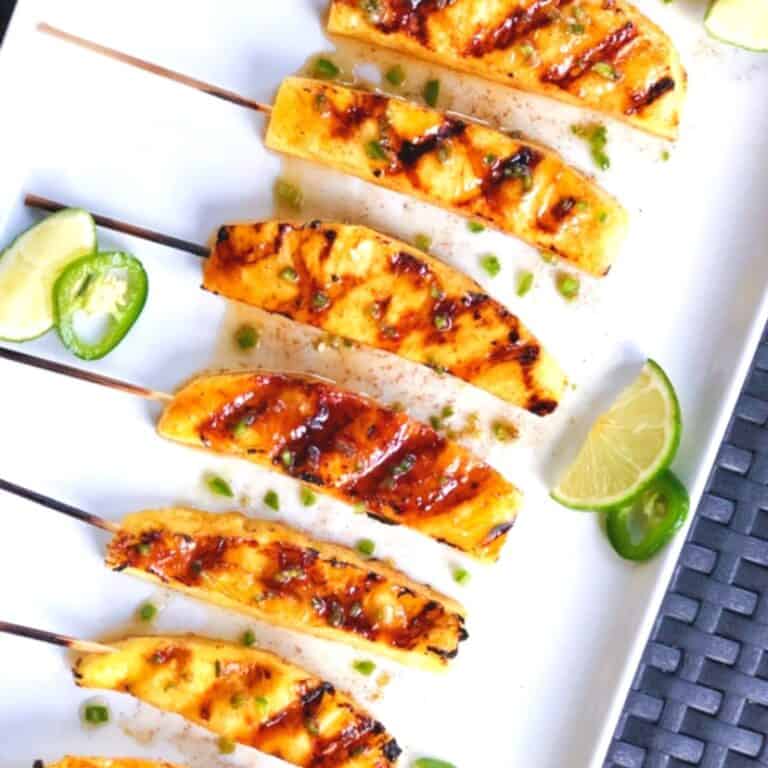 Grilled Pineapple Recipe
An EASY and healthy grilled pineapple spears recipe with tons of flavor! Topped with a jalapeno honey and cinnamon glaze, these skewers will be a hit at your next BBQ!
Print
Pin
Rate
Ingredients
1

Ripe Pineapple

10

Skewers

((wooden or steel))
Jalapeno Honey Glaze
½

Cup

Honey

1

Large

Lime

½

Tsp.

Cinnamon

½

Tsp.

Salt

1

Small

Jalapeno
Instructions
**If using wooden skewers, make sure you let your skewers soak in water for at least 30 minutes before grilling!

Clean your grill and turn it on high so the internal temperature is about 400 degrees.

While heating, cut your pineapple into 10 spears. Watch the video above or see photos if you need help cutting!

Add the glaze ingredients to a small bowl and mix!

Skewer your pineapple spears by sticking your skewers into the CENTER of each spear. Be careful and take your time! You can stop about 1" from the top.

Lay skewered spears onto a flat plate and brush your glaze onto both sides.

Place spears onto grill directly over the flames (at a 10 o'clock angle) and close the lid. After about 5 minutes, rotate skewers to a 2 o'clock angle and baste them with the glaze. Close the lid again. You will only be grilling them on ONE side so keep the same side down when you rotate! *Watch the video above to see how to do this properly!

Once grill marks are achieved, remove and set skewers on a large flat serving plate. Brush or spoon remaining glaze over top of each spear! Chill for at least 15 minutes before serving!
Recipe Notes
Tips**
It is best to grill these ahead of time so they have time to chill!
Use FRESH pineapple only for this recipe!
Dark, clean grill marks are what you want so do

not

move your skewers around once you place them onto your grill! You will just be moving them ONCE when you rotate them.
Nutrition
Serving:
2
Spears
|
Calories:
371
kcal
|
Carbohydrates:
99
g
|
Protein:
3.1
g
|
Fat:
0.7
g
|
Saturated Fat:
0.1
g
|
Cholesterol:
0
mg
|
Sodium:
241
mg
|
Potassium:
614
mg
|
Fiber:
8
g
|
Sugar:
80.2
g
|
Vitamin C:
5
mg
|
Iron:
1.8
mg