These Grilled Carne Asada Mulitas are similar to traditional quesadillas but use corn tortillas and marinated skirt steak. They are one of my new favorite party appetizers to make in the warmer months and after marinating, can be ready in less than 15 minutes!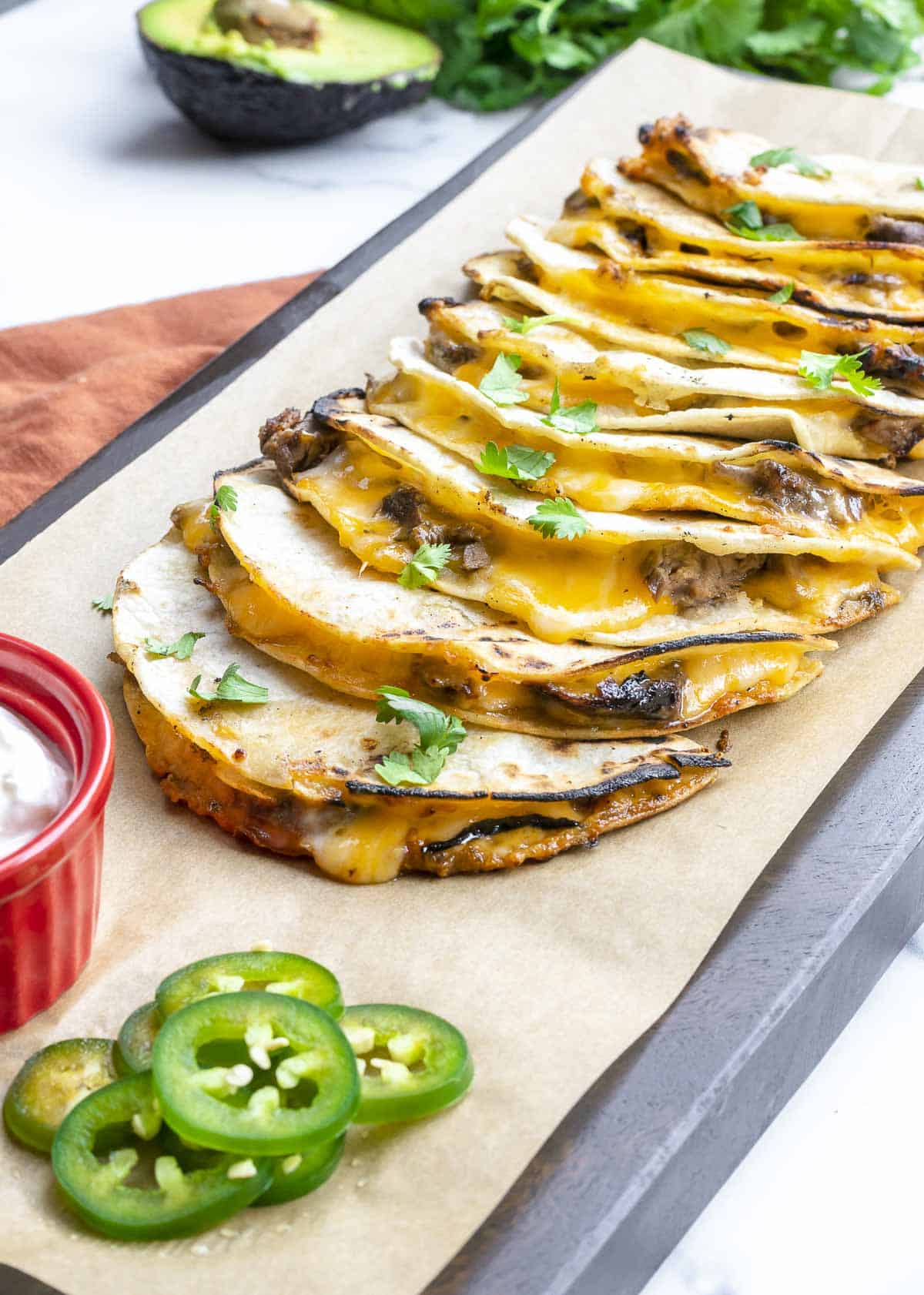 Marinated skirt steak grilled to perfection, melted under cheese, and sandwiched between two crispy charred corn tortillas. They are SO flavorful!
I was actually pleasantly surprised at how easy these "quesadillas" were. Making them entirely on the grill saved me so much time and I had minimal dishes to clean.
The most tedious part is waiting for the steak to marinate. But trust me, it will be WELL worth the wait! See below for recipe variations and tips!
Serve alongside my feta orzo salad or my mayo free potato salad!
What Exactly IS Carne Asada?
Carne asada is a Mexican dish which translates to "grilled steak". It is traditionally marinated, grilled then sliced thinly making it the perfect ingredient to put inside quesadillas.
Mulitas vs. Quesadillas
Mulitas are pretty similar to quesadillas. The MAIN difference in the choice of tortilla. Mulitas are traditionally made with corn tortillas with steak and cheese in the middle. Quesadillas are made with flour tortillas and can be stuffed with meat, beans, and other ingredients.
Corn Tortillas vs. Flour Tortillas
Corn tortillas are not usually my go-to tortilla but they make this recipe more authentic. You can choose between white or yellow corn tortillas and from a range of sizes. If you can fine the small round ones, get those. They make the ideal finger food appetizer. If you prefer using flour tortillas, you sure can.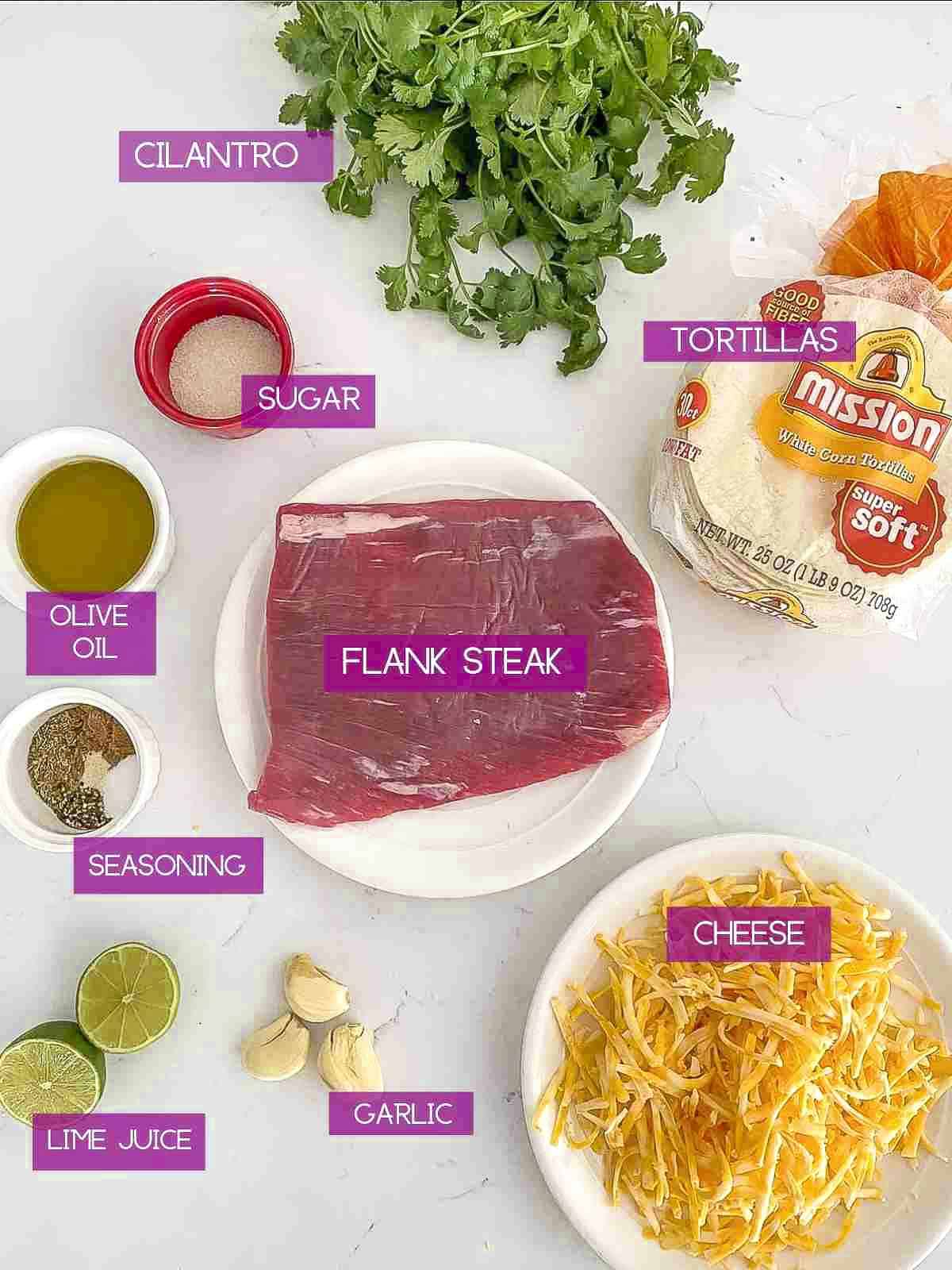 Ingredients
Most of the ingredients for a carne asada is in the marinade. The marinade is your opportunity to infuse your meat with lots of flavor. Some ingredients can be swapped out if you wish but keeping the cilantro and lime juice is essential to an authentic carne asada.
What Is The Best Steak To Use?
Skirt, flank and hanger steak are the best cuts of beef for carne asada quesadillas since they are both boneless and thinner than other cuts.
Because they are not super thick, they soak up marinades easily and they cook up in no time. With that said, you really could use ANY type of steak you prefer but I highly recommend flank steak.
Skirt Steak vs. Flank Steak
Skirt steak and flank steak LOOK similar but their differences are worth considering.
flank steak is more tender than skirt
flank steak is "beefier" in flavor
is leaner than skirt steak
skirt steak is cheaper than flank
So with these things to consider, FLANK STEAK is my go-to cut hands-down. The fact that flank steak is more tender than skirt is important when choosing a cut of meat.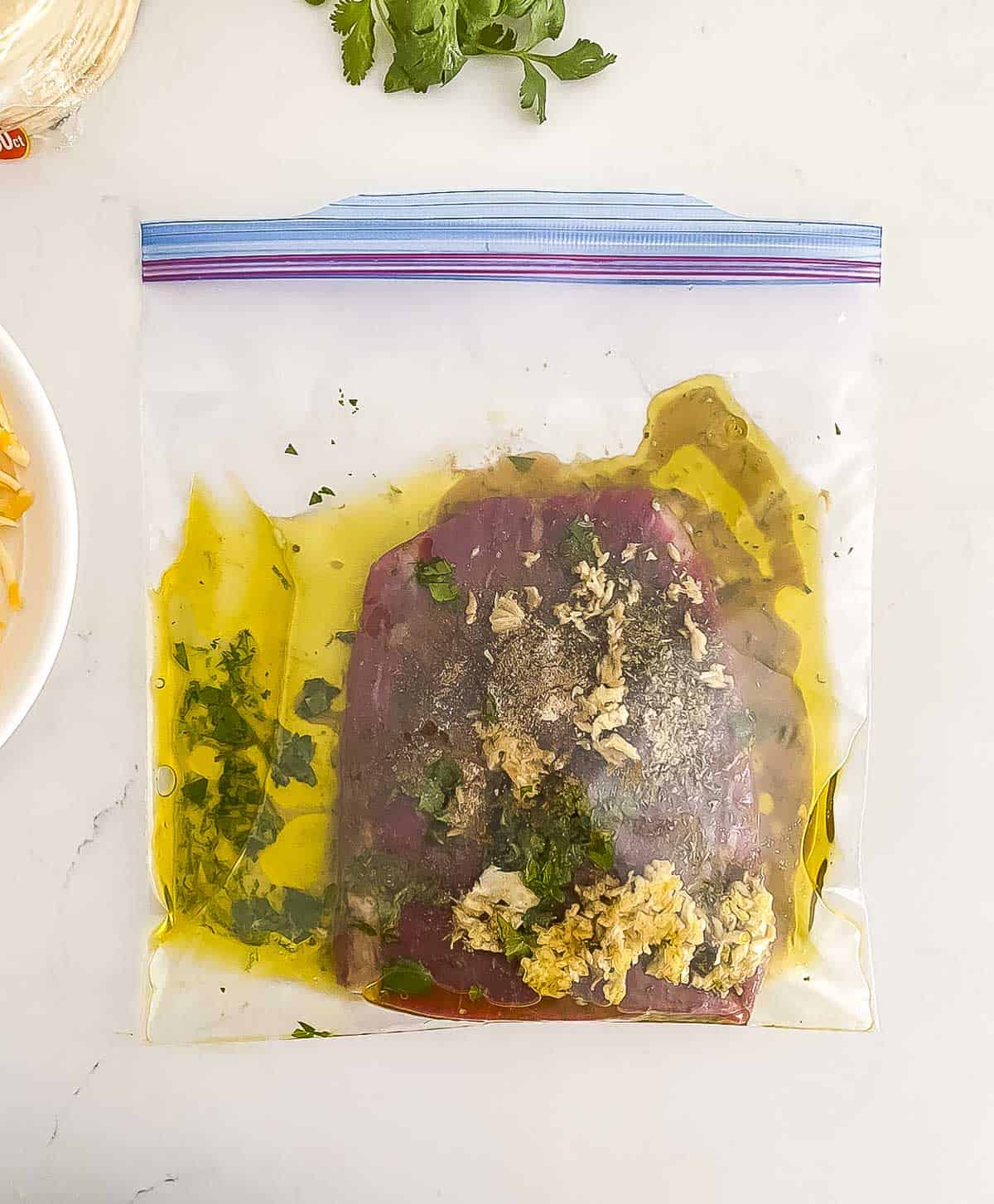 Carne Asada Marinade
If you are using skirt steak or hanger steak, you definitely want to marinate your meat first since they are tougher cuts.
However if you are using flank steak like I did in this recipe, marinating it is like a bonus tenderizer. If you can let your steak marinate for at least 6 hours, even better.
🛒Ingredients
Lime juice- The acid is what breaks down the muscle fibers in the meat, aka denaturing. You can use lemon if you don't have lime but lime is typical in carne asada marinades.
Olive oil- A healthy, flavorful oil perfect for marinating.
Garlic- Freshly chopped garlic makes a huge difference in flavor.
Worcestershire sauce- I love using this with beef. A little adds that umami flavor we all love. You can substitute soy sauce if you don't have Worcestershire.
Cilantro- Freshly chopped cilantro adds a bright, fresh, citrusy flavor to your meat. You can use parsley if you are not a cilantro fan.
Spices- I used garlic powder, onion powder, coriander, oregano, salt and pepper.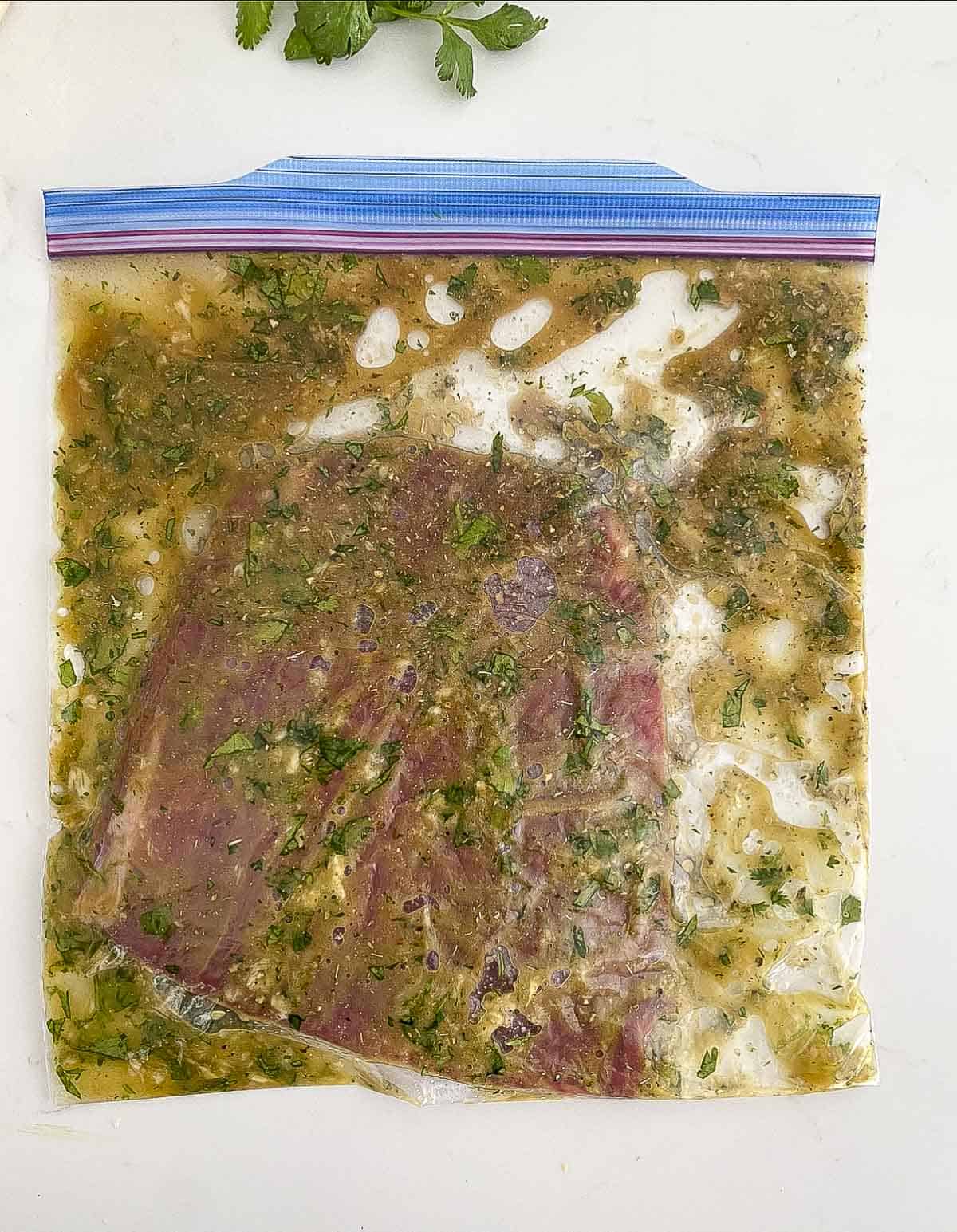 Add your flank steak and carne asada marinade to a large resealable plastic bag OR a flat baking dish so the steak can "swim" in the marinade the entire time. Aim to marinade in the fridge for at least 6 hours or up to 12 hours. I like to do this the night before the party or the morning of.
Grilling vs. Searing
If you have a grill, it is 100% worth firing up for this recipe. It saves time, adds much more flavor and keeps your kitchen mess-free.
After your steak has marinated for 6+ hours, allow your meat to come to room temperature before cooking. This will ensure your meat cooks evenly.
If you don't have a grill or don't feel like using it, the NEXT best option is to grill your steak on an indoor grill pan. If you don't have one of those, you can use a long, wide skillet as a last resort. The idea is to get that nice brown color on your steak. Always make sure you check the interior of your steak so you don't overcook it.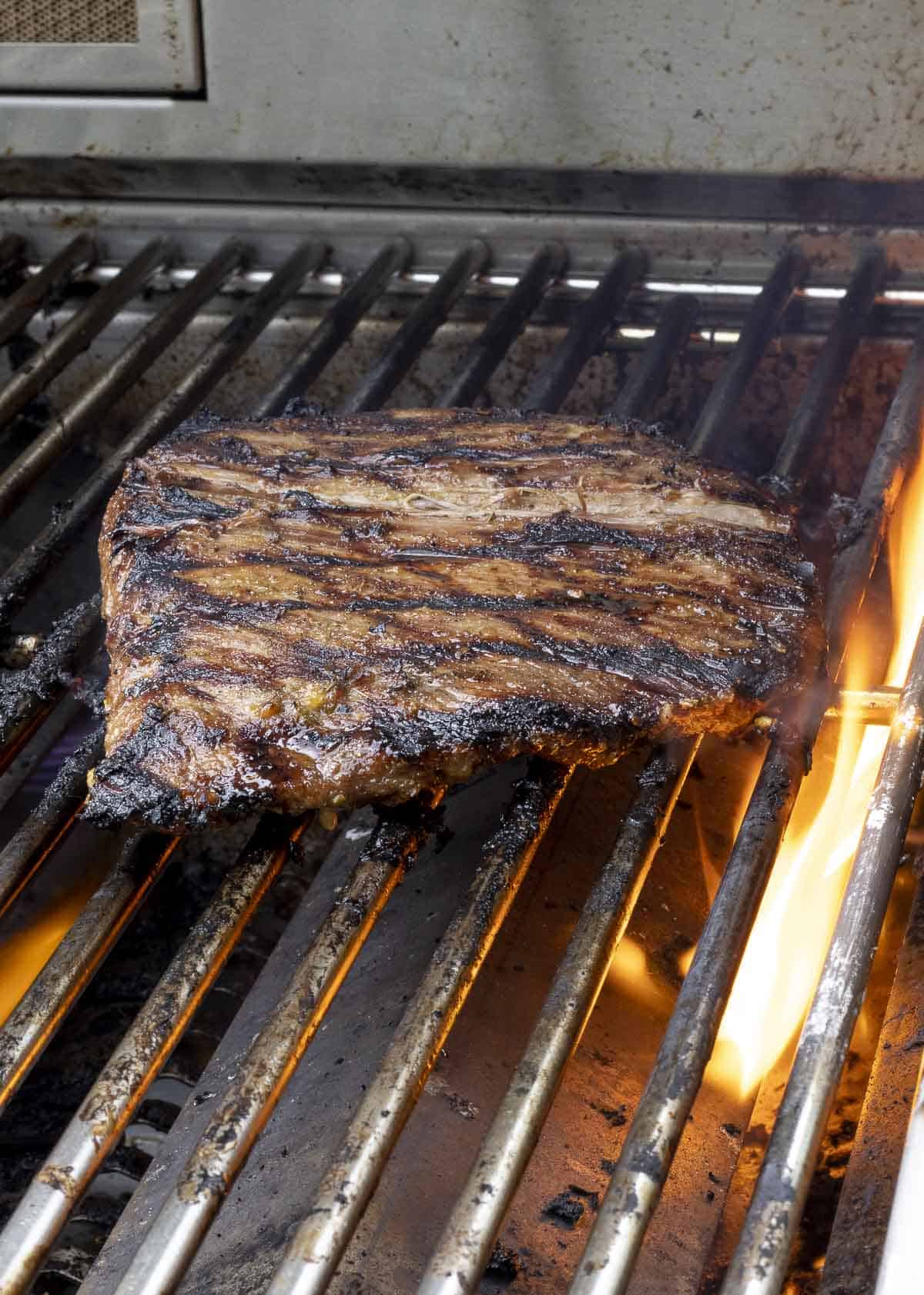 🔥Ideal Internal Temperature
Rare (Very raw inside) is about 115°F - 120°F
Medium (Pink inside) is about 120°F -130°F
Medium-well (Slightly pink inside) is about 130°F - 145°F
Well done (No pink) is about 145°F - 150°F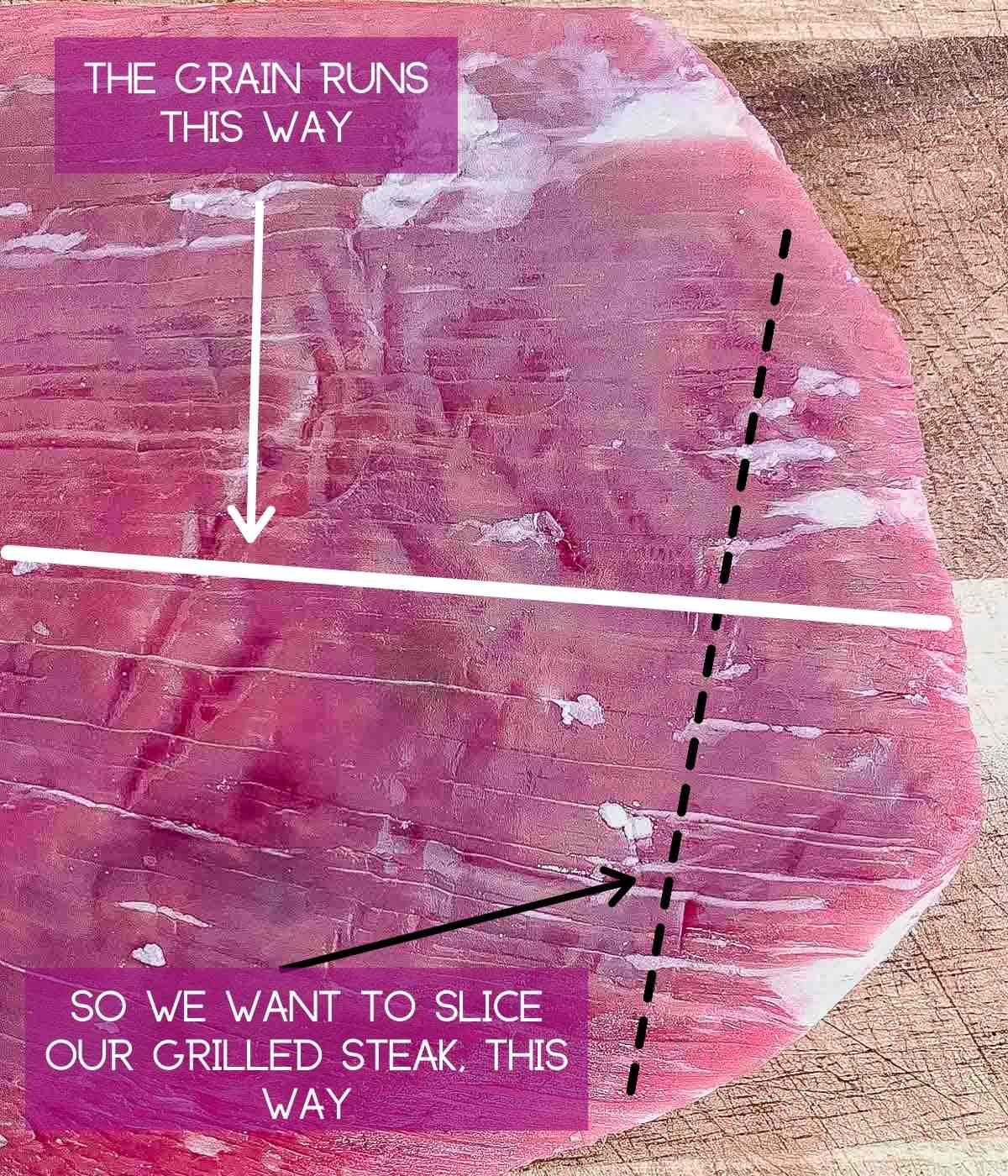 Cutting Your Steak
Four steps to make your steak as tender as possible.
Purchase a good flank steak
Marinate your steak for 6+ hours
Let your meat rest for about 5 minutes before cutting
Cut your steak against the grain*
A lot of people don't think about HOW to slice steak before they eat it but you should. Cutting steak against the grain, (or the lines you can see on the meat) will shorten those fibers making them easier to chew hence, more tender.
Cheese Choices
Choosing the right cheese is important. You want cheese that is NOT pre-shredded. Pre-shredded bagged cheeses have added ingredients that keeps the cheese from sticking together AND prevent it from melting well which is NOT what we want in our mulitas.
So choose from any of the following FRESH cheeses. If you want to make your mulita more authentic, go with a Mexican cheese.
Monterey jack
Cheddar
Colby
Asadera
Chihuahua
Manchego
Oaxaca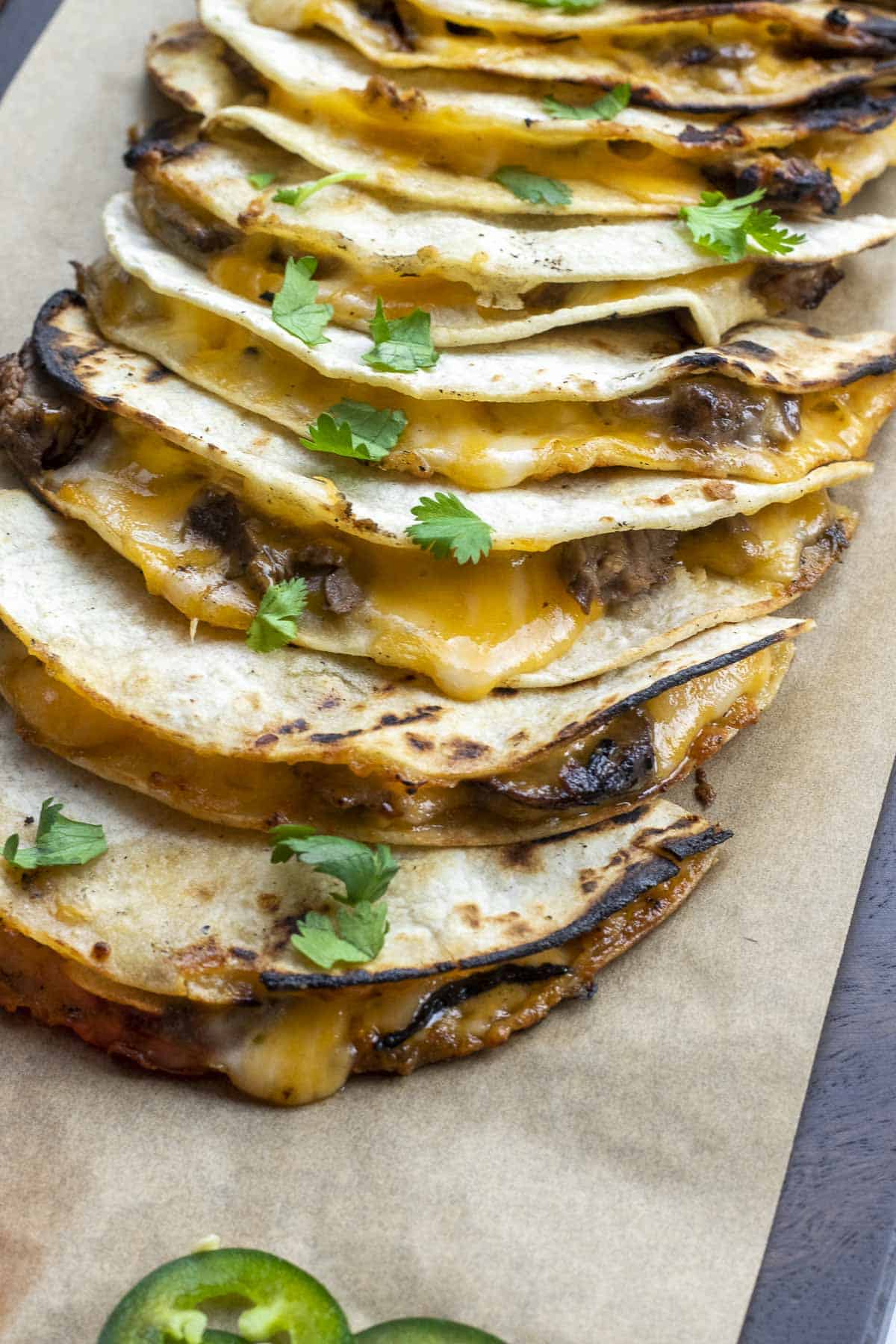 Serve these mulitas with a few Avocado Margaritas!
Other Variations
The world is your oyster when it comes to food ESPECIALLY mulitas (aka quesadillas).
Here are some additions/variations you can make.
Add cumin or chili powder to your marinade
Spread the inside of your corn tortillas with refried beans
Serve with guacamole, queso fresco or pico de gallo
Add sliced jalapenos to your mulita for some heat
Use a different type of meat like chicken or pork
FAQ's
Is there a difference between steak and carne asada?
Carne asada is typically made using flank steak that is marinated in lime juice and cilantro.
How do I make mulitas like my local taco truck does?
Be generous with the oil which helps to create a crispy exterior on the tortilla. Use a mixture of freshly grated cheese like Monterey Jack, Colby, Oaxaca, asadero, manchego, or Chihuahua cheeses. 
Can I make these in a skillet instead of grilling them?
Yes but the charred flavor will not be there.
Serve With The Following:
Classic Margarita Pitchers (No Simple Syrup!)- Serve these mulitas alongside of a pitcher of margaritas.
BAKED Mini Churro Bites w/ Quick Chocolate Sauce- These mini churros would pair perfectly with this dish.
Other Mexican Inspired appetizers you might like:
Healthy COLD Taco Dip With Cottage Cheese
Easy Vegetarian Empanadas (with Pie Crust)
Mini Baked Shrimp Tostadas Bites (w/ Chipotle Sour Cream)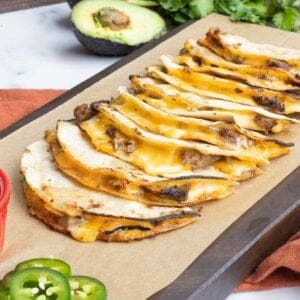 Grilled Carne Asada Mulitas (Corn Tortilla Quesadillas)
This Carne Asada Mulitas are similar to a quesadilla using corn tortillas. They are one of my new favorite party appetizers to make in the warmer months! Marinated skirt steak grilled to perfection, melted under cheese, and sandwiched between two crispy charred corn tortillas.
Print
Pin
Rate
Ingredients
12-14

corn tortillas

((or flour))

1

lb.

flank steak

8

oz.

Monterey Jack cheese, freshly shredded
Steak Marinade
2-3

large

limes

((about ¼ cup juice + zest))

3-4

large

garlic cloves

¾

teaspoon

salt

1

teaspoon

coriander

1

teaspoon

oregano

½

teaspoon

black pepper

1

tablespoon

sugar

1

teaspoon

onion powder

¼

cup

olive oil

2-3

tablespoons

cilantro, chopped
Instructions
Add all the marinade ingredients to a large resealable plastic bag or a shallow baking dish followed by the flank steak. Massage the marinade into the steak to ensure it is fully coated. Chill in the fridge for at least 6 hours or overnight.

Allow steak to come to room temperature before grilling.

Preheat your grill to about 450°F. Add steak and don't touch it. After about 5-7 minutes, flip your steak. Keep an eye on the flames for flair ups. You don't want your steak to burn, just get slightly charred. Aim to keep the flames on medium to medium-high.

After about 5 minutes check the internal temperature. For a medium steak, want your steak to reach an internal temperature of about 140°F. Use a meat thermometer to test for doneness. Cook to desired temperature.

Allow meat to rest for at least 5 minutes before slicing then slice the steak very thinly using a sharp knife. Make sure to cut your steak against the grain. (Look for the lines running through the meat and cut perpendicular, or in the opposite direction.)

Lay out your tortillas and add about 1-2 ounces of shredded cheese to one tortilla at a time.

Top the cheese with some steak and then add another layer of cheese. Add another tortilla to the top and press down. Repeat with other tortillas.

*Optional-Brush top of the tortilla lightly with oil.

Place tortillas oil side down on the grill. Repeat with the rest of them.

Make sure your heat is on low. You are just looking to slightly char your tortillas and melt the cheese.

Remove from grill and let cool for 1-2 minutes before cutting. Cut your mulitas in half and garnish with freshly chopped cilantro. Serve with sour cream, guacamole and/or pico de gallo.
Recipe Notes
This recipe makes about 6 mulitas that are 6" in diameter.
Mulitas are traditionally served on corn tortillas. If you wish to make these with flour tortillas, you can.
I highly suggest using flank steak as opposed to skirt steak. It is more tender and flavorful.
The longer you marinate your steak, the more flavorful and tender. 6-12 hours is ideal.
Nutrition
Calories:
459
kcal
|
Carbohydrates:
30
g
|
Protein:
29
g
|
Fat:
26
g
|
Saturated Fat:
10
g
|
Polyunsaturated Fat:
2
g
|
Monounsaturated Fat:
12
g
|
Cholesterol:
79
mg
|
Sodium:
582
mg
|
Potassium:
429
mg
|
Fiber:
4
g
|
Sugar:
4
g
|
Vitamin A:
319
IU
|
Vitamin C:
7
mg
|
Calcium:
360
mg
|
Iron:
2
mg