These Puff Pastry Garlic n' Herb Pinwheels are a quick savory appetizer perfect for a crowd or party. They are made with store-bought puff pastry dough so they are super easy and kid friendly. If you love garlic bread, you will LOVE these pinwheels!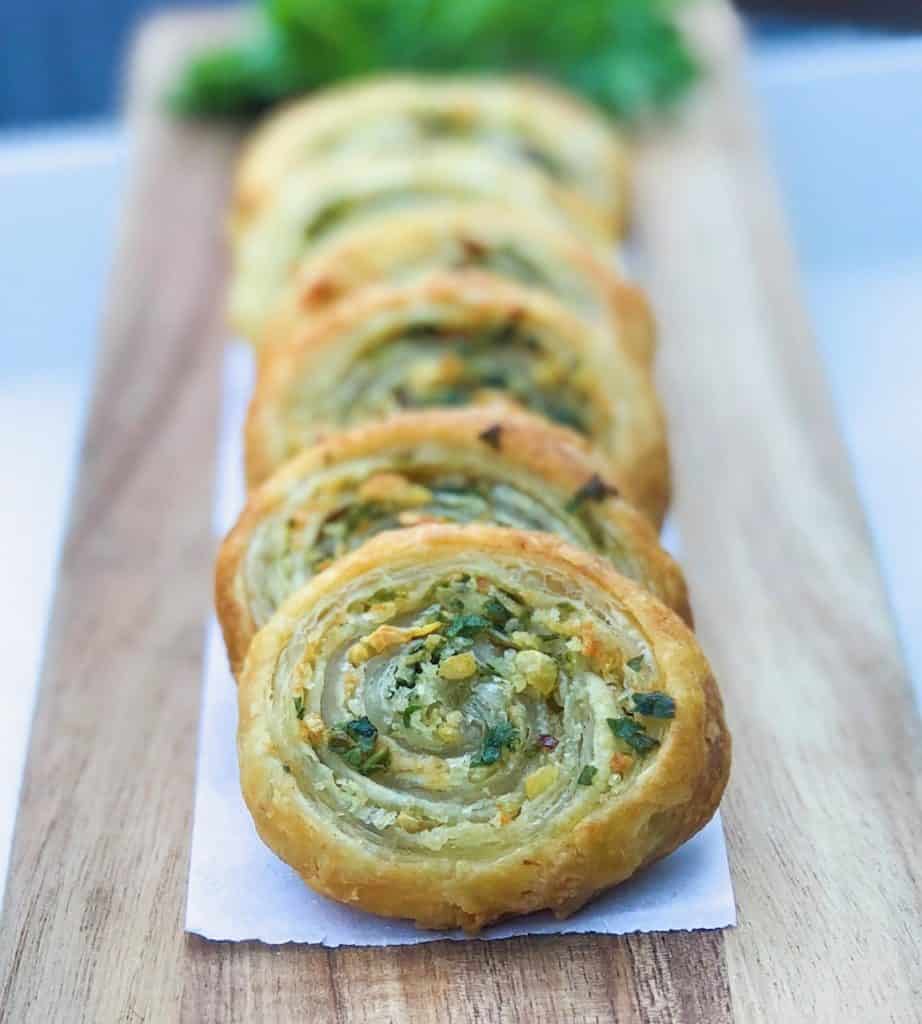 These savory puff pastry pinwheels are such a fun appetizer or snack to serve guests. They are uniquely delicious and packed with flavor!
If you are a garlic bread lover, you will devour these! Sprinkled with freshly chopped herbs and brushed with olive oil, they are an easy way to whip up something delicious and filling at the last minute! Think of garlic bread...on STEROIDS!
Looking for more room temperature appetizers? Check out these!
Garlicky Goodness
Puff pastry, garlic, herbs, and olive oil. How can that be bad?
These adorable pinwheels are something I whipped up last minute because I didn't have any motivation to spend hours in the kitchen!
I had a box of puffed pastry dough sitting in the fridge leering at me every time I opened it. I knew I had to use it but was not in the mood to create a complicated bite sized recipe.
Plus, it was almost dinner time and I needed to get started on something before Derek came home and Lucas woke up.
Then, a light bulb went off! Garlic bread!!
I grew up eating garlic bread by the loaf. I think it is the best thing ever invented. Is is considered an invention??
Anyway, it reminds me of something I read the other day about garlic bread. Did you know it originated in Italy? Ironic because in Italy, they almost never serve garlic bread in restaurants. Instead, they will serve you some fresh rolls. Without butter.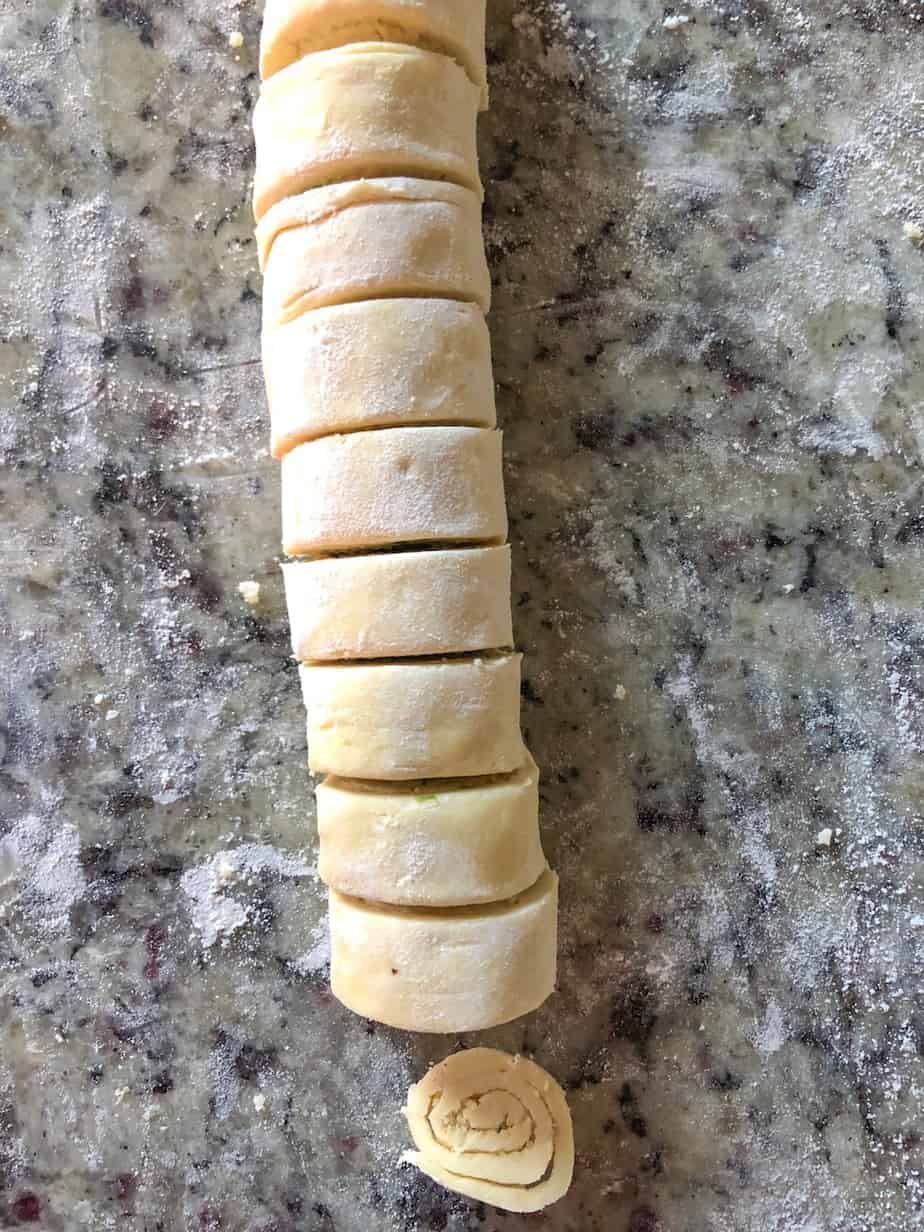 Although I love a freshly baked roll, I need butter with my bread. No question about it. And it MUST be salted butter! So you can imagine my love for Texas toast!! Could there BE more butter on Texas toast? Mmm..
With a strong love for garlic, bread and butter, these garlic n' herb pinwheels were born.
Since it is summertime, I have so many fresh herbs sitting around so I threw some into my butter and garlic. It adds so much flavor and freshness! Don't leave it out. And definitely use FRESH herbs whenever your cooking! They always taste better.
Actually, I take that back. Oregano is probably the only herb I don't bother buying fresh. The flavor is so strong that it will often overpower your dish. Dried oregano does the job so well so why bother?
Dried parsley on the other hand? Not so much.
If you love pinwheels, check out over 20 Pinwheel Sandwiches For Parties!
Puff pastry tips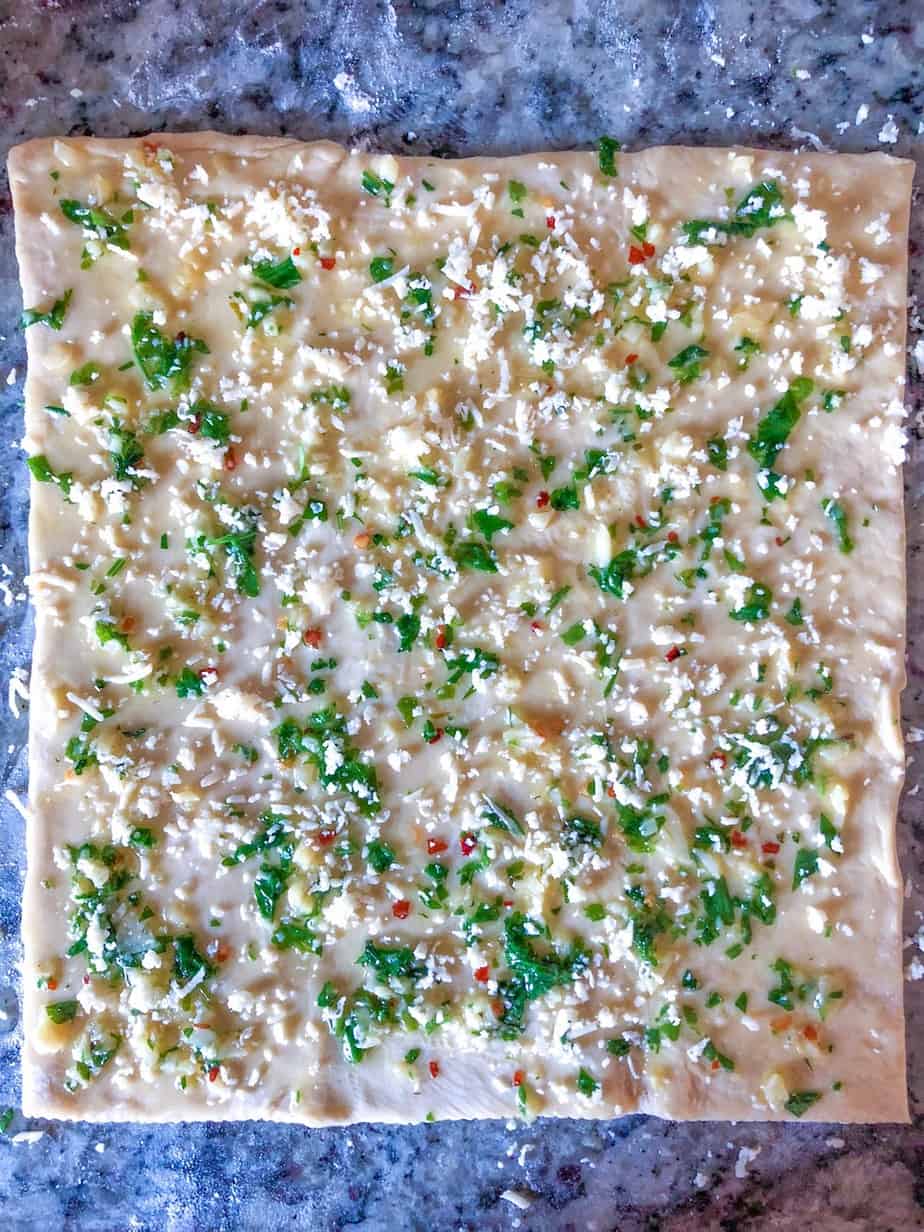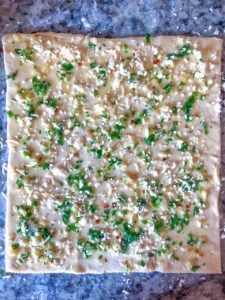 The base for these pinwheels is frozen puff pastry dough. I like the Pepperidge Farm brand best but buy whatever you can find in the freezer aisle. It is one of my favorite products to work with, along with phyllo dough! 🙂
Puff pastry tips I've learned over the last few years:
Thaw your puff pastry in the refrigerator!

This will allow it to keep its flaky texture.

Bake your puff pastry when it is COLD. The colder the better!

Throw it in the freezer to cool it back down if you need. This will make your dough rise well and more evenly!

Using puff pastry when it's fresh will yield the best results, period!

Use an egg wash when needed!

This will allow you to seal the pastry dough or provide a nice sheen to your dough.
Serving your pinwheels
These pinwheels with puff pastry are the perfect substitute for garlic bread at dinner time OR with a glass of wine and big ole chunk of cheese!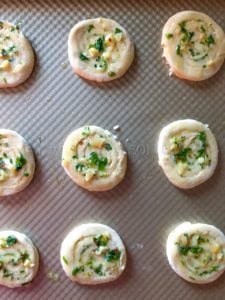 Pinwheels are always so fun to eat so trade out the usual garlic bread for these babies next time!
Keep in mind, these pinwheels have a lot of butter so feel free to either use olive oil OR butter!
You can also add or substitute any herbs you like!
Oh and if you have them, get your kids to help make these! They will love it! I can't wait for Cal to be a bit older so he can help me 'smush' down the pinwheels! So much fun to look forward to! 🙂
---
Looking for more puff pastry appetizers? Try one of these!
Easy Puff Pastry Margherita Pizza
Puff Pastry Sausage Bites with Creamy Dijon Sauce
Quick Puffed Pastry Chili Bites
Puff Pastry Palmiers with Bacon and Cheese
📖 Recipe
Puff Pastry Garlic n' Herb Pinwheels
These Puff Pastry Garlic n' Herb Pinwheels are a quick appetizer perfect for a crowd or party. They are made with store-bought puff pastry dough so they are super easy and kid friendly. If you love garlic bread, you will LOVE these pinwheels!
Print
Pin
Rate
Ingredients
1

Package Puff Pastry Dough

((2 sheets))

1

Stick

Salted Butter

((add ½ tsp. salt if using unsalted))

8

Cloves

Garlic

((Minced))

½

Cup

Grated Parmigiano Reggiano

½

Cup

Breadcrumbs

2

Tbsp.

Chopped Fresh Herbs

(I used parsley, chives, basil and thyme.)

¼

Tsp.

Crushed Red Pepper Flakes
Instructions
Preheat oven to 375°F. Melt butter, red pepper flakes and garlic in a saucepan on LOW heat for at least 10 minutes. Take off heat and mix in fresh herbs.

Unfold slightly defrosted puff pastry sheets and brush butter, garlic, herb mixture all over each sheet. Distribute the cheese and breadcrumbs amongst each sheet.

Roll up each sheet tightly and cut into ½-¾" slices. (You should get about 24 pinwheels.)

Place rounds onto baking sheet and flatten slightly with the palm of your hand.

Bake for 12-14 minutes or until golden brown. Remove and brush tops with remaining butter mixture and freshly chopped herbs to garnish. Serve hot!
Recipe Notes
You could easily replace butter with extra virgin olive oil for a healthier option.
Use any herbs you like!
Make sure your puff pastry dough is cold going into the oven otherwise they wont puff up nicely.
Pop the pinwheel log (after its rolled) into the freezer for 5-10 minutes. This will allow the dough to puff up nicely AND allow you to slice your pinwheels easily!
Nutrition
Serving:
0
g
|
Calories:
109
kcal
|
Carbohydrates:
7
g
|
Protein:
2
g
|
Fat:
8
g
|
Saturated Fat:
4
g
|
Polyunsaturated Fat:
1
g
|
Monounsaturated Fat:
3
g
|
Trans Fat:
0.2
g
|
Cholesterol:
12
mg
|
Sodium:
77
mg
|
Potassium:
26
mg
|
Fiber:
0.3
g
|
Sugar:
0.3
g
|
Vitamin A:
253
IU
|
Vitamin C:
2
mg
|
Calcium:
35
mg
|
Iron:
0.5
mg