These easy Pigs in a Blanket are a gourmet version of your classic 'pigs in a blanket' recipe. Instead of crescent dough and mini hot dogs they're made with puff pastry and sausages. They will always be one of my all time FAVORITE appetizers to serve at parties or over the holidays!
I remember helping my mother make pigs in a blanket when I was little girl. I loved helping her roll these little piggies up as an appetizer!
I had no idea what pigs in a blanket were at the time or that they were traditionally made differently. I just knew they tasted amazing, were fun to roll, and that family was coming over soon!
This recipe is more of an upscale version but it's just as simple as the classic recipe. I wouldn't serve these any other way.
The creamy dijon sauce is 100x better than ketchup so I suggest serving with extra sauce on the side!
What is the original pigs in a blanket?
The original pigs in a blanket are mini hot dogs wrapped in crescent dough. To me, they are a little bland and a bit boring. This version is much tastier and just as easy!
🥂Need to sharpen your hostess skills? Check out my BEST tips for entertaining friends!
📃 NOTE: You can print the FULL recipe with all ingredients & detailed instructions below!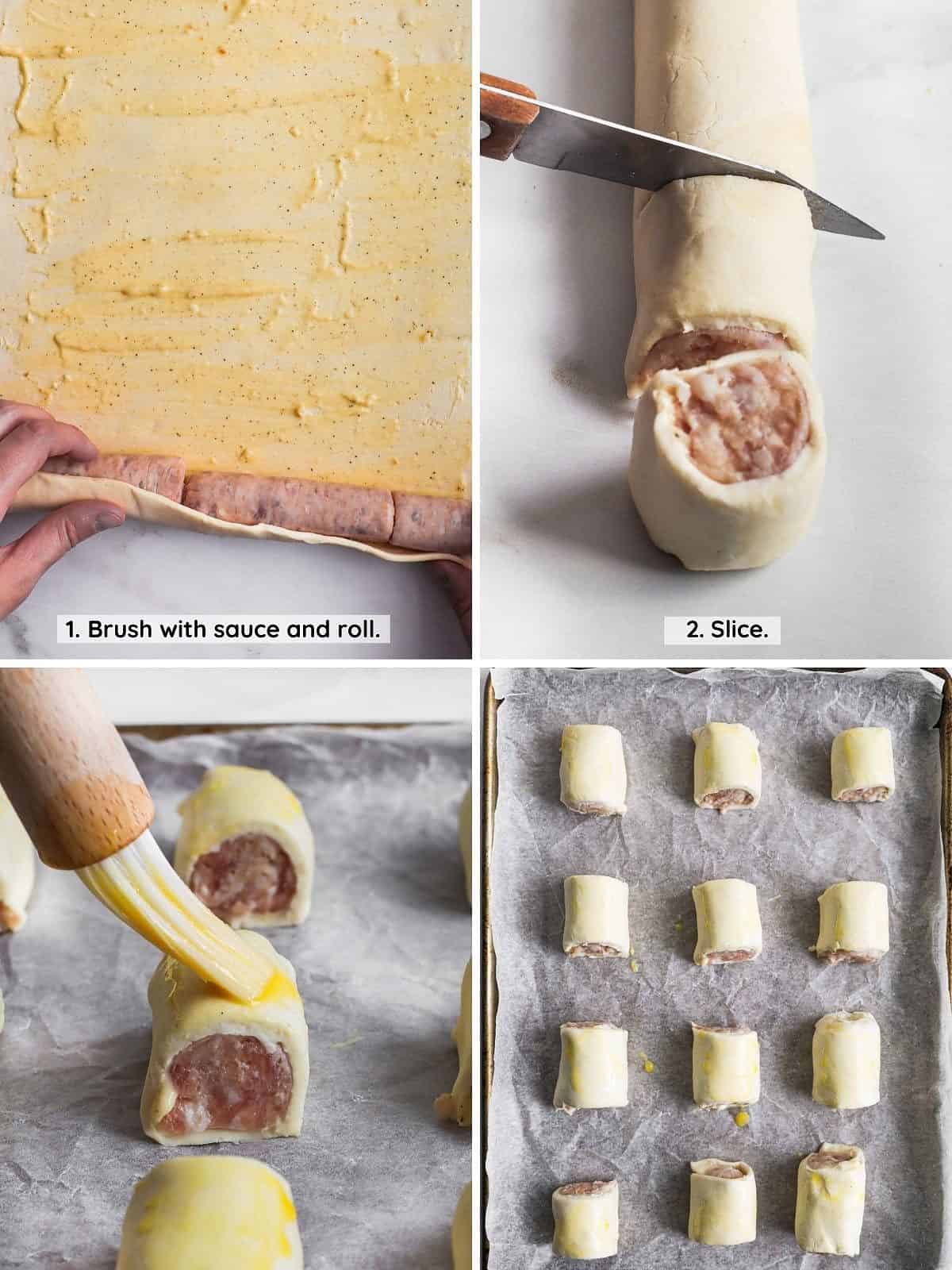 Crescent Dough vs. Puff Pastry
Okay let's talk DOUGH!
Most pigs in a blanket recipes are made with standard crescent roll dough. But why!? It results in a drier piggy.
Puff pastry is JUST as simple to work with as crescent dough is! AND it's buttery, flakey and much more flavorful than crescent dough. So I highly recommend using it!
Can I Make These Ahead Of Time?
Yes, you can make these gourmet pigs in a blanket ahead of time. They can be made a day ahead of time, then just reheat the day of the party.
Other easy party ideas!
Other pork appetizers you should try:
Maple Bacon Wrapped Pork Bites with Dipping Sauce
Pumpkin & Maple Sausage Flatbread with Président® Camembert
Sausage Balls Without Bisquick Pancake Mix
Sweet n' Spicy Bacon Palmiers (with Puff Pastry)
Recent Recipes:
📖 Recipe