This Gourmet Puff Pastry Margherita Pizza is a deliciously easy appetizer or lunch idea! Using store-bought, refrigerated puff pastry dough, all you need to do is top it off and bake. No kneading dough required! Plus it's vegetarian!
Throwing a pizza party? Check out these appetizers that pair well with pizza!
I love pizza like every other normal person in this world. My favorite has got to be the beloved Margherita style pizza. There is something about the thin, bubbly crust, fresh basil and sweet tomatoes that make me drool more than any other pizza. Plus, the fresh mozzarella, come onnn.
Now take all of those same toppings and place them on top of a flaky, light, buttery puff pastry crust and you've got pizza heaven.
How This Recipe Is Different
When making pizza using puff pastry dough, it is common to end up with soggy and mushy pizza.
To prevent this, you don't want to use a watery tomato sauce or any toppings that have a lot of liquid in them. Other recipes will cover the entire pastry sheet with toppings which don't allow the pastry to rise properly.
In this recipe, you will see that I strategically place the tomato and cheese around the dough. I also use a thin slice of tomato. Both allow the pastry to rise better.
Your Puff Pastry
This puff pastry pizza is SO delicious! I mean, pretty much anything on top of puff pastry is delicious. If you love puff pastry, try my Sweet n' Spicy Bacon Palmiers (with Puff Pastry).
This pizza is SO easy to make too and is ready in no time. All you need to do is purchase your favorite store-bought puff pastry dough and let it thaw in the fridge for a few hours or overnight. I like Pepperidge Farms puff pastry dough.
Then, follow these 3 easy steps: BRUSH, TOP and BAKE!!
Brush with garlic n' herb oil.

Top with ingredients of your choice.

Bake at 400ºF

until golden brown.
That's it! Treat the dough just like pizza dough! (Well...minus the kneading, rolling, tossing and flipping...)
The results of using puff pastry are a warm, flaky, buttery, airy bite. Puff pastry pizza is just SO so good...I cannot wait until you try this version!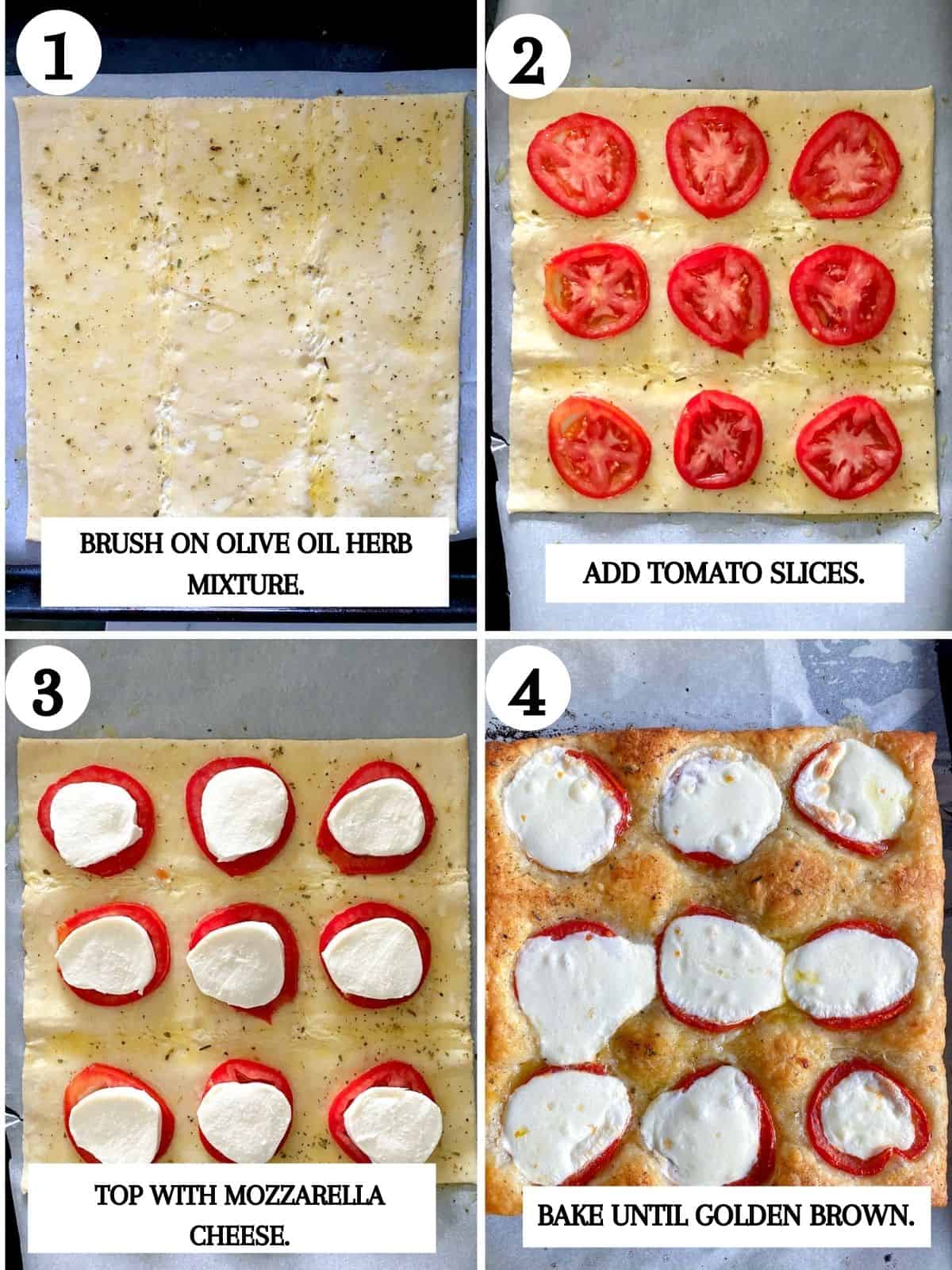 Expert Tips:
Make sure your dough is as cold as possible before baking! (this will allow your dough to really rise!) I like to prepare my dough then pop it back in the fridge for a bit to chill it.
When making puff pastry pizza, you need to make sure you don't add too many toppings to your dough. Doing so will weigh the pastry down making it difficult to pick up and eat! This is why I slice my tomatoes thinly.
Use FRESH mozzarella as opposed to pre-shredded bagged cheese! It. Melts. BETTER. Period.
You can make your own puff pastry if you want. It is just very tedious
Other Pizza Toppings
Like regular pizza dough, making pizza using puff pastry ALSO allows for limitless topping possibilities!
The ONLY thing you will need to worry about is the weight of what your putting on your puff pastry dough. You don't want to prevent the dough from rising in the oven.
It is light and airy so it will not hold up as well as your standard pizza dough. Piling on too many ingredients will make it hard to eat.
Other than that, have fun and play around with what you put on it!
Other yummy toppings ideas:
mushrooms

caramelized onions

pepperoni

banana peppers

bell peppers

shredded chicken

minced sausage (watch the weight)

spinach

multiple cheeses

ham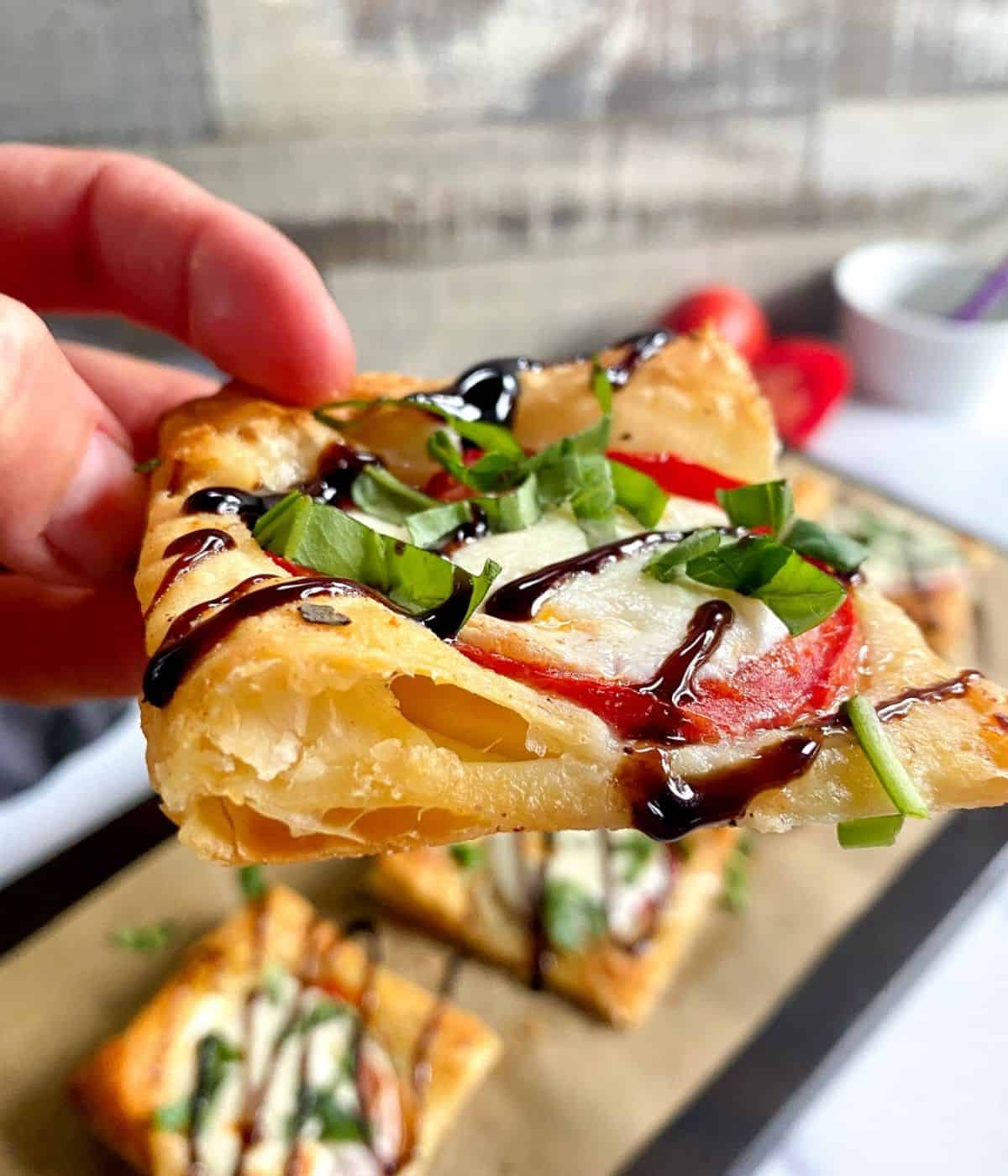 Frequently Asked Questions:
What is puff pastry called in USA?
It is also called pâte feuilletée.
Can you overcook puff pastry?
Yes of course. It will become dry, overly flaky, or burn when it's overbaked.
Are you supposed to roll out puff pastry?
You do not need to roll it out unless it looks uneven. If it does, a light roll will do the trick.
How long does a puff pastry take to cook?
Puff pastry should be cooked at 425 degrees F for about 10 minutes. You are looking for the color of the dough to turn a golden brown and for the dough itself to puff up.
Why isn't my puff pastry puffing up?
There are two reasons why this usually happens. The temperature of your oven was not hot enough or the temperature of your dough was not cool enough. To prevent flat pastry dough, keep your puff pastry dough COLD and wait until your oven is fully pre-heated.
How do I prevent the puff pastry from getting soggy?"
This will happen if you add watery toppings like really juicy tomatoes. Try to make sure you remove any liquid from your tomatoes before baking. You could always just use the outside of the tomato and discard of the seeds/inside.
Other appetizer recipes you may like:
Roasted Garlic Bread Spread (with anchovies)
Savoury Puff Pastry Bacon Palmiers
Caramelized Onion and Mushroom Flatbread
---
📖 Recipe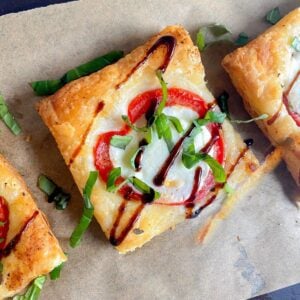 Gourmet Puff Pastry Dough Margherita Pizza
This Puff Pastry Margherita Pizza recipe is AWESOME! Using store-bought puff pastry dough makes it super quick all you need to do is top it off and bake. No kneading dough required!
Print
Pin
Rate
Ingredients
2

sheets

refrigerated puff pastry dough

((17.3 oz. Package))

12

oz.

fresh mozzarella cheese log

2-3

Roma tomatoes

½

cup

fresh basil leaves

¼

cup

extra virgin olive oil

½

tsp.

garlic powder

½

tsp.

onion powder

½

tsp.

dried oregano

½

tsp.

salt

¼

tsp.

pepper

1-2

tbsp.

balsamic glaze

(*optional)
Instructions
In a small bowl, mix together the garlic powder, onion powder, oregano, salt, pepper and olive oil.

Slice your tomatoes as thin as possible and remove the seeds/pulp. This is so the pastry doesn't get watery. You want 18 slices total.

For the cheese, you can either grate it or slice it thin like your tomatoes. If you slice it, you want 18 slices.

Remove thawed puff pastry sheets from the fridge and place each on two baking sheet(s). Do this right away before the dough starts to stick together.

Use a pastry brush to brush a light coating of the oil n' herb mixture onto each pastry sheet.

Evenly distribute the tomato slices onto each pastry sheet. You want 9 on each. Repeat with the mozzarella slices. (See photos.)

If using grated cheese, distribute the cheese onto both sheets.

Place both pizzas in the oven for 15-18 minutes or until pastry is puffed and golden brown. Look for a nicely browned pastry! You may need to rotate the dough to even the color.

Once the pizza is done, take out and sprinkle with freshly chopped basil leaves. Wait about 5 minutes before cutting. Enjoy!

*Drizzle with a balsamic glaze if desired. (Highly recommended*)
Recipe Notes
Yield: 18 Pizza Squares
Don't add the basil until it comes OUT of the oven!
Make sure to use FRESH mozzarella cheese as opposed to bagged.
You can reheat your pizza the next day in the oven at 350 F for 4-5 minutes.
How To Prevent Watery Pizza
Make sure your oven is HOT and preheated.
Make sure you remove any seeds/pulp from tomatoes and dry them off as much as possible.
Keep your pastry dough cold.
Nutrition
Calories:
317
kcal
|
Carbohydrates:
21.9
g
|
Protein:
11.6
g
|
Fat:
20.6
g
|
Saturated Fat:
6.9
g
|
Cholesterol:
15
mg
|
Sodium:
370
mg
|
Fiber:
1.1
g
|
Sugar:
1.2
g