If you're looking for some delicious appetizer ideas to serve at your next pizza party, look no further! I've got a great mix of traditional favorites and some creative new ideas that will be sure to please everyone.
So whether you're looking for something simple and classic or something a little more adventurous, you won't be disappointed. Let's fire up the oven and check out our top appetizers ideas to serve at your next pizza party!
Pizza parties are the perfect party theme for any age especially teen parties! If you're son or daughter is turning 13, 16, or 18 years old, and you want to throw them a party, all of these recipes would be a hit!
What are good appetizers to serve with pizza?
Stuffed Mushroom Caps: A slightly more sophisticated option, these stuffed mushroom caps are loaded with flavor. They're easy to make and can be prepped ahead of time, making them perfect for a busy party.
Potato Wedges: Crispy, salty, and delicious, potato wedges are always a crowd favorite.
Sweet Potato Chips: These potato chips are a healthier option being made with sweet potatoes and fried in the air fryer! Serve with sauce for dipping.
Antipasto Skewers: A classic Italian appetizer, antipasto skewers are the perfect way to start off your pizza party.
Cheese Sticks: A classic appetizer that everyone loves, cheese sticks are the perfect accompaniment to any pizza.
Fried Mozzarella: Another delicious and cheesy option, fried mozzarella is sure to be a hit with your guests. Who doesn't love fried CHEESE?!
Pizza Dip: This easy and flavorful pizza dip is the perfect way to get your pizza fix. I recommend adding pepperoni or sausage to kick it up a notch!
Zucchini Chips: A healthier option, these zucchini chips are a great way to sneak in some veggies.
Buffalo Chicken Wings: If you're looking for an appetizer with a little heat, buffalo chicken wings will hit the spot!
Onion Rings: Another classic appetizer, onion rings are always a hit. These onions rings however are made with a beer batter so they pair well with both pizza AND beer!
Fry Bar: And for the truly adventurous, why not set up a fry bar with all of your favorite french fry cuts and of course, multiple dipping sauce options!
Philly Cheesesteak Sliders: These mini slider sandwihes go perfectly with pizza and everyone loves the soft Hawaiian buns they're served on!
Potato Salad: Potato salad is always a delicious appetizer or side dish. It especially pairs well with pizza!
Caesar Salad Cups: A fresh light salad is sometimes all you need when eating pizza. Turn a salad into an appetizer with these cheese cups!
Garlic Knots: Garlic knots and pizza? I mean come on! It's a MUST. They are buttery, garlicky and perfectly bite-sized!
Buffalo Chicken Dip: Buffalo sauce and pizza are like besties. But they never fight. That's because of how well their go together! So a dip is the best dip options for a pizza party hands down!
Mini Calzone Bites: Calzones are a common pizzaria food that people love eating with pizza. It's like a pizza wrapped into one cute bite. These are stuffed with ricotta and mozzarella cheese. How can you go wrong?
Stromboli: Pizza and stromboli are like besties! They are a pizza shop favorite and a traditional Italian food everyone loves!
Catering your party? Here is a list of appetizers perfect for catering!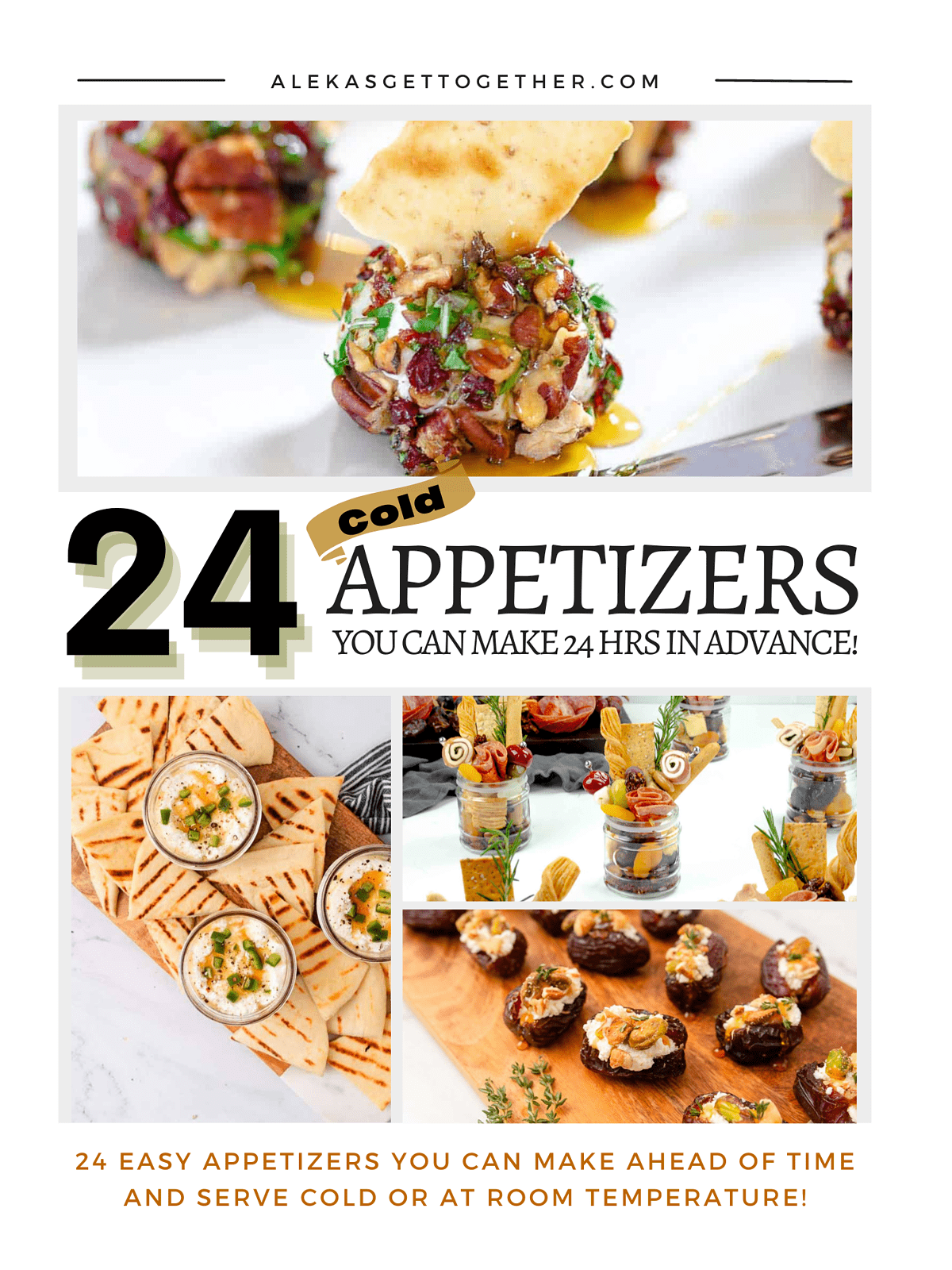 Love Make Appetizers in Advance?
I have an Ebook I created with my top make-ahead appetizers you'll LOVE! Get it here!
What Desserts Are You Serving?
Check out these deliciously bite-sized dessert options that are perfect for both kids and adult pizza parties!
Read about how many appetizers to serve based on how many guests your expecting.
📽 If you love entertaining at home, subscribe to my YouTube channel!!