Homemade Fried Zucchini Chips are a crispy appetizer or snack everyone will love! I used no batter, flour, or breading so they are completely gluten free. Paired with a good tzatziki sauce, zucchini chips are an appetizer I love serving guests with a good drink in hand.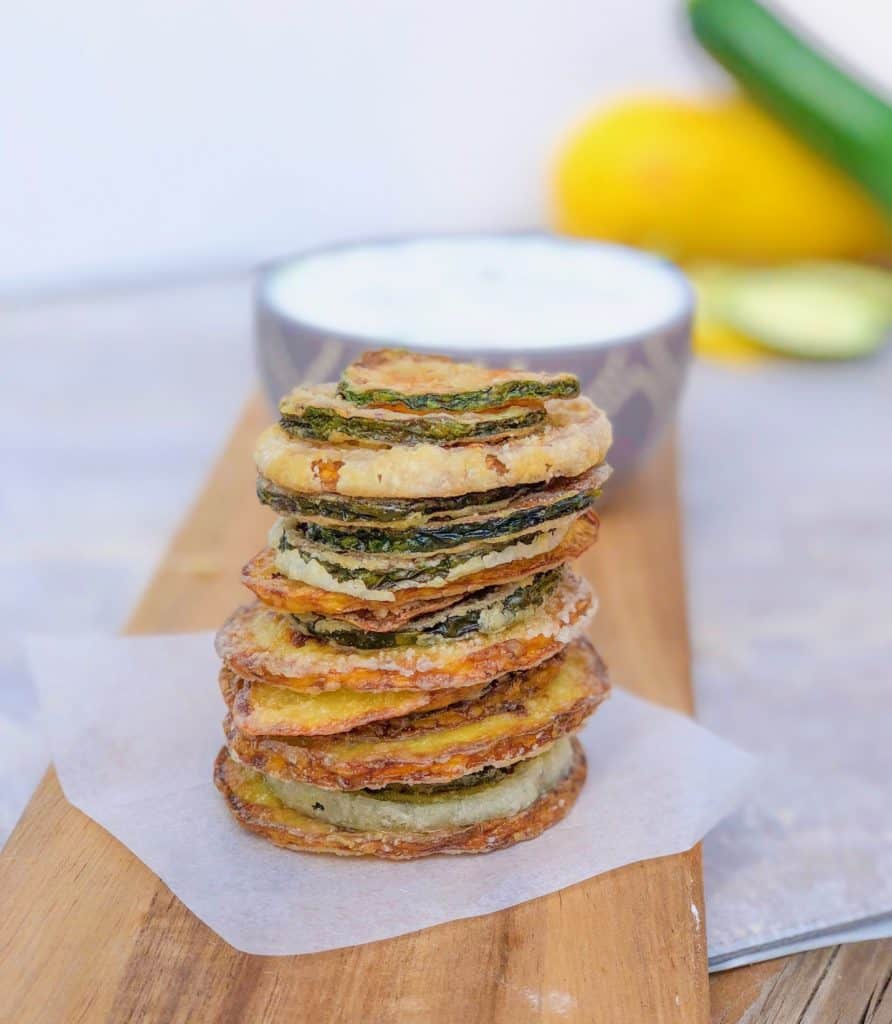 These zucchini chips were inspired by Estia. It is a Greek restaurant we always go to and they have the BEST zucchini chips appetizer. They come out super crispy and serve them with tzatziki sauce stacked high in a fun tower.
They are simply amazing.
If you're expecting company, I highly recommend serving this dip with other Greek meze like I did on this Greek Appetizer Board! Everyone loves when this comes out!
If you love crispy appetizers, you need to try my Italian calamari!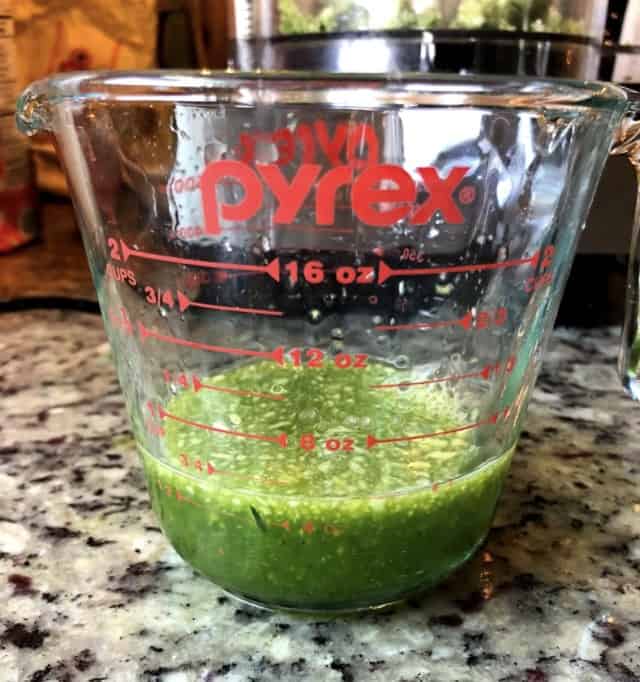 How To Make Zucchini Chips
Did you know that zucchini contains A LOT of water?
Just LOOK at all the water I was able to squeeze out of ONE large zucchini! So if we want to make a crispy chip, we need to get rid of that water. Think of it as the enemy.
Trick 1: Slice your zucchini very thinly!
Thin slices of zucchini will cook quickly when pan frying. I like to use a mandolin for even slices. They result is airy zucchini chips that are perfectly crisp.
Trick 2: Use salt!
Sprinkling your zucchini generously with salt will help to draw out the moisture. Sprinkle and let them SWEAT IT OUT. You will be able to see the water on top after about 10 minutes.

When you use salt, don't be stingy because we will be wiping it off afterwards! (I let it sit at least 10 minutes!) The longer you allow it to sit with the salt, the more water you will be able to sweat out of it.
Step 3: Soak up the moisture!
Take 1-2 thick paper towels and wipe off as much salt of the water and salt as you can.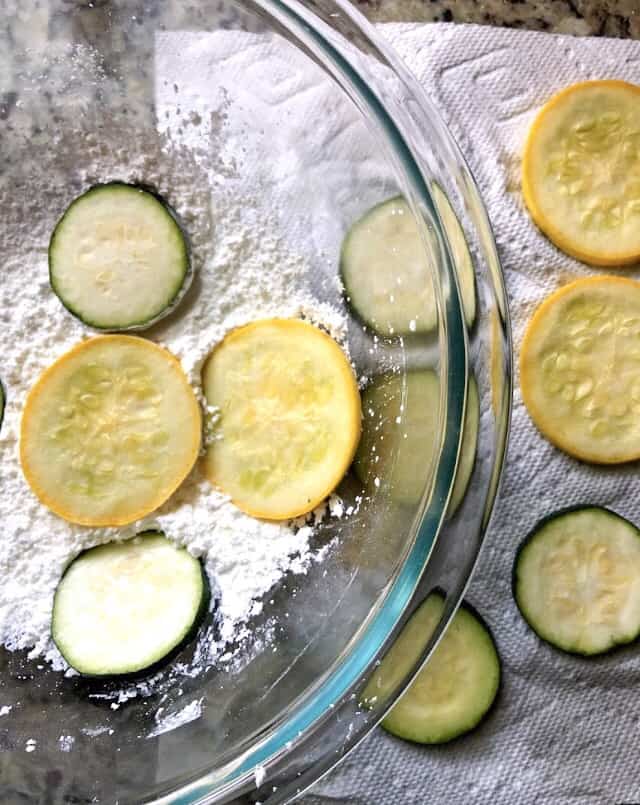 Step 4: Coat zucchini in cornstarch.
Finally, I will coat each slice generously with cornstarch (which helps to absorb any leftover water) and fry them until golden brown.
Shallow Frying vs. Deep Frying
Shallow frying is all you need to get your zucchini chips nice and crispy. The amount of oil needed to pan fry is about ½" high. It saves lots of oil too!
To deep fry these, you would need a few inches of oil which is not necessary since they are already super thin and easy to fry!
I also like to shallow fry my taquitos (which are the most amazing crispy rolled tacos ever!)
Flour vs. Cornstarch
I tried BOTH flour and cornstarch and found that the cornstarch works so much better!
Cornstarch always seems to give an extra crunch to fried foods so grab yourself a large container from the store if you don't have one yet! It comes in handy a lot!
You can coat each slice individually or you can throw them in a large plastic bag and shake them around. You may need to separate some slices though since they tend to stick to one-another.
Cornstarch is also gluten-free so that's a bonus for all of my GF readers! 🙂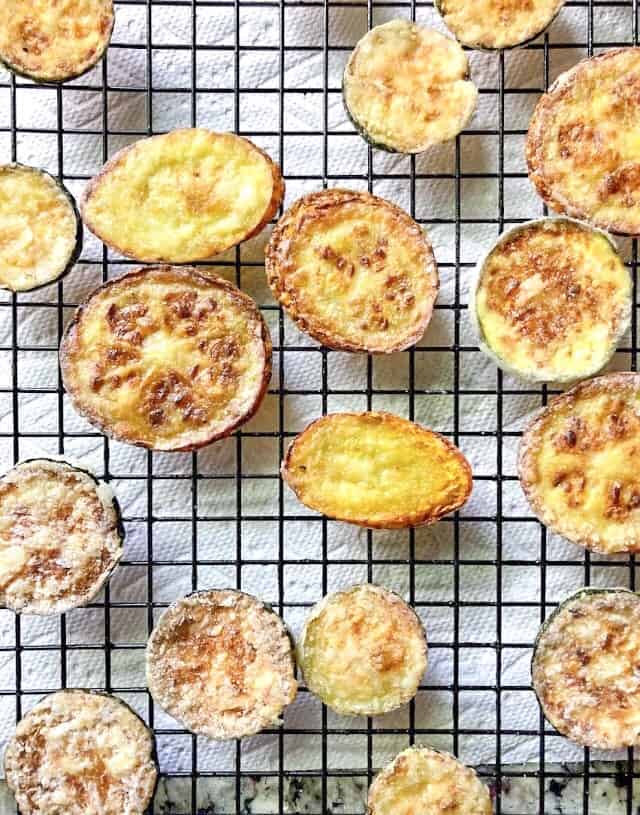 It's important to draw out as much moisture as possible from your zucchini. The water is what makes them soggy. Once fried, you want to lay them in a flat layer on a baking rack or paper towels.
Salt will help pull out the moisture. Here are other ways to pull out the moisture!
The dipping sauce
As I mentioned, the restaurant we go to, serves these as an appetizer with a side of tzatziki sauce. It is THE BEST way to eat them!
Another option could be an aioli or burger sauce if you have a good one or ranch dressing!
If you serve these for a party, you can fry the zucchini chips ahead of time and keep them warm in the oven on the 'warm' setting. Another ideas is to top them with shredded Parmesan cheese.
Here are some other Greek appetizers you might like:

Greek Lamb Meatballs Appetizer

Greek Feta Cheese Fries (w/ Yogurt Sauce)

Easy Spanakopita Triangles (Mini Greek Spinach Pies)

Baked Greek Shrimp Saganaki with Feta and Ouzo

Greek Spicy Feta Cheese Dip (Tirokafteri)
📖 Recipe
CRISPY Fried Zucchini Chips
These Fried Zucchini Chips (With Tzatziki Sauce) are gluten free, easy to make and uses less than 4 ingredients! Paired with a good tzatziki sauce you will not be able to stop eating these!
Print
Pin
Rate
Ingredients
2

Medium

Zucchini/Squash

((I used one green and one yellow))

1

Cup

Cornstarch

Frying Oil

((Canola, Peanut, or Vegetable))
Instructions
Slice zucchini squash into ¼ - ⅛ " slices using a mandolin or sharp knife.

Generously sprinkle salt onto both sides of zucchini slices and lay on a paper towel for 10 minutes.

Wipe off as much salt as possible using a damp paper towel so your slices are not too salty! Use a dry paper towel to soak up any extra water on both sides.

Dip slices into cornstarch and drop into fryer/saucepan a few at a time.

Flip slices after a few minutes so both sides get golden brown. Remove after color is achieved and let drain on paper towels. Taste test one right away to see if it needs more salt. If so, sprinkle with salt while still hot.

Serve warm with tzatziki sauce on the side!
Recipe Notes
Make sure you remove as much salt as possible or your chips will be too salty! A damp paper towel works best for this.
Make ahead! Fry the chips ahead of time and keep warm in the oven at a low setting. (200 degrees F)
Nutrition
Serving:
0
g
|
Calories:
23
kcal
|
Carbohydrates:
3
g
|
Protein:
0.1
g
|
Fat:
1
g
|
Saturated Fat:
0.2
g
|
Polyunsaturated Fat:
1
g
|
Monounsaturated Fat:
0.2
g
|
Trans Fat:
0.01
g
|
Sodium:
1
mg
|
Potassium:
26
mg
|
Fiber:
0.1
g
|
Sugar:
0.2
g
|
Vitamin A:
20
IU
|
Vitamin C:
2
mg
|
Calcium:
2
mg
|
Iron:
0.1
mg