These Hawaiian Roll Pull Apart Cheesesteak Sliders are ah-mazing!! I'd have to say, my #1 FAVORITE tailgate appetizer on my blog. Cheese whiz, provolone, caramelized onions and thinly sliced steak are sandwiched between a layer of sweet, tender King's Hawaiian Rolls and baked until gooey perfection. Need I say more?
If you love these, you gotta try my Ham & Cheese Funeral Sandwiches!
If you've never had pull-apart sliders, you're missing out big time.
They make the best party food because everyone can help themselves.
More importantly, they are fun, EASY to make in large batches and can feed a crowd! What more could you want from a game day recipe?
If you love Philly cheesesteaks, try my Philly Cheesesteak Wonton Cups!
What I Love About This Recipe
Being from the Philadelphia area, I know what it takes to make a GOOD Philly cheesesteak. I've been to Pat's, Geno's and many other cheesesteak competitors and although they all do things a bit differently, they are ALL delicious!
Now, I'm in no way a cheesesteak expert BUT I will say that I think the best cheesesteaks hit on the following three things:
Perfect ratio of meat, to bread, to cheese- Most cheesesteaks out there have too much meat or bread and not enough cheese. I don't want to struggle getting my mouth around the sandwich and I also don't want to LOOK for the cheese.
A soft, fresh roll- If the sandwich is tough to eat, it's simply not enjoyable. This goes for any sandwich.
"Wit" aka With Onions- The onions HAVE to be caramelized. If they are crunchy, no thank you. If you are NOT an onions fan like my husband, then leave them out.
These Hawaiian roll cheesesteak sliders check ALL the marks.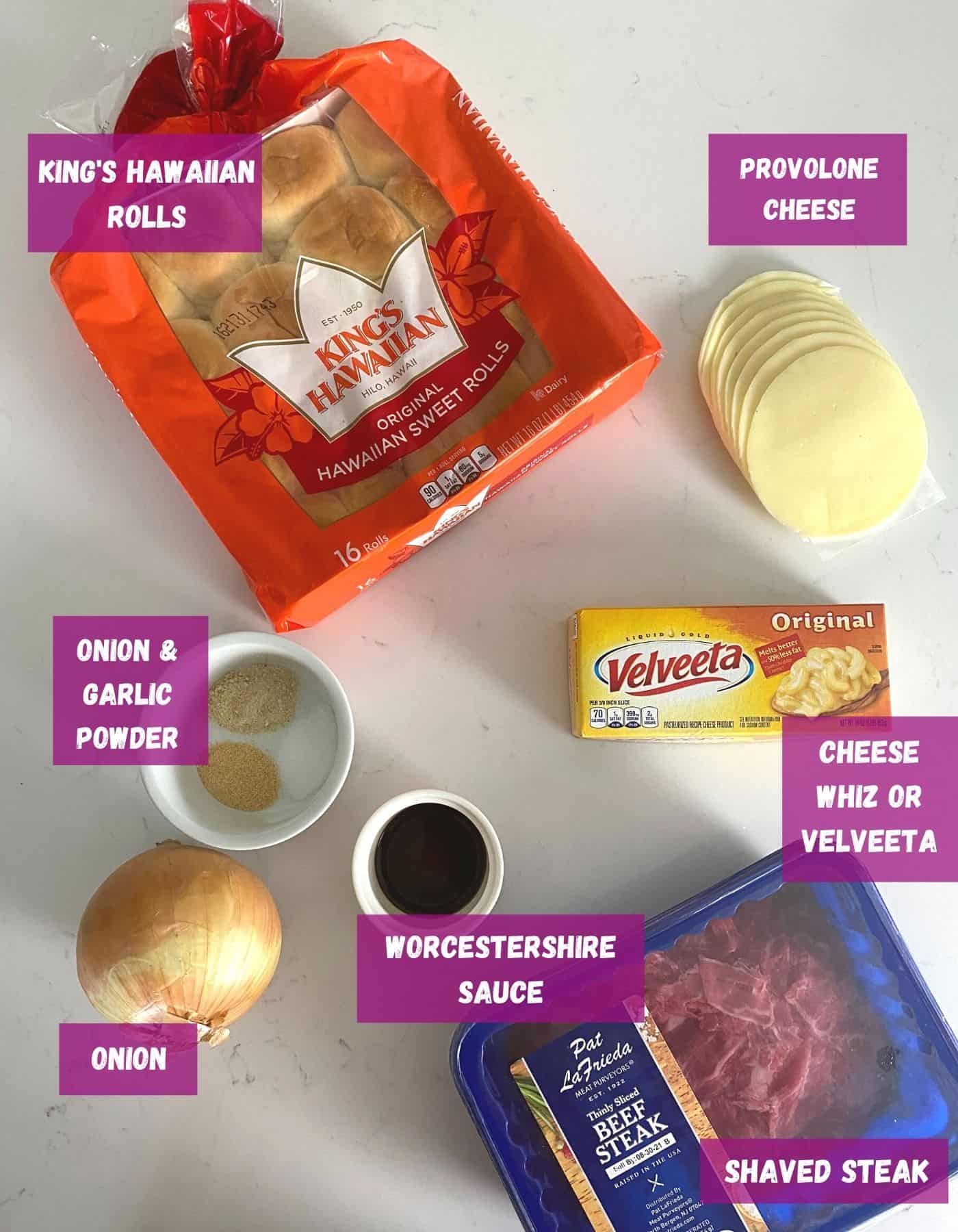 🛒Ingredients
The ingredients are simple and can be kept on hand in the fridge or freezer until your ready for game day!
Shaved Steak- Rib-eye is the preferred type of beef but use what you can find. The most important thing is that the meat is THINLY sliced. Look for "shaved" beef in the meat section.
Provolone- I used provolone cheese because it's a Philly cheesesteak. Plus, it adds a layer of flavor but these other cheeses would be delicious too.
Whiz- This is the ONLY time I use the stuff and it's worth every single calorie. Here I used Velveeta cheese for my cheese whiz because it's easy to find. You could easily purchase a jar of actual Cheese Whiz from the store if you wish. They will yield the same gooey results.
King's Hawaiian Buns- It's simply the best. Soft, sweet and the perfect slider size! There's no substitute here so go get a few packages and freeze them for future emergencies.
Onions- Fried or sautéed onions and optional but in my opinion, take the flavor to another level.
If you love steak, you have to try my Grilled Carne Asada Corn Quesadillas!
Steps
Prepare your cheesesteak filling by chopping your onions and caramelizing them. You want to do this low and slow so they don't burn. This can take 10-15 minutes.
Remove onions and sear steak on high heat with garlic powder, onion powder and Worcestershire sauce. This should be quick. Don't overcook your meat or it will turn out tough.
Remove your steak and chop it up finely on a cutting board. (It's much easier to do on a cutting board then in the pan.)
Mix in sautéed onions and set aside and season with salt and pepper. (to taste)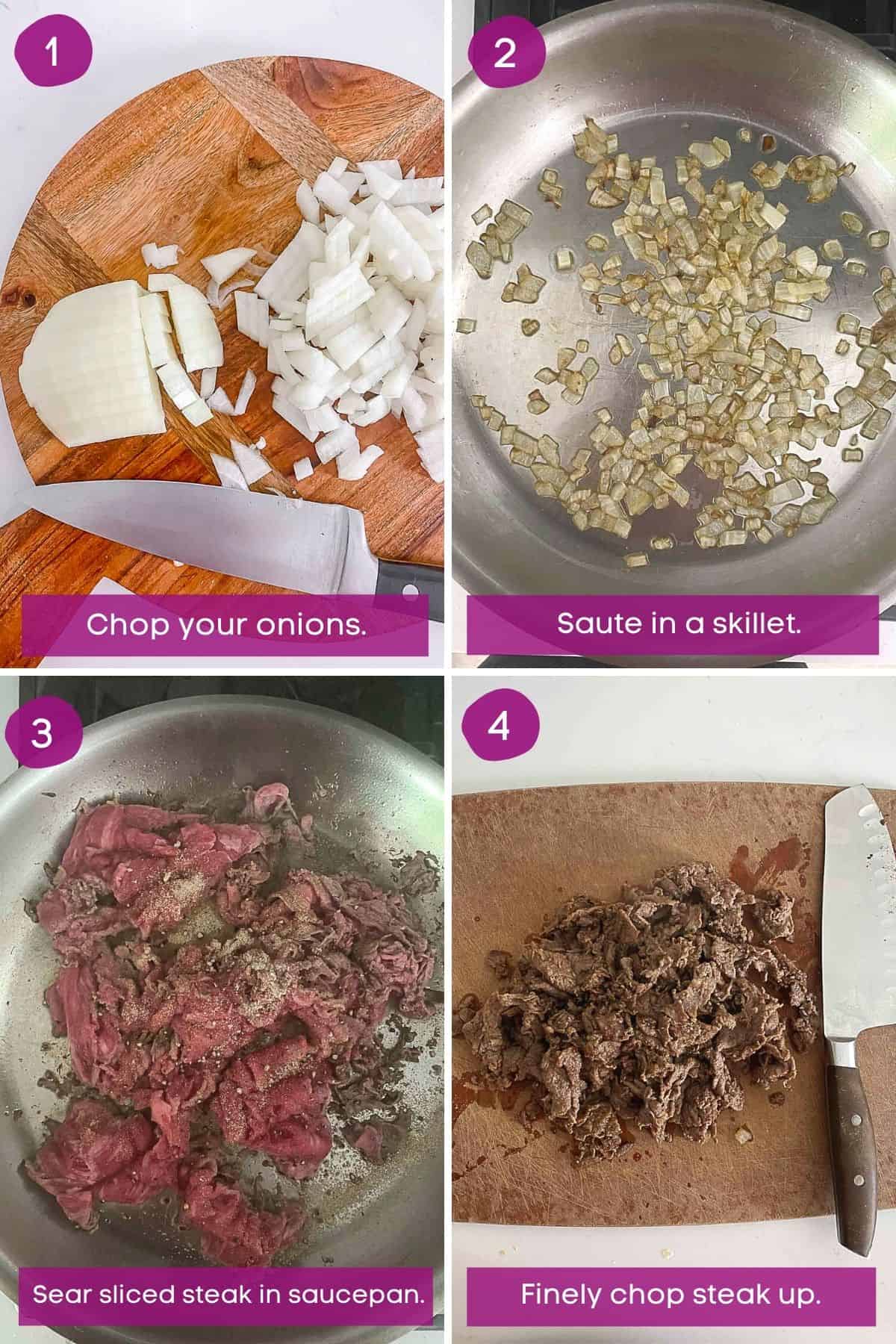 5. Slice hawaiian rolls in half.
6. Layer provolone cheese slices.
7. Mix together steak and onions.
8. Top provolone cheese.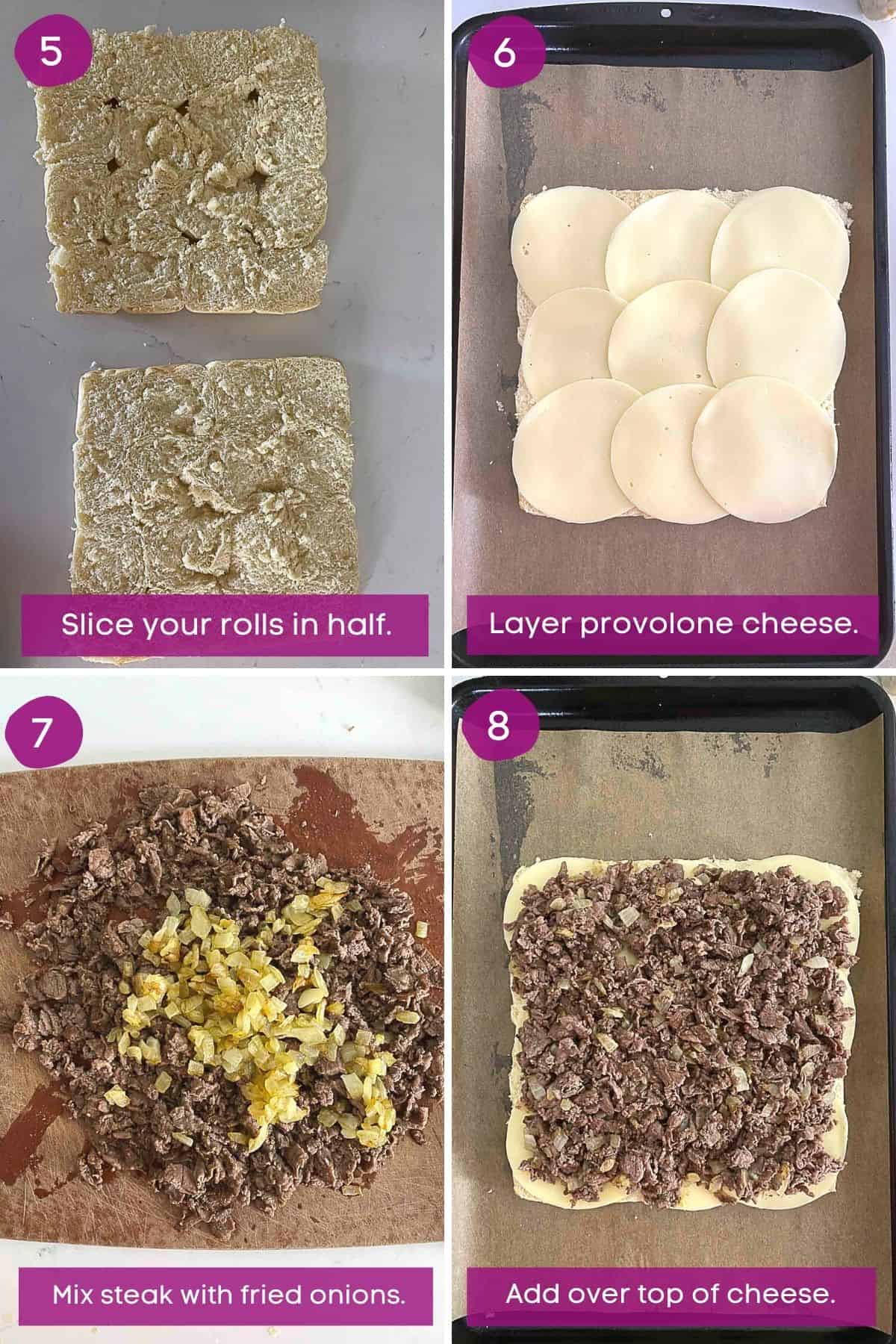 9. Mix up your cheese sauce.
10. Pour over steak.
11. Spread sauce evenly over steak.
12. Close with top half of rolls and spread with butter before baking.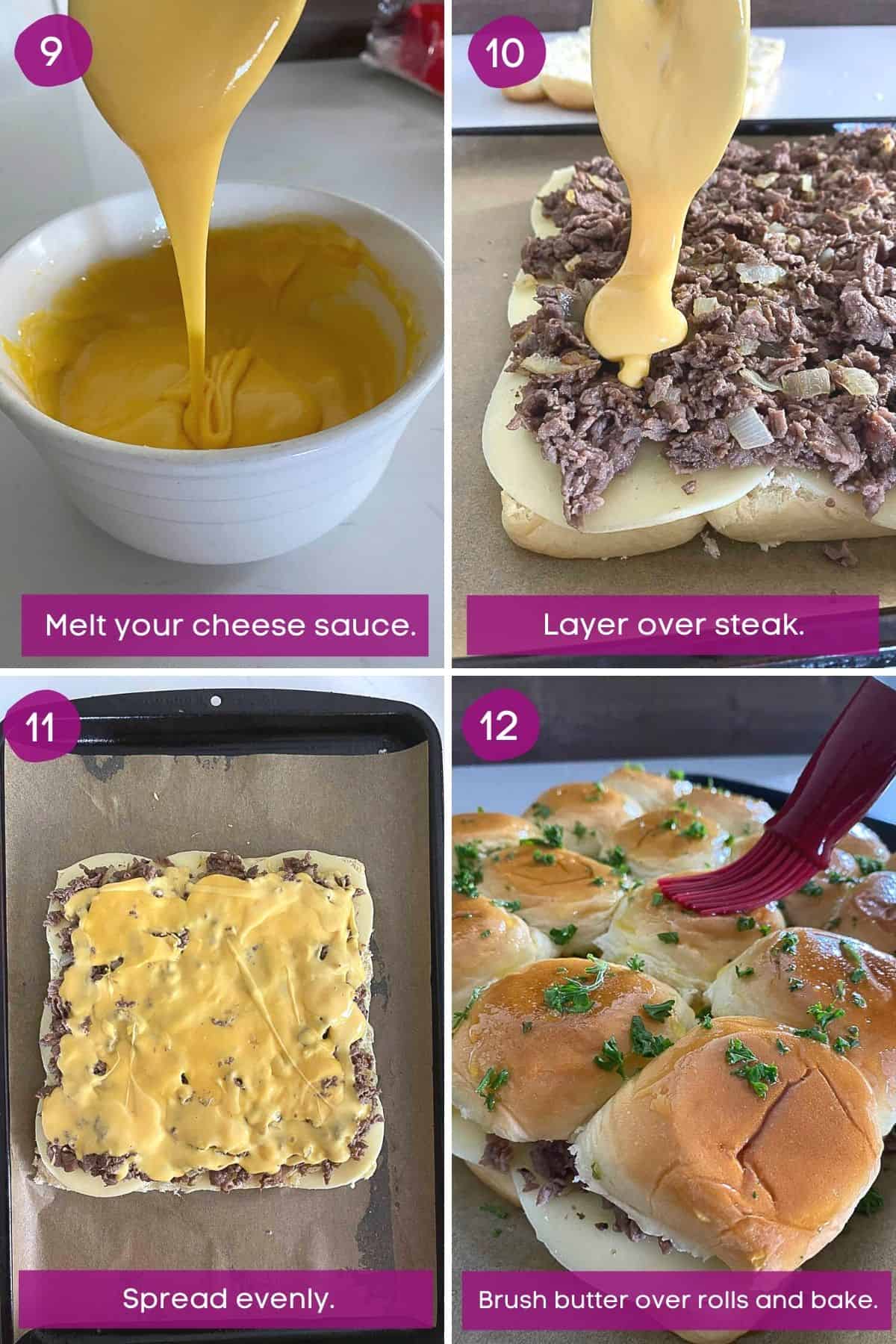 📃 NOTE: You can print the FULL recipe with all ingredients & detailed instructions below!
🥩Steak Tips
Most grocery stores these days sell pre-packaged SHAVED steak. This saves a TON of time and effort so keep an eye out for it. If you can't find it, your next best option is to ask the butcher to use their fancy slicers to thinly shave a ribeye for you.
If these options are available, you can either purchase a ribeye or any tender cut of beef on your own and slice it at home OR purchase Steak-umms from the freezer aisle.
Serve these sliders with my Orzo Salad or Potato Salad on the side. Both can be served at room temperature!
Slicing Steak Very Thin
To make shaving easier, pop your steak in the freezer for about 20 minutes to firm it up.
Then, using a very sharp knife, (the larger the better), slice your steak on an angle as thinly as possible. The thinner, the more tender your steak will be.
🧀The "Cheese Whiz"
I have always loved cheese whiz. I am a "whiz wit" girl. I mean, who doesn't love the creamy, meltiness that this famous processed cheese brings to the table?
For the "cheese whiz" in this recipe you can use Velveeta cheese like I did here OR you can use actual Cheese Whiz from the jar if you prefer. It comes in a jar and should be microwaved before adding to the top of your sliced steak.
If you want to make your own homemade cheese whiz, you can! It is a healthier option but requires a few extra steps!
📃Substitutions or Variations
Cheese- You can substitute any good melting cheese in this recipe for the provolone or Velveeta
Peppers- Green peppers can be added to the onions while sautéing.
Mayo- You can add a layer of mayonnaise to the bottom of your rolls for more flavor.
🏈If you have young kids, they would love these Mini Football Shaped Pizzas for your next football party!
FAQ's
Can I make these in advance?
Yes! Just assemble up to the point of baking and wait to bake. Cover with tin foil and put in the fridge. You can do this the night before. Then just bake as stated in the instructions.
I cannot find shaved steak in the store. Can I purchase steak and slice it myself?
Yes but make sure you freeze it before slicing to make it easier to slice. Use a sharp knife and slice very VERY thinly.
Can I use thinly sliced deli roast beef?
Yes but the flavor WILL be different. You won't need to cook the beef so instead, chop the beef up and add it to a bowl along with the onions and seasoning.
How can I take these to a party?
Assemble fully on a baking sheet and cover tightly with aluminum foil. Then when you get to the party, preheat the oven and pop it in when ready. You can also add your rolls to a casserole dish with sides if you wish.
How can I reheat these?
Cover with aluminum foil and reheat for 10 minutes in the oven at 325 degrees F.
Other game day appetizers you'll love:
Onion Rings Battered With Beer
Easy Crock Pot Pulled Pork Nachos
Hard Pretzel Dip With Cheddar Cheese and Beer
Sweet n' Sour Slow Cooker Meatballs
Baked Crab Artichoke Dip (w/ Cream Cheese)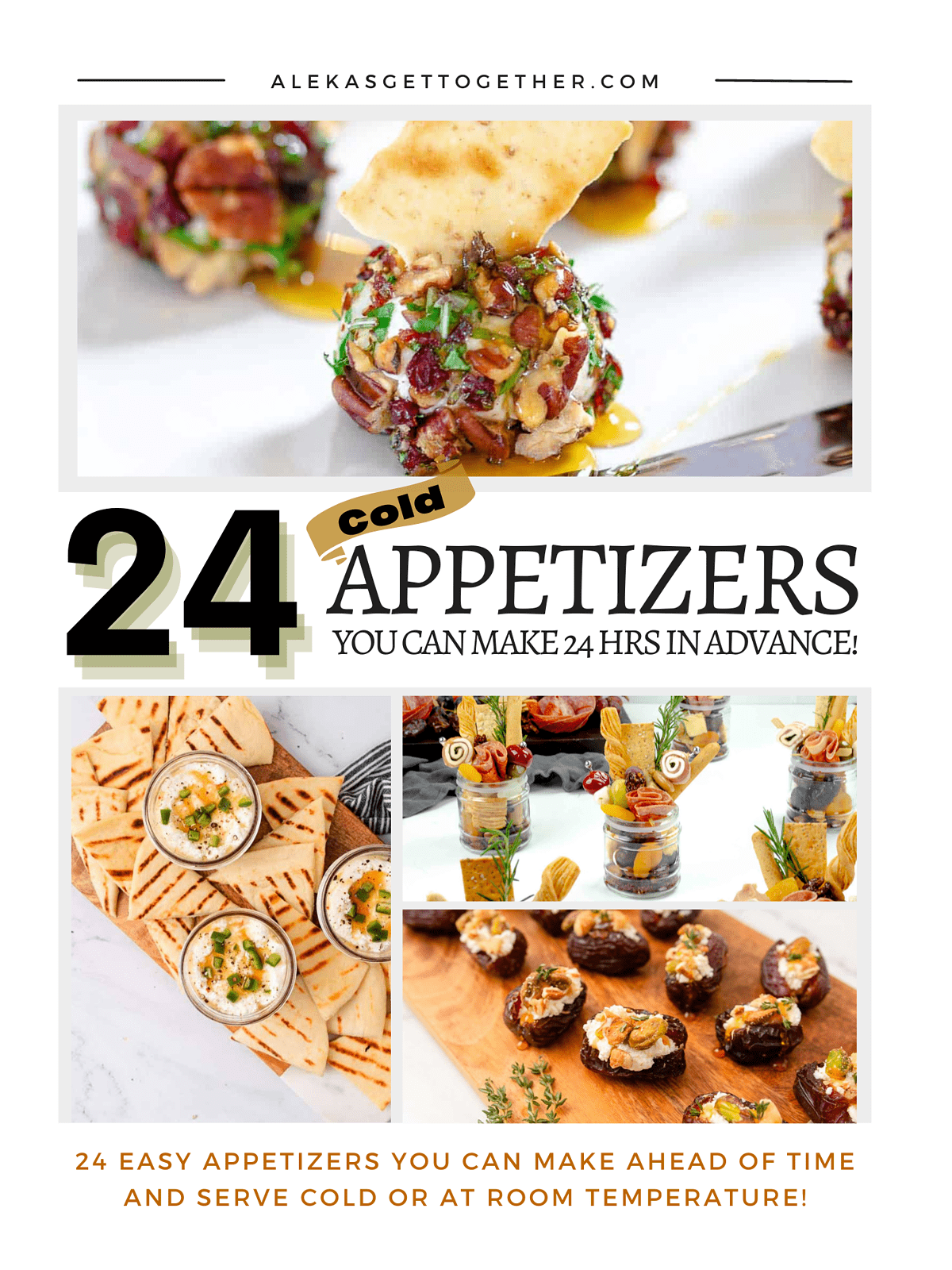 Love Make Appetizers in Advance?
I have an Ebook I created with my top make-ahead appetizers you'll LOVE! Get it here!
📽 If you love entertaining at home, subscribe to my YouTube channel!!
📖 Recipe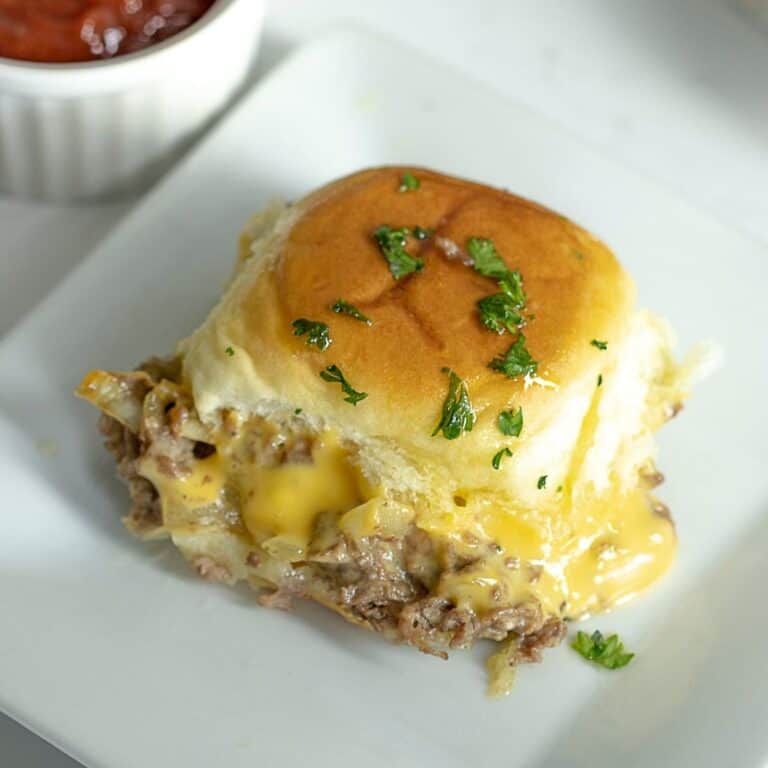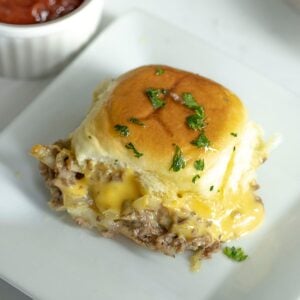 Pull Apart Philly Cheesesteak Sliders w/ Hawaiian Rolls
These Hawaiian Roll Pull Apart Cheesesteak Sliders are ah-mazing!! I'd have to say, my #1 FAVORITE tailgate appetizer on my blog. Cheese whiz, provolone, caramelized onions and thinly sliced steak are sandwiched between a layer of sweet, tender King's Hawaiian Rolls and baked until gooey perfection. Need I say more?
Print
Pin
Rate
Ingredients
1

lb.

shaved beef steak

(*ribeye works best)

1

medium

yellow onion

1

tablespoon

Worcestershire sauce

1

teaspoon

onion powder

½

teaspoon

garlic powder

6

ounces

sliced provolone cheese

8

ounces

Velveeta cheese or Cheese Whiz

¼

cup

milk (if using Velveeta)

5

tablespoons

oil

2

ounces

butter, melted

½

tablespoon

chopped fresh parsley

1

(12 pack)

King's Hawaiian Rolls
Instructions
Add 3 tablespoons oil to a large skillet along with the diced onion. Sauté for 10-15 minutes over medium-low heat stirring every so often so it doesn't burn. You just want your onions soft and tender so watch your heat.

Remove onions and add your beef to the same skillet with 2 tablespoons of oil. Add 1 tablespoon Worcestershire sauce, ¾ teaspoon onion powder and ½ teaspoon garlic powder. Sauté over high heat until steak is cooked through. (About 5-7 minutes.) Don't worry about chopping it up just yet.

Add steak to a cutting board and chop finely using a large chef's knife. Mix in your fried onions and set aside.

Remove your Hawaiian rolls from package and slice the entire thing in half using a long serrated knife trying not to separate each roll. Place bottom layer of bread on a baking sheet lined with parchment paper or silicone mat. (This will make it easier to remove later.)

Spread slices of provolone cheese evenly across the bottom layer of bread.

Top with steak and onions making sure to spread to the edges.

Mix together 8 ounces of Velveeta cheese and ¼ cup milk and heat in the microwave in 30 second intervals mixing until smooth and creamy. (If using Cheese Whiz, omit the milk and heat jar in microwave according to instructions.)*The milk helps to thin out the Velveeta making it easier to drizzle over top and also keeps it from getting too hard when the sliders cool.

Drizzle your yellow cheese over the steak and onions and carefully close with top layer of bread.

Add chopped parsley to the melted butter and brush over top of your rolls.

Bake on the middle rack covered with tinfoil for 5-10 minutes.

Remove tinfoil and set your oven to broiler. Broil the top for 1-2 minutes or until the rolls are lightly browned. Keep a close eye on it so it doesn't burn!! Serve hot and ketchup on the side.
Recipe Notes
Yield: 12 Sliders
*You can use cheese whiz instead of Velveeta if you prefer or make your own homemade whiz.
Add green peppers to your onions if you wish.
Reheat your sliders in the oven covered with foil at 325ºF for 5-10 minutes.
Make your sliders in advance!
Assemble your sliders according to instructions but

wait

to bake them off. Instead, cover and refrigerate until ready to serve. Then bake accordingly.
Nutrition
Calories:
464
kcal
|
Carbohydrates:
35.9
g
|
Protein:
22.8
g
|
Fat:
26.5
g
|
Saturated Fat:
12.3
g
|
Cholesterol:
87
mg
|
Sodium:
625
mg
|
Fiber:
2.2
g
|
Sugar:
4.4
g