Are you throwing a football watch party and need some easy game day appetizers to serve? Well, I bet you will find some fun ideas here! Below I have a list of appetizer ideas including popular football foods, crock pot recipes, foods shaped like footballs, kid friendly snacks to serve while tailgating!
This post may contain affiliate links. You can read my disclosure here.
(Cue music) "Are you ready for some footballlll?"
Football season is here! That means the FOUR F's! Football, Family, Friends, and Food! All are important but only ONE is under your control! The FOOD!
So when it comes to throwing a party, whether its for 4 people or 20, it is NOT an easy task! Especially when the party starts at 1:00! So if you're asking yourself, "What the heck should I serve?", keep reading!
You're here because you most likely want to impress your guests with some delicious appetizers to serve for this Sunday's football party right? Oh and if you can find a recipe that's not complicated OR boring, BONUS!!
Well here is a list of game day recipe ideas you will want to throw on this Sunday's football party menu! You'll find appetizers, snacks and desserts that can all be gobbled up with just a few fingers. This way you can use your other hand for high fiving, throwing things at the tv or wiping away your tears...
Do you love BINGO? Get my FREE Super Bowl 2023 bingo cards here to play during the game!
Popular Football Party Foods
Below is a list of the most POPULAR football foods everyone craves this time of year. They are known as game day "classics" such as wings, pizza, chili and nachos to name a few. But this year it's time to change it up!! Below you will find the same classic flavors but with a TWIST!
This stromboli recipe is a family favorite! When I think of football, I can't imagine a stromboli not on the table. This recipe is easy, filling and so delicious! You can add different veggies, cheeses, meats and seasoning to make it suit your tastes!
This chili dip uses Hormel's canned chili, cream cheese and cheddar cheese making it the easiest and quickest dips that can be ready in less than 10 minutes! All you need is a shallow bowl and a microwave!
These sliders are HEAVENLY. They are soft, juicy and packed with flavor. The ratio of meat to cheese is spot on and they are easy to make for a crowd!
If you've never had gravy fries, you've been missing out! These are called Disco Fries! They are made with a flavorful homemade gravy and topped with mozzarella (and cheddar) cheeses! Your guests will devour this indulgent snack!
Sausage and jalapenos are both popular football ingredients. They add a little "kick" to your food (pun intended) and will keep you full the entire game. They are a football finger food favorite in my home and best of all, you can make them ahead of time and reheat the day of the party!
📽 If you love entertaining at home, subscribe to my YouTube channel!!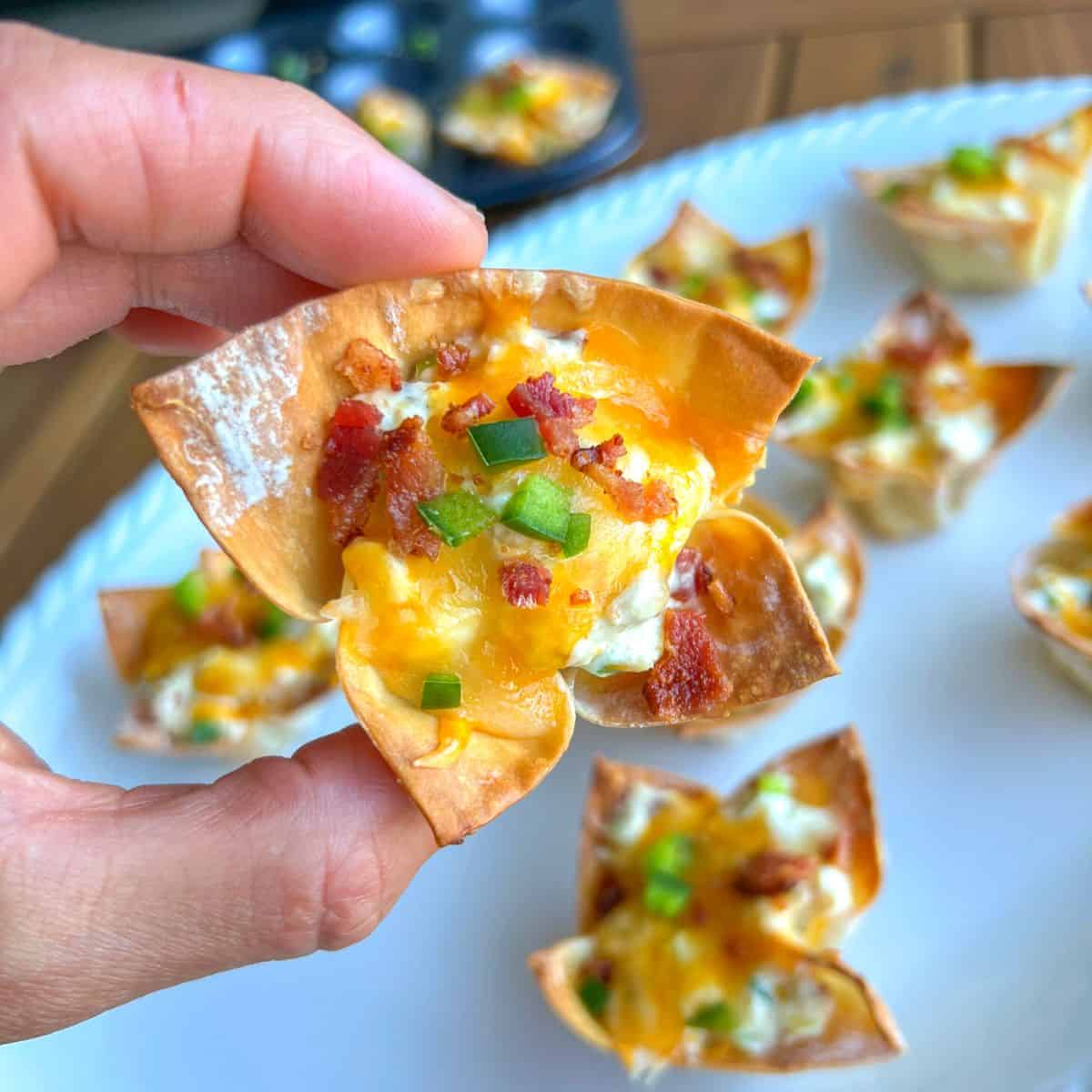 If you love creamy cheesy appetizer with a kick, these babies are it! They scream football season and are so fun to eat. Best of all, they can be made before the game starts and reheated at half time to keep your guests full!
These Air Fryer Loaded Nachos are hands down, the quickest party appetizers I have on my blog thanks to the speediness of my air fryer. Ready in just 5 minutes, nothing could be easier or more delicious!
These Cheesy Stuffed Garlic Bombs are an easy and quick way to enjoy garlic knots but 1,000 times better! I use Pillsbury's canned biscuit dough because they yield an incredibly soft and tender dough every single time.
No football tailgate is complete without a HOT dip! This one is creamy and oozing with melty queso! It's also made cowboy style which means it's loaded with cheese, ground beef, beans and all kinds of veggies. A colorful, delicious game day snack. Get those fingers ready! (Both real and foam!)
Football and wings go together like peanut butter and jelly! Both are good by themselves but together...they are a match made in heaven. These honey buffalo wings are sweet, sticky and will have you licking your fingers clean in between high fives!
This pub-style Beer Cheddar Cheese Dip is the perfect spread to serve with pretzels! The main ingredients in this appetizer are cream cheese, shredded cheddar cheese and BEER! Best of all, it takes just 5 MINUTES to whip up, making it an ideal Super Bowl snack!
These EASY Beer Battered Onion Rings are a classic football snack! The beer batter helps to create a SUPER crispy and light exterior while adding another layer of flavor. Serve your onion rings with this tasty roasted red pepper aioli dipping sauce and of course, a cold beer.
If you love tomatoes, this appetizer is for you! They are easy to make and some out super crispy and flavorful! Serve with this basil red pepper aioli for dipping and people will go crazy!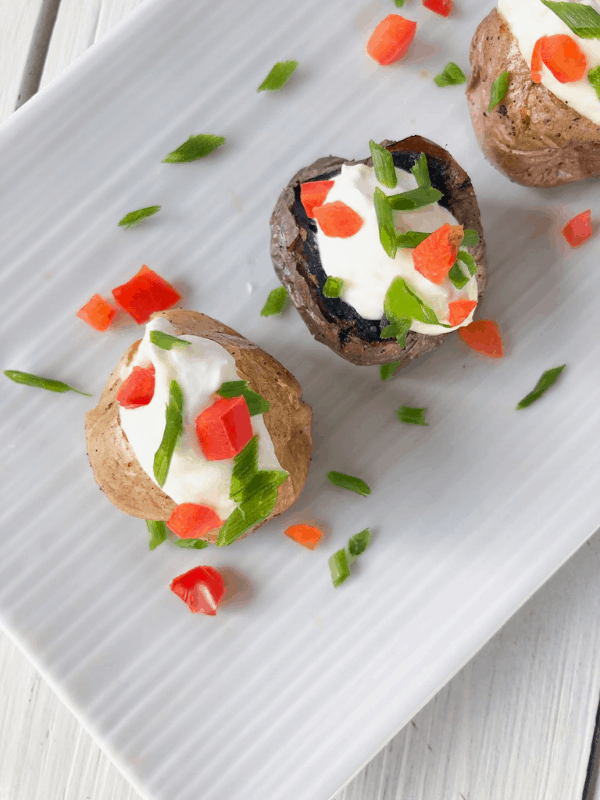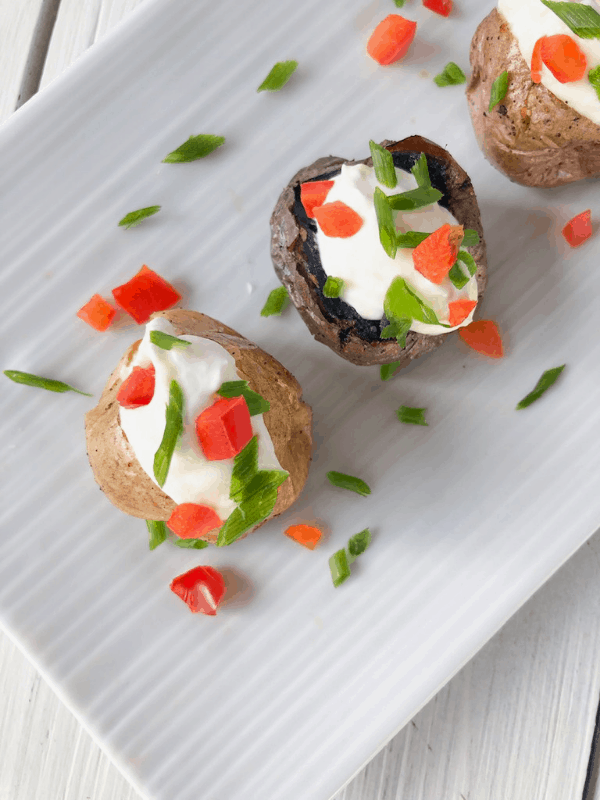 How adorable are these mini baked potato bites? They are the easiest appetizer to make and hard to mess up. Guests wont expect these at your football party but that's the fun part! Plus, they DO look like tiny footballs AND are bite sized so just go for the "extra point" and I bet you'll make it!
Vegetarian or not, I'm betting this Stromboli would disappear before the game even starts! They are such an underrated football food that almost everyone enjoys eating. Plus, putting anything cheesy in pizza dough is a winner in every fan's playbook.
These chicken 'lollipops' are such a fancy way to serve wings to your guests! They come out super crispy and soak up this easy bottled dressing. Everyone will love eating these because of how fun they are PLUS, having a cute "handle" will allow everyone to keep their fingers clean!
Where are all my garlic bread Texas toast lovers? These pinwheels are for you! They are super easy to throw together and are hard to turn down no matter what is happening in the game. Serve alone or with a creamy ranch dip and they will be a fan favorite, I guarantee!
Here is another way I like to serve Philly cheese steaks! In order to do that, I used a mini muffin tin and some store-bought wonton wrappers. These are one of my favorite football appetizers to serve friends and family and never last the entire game!
Mozzarella sticks are that one appetizer everyone and anyone eats no matter what age! This recipe BAKES them so we all wont have to feel guilty about giving them to our kids. I recommend making them a day before and save the baking for game day! Easy and stress free!
I don't know what it is about pickles but kids LOVE them, even at young ages! They just love that tangy vinegar taste! What if we turned them into bite sized dippers that are coated in a crispy shell? I think that's a football game winner that kids will come back for!
CRUNCHY Air Fryer Sweet Potato Chips
These sweet potato chips are a delicious but healthy way to serve snacks. Serve them with a delicious maple mustard sauce for dipping and you will take your potato chips game to another level.
Baked Fluffy Potato Wedges
These baked potato wedges are like an 'adult' french fry! (So adults will love them too!) They are the best wedges I've tried! Baked with olive oil, they are crispy, fluffy and healthy! When I serve these, I love to pair them with 3 sauces, ketchup, cheese and ranch dressing. Kids may do a touchdown dance for them!
Two Ingredient Dough Pretzel Bites
Bite sized soft pretzels?! What could be better than cheering on your favorite team while dipping these babies? The best part is that the dough only requires TWO ingredients! I bet the kids would love helping you make these too!
Corn muffins and hot dogs? Kids will come RUNNING! They are the perfect food for kids and are inexpensive to make! Best of all, you can make them ahead of time since they do not need to be warm to enjoy!
These cheesy breadsticks are made with store-bought pizza dough so they don't take long to whip up. Dip them in your favorite sauces like marinara or ranch dressing if you like! Kids and adults will love them no matter if they are watching football or not!
Serve these fall-off-the-bone tender ribs with a barbecue sticky glaze and your guests will be sure to lick their digits clean between high fives! (Check out those caramelized edges.) The 4-ingredient marinade makes these all the more appealing for this Sunday's game!
Ahh, remember those 'bagel bites' we have all come to know in the freezer section of the food store? These are a homemade version! Completely homemade and ready in less than 30 minutes! So you wont have to worry about missing any part of the game! Plus, your kids wont leave the party still hungry!
Oven Baked Crispy Zucchini Fries
My kids and I are on a "need to know" basis. So when there is something that is GOOD for them especially involving food, I keep those secrets to myself. Tell the kids these are the best french fries in the world and they will eat them up! (We can only hope.) Now if only tricking the other team was that easy.
📽 If you love entertaining at home, subscribe to my YouTube channel!!
These pinwheels are just screaming "MAKE ME AHEAD!". I love any appetizer that can go from fridge to table (skipping the oven!) These pinwheels are also loaded with shredded chicken, cheese and veggies so they are a yummy football idea especially when your expecting a large crowd! Older kids who love tacos would be perfect candidates!
---
Crock Pot Football Party Recipes
If you've never had brown sugar with buffalo sauce, you've been missing out. These brown sugar buffalo meatballs will become your favorite football food because they can be made ahead of time in the crock pot and simply kept warm throughout the entire football game!
What a simple, flavor-packed appetizer to eat while watching football! I love that they can be taken directly out of the crock pot without any utensils! I can just picture my family snatching 2... or 6 of these smokies way before kick off!
Nachos could not be any easier when you use a slow cooker! Just toss in a pork roast the morning of the football game and a few hours later, you've got one delicious but unique nacho dish that everyone will be digging into. It's the ultimate appetizer!
I'm a sucker for a saucy meatball, ESP a bite sized meatball! These babies are made with chicken (or you can use turkey) and then bathed in a sweet, sticky and slightly spicy sauce and of course, can be made hours before the game starts!
Fritos are the neglected chip that I could eat handfuls of. Turn them into dippers and you have a fun and creative way to serve chili! I bet none of your guests have tried this one. I also bet this cheesy dip would be gone before football even starts!
Just 10 minutes of prep and this slow cooker beef queso dip will be ready by the time football kicks off! Flavored with taco seasoning it is super creamy, cheesy, beefy and best of all super EASY! You can serve this dip with tortilla chips, fritos or bread!
Ina Garten says that serving unexpected food makes a party better! Well I bet no one would expect Swedish meatballs to be served at your football party! But meatballs have always been a delicious game day food so try this one paired with some toothpicks for easy popping. That sauce wont be ignored.
Where are all my Reuben sandwich lovers?! I've found a "deconstructed" Reuben appetizer that makes this an ideal appetizer for any Sunday party. Serve this slow cooker dip with mini rye bread crackers and you'll be rooting for your team while licking your fingers clean!
These sweet and sour crock pot meatballs take just 5 minutes to put together! Frozen cocktail meatballs are the shortcut. I like to toss them in the crock pot a few hours before game time and allow guests to help themselves as the game goes on.
Is it Super Bowl yet? Grab my FREE BINGO cards to play commericial bingo with your friends and family!
📽 If you love entertaining at home, subscribe to my YouTube channel!!