Are you throwing a football party and need some easy appetizers to serve? Well, I bet you will find some fun ideas here! Below I have a list of appetizer ideas including popular football foods, crock pot recipes, foods shaped like footballs, kid friendly snacks, and even football party decor ideas!
This post may contain affiliate links. You can read my disclosure here.
(Cue music) "Are you ready for some footballlll?"
Football season is here! That means the FOUR F's! Football, Family, Friends, and Food! All are important but only ONE is under your control! The FOOD!
So when it comes to throwing a party, whether its for 4 people or 20, it is NOT an easy task! Especially when the party starts at 1:00! So if you're asking yourself, "What the heck should I serve?", keep reading!
You're here because you most likely want to impress your guests with some delicious snacks to serve for this Sunday's football party right? Oh and if you can find a recipe that's not complicated OR boring, BONUS!!
Well here is a list of 51 game day recipe ideas you will want to throw on this Sunday's football party menu! You'll find appetizers, snacks and desserts that can all be gobbled up with just a few fingers. This way you can use your other hand for high fiving, throwing things at the tv or wiping away your tears...
Do you love BINGO? Get my FREE Super Bowl 2022 bingo cards here to play during the game!
Popular Football Foods
Below is a list of the most POPULAR football foods everyone craves this time of year. They are known as game day "classics" such as wings, pizza, chili and nachos to name a few. But this year it's time to change it up!! Below you will find the same classic flavors but with a TWIST!
Mini Philly Cheesesteak Hawaiian Roll Sliders
These sliders are HEAVENLY. They are soft, juicy and packed with flavor. The ratio of meat to cheese is spot on and they are easy to make for a crowd!
If you've never had gravy fries, you've been missing out! These are called Disco Fries! They are made with a flavorful homemade gravy and topped with mozzarella (and cheddar) cheeses! Your guests will devour this indulgent snack!
Cheesy Sausage Stuffed Pillsbury Biscuits (With Jalapenos)
Sausage and jalapenos are both popular football ingredients. They add a little "kick" to your food (pun intended) and will keep you full the entire game. They are a football finger food favorite in my home and best of all, you can make them ahead of time and reheat the day of the party!
Sloppy Joe's are a traditional American sandwich that is fun to eat, super sloppy and cheap to make! The only problem, they were never considered an appetizer...until NOW! These sloppy Joe pockets are packed with juicy meaty goodness and made perfect for dipping! Go team go!!
📽 If you love entertaining at home, subscribe to my YouTube channel!!
Air Fryer Cheesy Loaded Nachos (5 Minutes!)
These Air Fryer Loaded Nachos are hands down, the quickest party appetizers I have on my blog thanks to the speediness of my air fryer. Ready in just 5 minutes, nothing could be easier or more delicious!
Cheesy Stuffed Garlic Bombs (Using Biscuit Dough)
These Cheesy Stuffed Garlic Bombs are an easy and quick way to enjoy garlic knots but 1,000 times better! I use Pillsbury's canned biscuit dough because they yield an incredibly soft and tender dough every single time.
No football tailgate is complete without a HOT dip! This one is creamy and oozing with melty queso! It's also made cowboy style which means it's loaded with cheese, ground beef, beans and all kinds of veggies. A colorful, delicious game day snack. Get those fingers ready! (Both real and foam!)
Football and wings go together like peanut butter and jelly! Both are good by themselves but together...they are a match made in heaven. These honey buffalo wings are sweet, sticky and will have you licking your fingers clean in between high fives!
Beer Cheddar Cheese Pretzel Dip (Cold Spread)
This pub-style Beer Cheddar Cheese Dip is the perfect spread to serve with pretzels! The main ingredients in this appetizer are cream cheese, shredded cheddar cheese and BEER! Best of all, it takes just 5 MINUTES to whip up, making it an ideal Super Bowl snack!
These EASY Beer Battered Onion Rings are a classic football snack! The beer batter helps to create a SUPER crispy and light exterior while adding another layer of flavor. Serve your onion rings with this tasty roasted red pepper aioli dipping sauce and of course, a cold beer.
Cold Spinach Dip With Cream Cheese
Puff Pastry Pigs In A Blanket With Creamy Dijon Sauce
Crescent rolls pigs in a blanket are so 1990 but still a SUPER popular food. Try these new gourmet pigs in a blanket to impress all those football fans! These are made with flaky, puff pastry dough and served with a decadent creamy Dijon sauce for dipping! Who wouldn't love that?
If you love tomatoes, this appetizer is for you! They are easy to make and some out super crispy and flavorful! Serve with this basil red pepper aioli for dipping and people will go crazy!
Easy Mini Baked Potato Bites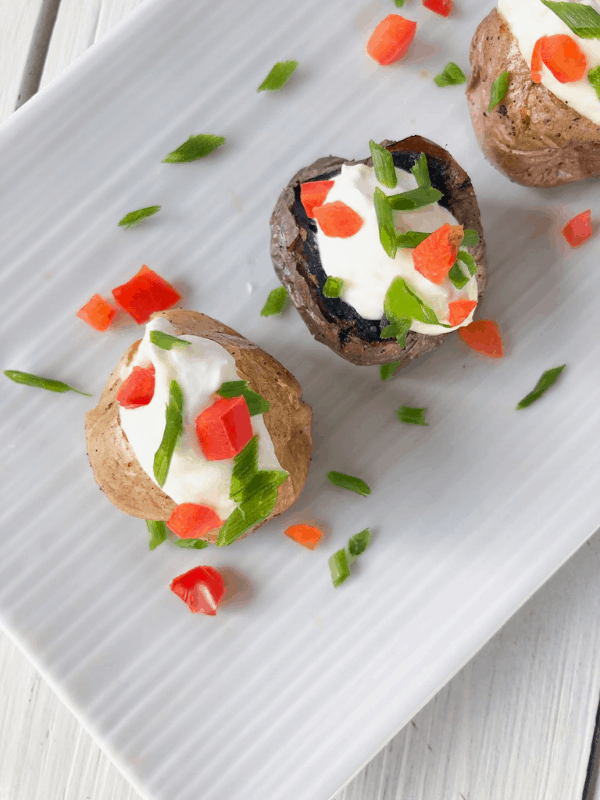 How adorable are these mini baked potato bites? They are the easiest appetizer to make and hard to mess up. Guests wont expect these at your football party but that's the fun part! Plus, they DO look like tiny footballs AND are bite sized so just go for the "extra point" and I bet you'll make it!
Vegetarian or not, I'm betting this Stromboli would disappear before the game even starts! They are such an underrated football food that almost everyone enjoys eating. Plus, putting anything cheesy in pizza dough is a winner in every fan's playbook.
Sesame Ginger Chicken Lollipops
These chicken 'lollipops' are such a fancy way to serve wings to your guests! They come out super crispy and soak up this easy bottled dressing. Everyone will love eating these because of how fun they are PLUS, having a cute "handle" will allow everyone to keep their fingers clean!
Garlic n' Herb Puff Pastry Pinwheels
Where are all my garlic bread Texas toast lovers? These pinwheels are for you! They are super easy to throw together and are hard to turn down no matter what is happening in the game. Serve alone or with a creamy ranch dip and they will be a fan favorite, I guarantee!
Philly Cheesesteak Wonton Cups
Here is another way I like to serve Philly cheese steaks! In order to do that, I used a mini muffin tin and some store-bought wonton wrappers. These are one of my favorite football appetizers to serve friends and family and never last the entire game!
---
Crock Pot Football Party Recipes
3-Ingredient Bacon Wrapped Smokies
What a simple, flavor-packed appetizer to eat while watching football! I love that they can be taken directly out of the crock pot without any utensils! I can just picture my family snatching 2... or 6 of these smokies way before kick off!
Slow Cooker Pulled Pork Nachos
Nachos could not be any easier when you use a slow cooker! Just toss in a pork roast the morning of the football game and a few hours later, you've got one delicious but unique nacho dish that everyone will be digging into. It's the ultimate appetizer!
Slow Cooker Honey Chipotle Meatballs
I'm a sucker for a saucy meatball, ESP a bite sized meatball! These babies are made with chicken (or you can use turkey) and then bathed in a sweet, sticky and slightly spicy sauce and of course, can be made hours before the game starts!
Fritos are the neglected chip that I could eat handfuls of. Turn them into dippers and you have a fun and creative way to serve chili! I bet none of your guests have tried this one. I also bet this cheesy dip would be gone before football even starts!
Just 10 minutes of prep and this slow cooker beef queso dip will be ready by the time football kicks off! Flavored with taco seasoning it is super creamy, cheesy, beefy and best of all super EASY! You can serve this dip with tortilla chips, fritos or bread!
Slow Cooker Swedish Meatballs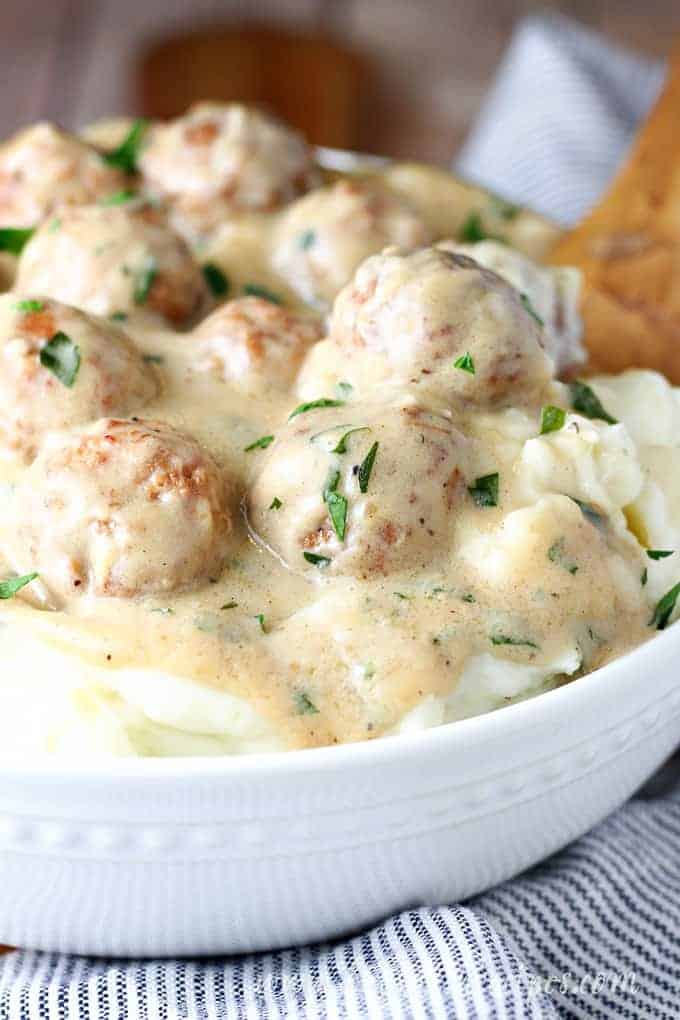 Ina Garten says that serving unexpected food makes a party better! Well I bet no one would expect Swedish meatballs to be served at your football party! But meatballs have always been a delicious game day food so try this one paired with some toothpicks for easy popping. That sauce wont be ignored.
Reuben Dip
Where are all my Reuben sandwich lovers?! I've found a "deconstructed" Reuben appetizer that makes this an ideal appetizer for any Sunday party. Serve this slow cooker dip with mini rye bread crackers and you'll be rooting for your team while licking your fingers clean!
These cheesy breadsticks are made with store-bought pizza dough so they don't take long to whip up. Dip them in your favorite sauces like marinara or ranch dressing if you like! Kids and adults will love them no matter if they are watching football or not!
Serve these fall-off-the-bone tender ribs with a barbecue sticky glaze and your guests will be sure to lick their digits clean between high fives! (Check out those caramelized edges.) The 4-ingredient marinade makes these all the more appealing for this Sunday's game!
Easy Sweet N' Sour Crock Pot Meatballs Recipe
These sweet and sour crock pot meatballs take just 5 minutes to put together! Frozen cocktail meatballs are the shortcut. I like to toss them in the crock pot a few hours before game time and allow guests to help themselves as the game goes on.
Football Shaped Party Food
The best way to make your football party super festive AND to impress your guests is to serve food that is shaped like a football...or helmet, or jersey. Below you will find some fun and creative football appetizers and desserts that are almost too cute to eat but perfect for game day! *Remember, going the extra mile makes food special and unforgettable. So spend a little extra time this weekend and I bet your guests will appreciate the extra effort!
Mini Crescent Dough Football Pizzas
These mini football pizzas are such a fun snack to serve the kids on game days! They are made with just three ingredients and made with crescent dough instead of pizza dough making it easy to roll and cut! Plus, kids will love making and eating them!
Pizza is probably the most POPULAR game day food. With pepperoni and some extra cheese, you can easily turn any pizza into a football festive idea that everyone will LOVE! I also love how this pizza is rectangular. It makes cutting and portioning so much easier!
Game Day Chocolate Chip Cheesecake Ball
Mention the word cheesecake and you'll find me running with a fork. (Is that safe?) Well this chocolate chip cheesecake "football" may be worth the risk! It is the perfect sweet snack to serve friends and family on game day that will make your guests say "WOW!".
Jalapeno Popper Football Cheese Ball
If you LOVE jalapeno poppers but don't feel like spending the time cutting, seeding and stuffing those little peppers, here is an easy way to get all the same flavors packed into a fun football shaped dip! Best of all, you can dip anything from pretzels, pretzel rods, chips, pita bread, veggie sticks, etc. into it! The spread possibilities are endless!
Love pizza but sick of the traditional pie? Try these pizza pockets! These are stuffed with pepperoni, cheese and sauce but you can stuff them with just about anything under the sun! A veggie pizza pocket (with ricotta) would be a great option for your vegetarian guests!
Football Shaped Chocolate Peanut Butter Balls
Reese's lover? Who isn't! Here is an adorable way to incorporate them into your football party! You don't even need a football mold to form your footballs! To get the laces shown above Wilton's White Gel Tube is recommended making it super easy!
Football Spinach Dip Breadsticks
Want to wow your guests? Serve these football bread sticks and they will think you're Martha Stewart. This recipes included a nice step-by-step breakdown of how to make this using refrigerated pizza dough. THIS is a game changer people!!
Football Bites (with Summer Sausage, Cheddar and Ranch)
If you planned on serving cheese and crackers, why not spend another few minutes to cut your cheese into little footballs? No special items are needed to make these cute crackers other than a can and a Ziploc baggie to pipe your ranch dressing (laces)! The extra effort will score you extra points!
Zesty Cheddar Ranch Crispy Fried Chicken Footballs & Helmets
Wow, talk about turning something simple like chicken patties into the most festive football appetizer there is! This recipe uses ground chicken and these football molds to form the shapes. I'm pretty sure all the kids at the party will love these!
Bacon Cheddar Beer Bread Footballs
A homemade beer bread recipe turned into mini footballs! How creative and unique? Plus, bacon and cheese are involved so the flavors even scream football! All you need are these silicone football molds and you will be on your way to creating a fun food everyone will rave over!
Mozzarella sticks are that one appetizer everyone and anyone eats no matter what age! This recipe BAKES them so we all wont have to feel guilty about giving them to our kids. I recommend making them a day before and save the baking for game day! Easy and stress free!
I don't know what it is about pickles but kids LOVE them, even at young ages! They just love that tangy vinegar taste! What if we turned them into bite sized dippers that are coated in a crispy shell? I think that's a football game winner that kids will come back for!
CRUNCHY Air Fryer Sweet Potato Chips
These sweet potato chips are a delicious but healthy way to serve snacks. Serve them with a delicious maple mustard sauce for dipping and you will take your potato chips game to another level.
Baked Fluffy Potato Wedges
These baked potato wedges are like an 'adult' french fry! (So adults will love them too!) They are the best wedges I've tried! Baked with olive oil, they are crispy, fluffy and healthy! When I serve these, I love to pair them with 3 sauces, ketchup, cheese and ranch dressing. Kids may do a touchdown dance for them!
Two Ingredient Dough Pretzel Bites
Bite sized soft pretzels?! What could be better than cheering on your favorite team while dipping these babies? The best part is that the dough only requires TWO ingredients! I bet the kids would love helping you make these too!
Corn muffins and hot dogs? Kids will come RUNNING! They are the perfect food for kids and are inexpensive to make! Best of all, you can make them ahead of time since they do not need to be warm to enjoy!
Ahh, remember those 'bagel bites' we have all come to know in the freezer section of the food store? These are a homemade version! Completely homemade and ready in less than 30 minutes! So you wont have to worry about missing any part of the game! Plus, your kids wont leave the party still hungry!
Oven Baked Crispy Zucchini Fries
My kids and I are on a "need to know" basis. So when there is something that is GOOD for them especially involving food, I keep those secrets to myself. Tell the kids these are the best french fries in the world and they will eat them up! (We can only hope.) Now if only tricking the other team was that easy.
📽 If you love entertaining at home, subscribe to my YouTube channel!!
These pinwheels are just screaming "MAKE ME AHEAD!". I love any appetizer that can go from fridge to table (skipping the oven!) These pinwheels are also loaded with shredded chicken, cheese and veggies so they are a yummy football idea especially when your expecting a large crowd! Older kids who love tacos would be perfect candidates!
Healthy Game Day Snacks
Game day and "healthy appetizer" aren't usually in the same sentence. Most people relate sports games with sports food such as cheese steaks, pizza, fries, hot dogs, popcorn, etc. Why? Because they're on the cheaper end and are easy to make. Oh, and because they're DELICIOUS! Below I included a list of healthier game day ideas that will still be crowd favorites at your next football party but without the guilt that follows.
Again with the buffalo sauce but I mean, why not? It is the ultimate football sauce! But if you do not want to the calories of chicken OR are expecting vegetarian friends, this is a perfect healthy option that packs the same flavors you would find in buffalo wings!
Popcorn can be "meh" or popcorn can be the best thing EVER! If it's drenched in movie theater butter, I can't put the stuff down. But it doesn't HAVE to be in order to taste delicious! This pizza popcorn is flavored with spices like paprika, garlic, oregano so it doesn't NEED all that butter! A great healthy football snack option that everyone will LOVE!
Avocado Fries with Lime Dipping Sauce
Avocado fries are the creamiest fry you'll ever try! So why not throw them on your football menu and let everyone try them for themselves? I bet most of your guests will appreciate something NEW to try. They are also baked and served with a tasty dipping sauce that is a must for dipping!
Baked Buffalo Chicken Sweet Potato Rounds
If you've never had sweet potatoes and buffalo sauce together, it is surprisingly delicious! You're guests will not miss chicken wings after they've tried these! Sliced sweet potato rounds roasted in the oven and then topped with a creamy buffalo sauce. The perfect healthy substitute for any tailgate party!
Sesame Ginger Chicken Lollipops
These chicken lollipops are such a fun way to eat wings! Plus, they're less messy since you only need one hand to put them down! Cute and unique!
Buffalo Ranch Roasted Chickpeas
Chickpeas are an incredibly healthy and delicious option when done right! They completely change texture when you roast them making them a fun pop-able snack to munch on during the game! This recipe only uses THREE ingredients so it's hard to mess up! Place a few bowls out around the party and see how fast they go!
Sweet Potato Tots (with Rosemary and Sea Salt)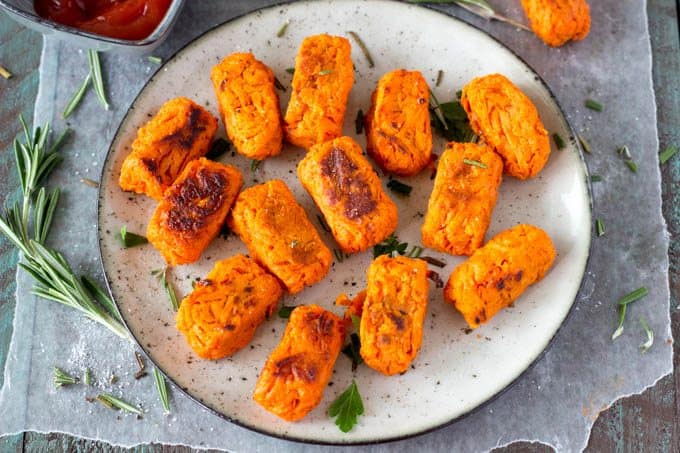 "Tots". Whenever I hear that word, I think of Napoleon Dynamite. But these are not the kinda tots they served in your high school cafeteria. These are tots taken to the next level! Made without flour, these are by far, the healthiest appetizer on this list for your game day party! A fun idea would be to serve these babies with a side of buffalo sauce...well because why not right?
These quesadillas are filled with meat and cheesy goodness. Flank steak is marinated and grilled before being smothered in cheese. They are a fun appetizer to serve at any football tailgate.
Cheesy Spinach Artichoke Quinoa Bites
Don't bore your guests with yet another spinach artichoke dip. Instead, serve these healthy spinach artichoke quinoa bites! Packed with protein and made bite sized, these will score a touchdown with your guests every time!
Football Party Tips
How to be less stressed on game day: If your goal is to be LESS stressed, choose recipes that can be MADE AHEAD either hours before or the day prior. If they cannot be taken out of the fridge and placed directly on the table or directly in the oven, you may want to choose another option.
Make your party more festive with cheap football decor!

Purchase some cheap decor that will make a big difference. This football party package is for 16 guests and is less than $20.00. If you need cups, these football cups are super festive too! These mini football flags are a great addition for less than $6.00!

Get the kids involved in the fun! Here is a package of eye black stickers that they can wear to imitate the football players!
Keep your food warm without hassle! These electric warming plates are awesome for keeping your food warm the entire game! This way you wont need to worry about heating a lot of food at once or keeping the food warm the entire game. The ones I linked to above are what I personally use and LOVE! These mini crock pots are AMAZINGLY useful for keeping dips warm and are less than $15.00!
Here are some other football party items you can serve your appetizers in!
Is it Super Bowl yet? Grab my FREE BINGO cards to play commericial bingo with your friends and family!
📽 If you love entertaining at home, subscribe to my YouTube channel!!