These Chicken Drumstick Lollipops are a fun way to serve wings to your guests! Make these as an appetizer or a fancy hors d'oeuvre and guests will be raving!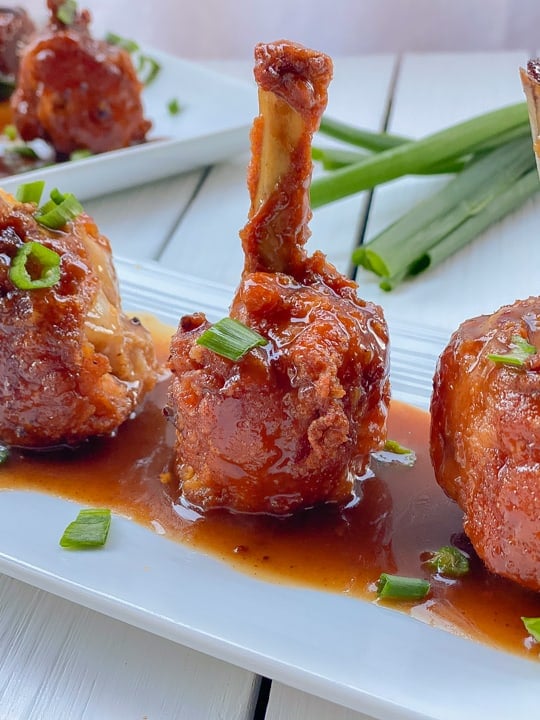 What Are Chicken Lollipops?
Lollipop chicken is chicken winglets, wings or drumettes trimmed to resemble a "lollipop" shape. The meat is cut down from the bone exposing a bone or "stick" to hold onto while eating.
The proper term is called 'frenched'. It is where the meat is cut loose from the bone and pushed downward. Making these is not tough to do but does require a bit of practice AND a sharp knife!
How To Lollipop Your Chicken
I chose to use chicken drumsticks for this recipe, however you can "french" chicken wings too. They take longer to do and are a bit trickier but will make a smaller lollipop. Chicken legs or thighs are NOT a your best option because of how large they are. You would end up with a meat cleaver instead of a golf ball.
*Using a SHARP knife is key to forming your little meat popsicles.
Steps for how to cut and trim your chicken:
After you are done frenching your drumsticks. You will need to set the chicken aside and mix up your batter in a large bowl. Once each drumstick is coated you will need to fry them in oil until crispy and brown. Your oil temp should be about 350-375 degrees F.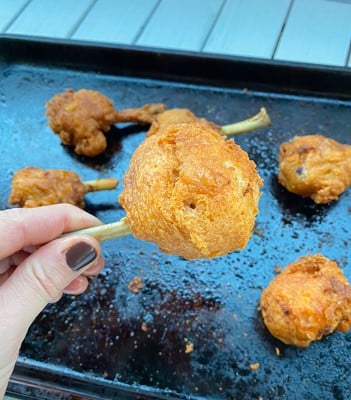 They will not be completely cooked inside but that's okay! You will finish them off in the oven at 400 degrees F. It is important to place your drumsticks on a wire rack so they stay crispy on the bottom! You want your chicken to reach an internal temperature of 165 degrees F! This can take anywhere from 5-10 minutes depending on the size of your drumsticks.
Finally, coat them in the sauce, dressing or glaze of your choice and serve with the bone upward so guests can easily grab them!
An Inexpensive Appetizer
The great thing about drumsticks is that they are SO incredibly cheap! You can make these wing pops VERY affordable! For a pack of 12 drumsticks, the price I paid was just over $4.00 for all of them.
That means each drumstick was just $0.33 each! With the sauce and batter ingredients, it cost well under $1.00 to make each lollipop. The cost goes down more when you make a large batch.
Your Chicken Batter
The batter I used to coat my chicken in is a thick pancake-like batter. It is a mixture made mainly of flour and cornstarch. The cornstarch makes for a crispier wing. The vinegar and baking powder will give your batter a lighter consistency.
Have you tried my Asian Shrimp Toast Appetizer yet?
Choosing Your Sauce aka 'Glaze'
After you cut, fry and bake your chicken, you are going to want to smother those babies in a thick sauce! For this recipe I simply used one of my favorite salad dressings, yes SALAD DRESSING, to pour over top! It makes them so easy to finish off and allows you many different options in the end. Plus, dressings are the perfect consistency!
Other wing sauce flavors:
Buffalo sauce
Ranch dressing
Thousand Island
Honey Mustard
Garlic Parmesan
The sauce options are endless! You can even serve these lollipops naked without any sauce. Then offer a few dips for your guests to enjoy dipping into.
Looking for some other fun appetizers?
Pork Bacon Skewers
Air Fryer Brown Sugar Buffalo Shrimp (Crispy)
Chimichurri Chicken Kabobs
Baked Buffalo Chicken Meatballs With Brown Sugar
Glazed Apple Chicken Sausage Bites
---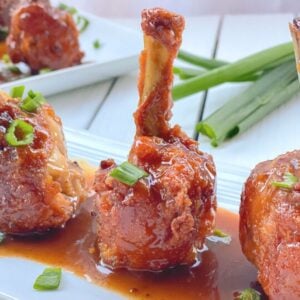 Chicken Drumstick Lollipops With Sesame Ginger Glaze
Chicken lollipops are such a fun appetizer or hors d'oeuvre to serve at any party! This version is fried and coated with my favorite Asian sesame ginger dressing!
Print
Pin
Rate
Ingredients
10-12

Chicken Drumsticks

2½

Cups

Ken's Steak House Sesame Ginger Dressing

((or other sesame ginger dressing))

2

Chopped

Green Onions

(*For garnishing)
Chicken Lollipop Batter
¾

Cup

Flour

1

Cup

Cornstarch

2

tablespoon

Baking Powder

1 ½

tablespoon

Paprika

2

teaspoon

Salt

1

tablespoon

Vinegar

1 ½

Cups

Whole Milk or Cream
Instructions
This part is the most tedious. Take each drumstick and using a sharp knife, slice off the top and bottom of each. (Aim for an inch off of each end.) You want the top of each drumstick to be FLAT so they have a flat surface to stand upright. (see photos above)

On the bottom of each drumstick by the bone where you cut, use your fingers to push the meat downward until the bone is exposed and the chicken forms into a ball at the other end.

Finally, while standing each lollipop upright, trim each as needed so your lollipops are closer to the size of a golf ball rather than the size of a baseball. It is more important that they are all uniform in size so they cook evenly!

Preheat your oven to 400°F.

Heat your oil in a deep skillet or small sauce pot. You oil should be deep enough to cover your lollipops when submerged. You want your oil temp to be between 350°F and 375°F. Any hotter and the batter will burn.

Mix your chicken lollipop batter ingredients in a large bowl until just combined. Clumps are okay.**The consistency of your batter is important. It should be thick like pancake batter but not TOO thick. If it is too thick to dip into, thin it out more with a touch of milk. Keep in mind it will thicken as it sits.

When the oil is ready, coat one drumstick in the batter and carefully drop it in the hot oil. (You do not want to coat the bone in batter.)

Repeat with 3-4 more drumsticks. Do not overcrowd. Use tongs to move the chicken around so they don't stick to one another.

When the exterior turns a deep brown, drain your drumsticks on paper towels OR a wire rack. Repeat with next batch of wings until all wings are brown and crispy. (They will not be cooked internally which is okay.)

Place your chicken on a wire rack (or parchment paper) and on a baking sheet. Bake for 5-10 minutes or until the internal temperature reaches 165°F. (See note)

When ready, take out your drumsticks and place them in a large bowl. They should be hot. Add dressing to the bowl and carefully toss to fully coat! You could also hold the bone and spoon the dressing over top. (The dressing does not need to be warmed.)

Serve lollipops on a platter with the bones facing upward. Sprinkle with green onions and serve hot.
Recipe Notes
*Make sure your oil is not too hot or the batter will burn. *A meat thermometer is the only way to test if each chicken lollipop is cooked inside! For safety, each lollipop should be tested separately especially since they may range in size.
Nutrition
Serving:
1
g
|
Calories:
283
kcal
|
Carbohydrates:
41.8
g
|
Protein:
17.2
g
|
Fat:
5.1
g
|
Saturated Fat:
1.9
g
|
Cholesterol:
47
mg
|
Sodium:
845
mg
|
Potassium:
763
mg
|
Fiber:
1.6
g
|
Sugar:
3.6
g
|
Calcium:
301
mg
|
Iron:
3
mg