These easy Baked Buffalo Chicken Meatballs are my favorite game day appetizer! Made with Franks RedHot sauce and brown sugar, they are spicy, sweet and covered in sauce! Add them to your slow cooker for an easy appetizer that will keep for hours!
This recipe for buffalo chicken meatballs is as simple as you can get and absolutely delicious.
What you need is ground chicken (or turkey), an egg to act as a binder, chopped celery, grated onion and breadcrumbs.
My "secret ingredient"
This sauce is everything.
Why? Because it has BROWN SUGAR in it.
The flavor combination is AMAZING!
It also helps to tone down the heat resulting in a perfect hot/sweet combo that will have you licking your fingers clean!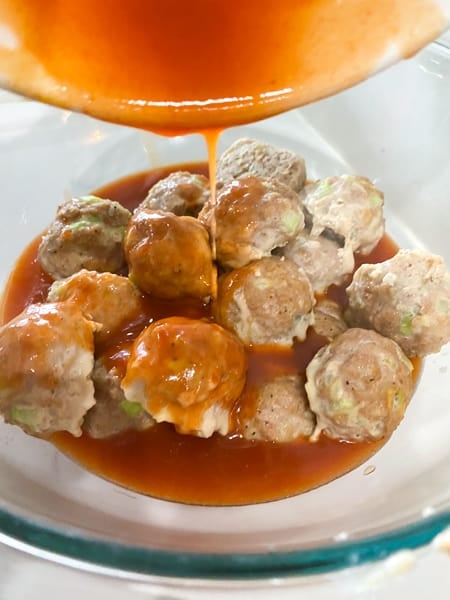 Thickening your sauce
So most buffalo sauces are made with hot sauce and butter. As the butter cools, it solidifies which naturally thickens your sauce. However, you need a lot of butter to do this which isn't very healthy. Plus, if your keeping these warm in your slow cooker, the sauce will be hot.
So the best way to thicken a buffalo sauce is to add some cornstarch. What I did was as a little but to the hot sauce, butter and brown sugar mixture. Then I simmered it for a little over the stove before pouring over top of my meatballs. If you leave out the cornstarch, the sauce will be delicious but the consistency will be too thin.
Can I Make These In My Slow Cooker?
So the rule when it comes to cooking meatballs in a slow cooker is pretty standard across the board. Unless you pre-cook them for at least 5 minutes, they will stick to each other. If you lay them flat and spaced apart, you may be able to get away with placing them in completely raw but then your limiting the amount of meatballs you can prepare.
So if you want to keep this warm in your slow cooker, you still can!
To do that, bake your meatballs in the oven FIRST. Then transfer them on over to your slow cooker set on warm. This way, you can add everything to your crock pot including the buffalo sauce and without sticking!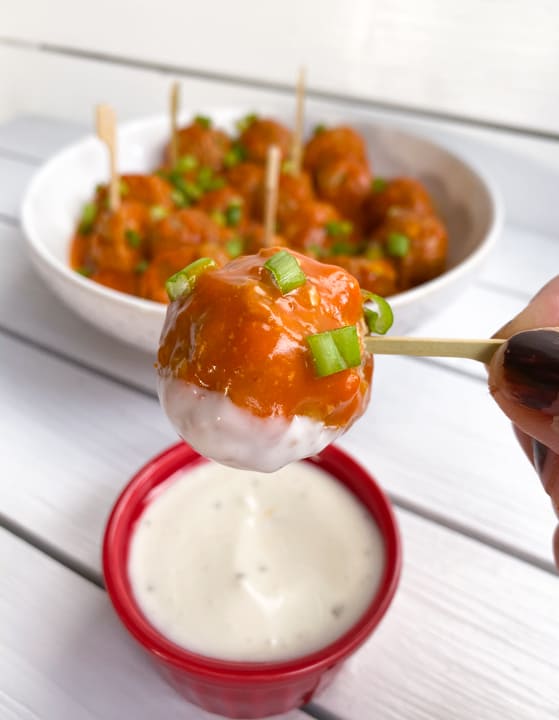 Check out these other meatball appetizers
you'll love.
Can I Freeze These To Make Ahead of Time?
Yes!
What I do, is bake a large batch of the meatballs at once maybe 2-3 lbs. of chicken, freeze them, then pull them out Sunday morning (or whenever you want) and throw them in the slow cooker with the brown sugar buffalo sauce! By the time the game starts, the meatballs are perfectly warmed through. You want to give them about 90 minutes to defrost
---
Check out these other delicious game day appetizers!
Maple Bacon Wrapped Pork Bites with Dipping Sauce
Disco Fries (Gravy Mozzarella Cheese Fries)
Puff Pastry Sausage Pigs in a Blanket
Fried Red Tomatoes (with Red Pepper Basil Aioli)
Hatfield Slow Cooker Pulled Pork Nachos
Sausage Balls Without Bisquick Pancake Mix
---
Frank's RedHot Buffalo Chicken Meatballs
These easy Buffalo Chicken Meatballs are my favorite game day appetizer! Made with Franks RedHot sauce and brown sugar, they are spicy, sweet and covered in sauce! Plus, they can be kept warm in your slow cooker for hours!
Print
Pin
Rate
Ingredients
Meatballs
1

lb.

Ground Chicken (or turkey)

1

Stick

Finely Chopped Celery

¼

Cup

Grated Onion

1

Large

Egg

½

Tsp.

Salt

¼

Tsp.

Pepper

¼

Cup

Instant Tapioca

((OR substitute ¾ cup GF bread crumbs))
Brown Sugar Buffalo Sauce
½

Cup

Hot Sauce

⅓

Cup

Brown Sugar

½

Stick

Salted Butter

1

tablespoon

Cornstarch
Instructions
Option 1: Add all meatball ingredients in a bowl and mix until combined.

Option 2: If you don't feel like chopping the celery or grating the onion, add everything but the meat and tapioca to a food processor and pulse until pureed. Then add to meat and tapioca in large bowl to the puree and mix until combined.

Using a mini ice cream scoop (about 1 oz.) for consistency, scoop meatballs onto large greased baking sheet and bake at 375° F for 12-15 minutes on middle rack, (I do not turn them but you can halfway if you want more even browning.) 

Meanwhile, add the melted butter, hot sauce, brown sugar and cornstarch to a small saucepan and simmer over medium heat until thickened. (about 5 minutes)

When meatballs are done, toss them in the sauce while hot. (Sauce does not need to be hot, if your meatballs are hot)

Serve with blue cheese or ranch dressing on the side! Skewers are optional!
Recipe Notes
If your meatballs are TOO sticky, add more tapioca or breadcrumbs just until they hold their shape!
Make more sauce if you need! These babies should be drenched in it!                    
Party Tips*
Place skewers/toothpicks in a small shot glass and allow guests to grab them as they please!
Keep in crock-pot and set on "warm" if you want to serve these all day.
These freeze well so make ahead of time, allow to cool, and place in plastic bag or Tupperware until you need them! Then just warm up in a 350 F oven OR throw the cooked meatballs straight from the freezer in a crock-pot, add sauce and turn on "warm"!                                                               
Note!
I do not put the meatballs in the crock-pot raw to cook! Uncooked meatballs will stick to one another when they are stacked on top of each other! This is why I bake them FIRST then add them to the crock pot!
Nutrition
Calories:
318
kcal
|
Carbohydrates:
19.9
g
|
Protein:
25
g
|
Fat:
14.9
g
|
Saturated Fat:
6.8
g
|
Cholesterol:
119
mg