If you're planning on throwing a Super Bowl Party or tailgate this year, I have some fun football decoration and food ideas that are both easy and festive! Much of the supplies I use for my Super Bowl party can be purchased on Amazon or at Party City. Also make sure to check out this list of football finger foods for more appetizer ideas!
If you're looking for a fun Super Bowl activity the whole family will love, check out these FREE Super Bowl Bingo cards.
Easy Super Bowl Party Ideas
Since the Super Bowl is usually more than 3 hours long, I recommend serving a spread of snacks and finger foods so guests can help themselves throughout the game.
Foods that are served cold or at room temperature are the best in my opinion since they don't need to be kept warm.
Other appetizers that can be thrown in the slow cooker are also perfect for a Super Bowl party because you can toss them in hours before the game even starts and set it to 'warm'.
Here are some quick football appetizers that have MINIMAL ingredients but still super tasty!
Super Bowl Food Ideas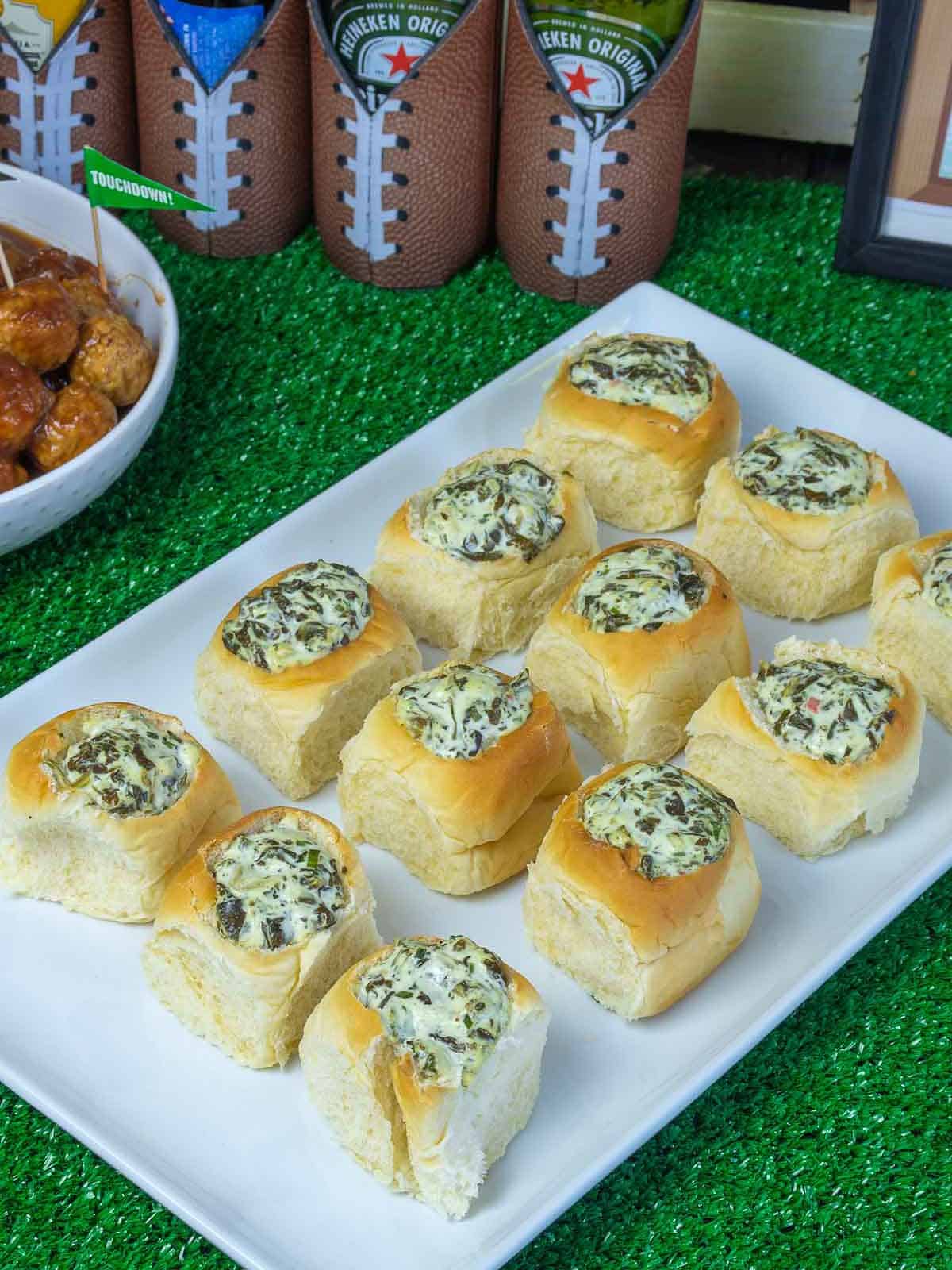 Mini Spinch Dip Bread Bowls
A simple TWO INGREDIENT appetizer that is both individually served and delicious! These cute bread bowls are made using King's Hawaiian bread, which I LOVE.
I use those mini rolls for a lot of slider recipes like my Philly Cheesesteak Sliders which, by the way, would also would be a great Super Bowl party idea.
Guests can grab, rip and dip! Fun and easy! You can add celery and carrot sticks to your bowls too!
Ingredients:
Spinach Dip- If you're strapped for time, grab a pre-made one for your local store. If you want a deliciously easy one, my 7-minute spinach dip is delicious!
Mini Buns- Any small rolls would work. I recommend getting softer rolls so they rip off easiliy for hassle-free dipping.
Instructions:
Cut a hole into the center of each roll.
Fill with spinach dip.
Place extra bread on the side for dipping.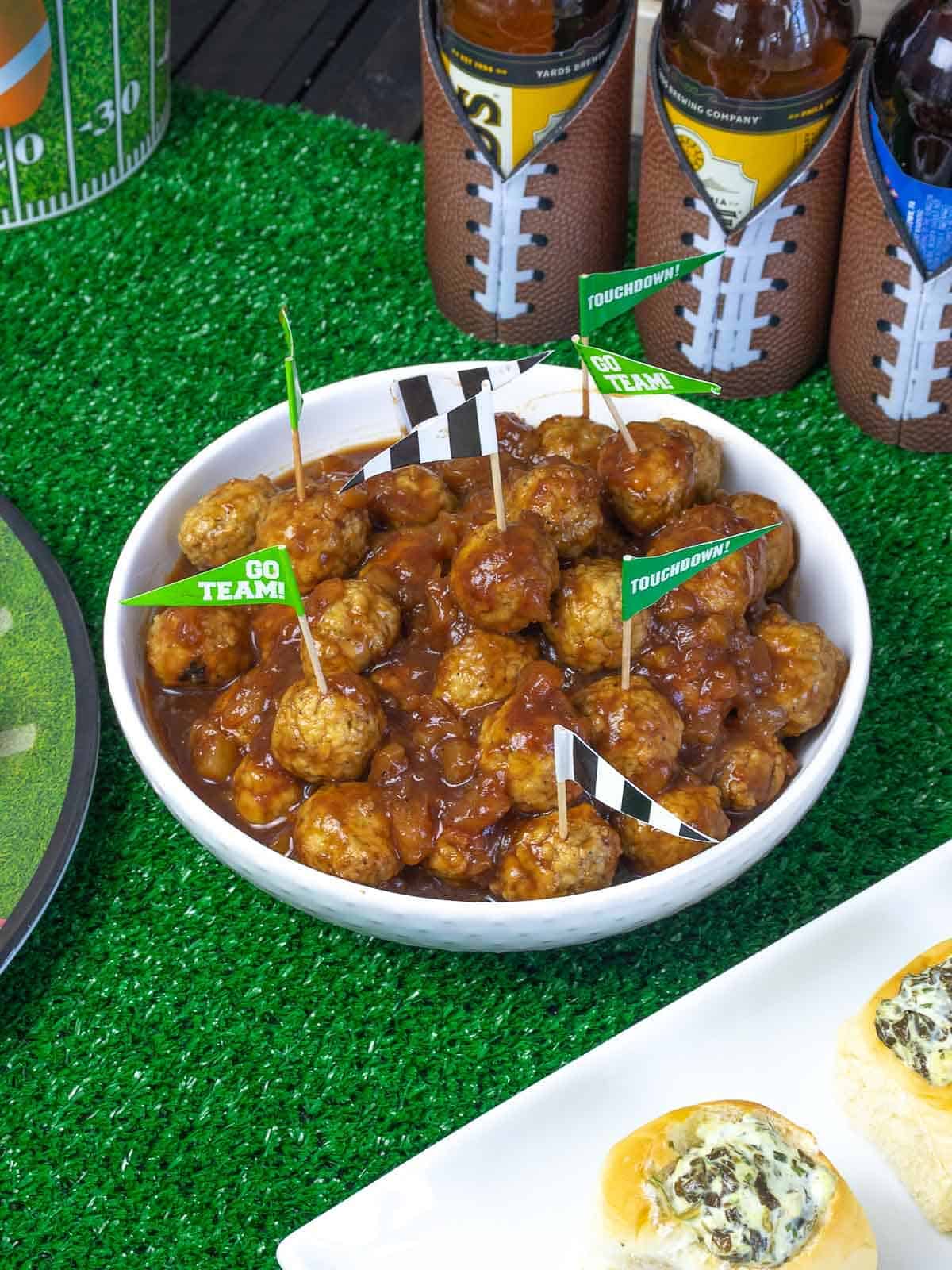 Sweet BBQ Cocktail Meatballs
These are an easy THREE INGREDIENT slow cooker recipe that is ALWAYS a winner at Super Bowl parties.
Ingredients:
Cocktail Meatballs- I like to purchase pre-cooked, frozen meatalls from the store that are bite-sized. If you want to make your own, you can do that too.
Lawry's BBQ Sauce- This is my go-to bbq sauce and is worth buying.
Can of crushed pineapples- This adds sweetness to your meatballs. You can find this in the jam aisle.
Instructions:
Add pre-cooked frozen meatballs into a large pot or crock pot along with the BBQ sauce and crushed pineapples. Reheat on low for 1-2 hours or until warmed through. Keep at the warm setting.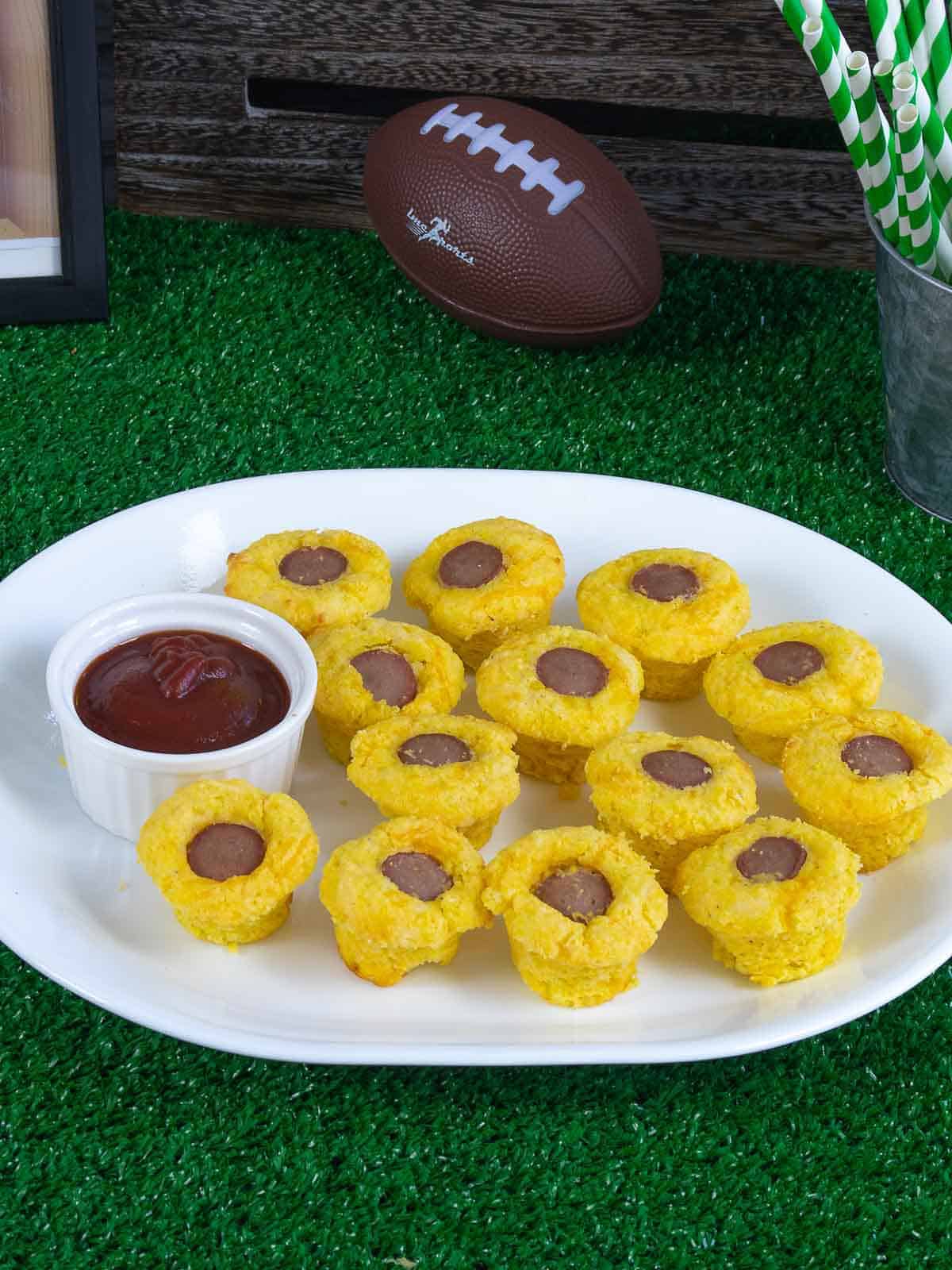 Mini Corn Dogs
Corn Dogs are such a fun game day food so why not make them bite-sized? This is an easy THREE INGEDIENT appetizer that requires minimal prep.
Cornbread mix- Jiffy has an easy and tasty corn muffin mix that I like to use when I'm in a pinch for time.
Hot dogs- A few hot dogs will do for this recipe since the corn muffins are mini sized.
Cheddar cheese- Adding cheddar adds some flavor to the mix!
Instructions:
Cut your 2-3 hot dogs into 1" sllices. Make the corn muffin mix according to instructions on box. Mix in shredded cheddar and fill mini muffin tins ¾ of the way up and add hot dogs to the center.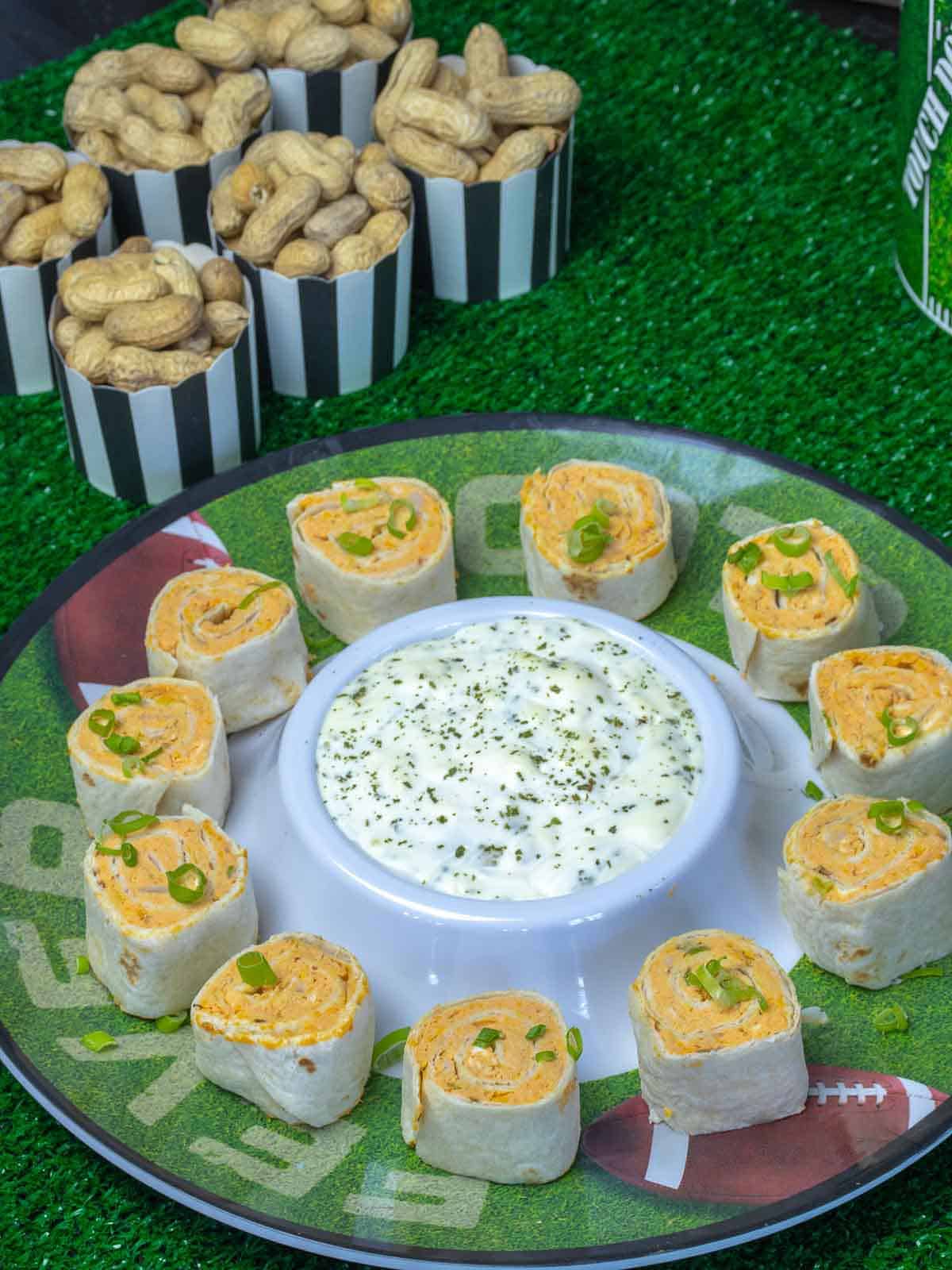 Buffalo Chicken Pinwheels
Is it even a football game if there's nothing buffalo flavored? So for the Super Bowl, instead of wings, make these deliciously easy pinwheels.
Ingredients:
Shredded chicken- To save time, I like to use a pre-bought rotisserie chicken from the grocery store and pull that meat off the bone. I use one pound of shredded chicken.
Franks Hot Sauce- I use ½ a cup of Frank's Hot Sauce.
Cheddar cheese- I use 1 cup of shredded cheddar cheese.
Cream cheese- 1 used one block or 8 ounces.
Green onions- 1-2 chopped adds freshness and flavor to your pinwheels.
Four 10" Flour tortillas- Larger tortillas are best.
Instructions:
Add all ingredients to a bowl and spread the filling onto each tortilla.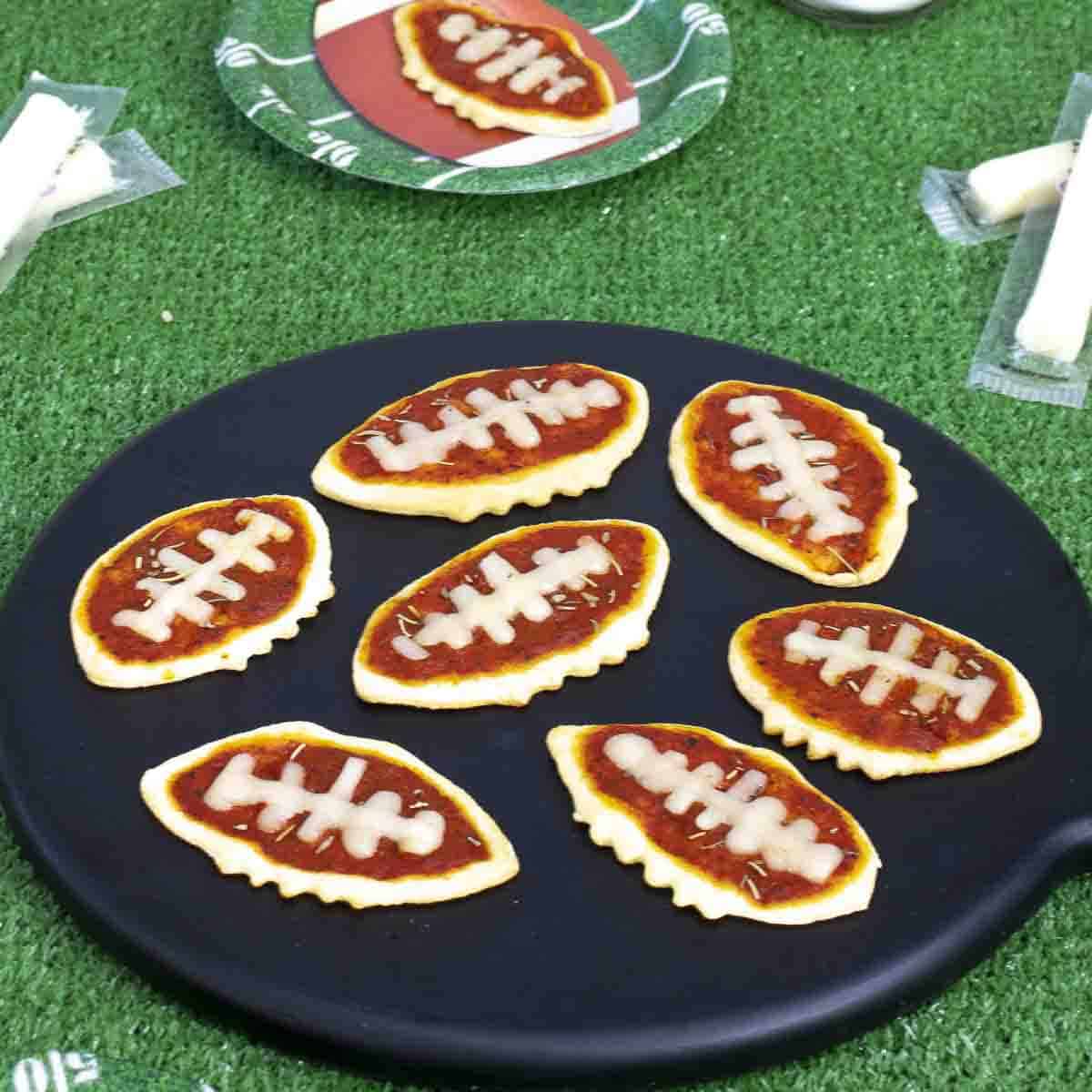 Football Crecent Pizzas
These pizzas are made using THREE ingredients and are very easy! They are shaped like a football too!! All you need is a football cookie cutter and these ingredients:
Ingredients:
Crescent Roll Dough- I used Pillsbury canned dough so it's super easy.
Mozzarella Cheese- I used string cheese cut into strips.
Marinara Sauce- Grab a jar of your favorite pizza sauce.
Instructions: just unroll the dough and cut out footballs. Top with sauce and lay football cheese laces down. Get the FULL recicpe here.
Other football appetizers to serve:
Dessert Ideas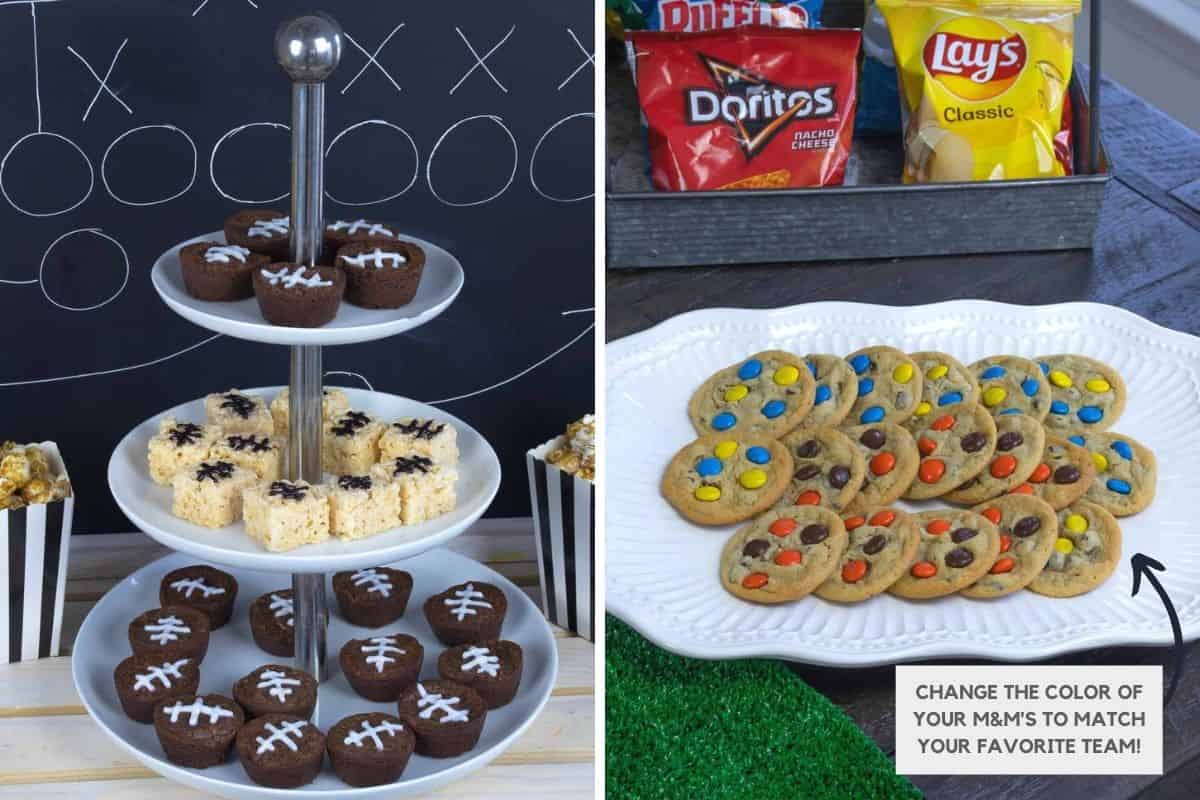 Brownies
To make things easy, I purchased store-bought brownies and store-bought icing. Then I made football laces to draw icing on each brownie. You can do this for mini rice crispy treats using brown or black icing too! It's easy and looks super cute!
Cookies
These cookies turned out so beautifully! All you need is a package of cookie dough and some M&M's. Bake cookies according to the directions and as soon as they come out of the oven, add any colored M&M's to your cookies! Use M&M's that are the colors of your favorite team!
Other Super Bowl appetizers you can make:
Super Bowl Drink Ideas
A big part of football is water bottles or water cooler. A fun idea would be to create a designated water break area!
Make A Water Break Station!
To do this, simply add Powerade or Gatorade to large drink dispensers or you can simply place bottles directly on the table.
Add a fun "water break" sign. Both kids and adults will be able to enjoy it. Add some fun colored straws to match your team's colors or simply use green to stick with the astroturf green football theme.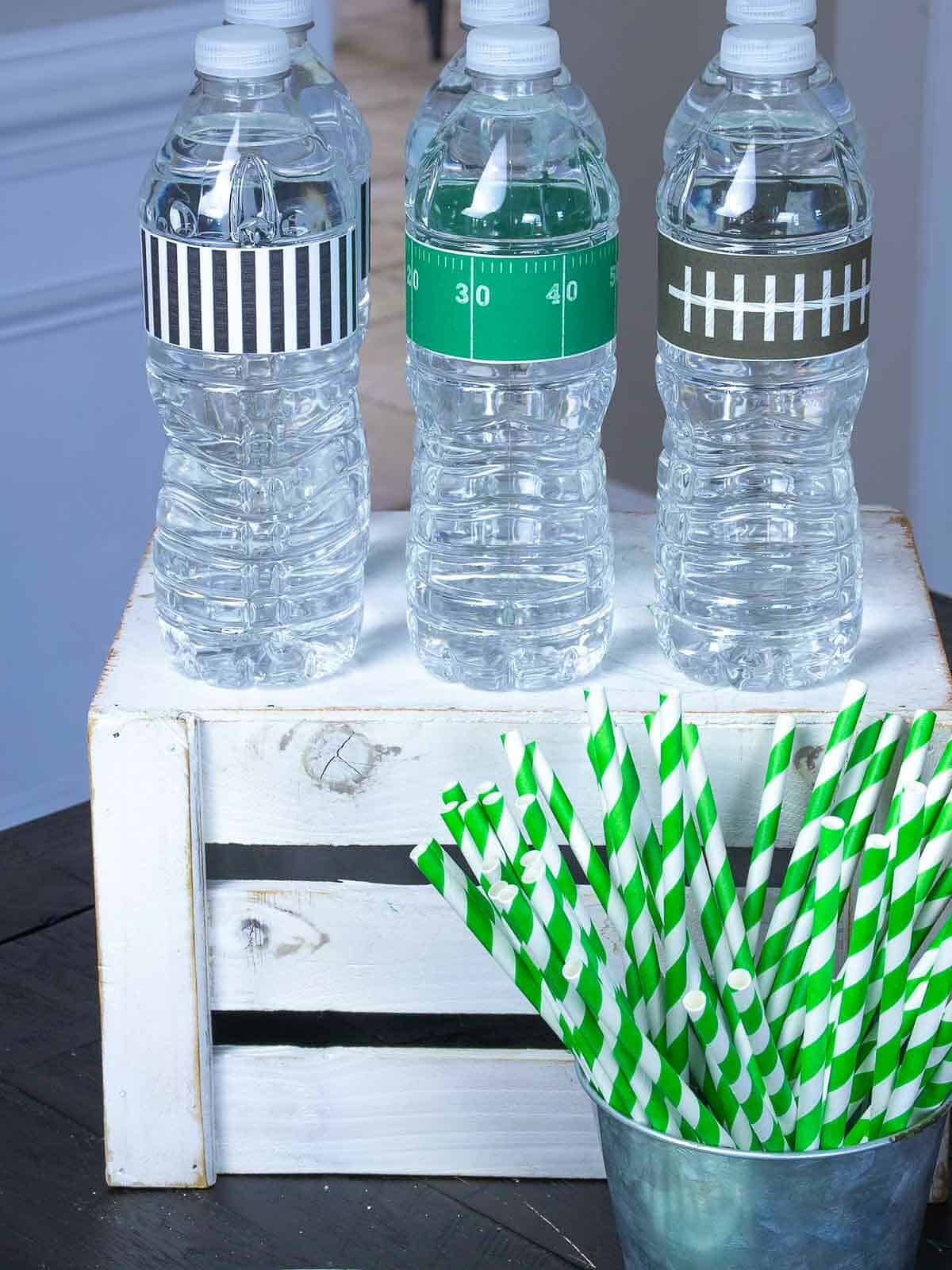 Add Football Labels
Remove the standard labels that are on water or drink bottles and replace with these fun labels! Just print them out on plain white printer paper and seal with tape. Make sure you have colored ink in! If your team is playing in the Super Bowl, you can tweak the colors or even add your team's logo!
Print out these FREE water bottle labels!
Super Bowl Table Decorations
If you are choose easy to make appetizers, you will have more time to decorate your food table! Regardless of the size or space you have to entertain, the ideas below are simple and require minimal effort.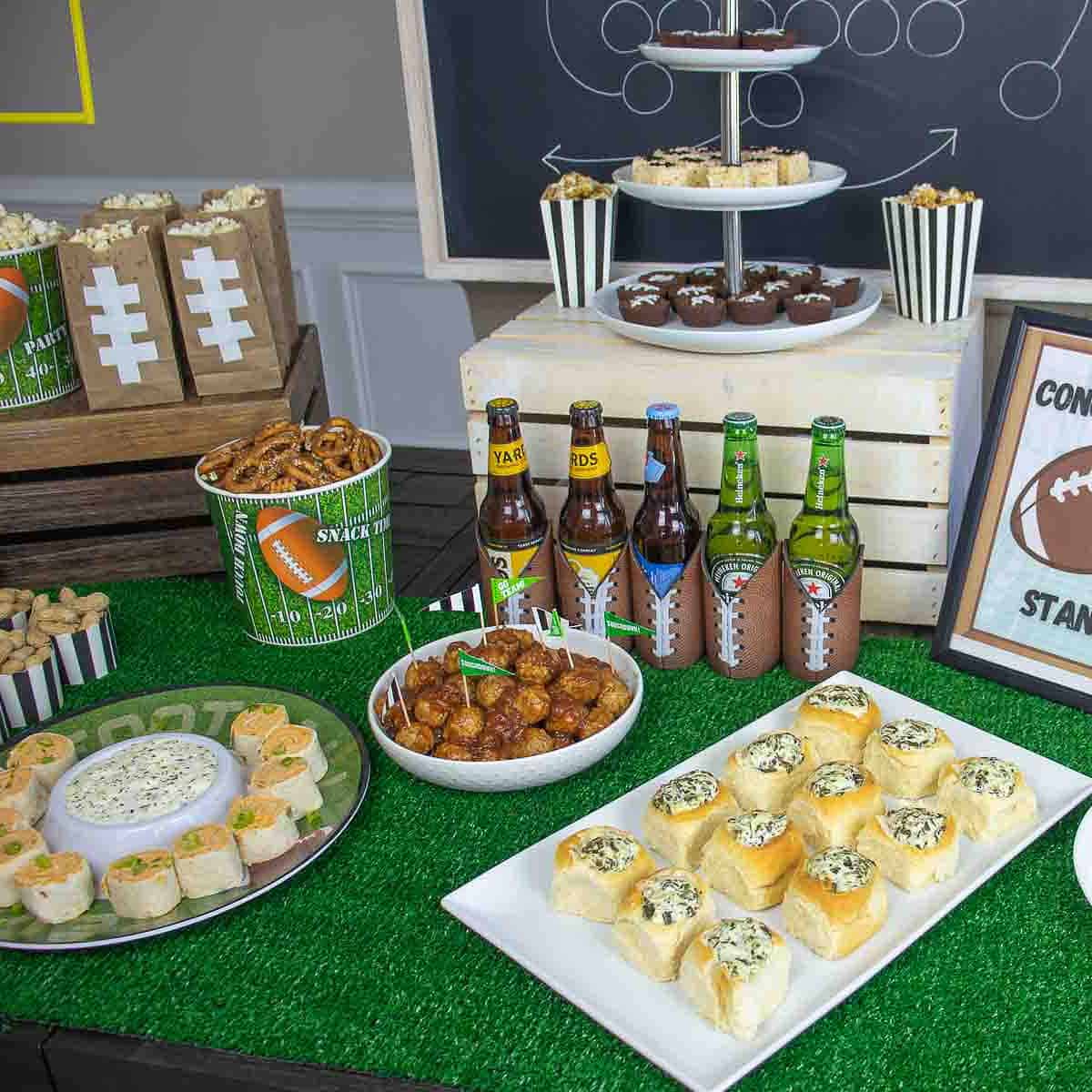 Lace Things Up!
Adding white, black or brown "laces" to things like cups, bags or anything else that has a solid color, is an EASY way to make your table football festive!
Plus, even if you're not cheering for your favorite team this Super Bowl, all of these ideas will still work!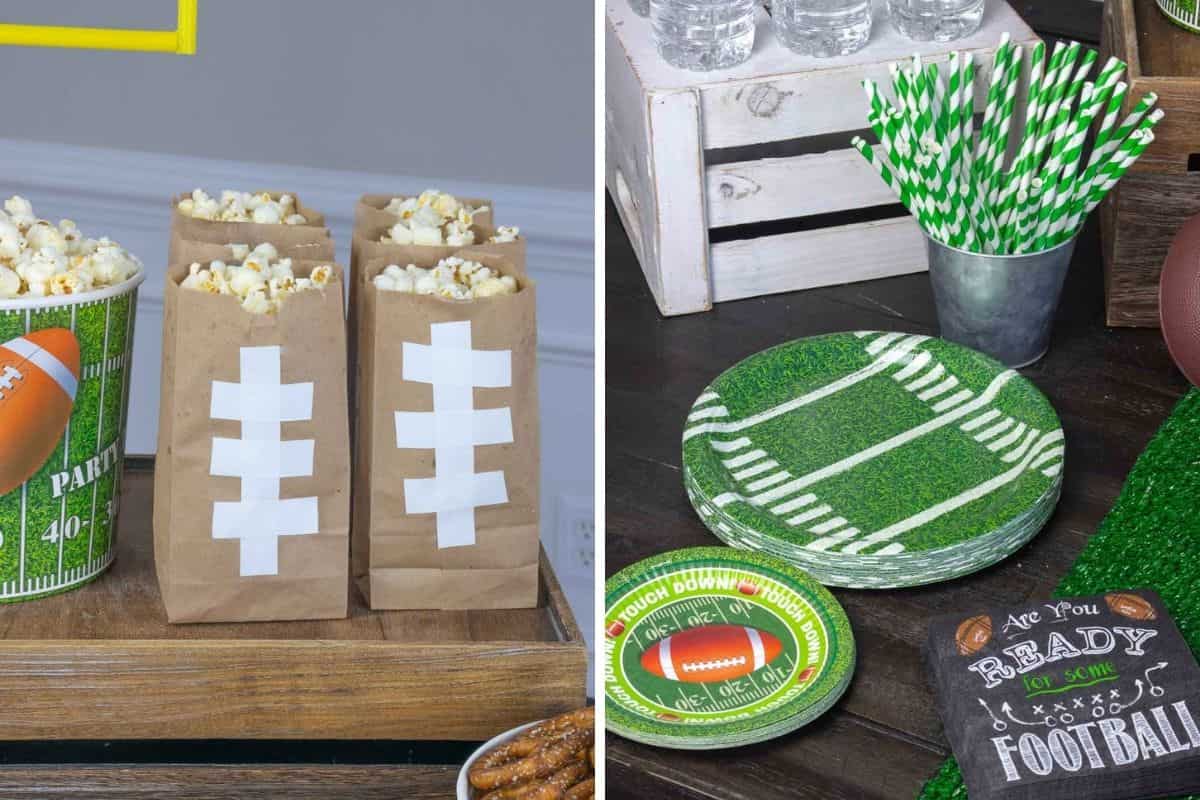 "How Do I Add Laces?"
You can use any of these items to add the football lace look:
White chalk marker
White chalk
Silver/black Sharpie
White electrical tape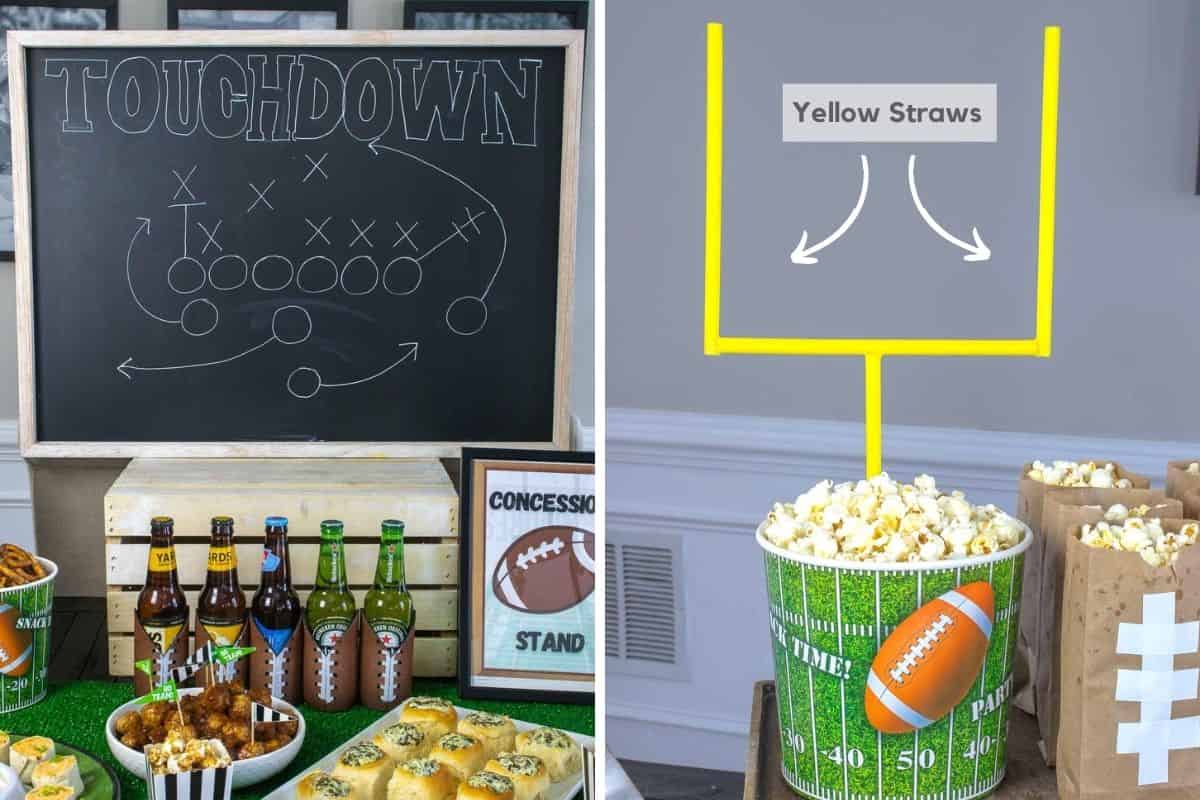 Straw Field Goal Post
This cute yellow field goal post is made using 4 straws and a touch of hot glue. It took me less than 2 minutes to put together and is super inexpensive! My tip is to use yellow SMOOTHIE straws because they are wider.
You can add them to your chip bowl or stick them onto the side of your table.
You can also make MINI field goal posts by using smaller straws and cutting them shorter. Insert them into cupcakes or sandwiches!
Chalkboard Game Play
Purchase a large chalkboard or paint some wood using chalkboard paint. Then draw a football play onto it using chalk. All you need is some X's and O's with some arrows! It is a great way to add a focal point to your tablescape!
Add Football Field Yard Lines
Using thicker white tape to add yard line markers to anything green! This could be a green tablecloth/fabric, astroturf or even a large platter.
You can also add yard lines to food if it makes sense! Use sour cream, mayo or ranch and pipe the lines onto the top of food. For sweets, do the same with white icing.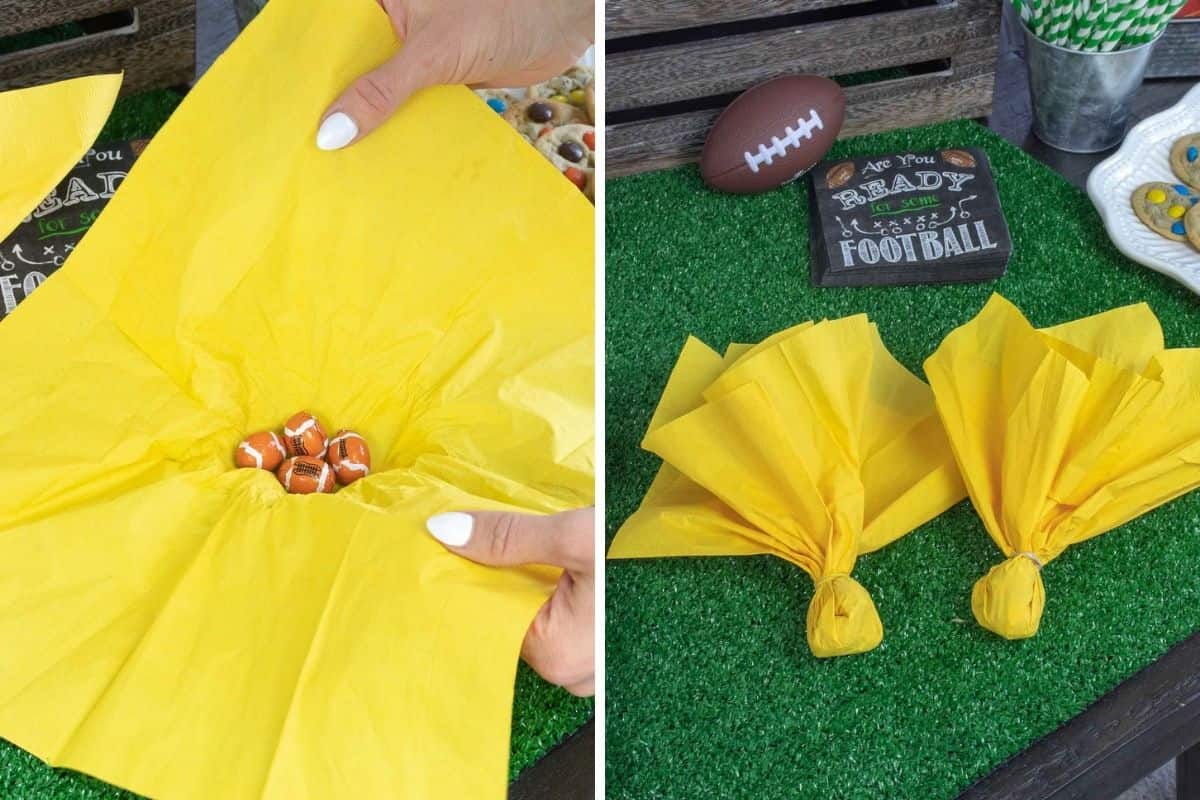 Penalty Flag Napkins
These napkins are a fun and EASY way to spruce up your Super Bowl table especially if you're on a tight budget! All you need are yellow napkins, some candies like these cute chocolate footballs, and some rubber bands. They serve a TRIPLE purpose too! A cute decoration, a napkin and sweet treat for your guests! Can you say touchdown!?
Concession Stand Sign
Signs are an easy way to decorate any table and very inexpensive! I have 2-3 plastic frames I recycle out every party. All you need to do is print this fun football concessions sign HERE (in color) and pop it into an inexpensive frame and VOILA! It takes less than 5 minutes and makes a big difference on any table.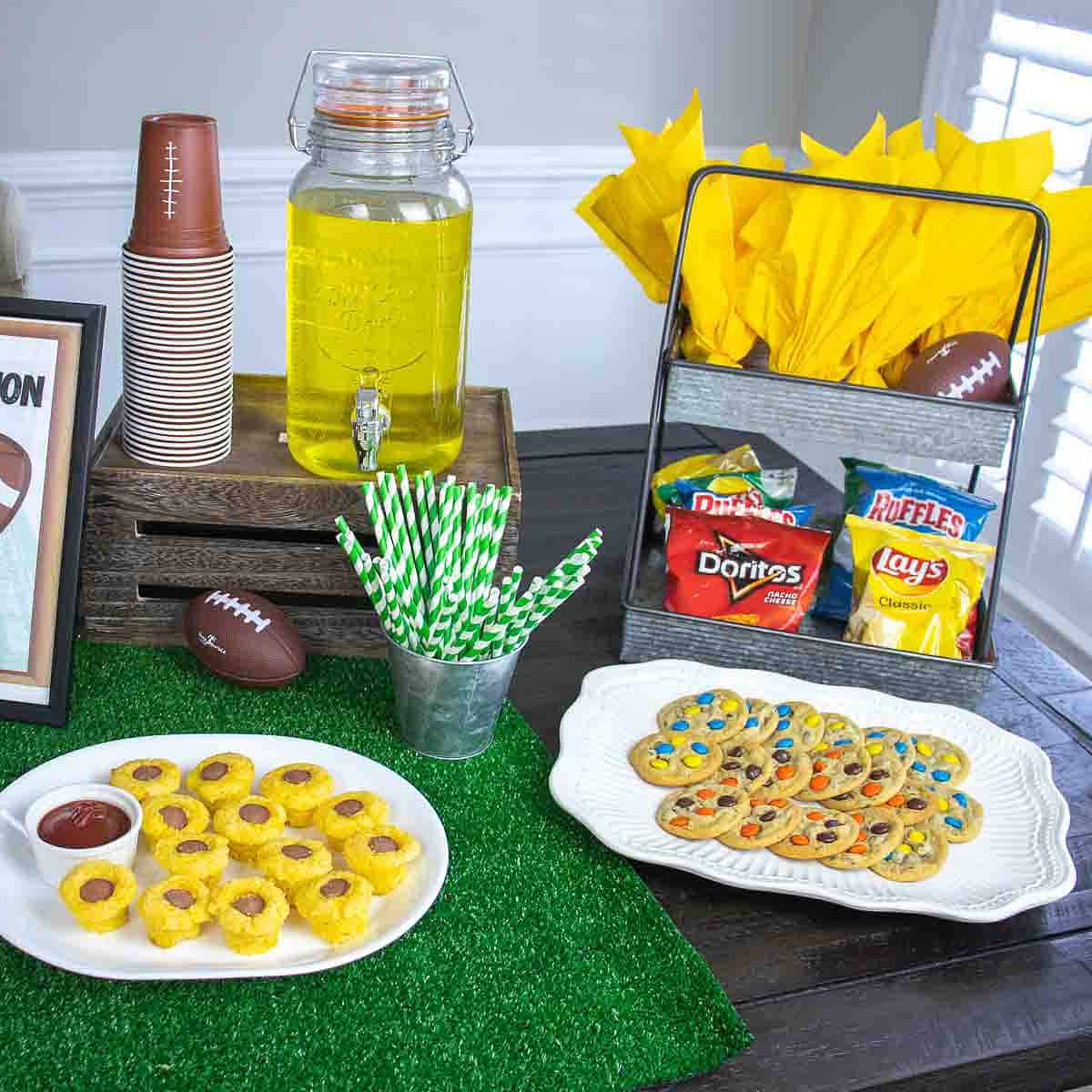 Super Bowl Activity To Play
An easy way to enjoy the Super Bowl is by playing Super Bowl commericial BINGO! It's especially great for kids or those who may only be there for the commericials! All you do is mark off a square if you see that specific commericial play during the Super Bowl. It's easy, fun, and free! Get the printable here!
Final Super Bowl Party Tips
Many of these items were purchased from my local Party City store or directly off of Amazon.
The trick to being an awesome host/hostess is choosing where you are going to spend your time. It's not realistic to decorate everything, clean the day of, cook everything from scratch AND look presentable when guests arrive.
So if you're going to go all out with the football decorations, I recommend sacrificing cooking time and going with STORE-BOUGHT foods like I did here, to make things easier on you. Because if you're exhausted for your own party, what's the point?
The Super Bowl is all about laid back snacking and lounging so make sure to not stress over things if they don't look perfect. Everyone will be happy that you invited them over for some good food, fun and football!
You should consider serving a peanut butter whiskey cocktail with this game day spread!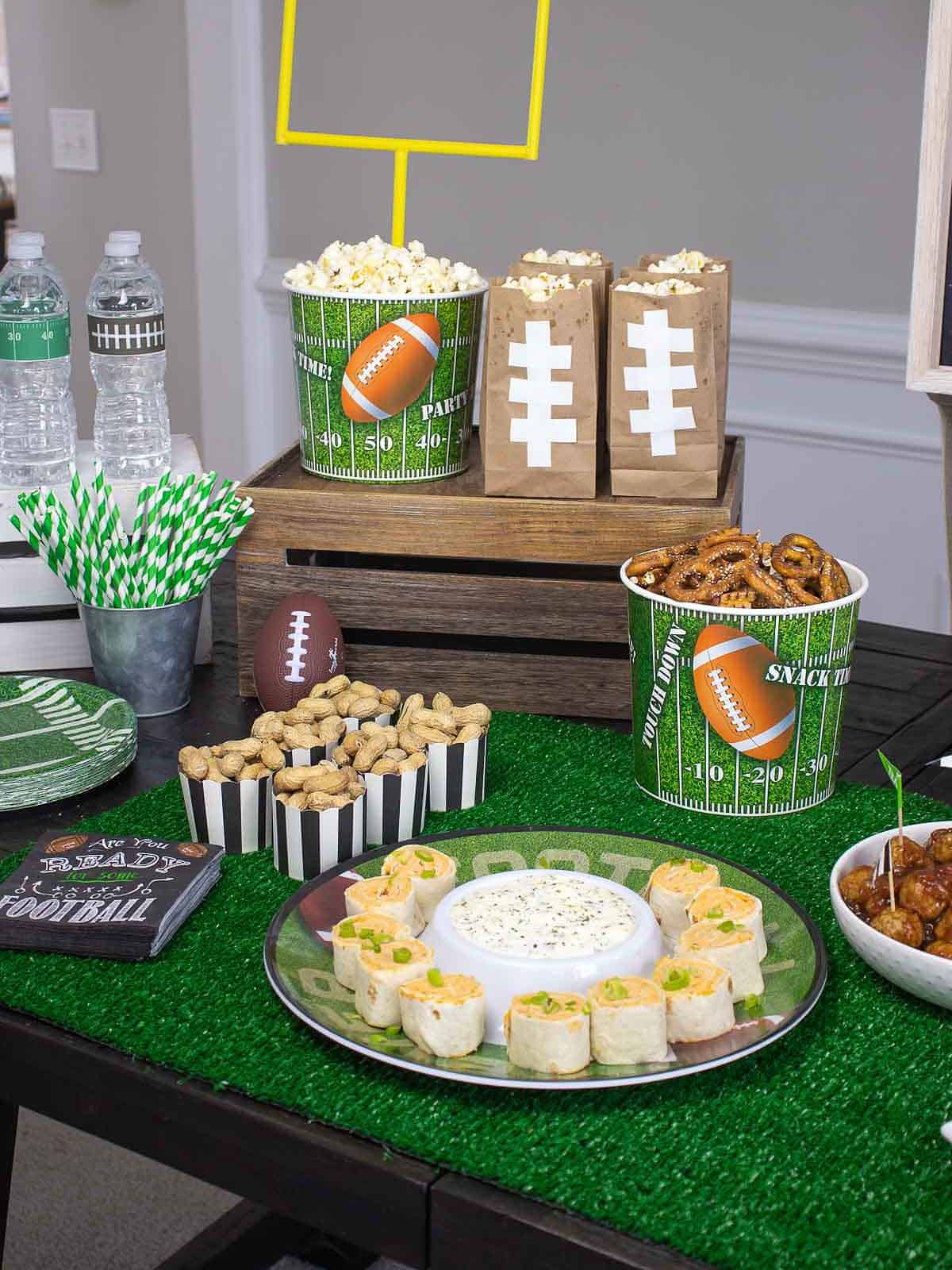 More Entertaining Ideas
17 Appetizers To Serve At Any Pizza Party
My TOP 12 Tips For Entertaining At Home