These Roasted Baby Peppers are stuffed with a creamy flavorful filling and are always a crowd favorite! They're a deliciously easy finger food that can be prepared in advance!
If you have an abundance of baby peppers in your garden, this stuffed pepper appetizer is for you!
Mini peppers are one of my favorite veggies to stuff! Their cute size makes them the perfect bite-sized appetizer or finger food. Plus, they are a gluten and low carb vessel for stuffing just about ANYTHING inside them!
These babies are always a hit at parties and can be served warm or chilled. I love to make these in advance then reheat them in the oven as guests arrive.
If you stuffing little sweet peppers, also check out my Mini Peppers Stuffed w/ Herb Cream Cheese or my Roasted Baby Peppers With Feta.
Ingredient Tips
Mini bell peppers- You can find these in the product section right where the large bell peppers are. They're usually in a rainbow of colors (red, yellow, orange) pre-packaged in a clear bag.
Pork sausage- This adds so much flavor and can be substituted with turkey sausage if you wish.
Cream cheese- You can use full fat or fat free if you wish.
Onion powder, garlic powder, nutmeg- Aside from the sausage, most of your flavor will be coming from your seasoning. You can play around with whatever spices you like!
Breadcrumbs- I use panko breadcrumbs on top for an added texture component. The crunchy top and creamy middle just work so well together. You can use Italian seasoned to plain.
Steps
The first thing is to prepare you peppers. Wash and dry your peppers well.
Cut your peppers lengthwise horizontally. See tips below.
Clean out the peppers including membrane and any seeds.
Lay out all your peppers and make sure they lay nicely. If not, trim your peppers on the bottom to create a flat surface.
Mix up your filling ingredients in a bowl.
Using a spoon or piping bag with a large hole, fill each pepper well with the cream cheese sausage mixture.
Press the breadcrumbs gently onto the top of each pepper so they stick to the cream cheese. Spray with cooking spray or drizzle with olive oil to help brown. (Omit for a gluten free version.)
Bake and serve warm or chill until ready to bake.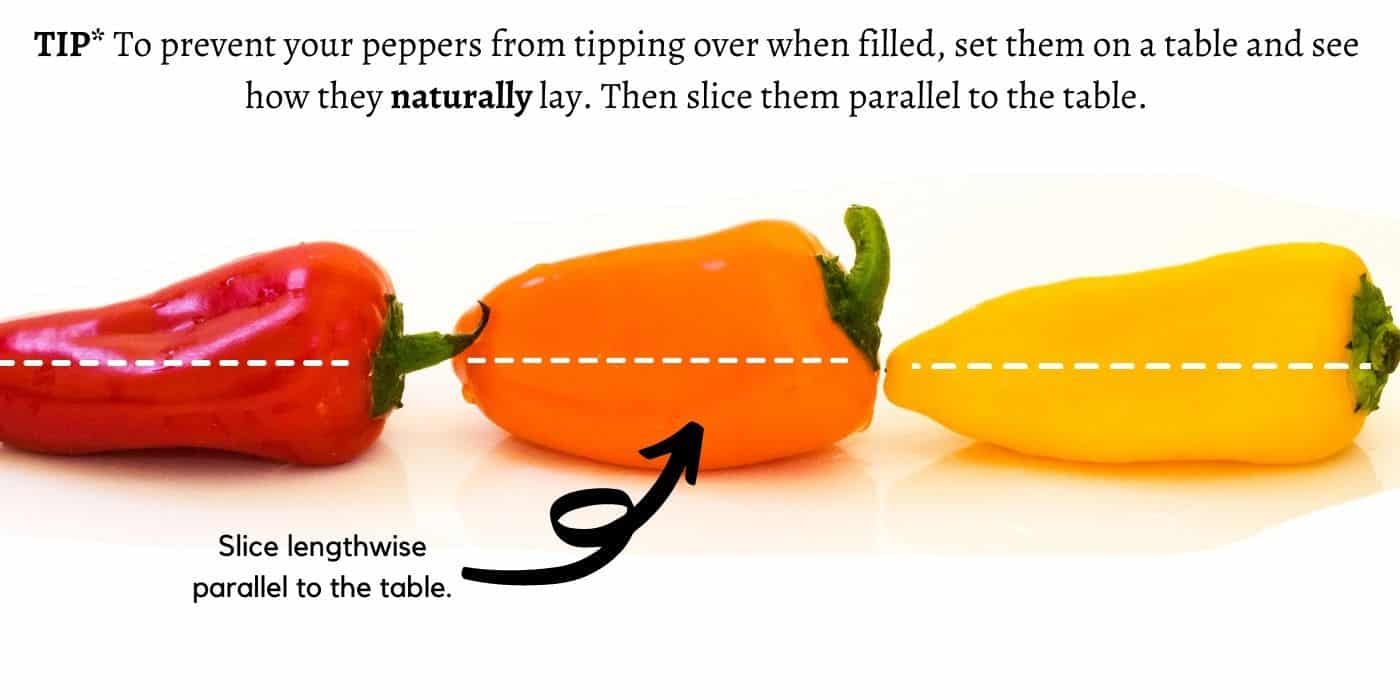 Roasting Time
You want to roast your peppers for 10-12 minutes or until the sausage is fully cooked internally (160 degrees F.)
Make sure you don't overly crowd your baking sheet so your peppers roast rather than steam. You want a nice charred color on them.
Slicing Tips
Peppers are obviously not perfectly shaped. They are curvy and can tip over causing the filling to fall out if not properly sliced.
To prevent your filling from falling out onto the plate, make sure to slice your peppers halfway, lengthwise parallel to the table.
Where to slice your peppers is key! First, lay your peppers out on the counter and see how they naturally lay. Then slice each parallel to the table as they are so you are sure they will lay flat.
Stuffing Tips
When it comes to stuffing your mini peppers, I suggest using your fingers. You will have more control over what you're doing and will be able to keep it from looking messy.
Make sure to stuff them nice full. Then, use your fingers to press the panko breadcrumbs on top of each pepper. The breadcrumbs wont stick otherwise. It's okay if the sheet pan gets a bit messy!
Once you stuff your peppers with the sausage and cheese filling and top with breadcrumbs, it helps to spray the top of each with a bit of cooking spray so they get nice and brown on top. You can also drizzle olive oil over top if you prefer.
Stuffing Variations
If you wish to change the recipe a bit, feel free! The world is your oyster after all...or in this case...your PEPPER! 🙂
I just recommend not changing the cream cheese or sausage ratios. But other items you can add to your filling are:
bacon bits- for another flavor profile
jalapenos- for a little kick
other cheeses such as cheddar cheese, goat cheese, parmesan, gouda, mascarpone, ricotta or mozzarella
Worcestershire sauce- for some umami flavor
Philadelphia cream cheese's flavored cream cheese
Sriracha- for a spicy bite
Cayenne or chili pepper
Make Them In Advance
If you want to make these peppers ahead of time for a party, I suggest filling them first. Then place them flat in a Tupperware container or directly onto a sheet pan, cover and chill until you're ready to bake them.
If your stuffed peppers are already on a sheet pan, you can easily add them to the oven without transferring them again.
You can also bake them in advance and reheat them for a few minutes to warm through.
I do not recommend freezing your peppers.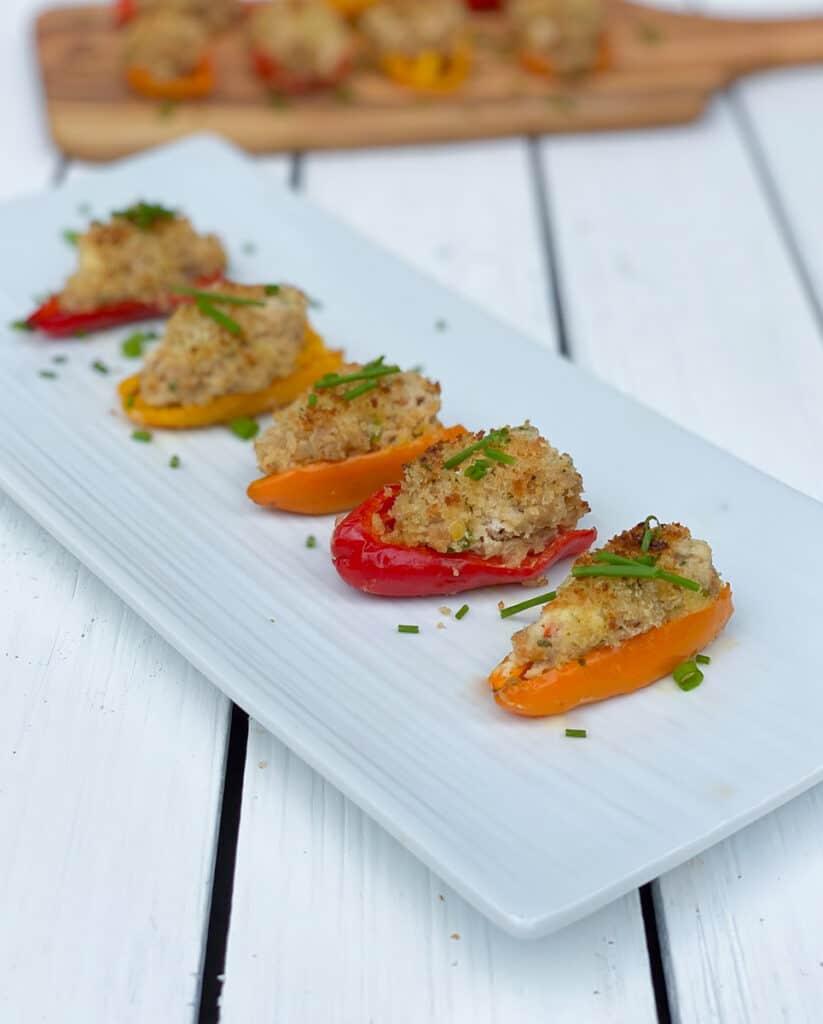 Can I leave the tops on my baby peppers?
I trimmed them but you can totally leave them on if you want to save time. They add a pop of green color which I like.
Can I freeze my peppers?
Peppers don't freeze very well and tend to release a lot of water when they thaw so I don't recommend freezing.
How do you soften baby peppers?
By heating them up. The easiest way is to roast them in a hot oven.
Should I pre-cook my peppers before stuffing?
Nope!
Other mini appetizers you might like:
Phyllo Cups With Roasted Peppers & Burrata Cheese
Fried Red Tomatoes (with Red Pepper Basil Aioli)
Mini Caesar Salad Parmesan Cheese Cups
Mini Cheesy Baked Potatoes Appetizer
Mozzarella Ball w/ Roasted Peppers and Garlic
Roasted Baby Peppers Stuffed w/ Sausage & Cream Cheese
These Sausage Stuffed Mini Peppers are made with a few simple ingredients including cream cheese. They are a deliciously easy appetizer that will please a crowd!
Print
Pin
Rate
Ingredients
10-12

mini bell peppers

½

lb

pork sausage, uncooked

8

oz.

cream cheese

¼

tsp

onion powder

¼

tsp

garlic powder

½

tsp

nutmeg

¼

tsp

salt

¼

cup

panko breadcrumbs, seasoned
Instructions
Add all ingredients besides the breadcrumbs to a medium bowl and mix well. A mixer will make this easier to do. Make sure your cream cheese is at room temperature.

Rinse and dry your mini peppers. Lay them flat on the table and cut them lengthwise, PARALLEL to the table. Doing this will prevent your peppers from tipping over once the filling is inside. (Trim the stems if you wish.) Remove seeds.

Disperse your filling amongst the peppers using a spoon or your hands. Use your fingers to press the breadcrumbs onto the top of each pepper so they stick to the cream cheese. Add as much as you wish.

Drizzle or spray the tops of your peppers with oil. This will help the breadcrumbs brown. Then bake for 10-12 minutes or until the sausage is cooked through. You want them to reach 160°F. Serve warm or chill.
Recipe Notes
You can add shredded cheddar cheese if you want! I would use about ½ cup.
Stuff your peppers in advance and store them on a baking sheet in the fridge. Pop them in the oven before company arrives.
Nutrition
Calories:
323
kcal
|
Carbohydrates:
13.8
g
|
Protein:
12.6
g
|
Fat:
24.1
g
|
Saturated Fat:
11.8
g
|
Cholesterol:
73
mg
|
Sodium:
515
mg
|
Fiber:
2.4
g
|
Sugar:
6.3
g