These Fried Red Tomatoes are the perfect thing to serve at your next get-together. They're a play on the famous fried green tomato appetizer but sweeter! I love that they're inexpensive to make and are absolutely delicious paired with this tangy yogurt dipping sauce!
Fries green tomatoes are super popular during the summer months. They are typically made green tomatoes which are a bit more difficult to find. You can usually find fried green tomatoes in bars or pub-like restaurants.
So I made them using RED tomatoes! Because why not?
Like my eggplant fries, come out crispy on the outside and sweet and juicy inside. You can serve them with a knife and fork, or how I like it, with your fingers!
Ingredient Tips
Tomatoes- Look for larger tomatoes with a deep red color. Heirloom tomatoes would work well too.
Breadcrumbs/Cornmeal/Parmesan Cheese- These ingredients make the crunchy breading that are the essence of a fried tomato. You can use Italian seasoned breadcrumbs, panko or plain. The cornmeal added another ingredient that adds a unique texture. The Parmesan cheese adds yummy flavor!
Spices- I like to season my breadcrumbs with onion powder, garlic powder and other spices I like. You can season to your liking.
Steps:
Set up your breading station with the eggs, flour and breadcrumbs mixture.
Coat each tomato slice in the flour, then the egg wash, followed by the breadcrumb cornmeal mixture.
Shallow fry them in a frying pan in oil that is about 350 degrees F.
Let them cool on a cooling rack.
Enjoy with sauce on the side!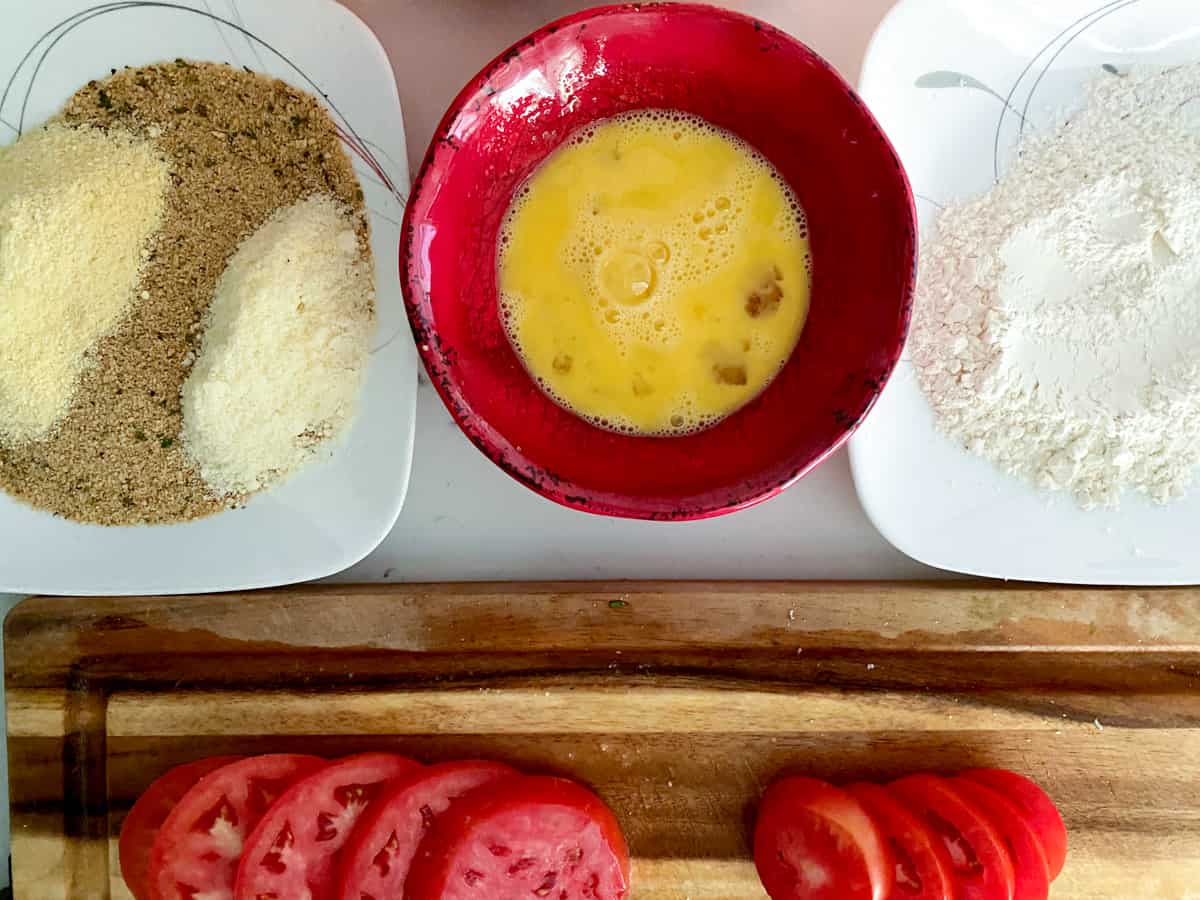 Red Tomatoes vs. Green Tomatoes
Green tomatoes ARE actually red tomatoes!
You see, they are tomatoes that are not fully ripe yet which makes them more firm, tart and a bit acidic. Their firmness is what makes them ideal for frying.
Read about what a green tomato is here.
Red tomatoes are sweeter, juicier and softer than green tomatoes. Plus, they're cheaper and easier to find.
Choosing Your Tomatoes
You can pretty much use any red tomato variety you like however it is important to keep in mind the texture of your tomatoes! You don't want to use tomatoes that are overly ripe. You want them to hold their shape and not get too soggy or soft.
When you cook red tomatoes they break down and become softer than they originally were. So starting off with tomatoes that are very firm is key! Also look for tomatoes with less seeds.
These tomatoes would be best for frying:
Beefsteak- These are larger and better for serving with a fork and knife. (See image below.)
Roma- Smaller and sweet. (See image below.)
Heirloom- Colorful and come in a range of sizes.
Vine ripened- Smaller but juicy.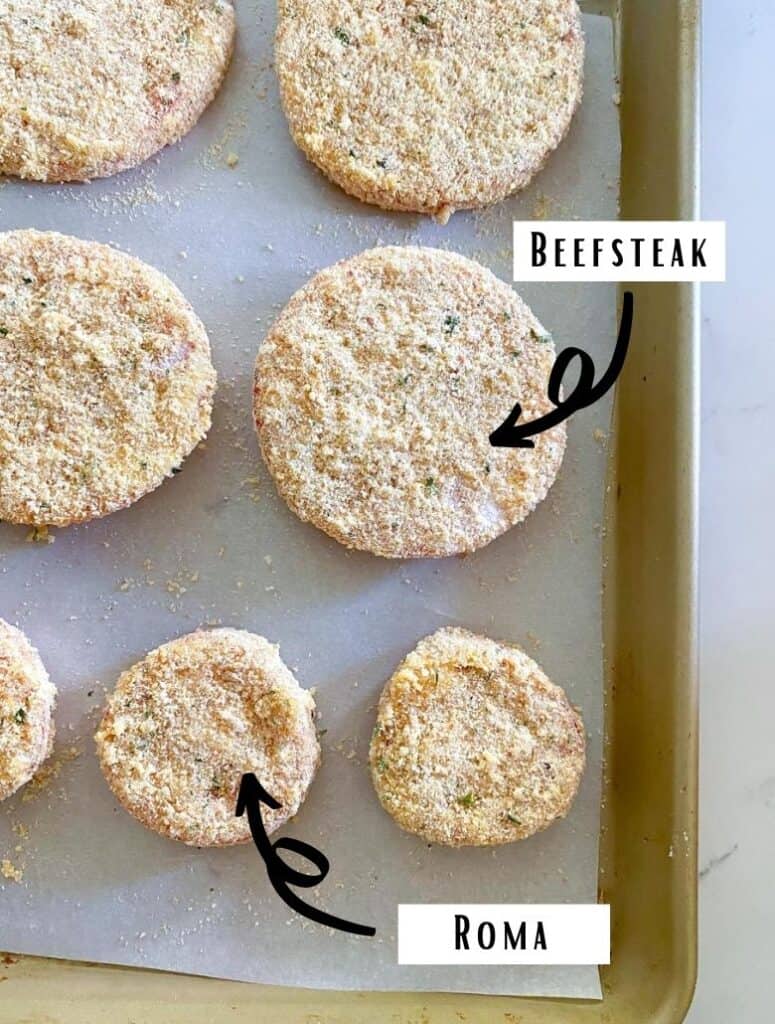 The Breading
Ingredient Tips:
Breadcrumbs- These can be traditional plain breadcrumbs or Italian seasoned. You can also use panko if you want.
Parmesan- I suggest not using the pre-shredded variety they sell. Instead, use grated or shred it yourself. It makes a different when frying.
Cornmeal- This is a coarse flour made from dried corn. It comes in fine, medium and coarse consistency. Either would work.
When it comes to the exterior of your fried tomatoes, we can either use cornmeal or breadcrumbs.
Cornmeal is pretty traditional when it comes to fried green tomatoes. The outside of the tomato, when coated in cornmeal becomes crunchy.
Using just breadcrumbs gives a similar result but the texture is slightly different and less like fried tomatoes should be.
So I decided to use BOTH in this recipe. A little bit of breadcrumbs and a little bit of cornmeal. Together, they create the perfect consistency.
The crust, as a result, is crunchy and crispy with a semi-coarse bite.
To this mix, I also decided to add some grated Parmesan cheese to my breading for some more flavor! It also goes well with tomatoes.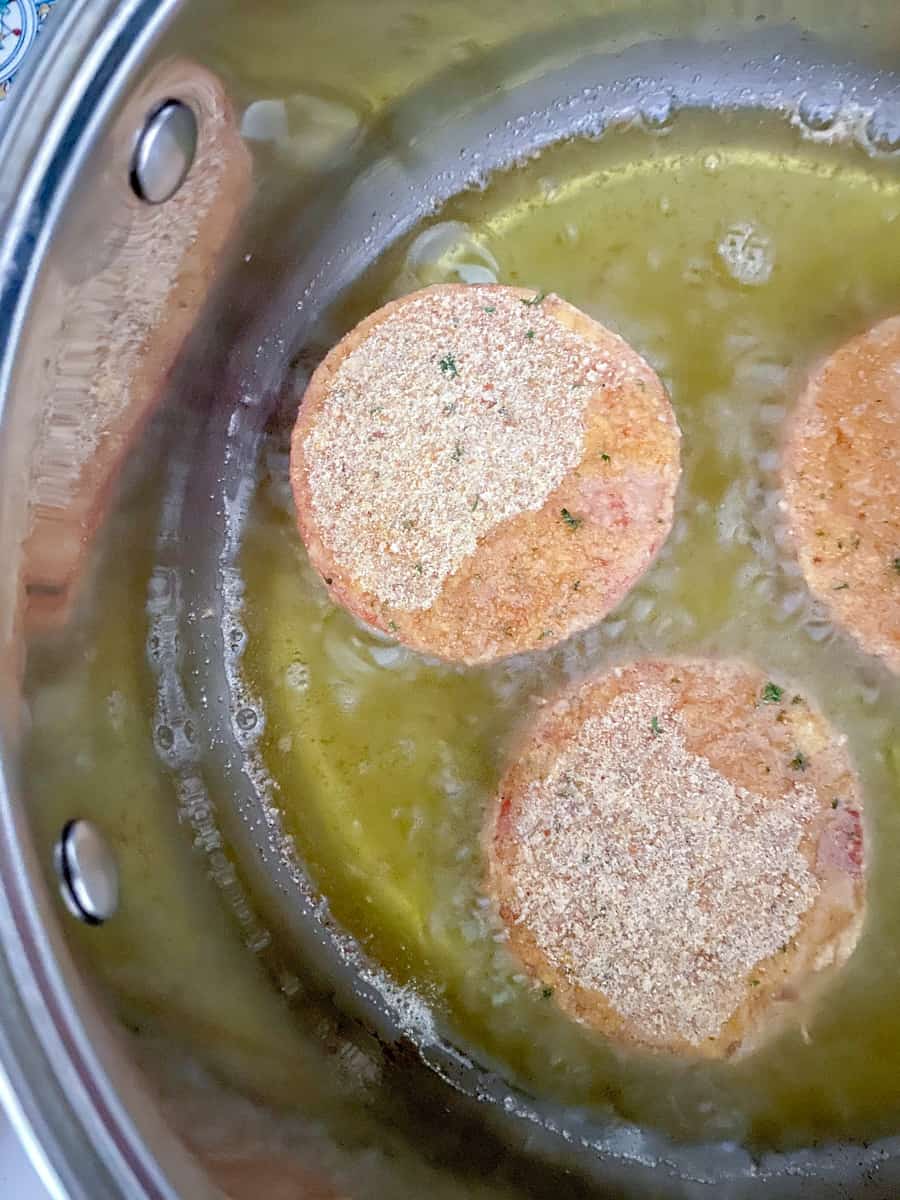 Frying Tips
You can fry your tomatoes one of two ways.
Shallow or deep fry.
A shallow fry is simply adding about half an inch of oil to a pot or pan and frying on both sides until golden brown.
Deep frying is exactly what it sounds. Frying your tomatoes in deeper oil allowing the food to float in the oil. However you really don't need to add a ton of oil. To deep fry, I suggest going with 2-3" of oil.
The advantages to deep frying is that your tomatoes will cook more evenly and get super crispy. Shallow frying allows you to control the oil temperature better. Both work and the choice is up to you.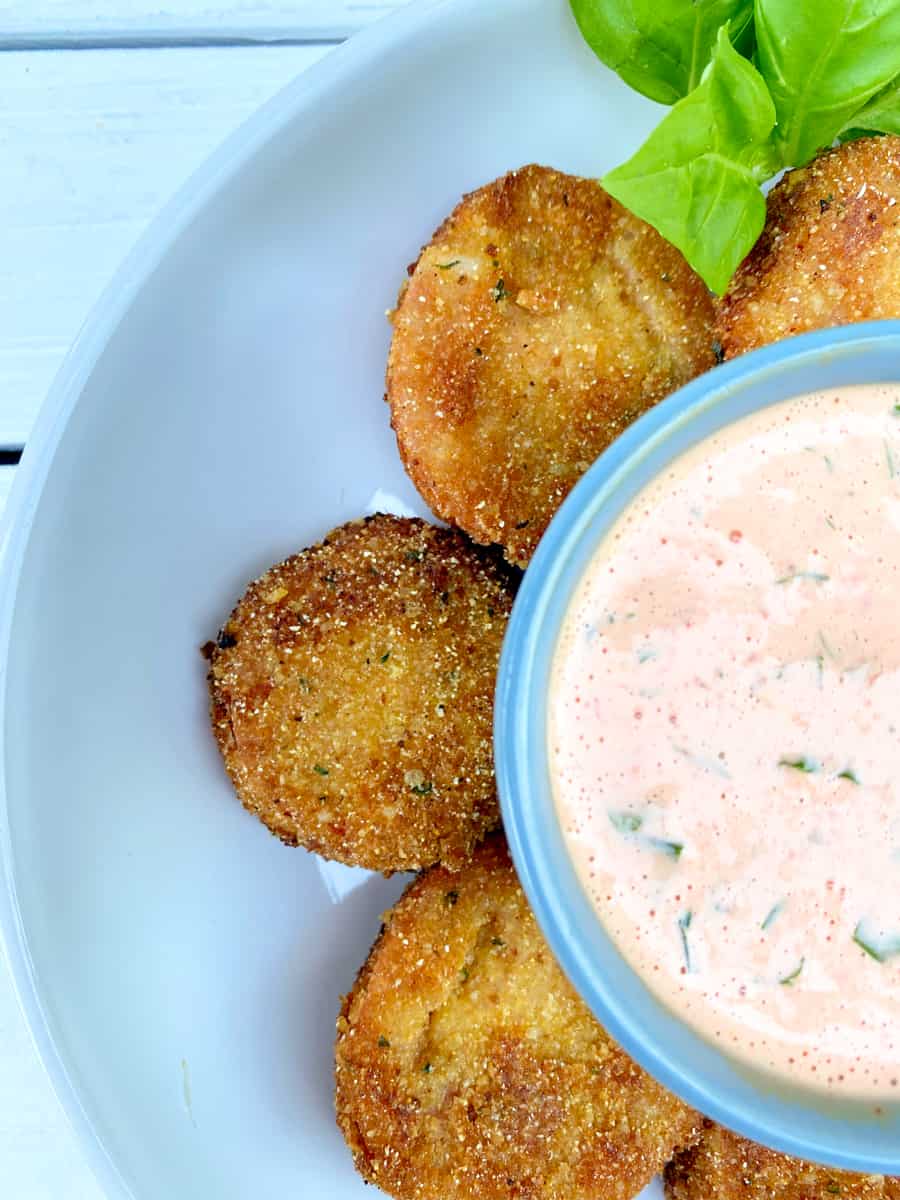 Roasted Pepper Tomato Dipping Sauce
This sauce is everything. It takes your tomatoes to another level. Seriously.
Fried tomatoes are delicious on their own, but when you have something to add to that sweet and crunchy flavor, it adds so much flavor!
The sauce I used is a combination of mayo, basil and roasted red peppers with a touch of sugar. Mayonaisse and basil go VERY well with tomatoes so you know it will taste delicious. It wont take away from the flavor of the tomatoes but instead will bring out the sweetness in your tomatoes.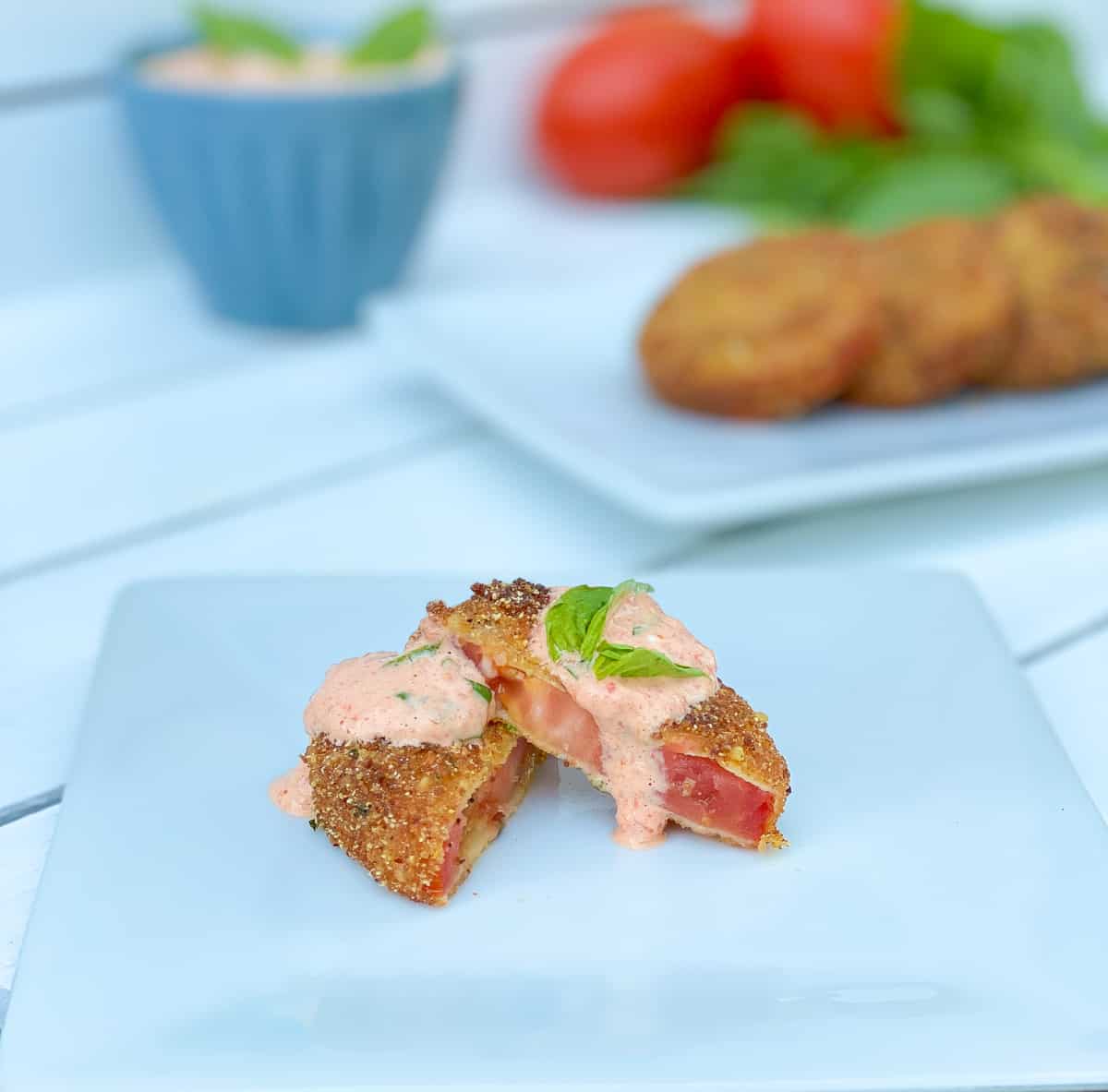 FAQ's
How do I keep my tomatoes from getting soggy?
Make sure your oil is up to temperature before adding your tomatoes. If you fry them in cold oil, the tomatoes will get greasy and soggy. Cool them down on a cooling rack.
What do fried tomatoes taste like?
Fried green tomatoes are slightly sour but fried RED tomatoes are slightly sweet. They are crunchy, flavorful and juicy.
Are fried tomatillos the same as fried green tomatoes?

No they are not exactly the same. Tomatillos are Mexican green tomatoes which have a slightly acidic less sweet flavor.
Can I make these in the air fryer or oven?
Yes! I suggest before doing that, simply spraying both sides of your tomatoes well with cooking spray.
Other fried appetizers you might like:
Tempura Fried Crab Stick Bites (with Old Bay)
Pan Fried Zucchini Squash Chips (With Tzatziki Sauce)
EASY Beer Battered Onion Rings (w/ Red Pepper Aioli)
Chicken Drumstick Lollipops With Sesame Ginger Glaze
📽 If you love entertaining at home, subscribe to my YouTube channel!!
📖 Recipe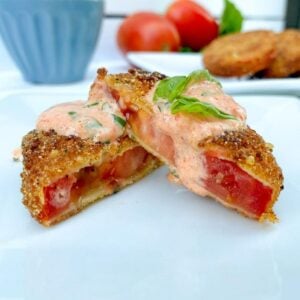 Fried Red Tomatoes (w/ Red Pepper Basil Aioli)
These Fried Red Tomatoes are the perfect appetizer to serve to a crowd. They are inexpensive to make and are absolutely delicious paired with this tangy yogurt dipping sauce!
Print
Pin
Rate
Ingredients
2

Medium

Firm Ripe Red Tomatoes

½

cup

seasoned breadcrumbs

¼

cup

cornmeal

¼

cup

grated Parmesan cheese

1

teaspoon

garlic powder

1

teaspoon

onion powder

½

cup

flour

2

eggs
Red Pepper Basil Aioli
1

cup

mayo

2

oz.

roasted red peppers*

((about ½ cup chopped))

1

cup

fresh basil leaves

((about one handful))

1

teaspoon

salt
Instructions
Pat dry your roasted red peppers well and add them to a food processor, along with your mayo, basil leaves and salt. Puree for 15 seconds and pour into a small bowl. Chill until ready to use.

Slice your tomatoes into ¼" to ½" thick slices and season both sides well with salt and pepper.

Set up your dredging station.

Add your flour to a shallow bowl. Whisk your eggs in another shallow bowl. Add your breadcrumbs, corn meal, parm cheese, garlic and onion powder to another shallow bowl and mix together. You should have 3 bowls set up.

Add enough oil to a skillet or pot and heat to 350°F.

While waiting for your oil to get hot, dredge each tomato slice in the flour, followed by the eggs and lastly, in the breadcrumb cornmeal mixture. Make sure to coat all sides well.

When your oil is hot, fry your tomatoes for about 1-2 minutes on each side. You are just looking for a golden brown color on the outside.

Allow your fried tomatoes to cool on a wire rack or paper towels so they stay crispy. Serve warm with aioli sauce on the side for dipping.
Recipe Notes
Yield: about 8 fried tomatoes (depending on the size of your tomatoes)
*I used about 1 small red pepper from a jar.
You can add garlic or onion powder to your aioli if you wish!
Nutrition
Calories:
610
kcal
|
Carbohydrates:
35
g
|
Protein:
11
g
|
Fat:
48
g
|
Saturated Fat:
9
g
|
Polyunsaturated Fat:
26
g
|
Monounsaturated Fat:
11
g
|
Trans Fat:
0.1
g
|
Cholesterol:
111
mg
|
Sodium:
1477
mg
|
Potassium:
335
mg
|
Fiber:
3
g
|
Sugar:
3
g
|
Vitamin A:
1141
IU
|
Vitamin C:
17
mg
|
Calcium:
128
mg
|
Iron:
3
mg