There's nothing better than a little friendly competition with friends and family this Super Bowl! BINGO is a game anyone can play, including kids!
Here I'm sharing my FREE Super Bowl commerical BINGO cards for 2023 that will keep things interesting this year, even if your favorite team isn't playing! (Below you will find 10 PDF printables.)
Don't forget to check out my favorite Super Bowl Appetizers to snack on while watching the big game! And make sure to subscribe to my YouTube channel for more entertaining tips!
Print your FREE Super Bowl Bingo cards here!
Check out this Super Bowl YouTube video I just uploaded showing you fun tablescape decorations and food ideas!
Need help setting up your Super Bowl themed table?? Check out my Super Bowl decor ideas and food suggestions here!
BINGO Card 2023 Commercials
At the end of Janurary 2023, I've done a bit of research to get a sneak peak of what brands are scheduled to appear on the Super Bowl commercials this year. Some are brands that are seen EVERY Super Bowl while others are not as common.
Disclaimer* There's a slight chance a brand on your BINGO card might not advertise! I did my best to choose brands that are most likely to appear.
Tips For Playing Super Bowl BINGO
Have plastic football cups or bowls spread around filled with fun BINGO chips for everyone to use!
You can use pretzels, fritos, candy or a marker! (Since they can really only be used once!)
Make sure that everyone has a different BINGO card. If you have more than 10 people, have someone switch a few brands using a marker before the game starts.
You can play a few different "rounds" so there is more than one winner. See game options below.
BINGO Rules
The rules for commericial BINGO are simple and just like regular BINGO. From the moment the ball is kicked off (or during warmups), give everyone a card with a marker or chip. Once one of the brands shown on your card advertises during a commercial break, mark it by covering it with a marker, candy or something else!
The goal is to form a straight line, box, X, or square. The rules are up to you. See options below! Once someone meets the goal (decideed by the host) the winner shouts "BINGO" and a prize can be awarded.
Since only four commercials are across the BINGO card, you may want to set rules so that more than one person can win! I recommend making it harder by requiring the frame or outside box of your BINGO card. If you notice people not getting a lot, you can change the rules halfway through!
Make sure that everyone knows the celebrity on their card! They can Google them in advance or simply tell them when you see their celeb appear!
Here are ways to win:
Straight across (vertical or horizontal)
X
1 Corner
2 Corners
Center box
Outside box (frame)
📽 If you love entertaining at home, subscribe to my YouTube channel!!
Offer Prizes!
Depending on who's playing, you should definitly offer a prize to keep people involved and keep things competitive. It can be an inexpensive prize or something really nice. Here are some prize ideas!
Football Trophy- This can be recycled every year too!
Giftcard- Pre-buy a giftcard and ask everyone to pitch in $10 or any amount to make it interesting!
Food- Purchase cupcakes or cookies with the words "WINNER" on top. (Kids will love this!)
Wine- Offer a nice bottle of wine if adults are playing.
Jersey- Purchase your hometown quarterbacks jersey! Just make sure everyone is a fan of the same team!
Football gear- Keep an eye out for fun football socks, slippers, pajamas, posters, jewelry, flask, mugs, shot glasses, etc. leading up to the big game!
Printing Your Bingo Cards
All you need to do is click on the link below and you can print the BINGO cards. They are PDF's and are about the size of a standard paper. You can laminate the cards or slip them inside some inexpensive plastic sheet protectors to make them more professional and beer-proof.
The other options is to simply print them as is using black or colored ink. If you have color ink, I recommend printing in color. A great tip is to offer clipboards so friends and family can keep it handy during the game.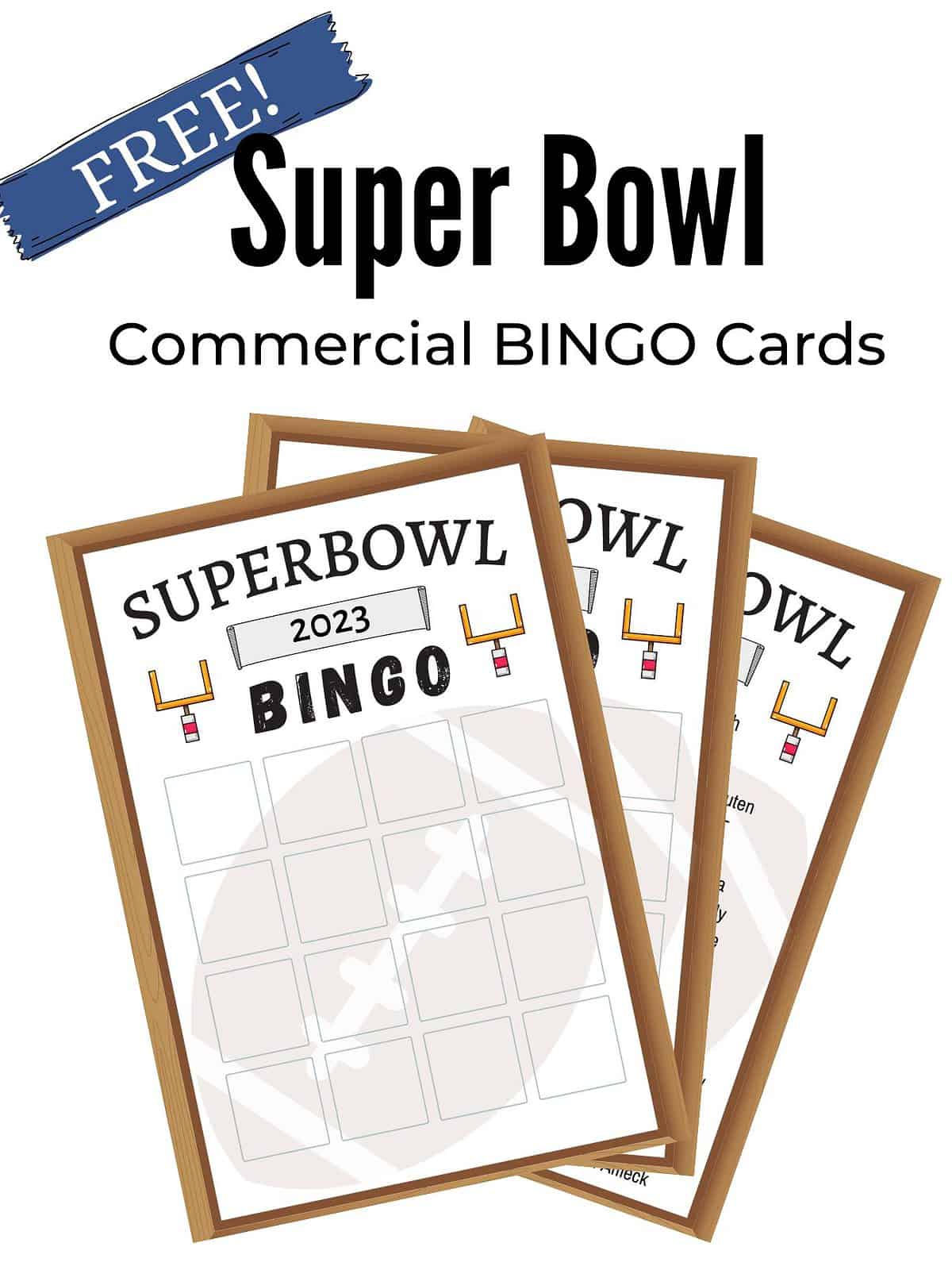 Click here to print your free Super Bowl BINGO cards!
Throwing a pizza party? Check out these appetizers that pair well with pizza!
What Food Are You Serving?
Check out these finger food appetizer and snack ideas that are perfect for the big game!
54 Football Party Finger Foods You NEED To Serve
EASY Taco Dip Without Cream Cheese
Air Fryer Brown Sugar Buffalo Shrimp (Crispy)
Pull Apart Philly Cheesesteak Sliders w/ Hawaiian Rolls
Frank's RedHot Buffalo Chicken Meatballs
📲 FOLLOW Aleka on social!! 👋 Follow me on facebook, instagram, pinterest, youtube or tiktok for more recipes and entertaining tips!
*All brand images were legally downloaded from unsplash.