These Mini Pillsbury Calzones are so delicious! They use Pillsbury crescent or pizza dough and are stuffed with THREE cheeses , riccota, parmesan and mozzarella. They're then tucked into a little ball before being baked to gooey, melty perfection. Pure cheese heaven.
I recommend serving these with a warm marinara sauce for dipping and everyone will love you.
If you love crescent rolls, check out this list of Crescent Roll Appetizers!
Calzones are a pizza pocket of cheesy heaven! If you've never tried one, you are 100% missing out!! And if you love fried panzerottis, you will love these!
The only bad thing about calzones is that some are MASSIVE. Every pizza shop I get them from are huge and require a fork and knife to eat.
Plus, they can get messy.
So these mini calzones are the perfect alternative if you would like to serve them to a crowd at any party.
And if you love cheesy appetizers, you HAVE to try my Cheesy Pull Apart Garlic Biscuits or my Cheesy Garlic Pull Apart Loaf.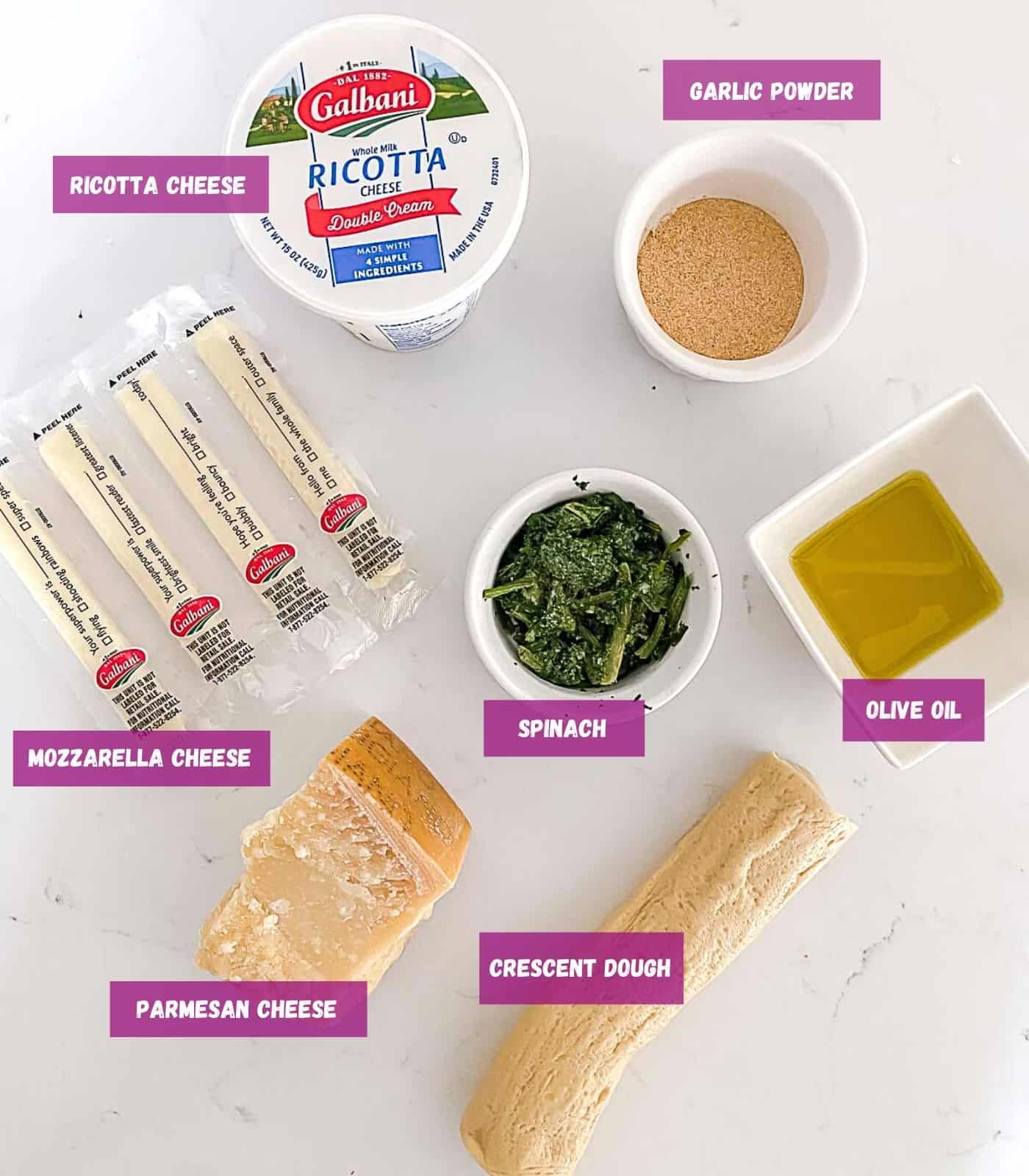 📝 Ingredients
Crescent Dough or Pizza Dough: I used Pillsbury's crescent dough sheet because it's easy to form and can be frozen until you're ready to use it!
Parmesan Cheese: Parmesan cheese adds lots of flavor to the calzone and is a must.
Spinach: I recommend using chopped frozen spinach. It's inexpensive and doesn't require it to be cooked down at all. Just make sure to squeeze ALL the water out of your thawed spinach.
Ricotta Cheese: Ricotta cheese is what a good calzone is about. Get the creamiest, full fat ricotta you can find.
Mozzarella Cheese: I used mozzarella cheese sticks because they're easy to cut and the perfect size. You can use fresh mozzarella or shredded if you have.
Garlic Powder: I love garlic knots so this is a nod to those buttery, garlicky knots! If you want to omit this or use onion powder instead, feel free!
👩‍🍳 How To Make Mini Calzones
Step 1: Thaw your crescent or pizza dough fully in the fridge if not already defrosted.
Step 2: Add your ricotta, Parmesan, garlic and spinach to a medium bowl and mix together.
Step 3: Do not unroll your crescent sheet and instead cut the log into 7-8 portions that are about 1" thick. Each dough ball will be about 1 oz.
Step 4: Using the palm of your hand, flatten each piece of dough so it resembled a pancake. Repeat with other pieces.
Step 5: Add to each dough round about 1 tablespoon of filling. Add a chunk of mozzarella on top. Pinch the dough together around the filling until a ball forms. Make sure to pinch WELL!
Step 6: Brush with egg wash and air fry or bake until golden brown. Serve hot with marinara sauce for dipping.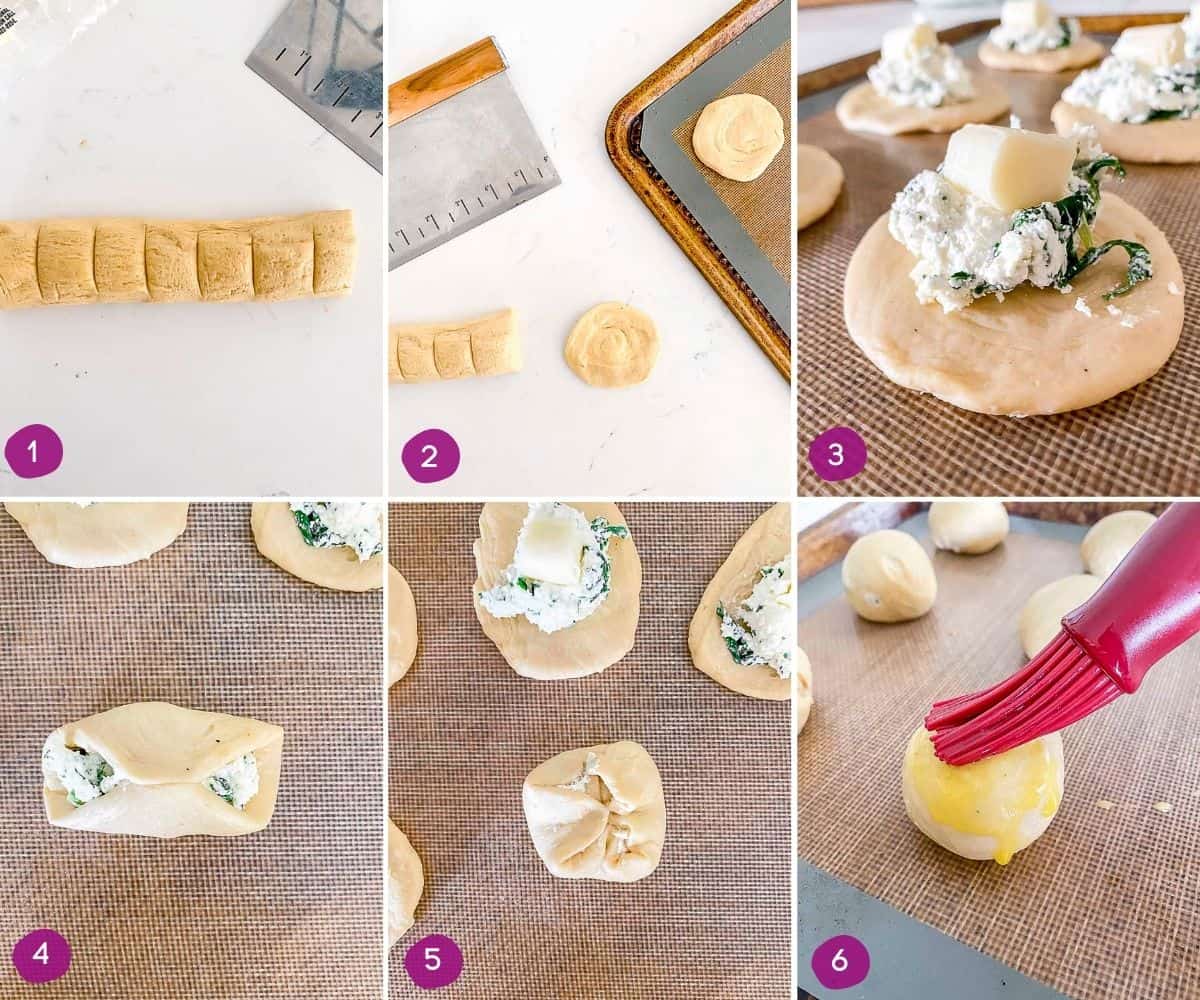 Do you order pizza often when expecting company? Check out these appetizers that pair well with pizza!
✔️Calzone Tips
Pinch the dough together very well so the filling does not seep out while baking.
Make sure to taste the ricotta mixture first to see if it needs more salt before stuffing.
Adding freshly grated Parmesan cheese to the top of your calzones when they come out of the oven so the cheese melts slightly.
Reheat your calzone bites for 5 minutes or until heated through.
Omit the spinach if you wish.
Add diced ham or pepperoni to the inside if you prefer.
Brushing the top with an egg wash allows the calzones to brown nicely while giving them a pretty sheen!
📌 Substitutions/Variations
Add dried Italian seasoning to the ricotta mixture for added flavor!
Brush the tops with garlic butter instead of egg for added richness and flavor.
Sprinkle sesame seeds or poppy seeds on top before baking for a pretty garnish.
Play with different cheeses. Ricotta is a must but the mozzarella can be swapped with other melty cheeses.
Use biscuit dough instead of crescent dough!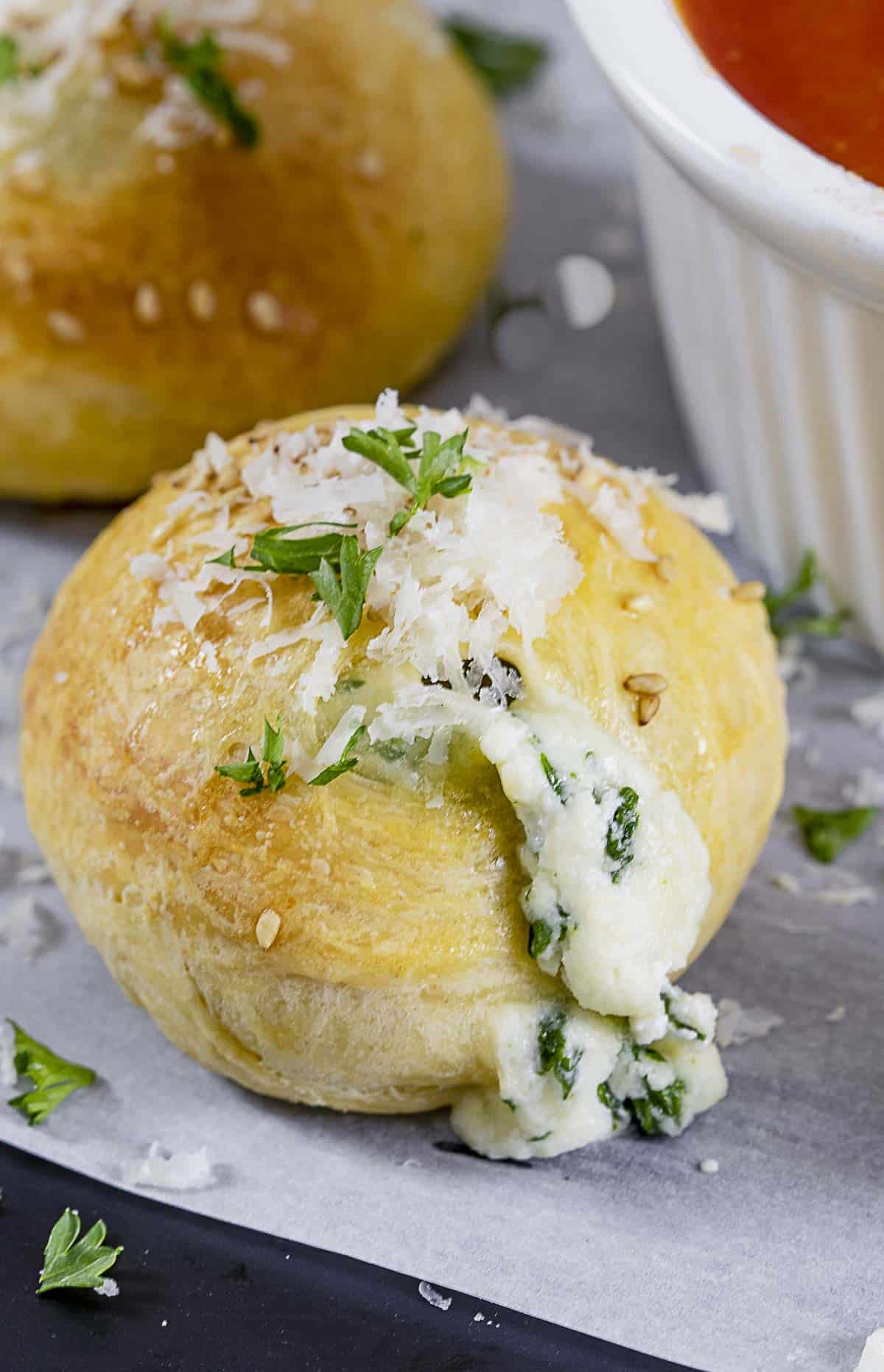 💬 FAQ's
Can I use pizza dough instead of crescent rolls?
Yes, but the dough will need to be rolled thin.
Can I stuff my calzones with something else?
Yes. Ham, pepperoni, spinach, proscuitto, really anything dry will work. Wet items will seep out.
My calzones exploded and cheese is seeping out!
That's OKAY! The taste will still be delicious! This happened because you did not pinch closed the calzone well enough. You may need to wait for the cheese to cool down before removing or you can simply serve with a fork!
Other Cheesy Appetizers You Will Love!
Pull Apart Philly Cheesesteak Mini Sandwiches
Fancy Cream Cheese Grilled Cheese
Cheddar Cheese & Beer Hard Pretzel Spread
Stuffed Garlic Bites (Using Biscuit Dough)
📲 FOLLOW Aleka on social!! 👋 Follow me on facebook, instagram, pinterest, youtube or tiktok for more recipes and entertaining tips!
📖 Recipe
Mini Pillsbury Calzones
Mini Pillsbury Calzones are so delicious! Crescent dough is stuffed with THREE cheeses and tucked into a little ball before being baked to gooey, melty perfection. Serve with a warm marinara sauce for dipping and everyone will love you. Did I mention there's spinach too?
Print
Pin
Rate
Ingredients
8

oz.

Pillsbury Crescent Dough Sheet or Pizza Dough

½

cup

frozen spinach

⅔

cup

ricotta cheese

2

mozzarella cheese sticks

((about 2 ounces))

2

tablespoons

Parmesan cheese

¼

teaspoon

garlic powder

1

egg

salt to taste
Instructions
Mix together ricotta cheese, Parmesan, spinach, and garlic powder.

Defrost frozen spinach in microwave or at room temperature. Use a few paper towels or dish cloth and squeeze out any excess water! (This will make your filling watery.)

Add spinach to bowl and mix well. Taste and add salt to your liking! It definitely needs some salt since the dough itself is not salty. You can also add more Parmesan since that it also salty.

Divide your crescent dough into 7-8 portions that are about 1 oz. Flatten each piece with the palm of your hand so it resembles a pancake. Repeat with all pieces.

Scoop a generous amount of filling onto each dough round (about 1 tbsp.) and top with a chunk of mozzarella cheese. I divided my mozzarella stick into approximately 4 pieces. Add more if you like.

Gently pull the dough on both sides and pinch it together. Repeat with other sides gently pinching the dough to form a mini rounded package. Place pinched side DOWN onto a lined baking sheet. Repeat with rest of dough. You should get 7-8 mini calzones.

Scramble egg and brush your calzones using a pastry brush.

Bake for 10-12 minutes on the upper rack until the dough has browned nicely.

Top with more freshly grated Parmesan cheese and serve warm with warmed marinara sauce for dipping!
Recipe Notes
Warm your marinara sauce in the microwave while baking your calzones.
Using freshly grated Parmesan cheese is best!
Garnish with freshly chopped parsley and/or more Parmesan cheese while hot.
You can freeze these (once baked) and reheat them at 350ºF until warmed through.
Nutrition
Calories:
267
kcal
|
Carbohydrates:
30
g
|
Protein:
14
g
|
Fat:
11
g
|
Saturated Fat:
6
g
|
Polyunsaturated Fat:
1
g
|
Monounsaturated Fat:
2
g
|
Cholesterol:
30
mg
|
Sodium:
609
mg
|
Potassium:
115
mg
|
Fiber:
1
g
|
Sugar:
4
g
|
Vitamin A:
2491
IU
|
Vitamin C:
1
mg
|
Calcium:
150
mg
|
Iron:
2
mg