These watermelon sticks or watermelon crinkle fries are SO fun to make and eat! Both kids and adults love them too which makes this sweet snack or dessert ideal for any summer get-together!
As the sun shines bright and the temperatures rise, nothing beats a refreshing and hydrating treat that captures the essence of summer.
Enter watermelon sticks – a delightful twist on the classic fruit that offers convenience, fun, and a burst of juicy sweetness.
Read on as we explore the simple steps to create this irresistible summer snack that's perfect for picnics, parties, or outdoor BBQ's!
Tips For Cutting Your Watermelon Sticks
You want your sticks to be similar to fries. If your watermelon is overly ripe, the sticks will fall apart when dipping.
Too small and they will be too tedius to cut.
Look to cut watermelon into 3" x ½" sticks for the best result.
Storage tips
Watermelon sticks are best enjoyed fresh, but if you have leftovers, store them in an airtight container in the refrigerator for up to two days. Remember to remove any skewers or sticks before storing.
Final Tips For Serving Your Watermelon Sticks
Watermelon sticks are a simple and delightful way to enjoy the natural sweetness and hydrating properties of this beloved summer fruit.
I suggest serving with a side of yogurt for dipping! Because who doesn't like dipping fries?
These chocolate covered pineapple skewers are another deliciously sweet but healthy dessert you can serve with thesew fries.
So whether you're lounging by the pool, hosting a backyard barbecue, or simply craving a healthy snack, these easy-to-make treats will bring joy and refreshment to any occasion.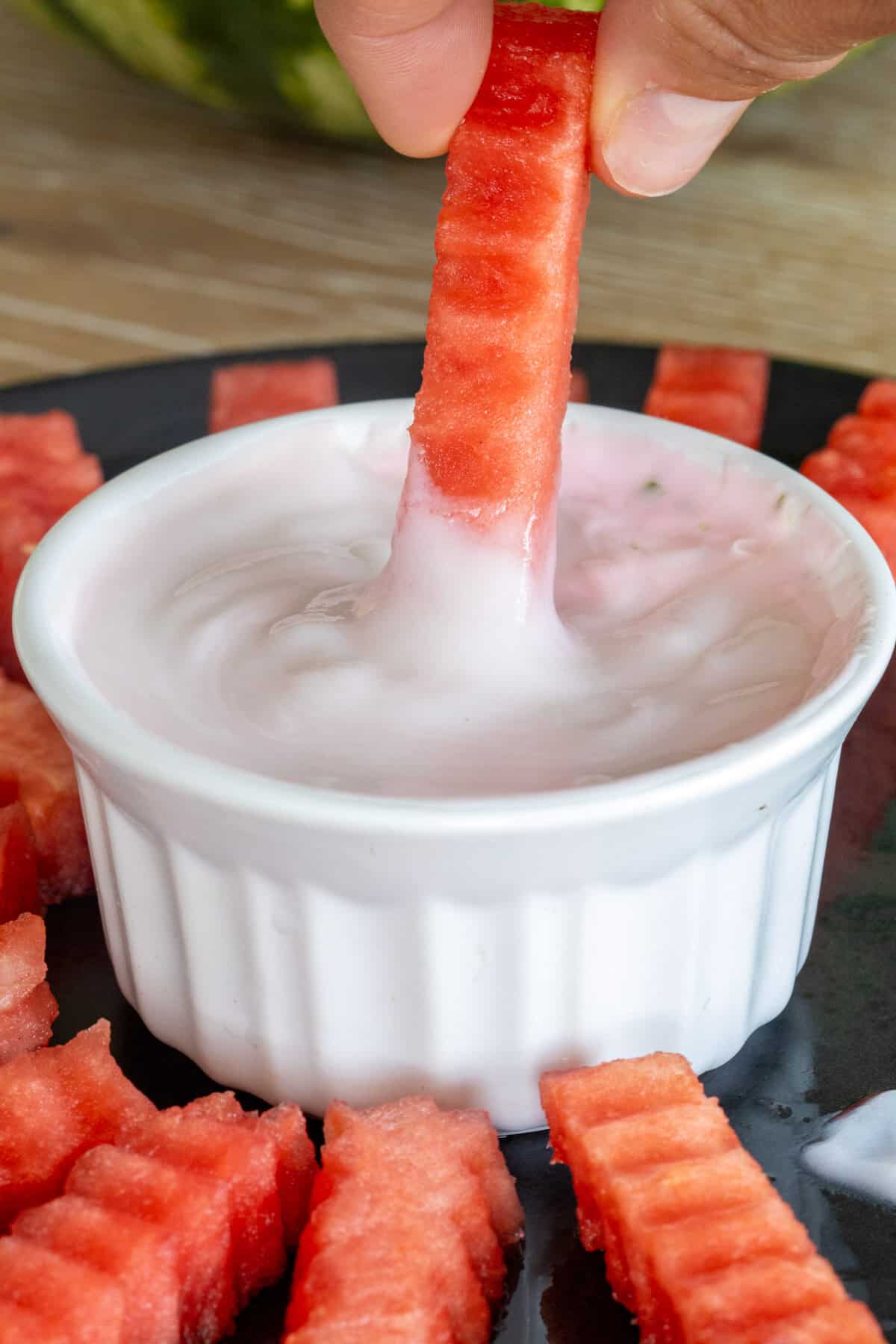 Other Fruit Recipes To Serve This Summer!
📖 Recipe