These Olive Garden Clam Stuffed Mushrooms are a take on Olive Garden's popular appetizer. Mini portobellos come out crispy on top and juicy in the middle making them the perfect finger food and absolutely irresistible and packed with Italian flavors!
If you lvoe mushrooms, check out my Mushroom Crostini Appetizer and my Quesadillas with Mushrooms too!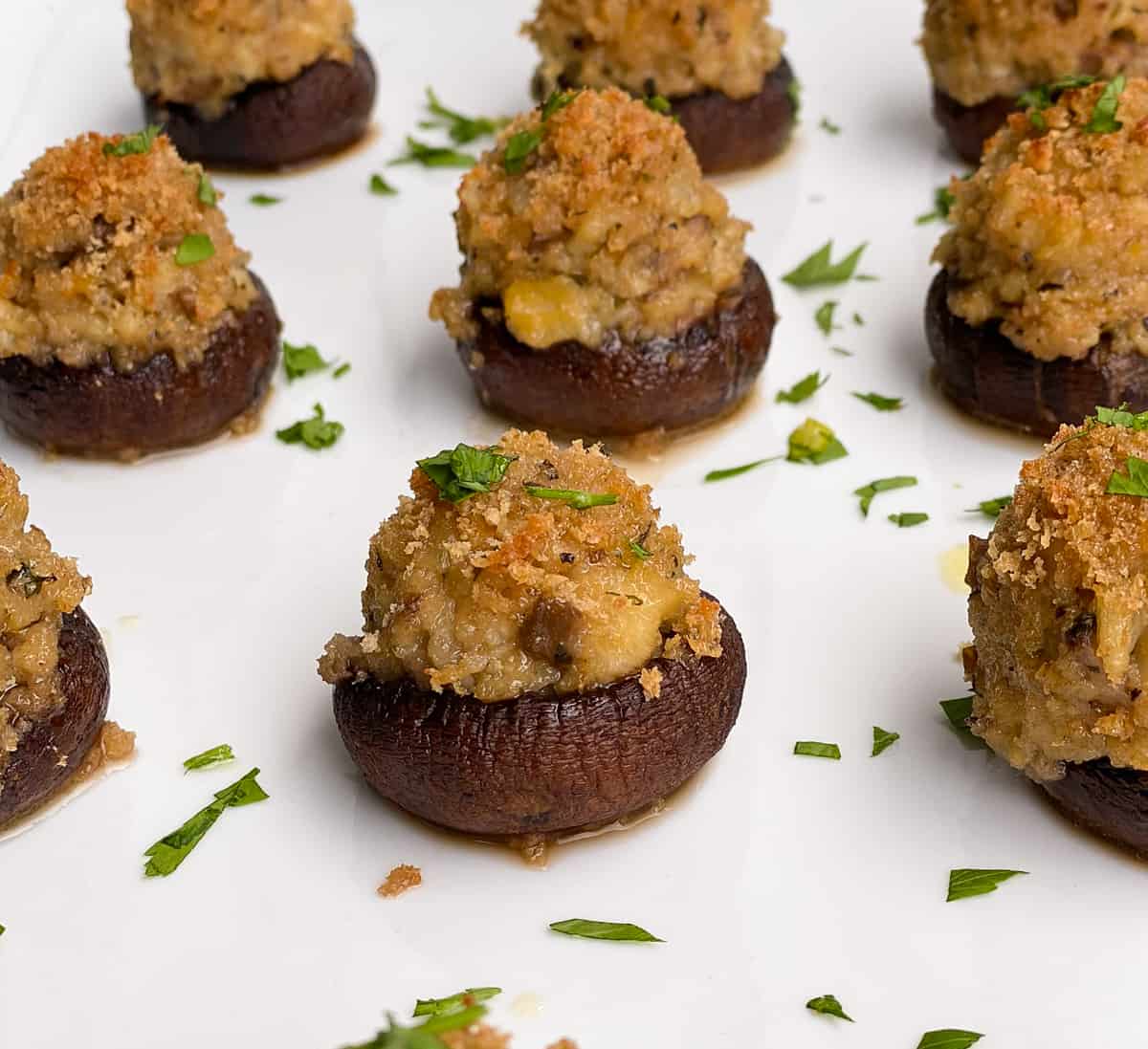 Why did Olive Garden get rid of stuffed mushrooms?
Ahhh! What a shame! It seems Olive Garden removed their stuffed mushrooms from their menu because it burned they were too hot and burned a customer!
But that doesn't mean we can't make their stuffed clam mushroom appetizer at home for our guests! This is my "copycat" version. It's easy and still packs incredible flavor!
About The Olive Garden
I have always LOVED the Olive Garden. Eating there brings back memories of eating with my family when I was young. They first opened up in Orlando, FL and understandably so, quickly expanded across the states.
My go-to was the chicken marsala and their Italian Calamari! Anyone else?
But these clam stuffed mushrooms were another go-to of mine!
They're stuffed with minced clams, breadcrumbs, Italian seasoning, garlic, sherry vinegar and Parmesan cheese. What more could you want out of a stuffed mushroom?
I love that I can make these mushrooms ahead of time, even the night before, and then bake them as my guests arrive. So if you are looking for an easy appetizer recipe to serve a crowd, keep reading!
Stuffed Mushroom Ingredient Tips:
Mushrooms- I recommend using portobello, cremini or button mushrooms. Cremini and portobello come smaller in size and are packed with an earthy, woodsy flavor.
Onions & garlic- Adds a ton of flavor! We saute them together before stuffing the mushrooms.
Sherry vinegar- The acidity adds a ton of flavor and pairs very well with mushrooms!
Minced clams- They sell canned minced clams or you can mince them yourself.
Oregano, Parsley, Basil- Lots of spices add the Italian flavor Olive Garden does a good job of delivering!
P

anko breadcrumbs

-

Panko breadcrumbs are crunchier than your classic breadcrumb. You can even use Italian version.
Pecorino romano cheese- This will add a ton of flavor and a touch of saltiness.
How To Make Clam Stuffed Mushrooms:
Making stuffed mushrooms is not difficult to do. I think they are one of those appetizers that can look like it took you hours but in reality, they only take 40 minutes from start to finish. They could also be an easy hors d'oeuvre.
The trick to the best stuffed clam stuffed mushrooms is to create a juicy interior while maintaining a crunchy top like Olive Garden does a good job doing!
But the good thing is the topping is the EASY part. The hard part is getting a super moist interior which is tough when there's no cream cheese involved.
This is why liquids are so important in this recipe. I use a combination of the juice from the canned clams and sherry viengar to keep them moist and not dry. Nobody likes a dry stuffed mushroom.
Steps to making Olive Garden's stuffed mushrooms:
Step 1: Clean your mushrooms by rinsing them off quickly or by wiping them with a damp paper towel.
Step 2: Remove the stems by twisting them with your fingers. You can also use a small pairing knife.
Step 3: Scoop out the inside to create a nice sized cavity for stuffing. I like to use a small teaspoon to do this.
Step 4: Saute your onions and garlic in a skillet. Add your sherry vinegar, can of minced clams, breadcrumbs, cheese and spices.
Step 5: Allow to cool slightly and fill your mushroom cavities nice and high. You should aim for a mini mound.
Step 6: Bake for about 8 minutes. Finish by broiling the tops until golden brown. This will also make the top nice and crunchy.
🍄What types of mushrooms are best for stuffing?
White button mushrooms are the most popular types of mushrooms used for stuffing. But to be honest, any mini or smaller mushrooms with a larger enough cavity (for stuffed) willwork.
With that said, some mushrooms hold up better when they are cooked while others have more of a woodsy flavor.
🍄Here are two mushroom types that I go back and forth between when choosing which mushrooms to stuff:
White button- These are the most mild in flavor and usually the cheapest. They hold up very well to heat and would give your stuffed mushrooms more of a 'bite'.
Cremini- These types are young portobellos. They are labeled as 'baby portbellas' or 'baby bells'. They have more flavor than white button mushrooms and are brown in color.
Both are tasty and would work well for this recipe. Choose whichever YOU like best!
🪥How to clean your mushrooms
Cleaning mushrooms is something I hate doing. Especially because I hear mixed reviews on how to clean them the RIGHT way. Some mushrooms I buy have SO much dirt on them, delicately wiping them with a damp paper towel just wont do.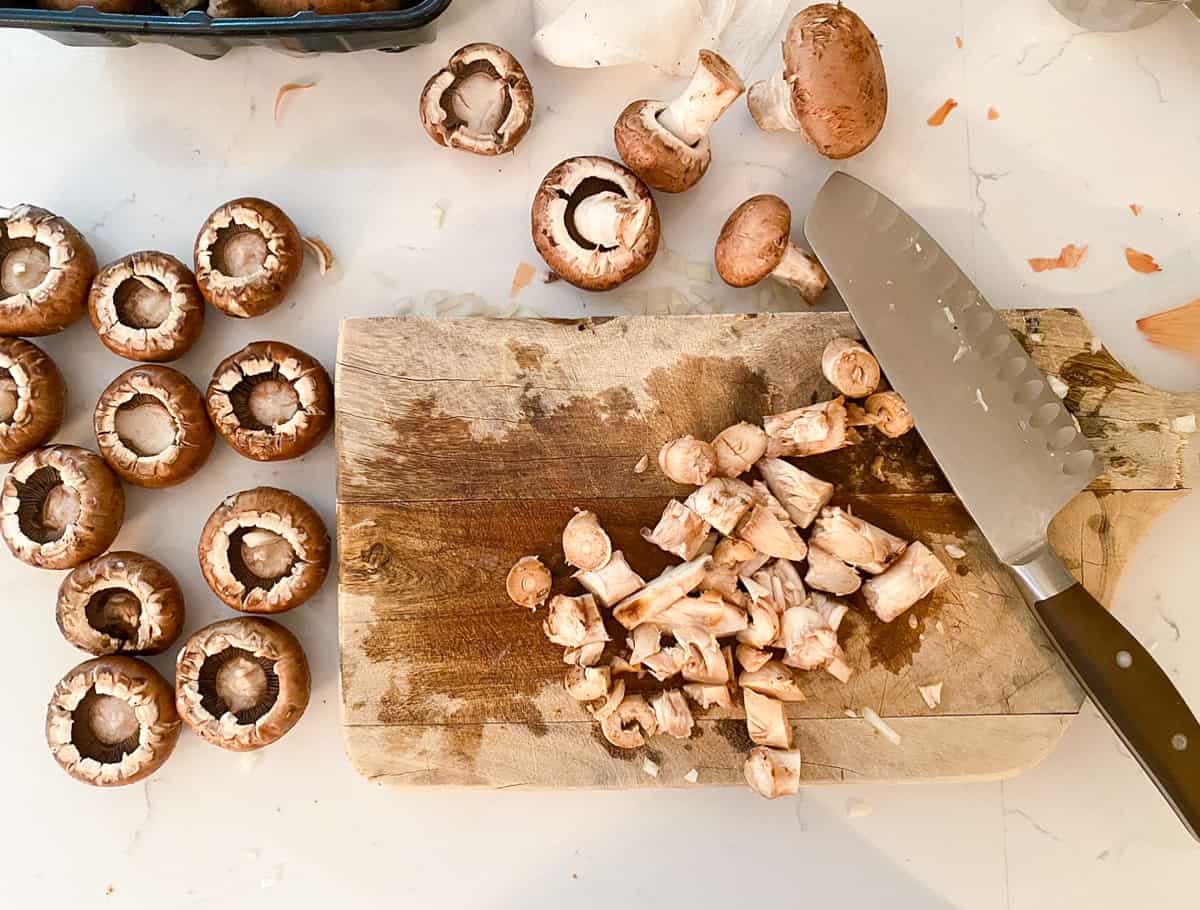 Recently I saw a professional chef (on Food Network) talk about how they rinse mushrooms directly under water, which I thought was a huge no-no, and mentioned that it doesn't make a difference for them. Since hearing that, I gave up on the 'delicate' way of cleaning them.
I have rinsed my mushrooms under cold water AND used a paper towel many times myself and never notice the difference. So lately I have simply been rinsing them under cold water quickly and immediately will pat them dry with a paper towel to remove any excess water. I just don't have the time for wiping one by one.
With that said, YOU clean your mushrooms however YOU like to clean them. No judgement here. Just don't soak them in water and I'm sure you, and your mushrooms, will make it out alive.
Here are some tips on how to clean them properly.
Variations/Substitutions
Although the Olive Garden does a fabulous job delivering on flavor, you can still tweak the recipe as needed. Here are some suggestions:
Add other seafood like shrimp, crab or any white fish.
Add other cheeses like gruyere, gouda, provolone or mozzarella.
Leave off the breadcrumbs and keep them gluten free.
Add sausage to make these a clam & sausage stuffed mushroom appetizer.
Use white wine or marsala wine instead of sherry.
Add bacon!! Bacon makes everything taste better period.
FAQ's
"How do I get a super crunchy coating"? Using panko breadcrumbs help a lot. In addition to that, make sure you add some kind of fat to your breadcrumbs like butter or oil before baking. The last step of my recipe where we broil the mushrooms is what helps "re-crunchify" them. Yes that's a word and I'm sticking to it.
"How large do my mushrooms need to be?" Large enough to fill but small enough to eat in 1-2 bites.
"Can I make these a day ahead?" Yes! Clean, stuff and refrigerate them covered the night before if you want. Then bake them up before guests arrive!
"Can I freeze my stuffed mushrooms?" No. Mushrooms do NOT freeze well.
"How long do these stay fresh?" Your stuffed mushrooms will stay fresh in the fridge, in a sealed container, for 3-4 days.
Other appetizer recipes you may like:
Shrimp Skillet with Feta Cheese
📲 Say hi on social!! 👋 Follow me on facebook, instagram, pinterest, youtube or tiktok for more recipes and entertaining tips!
Olive Garden's Clam Stuffed Mushrooms
These Italian Clam Stuffed Mushrooms are a delicious party appetizer your guests will go crazy over! They come out crispy on top, juicy in the middle and packed with Italian flavor just like Olive Gardens!
Print
Pin
Rate
Ingredients
10-12

small

mushrooms, cremini or white button

3

tbsp.

unsalted butter, or olive oil

¼

yellow

onion, minced

(about ¼ cup)

2-3

cloves

garlic, minced

1

tbsp.

sherry vinegar

6.5

oz.

can of minced clams

½

teaspoon

dried oregano

½

teaspoon

dried parsley

½

teaspoon

dried basil

¼

teaspoon

salt

((omit if using salted butter))

½

cup

panko breadcrumbs + 2 tbsp.

t

tablespoon

pecorino romano cheese

freshly chopped parsley, for garnish
Instructions
Preheat your oven to 400°F.

Wash your mushrooms using a damp paper towel and then set them, cavity up, on a baking sheet. Remove the stems and chop them up finely. Set them aside.

Melt 3 oz. unsalted butter, or olive oil, in a skillet over medium-low heat and add in ¼ yellow onion minced. Saute for about 10 minutes until they become translucent.

Turn up your heat to high and add your minced garlic cloves and saute for no more than 1 minute.

Add chopped mushroom stems, sherry vinegar, can of minced clams with juice, ½ teaspoon of oregano, ½ teaspoon of basil, ½ teaspoon of parsley and ⅛ teaspoon salt. Let simmer over high heat for 5 minutes.

Add ½ cup of panko breadcrumbs and mix until they absorb the clam juice. Turn off heat.

There should be no more liquid on the bottom of your pan. If there is, keep the heat on until all the liquid is fully absorbed/evaporated.

When mixture is cool enough, stuff each of your mushrooms so they are nice and high. I like to use a mini ice cream scooper to get the perfectly round mound.

Sprinkle remaining panko breadcrumbs on top of each mushroom. If they do not stick, try to flatten the top of the filling a bit to create a flatter surface.

Bake for 8-9 minutes. If breadcrumbs are not browned yet, broil for 1-3 minutes. Garnish with fresh parsley and serve hot!
Nutrition
Calories:
172
kcal
|
Carbohydrates:
14.6
g
|
Protein:
5.4
g
|
Fat:
11
g
|
Saturated Fat:
2.5
g
|
Cholesterol:
4
mg
|
Sodium:
402
mg
|
Potassium:
195
mg
|
Fiber:
1.2
g
|
Sugar:
2.8
g
|
Iron:
2
mg