This mushroom appetizer is a deliciously easy appetizer to make for your next party or get-together! I love that it's vegan friendly but still super filling and packed with immense flavor! I guarantee no one will even know it's a VEGAN appetizer!
If you love vegetarian appetizers, make sure to try my Pear "Bruschetta" or my Caprese Bruschetta also!
This mushroom appetizer is a new favorite because of how well received it is by everyone regardless of taste preferences or dietary restrictions!
This makes it especially perfect for entertaining because my vegan guests will be satisfied along with everyone else!
By offering a selection of at least two appetizers, one that is vegan friendly and the other gluten free, usually ensures that everyone has at least one thing to enjoy meaning your party will be a success!
Another delicious vegen appetizer everyone loves is my Greek Garlic Potato Dip. (I love serving that with grilled pita bread!)
Jump to: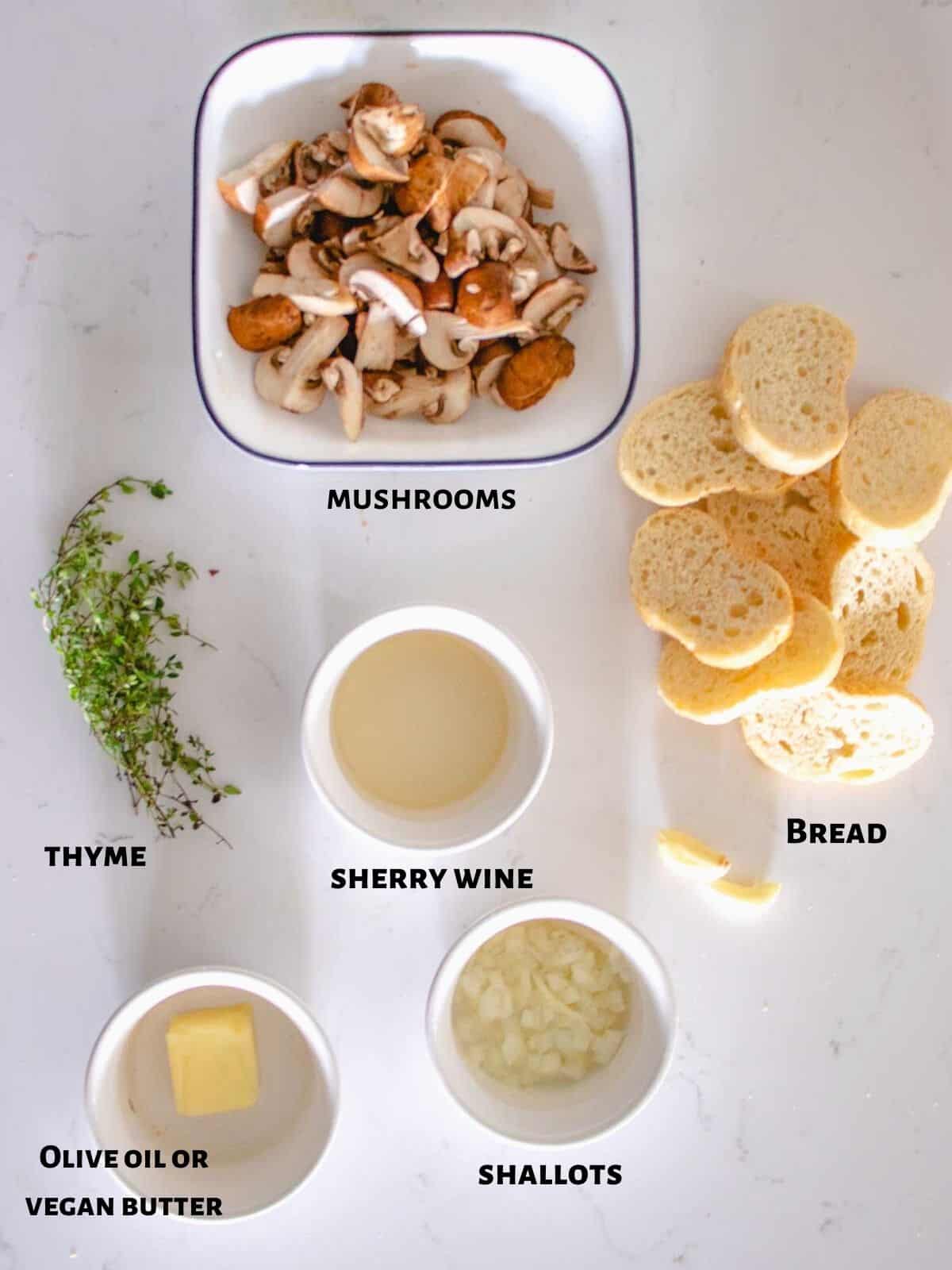 Mushroom Bruschetta Ingredients
Mushrooms: When choosing your mushrooms, I suggest going for a wild mix of cremini, shiitaki, oyster and portobella mushrooms are best.
Shallots: Shallots are very similar to onions but have a delicate sweeter flavor.
Thyme: Thyme and mushrooms go SO well together. I highly recommend using fresh thyme and not dried.
Butter/Oil: You can use your favorite vegan butter as it will offer a richer flavor. You could also use olive oil!
Sherry Wine: Sherry wine or vingegar can be found in any liquor store. If you can't purchase that, look out for Sherry cooking wine which can be found in most grocery stores.
Veggie stock: This will create a "sauce" out of your mushroom mixture which will keep your bruschetta from being dry.
📃 NOTE: You can print the FULL recipe with all ingredients & detailed instructions below!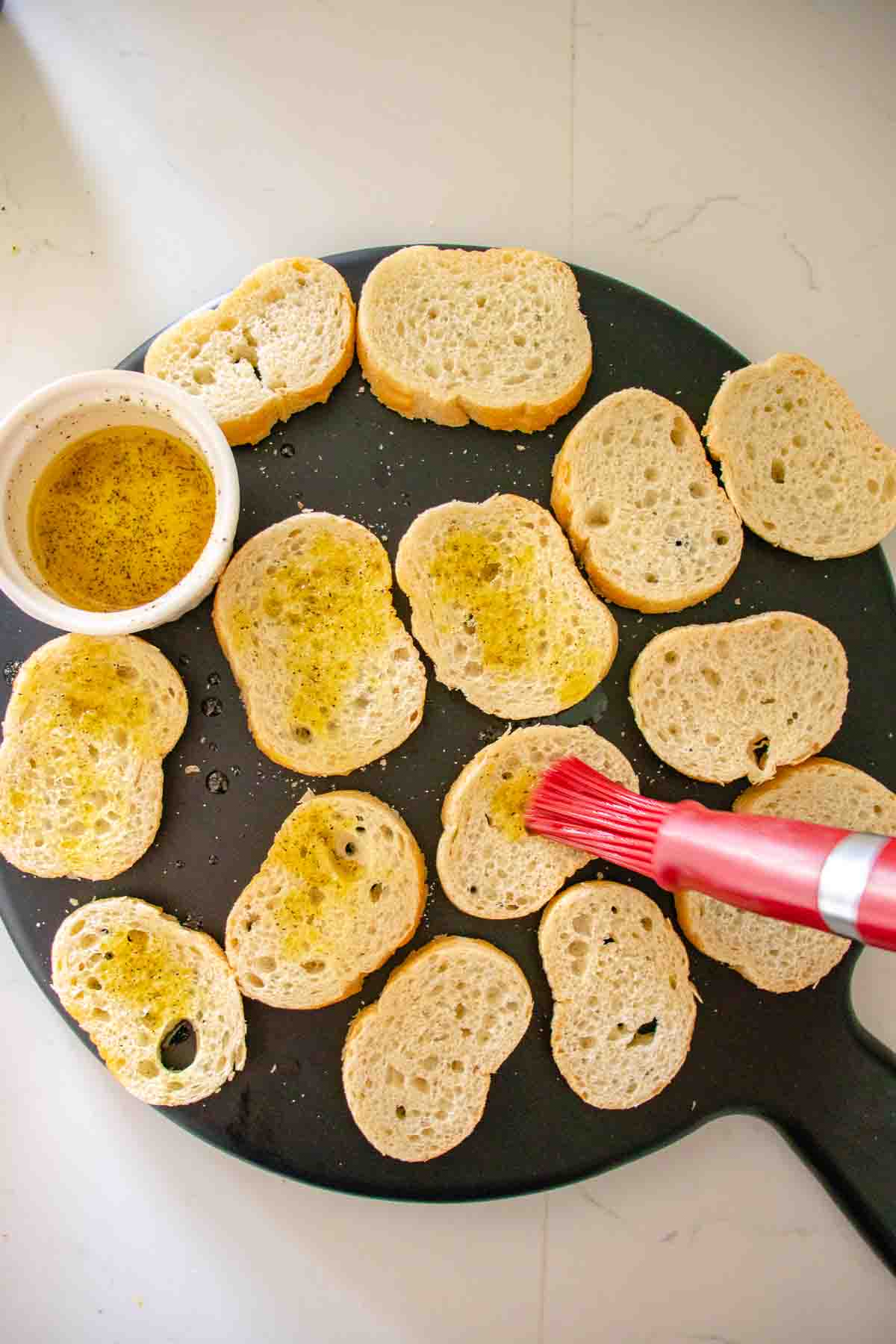 How To Make This Appetizer
Step 1: Add your mushrooms, thyme, and shallots in butter or oil over medium high heat until slightly browned.
Step 2: Once browned, add in a teaspoon of flour and mix.
Step 3: Add in your sherry wine to deglaze the pan.
Step 4: Add in your veggie stock and simmer until the mixture thickens up.
Step 5: Remove thyme sprigs and set aside.
Step 6: Prepare your crostini by brushing your sliced bread with oil and toasting it in the oven at 425 degrees F for about 8 minutes or until crispy and browned.
Step 7: Serve with mushroom mixture in a bowl alongside of your toasted bread with a serving spoon.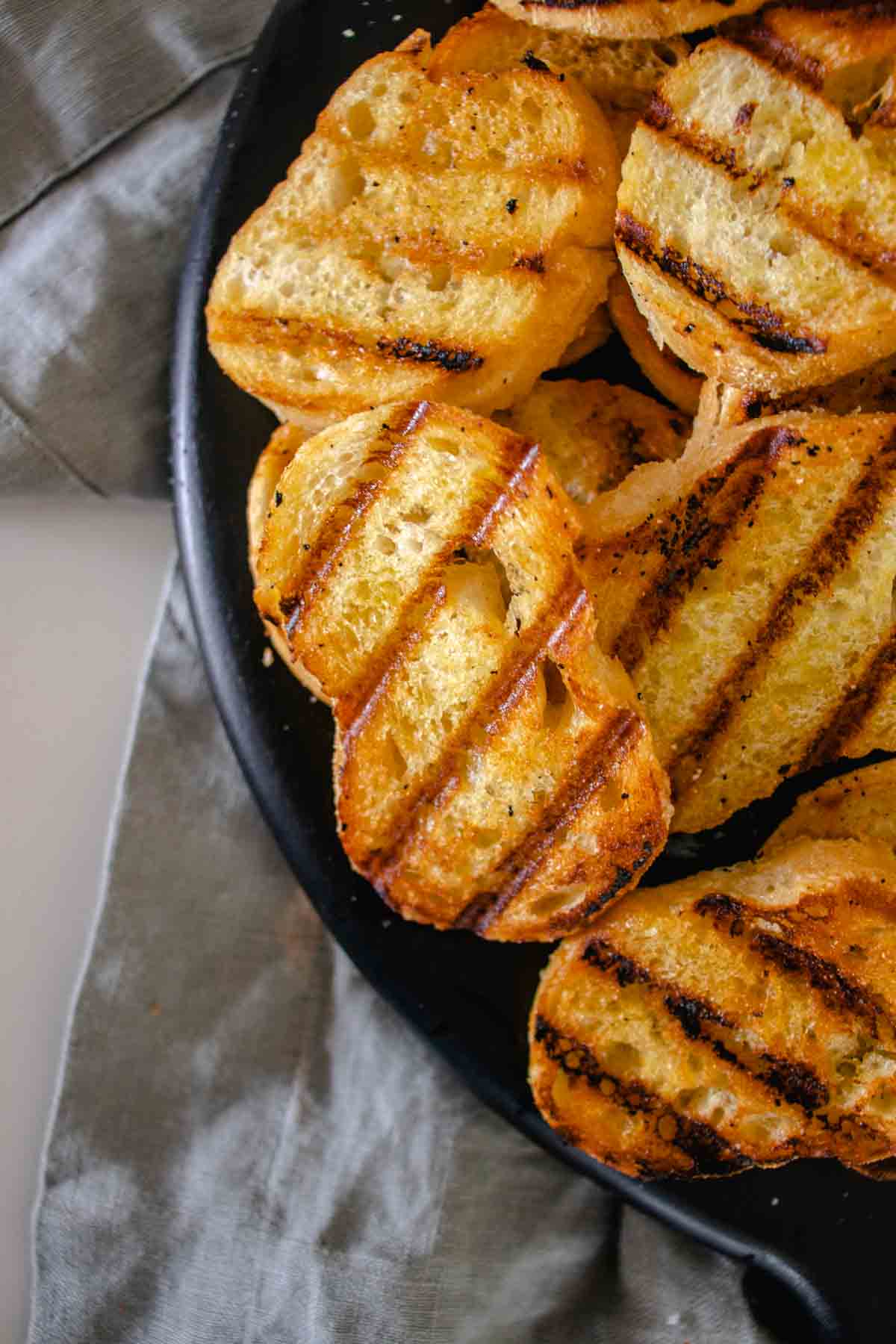 Hint: Grill marks make for a more appealing and tastier bruschetta!
Variations
Feel free to tweak your bruschetta any way you wish. It is very versatile and the flavor combinations are limitless!
Spicy - add chili pepper flakes while cooking to add some heat to your bruschetta.
Texture - add crispy onions to the top of your bruschetta for a crunchy textural component people will love.
Flavors- adding different herbs and spices is an easy way to change the flavors up a bit. Parsley, oregano or tarragon are great herbs to use here. Garlic is also another flavor we can add into our mushrooms.
Check out my Italian Clam Stuffed Mushrooms also!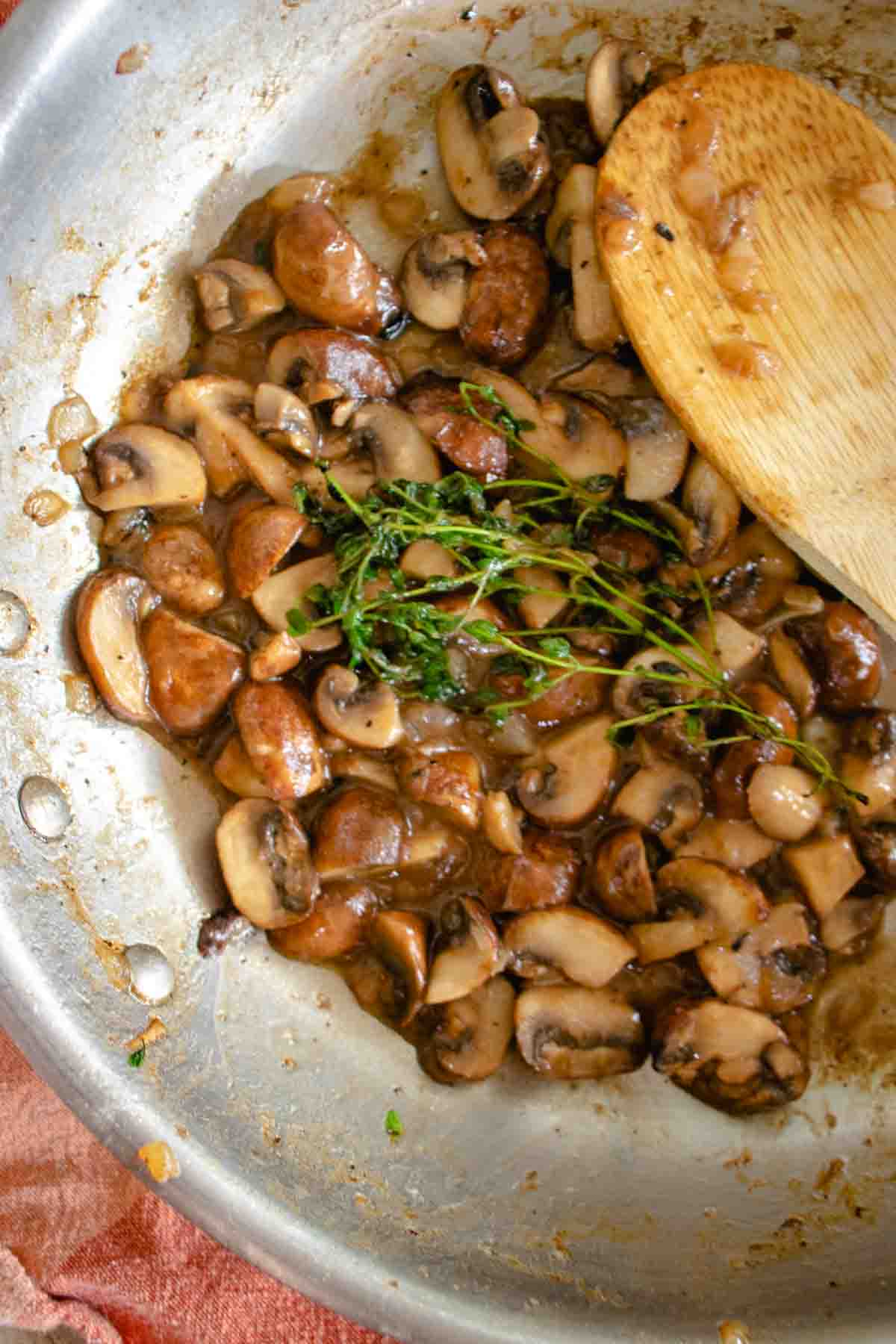 Storing Your Mushrooms
Storing brushetta is tough once assembled so if you plan on making this in advance, I suggest keeping your mushroom mixture separate.
On the day of the party, a few hours before, toast up your bread and top it with the mushroom mixture last minute to maintain the crunchy texture.
Pro Tip
The BEST thing about bruschetta is the crunchy texture hands down. So aiming for a good balance of moist mushroom topping with a crispy slice of bread, is very important. The best way to do this is to:
Ensure your bread is CRISPY!
Use a good quality FRESH baguette.
Use a mixture of mushrooms.
Assemble your bruschetta last minute or allow guests to assemble themselves.
Check out these other Vegan Appetizers!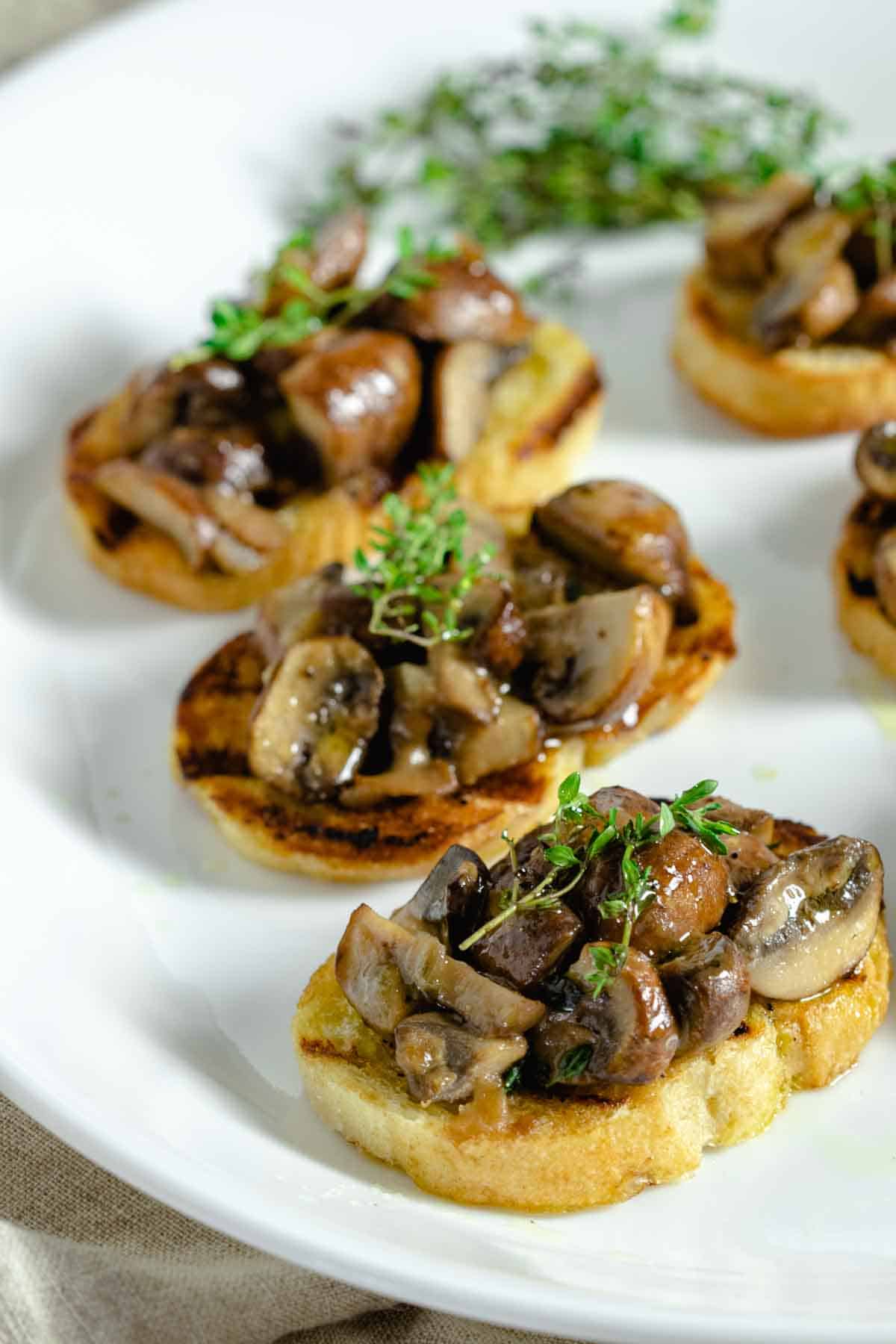 Other Mushroom Appetizers You Might Like!
📲 FOLLOW Aleka on social!! 👋 Follow me on facebook, instagram, pinterest, youtube or tiktok for more recipes and entertaining tips!
📖 Recipe
Delicious Mushroom Appetizer
This mushroom appetizer is a deliciously easy appetizer to make for your next party or get-together! I love that it's vegan friendly but still super filling and packed with immense flavor! I guarantee no one will even know it's dairy and meat free! 🙂
Print
Pin
Rate
Ingredients
½

crusty baguette *see note

((about 14 slices))

¼

cup

olive oil

((or butter if not vegan!))

16 oz.

wild mushroom, cleaned

((I recommend a mix of shittake, oyster, & cremini))

1

bunch

fresh thyme leaves

1

shallot, minced

((or small onion))

¼

cup

sherry vinegar

2

teaspoon

flour

¼

cup

veggie stock, broth or water

salt & pepper to taste*
Instructions
Your bread slices should be about ¼" thick. Brush 1-2 tablespoons of olive oil onto each slice. Season with salt and pepper.

Grill: Grill your crostini over high heat on both sides using a grill pan or outdoor grill until you get desired grill marks.Bake: Bake your crostini at 450°F on the middle rack for about 7 minutes or until golden brown and crispy.

Set crostini aside and assemble mushroom topping.

Slice your mushrooms no more than ¼" thick. Add 3-4 tablespoons of butter or olive oil to a hot skillet and toss in the mushrooms, minced shallot, and thyme. Saute for 2 minutes.

Deglaze pan with sherry vinegar and let simmer for 30 seconds.

Stir in the flour and after 30 seconds, add in the stock (or water). This will help to thicken up the juices in the pan to create a pan sauce for your bruschetta. If it is too dry, add a bit more stock. Salt to taste!

Remove thyme leaves and spoon a couple tablespoons onto each crostini. Garnish with more thyme leaves and a drizzle of olive oil.
Recipe Notes
Yield: 14 crostini
Add minced garlic for more flavor!
The yield will differ depending upon the size of your crostini.
Make sure to season the mushrooms with salt and pepper to your liking. Mushrooms

need

seasoning!
Sherry vinegar adds a delicious acidic flavor to your mushrooms without that vinegar taste. You can substitute marsala wine or wine if needed.
You can remove the thyme leaves ahead if you feel like.
The crostini should stay crispy for up to an hour.
Keep crostini warm in the oven at 200 degrees F.
*I used a long narrow baguette to give me 14 smaller crostini. If using a wider baguette, your yield will be less although the serving size should stay the same.
Nutrition
Calories:
155
kcal
|
Carbohydrates:
14
g
|
Protein:
3
g
|
Fat:
10
g
|
Saturated Fat:
1
g
|
Polyunsaturated Fat:
1
g
|
Monounsaturated Fat:
7
g
|
Sodium:
173
mg
|
Potassium:
162
mg
|
Fiber:
2
g
|
Sugar:
2
g
|
Vitamin A:
53
IU
|
Vitamin C:
1
mg
|
Calcium:
28
mg
|
Iron:
1
mg