This Ricotta Cheese Crostini Appetizer is an easy yet delicious appetizer that can be made in advance! Crusty bread is topped with creamy ricotta cheese and roasted sweet peppers, you will love this savory flavor combination!
Also check out these 33 Crostini Ideas!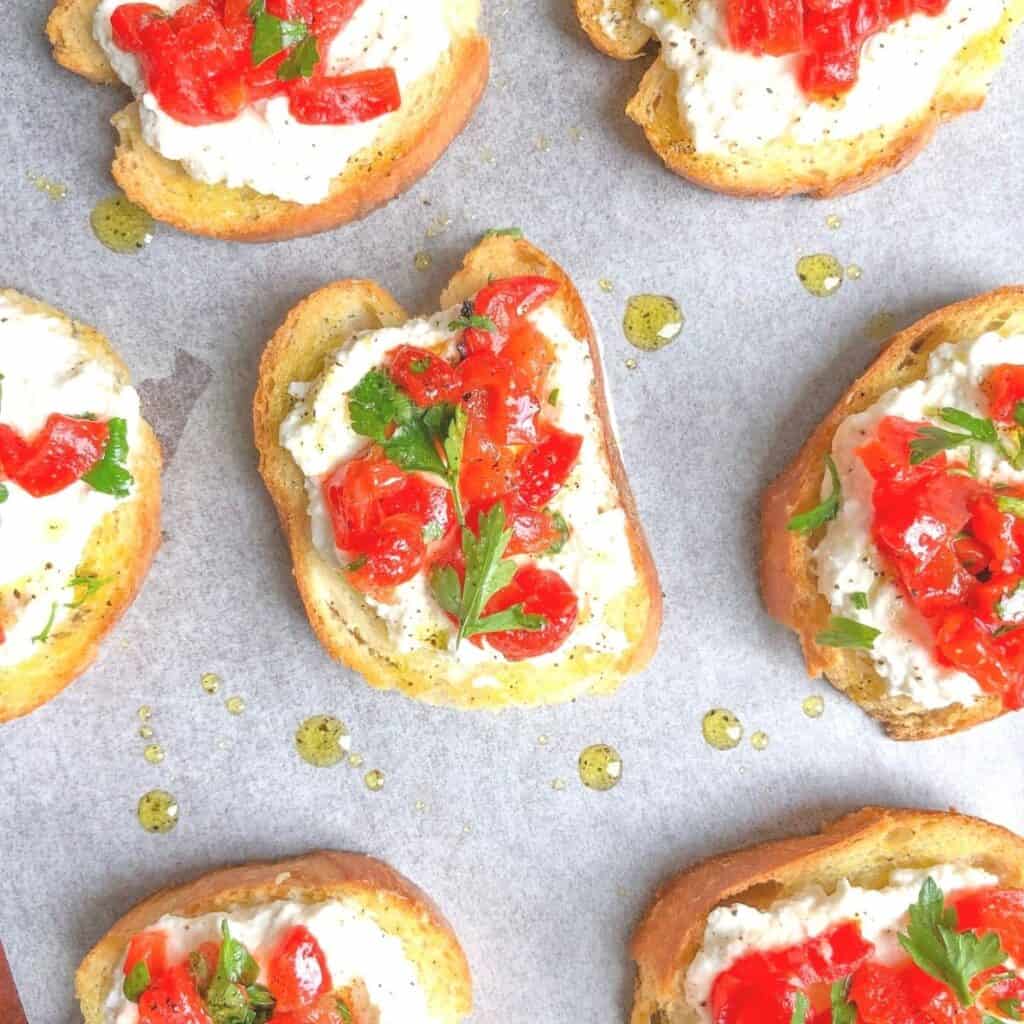 Crostini is one of my absolute favorite appetizers to make. It is super easy, quick and the perfect bite-sized party food!
If you've never had ricotta cheese with your crostini, you are missing out. Especially whipped ricotta.
The taste is creamy and rich and it goes so well with just about anything. And if you're crostini is super crispy, it is a win-win.
These cute little crostini were a last minute appetizer choice that resulted from having a big jar of roasted red peppers sitting in my pantry and a half open container of ricotta cheese in the fridge.
How To Make Ricotta Crostini
Crostini is super simple!
All you need is...
a quality long Italian baguette (fresh or day-old)

a sharp serrated knife is a must! You don't know what your missing until you have one... (See the knife below from Amazon, it has awesome ratings)

Some good extra virgin olive oil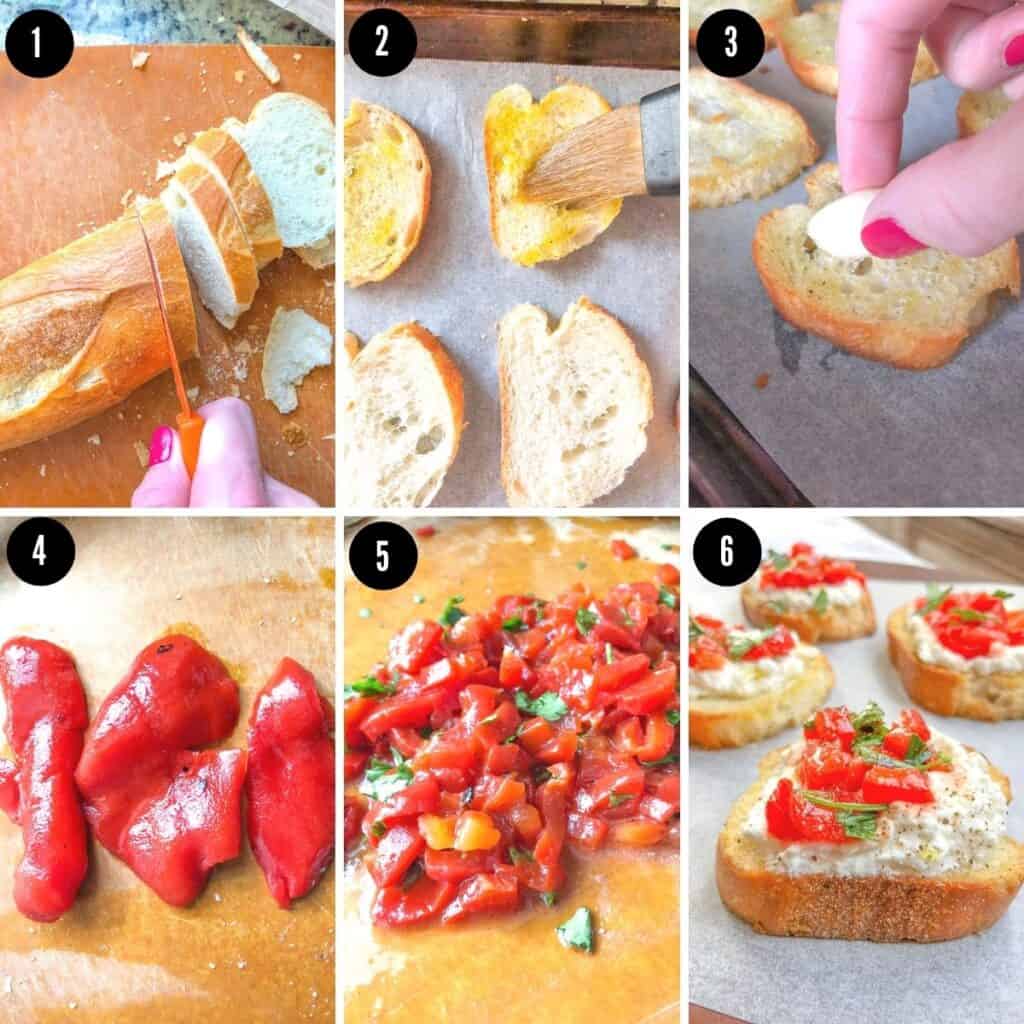 Step 1: Cut your baguette into ½" thin slices.
Step 2: Brush olive oil onto both sides each slice. This will help to brown your crostini while giving it flavor.
Step 3: Bake at 375º for 8-9 minutes or until your crostini is lightly browned and crisp.
Step 4: While your crostini is still warm, rub a clove of garlic over the top of each. (A little goes a long way!)
Step 5: Wait for your crostini to cool off completely then spread a nice dollop of whole milk ricotta cheese onto each toasted baguette slice.
Step 6: Add chopped roasted red peppers on top and basil.
Step 7: Serve within an hour!
📃 NOTE: Recipe card with exact quantities and detailed instructions are below! Print it out for later!
What Does Ricotta Pair Well With?
Ricotta cheese pairs so well with any fresh herb and thinly sliced veggies like asparagus, roasted peppers, zucchini, spinach, mushrooms and a drizzle of honey or balsamic vinegar.
The Best Bread To Use
Any Italian bread or French baguette that is freshly baked and longer in size. You want to steer clear from baguettes that are round or too wide. This would result in a larger slice of crostini.
You may choose sourdough bread or any flavor you prefer.
Aim for a baguette that is no wider than 3" in diameter.
Ricotta Cheese Tips
When choosing your ricotta cheese, I recommend going for the best you can find. This means don't go generic!
Generic brands of ricotta cheese are watery and thin as opposed to thick and creamy.
Also make sure you choose ricotta that has been made with whole milk.
Ricotta cheese made with skim milk will not be as rich and tasty as whole milk ricotta.
Common Crostini Mistakes:
|These mistakes can make or break your crostini so make sure to NOT:
Cut your bread too thick
Under-toast your bread

Over-toast your bread

Not use olive oil.

Top your crostini when they are warm.
Prepare you crostini too far in advance.
Not let your crostini cool on a wire rack.
A good crostini is crisp but will not fall apart into 1,000 pieces when you bite into it. Just make sure you don't turn it into a crouton.
Topping your crostini while it's still warm will cause it to be soggy. Also, not letting it cool on a rack will make the bottom of your bread soft which is not what we want.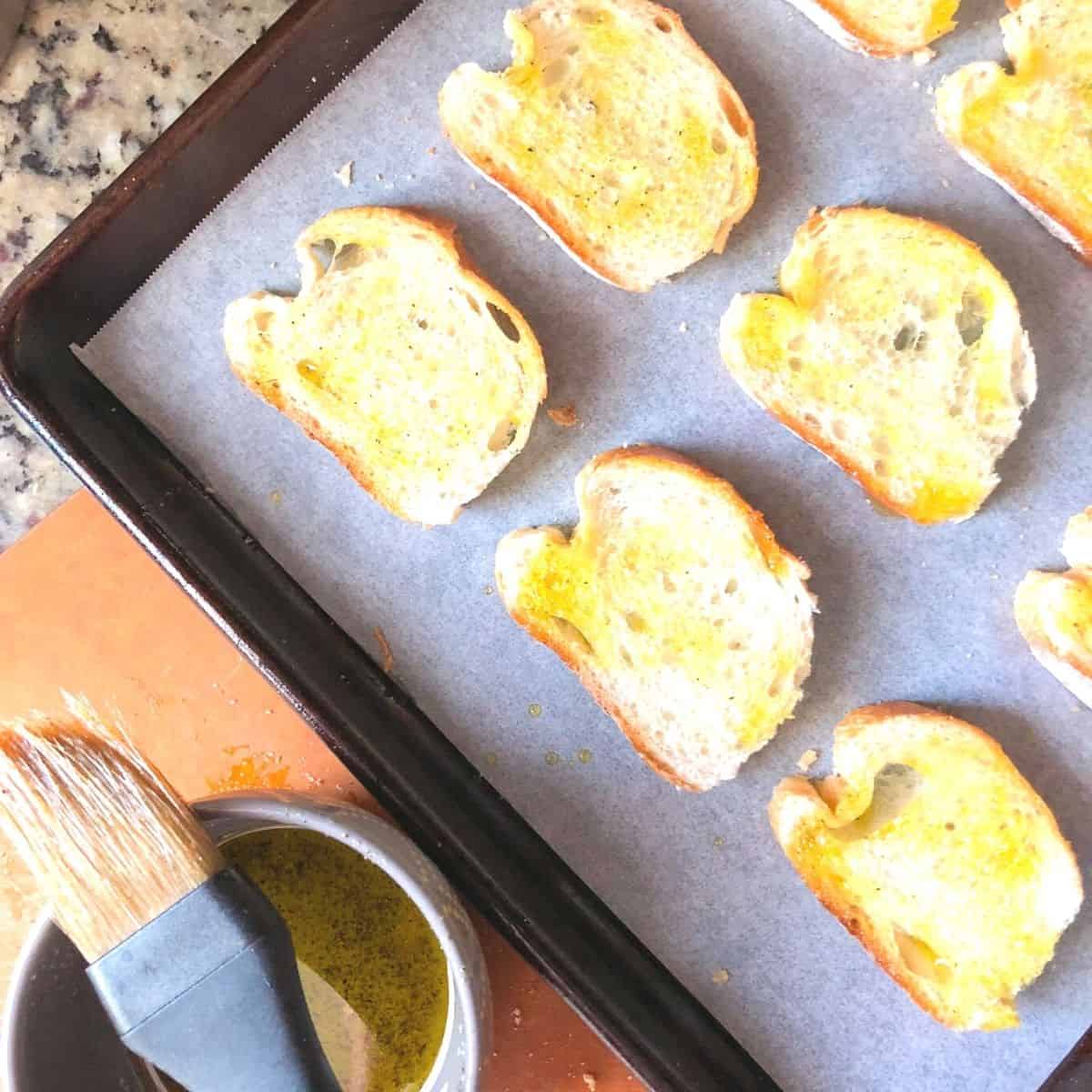 Making Crostini In Advance
I recommend not preparing crostini more than a few hours ahead of time. They could get soggy depending what you put on them and you have to keep in mind the toppings possibly going bad.
With that said, I've never had an issue leaving them out for the entire party but I would err on the side of caution if using shellfish or meat.
If you are taking the crostini to-go and topping them elsewhere, you do NOT want to place them in your storage container while they are hot/warm!! They will turn soft and rubbery and ruin the entire crostini.
Instead, wait until they are completely at room temperature first. Then pack away.
They will not be the same as right out of the oven but it is your next best option.
You can also serve them as a cold appetizer. They will be super tasty still just like my mushroom bruschetta.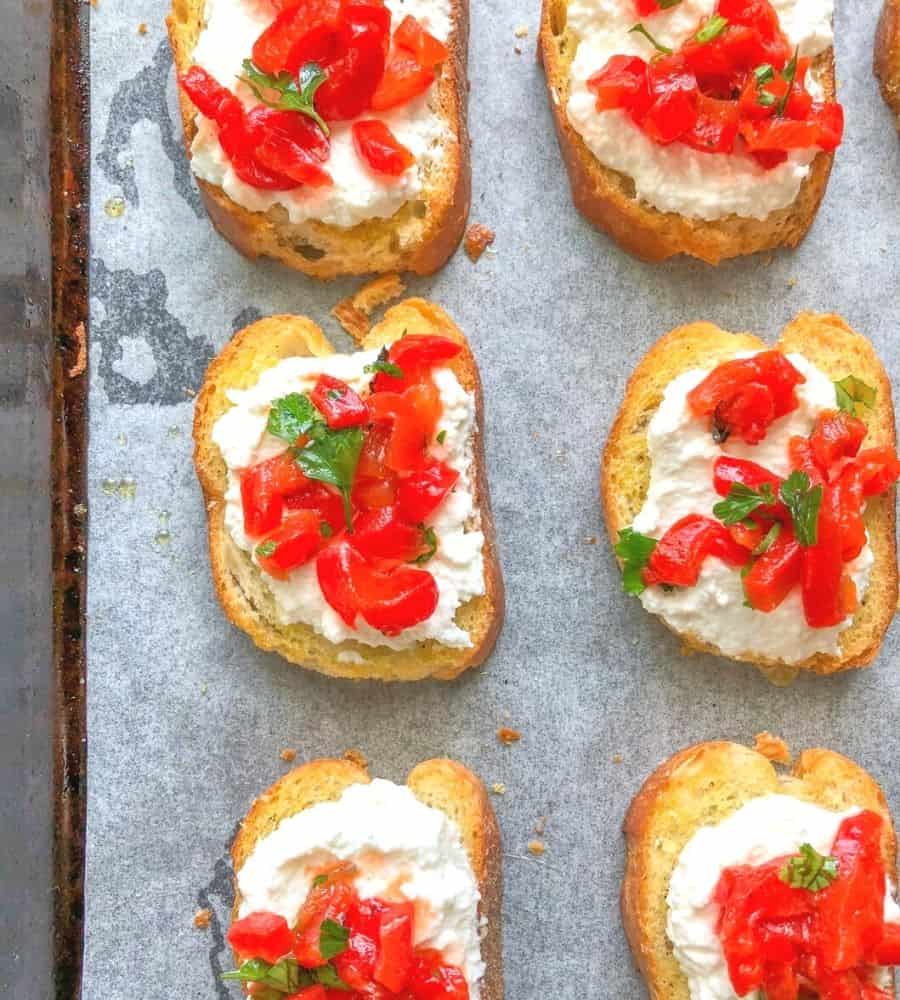 The crostini I made here I left out for 2-3 hours and they were STILL crisp and delicious!
I would also NOT recommend refrigerating your crostini. They will lose their crispness for sure. If you worry that your toppings will go bad, refrigerate them separately THEN top the baked crostini as guests arrive.
OR better yet, make a crostini bar and let your guests top the crostini themselves!
Other Variations
You can whip your ricotta cheese in a food processor to keep it light and fluffy.
Add other fresh herbs like mint or parsley.
Incorporate other vegetables like asparagus or mushrooms.
Add pesto onto your crostini.
Top with lemon zest.
Add cherry tomatoes.
Add sliced prosciutto.
A drizzle of balsamic vinegar adds a delicious tang.
Can I Store Crostini In The Fridge?
When I hear this question, I am assuming we are all wondering how long we can keep baked crostini if we have leftovers.
Bread that has been toasted in the oven THEN sealed in a bag overnight will always turned out tough or rubbery the next day or even hours later.
After a few hours, toss them! Reheating crostini never turns out the same especially the next day.
Freezing them is the next best option but still will not give you that perfectly crisp crostini.
Other appetizers you might like:
Filet Oscar Crostini Appetizer
Leftover Turkey Breast Crostini with Brie and Cranberry Sauce
Creamy Vegetarian Stuffed Mushrooms (with Kale)
EASY Make Ahead Room Temperature Appetizers
---
📖 Recipe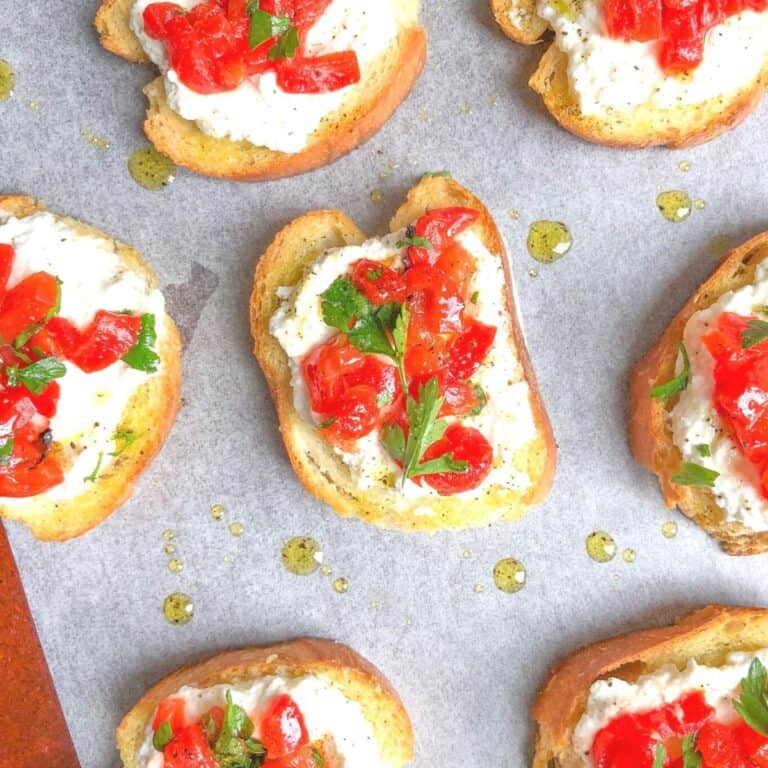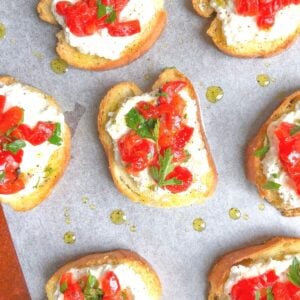 33 Crostini Appetizers To Make For Guests
These Ricotta Cheese Red Pepper Crostini are an easy yet delicious cold appetizer!  They are made with only 5 ingredients and can be made ahead of time so you can spend more time enjoying the party and less time in the kitchen!
Print
Pin
Rate
Ingredients
1

long

Italian baguette

16 oz.

Fresh Ricotta Cheese

1

12 oz.

Jar Roasted Red Peppers

1

Large Garlic Clove

½

Cup

Good Extra Virgin Olive Oil

2

Tbsp.

Chopped Fresh Basil Leaves

¼

Tsp.

Salt

Freshly Cracked Black Pepper
Instructions
Cut your baguette into ½" slices using a GOOD serrated knife. You don't want squished slices!

Lay your slices onto a baking sheet and brush both sides with olive oil. I like to pour the olive oil into a small bowl for this. (Brushing is easier and more effective than drizzling in my opinion.)

Bake at 375°F for 8-9 minutes flipping halfway through. You want your crostini to be lightly browned, not too dark!

In the meantime, chop up your roasted red peppers and peal your garlic clove. And add the salt to your ricotta cheese and set aside.

When the crostini are done, lightly rub the garlic clove onto one side. Do this while still warm! Just a few rubs across each piece are enough.

Add a dollop of ricotta onto each slice followed by a spoonful of the red peppers.

Finish with a few cracks of freshly ground black pepper and a drizzle of olive oil. Garnish with basil.
Recipe Notes
*Yield: About 24 crostini
*You can roast whole red peppers in the oven if you prefer.
*Party Tips*
Crostini are best served within an hour of topping.
This recipe is all about the ingredients so don't buy the cheapest ingredients! Get the best bread, ricotta and olive oil you can find.
Do not refrigerate or pre-bake your crostini the night before. If your planning on preparing this recipe somewhere else, bake your crostini and allow to cool completely before placing in an air tight bag. OR cut the slices ahead of time and pop in the oven when you get there! Then top with the cheese and peppers right before serving.
Nutrition
Calories:
168
kcal
|
Carbohydrates:
3.3
g
|
Protein:
5
g
|
Fat:
15.6
g
|
Saturated Fat:
4.9
g
|
Cholesterol:
21
mg
|
Sodium:
163
mg
|
Fiber:
0.4
g
|
Sugar:
1.5
g