This Easy Shrimp Tempura Appetizer is one of my favorite shrimp appetizers to make. They are surprisingly easy to make since I use a boxed tempura mix and a bottled sauce, but your guests don't have to know! 😉
Love shrimp? Try my Panko Fried Butterfly Shrimp!
This appetizer is one of my absolute favorites. I tried to replicate the same appetizer we had at Morimoto's restaurant here in Philadelphia.
It is my all time favorite restaurant. They serve crispy rock shrimp with this amazing sweet and sour sauce. And the endive leaves are the "vessel" you use to scoop up the delicious shrimp.
They make a fancy appetizer or hor d'oeuvres that people will enjoy because of how unique it is. Check out my other delicious seafood finger foods to serve at your next party!
Making Your Shrimp Tempura Batter
Shrimp tempura doesn't have to be complicated. If you want to make your own homemade tempura batter you can.
However I have found it can be tricky to get just right. You need to keep your batter super cold and it has to be the right consistency.
Using a boxed tempura mix simplifies things especially when your expecting company. All you need to do is add ice water to your mix and it results in perfectly crispy and light tempura shrimp EVERY time!
Who cares if it's not from scratch.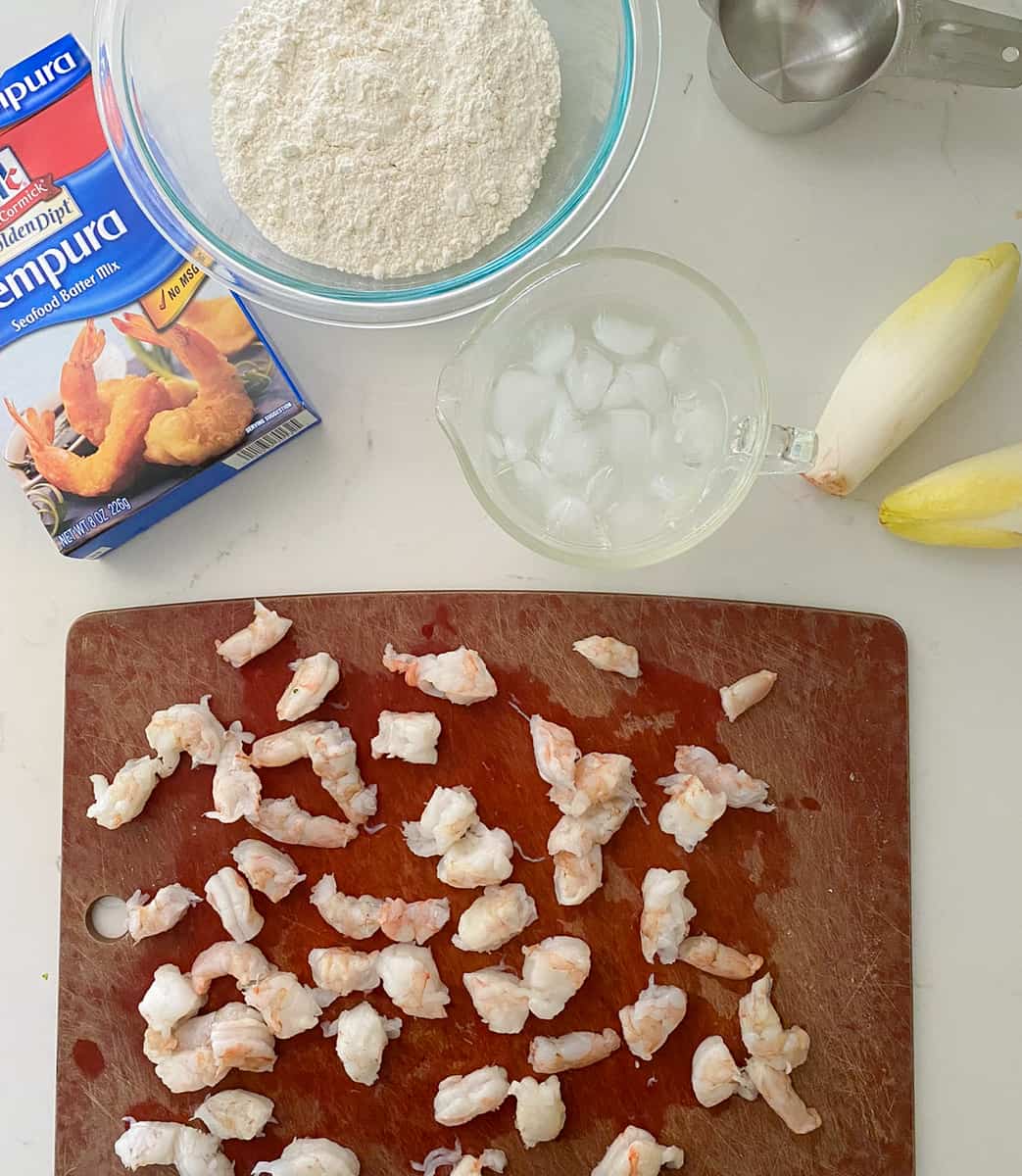 There are a few different tempura mixes my food store sells. I like this one here because it comes in a small box and I use the entire thing, which is 8 oz., for this recipe.
You can find it in the seafood section by the old bay seasoning. Some brands may also be found in the Asian or international foods aisle.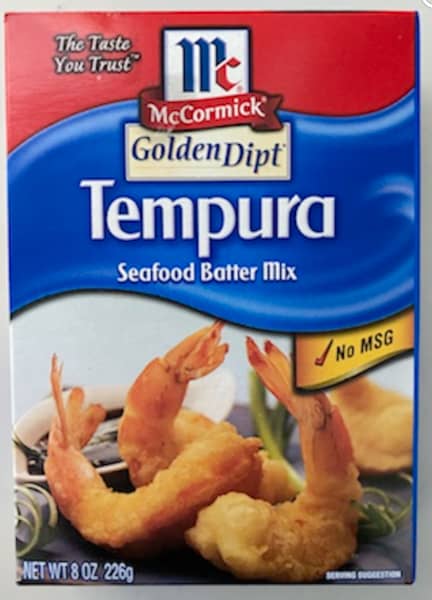 The Sweet Chili Sauce
The tempura sauce I used for this recipe is a combination of sweet chili sauce and soy sauce. It is simple but delicious.
To make this recipe as easy as possible, I chose to use a store-bought bottle of sweet chili sauce. There are a few different varieties out there so grab whichever one you like!
Most sweet chili sauces are not too spicy and have just the right amount of sweetness. Adding soy sauce to it adds some umami flavor which balances out the sweetness well.
If you like your food HOT, add some Sriracha sauce to your chili sauce mixture before tossing in the shrimp! Also, don't leave out the fresh chives or scallions! They add onion flavor which goes well with shrimp.
Here are 3 other popular shrimp sauces to dip into!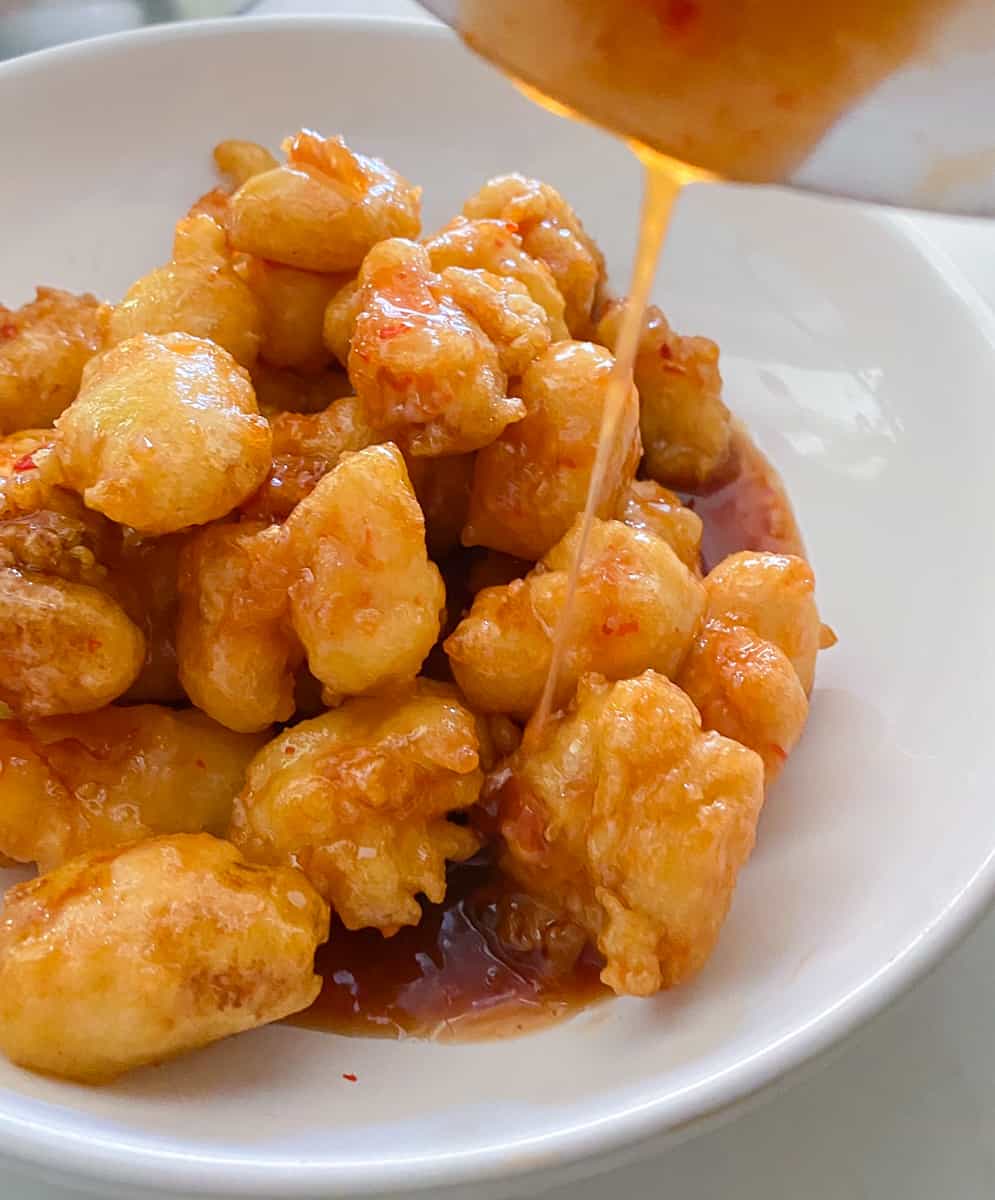 Love sweet and spicy shrimp? Try me Dynamite Shrimp Tempura (w/ Sriracha Aioli)
Serve Inside Endive Leaves
Endive leaves are a green leafy veggie shaped like little canoe boats. Their shape makes them the perfect vessel to serve food in! They are crispy, crunchy and a little bitter. They can be found in any produce section by the lettuce.
I first had endives at a famous Asian restaurant near me. They were served alongside a similar type of shrimp tempura appetizer and I fell in love. They are just so unique and super fun to fill and eat!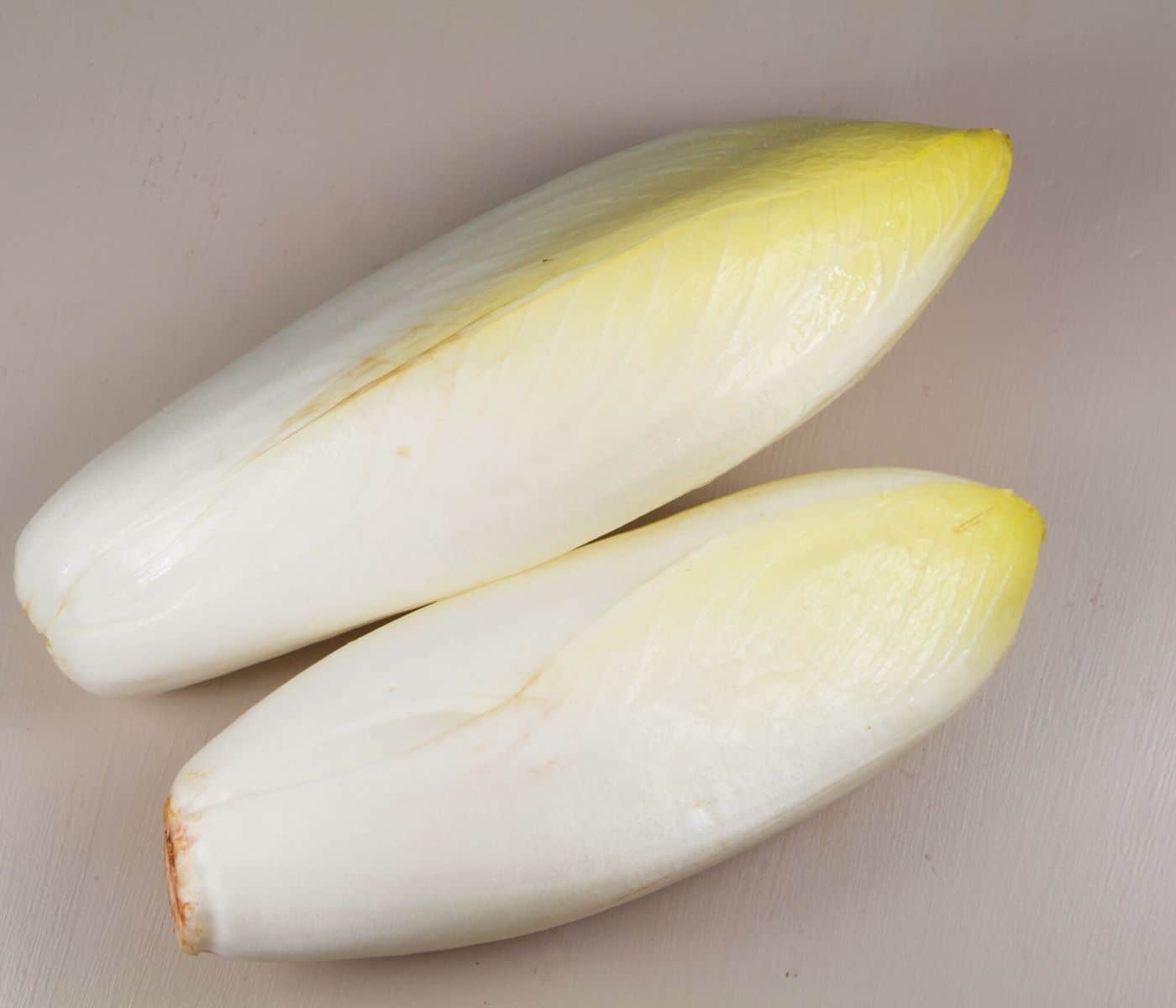 Here are some endive tips:
Endive leaves are not flat on the bottom so your boats may not lay flat after stuffing. If you want to serve them pre-filled, I suggest laying some romaine lettuce leaves on the bottom of a plate to act as anchors. They will help hold your endive boats in place!
You can also try trimming off the bottom of your leaves to make a flat surface!
Another awesome serving option if your boats are not holding up is to serve the leaves over crushed ice! The boats will stay cold and the ice will help to hold them upright!
If you simply don't like endive or you can't find endive heads, you can substitute with one of these. They wont have the same crunch bit they will work!
Bibb lettuce
Boston lettuce
Romaine lettuce* (I recommend this since it is cheaper and crunchier. Just make sure to trim the leafy end so you can use the bottom white ends as they are sturdier!)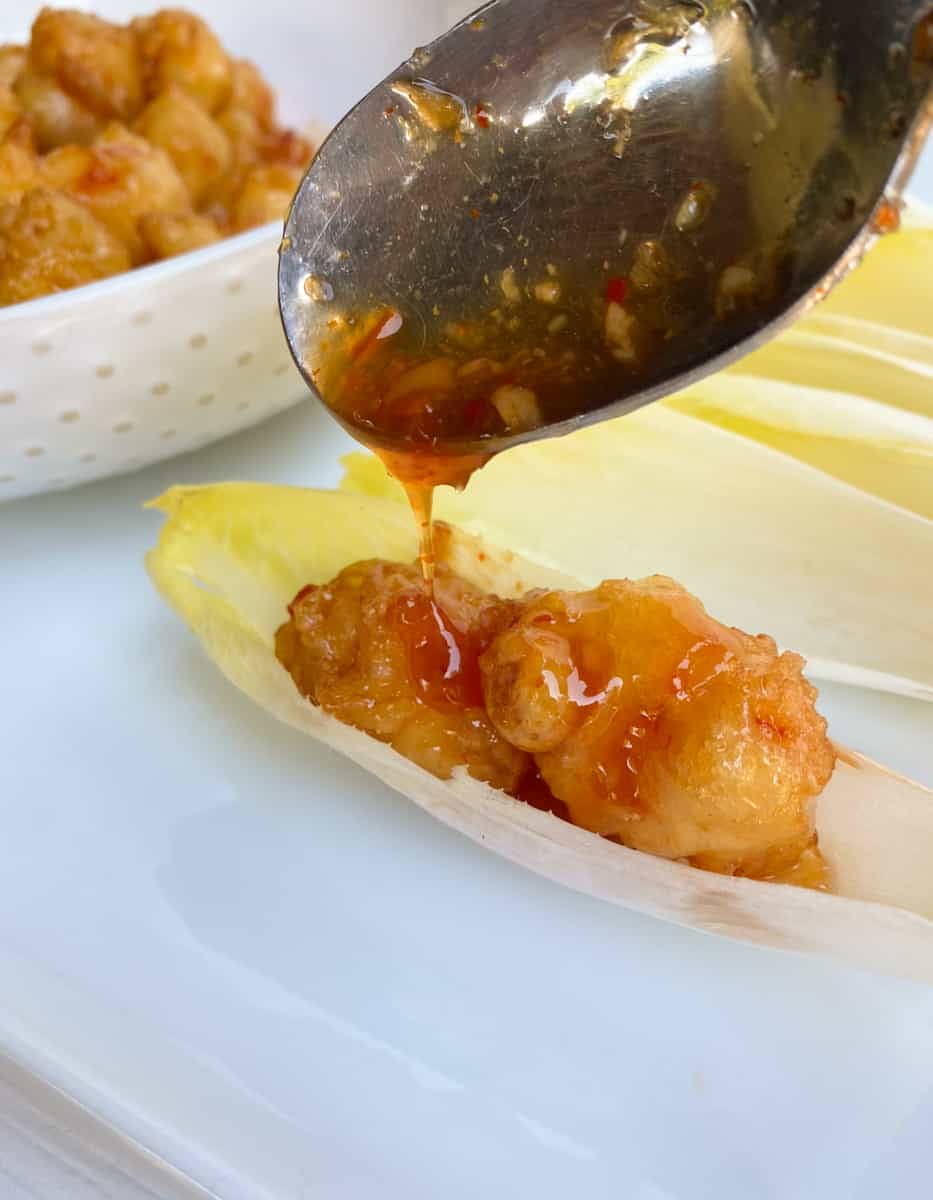 Tips for frying your shrimp
Make sure your oil stays at about 350 degrees F. Use a thermometer!
Don't overcrowd your pan.
Shake off any excess batter.
Fry your shrimp in smaller batches.
Using a wider pan to fry will allow you to add more shrimp at a time.
Use canola, vegetable or peanut oil for frying.
The internal temperature of shrimp should be 145 degrees F.
Don't forget to check out these 73 Shrimp Appetizer Ideas!
How to make these in advance
If you are expecting company or throwing a party and want to do this ahead of time, you can! The shrimp will not be AS crispy as they were when they came out of your fryer but they will still be tasty.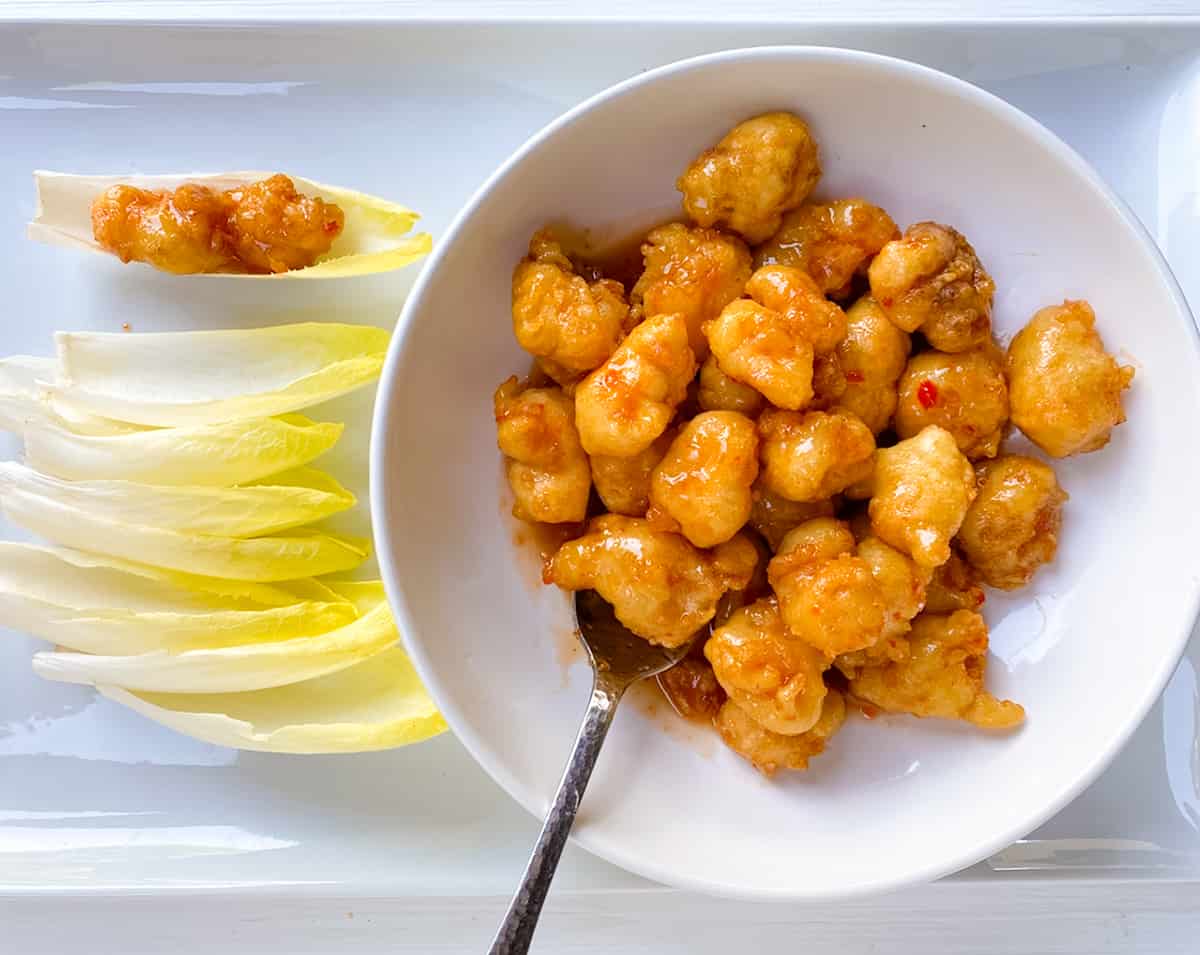 To prevent them from getting overly soggy, fry your shrimp a few hours before guests are expected to arrive. Then keep them in the fridge in an open container so you do not trap moisture in.
Then, when your ready to serve, place your shrimp in the oven at 400-425 degrees F on a rack. This will allow them to warm up and get crispy again. Using rack will help the bottom get even crispier!
Then toss in your sauce and serve.
Here are other shrimp appetizers you may like:
Avocado Shrimp Cucumber Appetizer
📽 If you love entertaining at home, subscribe to my YouTube channel!!
📖 Recipe
Shrimp Tempura Boats with Sweet Chili Sauce
This Easy Shrimp Tempura Appetizer is one of my favorite appetizers to make. They are surprisingly easy to make since I use a boxed tempura mix and a bottled sauce, but your guests don't have to know!
Print
Pin
Rate
Ingredients
1

lb.

Shrimp, peeled and de-veined

1

8 oz

Boxed tempura batter + water

((1 cup))

Oil for frying

2-3

Endive heads, trimmed and separated
Sweet Chili Sauce
1

cup

Sweet chili sauce

2

tablespoon

soy sauce

1

tablespoon

Chives, finely chopped
Instructions
Add your chili sauce, soy sauce and chives to a bowl and mix. Set aside.

Pat your shrimp dry with a paper towel and then season both sides WELL with salt and pepper.

Add 8 oz. (1 cup) of tempura mix to a medium bowl and add your water. Read your box to see how much. The batter should be thick.*TIP* Add ice to your water so it gets nice and cold. Then strain the ice before you add it into your batter. This will make your batter extra airy and crispy.

Heat oil to 350°F in a saucepan or wok. Add enough oil to cover your shrimp, about 2-3" high.

Add all your seasoned shrimp to your tempura batter and coat thoroughly. Using a fork, add 4-6 at a time (depending how large your pot is), making sure excess batter drips off before frying. Separate them quickly with your fork so they do not stick together. Don't add too many at once!

Shrimp will take around 2-3 few minutes to fry. Flip them over halfway through making sure they are evenly browned.

Using a slotted spoon or spider, drain shrimp on a paper towels to absorb the oil while keeping them crispy.

Cut your shrimp into small bite size pieces when they cool a bit. Then add them to a large bowl. Toss them in your chili sauce and serve with °endive leaves.
Recipe Notes
Fry the shrimp in small batches. Crowding your pan too much will bring the oil temp down and cause your shrimp to absorb more oil.
Use a candy thermometer to make sure your oil stays around 350F.
You can heat your sauce up in the microwave before adding it to your shrimp if your shrimp are cold!
If you do not have endive leaves on hand, you can use:
Bibb lettuce
Boston lettuce
Romaine lettuce* (I recommend this since it is cheaper and crunchier. Just make sure to trim the leafy end so you can use the bottom white ends as they are sturdier!)
Nutrition
Calories:
269
kcal
|
Carbohydrates:
22
g
|
Protein:
16
g
|
Fat:
13
g
|
Saturated Fat:
1
g
|
Polyunsaturated Fat:
4
g
|
Monounsaturated Fat:
8
g
|
Trans Fat:
0.1
g
|
Cholesterol:
122
mg
|
Sodium:
851
mg
|
Potassium:
251
mg
|
Fiber:
1
g
|
Sugar:
20
g
|
Vitamin A:
27
IU
|
Vitamin C:
1
mg
|
Calcium:
53
mg
|
Iron:
1
mg