Today I'm sharing the BEST Mexican Party Ideas for your next fiesta! These fun and festive party tips and tricks will ensure your guests will have a good time at your party while enjoying themselves and the fun atmosphere you've created.
Find out what food and drinks to serve, how to decorate, and even get some game ideas and activity suggestions to play so you can throw a party that is "Muy Bueno!'
Mexican Fiesta Themed Party Ideas
Fun fact about me, my husband and I were actually married in Mexico, so I am always down for a Mexican themed celebration. Delicious food, yummy drinks, and a fun, vibrant atmosphere? Count me in!!
Here you'll find everything you need in order to throw the BEST fiesta around. Whether it's Cinco de Mayo, Taco Tuesday, or you're just looking for a fun adult birthday party theme, you'll find it all in this post.
There's everything from invitations to party games and everything in between! Be sure to make yourself a margarita while you're reading this post so you can really get into the fiesta spirit 😉
Invitations
When inviting guests, I always prefer to mail paper invitations. A lot of events are scheduled through text or email nowadays, so a paper invite shows a little more attention to detail that friends and family will love!
I suggest finding an invitation with bright, bold colors so guests know what to expect when they show up. Companies such as Zazzle and even Punchbowl (for inexpensive evites) have great pre-made invitations you can order, or send via email. Or search Etsy (my favorite) for ones you can easily customize and print at home.
Check out this festive Mexican Party Invite From Etsy. (Pictured below.)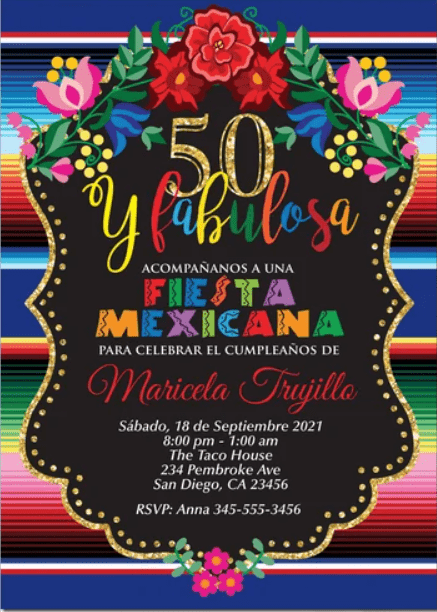 💡Pro Tip! When typing up your invitations be sure to include any relevant information such as dress code, whether it's a surprise or not, or even if kids are allowed to minimize the amount of people contacting you with questions.
Must Have Food At A Mexican Party
One of the most important elements of any party is always the food! As a food blogger, creating the menu is always my favorite part of party planning. I love to come up with unique twists on traditional dishes in order to make them a bit more finger food friendly.
Here are popular Mexican food to serve:
Appetizers:
These yummy finger foods set the tone of your party, so be sure to start it off right! Get your fiesta off to a good start with any one of these excellent appetizers!
Main Dishes:
Now onto the "main" event, your entrees! I think that serving food buffet style is best for larger parties, but if you're having a smaller get together feel free to serve these dishes more family style.
Desserts:
The best way to end the night! Here's a list of authentic Mexican desserts that are perfect for your gathering:
Drinks To Serve
What's a fiesta without a little something to drink? Whether you want to serve an authentic margarit, a warm horchata, or this spicy avocado margarita, there's something on this list for everyone!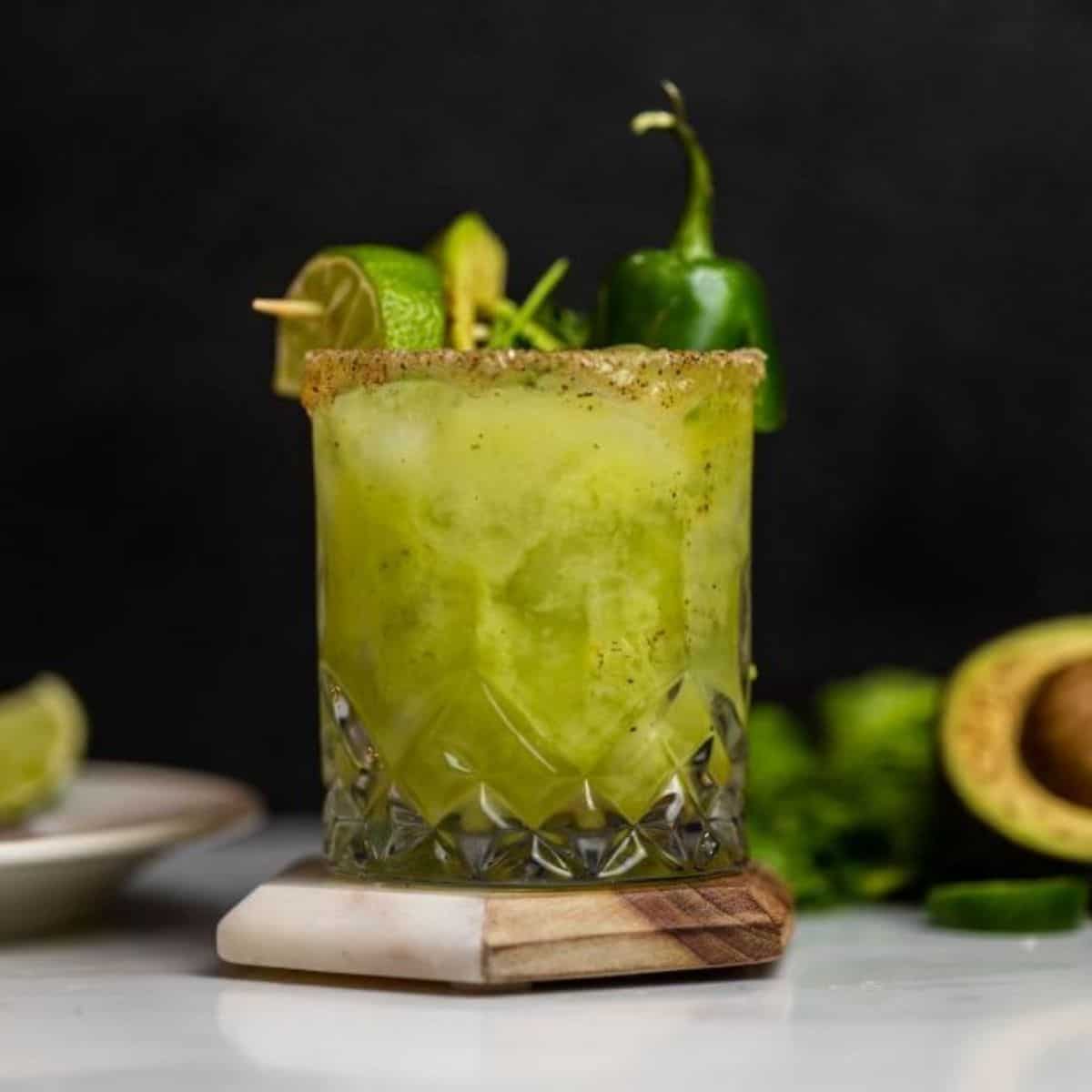 Alcoholic:
Margarita- what kind of party would it be without a classic margarita? This traditional drink is popular for a reason, so you'll probably want to make it in a pitcher so you don't run out!
Mezcal- similar to tequila, mezcal is made from any type of agave plant. This is best served neat and at room temperature.
Paloma- if you want tequila, but aren't looking to drink it in shot form then this is the drink for you. A paloma is a Mexican classic made from grapefruit juice, club soda, sugar, lime, and a hint of tequila.
Mexican wine- if you're going for a more upscale party, then wine may be the way to go! There's tons of delicious reds and whites that will be wonderful at any gathering. Casa Madero, El Cielo, and LA Cetto are all popular wines you should be able to find in the U.S.
Mexican Candy Shot- this is a fun take on sweet and spicy flavors.
Mexican Party Decoration Ideas
When I think of Mexico, I picture good food, strong family bonds, and bright, vibrant colors! Since we've already checked the first two items off our party planning list, it's time to move onto creating a fun, vibrant atmosphere right in your own home.
Below you'll find a list of decorations that can help create the atmosphere of a bold, fun Mexican party without breaking the bank:
Balloons: Pro Tip! Use bright colors like hot pink, turquoise, orange, red, yellow, and purple
Paper banners
Florals: Most grocery stores carry $5 bundles
Streamers
Keep colors bold and bright
Use colorful cake stands and platters to serve food
Time To Boogie- Here's Some Songs For Your Playlist
What's a fiesta without a little music? Whether you're ready to get down on the dance floor or just want a little background tunes for ambience, here's some must listen to songs:
Mexican Hat Dance
La Bamba
La Tequilera
Mambo No. 5
Mayonesa
Senorita
Remember Me
South of the Border
Tijuana Taxi
Spanish Harlem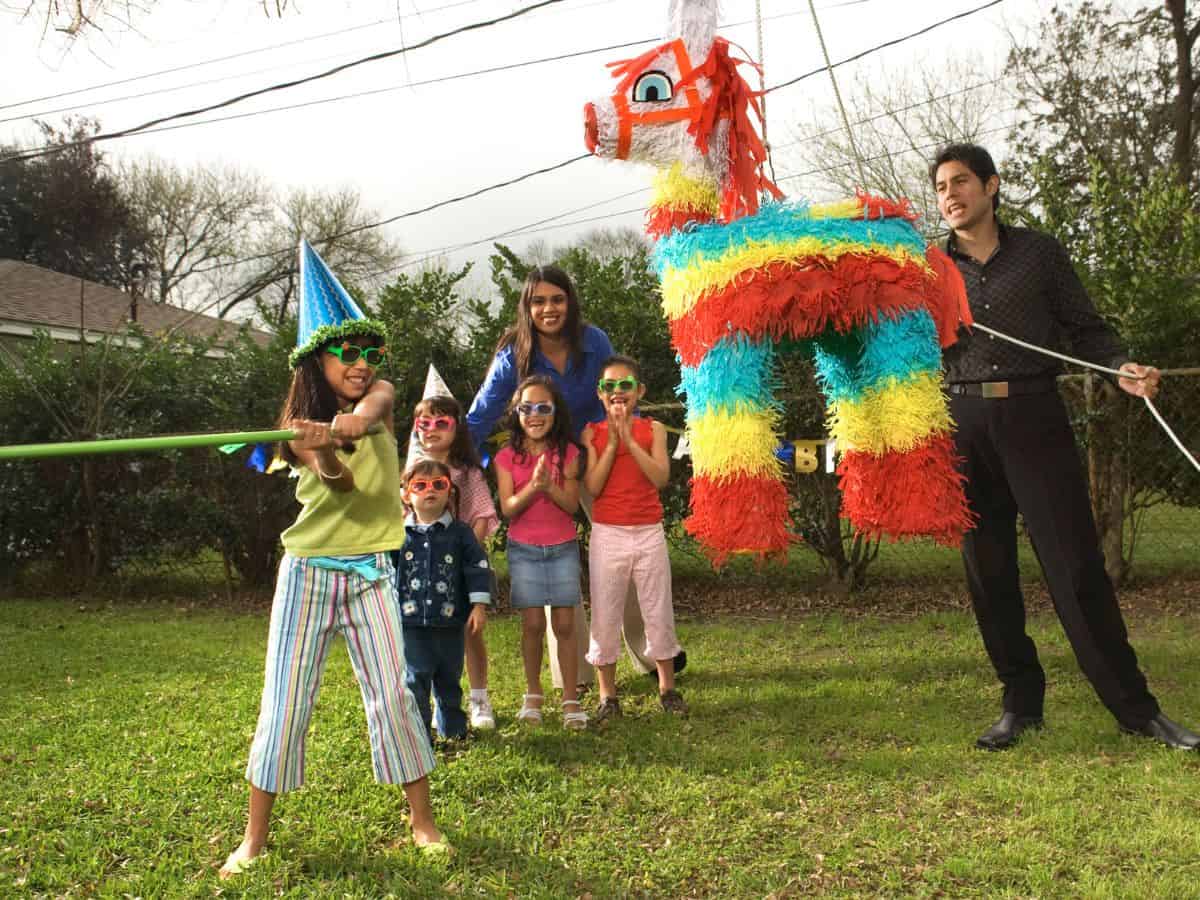 Keep Them Entertained- Games And Activities
When throwing a party, you always want to keep your guests entertained! Below you'll find a list of games and activities that will have friends and family talking about your party for weeks!
Mexican train dominos: This is a great game to play at a smaller gathering. It's easy to learn, fun to play, and sure to get the competitive spirit flowing!
Chili pepper contest: Fair warning, this is NOT for the faint of heart. Only willing adults who know what they're getting into should play. Find a variety of chili peppers with varying degrees of heat and see who can eat the hottest one- be sure to have milk on standby!
Pinata: Pinatas are a Mexican party tradition for obvious reasons. It's fun, brings the family together and kids love it! (Tip* Fill it with lottery tickets, mini bottles of alcohol, or even nostalgic candy for an adults only pinata!)
Taco trivia: Etsy has tons of printable templates you can purchase for a fun, competitive, Mexican themed trivia night
Musical chairs: Put that playlist to work and play a round of musical chairs! (this is even more fun once everyone's had a margarita or two!)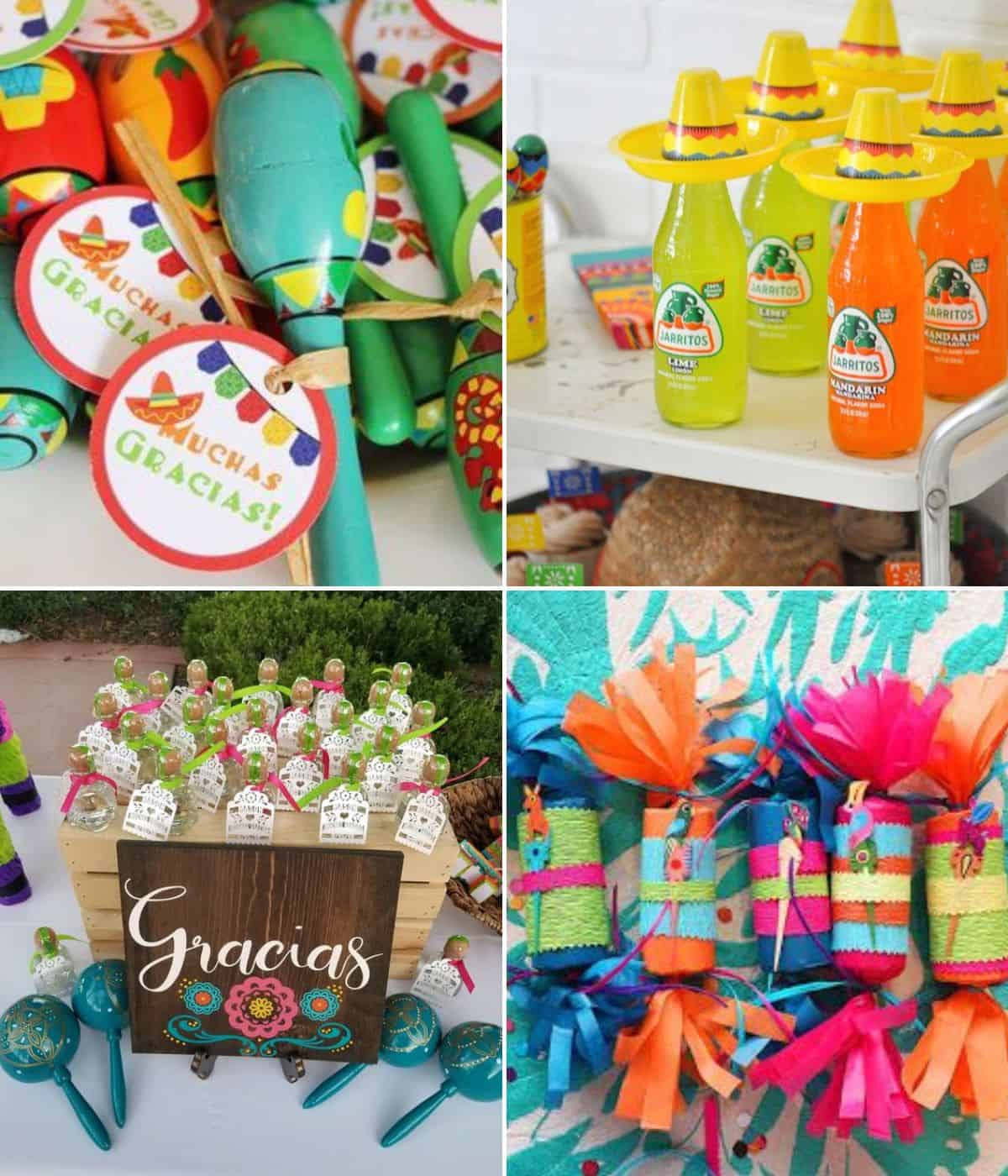 Mexican Party Favor Ideas
There is no rule that you have to give your guests a party favor, so don't feel bad for skipping them! However, if you decide that you want to, here's a few easy ideas:
Mini bottles of tequila- wrap with a cute ribbon and a note saying "Gracias!"
Royal icing cookies: These cactus cookies are so cute! I suggest keeping with the theme of the night and having them decorated to look like cacti, tacos, or even a maraca
Small bottles of tabasco: Even cuter with a tag that reads, "Thanks for spicing up the party!"
Goodie bag: Fill little bags with Mexican candy
Mini pinatas: Your guests can take the fun to go!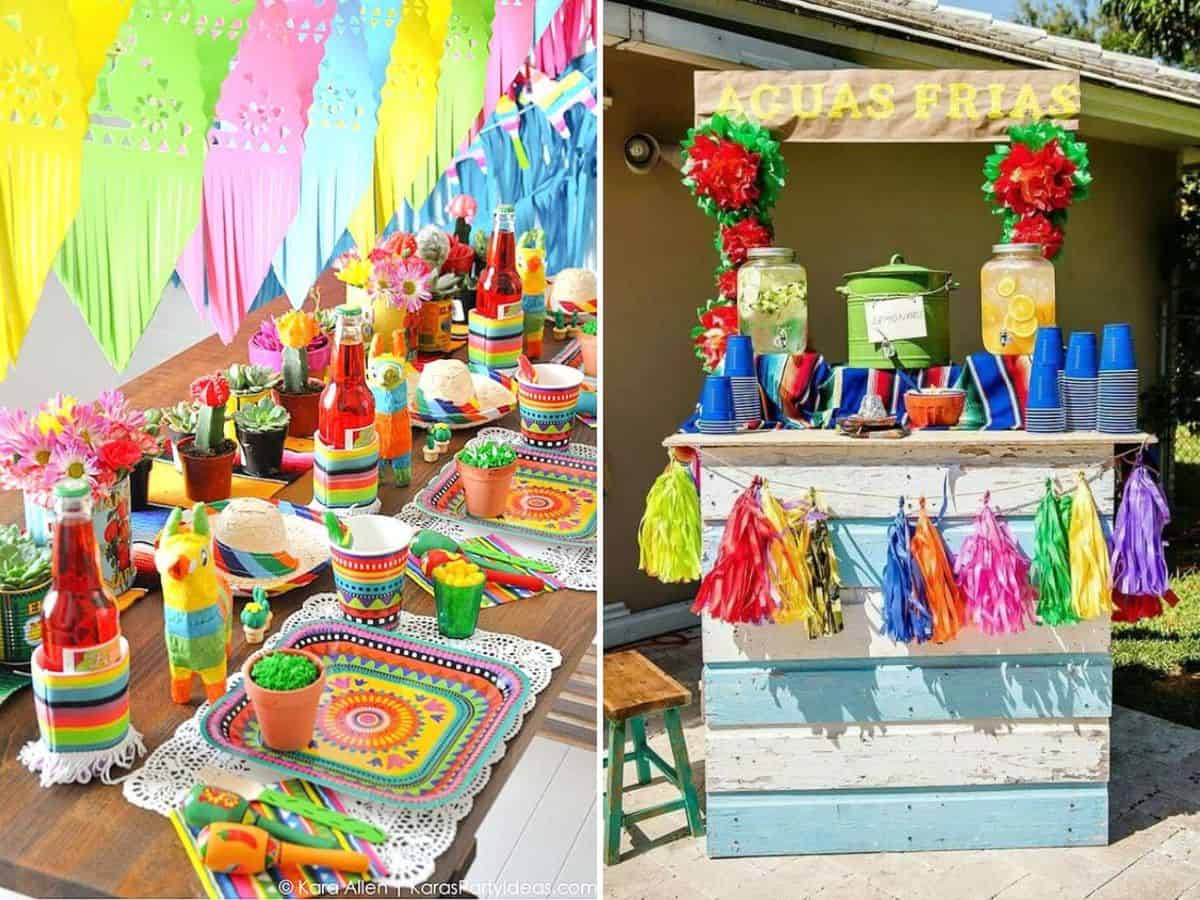 Final Tips For Throwing The Best Mexican Party
Ask for help: there's no need to stress yourself out when you've got family and friends willing to help. Ask a few to come an hour early to help with any last minute details
Use paper products: By using paper products you'll save yourself a lot of time with clean up since you won't be doing nearly as many dishes
Go for store bought: Just because you're throwing the party does NOT mean you have to make everything from scratch. Once you make your menu, see what you can order from a store to save time and take some stress off your plate
Throw your fiesta outside: Set up some tables and chairs outside, string up some lights, and light a few candles and you've got a cozy atmosphere your party
DO NOT STRESS: This is my final and most important tip! There is absolutely no need to stress yourself out over a party that's supposed to be fun, enjoyable, and relaxing. If something doesn't get done, guess what- your guests won't even know! They'll just be happy to be enjoying the evening out with some good food, good drinks, and good friends.
5 Easy Adult Party Games Without Boards
How To Host A Blind Wine Tasting