Ditch the expensive winery and invite your friends to a Wine Tasting Party at your house instead! It is an easy, budget-friendly way to sample a limitless amount of wine while laughing with friends in the comfort of your own home.
Below I will share my tips for throwing the best wine tasting party as well as some tasty appetizers to pair with all that wine! The best part is, no sommelier is needed.
Now let's get pouring!!
If you want to make your wine tasting party even more fun, turn it into a theme party!!
Steps For Hosting A Wine Tasting At Home
1. Keep The Guest List Small
Make sure to keep your wine tasting party SMALL. You don't want everyone's conversation taking away from why you are all there. This type of gathering is more of an intimite get-together than a 'get-drunk banger'. You want everyone to focus on the WINE. I would keep it to less than 12 guests MAX.
This may seem obvious but make sure to invite guests who actually enjoy drinking wine. They do not have to be a wine connoisseur either!
Keep kids home for this one. Kindly ask your friends to find a sitter so everyone can enjoy the wine without needing to worry about spilling or screaming kids.
2. Choose A Good Selection of Wine
This is the most important part of your party so plan to do a little research. (Which I assume you are which is why you're reading this!) 🙂
I know my girlfriends like a variety of wines from white to red to sweet to dry. So when choosing which wines to taste, you have TWO options.
Go to your local wine store and ask for help! Find someone knowledeable to help you choose 6-10 different bottles of wine. Ask them to include everything from a sweet rose to a dry merlot and everything in between. Ask them to also include wines from different regions of the country AND world. California, France, Spain, Australia and Italy produce some of the best wines around so make sure to include one from each country. Ask them to throw in wines that are all different prices too!

Ask your friends to BYOW!

Ask your friends to each bring one or two of either their favorite wine OR wines they want to try! This is a great way to make sure everyone has something they like while not needing to worry about the cost!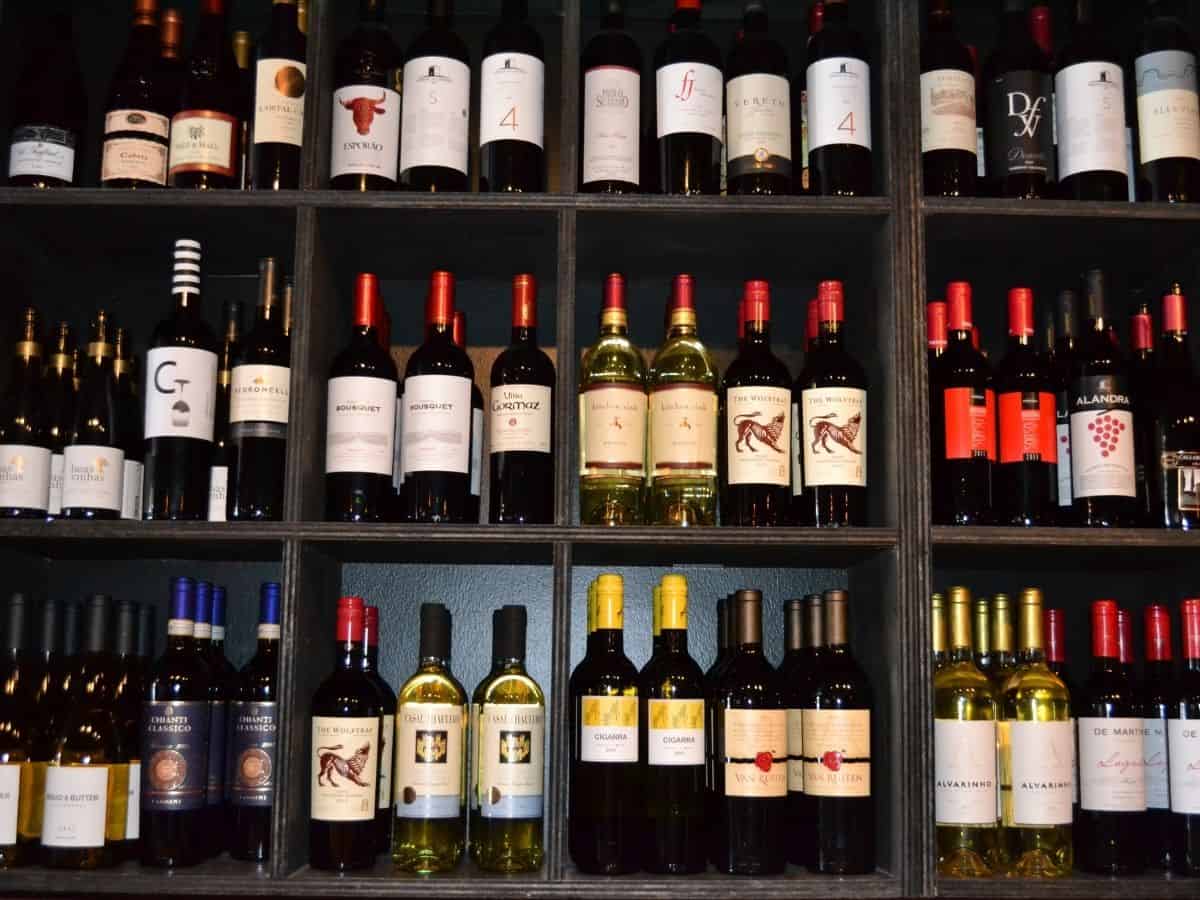 Popular Wines
Chardonnay
Rose
Airén
Riesling
Tempranillo
Pinot Grigio
Sauvignon Blanc
Cabernet Sauvignon
Pinot Noir
Syrah
Zinfandel
Popular Inexpensive Wine Brands
Beringer- What I like to use in my white wine spritzer!
Bogle
Chateau Ste. Michelle
Kendall Jackson
Foxglove Central Coast
Rancho Zabaco
Robert Mondavi
Rodney Strong
Josh
Concha y Toro
Santa Rita
Louis Jadot
Alamos
3. Expand Your Wine Knowledge
What the heck are tannins?
Do some research prior and jot down some things about how to taste wine and properly develop your palate.
Talk about how wines can have notes of spices, figs, blackberries, cherries, cranberries, figs, plums, raisins, raspberries, apricots, bananas, citrus, kiwis or pineapples. They can also be more floral.
Some wines can be more acidic, bitter or sweet than others.
If you know what wines your tasting, research that wine in advance and write down what flavors and notes that wine offers.
Make sure to include some wines from different geographical locations and regions so you can talk about how they play a role in the taste of wine.
Try tasting a singular type of wine from different regions and compare the differences.
If you love podcasts, you have to check out the Wine For Normal People podcast. Their tagline is, "For people who like wine but not the snobbery that goes with it". Listen to an episode or ask your friends to each listen to a different episode on their way over and share a few things they learned!
4. Chill Your Wine
Rose and white wines are supposed to be chilled so have friends bring a few ice buckets OR purchases these wine bottle chillers. Make sure you have your friends chill their bottle BEFORE they arrive to keep things easier for you.
5. Purchase Enough Wine Glasses
Okay let's talk glasses. I am a bit of a wine glass snob but before you click back on your browser, hear me out.
What makes drinking wine more enjoyable? A plastic no stemmed cup or a large goblet with a long skinny stem? I'm betting it's the goblet.
So if your budget allows, look for enough wine glasses for everyone. Don't serve the wine in plastic cups. It's tacky. If you're going out of your way to throw a fabulous wine tasting party, make it worthwhile!
6. Choose The Right Music
Music can make or break a party so make sure to choose the right kind that will set the tone. If you're going for more of a sophisticated party, choose a pre-selected playlist from Spotify.
The "Wine Tasting Jazz" playlist is very sophisticated and will make your guests feel extra bougy while the "Napa Valley Wine Country" playlist is more laidback and fun which includes songs about wine. (Cue Red, Red Wine)
7. Conceal The Wine
If you are making this a BLIND wine tasting party, which I highly suggest, you will need to conceal the bottles in some way so guests are not swayed or biased because of labels.
Covering up just the label may not be enough to conceal them from those who can spot their favorite wines from a mile away. So instead, purchase burlap bags or brown paper bags to store your bottles in.
Don't forget to number them with a black sharpie or purchase number tags so your guests know which bottle they are trying. This is very important!
8. Take The Lead!
You are the host of the party so make sure to take the lead.
Have everything set up before your guests arrive so they know what to expect.
Set out glasses with wine charms, spittoon bucket, ice buckets, water, wine openers, paper/pencils, wine labels, wine bags, snacks.
Have the music playing softly in the background.
Set out some food that pairs well with wine. Keep it warm in a chafing dish to make things easy.
Be ready to open the bottles right away to allow them to aerate a bit before.
Share some things you learned about wine tasting including what to look out for and how to properly taste wine including the sniff and swirl (or is it swirl and sniff?)
Ask your guests to share what they know about tasting and the wines they brought (if you did a BYO).
If you supplied the wines, add notes about each wine below it. This will allow your guests to know what notes or flavors to look out for.
How To Start Your Wine Tasting
Once you're ready to start the wine tasting, YOU be the one to pour the wines. Plan on pouring 2-3 oz. per tasting. If you have more wine to go through, maybe pour a bit less.

Allow about 5 minutes between each tasting to give everyone enough time to taste, take notes and discuss it. Move onto the next wine until all have been tasted.

When everyone is finished, discuss everyones notes and favorites before finally revealing the wines!
Decide if the more expensive wines are really worth their price tag or if it's better to go with an less expensive bottle.
Then allow everyone to have more of whichever wine they liked best!
Stock Up On The Right Supplies!
Make sure to have the following on hand to make sure your guests are wine tasting properly! These items are not a must but will make the experience 100x better!
A spittoon/dump bucket- this is to ensure your guests have someone to dispose of the wine they may not like. This could be an ice bucket or an actual spittoon! This makes it less "nasty" since the contents are nicely concealed.
Brown paper or wine bags- this is if you are having a blind wine tasting! Place each bottle inside a bag and keep it on so no one will have a preconceived notion of the wine before they taste it.
Wine charms- If using stemmed wine glasses, have everyone add a charm so no one confuses which wine glass is theirs! It's a super cheap way to keep things organized and you're guests will be so appreciative later on.
Pens and paper- Give guests a small peice of paper and a pencil to jot down which number wines they like best.
Number tags- These are adorable and pair well with the wine bags I linked to above! It allows your guests to write down the number wine bottle they liked most.
Corkscrew- Get a few corkscrews or even better get yourself an electric wine opener to make things MUCH easier and quicker.
Wine pourers- These help to aerate the wine better.
Water pitcher- have a pitcher of water nearby and keep it filled throughout the party!
Palate Cleansers
Palate cleansers are a neutral flavored food served between meals, or in this case, tastings, that will allow your guests to taste each wine better.
Some palate cleansers to serve between wine tasting are:
Sorbet
Crackers or bread
Fruit
Vegetables
Fresh herbs
Water
Appetizers That Pair Well With Wine:
Goat Cheese & Fig Jam Crostini w/ Caramelized Onions
The Ultimate Greek Meze Platter
Phyllo Cups With Roasted Peppers & Burrata Cheese
Final Home Wine Tasting Tips
Remember that when hosting a wine tasting party at home, it can be both educational AND fun! There are no rules to wine tasting so don't stress if someone comes late to the tasting or if it goes longer than you planned.
The idea is to have fun and allow everyone the opportunity to find a new wine they may not have found on their own.
Check out my other parties!
Graduation Party Food Ideas For A Crowd in 2021