It's time to kick up your charcuterie board game people! I am going to show you how to make those adorably easy but fancy Salami Roses at home to impress your guests at your next party or get-together!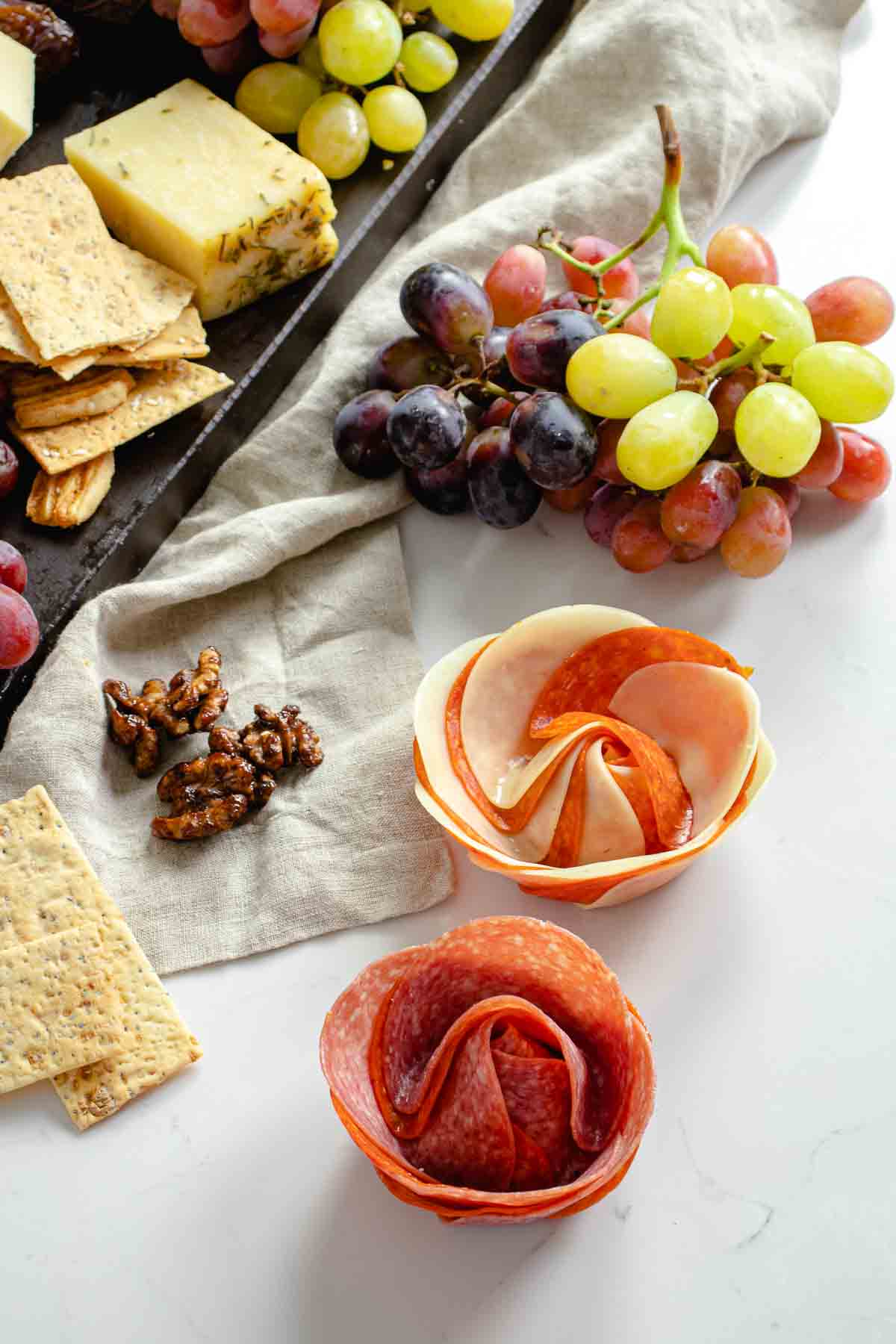 The TikTok salami rose trend went viral after people realized how amazingly EASY they are to make leaving us all thinking..."Well why couldn't I think of that?!" They are an elegant way to amp up your next grazing board with minimal effort.
If you love assembling unique charcuterie boards, check out my Greek Charcuterie Board for a fun mediterranean twist, my Spring board and don't forget about my JAR-Cuterie cups -> These are individually served!!
Now, let's grab two wine glasses...one for filling and one for our roses! 😉
How many salami slices does it take to make a rose?
This depends on the SIZE of the glass you're using to fold your rose. Wider glasses may need anywhere from 16-24 slices while narrow glasses may only need 10-16!
🧀The Best Salami To Use For Roses
There are many different types of salami out there! I prefer to use regular sized genoa salami sliced thin!
SOPRESSATA
CHORIZO
PEPPERED 
FELINO 
All are great options. Just make sure they are wide and thin enough to fold over a glass!
🌹What You Need To Make Salami Roses?
All you need is a couple items!
A glass with a narrow opening- I suggest using either a white wine glass, champagne flute or even a shot glass!
Round thinly sliced salami- The best way to form the flower shape is to use ROUND thinly sliced salami.
*Round cookie cutter- *Optional but helpful! This is to cut any larger salami down so your "petals" are the same size.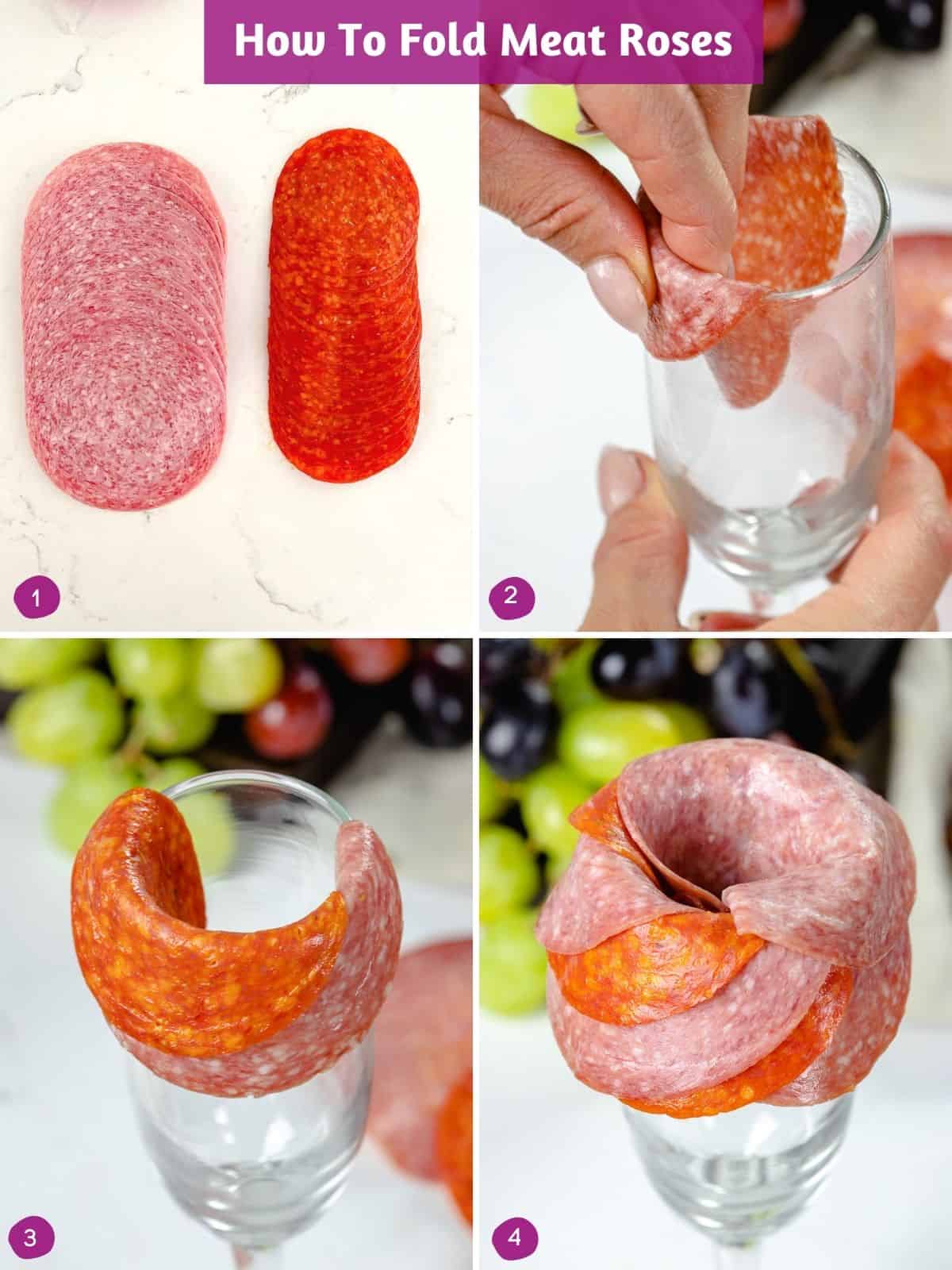 📃How To Fold A Salami Rose
Step 1: Grab A Glass!
Don't grab just ANY glass. You ideally want one that is more narrow of an opening. A standard 8 oz. cup won't work the same.
Champagne Flute or Shot Glass
Both are great options to make the perfect salami rose and something every has at home.
Step 2: Start Your First Salami Layer
Start by folding a slice of meat over the edge of your glass. Aim to have half on the inside and half hanging on the outside of the glass. The diameter of your glass will determine the number of salami slices. You want your slices to slighty overlap.
Step 3: Add Second Salami Layer
Add another layer of sliced salami to the glass overlapping the seam of the previous slice.
Step 4: Repeat With Third/Fourth Salami Layer
Repeat layering the salami making sure that the slices are overlapping just slightly DEEPER in the glass than the previous layer. Repeat until the center opening is closed and cannot be filled anymore.
Step 5: Invert Your Rose!
Time to reveal our salami rose! Turn glass upside down onto a charcuterie board or wherever you plan on serving it and lift the glass to expose a gorgeous rose!
The Best Meats To Use For Roses
Any round, firm, cured meats are recommended. Salami can be used for a salami rose or pepperoni for a pepperoni rose. You can even mix them up and do a meat/cheese combo like I did here!
Proscuitto isn't study enough to hold up on its own so I would fold the proscuitto normally on your charcuterie board.
Another option to bring some depth to your board is to fold smaller meats like mini pepperoni to create cute, mini roses if you like.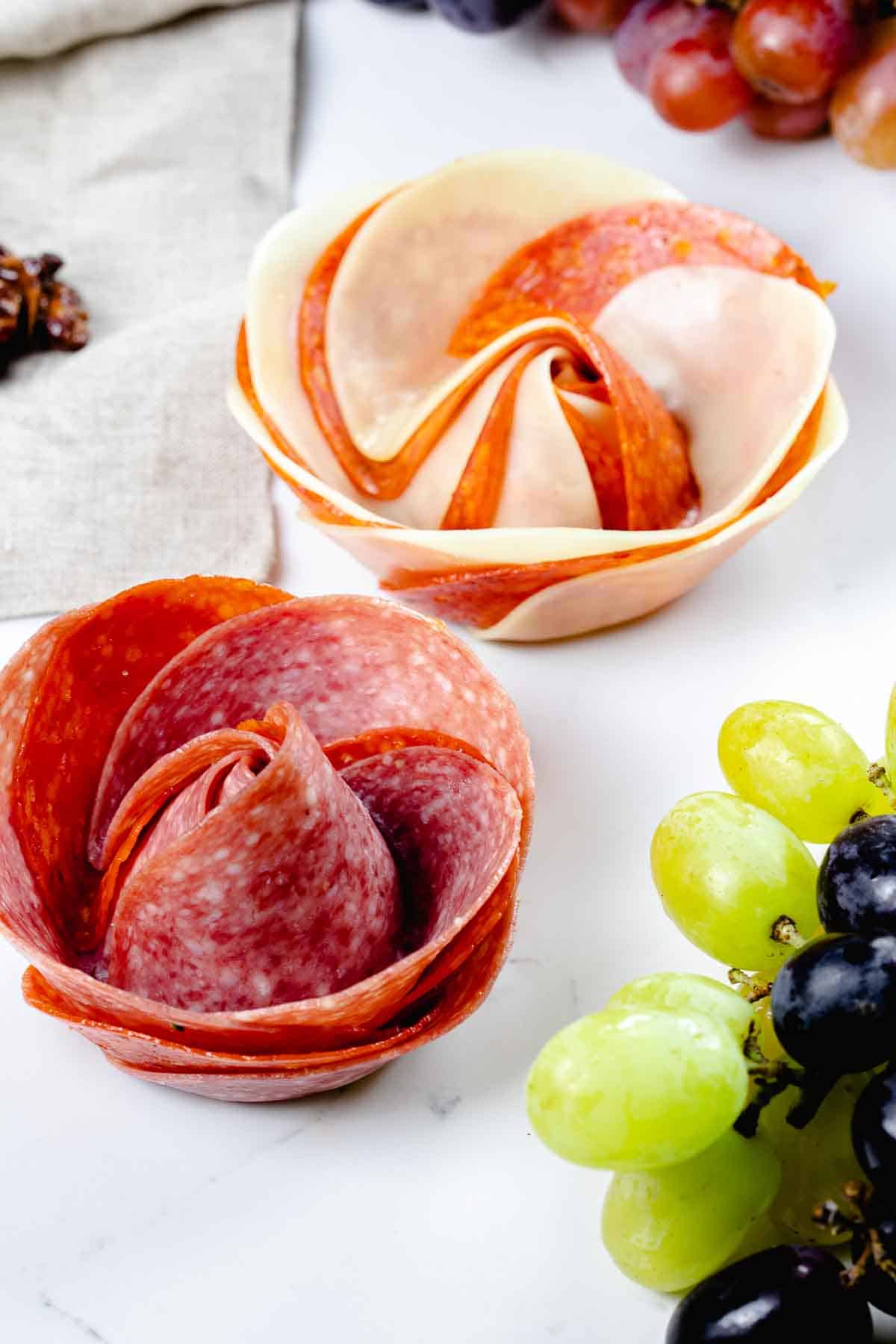 👉Enjoy the ease of prepping COLD appetizers? Check out all of my cold appetizers here!
Assembling The Rest Of Your Charcuterie Board
Grab your largest platter or cutting board and place your salami roses on your board first! Then add everything else around them.
Let's stick to the classics and go for a mixture of the following:
Various cheeses – Aim for 2-3. Look for a quality aged cheddar and a softer cheese like brie or a camembert. Gouda and gruyere are also favorites.
Olives and Nuts – Black and green stuffed olives are popular. Nuts like almonds, pecans, walnuts and cashews are ideal.
Fruit – Stick to the classics like grapes (all colors), pears, apples and berries.
Dried Fruits – Apricots, cherries, prunes, figs and plums are the best!
Crackers or small slices of bread (aka crostini) – Look for different brands, sizes and flavors as well as GF and keto-friendly options!
Jelly or Jam – Fig and apricot jams are popular. Honey to drizzle is never a bad idea.
Do you have the right board and cheese knives? Check out my charcuterie board must haves!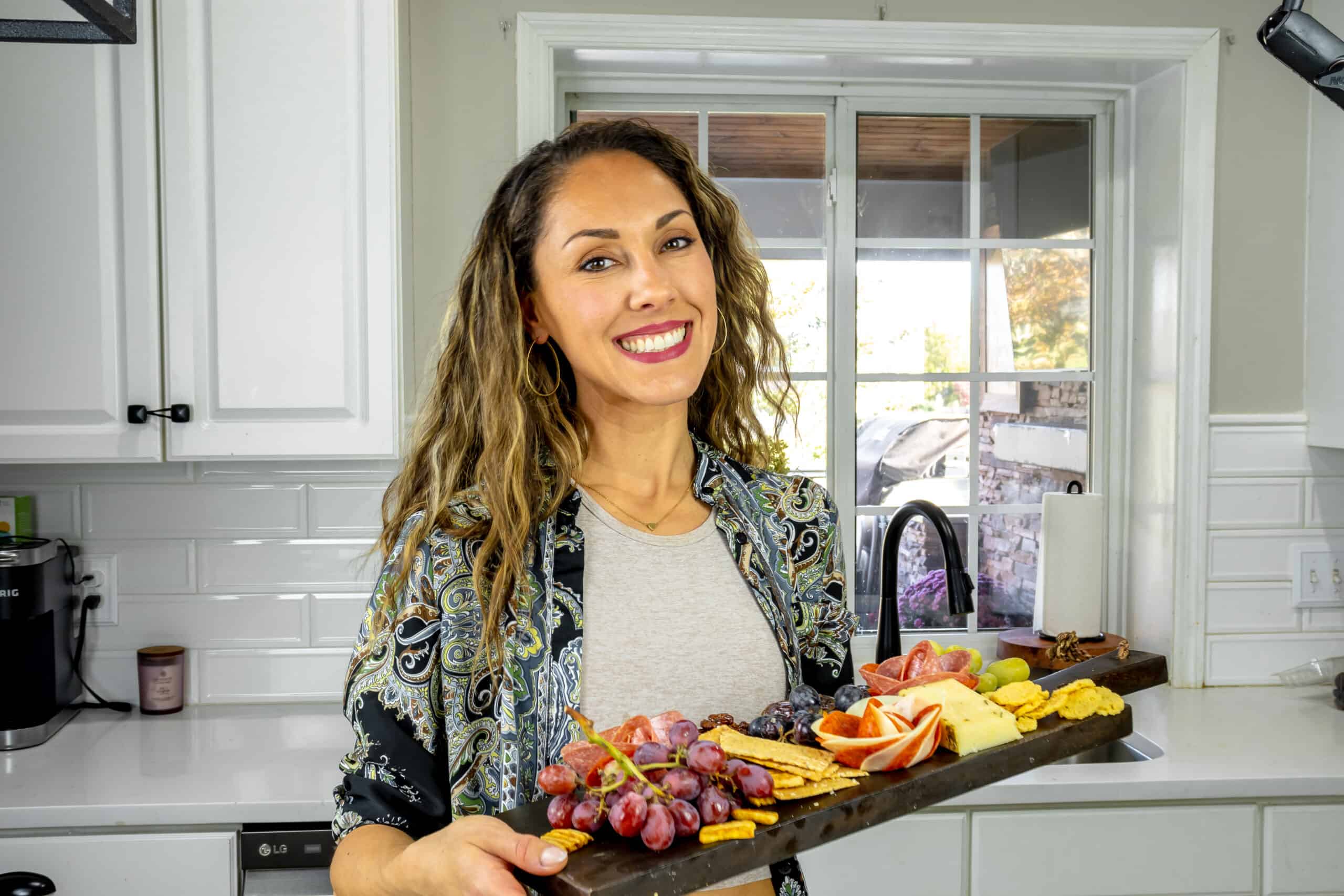 Aleka's Tips
✔ Use different sized glasses so you have different sized salami roses!
✔ Aim for consistent thickness and width when it comes to your salami so the "petals" come out the same.
✔ Make your roses in advance and cover with plastic wrap to keep them from drying out.
🍷Serve this at your next blind wine tasting party!
FAQ's
Can I make my roses ahead of time?
Yes! Just make sure you cover your charcuterie tightly with plastic or saran wrap to prevent everything from drying out! Adding a damp paper towel under the plastic wrap is a trick to keep things moist and fresh for a few hours!
How many layers of meat do I need to add?
At least 5 but it depends on the size of your class and thickness of your meat! You can't do too much so fold as many slices as your glass will allow.
Other Cheese Appetizers You Will Love!
Ham, Pickle & Cream Cheese Pinwheels
Prosciutto, Melon & Mozzarella Appetizer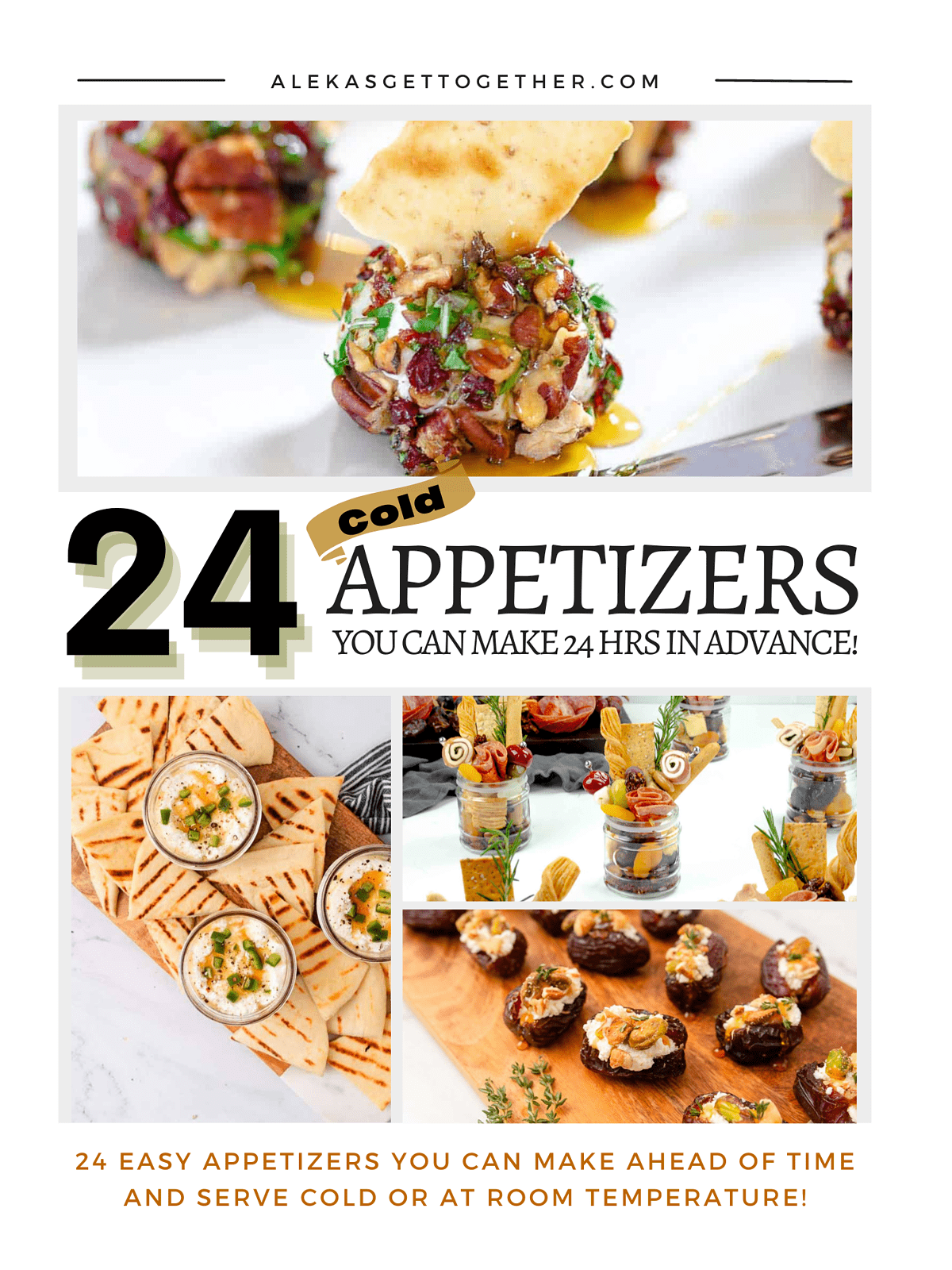 Love Make Ahead Appetizers?
I have an Ebook I created with my top make ahead appetizers you'll LOVE! Get it here!
📲 Say hi on social!! 👋 Follow me on facebook, instagram, pinterest, youtube or tiktok for more recipes and entertaining tips!
📖 Recipe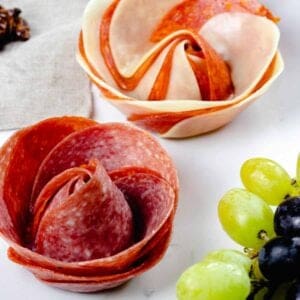 Salami Roses For Charcuterie Boards
It's time to kick up your charcutertie board game people! I am going to show you how to make those adorably easy but fancy salami roses at home to impress your guests at your next party or get-together!
Print
Pin
Rate
Equipment
Wine, shot or champagne glass
Ingredients
6 oz.

salami

(13-15 slices)
Instructions
Make sure all of your salami slices are similar sizes. If not, use a round cutter to cut into same size.

Using a thin wine glass, champagne flute or shot glass, fold one slice of salami over the rim of the glass. Half should be inside and half outside.

Add another slice so it is overlapping the previous one about ½-¾ of the way. Repeat with another 4-6 slices making sure each slice is slightly DEEPER than that the previous layer.

Repeat with the next layer until you cannot fit anymore.

Flip your glass over onto charcuterie board and lift.

If rose does not look right, simply try again with the same slices until you get it right.
Recipe Notes
Yield: approximately 2 large roses
Expert Tips
✔ Make sure your meats are not too thick or too thin. You want to be able to fold them without tearing but also stand up on its own without falling apart.
✔ You do not want your meat or cheese layers to overlap too closely.
✔ Charcuterie boards are all about the presentation so make sure to add different colors to your board.
✔ If your cheese or meats are not the same width (diameter), your rose will not turn out as beautiful. To fix this, use a round
Nutrition
Serving:
1
g
|
Calories:
480
kcal
|
Carbohydrates:
1809
g
|
Protein:
32
g
|
Fat:
40
g