This Fall Pumpkin & Maple Sausage Flatbread with Camembert is a delicious fall twist on pizza. Made with shaved pumpkin, maple flavored sausage and creamy camembert cheese, it's the perfect Thanksgiving appetizer made bite-sized!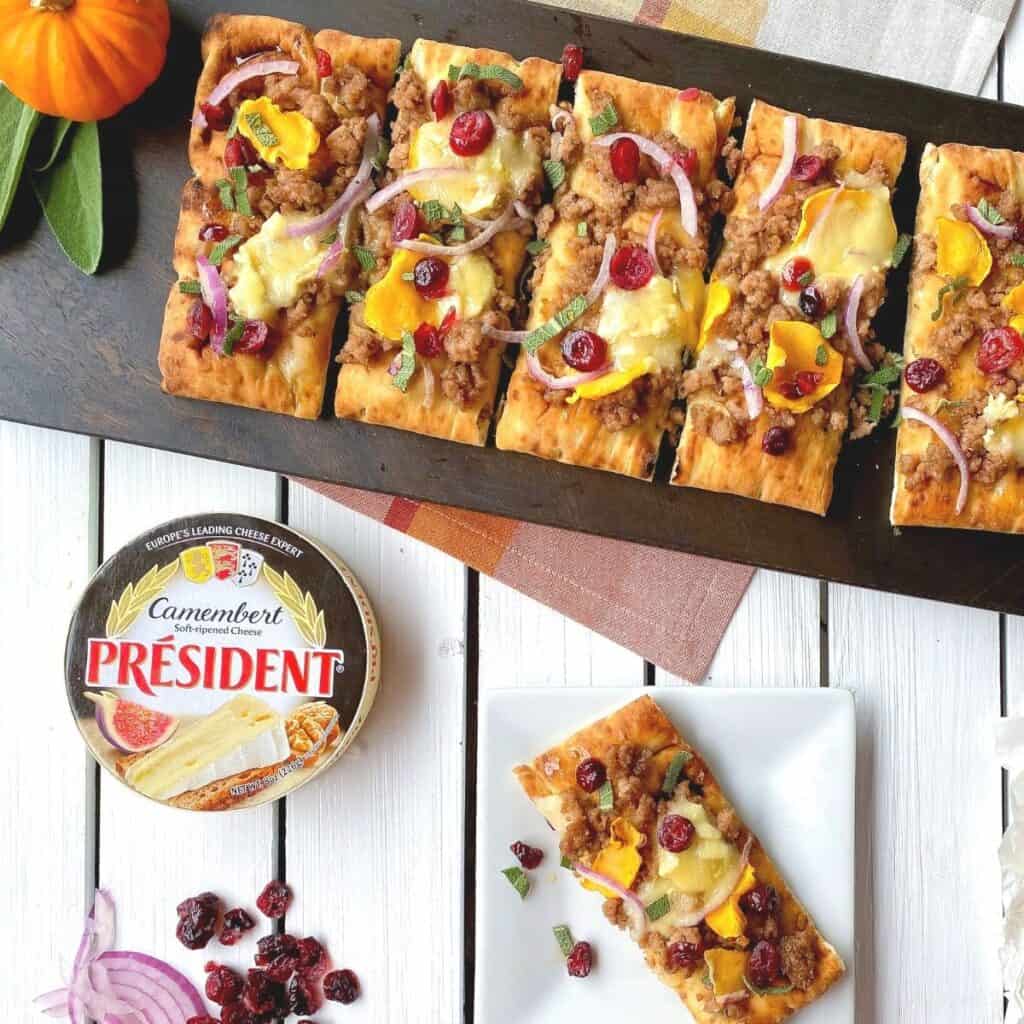 Jump to:
Everyone loves a crispy, cheesy flatbread especially this feta arugula flatbread! So why not make one for Thanksgiving this year? Serve it with my Fall Apple Salad for a deliciously festive meal!
I love individual bite-sized portions where everyone can grab food as they please. It's fun, light and allows guests to pick what they like!
Think of it as a finger food frenzy!
So serve up a few different Thanksgiving appetizers like my Pumpkin Hummus and my Maple Bacon Butternut Squash Skewers.
Camembert cheese
For this sausage pumpkin flatbread, I used Camembert cheese. If you've never tried it before, I urge you to grab some next time your in the deli section. It is a soft cows milk cheese that creamy in texture and bold in taste.
I love the consistency of camembert. It is much creamier than mozzarella cheese and takes less than 10 minutes to melt in the oven. It was the perfect addition to the sweet maple sausage and fresh sage.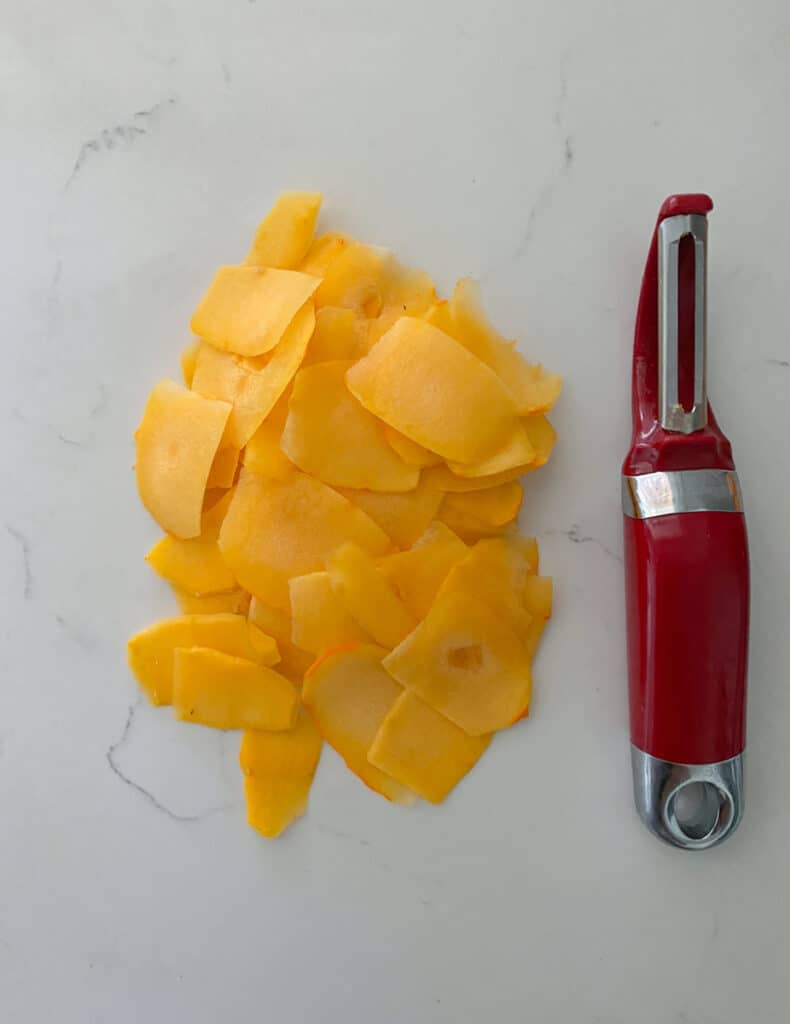 Shaving your pumpkin
I think people are afraid of using pumpkin in their cooking because of how intimidating it looks. The truth is, it is no different than using sweet potatoes! The textures are very similar and you prepare them the same.
For this pumpkin flatbread, I used small pumpkins I found at my grocery store in the produce section. I shaved the skin off using a vegetable peeler and then continued to shave the pumpkin flesh on each side until I reached the center. It ended up looking like a broken down box when I was done with it.
Why shave the pumpkin?
Because our flatbread will not be in the oven for very long. Most flatbreads bake quickly so the toppings should be either pre-cooked or cut very thin so they do not end up still raw.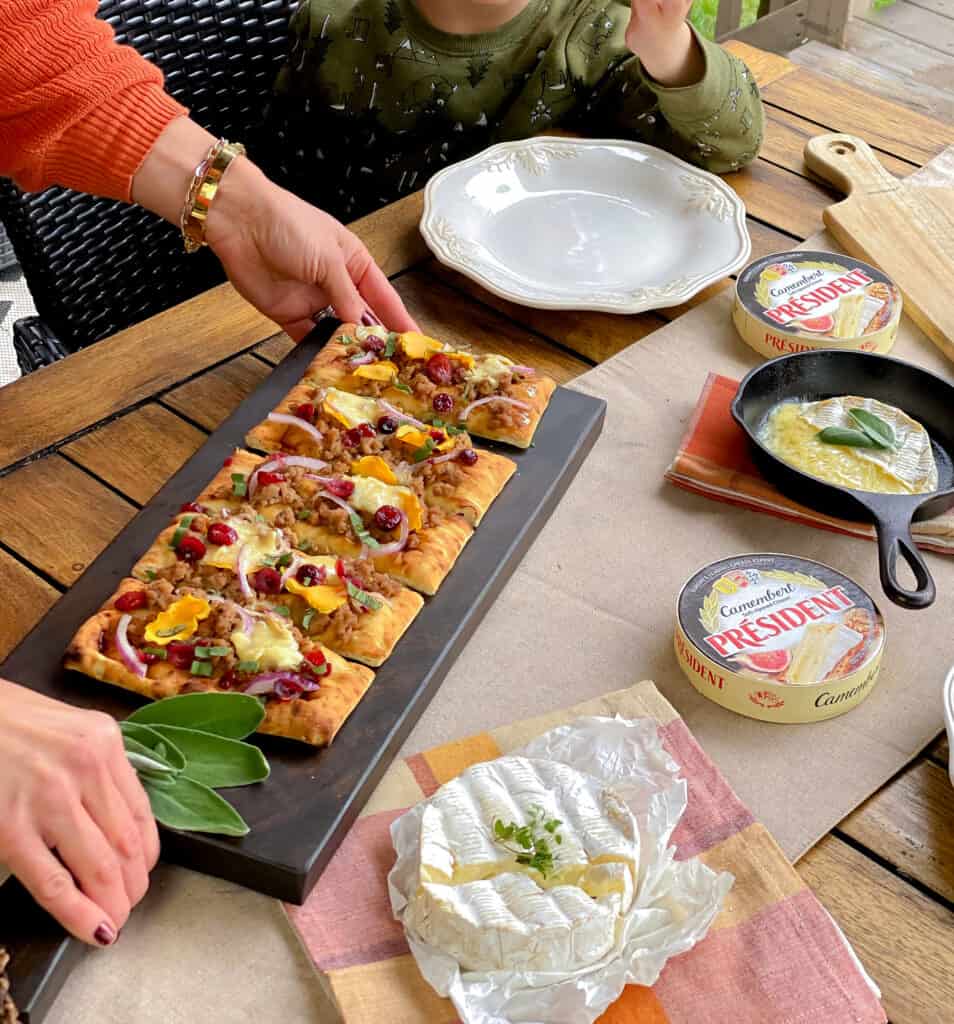 Serving your flatbread
If you plan on serving this for Thanksgiving this year, I have a few tips to make your day less hectic.
Sautée your maple sausage in advance.
Shave your pumpkin ahead of time.
Purchase a pre-baked, ready-to-top flatbread.
Top your flatbreads in advance and store them in the fridge.
Use a pizza stone to get a super crispy crust.
Serve directly on a large cutting board.
Flatbreads are best served when they're crispy and piping hot, so you want to wait until the last minute to bake it off. On the Day of, preheat the oven ahead of time so you're not waiting for it to warm up.
Then, as friends and family start to get hungry, pop the flatbread in the oven. While that's baking, set the table or get anything else ready including your cutting board and a sharp knife.
As soon as you take the flatbread out of the oven, place it on a large cutting board. Cut it into thin bite -sized strips and serve directly on the cutting board. The wood will prevent the crust from getting soggy. It also allows for a more rustic presentation.
Make sure to check out more bite-sized recipe ideas HERE to round out your Thanksgiving dinner!
Other Thanksgiving recipe ideas you will love:
Maple Bacon Butternut Squash Skewers
Creamed Corn Biscuit Cups (An Easy Thanksgiving Appetizer)
Maple Sweet Potato Rounds with Président Brie and Walnuts
Canape Crackers with rondelé by Président and Caramelized Onions
Président Goat Cheese Puff Pastries with Maple Spiced Pecans
📖 Recipe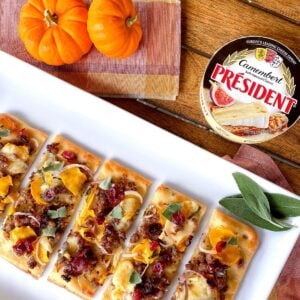 Fall Pumpkin & Sausage Flatbread
This Fall Pumpkin & Sausage Flatbread with Camembert is a delicious fall twist on pizza. Made with shaved pumpkin, maple flavored sausage and creamy camembert cheese, it is the perfect Thanksgiving entree!
Print
Pin
Rate
Ingredients
2

long

store-bought flat breads (about 12" in length)

(approx. 14 oz.)

8-10

oz.

uncooked maple sausage

((turkey or pork))

8

oz.

Camembert

1

8-10 oz.

mini pumpkin

½

small

red onion, thinly sliced

4-5

fresh sage leaves, chopped

¼

cup

dried cranberries

¼

cup

maple syrup

olive oil

*salt to taste
Instructions
Add your maple sausage to 1 tablespoon of oil and brown over medium heat. Make sure to chop your sausage into small bits as it cooks using the flat end of a wooden spatula. Set aside.

Slice your red onion into thin stands. Set aside.

Peel the skin of your pumpkin using a potato peeler. Once your pumpkin is skinned, you want to continue to peel the pulp of the pumpkin on all sides until you reach the center. You want to create thin "ribbons". (See image above.) Set ribbons aside.

Add your dried cranberries to a small bowl with enough water to cover them and microwave for 30 seconds. This will help to re-hydrate them. Strain them and set aside.

Brush or drizzle a couple tablespoons of olive oil over each flatbread. Season with salt and bake for 5 minutes. (This will help your flatbreads crisp up.)

Remove both flatbread and evenly distribute your sausage, red onions, cranberries, pumpkin ribbons, sage leaves and lastly, multiple dollops of camembert cheese.

Drizzle the top with a little olive oil and bake for 7-10 minutes or until the cheese has melted.

Finish by drizzling each flatbread with maple syrup. Serve hot.
Recipe Notes
You can leave the rind on your camembert cheese or remove it if you prefer.
Other cheeses to substitute could be brie, goat or gorgonzola.
Nutrition
Calories:
214
kcal
|
Carbohydrates:
11
g
|
Protein:
10
g
|
Fat:
14
g
|
Saturated Fat:
7
g
|
Polyunsaturated Fat:
1
g
|
Monounsaturated Fat:
5
g
|
Trans Fat:
0.1
g
|
Cholesterol:
41
mg
|
Sodium:
422
mg
|
Potassium:
159
mg
|
Fiber:
0.3
g
|
Sugar:
9
g
|
Vitamin A:
265
IU
|
Vitamin C:
1
mg
|
Calcium:
126
mg
|
Iron:
0.5
mg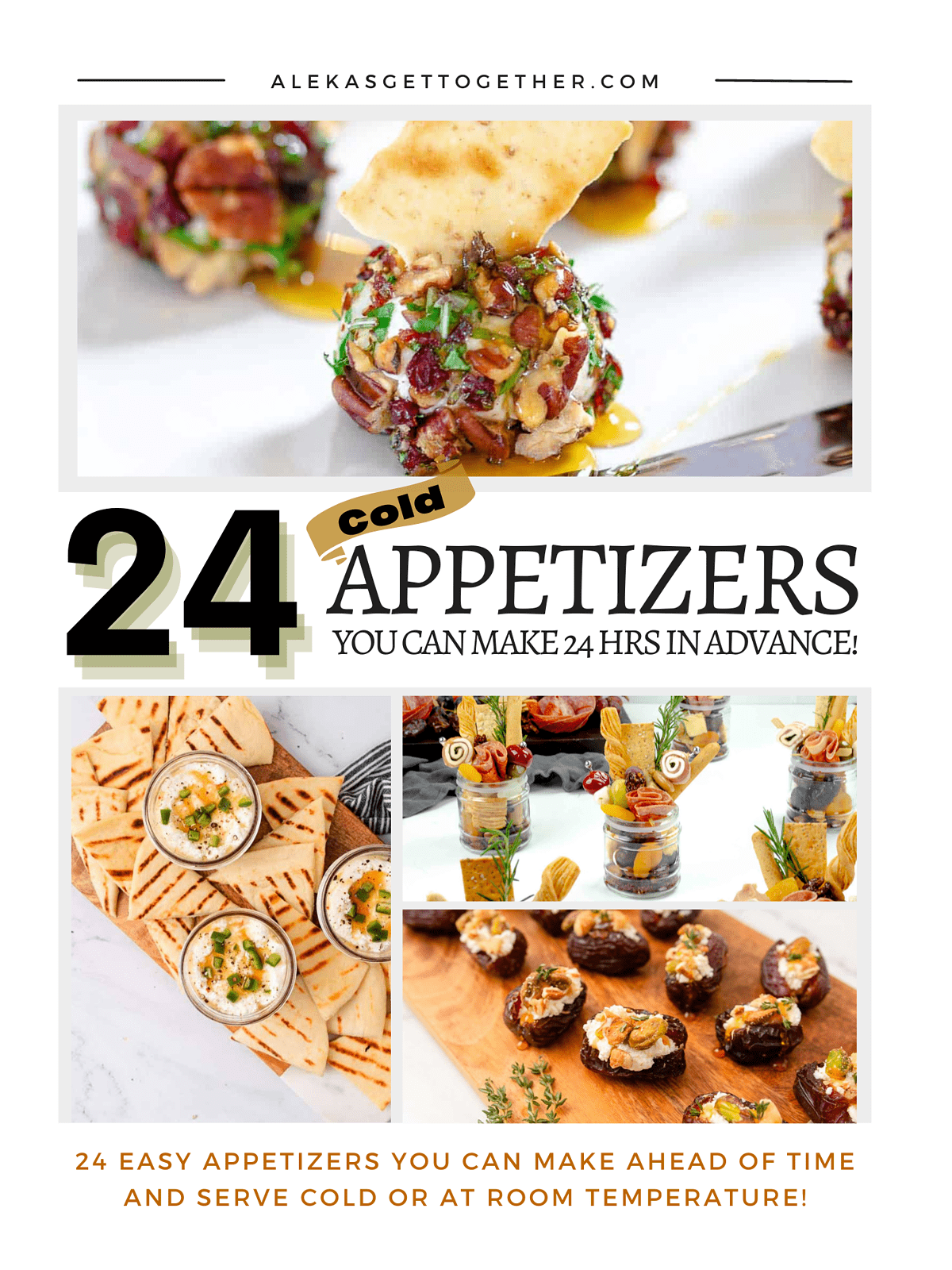 Love Make Appetizers in Advance?
I have an Ebook I created with my top make-ahead appetizers you'll LOVE! Get it here!